The Bay Area is full of hidden gems. When I visited San Francisco in September I was meeting up with some of my favourite foodies and trusted them to make an informed dining decision. Because they live outside the city, we settled on Mokutanya, a yakitori specialty restaurant with some pretty sweet promotions. As this was a Tuesday night, Fanny Bay Oysters (from British Columbia, no less!) were a buck a shuck, and were the primary motivation to visit.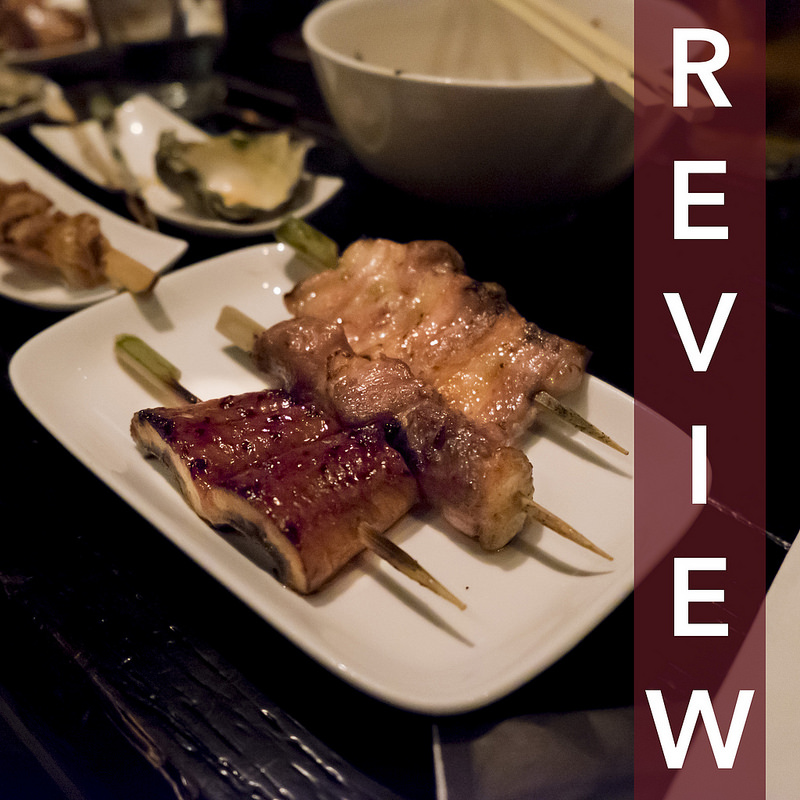 Food:
Team Food Soc came here for an evening dinner and I had a great taste of the following:
Kamo Yakitori ($4)
Butabara Yakitori ($3.50)
Unagi Yakitori ($4.50)
Saba Yakitori ($4.50)
Cold Ramen ($10)
Fanny Bay Oysters ($1 each)
Ika Sugata Yaki ($14)
Yakitori's the main reason one dines here, so I was all for trying out my own selection of kamo (duck breast), butabara (pork belly), unagi (eel), and saba (mackerel) yakitori. I may have been lucky, but these 4 skewers were a hit in terms of flavour and finished strong with a slight char. The saba in particular had an innate butteriness and was so wide it needed double skewering. Value! Other hits at our table were the various beefs (sans the beef tendon).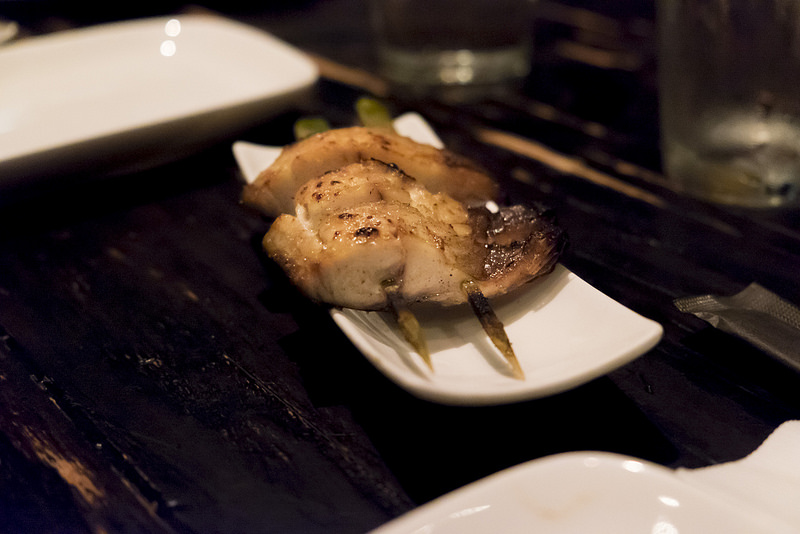 Saba Yakitori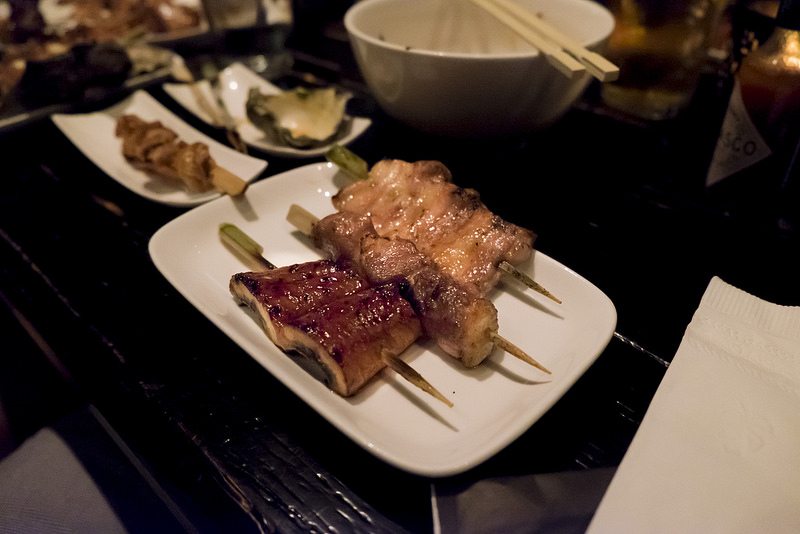 Front to back: Unagi, Kamo, and Butabara Yakitori
To supplement our supply of meat, our crew split some appetizers too. The cold ramen was served with house spicy sauce with daikon radish, green onions, shredded seaweed and tobiko caviar. Don't let the "caviar" get you twisted – it's just tobiko eggs. These noodles had a chilled, dense, and chewy texture that helped fill in some needed carbs.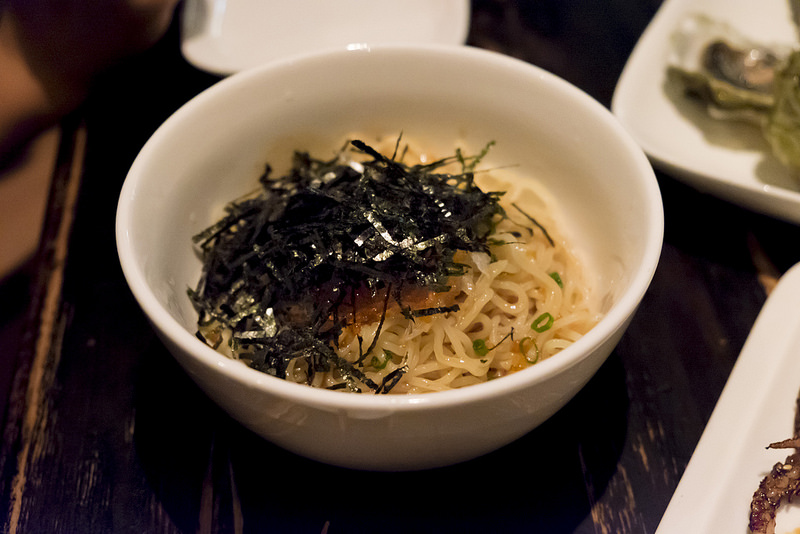 Cold Ramen
Since we came on a Tuesday, we were also privy to $1 buck a shuck Fanny Bay Oysters. These oysters (ordered in quantities of at least 4) had a mild brininess and a pleasant cucumber finish.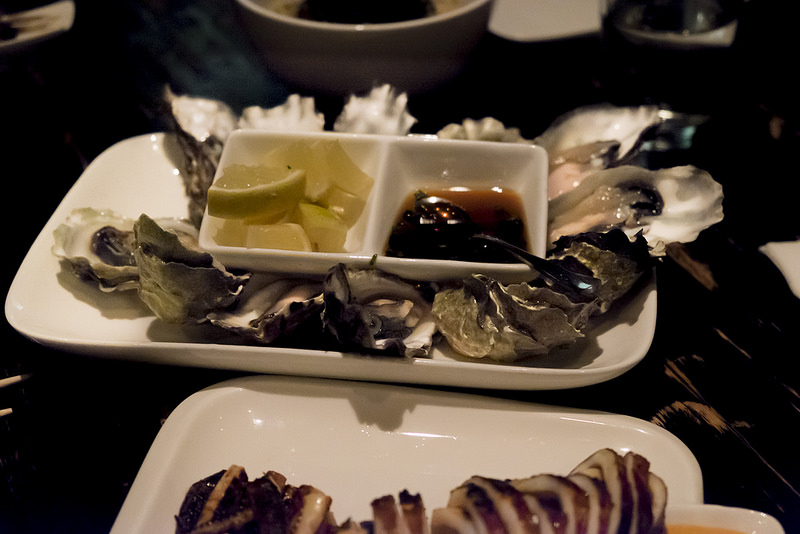 Fanny Bay Oysters
Last but not least, the ika sugata yaki was a grilled whole squid with yakitori sauce. While not as satisfying as the cold ramen, this featured full rings of squid as opposed to niblets and had a pretty good sauce (that ran out all too quickly).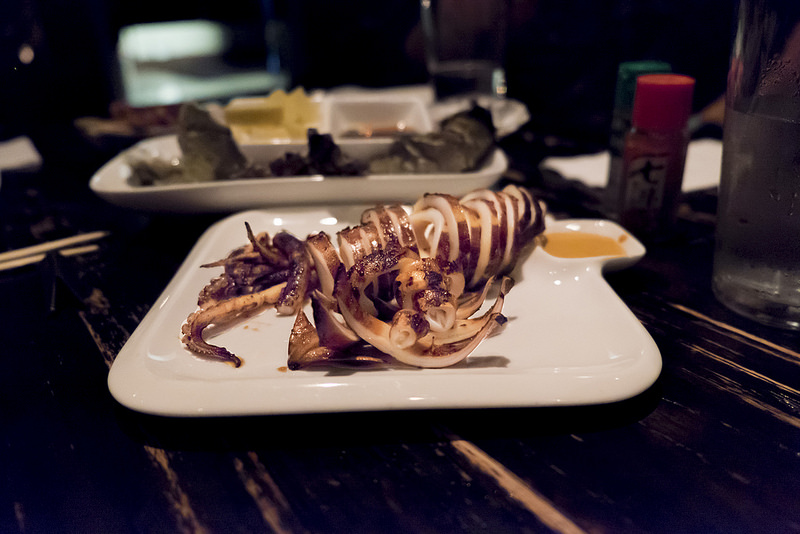 Ika Sugata Yaki
Features:
Dinner at Mokutanya is basically a dark room with focussed lighting on the sunken dining tables. As such, taking photos requires a lot of breath-holding or a tripod. The booths inside are laid out as little pods where your party will take off their shoes and step into. I liked the glass walls as this gave extra visibility to the staff in case we needed something. The vibe inside was pretty relaxed and comforting.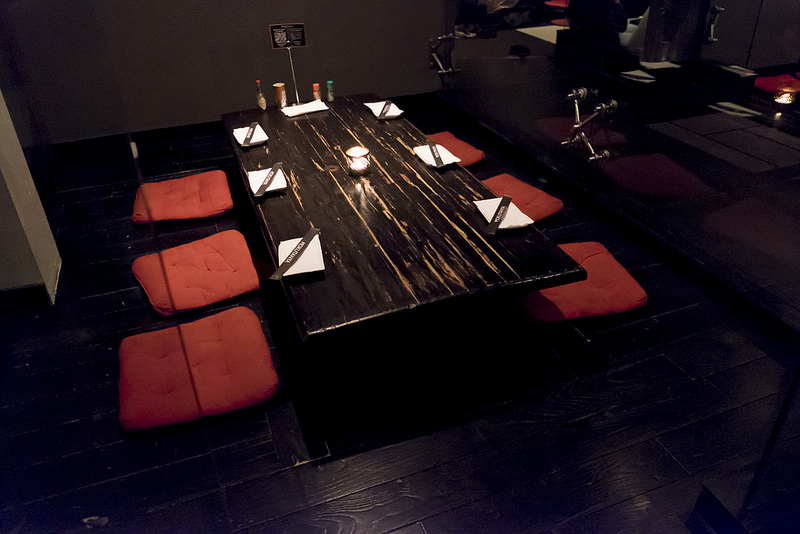 Inside Mokutanya
Another bonus with the glass walls are improved acoustics for hearing people from across the table. Sometimes restaurants get real loud with adjacent tables fighting for dominance but I never had that problem at Mokutanya.
Service:
Service at Mokutanya was pretty good. Our table took a while to get together but the staff were very patient with us and offered water top-ups even before we placed our orders. After food started arriving though, the water top-ups became water jugs they replaced on our table. Food came in waves starting about 15 minutes after we ordered which was satisfactory for a group of 6. It was absolutely packed on a Tuesday night at 7:30pm so I'd recommend making a reservation for any group after 6pm.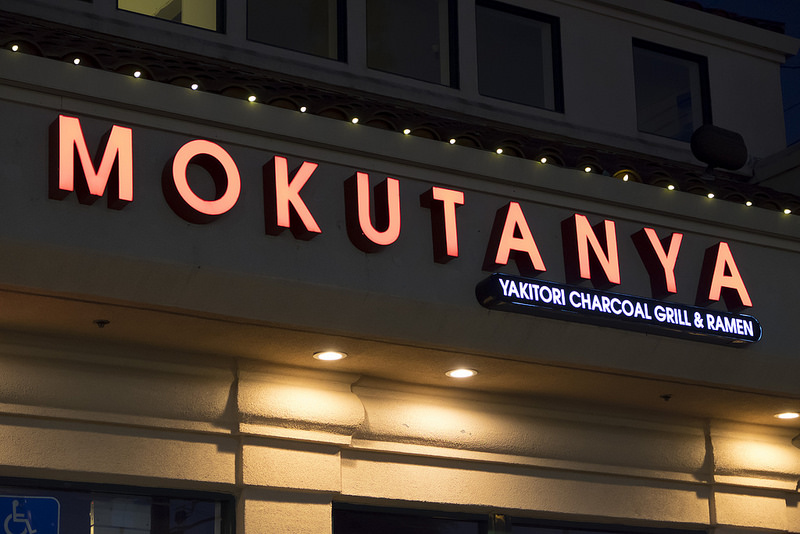 Outside Mokutanya
Final Thoughts:
One-liner: Juicy yakitori that succeeds on almost every item and properly supplemented by a large enough carb menu
Highlight: Saba Yakitori
Price per person: $30-$50 USD
Would I go back? Yes.