If there are two things Vancouverites love on the weekend, it's brunch and brews. There's a certain joy when it comes to mixing fresh beer with the joy of runny yolks and sweet syrups. In East Vancouver, Parallel 49 Brewing Company has added food to their menu and converted their space into a serviceable restaurant. Do the new food items stand up to the wide range of ales here?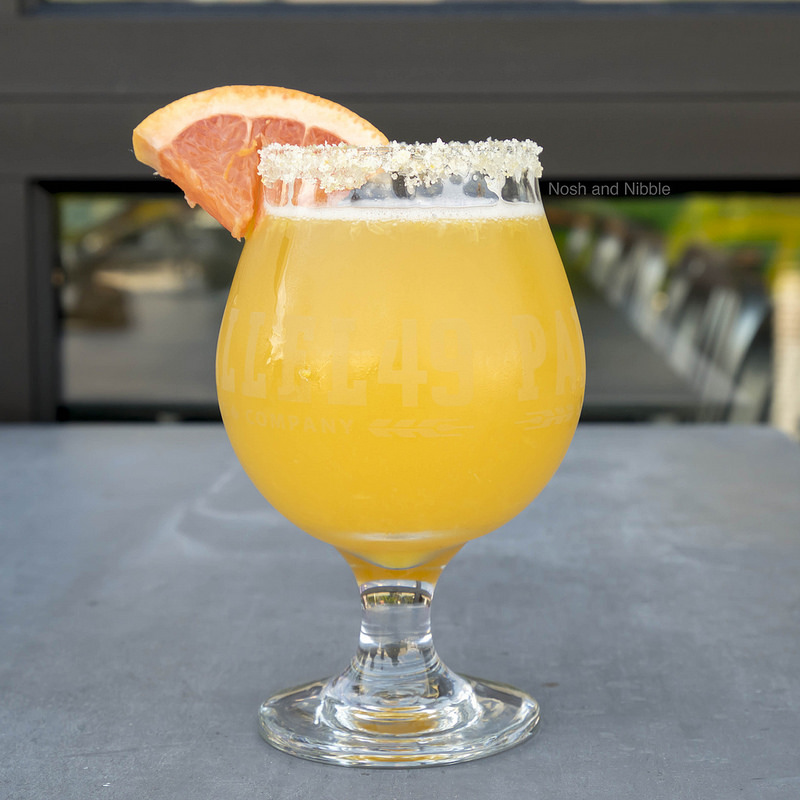 Beermosa
Disclosure: this was a complimentary tasting provided in exchange for an honest review and no monetary compensation.
Food and Drink:
Team GlueCrew came here for a weekend brunch and I had a great taste of the following:
Caesar ($7/single)
Tasty Mon Stout ($3.50/300mL)
Crispy Chicken Drums ($10)
Fried Chicken and Waffles ($15)
Blueberry Eggo Sandwich ($14)
Not one to force a choice of beer on someone, Parallel 49 has partnered with Odd Society Spirits just down the street to create a caesar cocktail. this had a classic salt rim and a pretty generous array of olives, jalepeno pepper, and pickled green beans in a classic bulbous 350mL.
I know it's not a huge deal to most people, but the ease of squeezing the lime into the cocktail was unparalleled (no pun intended). A healthy squeeze of juice required only one hand and left me feeling quite satisfied.
Taste-wise, the caesar was well-mixed and had a classic clamato, spicy and bold flavour. $7 is the base version but $10 gets you a double shot which is generally how caesars are consumed in Canada.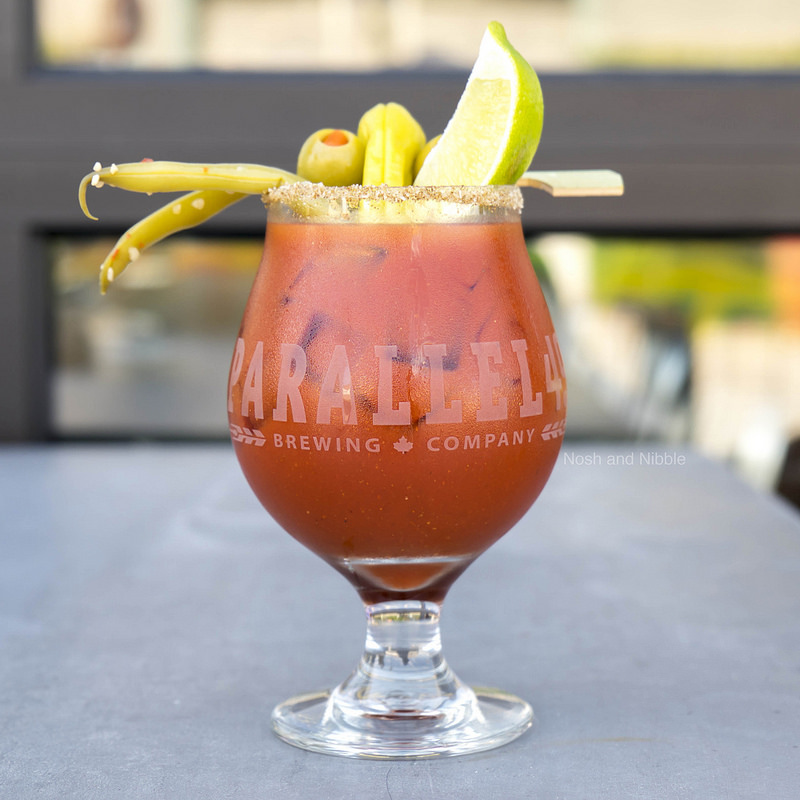 Caesar
My second drink of the brunch was a Parallel 49 Exclusive, meaning it's only available on-site at the brewer. I had a Tasty Mon Stout which was a dark, roasty, and slightly bitter creamy ale. I'm personally not a fan of IPA and there were 3 IPAs on the exclusive menu. This was a serviceable medium-heavy bodied beer that would go well with any of the savoury dishes like the Chicken Drums.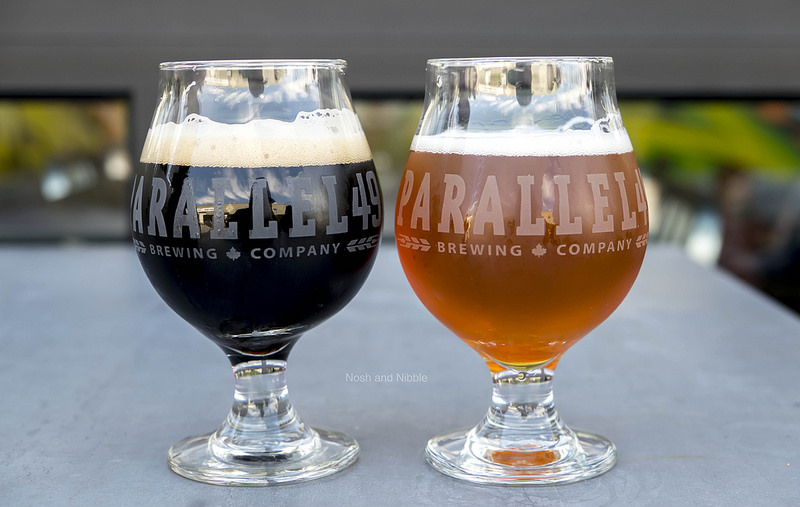 Left: Tasty Mon Stout; right: Dumk Funk IPA
Moving onto to some food, the chicken drums were 4 confit chicken drumsticks drizzled with a trio of sauces and cilantro. Being confit, these were quite juicy and very satisfying to chew. The only thing I wish was for these chicken to have had more breading as the sauce here felt a little thick for such a thin skin.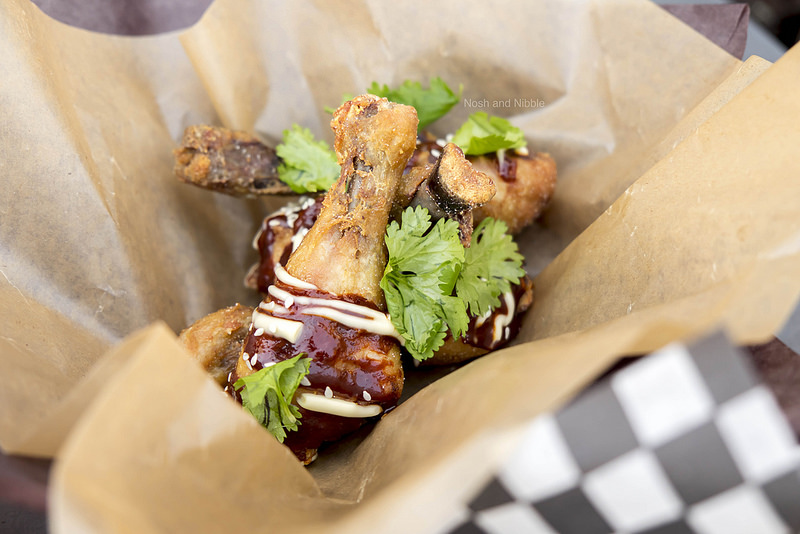 Chicken Drums
I was really excited to try the chicken and waffles, a classic brunch dish. The Parallel 49 version serves up a Belgian waffle with buttermilk fried chicken, buffalo sauce, buttermilk powder, and pickled carrot. With 3 hunks of chicken and three quarters of a waffle, this might be less filling compared to chicken and waffles you've had elsewhere. That being said, I've had experiences where the carb overload from a full waffle was too intense. The sour kick from the carrot was quite satisfying but the buffalo sauce was where the magic was. The housemade sauce clung to the chicken skin thanks to the dusting of buttermilk powder and melded into a tasty mix of sweet and sour flavours and juicy chicken.
The only thing that would have made this better would have been more buffalo sauce to keep the waffles moist. I'd recommend pairing this with a drink. I'd also recommend being careful with your knife. Because everything is served in a basket with a paper liner, one might accidentally puncture a hole in the paper if they're reckless with a butterknife.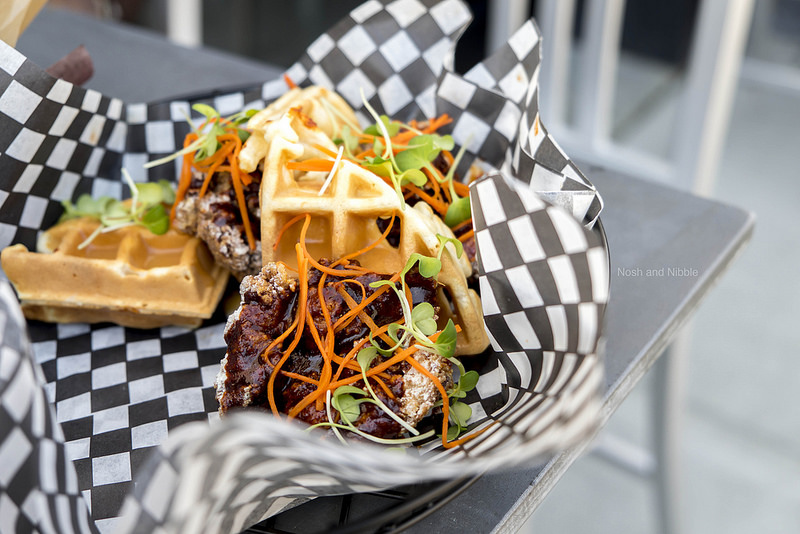 Chicken and Waffles
And finally, the blueberry Eggo sandwich. Throw out everything you know about classic brunches because this work of art was a true creative dream. With hints of the Netflix Stranger Things, this Eggo sandwich took me back to childhood but mixed it with all my favourites things: that is, juicy fried chicken, juicy pork belly, a free range egg, real cheddar, and lettuce, tomato, onions. You'll notice there's no fine print; you get every ingredient listed which means a double dipping of meat. Not only that, you get a side of hash browns and kale salad to really fill you up.
At $14, this was an absolute steal compared to the chicken and waffles. Furthermore, I'd recommend this to anyone who wants to try something creative, yet still tasty and filling. The fine print on the menu states every weekend may feature a new brunch dish, so I hope you have a chance to try it before the limited run is over! Seriously! My homegirl Eleven would probably approve of this sandwich.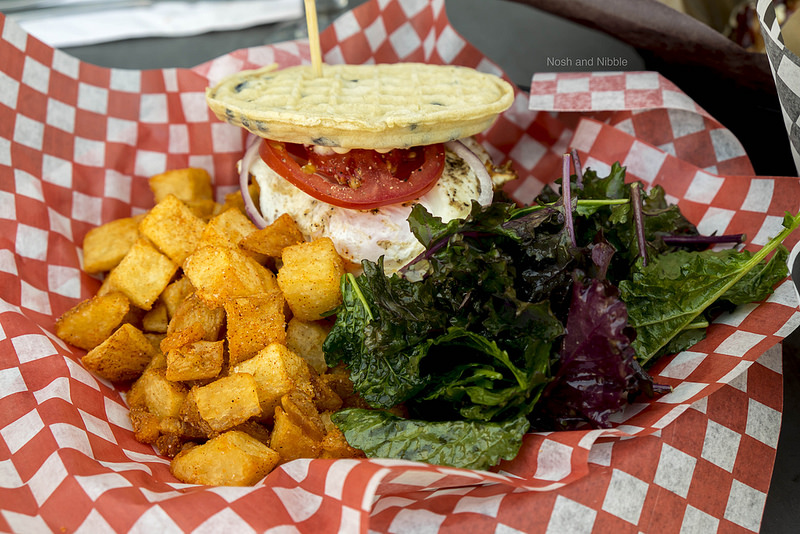 Features:
The street kitchen is the main draw at Parallel 49 Brewing. If you take a look below, it looks like an actual food truck, but I was informed it's hardwired into the building and is meant as a permanent fixture. I think this was a pretty creative move given the hip factor of Vancouver breweries and food trucks. One curiosity I have though is its similarity to Fliptop Food Truck's design. I guess graffiti art is a popular trend these days.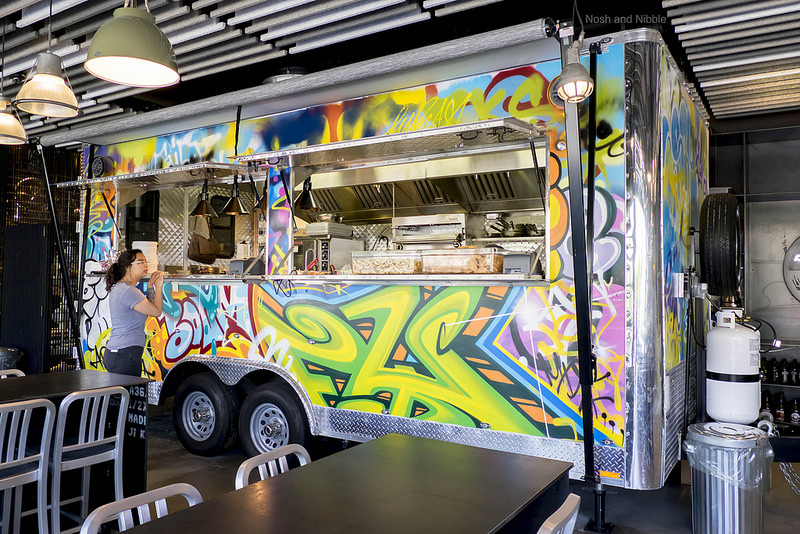 Food Truck Permanent Kitchen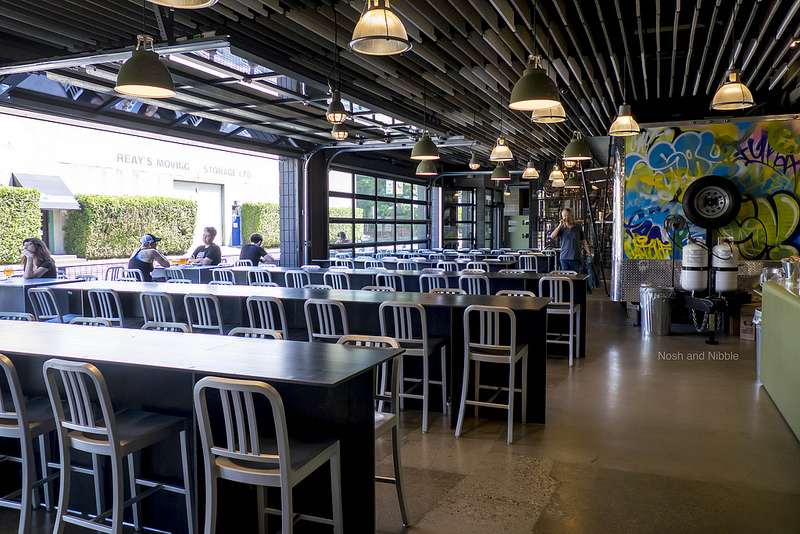 The rest of the restaurant space is filled with long tables, ample space for groups, and a few patio tables and counters. Seating space appears to be about 80 guests but and the feel is quite modern and industrial. The beer menu is also pretty cool and reminded me of an Arrivals/Departures list you'd find at an airport.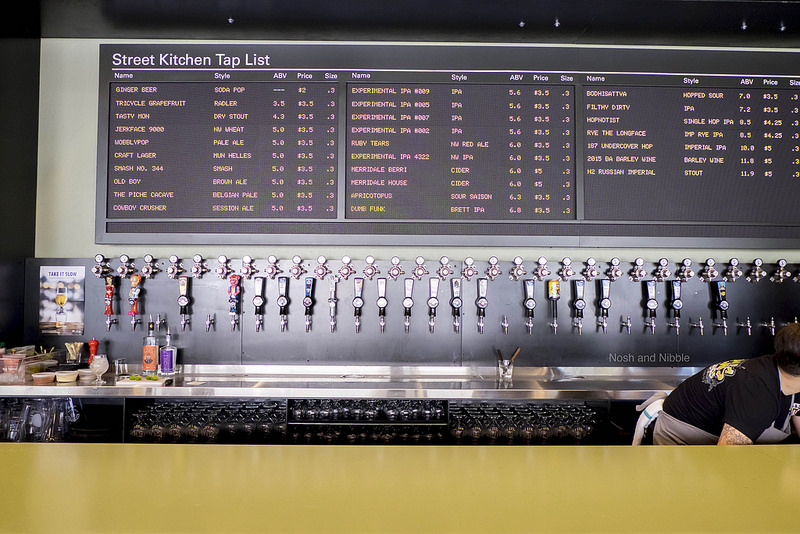 The east side of the space also holds the tasting room where customers can purchase bottles, cans, and fill up their growlers.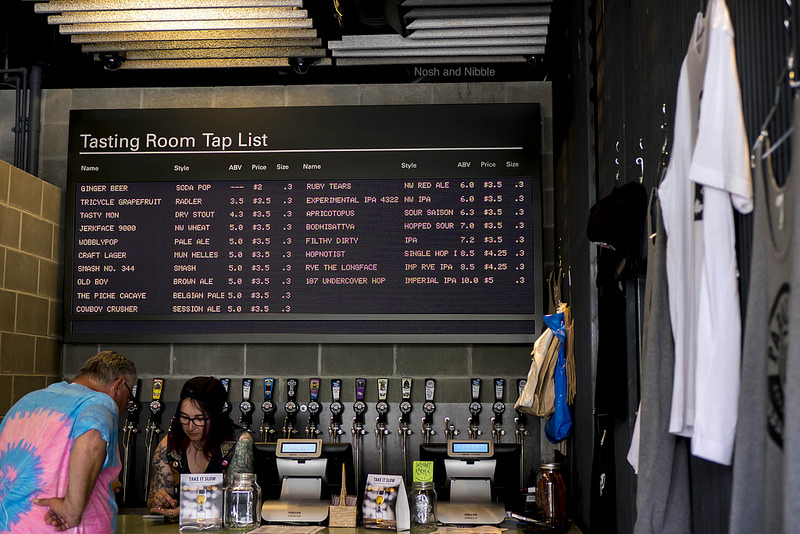 Service:
Here you'll place and pay for your order prior to receiving or picking it up. If you're just grabbing drinks, the staff will prepare it and have you pick it up. If you're ordering food, you'll receive a number to take to your table for the staff to deliver to. Because staff are serving tables, remember to leave them a tip as you pay.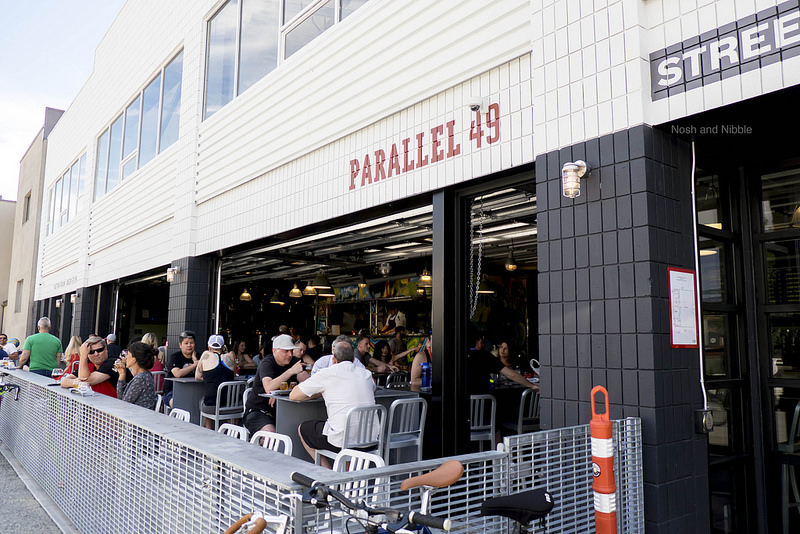 The wait times for food were average at about 15 minutes, but that might change depending on how busy things are. At 11:30am on a Sunday, there were only a couple tables occupied. By the time we finished at 1pm, more than half the restaurant was occupied with a line forming at the cashier. I'd recommend coming early to avoid disappointment. I'd also recommend having everyone in your group get the Blueberry Eggo Sandwich because I believe this is something everyone needs to try.
Final Thoughts:
One-liner: Classic bar eats that pair well but the standout is the brunch feature which in this case was a blueberry Eggo sandwich
Highlight: Blueberry Eggo Sandwich
Price per person: $16-25
Would I go back? Yes.