A slice of pizza might be the flattest piece of happiness you can get your hands on. Last week I was a lucky guest of Vancouver Foodster's Pizza Palooza event. For those unfamiliar with how food crawls work, you generally pick up a passport at a meeting location and then set out through the neighbourhood, visiting multiple locations in a single night to try out their goods. For those in a hurry, this crawl can be completed in a couple of hours but may be stretched out to 3-4 hours if you like to take your time.
Disclosure: I was given a complimentary media pass for this event. All opinions are my own.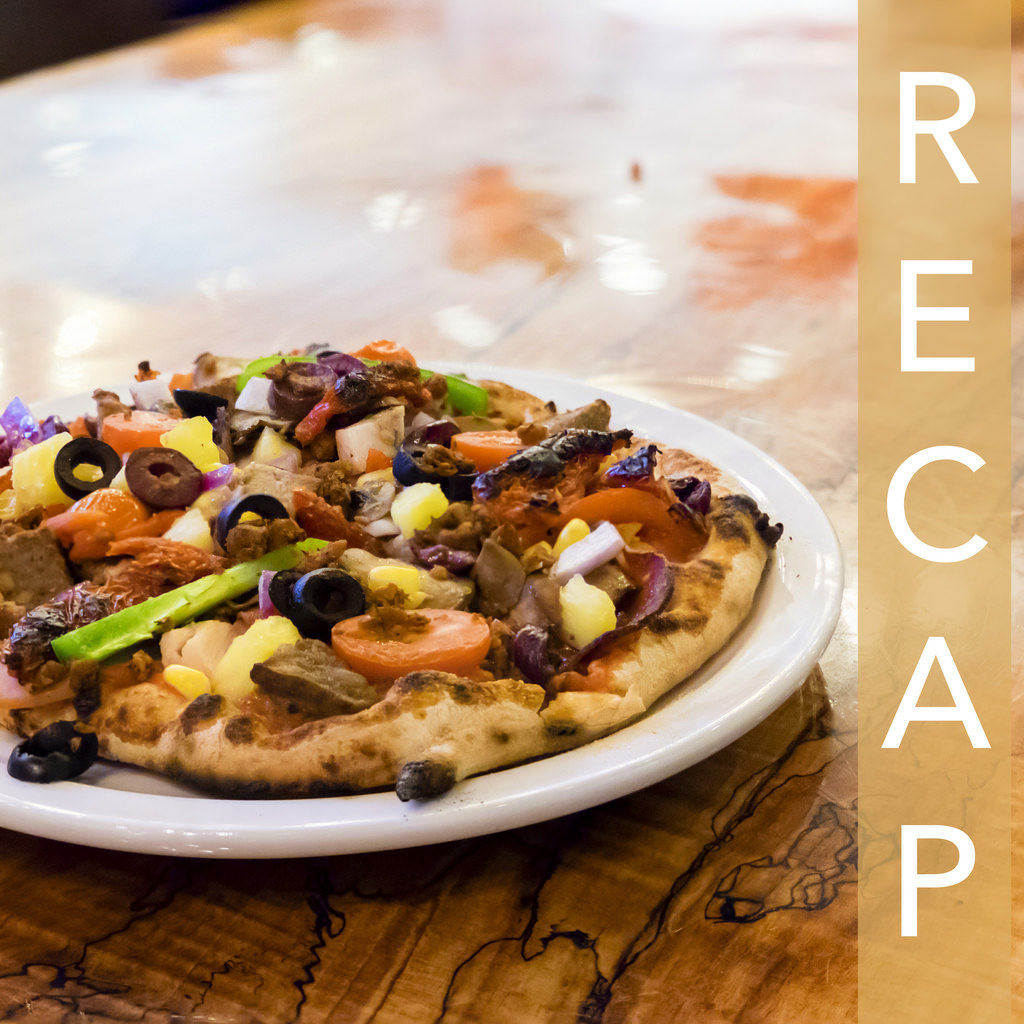 The Destinations:
Team GlueCrew arrived at 6pm sharp and we visited the following locations in order:
Living Produce Aisle
Firecrust Neapolitan Pizzeria
Davie Dosa Company
Manoush'eh
Stretch Roman Pizza Co.
Ignite Pizzeria
Living Produce Aisle was not a pizza stop but a destination to pick up our Pizza Palooza passport and start the night with some cleansing juices. I had myself a Fresh Turmeric Root / Fresh Ginger Root Shot which felt like a zap of healthy energy and jazzed me up. It was the yellow drink below.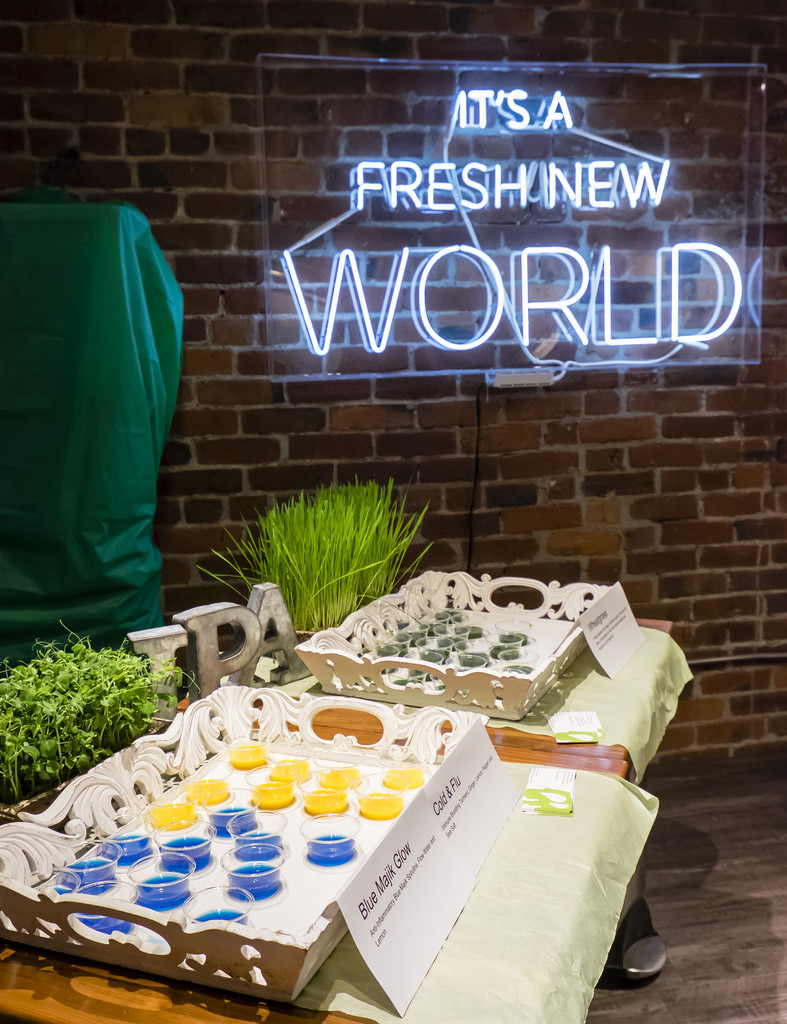 Living Produce Aisle - Natural Beverages
Our first real pizza stop was Firecrust Neapolitan Pizzeria. Here we had a custom 6" pizza baked with unlimited toppings (sans prosciutto, + $2) to our liking. Being a connoisseur of options, I asked for a little bit of everything. While I probably could have skipped the pineapples, I was happy to find the jalapeños provided some real heat and that "everything" really meant everything.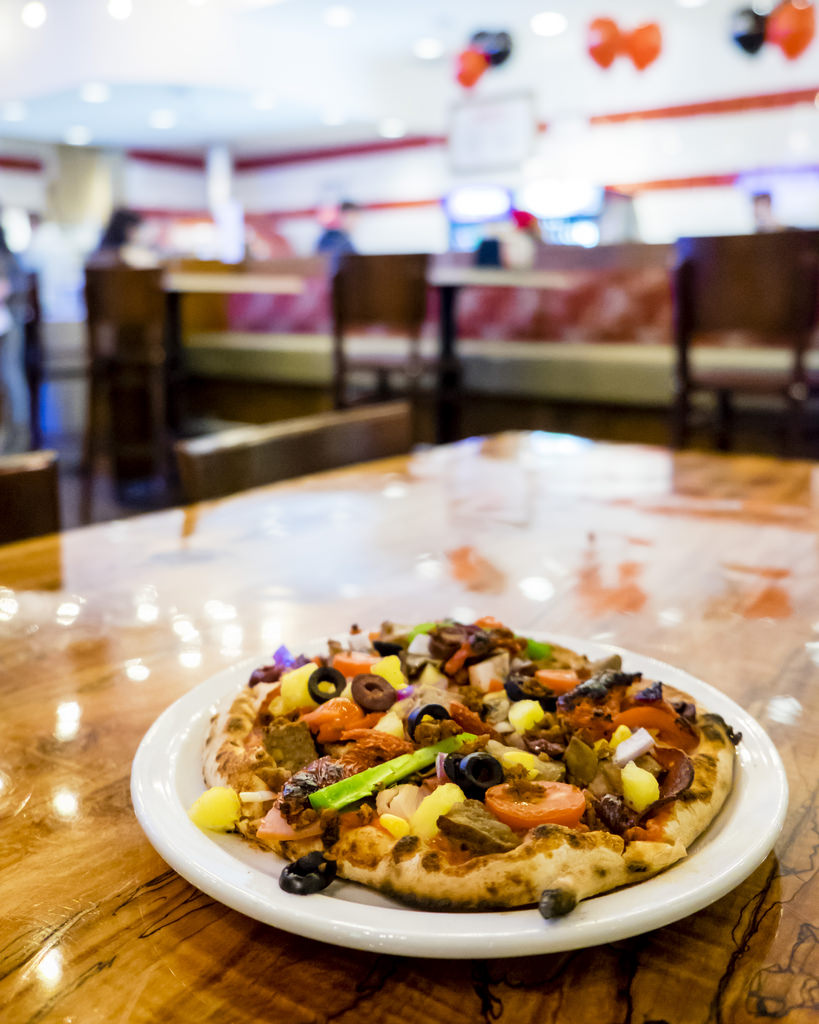 Firecrust Neapolitan Pizzeria - Custom 6" Pizza
Next up was Davie Dosa Company who were serving up a half curried lamb Indian pizza with a half 1234 (bell peppers, tomato, carrot, cottage & cilantro sprinkles) Indian pizza. This was my first foray into Indian takes on pizza and I loved the flavour of the curried lamb. I began to collect leftovers given the size of these pizzas.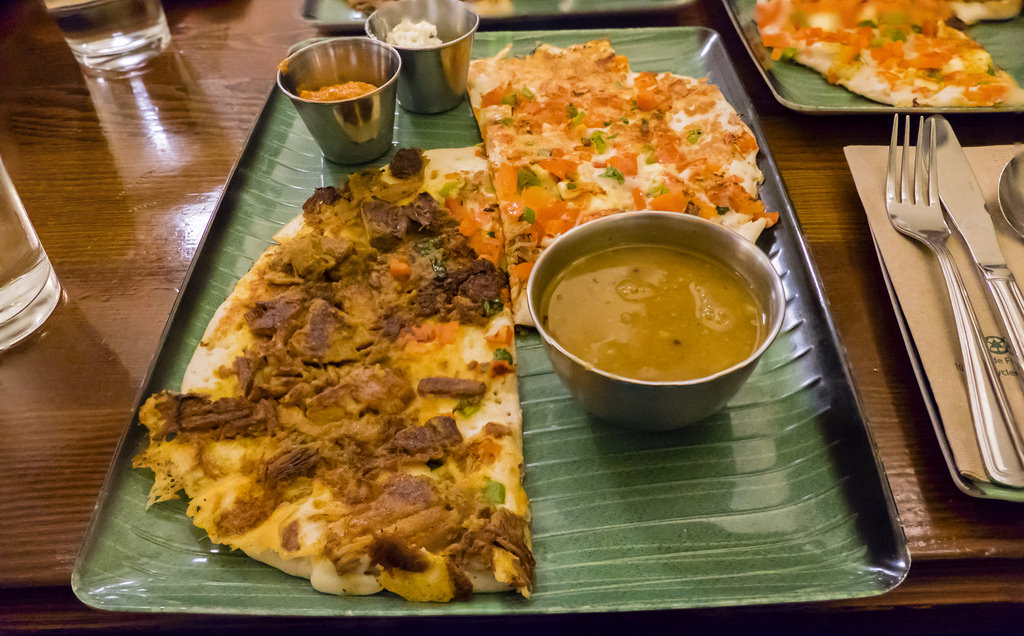 Davie Dosa Company - Indian Pizzas
We had our third pizza stop at Manoush'eh which specialized in Lebanese flatbread (manoush'eh in Lebanese). Here we had a falafel flatbread as well as a lahm be ajeen flatbread (lamb). We had a group of 3, so it would have been a bit awkward to bake just enough slices so the owners just gave us a full pizza of each flavour. I loved that each order of flatbread was made to order as opposed to being reheated in an oven.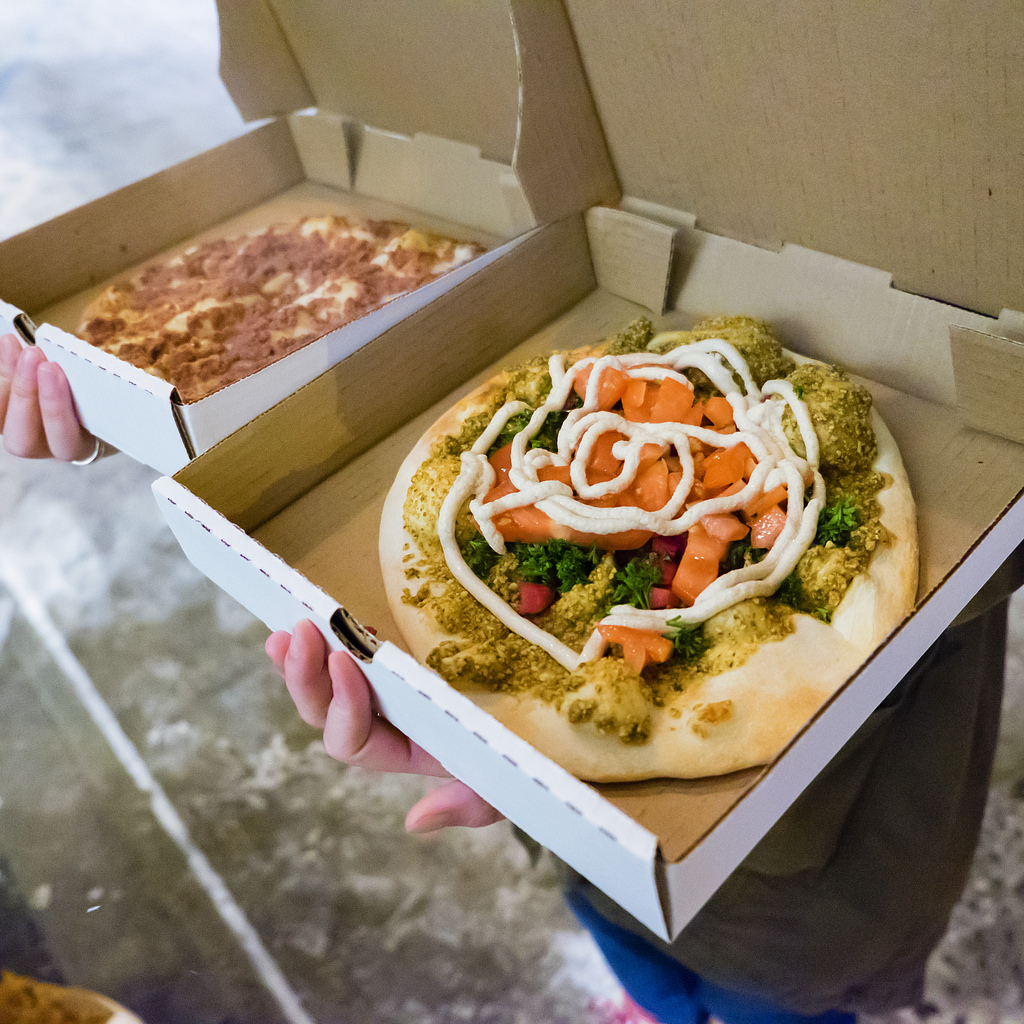 Manoush'eh - Lebanese Flatbread
Moving into the Gastown neighbourhood, our fourth stop was at Stretch Roman Pizza Co. Here we enjoyed a half order of each the pancetta e scamorza and caprese pizzas. This was a pizza al taglio style where the crust is extra thick with a few toppings on top. I wish the dough had more flavour to it because it made up a huge proportion of the slice but the toppings were tasty with a melting cheese fresh out of the oven.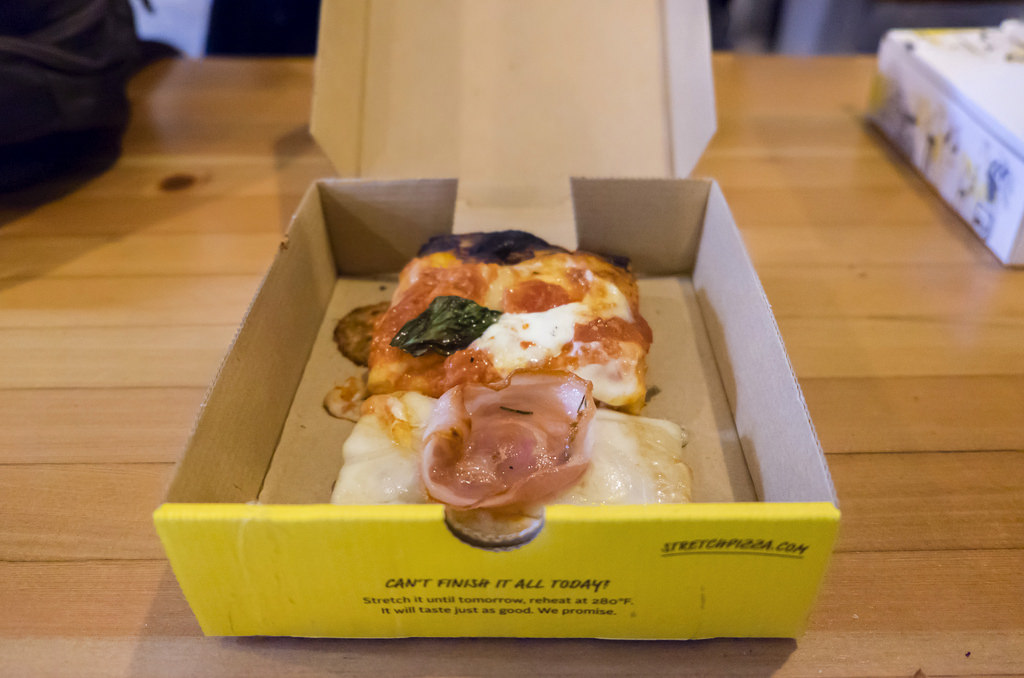 Stretch Roman Pizza Co. - Roman Pizza
Our final stop of the night concluded at Ignite Pizzeria. A traditional slice shop, this place had us choose any 2 slices. I'll give a special mention to the ricotta pizza here as it looked absolutely gorgeous and came with a healthy dose of pesto, spinach, fior di latte, olives, roasted red peppers, and fresh risotto.
Final Thoughts: Considering the amount of pizza, $35 was a great to try all these pizzas in organized fashion and take home a ton to eat the next day
Highlight: Full custom 6" pizza from Firecrust Neapolitan Pizza
Price per person: $35/person for early bird
Would I go back? Yes.
For more information on Vancouver Foodster's upcoming crawls and events, visit http://vancouverfoodster.com/.