This review is not for protein hustlers. For the rest of us carbloaders though, Rice Burger has recently opened up in the former Sasamat Pizza space in Vancouver's Point Grey neighbourhood. Has the bread bun in traditonal hamburgers been holding you back from properly enjoying burgers with a Japanese twist or are these rice buns a precarious container about to fall apart?
Disclosure: This was a complimentary tasting provided in exchange for an honest review and no monetary compensation.
Food:
Team Tastic came here for a Friday evening meal and I had a great taste of the following:
Popcorn Chicken ($5/full)
Spicy Chicken Katsu Burger ($5.75)
Korean Spicy Pork Burger ($5.50)
Spam Musubi Burger ($5.50)
I tried ordering the popcorn chicken in a half ($3.50) serving first but was told they were out of boxes. That's a good thing because the full wasn't substantially large. It was, however, good value at $5, and unlike the run-off-the-mill Taiwanese places, not too salty. It had a good balance of deep fried goodness and juicy chicken. It might be okay splitting these with a friend, but the real show in my opinion is in the burgers.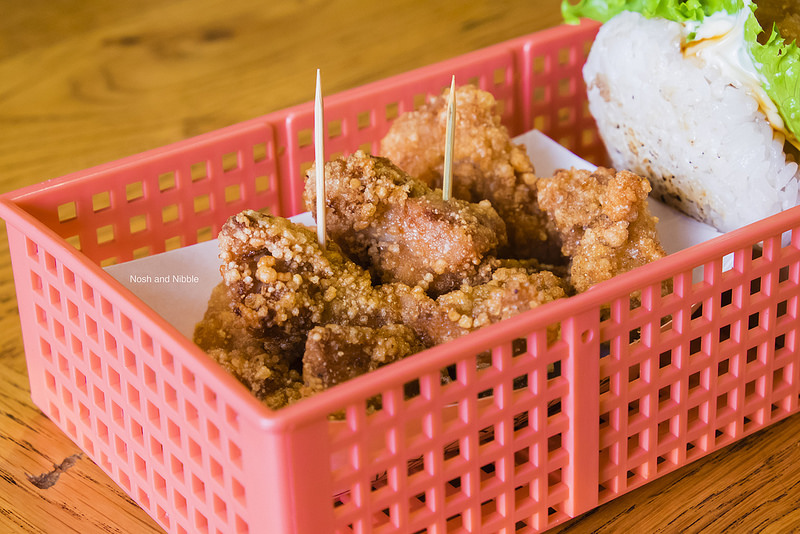 Popcorn Chicken
All the burgers are made with the same base rice bun. This is a short/medium grain pile of rice pressed into a bun and slightly torched on the side. It's unsalted but there's lots going on between the buns. Compared to Kobob Burger, I found these rice buns to much less starchy (Kobob Burger buns can leave some residue on one's back molars).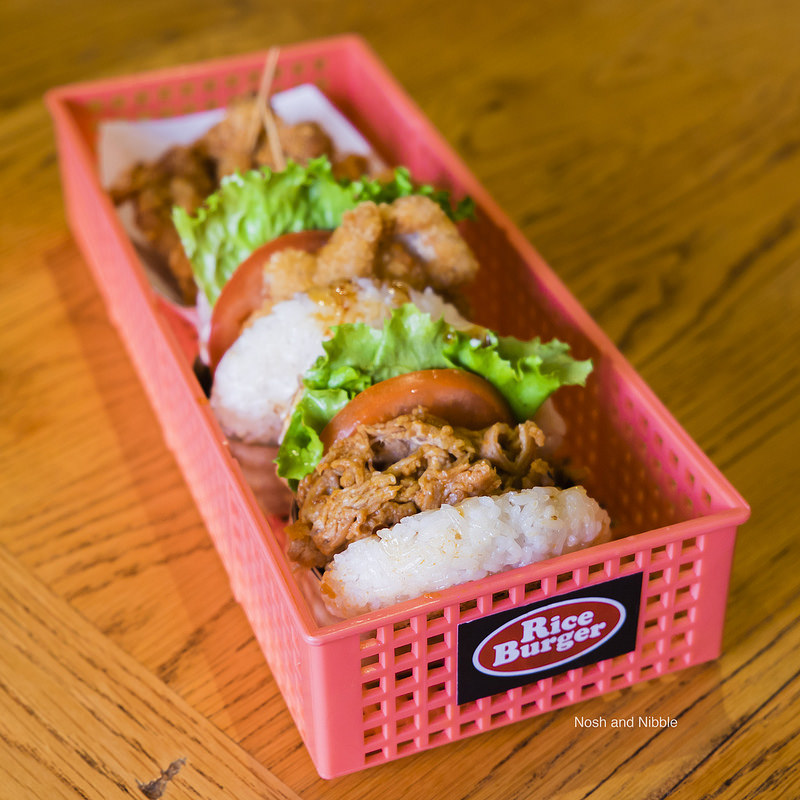 Rice Burgers
My girlfriend really enjoyed the spicy chicken katsu burger which came with lettuce, tomato, onion, mayo, house teriyaki sauce, and house hot sauce. I had a try too and can confirm the breading was pretty tasty. There was a lot of sauce going on though and I preferred the larger focus on fewer sauces on the other burgers.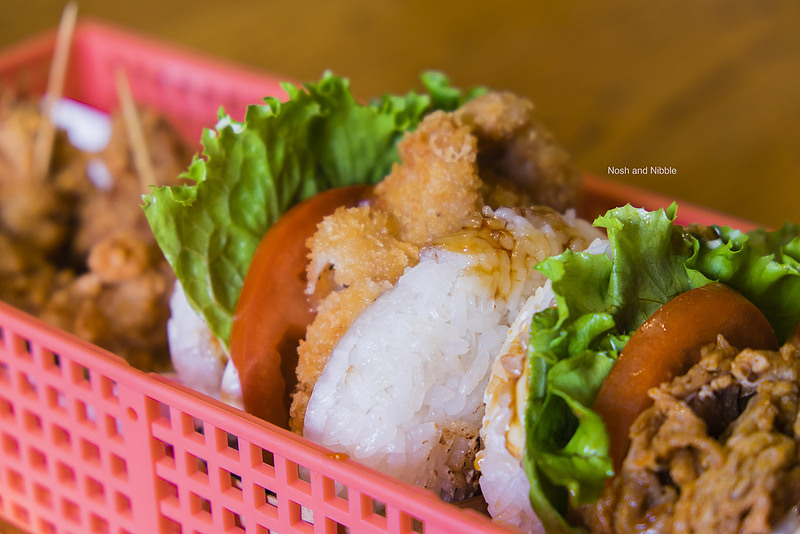 Spicy Chicken Katsu Burger
My favourite burger of the evening was the Korean spicy pork burger which came with lettuce, tomato, onion, and mayo. Small note about the lettuce – it's real leaf lettuce! You could order a $5 burger from McDonald's and you'd likely end up with crappy shredded lettuce, so there is some vegetative value in Rice Burger burgers. The pork wasn't as spicy as the spicy chicken but had a longer lasting savoury feel in each bite.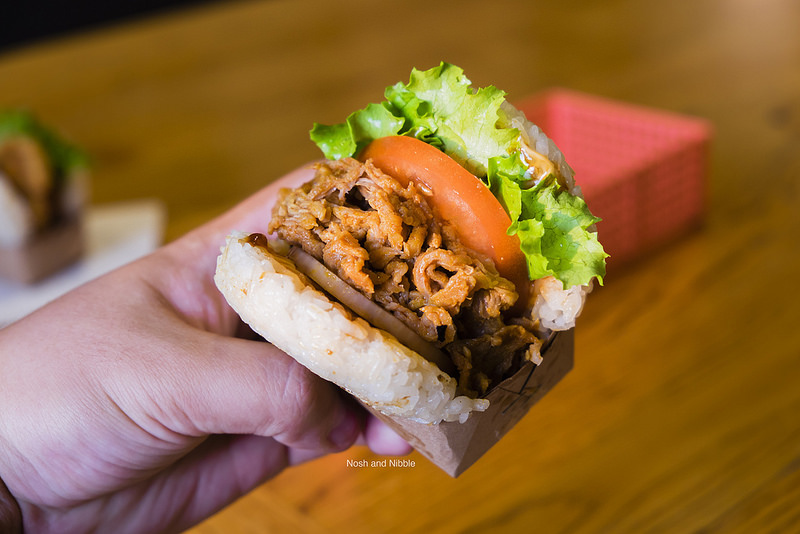 Korean Spicy Pork Burger
For those looking for a Hawaiian-inspired flavour, the spam musubi burger fills that need. With egg, spam, and house teriyaki sauce within, I think this would make for a great breakfast burger. I had no problem eating this as part of my dinner though. The egg was savoury, not rubbery, and so this was easy to enjoy.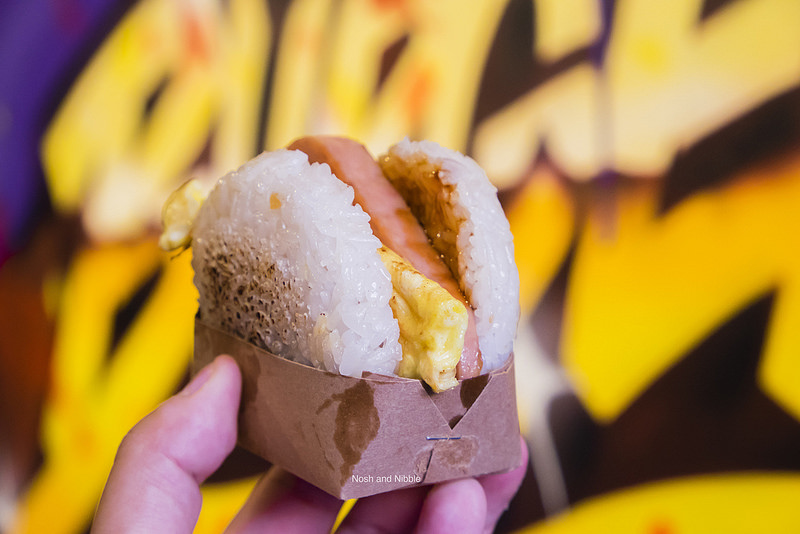 Spam Musubi Burger
Features:
Rice Burger takes over the old space of Sasamat Pizza on Sasamat Street. As such, the main counter area is still there but the interior's been redone with a hip, Bao Down-esque graffiti wall and simpler seating. There's only space for about 14 guests so it's pretty small. That's not to say it's a boring space, but other than the graffiti wall, the excitement ends fast, atmosphere-wise.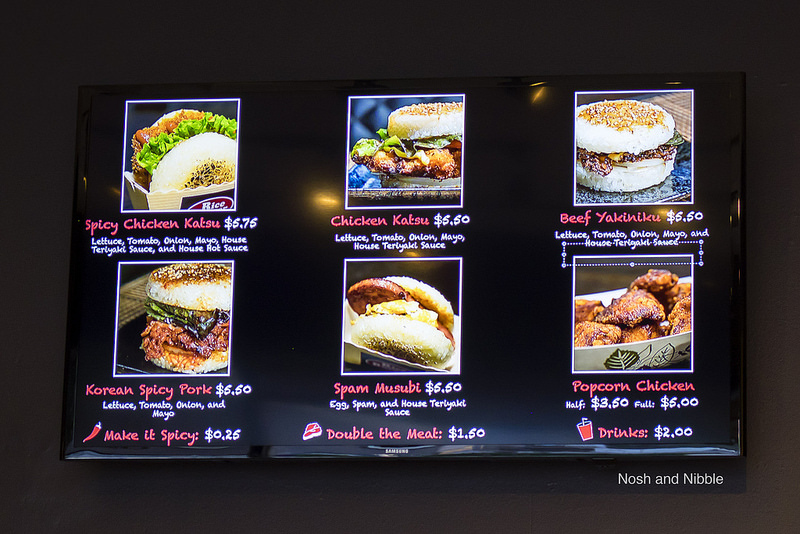 Menu
Service:
On a Friday evening, these guys were busy! Once we ordered our burgers, it was about 10 minutes prior to us receiving them. I think that's a fair time to wait as many takeout and delivery orders were being prepped simultaneously. Our burgers were brought out by the staff who were very courteous and had no problems describing the menu. Granted, there were only 6 items, but it's always good to have staff trained for an official grand opening.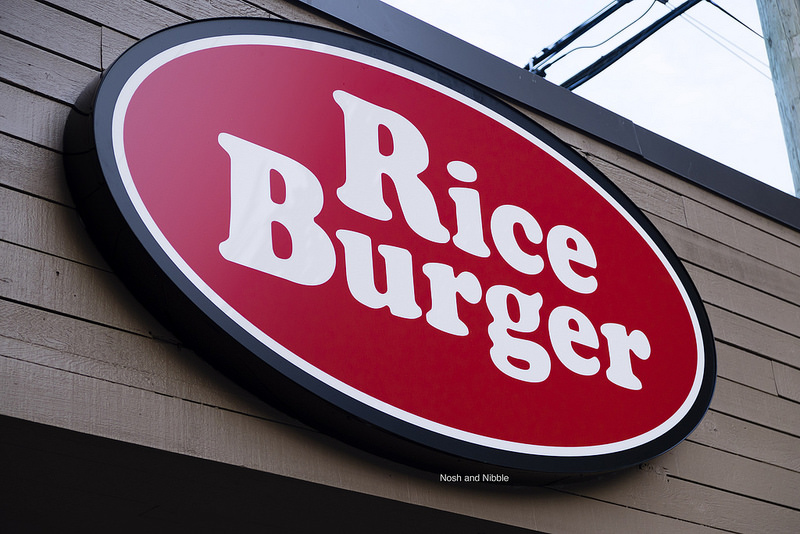 Outside Rice Burger
These folks also offer delivery so if you don't want to get out of your home (provided you live west of Arbutus), then you don't have to!
Final Thoughts:
One-liner: Unique burgers that fill the bun with rice instead of bread at a decent price that delivers on flavour
Highlight: Korean Spicy Pork Burger
Price per person: $10-14
Would I go back? Yes.