Anyone who's had traditional bubble tea know milk powder, tea powder, and cheap pearls are as classic as it gets. At Rad Tea Room, the concerns of such overly sweet, processed flavours are addressed by real ingredients and a workflow that produces your drink of choice in a visible space. Is this the best way to drink bubble tea or should you stick to the Taiwanese classic?
Disclosure: This was a complimentary tasting and all opinions are my own.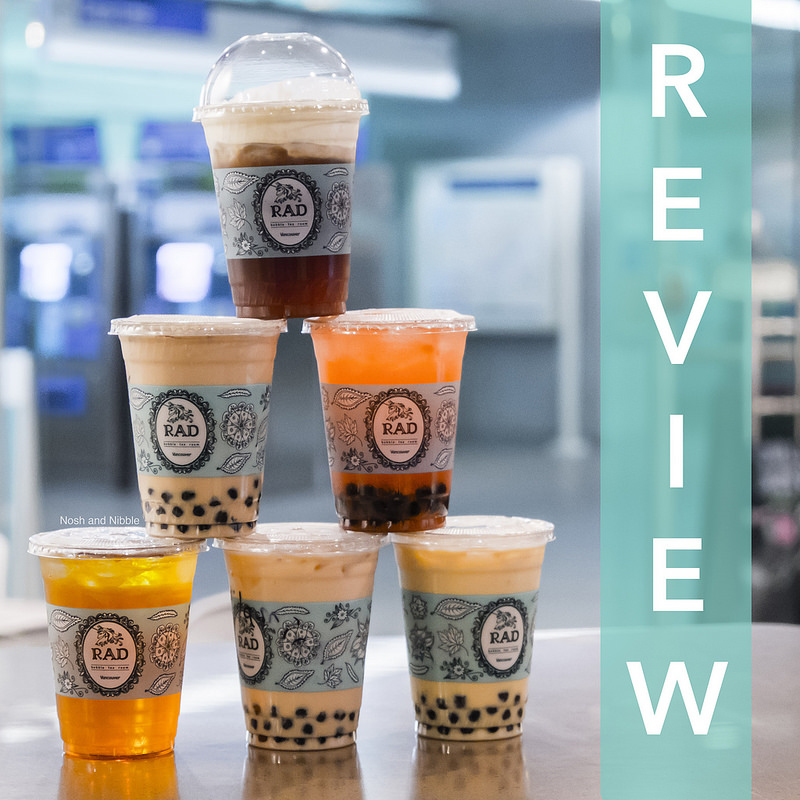 Food and Drink:
I came here with a team of food bloggers (Foodology, Sherman's Food Adventures, Foodgressing, Eat With Mao, and Hilda Talks) and I had a great taste of the following:
Waffles with Lavender Chocolate Sauce ($7 + $0.50)
Waffles with Matcha Cream Sauce ($7 + $0.50)
Classic Milk Tea with Pearls ($4.75)
Lavender Milk Tea with Pearls ($4.75)
Roasted Oolong Milk Tea with Pearls ($4.75)
Cold Brew Pu'er Tea (~$5)
Good Morning Vancouver Tea ($4) (blend of ceylon, mallow, jasmine, lychee)
Strawberry Tea Mocktail ($4.75)
Mango Smoothie ($5.50)
Winter Melon Tea Cap ($4.75)
Matcha Tea Cap ($4.75)
The waffles were made in-house with both the lavender chocolate sauce and matcha cream sauce. The lavender chocolate had small buds of real lavender which was very pleasant to see.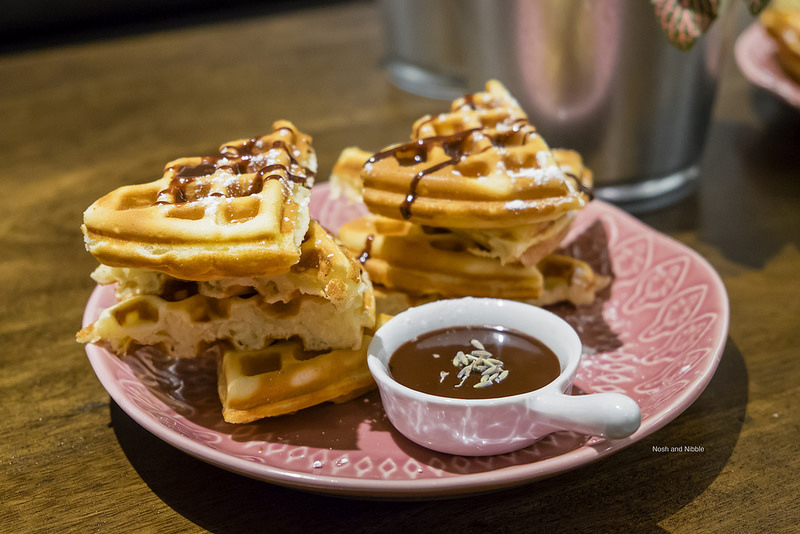 Waffles with Lavender Chocolate Sauce
The matcha cream was my favourite of the two sauces with its fluffy texture and penetrable flavour. The waffles were pretty substantial in size with a slight doughy taste but I was more impressed with the array of drinks on the menu.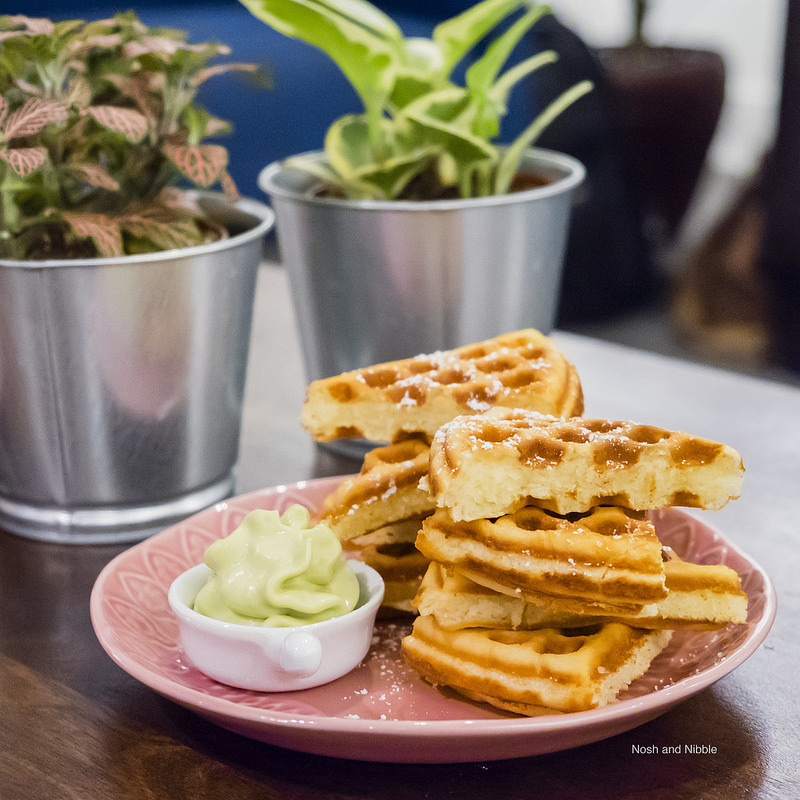 Waffles with Matcha Cream Sauce
Moving onto the drinks, what stood out to me most were the following:
The lack of overly sweet flavours – you can ask for (extra) sugar but the base flavours are either served with 0 sugar or balanced amounts when compared to traditional Taiwanese bubble tea shops
The pearls are made with real tapioca, meaning their consistency remains the same whether you're 2 minutes into your drink or 20.
The mocktails and smoothies are made with real fruit as evidenced by the staff working the counter and tasting the bits of leftover strawberry and mango in the mocktail (carbonated) and smoothie, respectively
The matcha powder used here is ceremonial-grade, meaning it's a more vibrant green (i.e. less yellow), more expensive than ingredient-grade, and generally of higher quality.

Tower of Drinks
One of my favourite drinks of the evening were the roasted oolong milk tea. The tea, brewed with loose leaf tea, was a major player in the flavour of a drink where sweetness normally needs to be dialled back at the Chatimes of the world. It's nice being able to order a drink without worry of it being too sweet.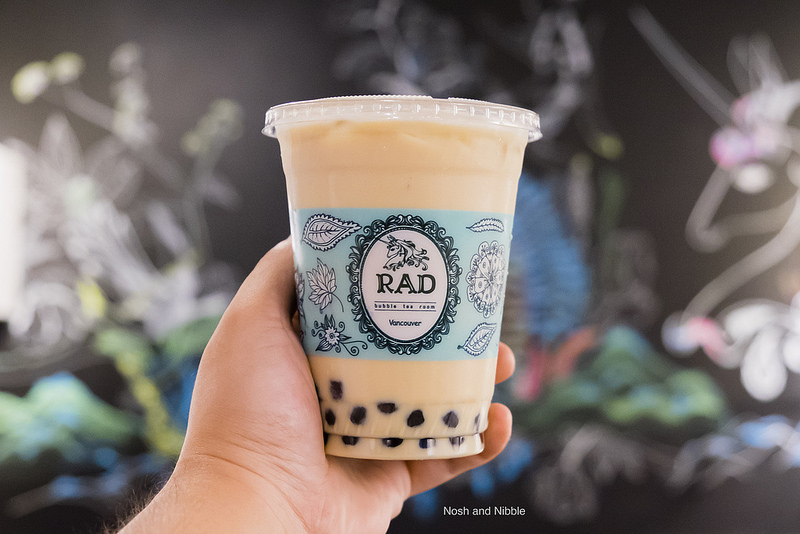 Roasted Oolong Milk Tea with Pearls
My other favourite drink was the matcha tea cap. As mentioned before, the ceremonial-grade matcha contributed to a deep green colour and potent matcha flavour. Sadly it was harder to drink the right blend of salted foam and matcha drink than I would have liked. My previous adventures at 45 Degree Bubble Tea House had a better cup design for drinking tea with foam caps.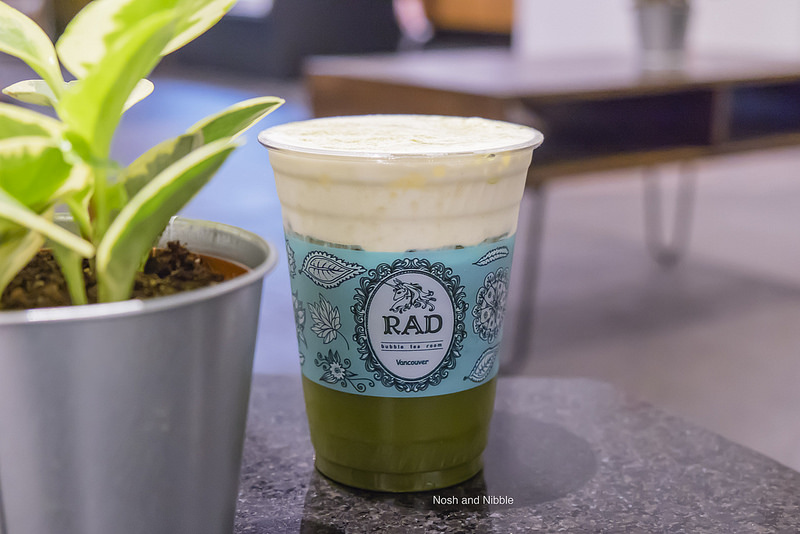 Matcha Tea Cap
Overall, I think these drinks offer a nice change from the usual processed flavours of bubble tea. It's a local business so it doesn't compete with the large chains (e.g. Chatime, Gong Cha) so it's expected that sizes are a little smaller.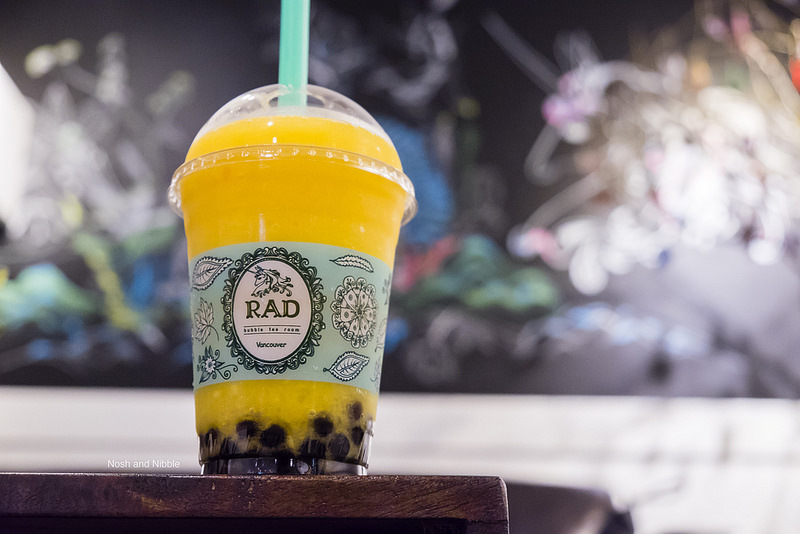 Mango Smoothie
Features:
What's a little unexpected at Rad Tea Room is their open kitchen. All drinks, pearls, and waffles are made before your eyes. There's no secret room where tea is brewed or syrups are restocked from. Not to say anyone is doing something shady with the flavours, but it feels good when you know a business has nothing to hide in terms of food/drink preparation.
Located inside the Granville Skytrain Station's Dunsmuir Street entrance, the existence of Rad Tea Room can be easily missed as you'll need to enter partway into the station (no fare needed, though). The hours are pretty ambitious at the moment with 9PM closures on weekdays and 10PM on the weekends. That might change, but it's good to know you have ample time to get your clean bubble tea fix.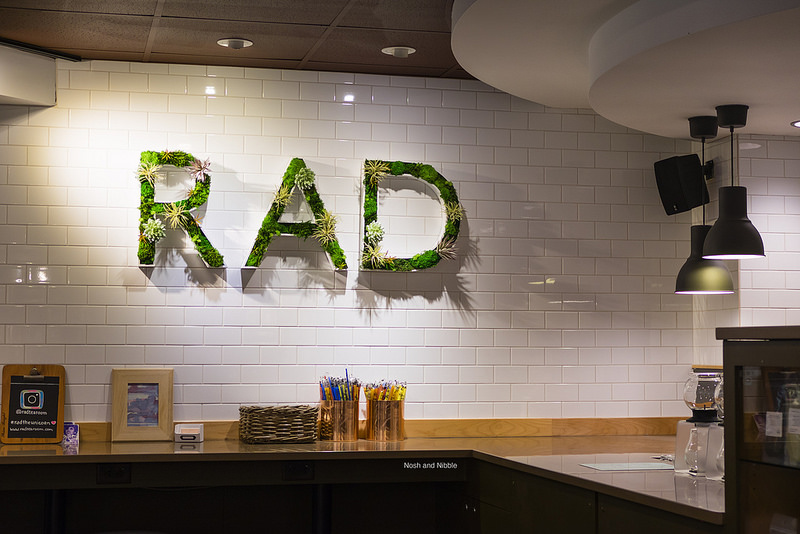 Inside Rad Tea Room
There's seating for about 15 guests among longtables, a counter, and a lounge area towards the back. There's tons of standing space in case a line forms so this would be a good place for someone to study at.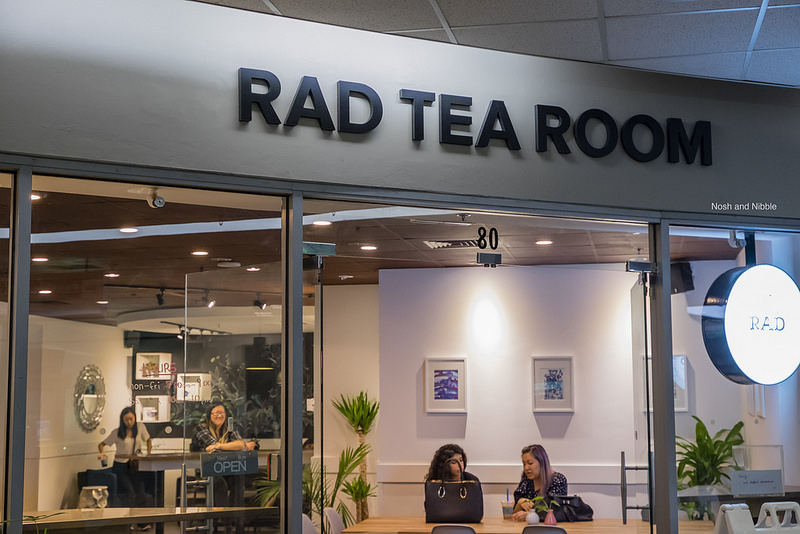 Outside Rad Tea Room
Service:
Like most bubble tea places, you'll place and pay for your order prior to picking it up on the side. The staff, during our few interactions, were courteous enough and quite motivated in keeping their work area clean when there weren't any customers.
Final Thoughts:
One-liner: Cleaner bubble tea with the fresh pearls every connoiseur seeks
Highlight: Roasted Oolong Bubble Milk Tea
Price per person: $5-11
Would I go back? Yes.