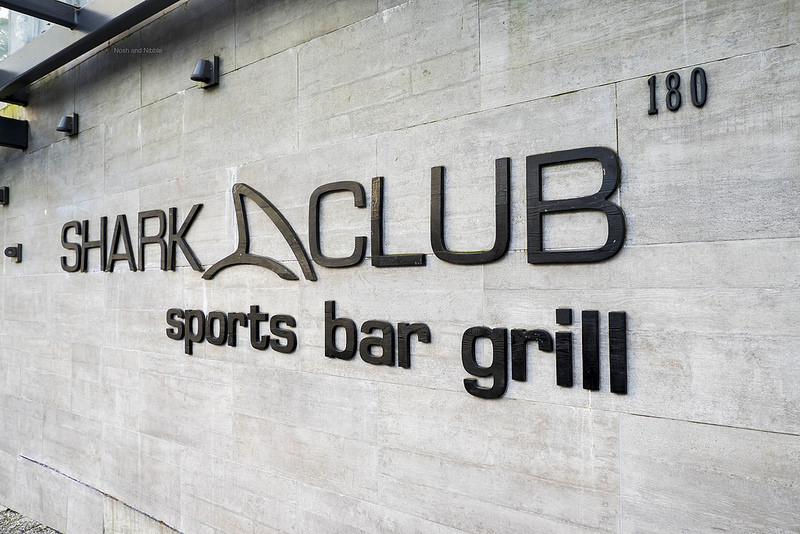 It's not often that this happens, but after my previous outing to Shark Club for the Oilers vs Ducks Game 6, I was invited back for a dinner, on the house. I was informed the experience I had was not reflective of Shark Club standards. With that in mind, I scheduled another dinner, this time featuring the Predators and Ducks, also a Game 6.
Disclosure: This was a complimentary meal given in exchange for no monetary compensation. All opinions are my own.
Food and Drink:
Team Tastic came here on a Monday evening and I had a great taste of the following:
Hand-Shaken Mango Margarita ($4)
Lettuce Wraps with Chicken ($11 + $4)
Thai Tuna Salad ($17.50)
Steak Frites ($25)
Chocolate Chunk Cookie Skillet ($7.50)
The hand-shaken mango margarita was the Monday drink special of the day. Being more a Pred fan than a Duck fan, I opted for mango to match the Nashville gold jerseys. This was a pleasant 1oz cocktail with lots of sweetness and a delayed numbness that hits you later like any good margarita.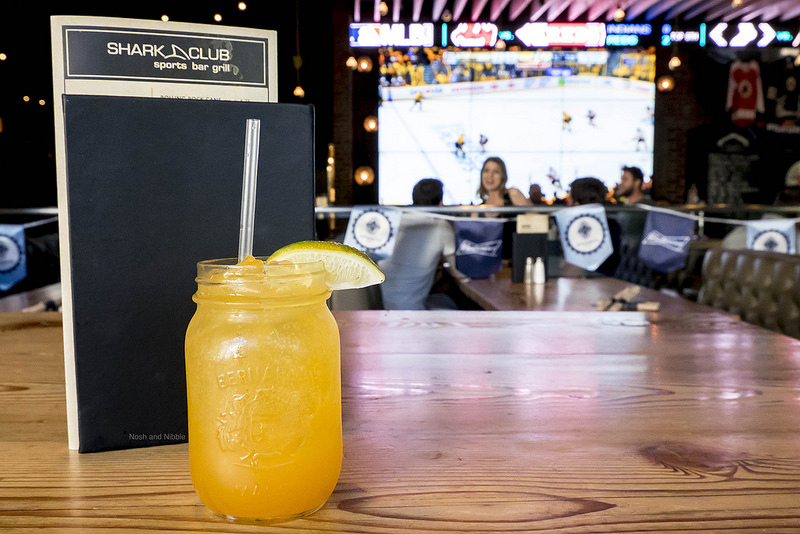 The lettuce wraps were accompanied by a bowl of sautéed peppers, cashews, fresh vegetables, crispy noodles, ginger soy sauce, and the added chicken. These were quite tasty thanks to the juicy chicken and the wraps held together well with the flexible leaves of lettuce. For the carb-conscious diner, these lettuce wraps fit the bill of being a filling appetizer.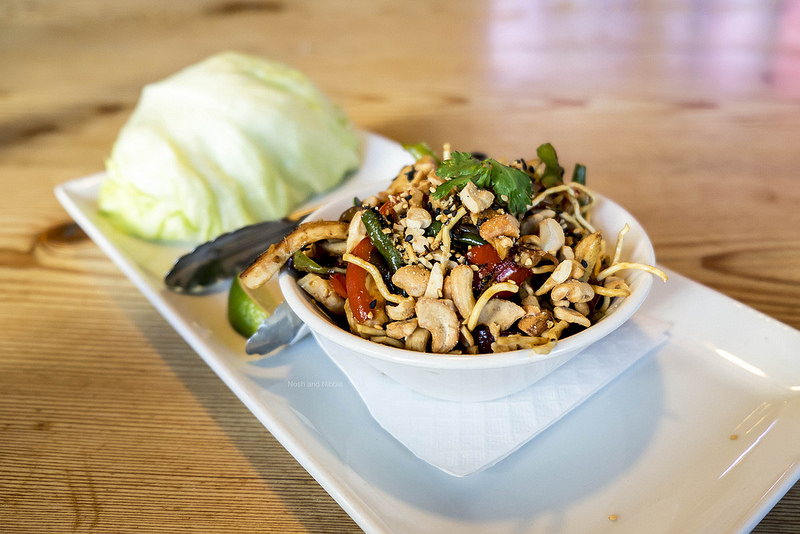 The Thai tuna salad was quite a substantial salad. With ginger sesame-crusted rare Albacore tuna, crisp greens, mangoes, soy and cilantro vinaigrette, and all the edamame beans a person could want in a day, this fit the bill at $17.50 as a health-conscious and filling plate. My favourite part was the contrast of ginger sesame crust and rare tuna as each piece was cooked just right.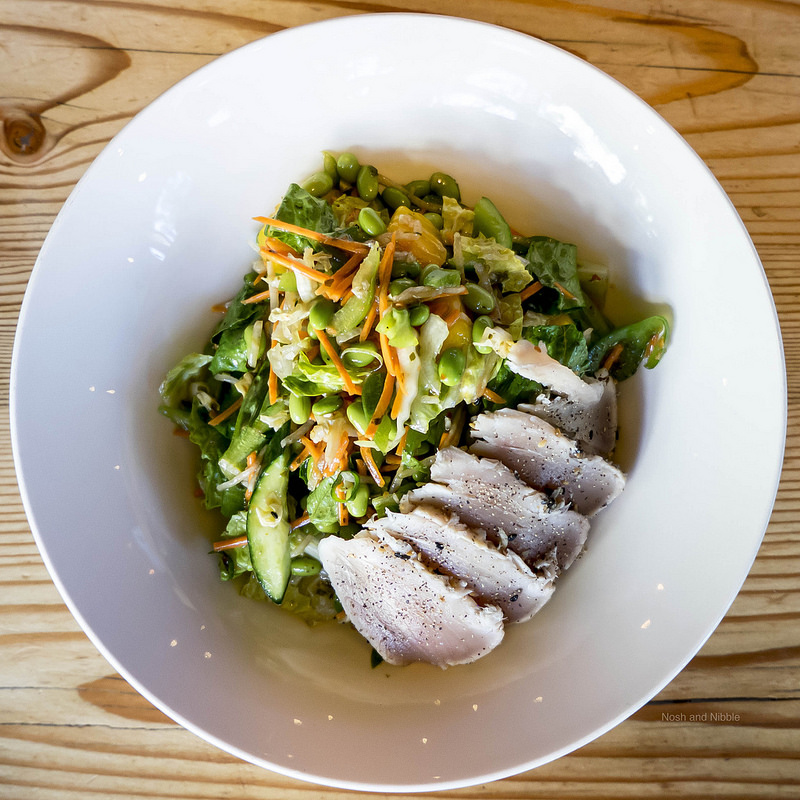 Moving onto the mains, the steak frites was a seasoned sirloin aged up to 32 days served with chimichurri, truffle fries, and arugula. The other half of Team Tastic doesn't take to rare steak so we got this one done medium. The uniformity of the slice sirloin was impressive as each piece was seasoned evenly and had a pleasant gradient from brown to pink meat, yet it was all consistent.
For the French fry lover, this is a steak frites to write home about. For casuals though, this might be a little too much on the potato and I felt the collective steam from the pile of wedges made some fries soggier than others.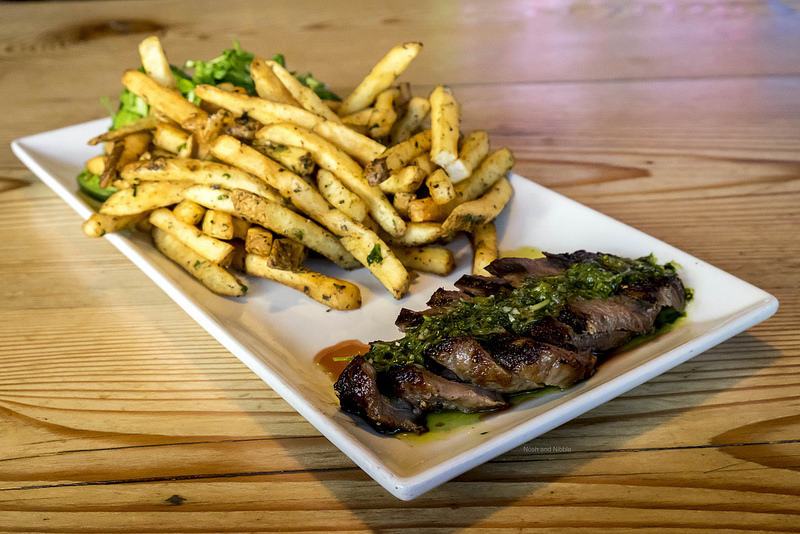 And finally, dessert. I gave the chocolate chunk cookie skillet another go, and what a difference the second visit made! The ice cream was packed made for dense spoonfuls that were full of ice cream instead of ice, the cookie was cooked just right, and each spoonful was a satisfying flavour boom in my mouth. The cookie peeled off easily from the homey skillet and I was all for this no-knife-needed dessert.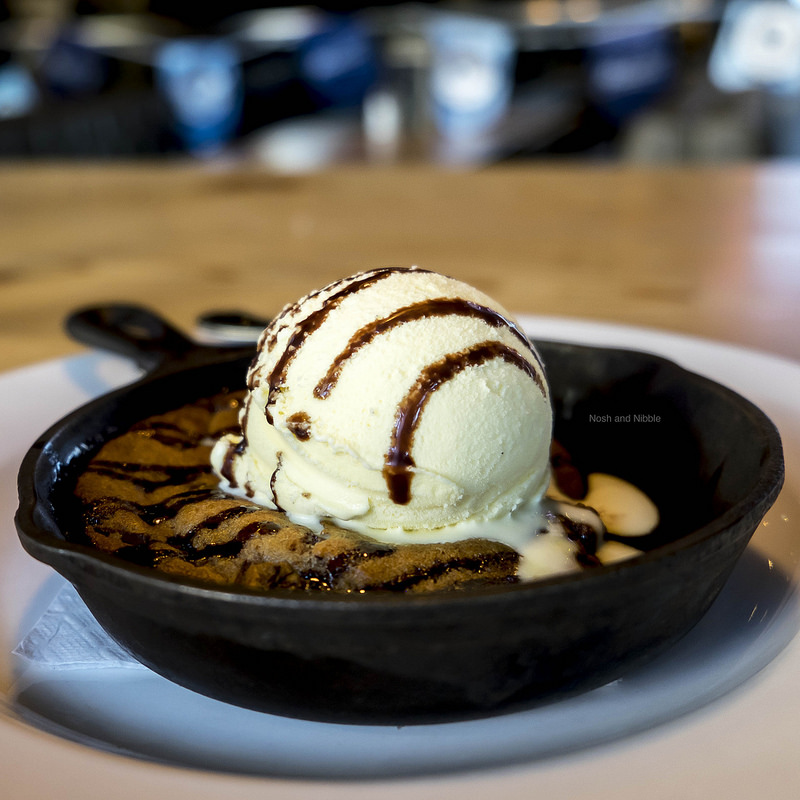 Features:
At Shark Club, sports are a huge priority. On my second visit, I noticed even more TVs in case the main marquee is not your cup of tea. If you're the type who can simul-watch multiple screens, this is a terrific place to get your dose of sports. The biggest feature about Shark Club is their giant dual TV billboard running by the bar and in plain view of everyone. The screens are high quality and there's even a scoreboard running along the top of the bar showing you scores of other games and leagues. The atmosphere is very inviting and well-lit. As you're walking in and out, you'll even hear the play-by-play through the front door's speakers so you won't miss as much if you have to jet early. There's seating for about 200 guests here in booths, tables, longtables, and private sections.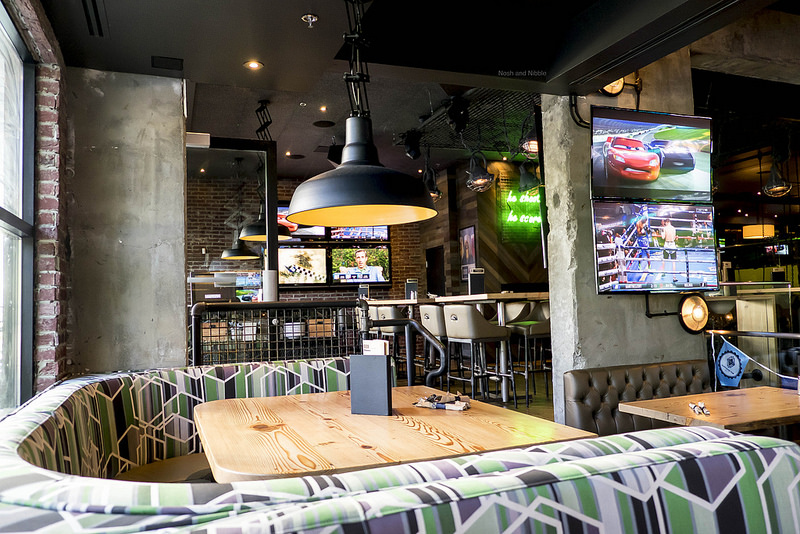 Service:
Suffice to say, service was great on my second go here. Granted, Preds vs. Ducks isn't a big a crowd as Oilers vs. Ducks, but there was still a fair amount of people here. You seat yourself first, so I'd recommend coming here with a group of 4 or fewer for a leisure visit. If you come before a game starts, you can snag the larger 6-top booths which are quite comfortable. Our food came in 15 minutes or less which is great timing. Our server even had time to check up on our meal and top up our waters without us asking.