As far as Friday night entertainment goes, there's nothing quite like the Shipyards Night Market. Featuring local vendors, food trucks, and views of Downtown Vancouver, Shipyards is a pretty iconic venue and has made a permanent home in the Shipbuilders' Square. Last Friday, I had the chance to visit the Shipyards Night Market and learn for myself some cool enhancements and plans for the newly christened Shipyards District neighbourhood of North Vancouver.
Disclosure: This was a media tour. All opinions are my own.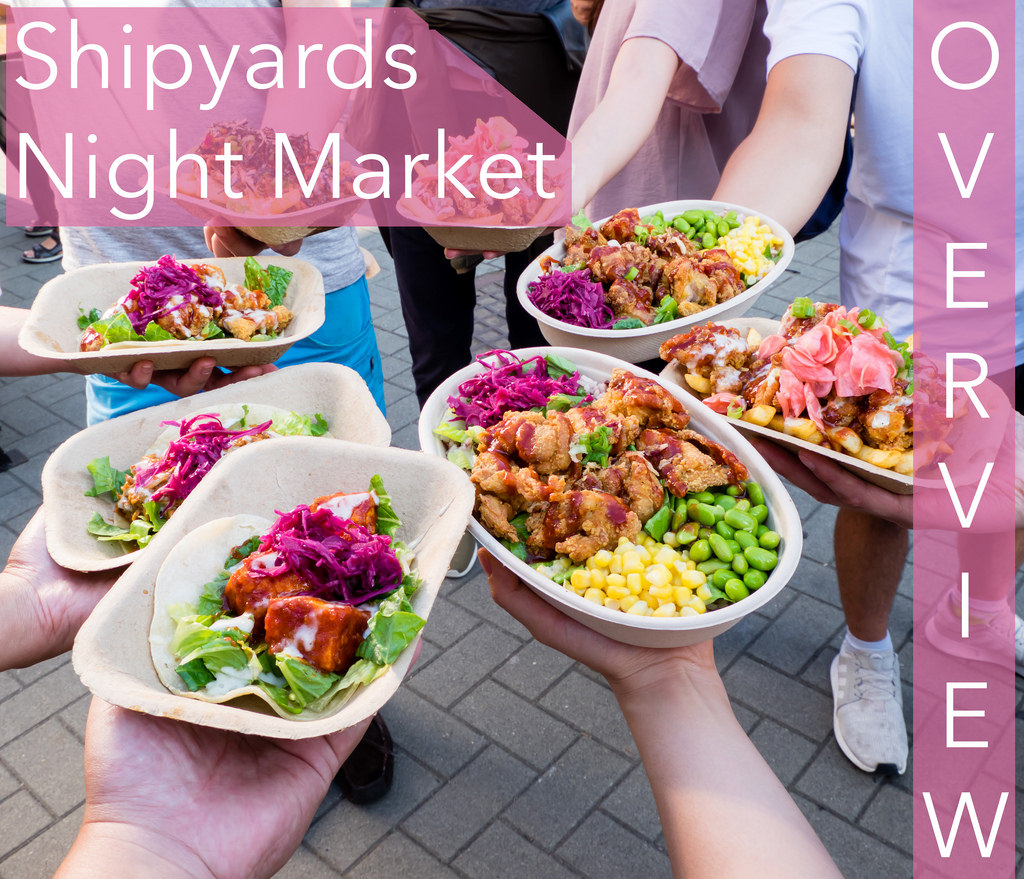 Food:
As part of this media tour, I had a great taste of these vendors, all appearing at the Shipyards Night Market for the foreseeable future:
JJ's Hot Cobs
Disco Cheetah
The Reef Runner
Kics Lemonade
Chou Chou Crepe
Starting the evening at JJ's, we were treated to a roasted corn on the cob ($4). Doused with butter added two things to the corn: an intense fragrance and a surface that could adhere with seasonings, of which there were plenty. I opted for a garlic pepper seasoning but there were tons to choose from and customers can choose any combination they like. Definitely get your corn with butter if you want to maximize your experience at JJ's.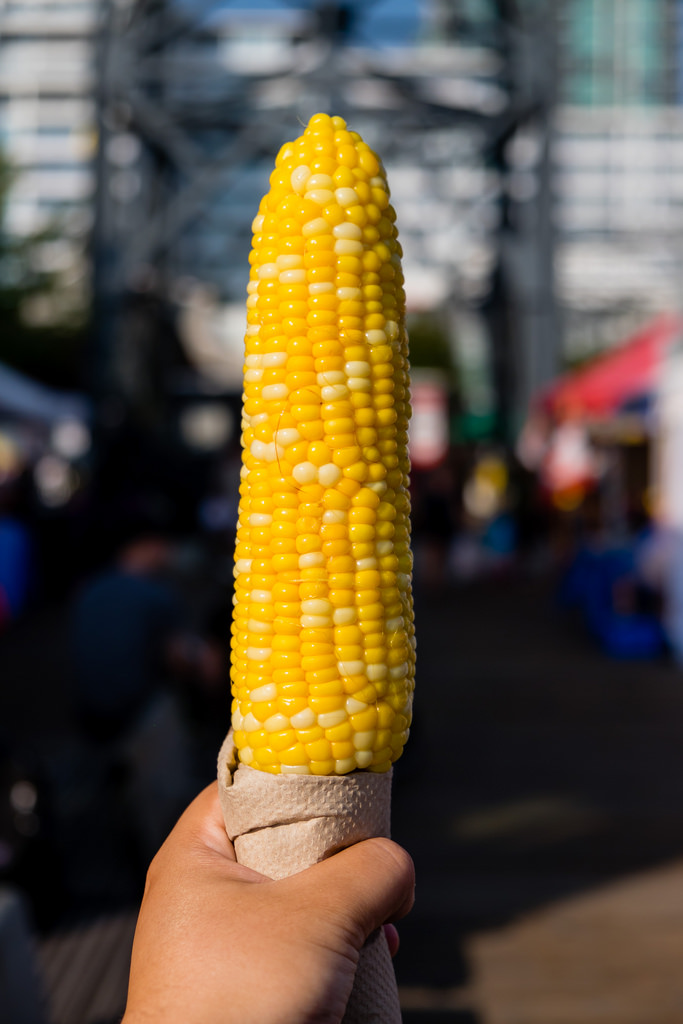 JJ's Corn on the Cob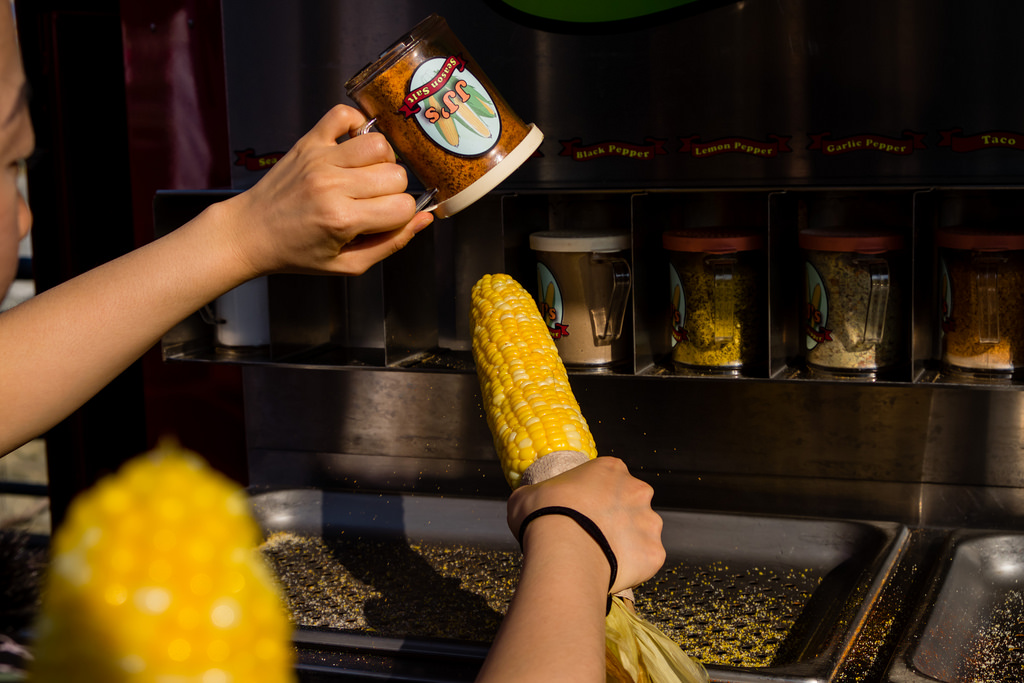 JJ's Corn Seasoning Station
Our next stop was at Disco Cheetah, a Korean fusion food truck. Here I enjoyed a Korean Fried Chicken Rice Bowl ($11) which featured a mix of sweet chili glazed fried chicken, multigrain rice, romaine lettuce, red cabbage, edamame, corn, scallion, fried onion, and a vinaigrette dressing. This is probably one of the healthier options at the Shipyards Night Market if only for its use of multigrain rice. I'd recommend you visit this stall if you're looking for something less greasy with saucy meat.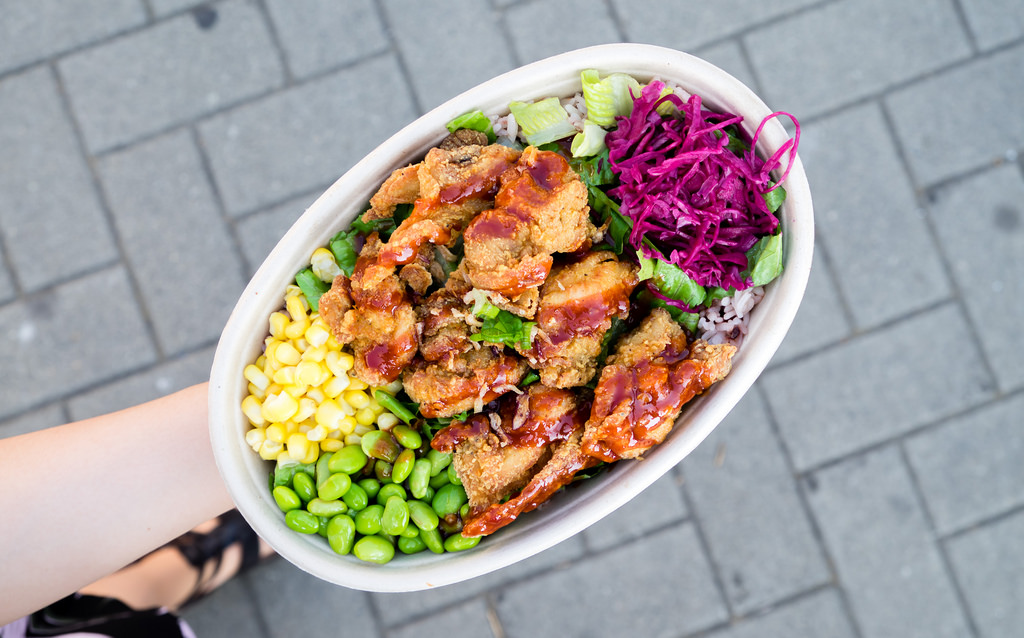 Disco Cheetah - Korean Fried Chicken
Next up was Reef Runner. Fans of the original brick-and-mortar restaurant will instantly recognize the Caribbean theme of this truck. The food might not look amazing in person, but any meat and potatoes lover should enjoy the jerk chicken and potato roti ($12) we got from here.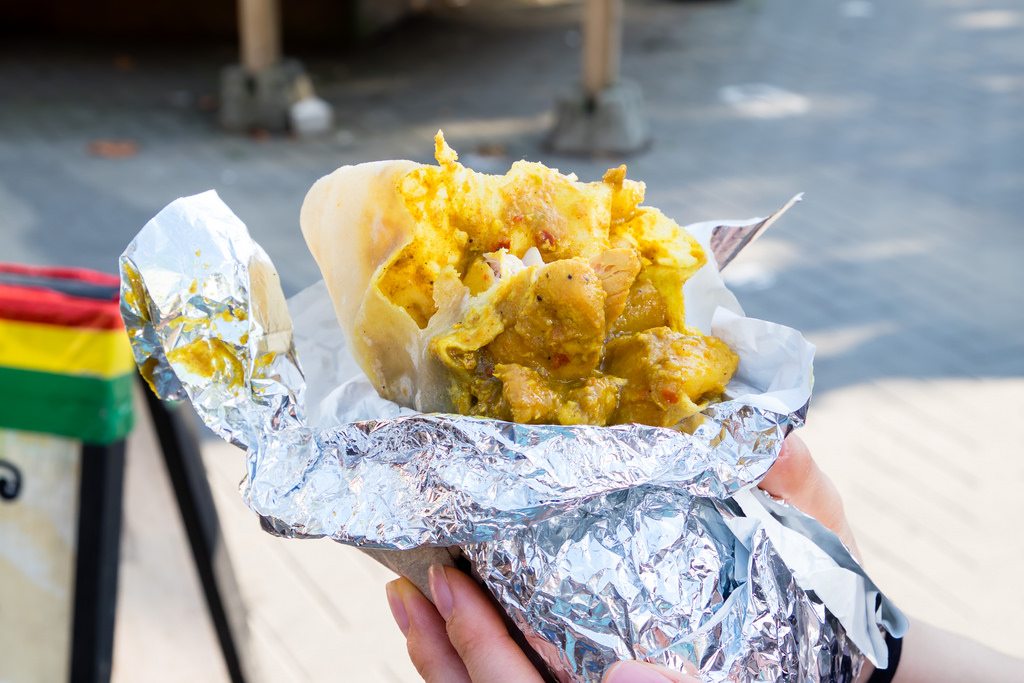 Reef Runner - Jerk Chicken and Potato Roti
To cool off, we visited Kics Lemonade for their namesake lemonade ($4). This was a refreshing splash to wash down all the food we'd been consuming. For sweet tooths, the raspberry option was sweeter than the blood orange one. At $4/cup, this is a good option if you're looking to support local (they're from Port Coquitlam) and need a sweet drink, but I personally am more of a water or alcohol person.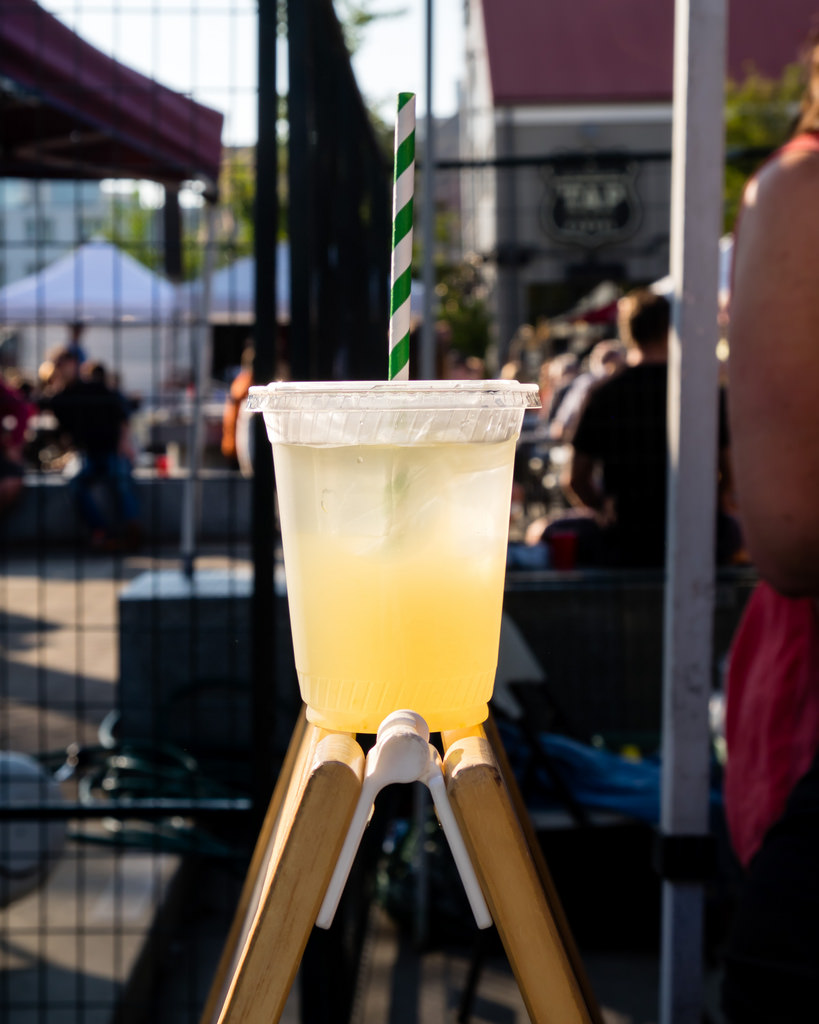 Kics Lemonade - Lemonade
For dessert, we visited Chouchou Crepes, a one-woman shop serving French-style crepes. Speed of service was stellar here as the owner juggled three orders simultaneously and displayed a show of multitasking prowess. I had myself an apple sauce and salted caramel crepe ($8). The flavour here was intense and the crepe had a satisfying chew. I don't think the crepes here would fill anyone up as a meal but sharing one as a dessert is a great way of capping off one's food adventures at the Shipyards Night Market.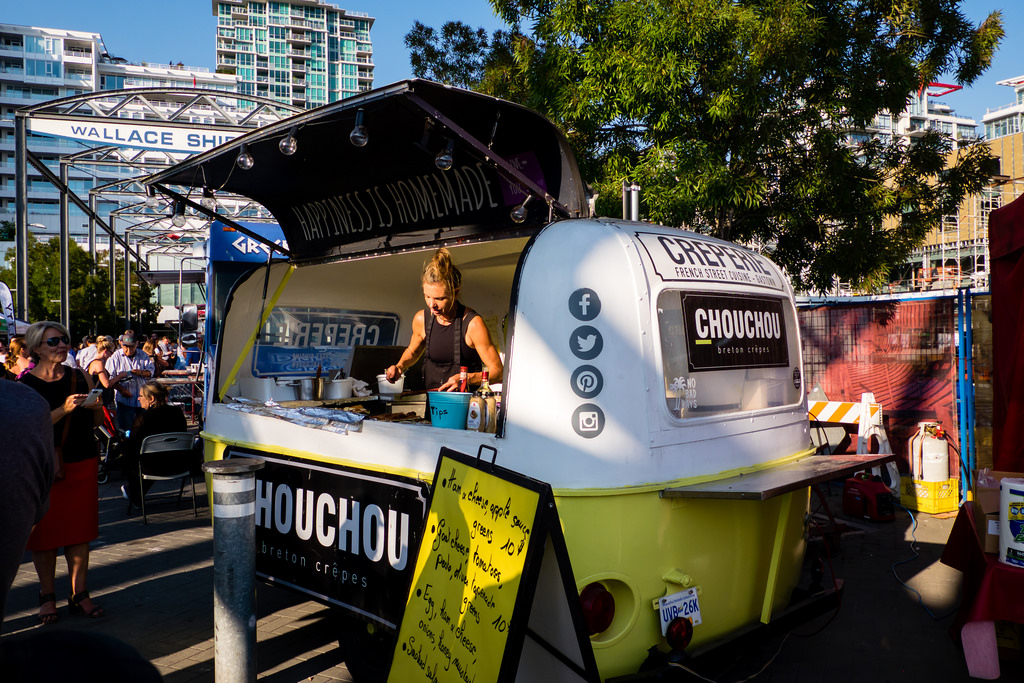 Chouchou Crepes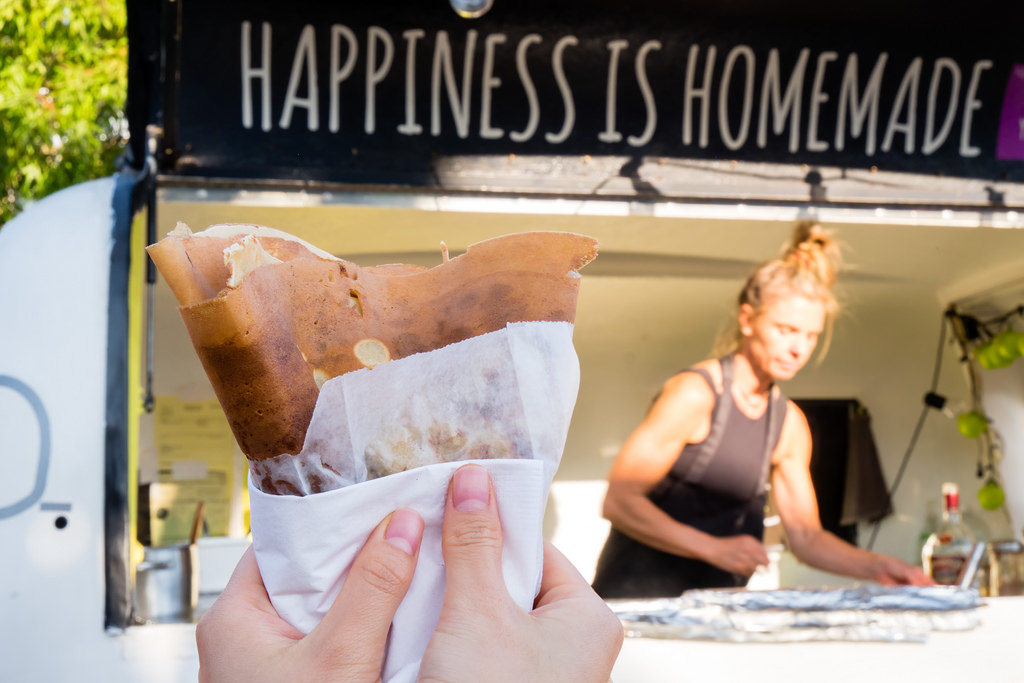 Chouchou Crepes - Apple Sauce and Salted Caramel Crepe
Shopping:
Shopping at the Shipyards Night Market brings together local vendors selling a variety of home goods, wine, soaps, preserves, and clothing all under one roof. This market theme is similar to what you find on Main Street in Vancouver. Vendors are found both indoors and outdoors.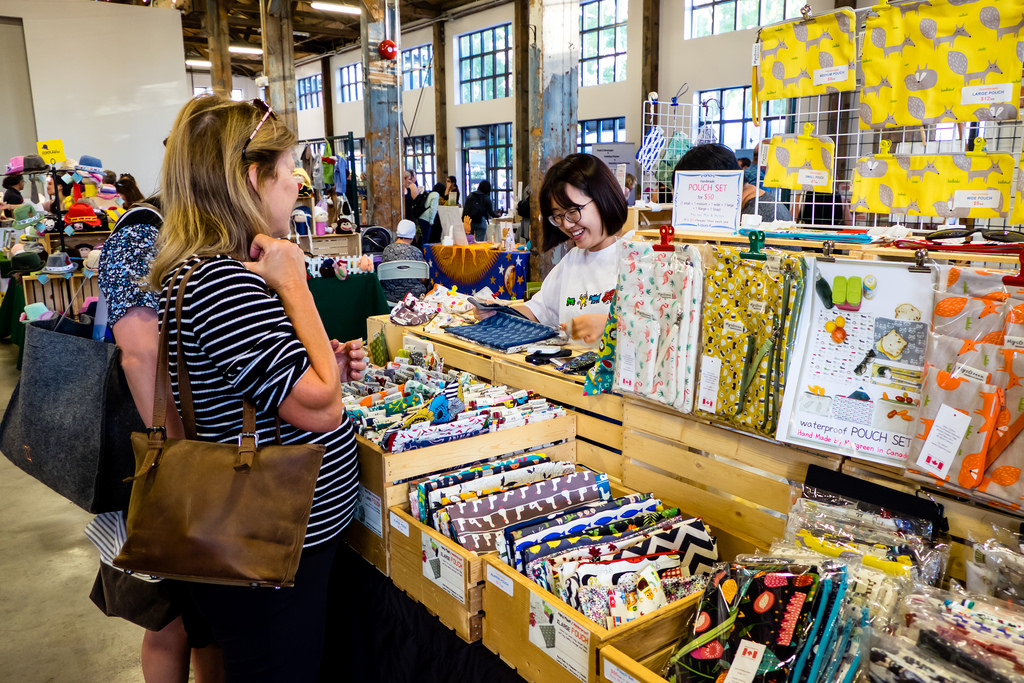 Shopping at the Shipyards Night Market
Entertainment:
One awesome thing about the Shipyards Night Market is that it's free to go to and the event isn't overladen with sponsor tents (cough, Carnaval del Sol). The included entertainment is all local talent and this evening featured Gonch Messiah, a funk cover band. The beer garden is in good proximity to the main stage and I had a Hey Y'all Iced Tea (~$5) to accompany me (a mix of vodka + iced tea).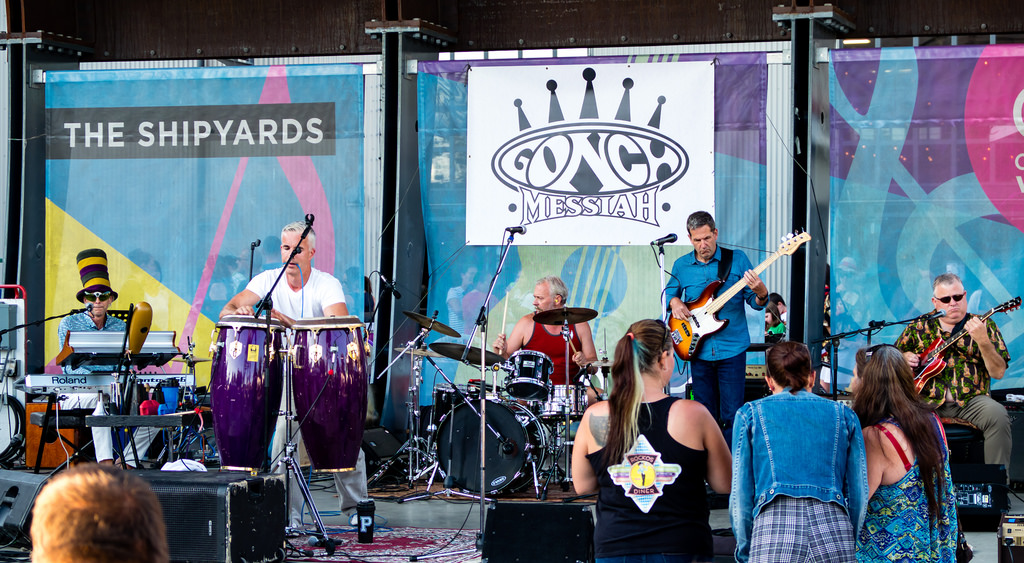 Gonch Messiah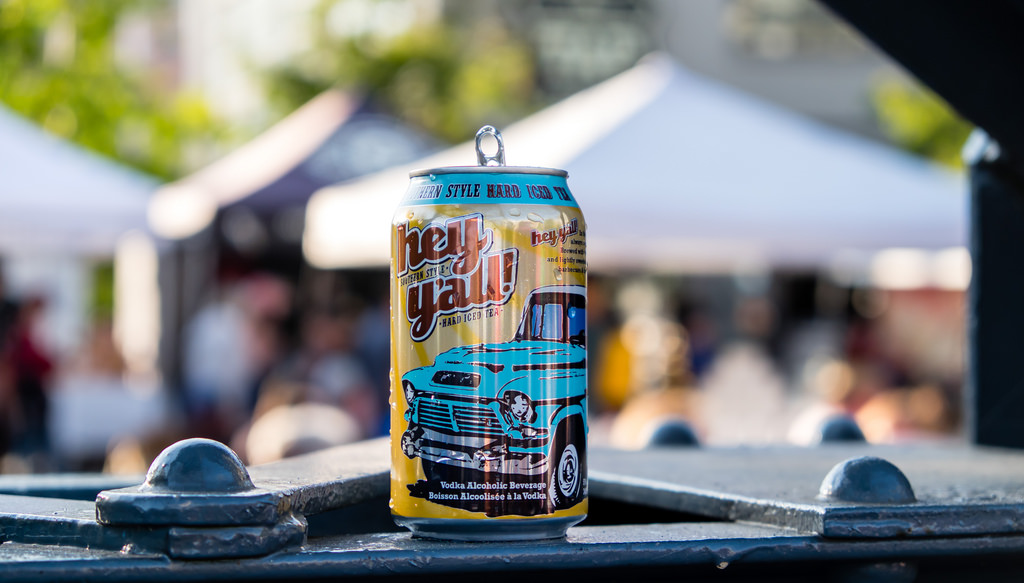 Hey Y'all Iced Tea
The Shipyards District is shaping up to be a pretty eclectic section of North Vancouver. Beside the Night Market are some stellar public spaces, including what's been dubbed the "Megabench", a 48-metre bench, and a water play zone.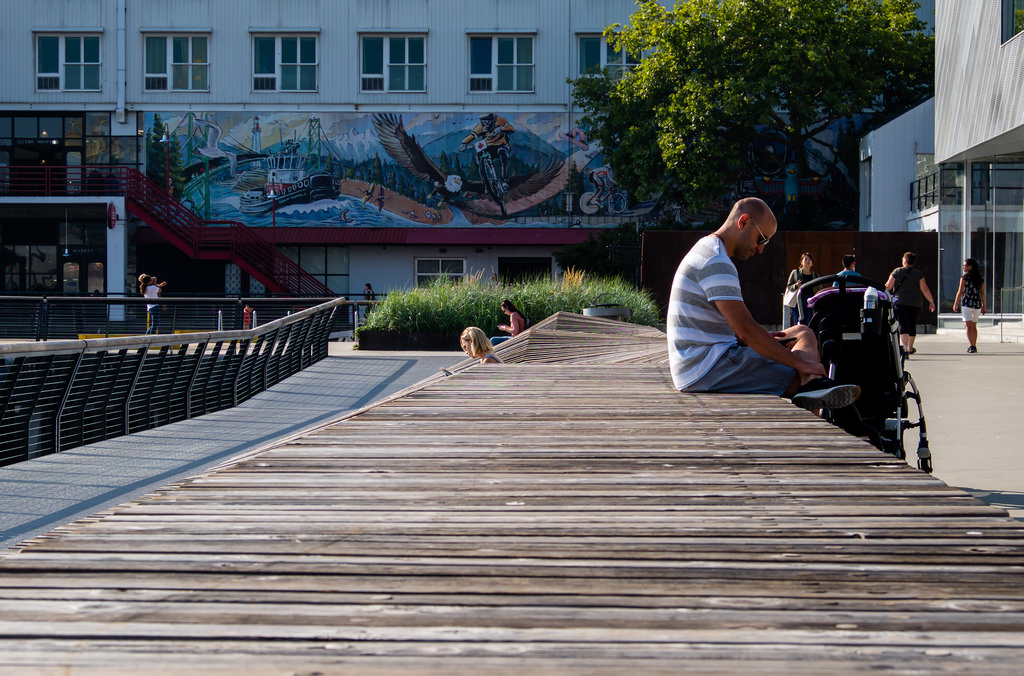 Megabench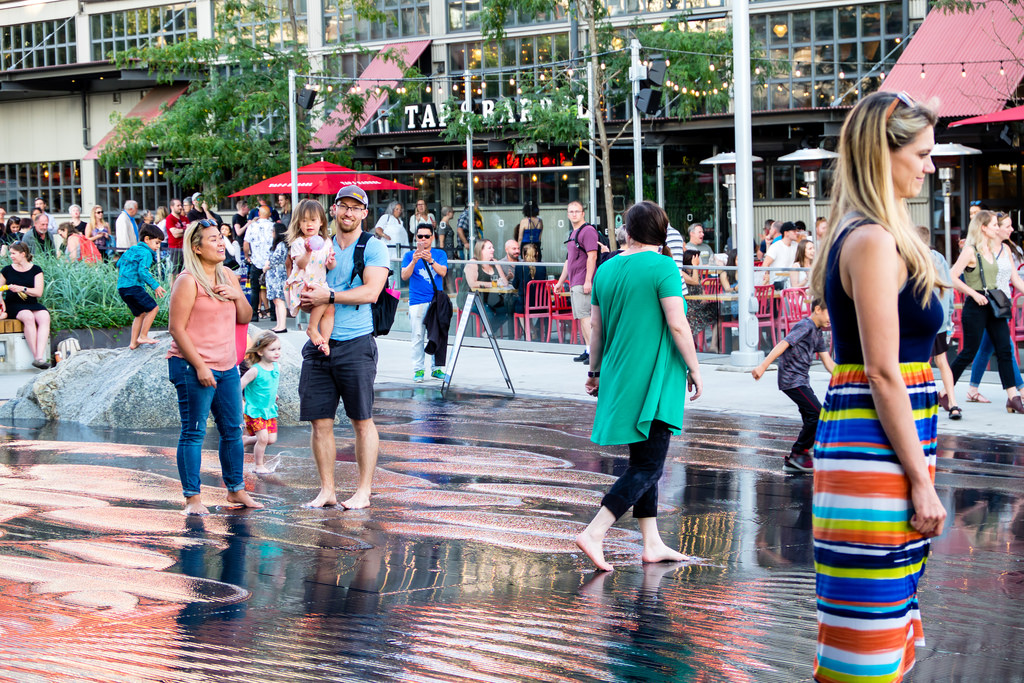 Water Play Zone
The Polygon Gallery also occupies a big chunk of space in the Shipyards District and serves as a much-needed injection of art into the neighbourhood. Entry is by donation and inside you'll find pieces of North Shore history as well as more modern exhibits. The vibe of the modern exhibits is similar to New Westminster's New Media Gallery found inside the Anvil Centre. Entry at Polygon Gallery is by donation.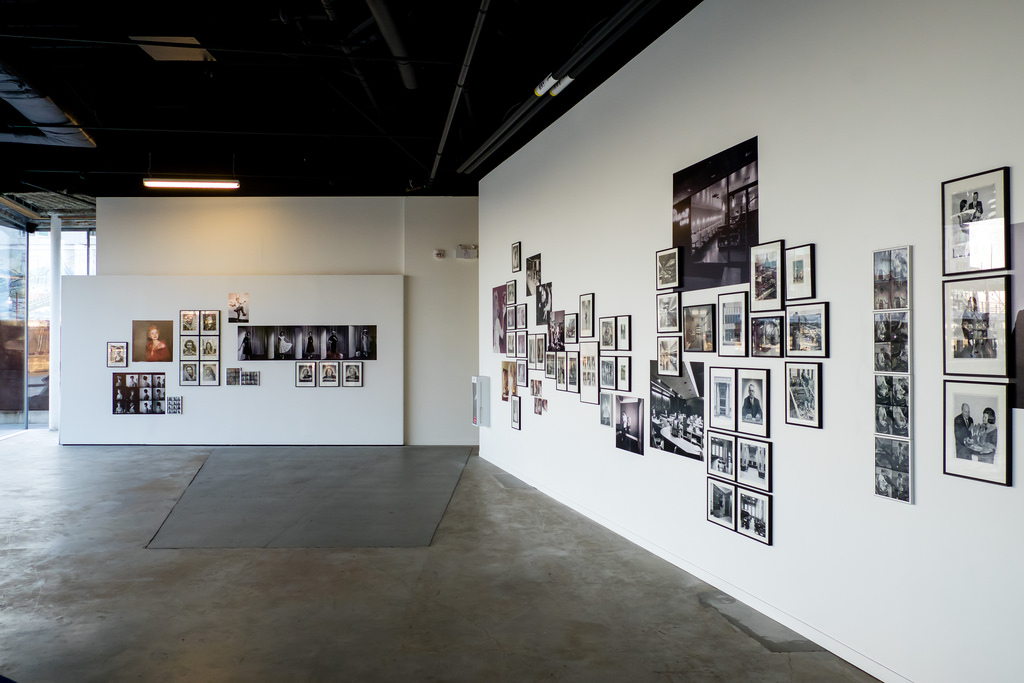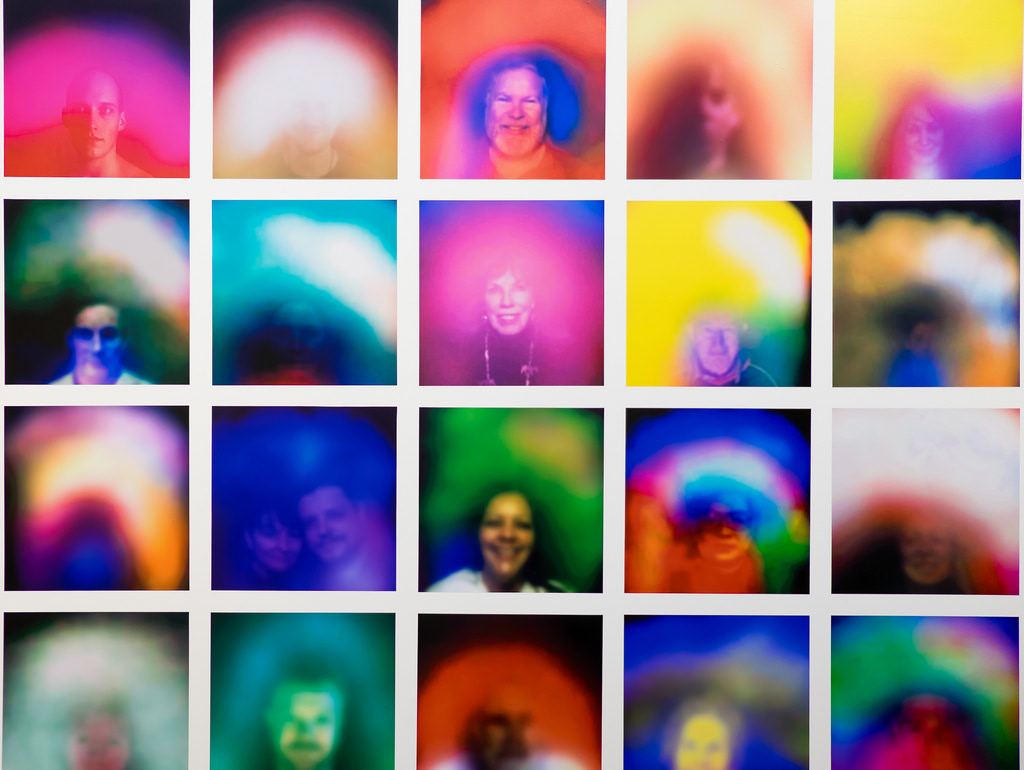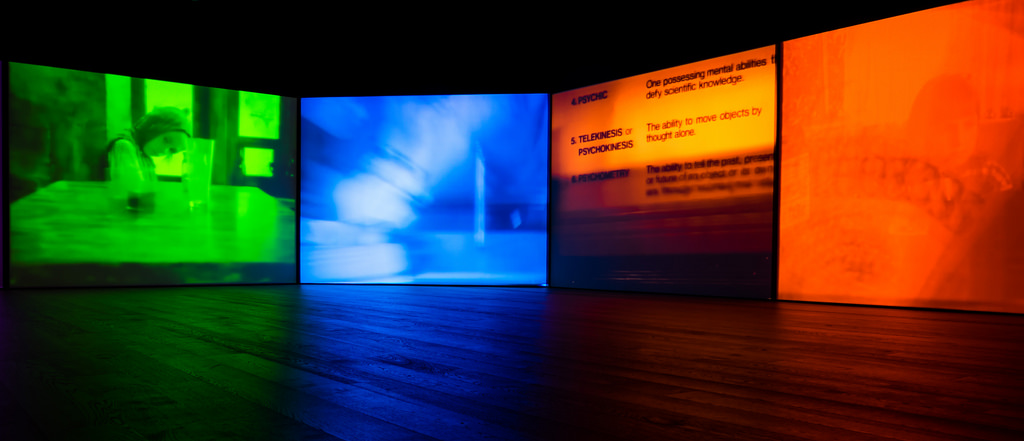 Polygon Gallery
Not sure how to navigate to the Shipyards Night Market? Just look for this yellow crane.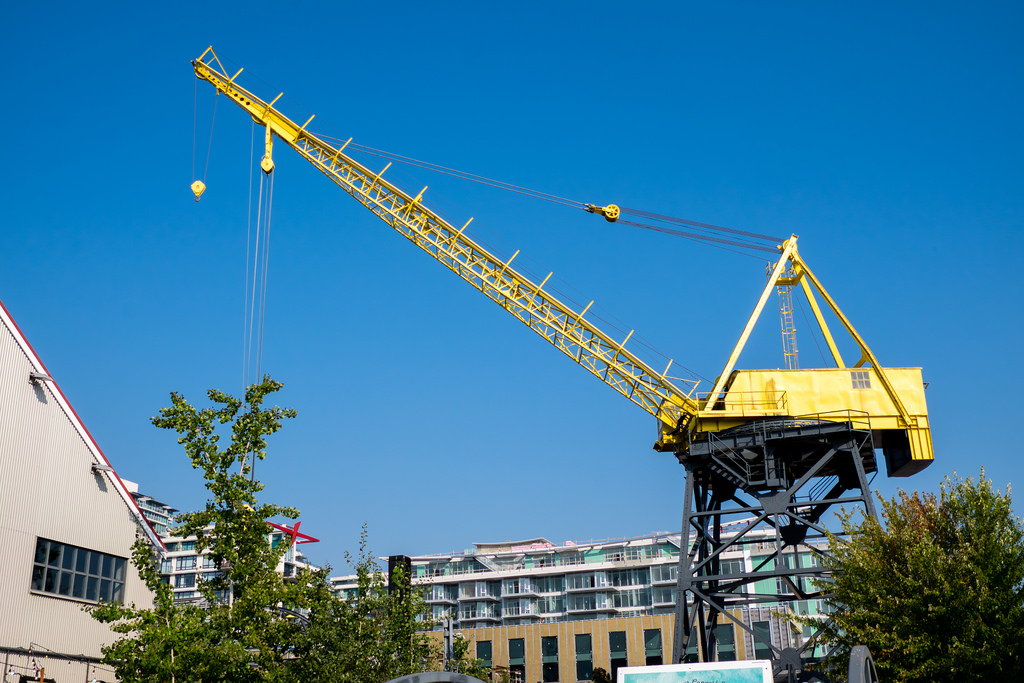 Yellow Shipyards Crane
Final Thoughts:
One-liner: The Shipyards District shapes up to be a premier destination every Friday providing an activity-packed venue that isn't inundated by sponsorship messages or a lineup to pay for admission
Highlight: Chou Chou Crepe
Would I go back? Yes.