As you waltz down Robson Street, be it for eclectic dining or a place to catch the latest game, you'll likely notice the lack of BBQ options. For the record, I believe a restaurant must have at least cornbread, brisket, and chicken barbecue options to bill itself as such. More recently, Second Floor Eatery, the aptly named sports bar, has launched its new BBQ menu, and I had a chance to experience the goods for myself.
Disclosure: This was a complimentary tasting provided in exchange for an honest overview and no monetary compensation.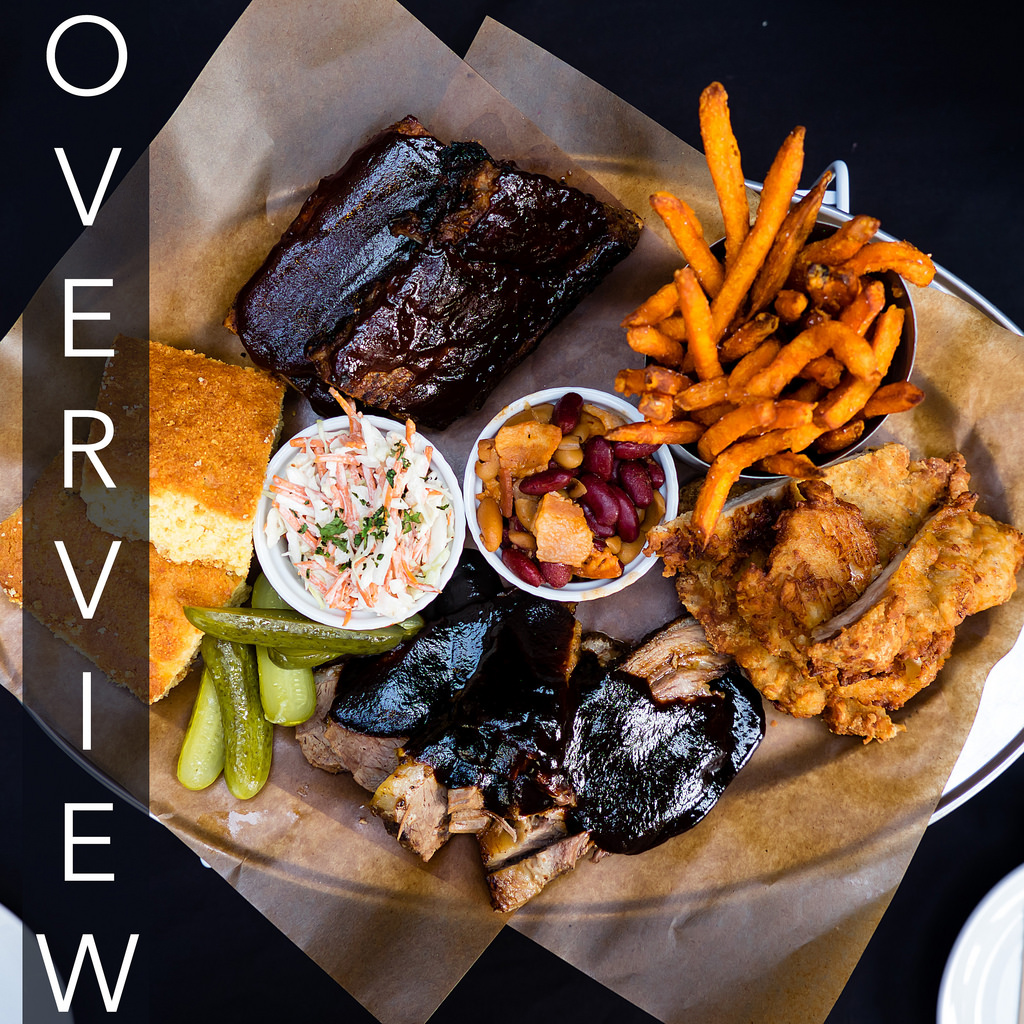 Food:
Team Tastic came here for a Friday dinner and I had a great taste of the following new menu items:
K.F.C ($12)
Crispy Pork Belly ($11)
2nd Floor Burger ($17)
Pit Master Platter ($48)
Starting with some appies, the K.F.C (Korean fried cauliflower) was a plate of battered cauliflower served in a Korean chili sauce. There was an option to add a side of wings sauce for 75¢ but I thought the base coating was good enough. Each cauliflower had a discernible skin thanks to the batter and even featured a bit of heat as I cleaved into the juicy cauliflower.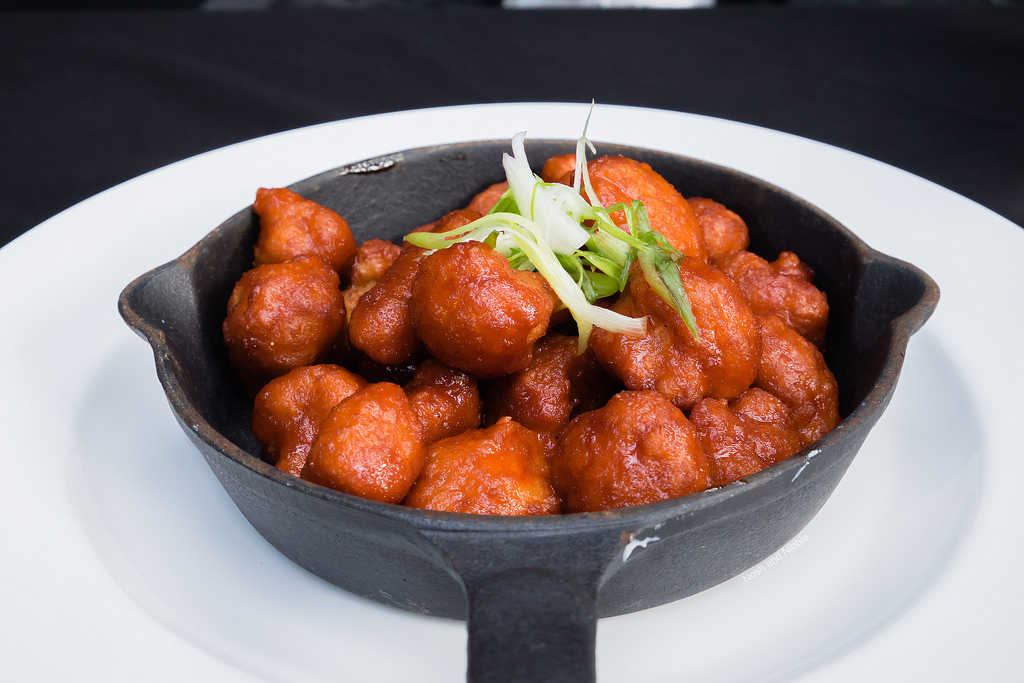 K.F.C
The kitchen added an item to our order and provided a plate of crispy pork belly. Served with a reduced Canadian maple syrup, the pork belly had a chewy fatty top followed by some tender lean pork within. This was a cool take on the traditional pork belly (I'm used to the Chinese slow-cooked version) and not something you see often at a restaurant pushing the barbecue agenda.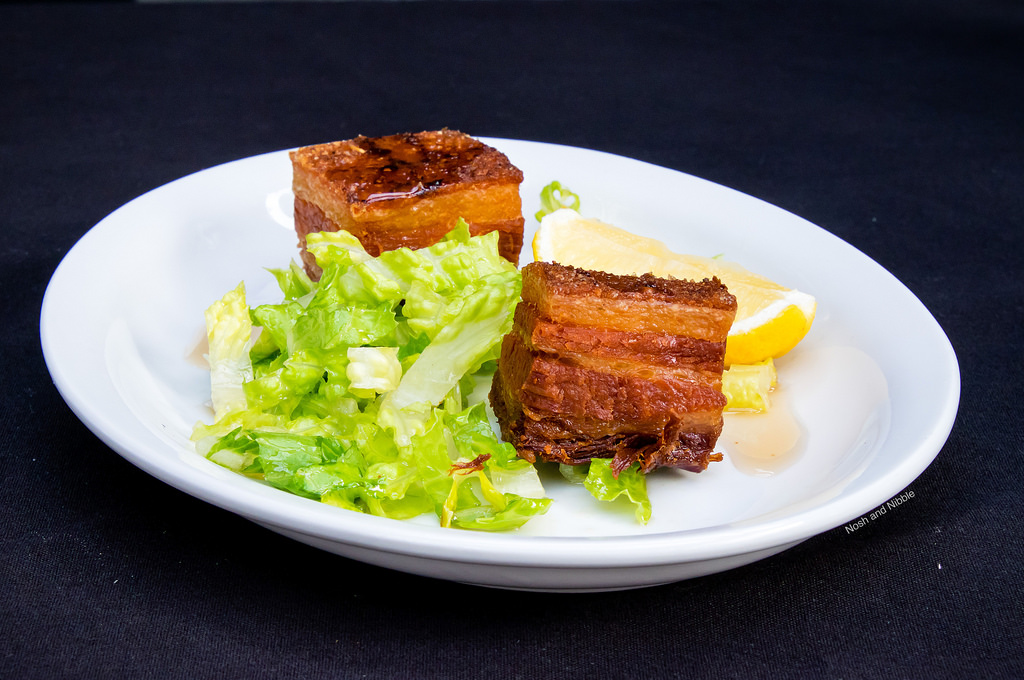 Crispy Pork Belly
Next up was the 2nd floor burger. I always order a namesake item where possible because I hope what's produced is a dish the restaurant is extra proud of. This burger featured cheddar, bacon, lettuce, onion, and tomato; the usual suspects. Instead of a beef patty though, this was a pork belly patty. Man, this was juicy! Coupled with the bouncy texture of the bun, I was going for each bite as eagerly as the last because this was such a good patty.
Not sure who will notice this, but the lettuce and onion on my burger had the vegetables meticulously placed and the onions flared out in a fanning pattern. How often to do you get a burger with this kind of effort behind its assembly?

2nd Floor Burger
Finally, the main attraction was the pit master platter. All house-made, this included a bit of everything BBQ with pork ribs, beef brisket, buttermilk fried chicken, coleslaw, beans, fries, pickle, cornbread, and yam fries. The menu claims this could serve up to 4. Based on my observation, 3 dudes could also get the job done.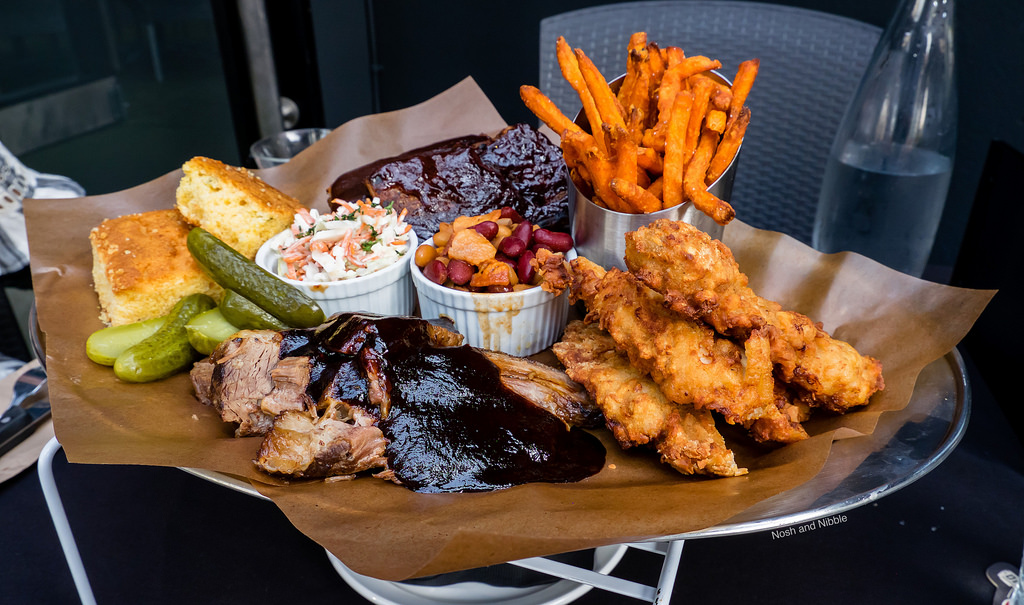 Pit Master Platter
The best part of this platter was the ability to try a bit of everything. The brisket was on the leaner side, but the buttermilk chicken had a terrific blend of skin and tender meat. The pork ribs are a holdover from the previous menu (see my last overview here), but they were just as good on this visit (i.e. no knife needed).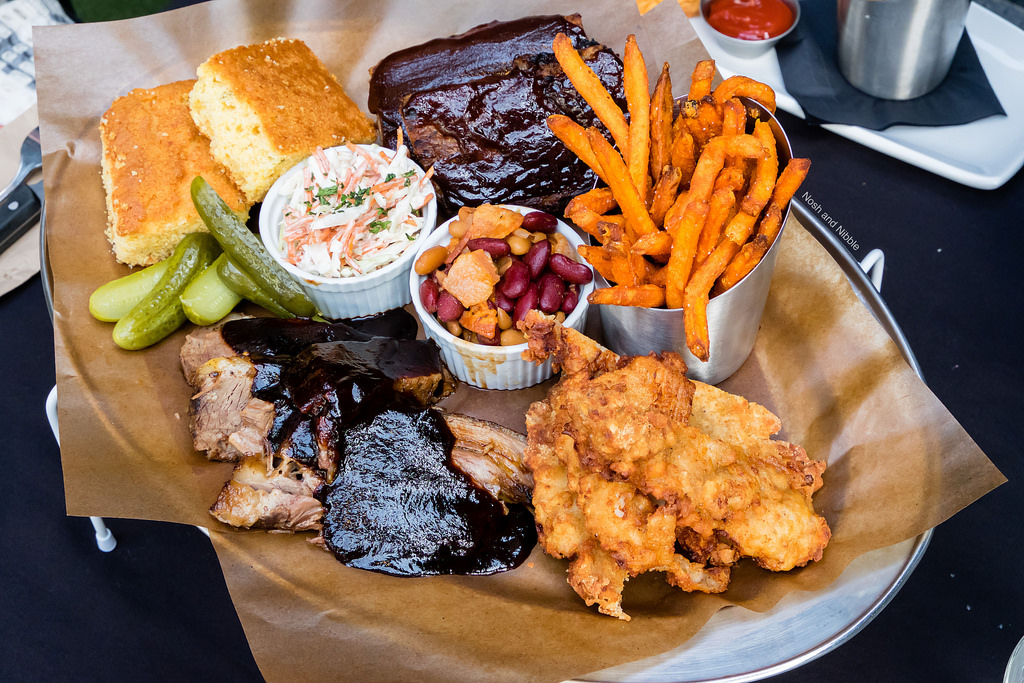 Pit Master Platter
The pit master platter also comes with a trio of classic chipotle, barbecue, and teriyaki to round out the flavours if you're in a saucy mood.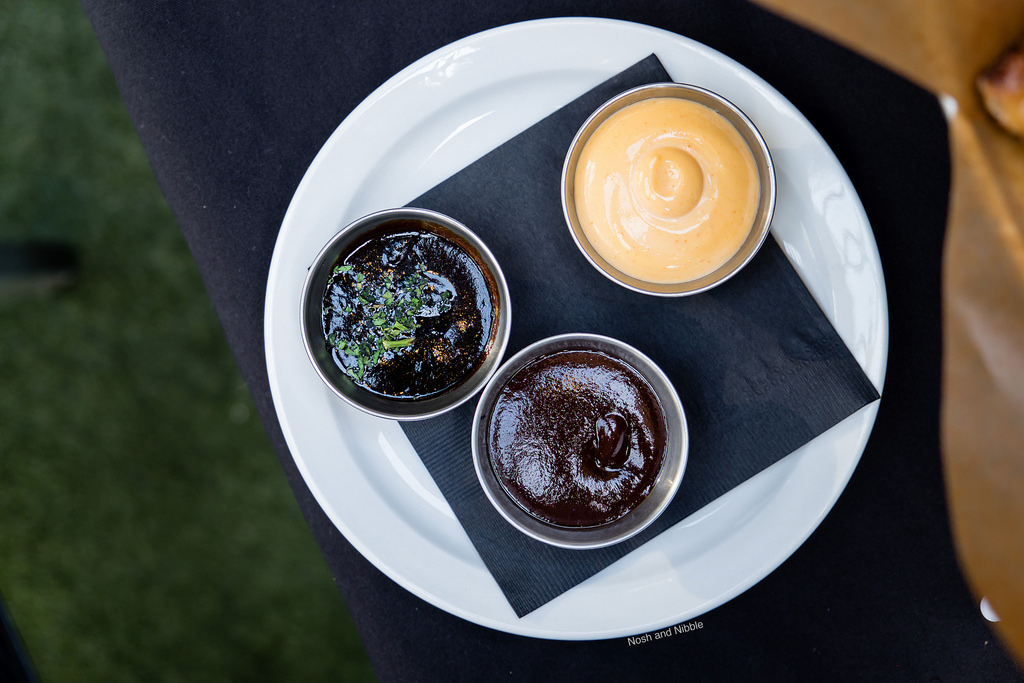 Sauces
Features:
Second Floor Eatery is one of the most aptly named restaurants in Vancouver as it is literally on the second floor of a building (enter from Bute Street). Inside, you will find 82 TVs playing pretty much any sport being broadcast that night. There is also a small stage for hosting bands and DJs.
For our dinner tonight, we were situated on the outdoor patio, complete with faux grass and outdoorsy furnishings. During the summer I highly recommend the outdoors unless you're specifically stopping by for a game (all the TVs are inside). The patio is quite private while still offering the benefits of dining al fresco. For booth lovers though, the inside is still full of space and seating for at least 100 guests.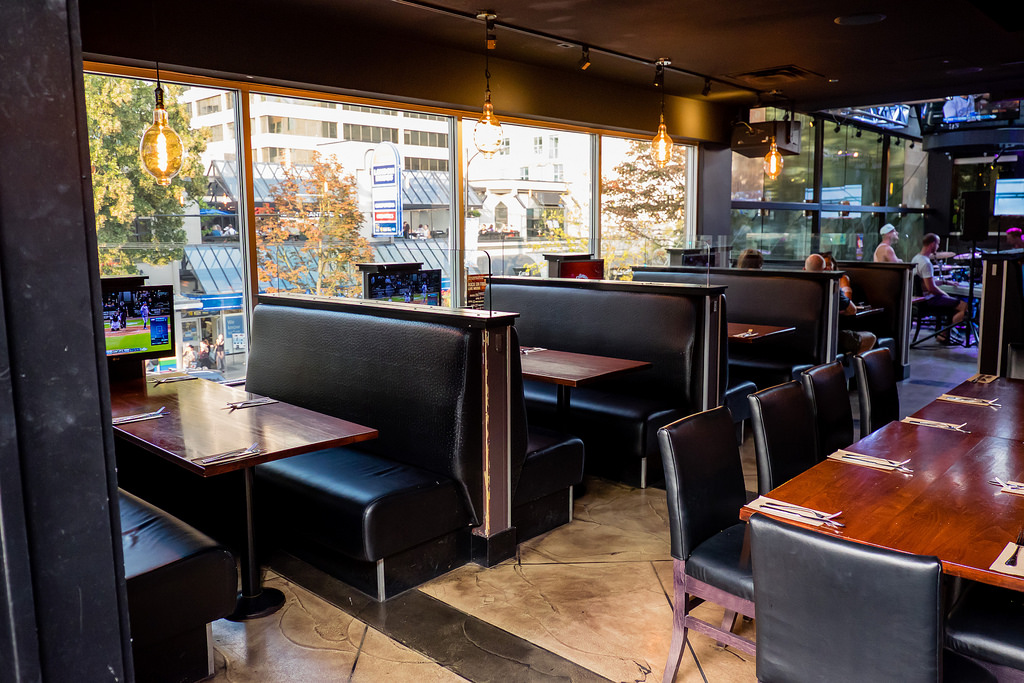 Inside Second Floor Eatery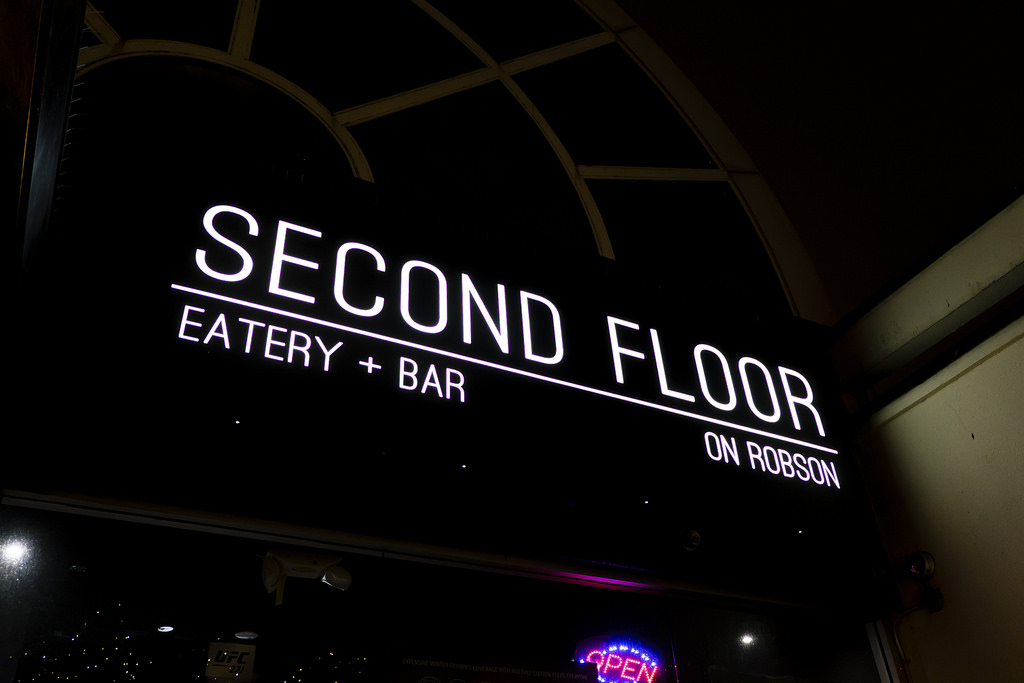 Outside Second Eatery
Final Thoughts:
One-liner: An aptly named restaurant that's now filling a gap in the dining scene of Western BBQ on Robson Street
Highlight: Buttermilk Fried Chicken (via Pit Master Platter)
Price per person: $20-$40
Would I go back? Yes.