Food products are some of my favourites to give as gifts. When I was thinking of gifts for my sister, I came upon the idea of infused olive oil. These oils are premium olive oils flavoured with a whole variety of herbs, fruits, and other naturally occurring flavours that make olive oil so tasty. In my search for infused olive oils, I came across 3 shops in Vancouver (1 in North Vancouver). In my interest, I visited all 3, armed with a set of questions and a goal of finding the best store.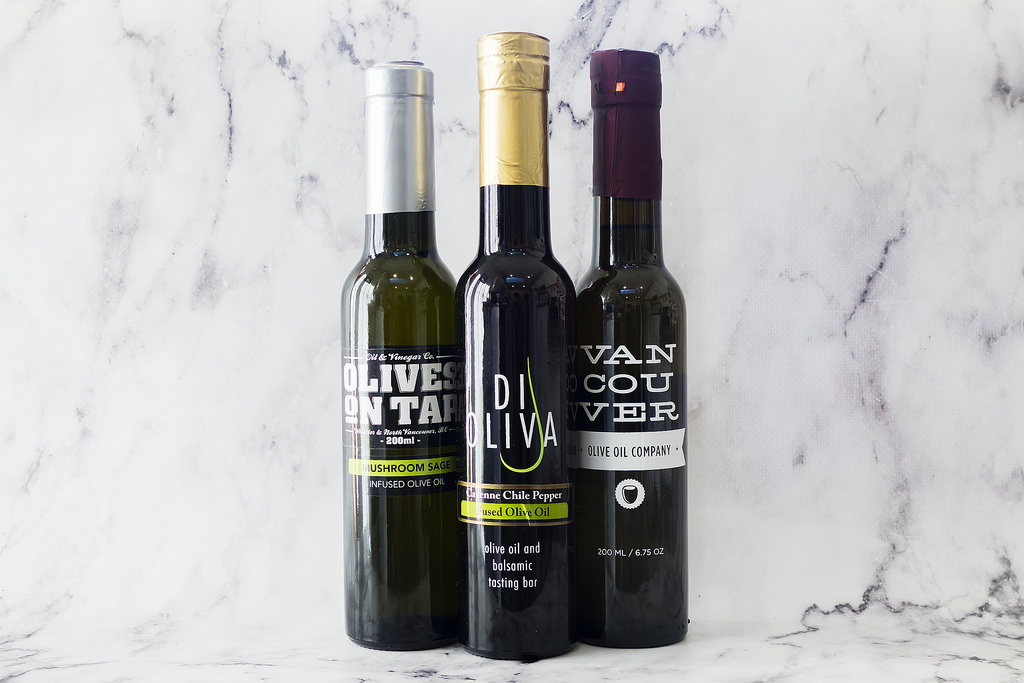 Di Oliva Tasting Bar
Located in Vancouver's East Village neighbourhood, Di Oliva was my first stop. This shop had a smart layout with olive oils down one aisle and balsamic vinegar down the other. Truffle olive oil (my favourite flavour) was available here. A 200mL bottle here cost me $13.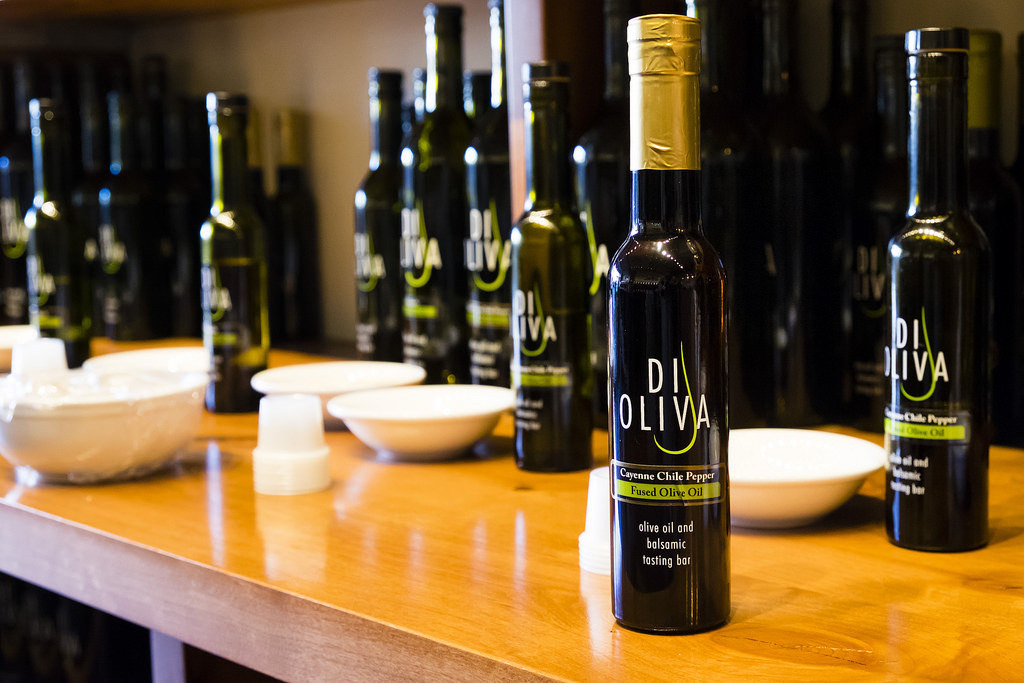 Di Oliva - Cayenne Chili Pepper Olive Oil
The store owner was working on this day and they had a great deal of product knowledge to impart. In fact, I hardly had to steer the conversation as she guided me through different oils and exclaimed customers can taste as many flavours as desired. I liked that every keg was sample-able with the same 1 oz cup (more on this later) and there was a fresh supply of bread for the less hardcore tasters.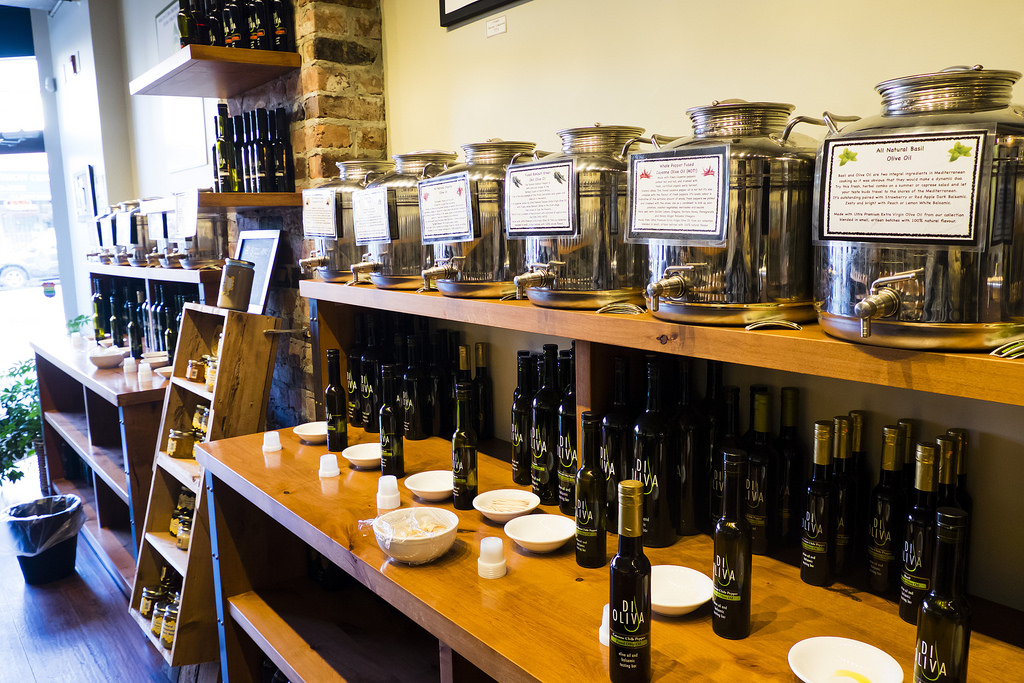 Inside Di Oliva
Olives on Tap
Travelling across the Lion's Gate Bridge, I arrived at Olives on Tap in North Vancouver. If the name sounds familiar, it's because these folks have a second store in Whistler. Pure olive oils were arranged on one island while infused olive oils were on another. There were some other off-category items by the cashier so things were marginally less organized. Truffle olive oil was also available here. A 200mL bottle here cost me $13.99.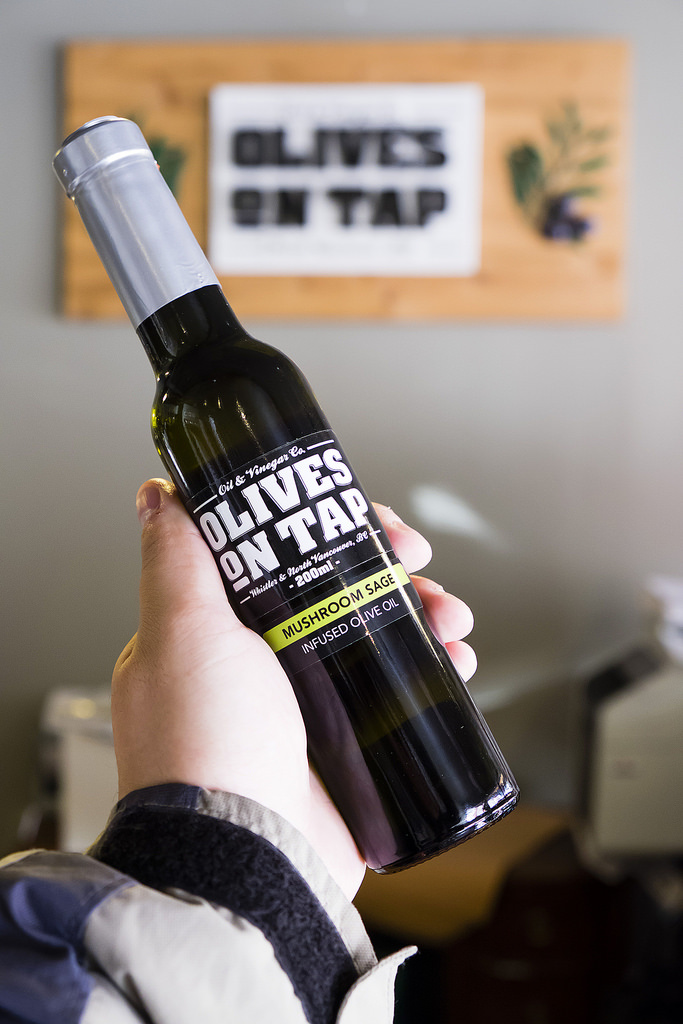 Olives on Tap - Mushroom and Sage Olive Oil
The store owner was away this day but his parents were in and they were a treat to talk to. They admitted their son was the true olive oil master but still had a ton of product knowledge. These guys had a few more olive oils (straight and infused) in-store than Di Oliva. Another difference was the infused olive oils could only be sampled with a small tasting spoon rather than the 1 oz cups used for the pure olive oils.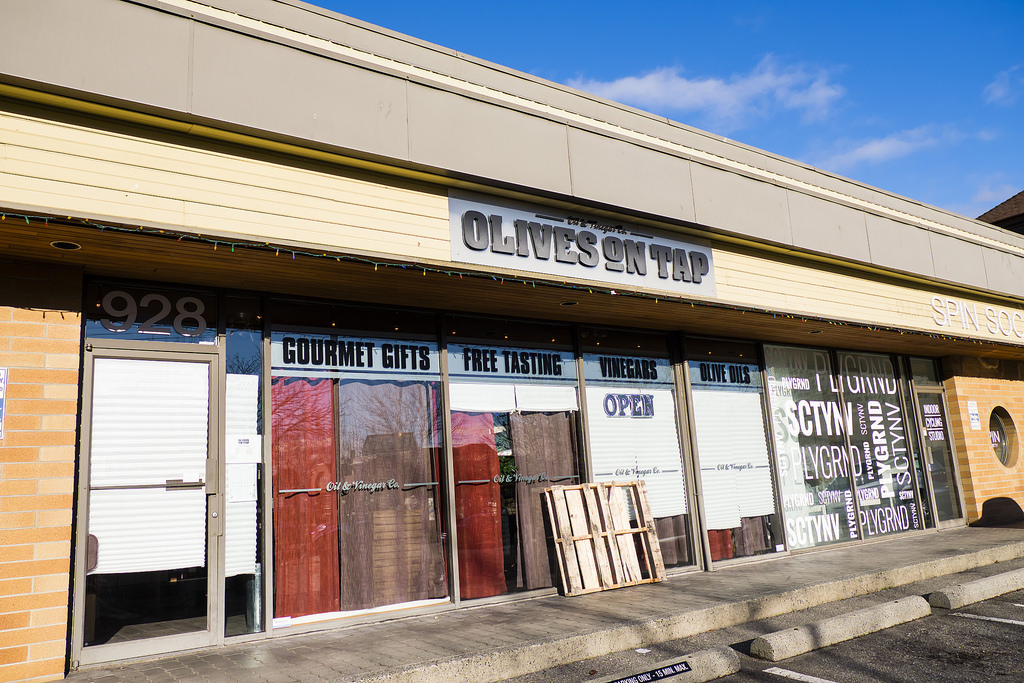 Outside Olives on Tap
Vancouver Olive Oil Company
Back in Vancouver, I visited the aptly named Vancouver Olive Oil Company (VOOC). They have 2 locations but the one closer to me was at Granville Island. Occupying a stall in the Public Market, they had a neat arrangement of olive oils on one side and balsamic vinegar on the other. There was a smaller variety here compared to the other two stores and sadly truffle olive oil wasn't even an option. A 200mL bottle here cost me $13.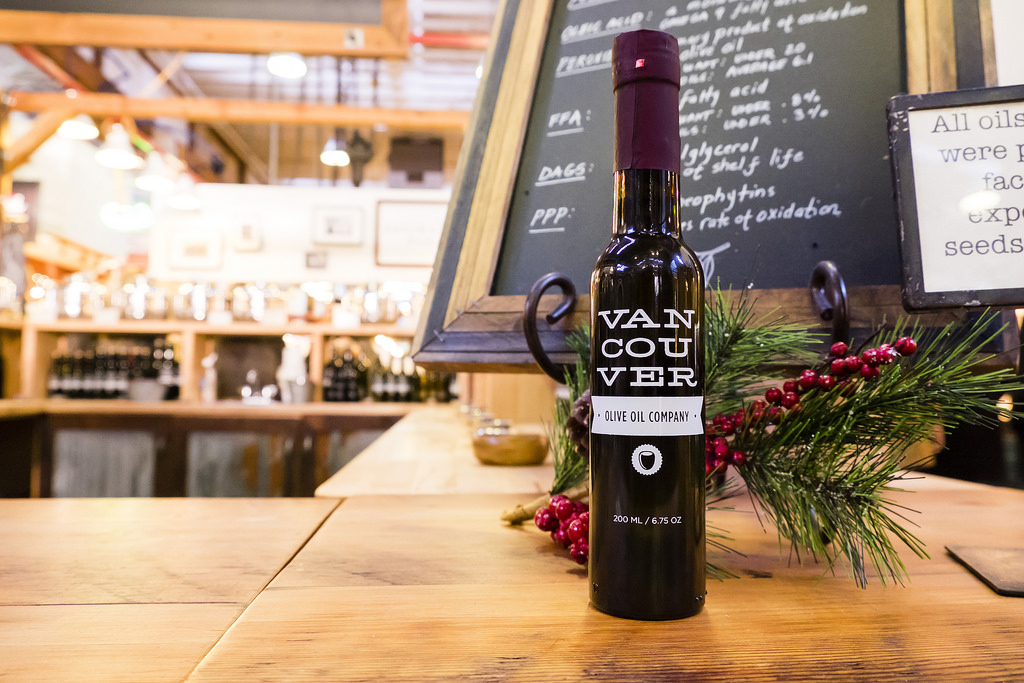 Vancouver Olive Oil Company - Garlic Olive Oil
There was just the one staff member here despite this being the busiest of the three stores. Like Olives on Tap, spoons are used for tasting the infused olive oils – bummer. Another gripe I had was the designated fill line for a bottle. If you take a look below, you'll notice the bottle from VOOC (right) is filled lower and appears to be a thinner bottle.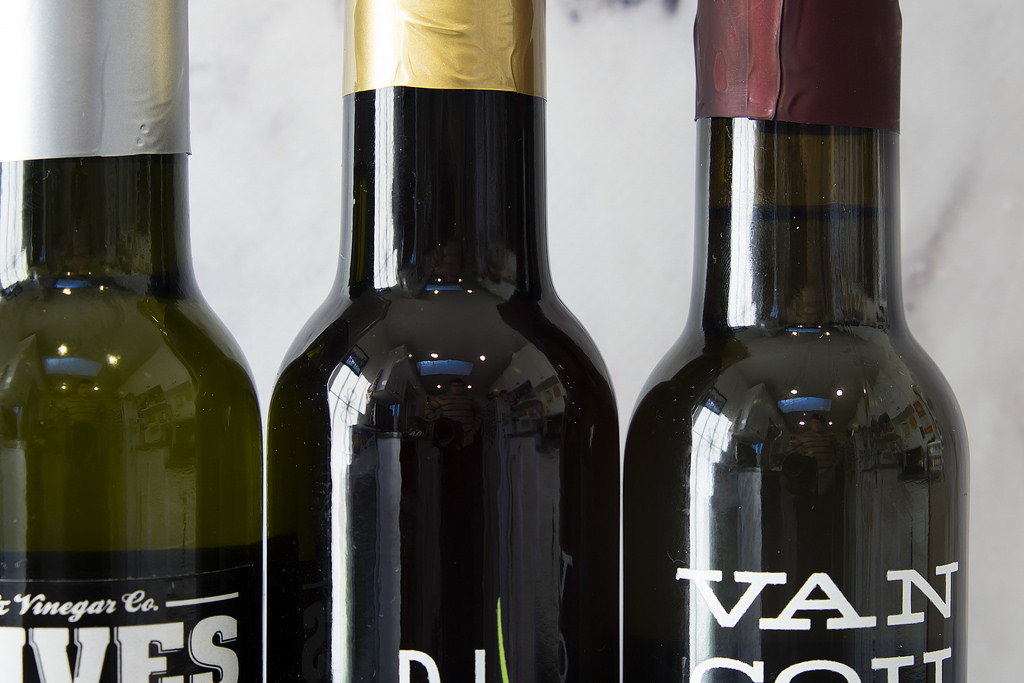 Suspicious Fill Line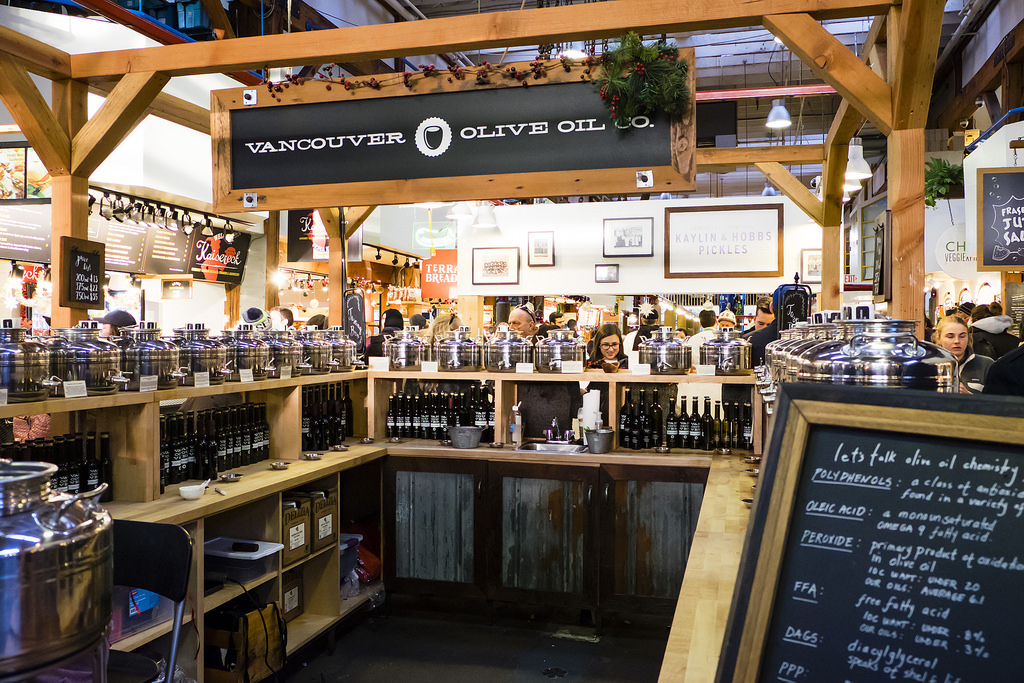 Inside VOOC at Granville Island
Common Traits of All 3 Shops:
The oils are freshly bottled and heat-sealed shut before your eyes
All oils came from a recent harvest, which in this case was around May 2017 and were recommended to be consumed in a year
All oils are hormone free, grown organically, and unlike some grocery brands, are not cut or mixed with other ingredients or chemical manipulations
No naysaying on other premium olive oil vendors. Everyone verbally slaughtered the typical grocery brand olive oils but had nothing bad to say about competing premium shops even when I name-dropped some. It seems these folks all have the same mission of providing fresh olive oil or the competition is too far away to make research a priority.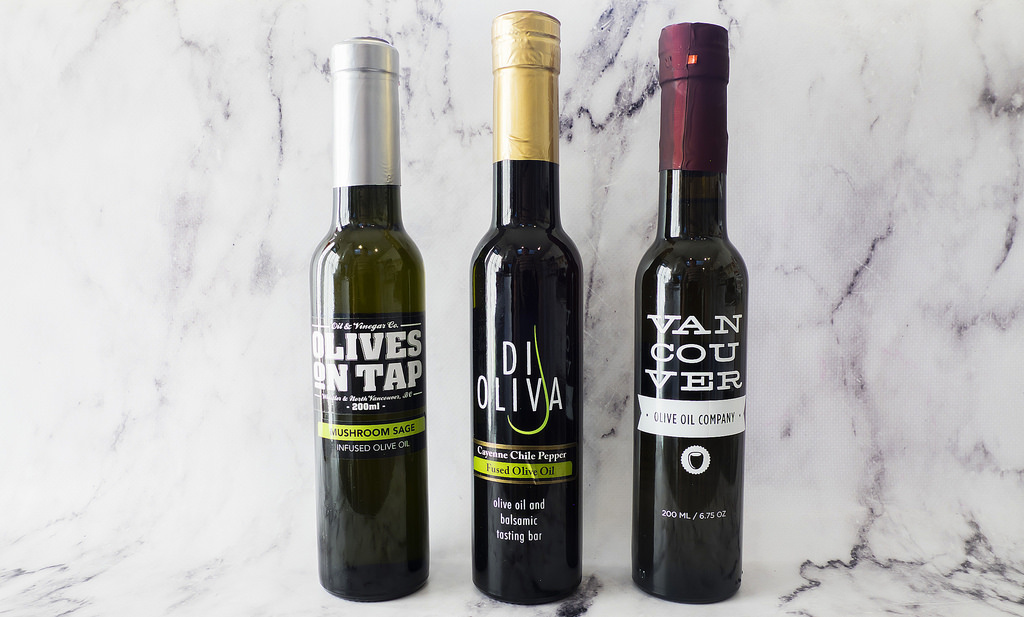 Olive Oils
Random Facts:
Di Oliva and VOOC have the same Californian supplier for their olive oils. Olives On Tap did not state their supplier on the bottle.

Cheaper store-bought olive oils may have been harvested a long time ago and had all their antioxidative properties denature and disappear

Greater Vancouver also has premium olive oil shops in Delta (Coastal Olive Oil Co) and Surrey (All Of Oils) but these were too far for me to visit in a day via public transit.

Supplier Information
Final Thoughts:
Aside from location, here are my opinions on the best reasons to visit each shop:
Go to Di Oliva if you're looking for superb customer service with freedom to sample generously or with bread
Go to Olives on Tap if you're looking for the widest selection (at least compared to the other 2 locations featured above)
Go to VOOC if you are looking for proximity (Granville Island is close to downtown Vancouver), but keep in mind their Kitsilano location has a better selection and is less densely packed with people. Your fill line may vary.
Thanks for reading and happy olive oil hunting!