After 15 days in Japan, I feel like I have a pretty okay grip on what's going on in the city of Tokyo, a megacity I spent 14 days eating in. Given the plethora of dining options (e.g. at least 5500+ in Shinjuku alone), I decided to keep two main lists: things I'd write home about and things I would not write home about. To keep things clean, I split these lists into savoury foods (restaurants) and desserts. It might seem a lot to cover but I spent a good chunk of time eating my way through Tokyo and feel semi-qualified to do so now.
For this second list, I'm sharing all the whiffs on food during my travels through Tokyo. These are foods that either tasted something less than extravagant or felt like the wrong thing to order. The restaurants I'm citing are likely one of many potential options in the country. I'll list both the food and venues of note so you can pinpoint the places of potential disappointment.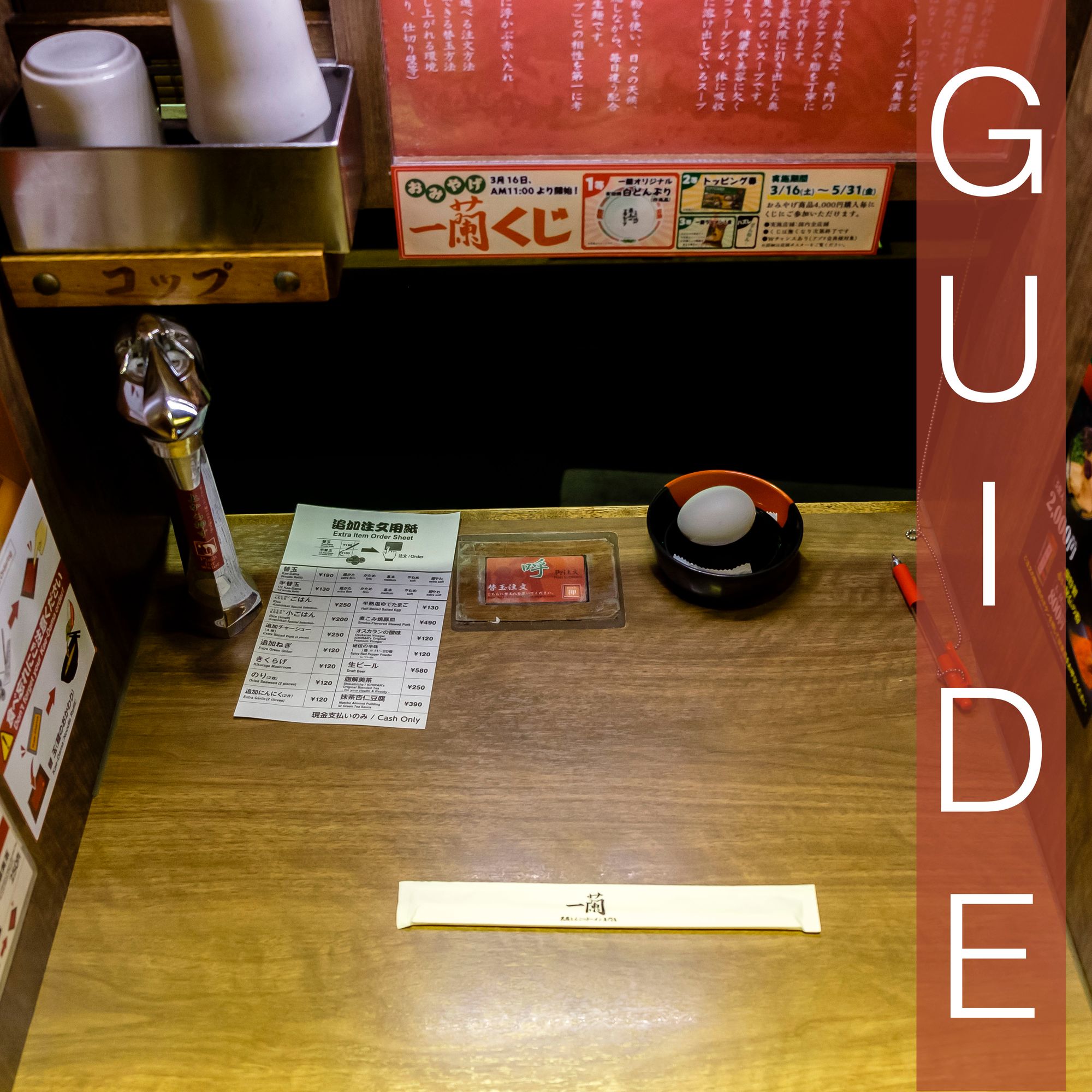 Foods Not to Write Home About:
In this list, the following foods have made my least favourite eats. They are ranked in order of how lowly I'd recommend them for a foreigner visiting from outside of Japan. Items at the bottom of the list are probably okay for consumption with certain caveats or a general feeling of "meh".
Fried Squid – Skytree Solamachi (395 JP¥)
Pizza Potato – Calbee+ (310 JP¥)
Sandwiches – Le Cafe Doutor (~600 JP¥)
Curry Pan – Kobe Croquette (198 JP¥)
Tsukiji Fish Market – (100-1,000 JP¥ per vendor)
Avocado Burger – Hungry Heaven (1,130 JP¥)
Tamago Sando – Recipe Market (350 JP¥)
Chili Cheese Dog – Yelo (900 JP¥)
Ichiran 5 – Ichiran (1,490 JP¥)
Takoyaki – Takoyaki Museum (~600-800 JP¥ for 6 balls)
Ebi Filet-O – McDonald's (390 JP¥)
Crab Cream Croquette – Deli Fu Cious (1,500 JP¥)
Chef's Special Burger – Sawamura (2,000 JP¥)
One Great Burger – Sarabeth's (2,150 JP¥)
Pork Rib Udon – Shin Udon (1,200 JP¥)
1. Skytree Solamachi
Almost everything inside the ground floor is a tourist trap, but the worst culprit has to be the fried squid stall. Located near the south entrance, this stall serves pressed fried squid for anything between 395 and 2000 JP¥ depending on how much of a squid you want. For our particular fried squid, this tasted more like batter than squid, and it was quite unsubstantial compared to almost any snack you could get at a konbiniya. I can't recommend this kind of treat for any visitor to Tokyo.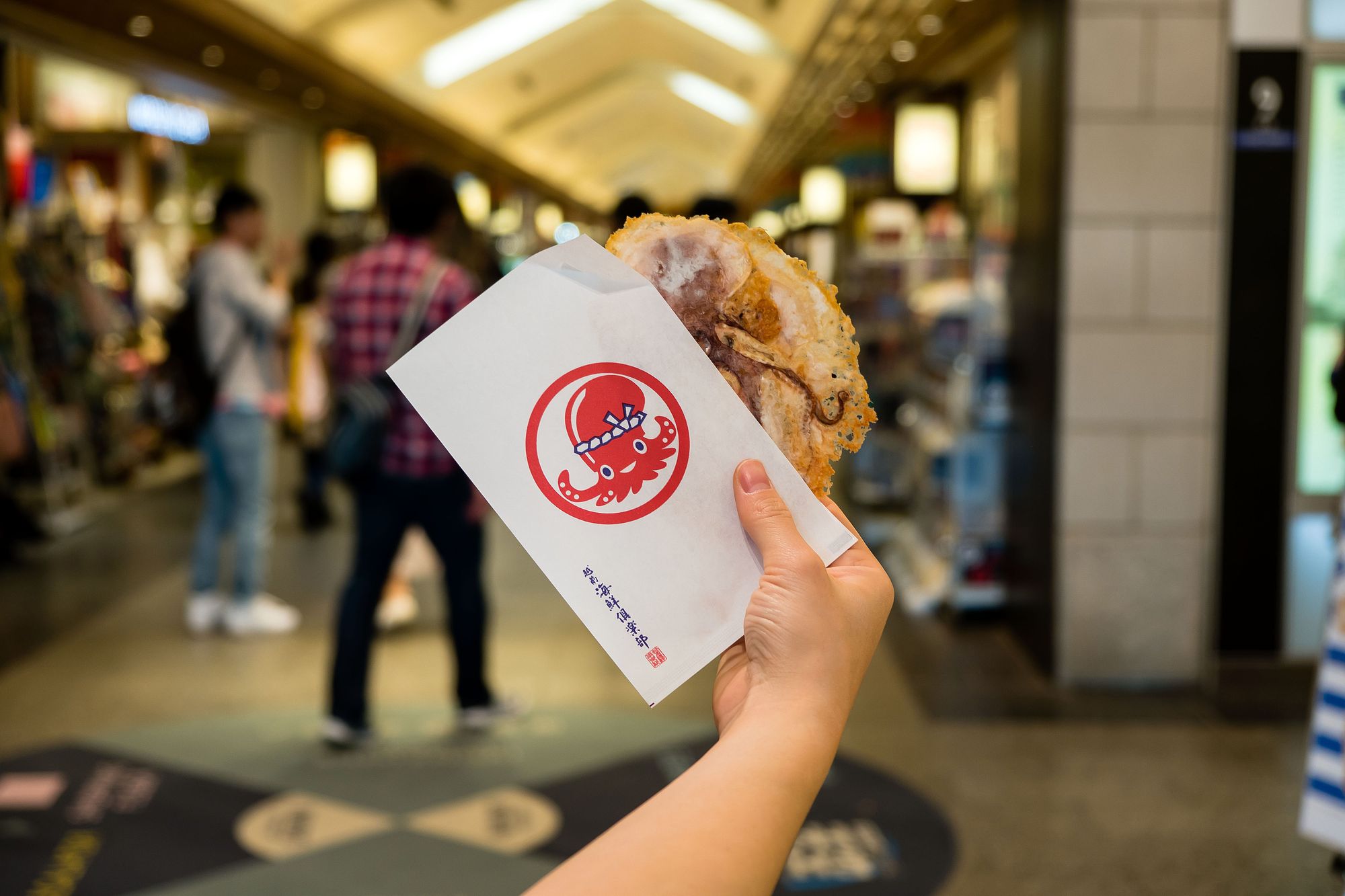 2. Calbee+
Calbee is a pretty popular snack brand in Japan and Calbee+ represents a satellite location that includes a kitchen for producing snacks. Their "pizza potato" is really just a small serving of potatoes drizzled with pizza sauce. Since I was visiting the Harajuku location for this, I had to wait about 20 minutes to place and eventually receive my order. It wasn't worth the wait, in my opinion.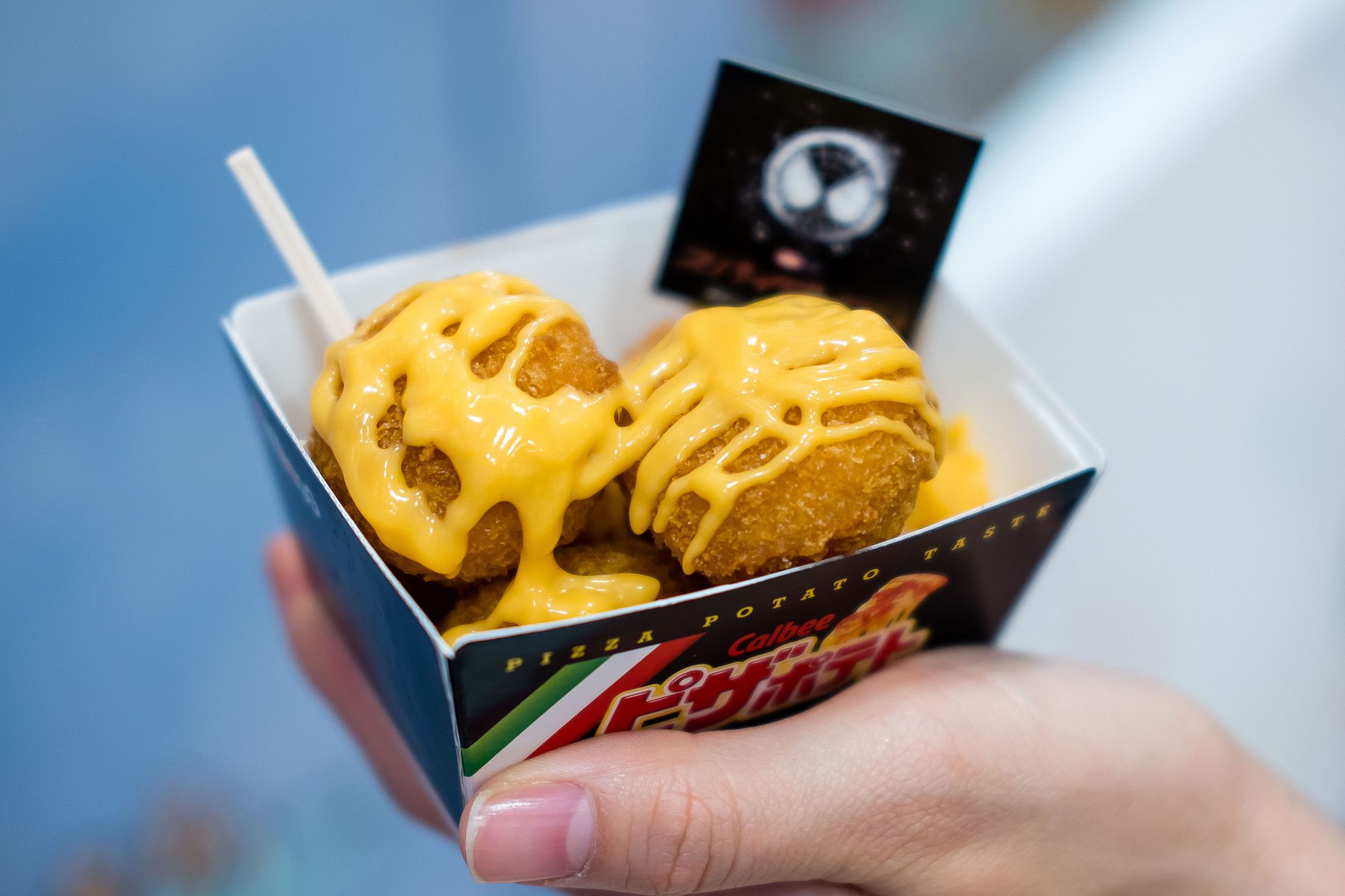 3. Sandwiches from Le Cafe Doutor
Judging by the number of Doutor Coffee locations in Tokyo (1,100 according to Favy), there's a very low chance you'll miss out on a Doutor opportunity. Of the 1,100 locations, the "Le Cafe" location in Ginza offers pretty supreme people-watching views of a large crossing (though not as large as the main Shibuya scramble crossing). The coffee here stands up as everyday coffee, but the sandwiches are a huge disappointment. They're paltry servings, don't provide nearly as visual joy as the coffee, and the ones that happen to be served cold have a pretty noticeable refrigerated flavour. Come here for the coffee, stay for the views, but do not order the sandwiches. Also, if you love matcha, you won't find that kind of flavour on the menu here.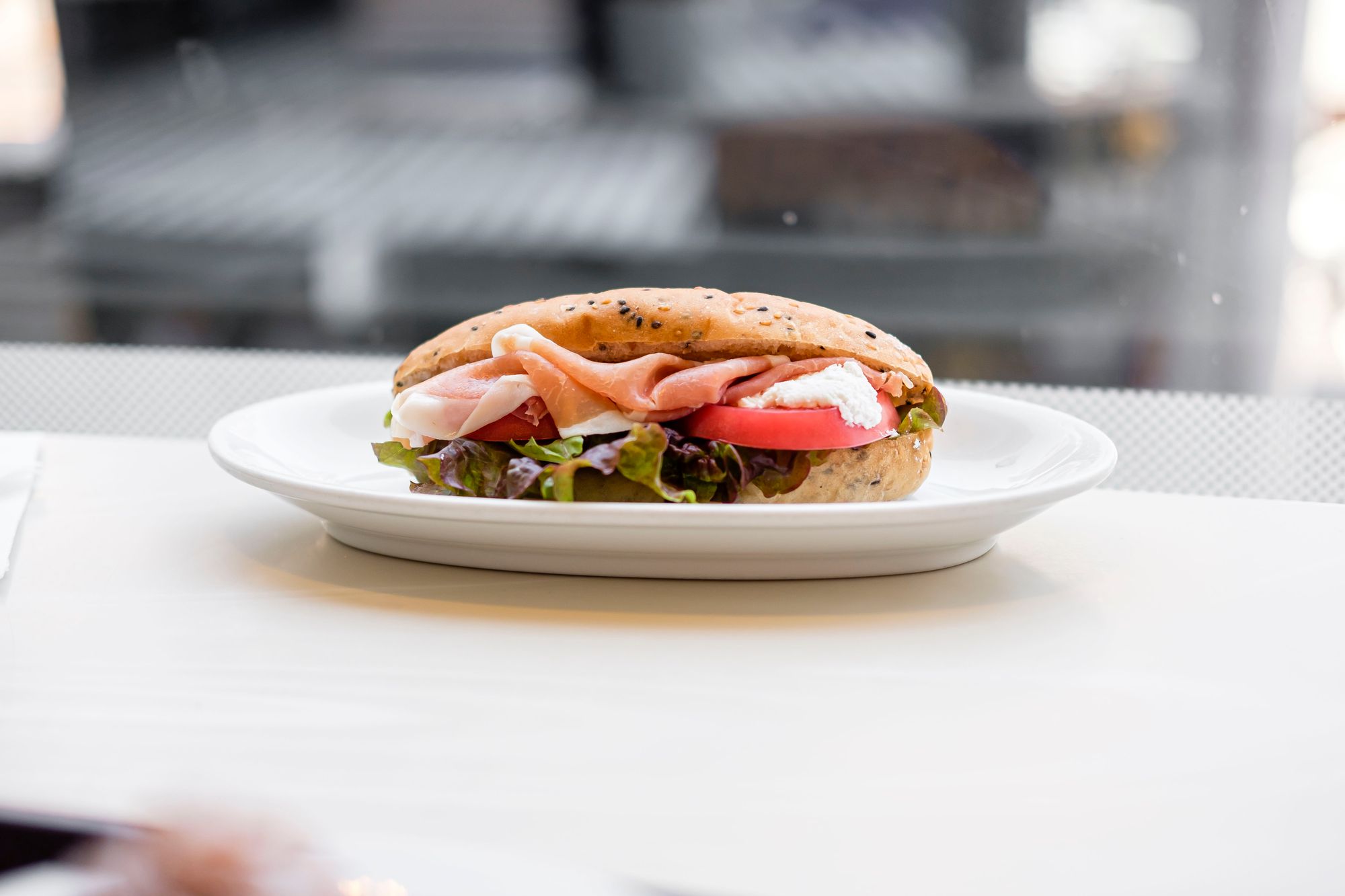 4. Kobe Croquette
Despite the gorgeous lighting on these croquettes, they're served at room temperature. If you need a croquette or curry pan in your life, go somewhere that serves it hot, like JS Curry (featured as #6 on my list of foods to write home about).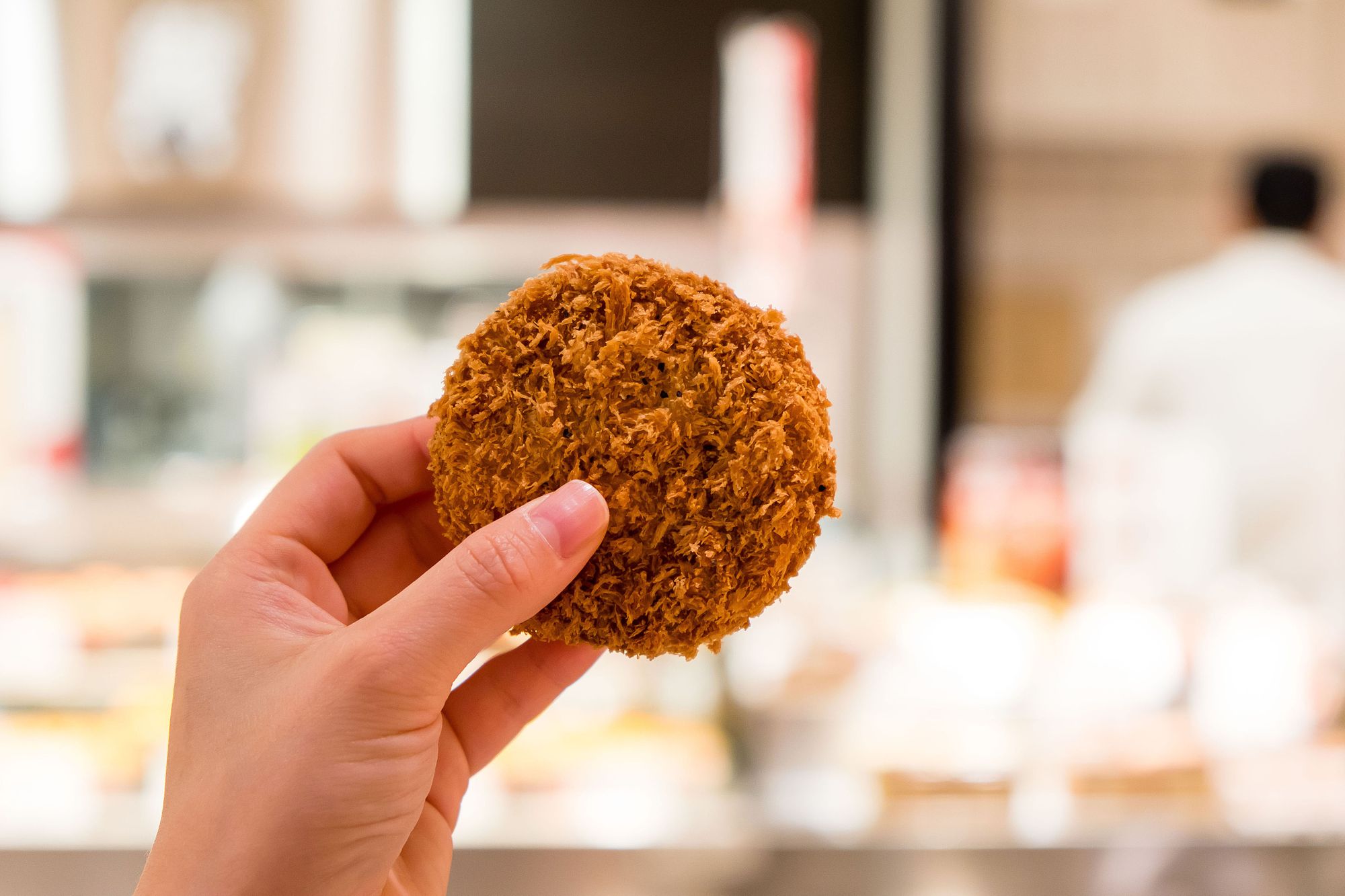 5. Tsukiji Fish Market
At this point, Tsukiji Fish Market is just a major tourist attraction. The public auction, once hailed as one of the highlights, no longer happens at this venue (it's located at Toyosu Fish Market). What's left at Tsukiji these days is a plethora of vendors hollering at tourists to come try the fish inside the restaurants, try the fish on skewers, and waste their money at a site that's lost its charm. If you're into commercial night markets, you might find something you like here, but most things at Tsukiji are pretty generic and there is a good chance a better option exists for each food somewhere else in Tokyo.
Also, this tuna stall was seriously guilty of showing one thing in a photo and serving something that looked way different.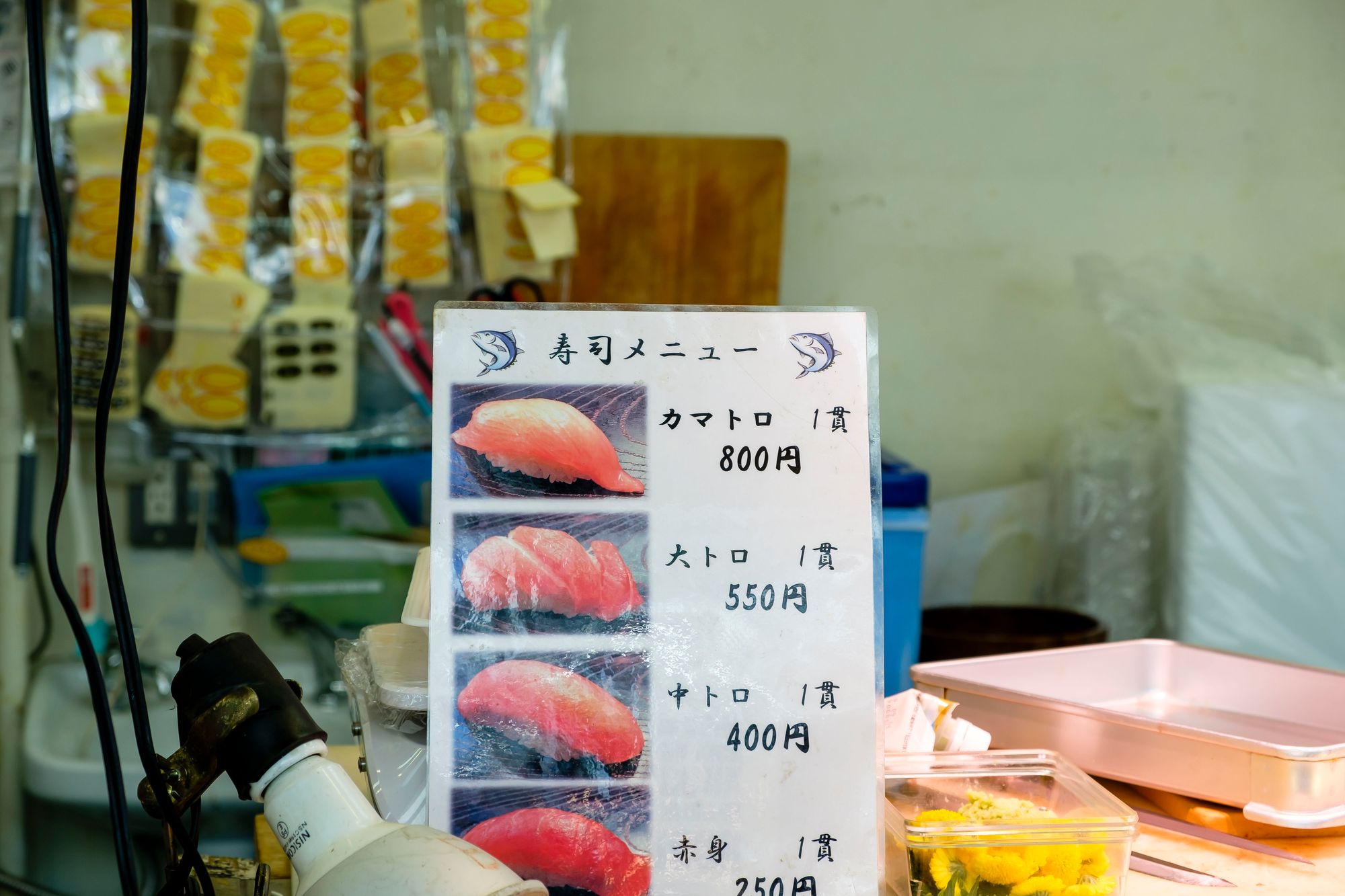 6. Hungry Heaven
This is the first of two burger locations on this list, but Hungry Heaven was definitely the more disappointing of the two. It's quite busy here and I'm guessing the reason why is that most burgers cost around 1200 yen which is cheaper than the other burgers on this list. The worst part about Hungry Heaven is the "drink" portion of the set meal which requires you to order a drink. Even if all you want is water, you'll have to order a drink as well, which really turns me off as a visitor from North America (I prefer to save my calories for the food and hydrate with water). Such hidden costs do not jive with me.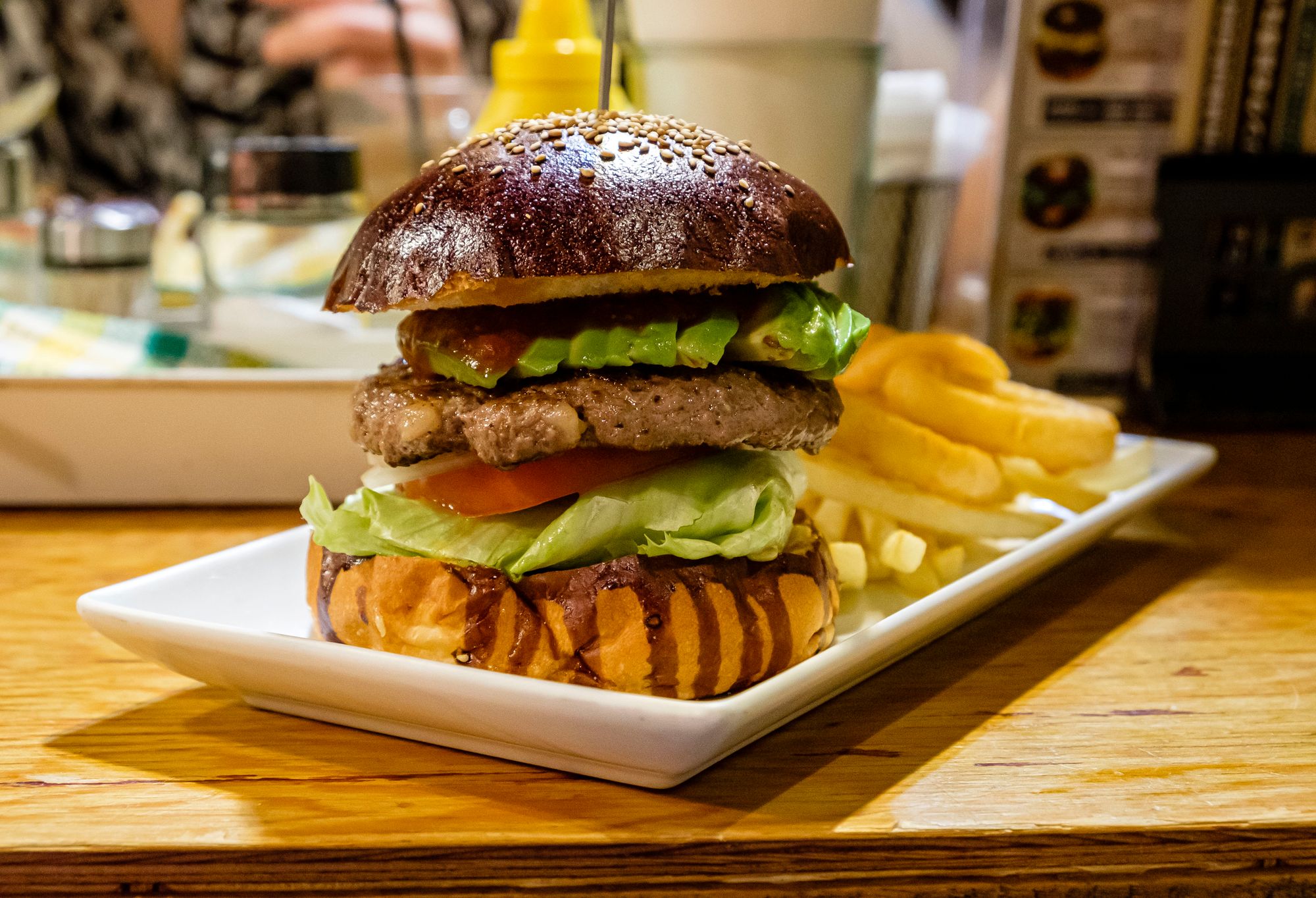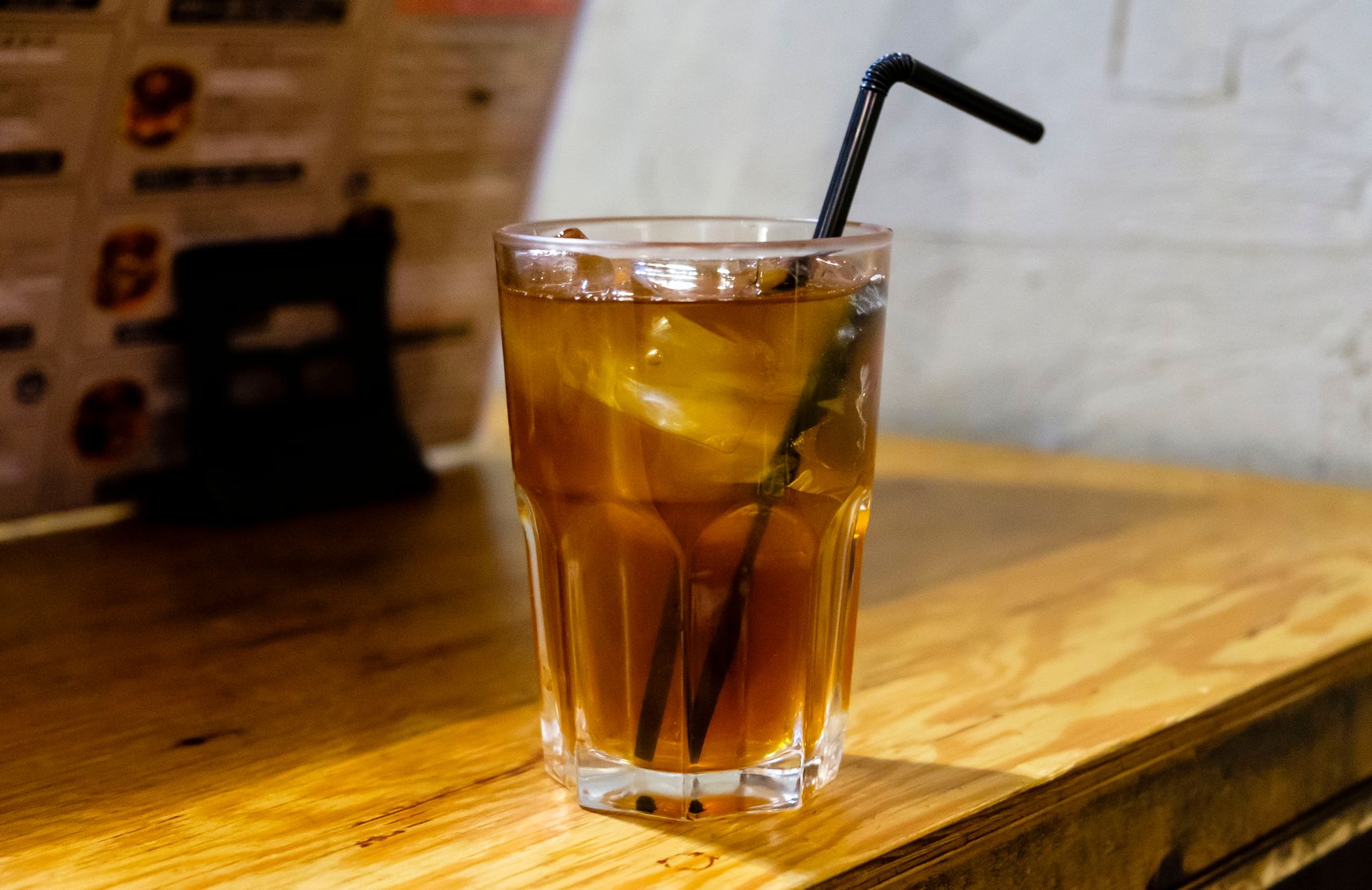 7. Tamago Sando from Recipe & Market
I think I overhyped myself for this. This is egg and mayonnaise served between two slices of the whitest bread. Other than the egg, there isn't much flavour, it's served quite cold, and I think I would have preferred spending the calories on something with some salt.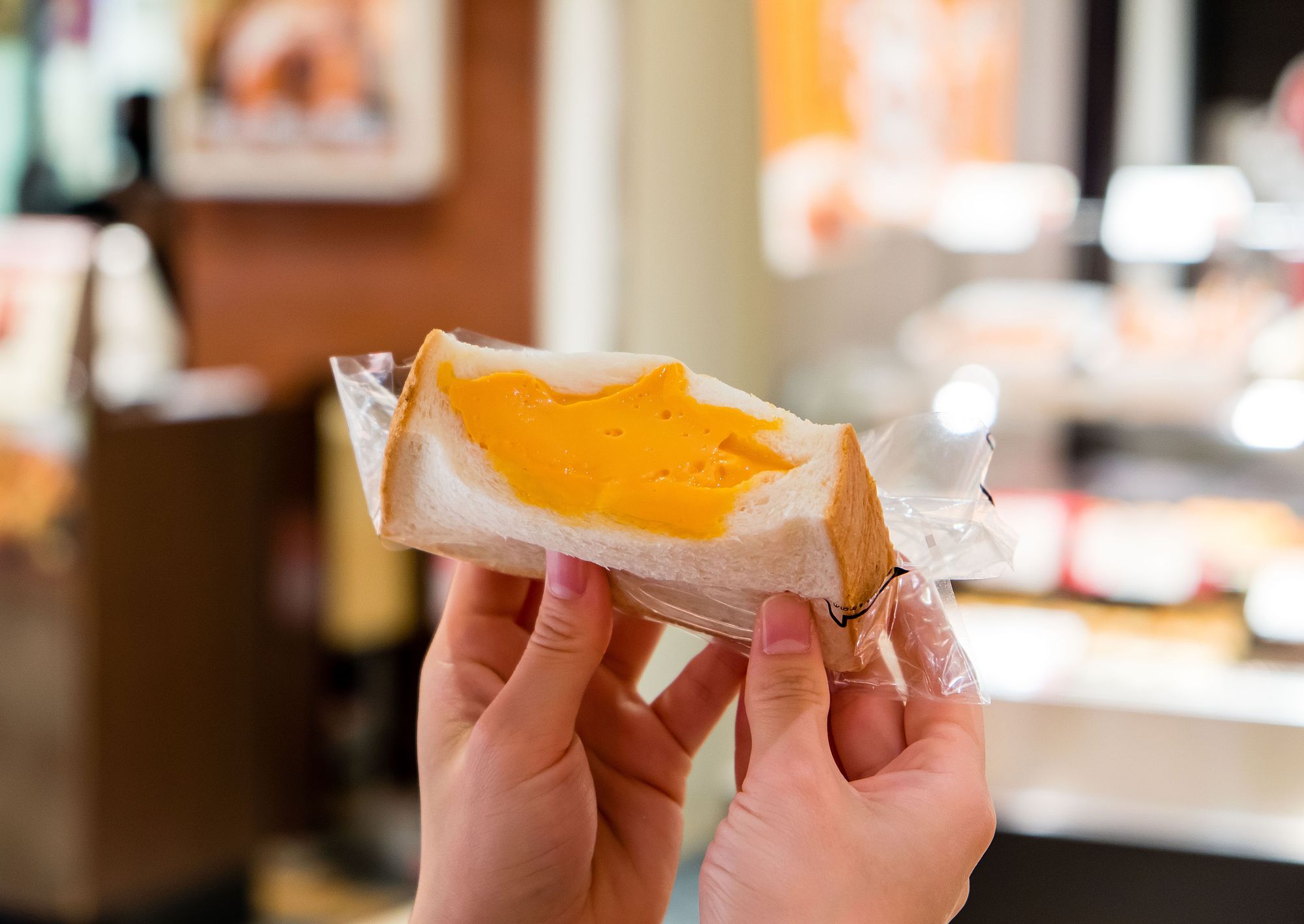 8. Hot Dogs from Yelo
The main reason people go to Yelo is for the shaved ice. This much was clear during my visit. The Japanese "one order per person" rule suggested that we order 2 items for our party of two. The hot dogs, while interesting, are just expensive hot dogs. Do your best to stick with the shaved ice and maybe concede to ordering two if you're planning to come here with somebody.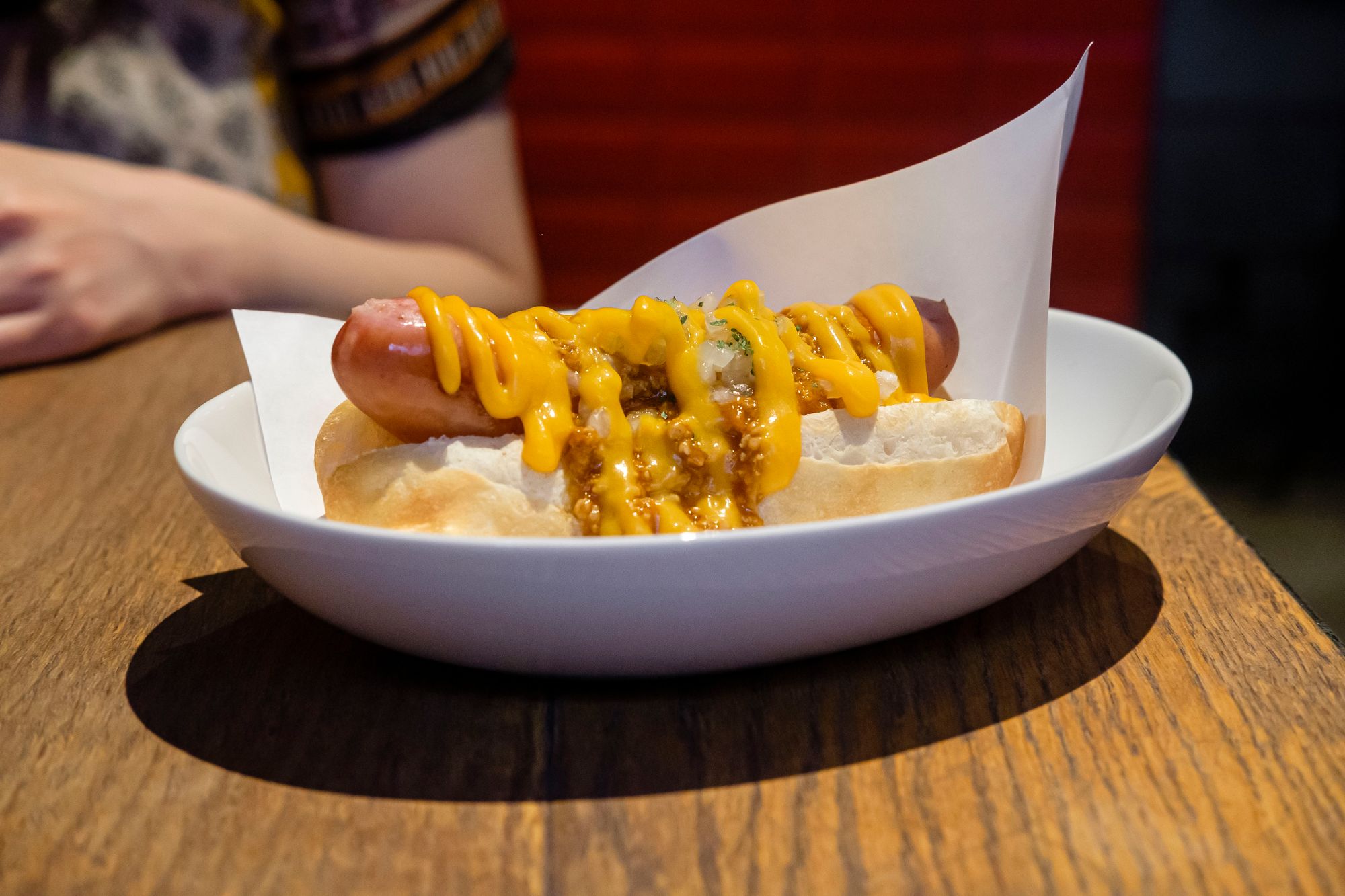 9. Ichiran
This one is going to be controversial. While the concept of Ichiran is cool, the ramen is pretty average, in my opinion. The noodles are quite thin so they're very reminiscent of Chinese-style noodles, which doesn't fit my persona of ramen. I prefer thick noodles. The whole cubicle-style seating is quite therapeutic in my opinion and is worth trying (even if it's not Ichiran). The lighting in this restaurant is terrible though. The lights have this purple-green glow to them as if to make the ramen look as unappealing as possible. I'd come here for the experience but not for the choice of ramen noodle.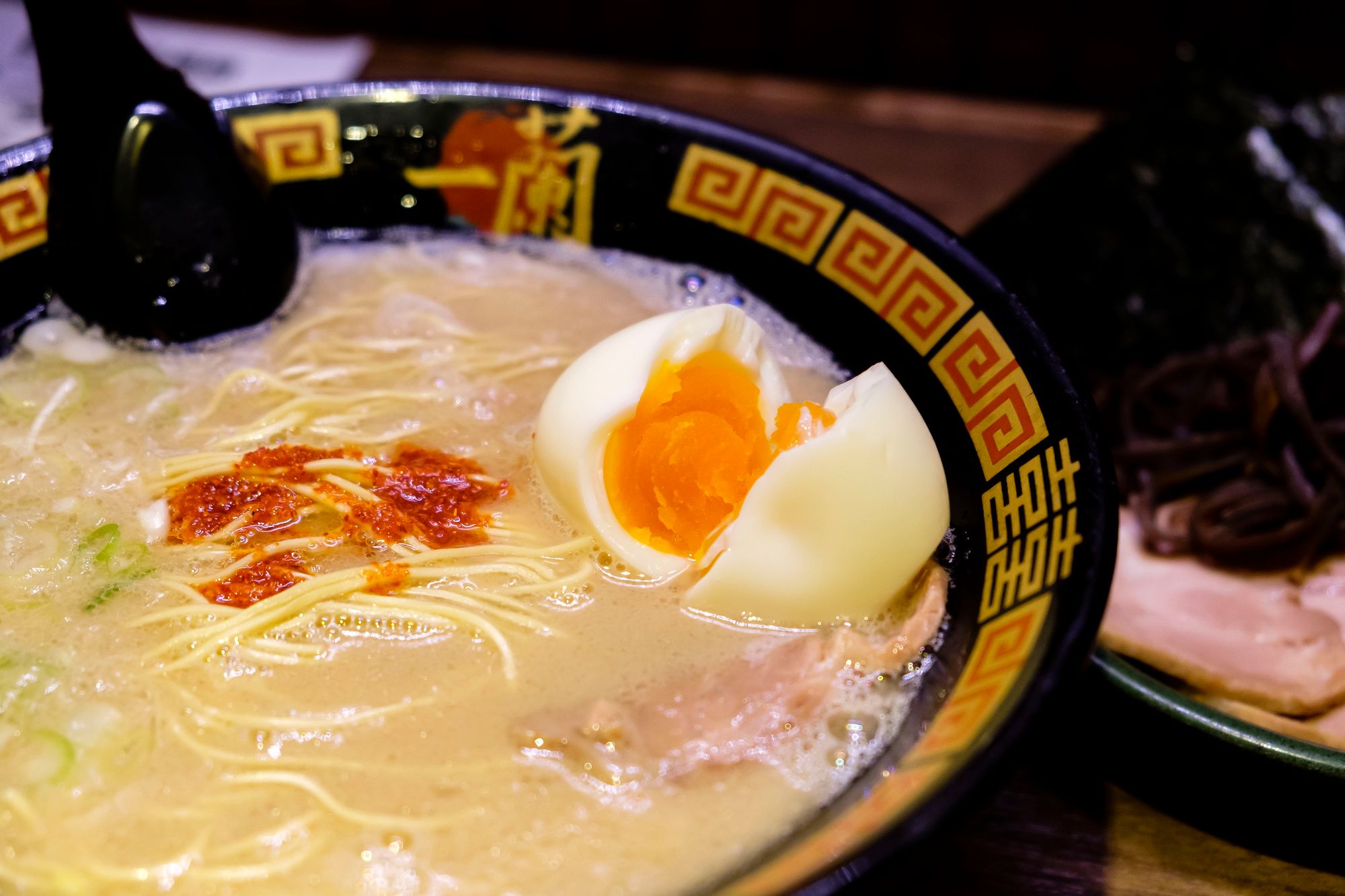 10. Takoyaki Museum
You know a place is definitely made for tourists when they offer helpful pamphlets at the front with information in the local language as well as English and Chinese. The takoyaki museum is a conglomerate of takoyaki styles across Japan. The vibe is that of a quick service setup so a lot of the places have pre-cooked their takoyaki awaiting customers. As such, the temperature that the takoyaki are served is hit and miss. One stall gave us some pretty room temperature takoyaki while another gave us piping hot and fresh takoyaki. Given that getting to Odaiba is quite the chore, unless there is a particular style of takoyaki you would like in your diet, you can probably get a fresher takoyaki experience somewhere else in Tokyo.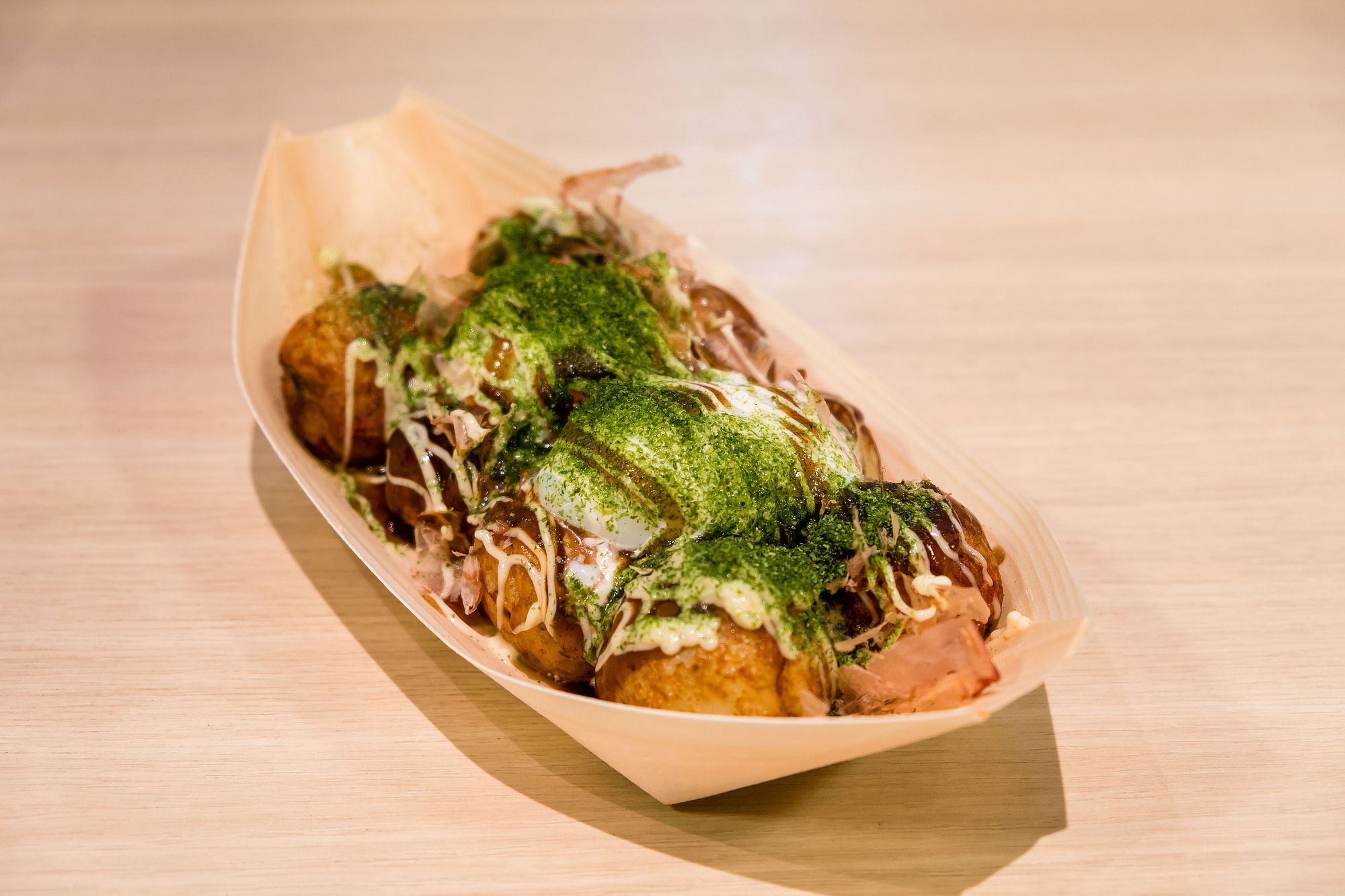 11. Ebi Filet-O from McDonald's
Always good to try out the local McDonald's right? I was interested in trying out the Japan-exclusive Ebi Filet-O and boy was this less than astounding. I was looking for the joy of having McDonald's for the first time as a kid and I didn't get that with the Ebi Filet-O. The burger is served in a sesame bun which goes against North American traditions of having a steamed bun be the vessel for Filet sandwiches. In addition, the amount of sauce present was quite paltry in relation to the amount of ebi patty. Average fast food might just be the norm at McDonald's, but in hindsight I felt like I should have allocated my calories elsewhere or even on a different burger.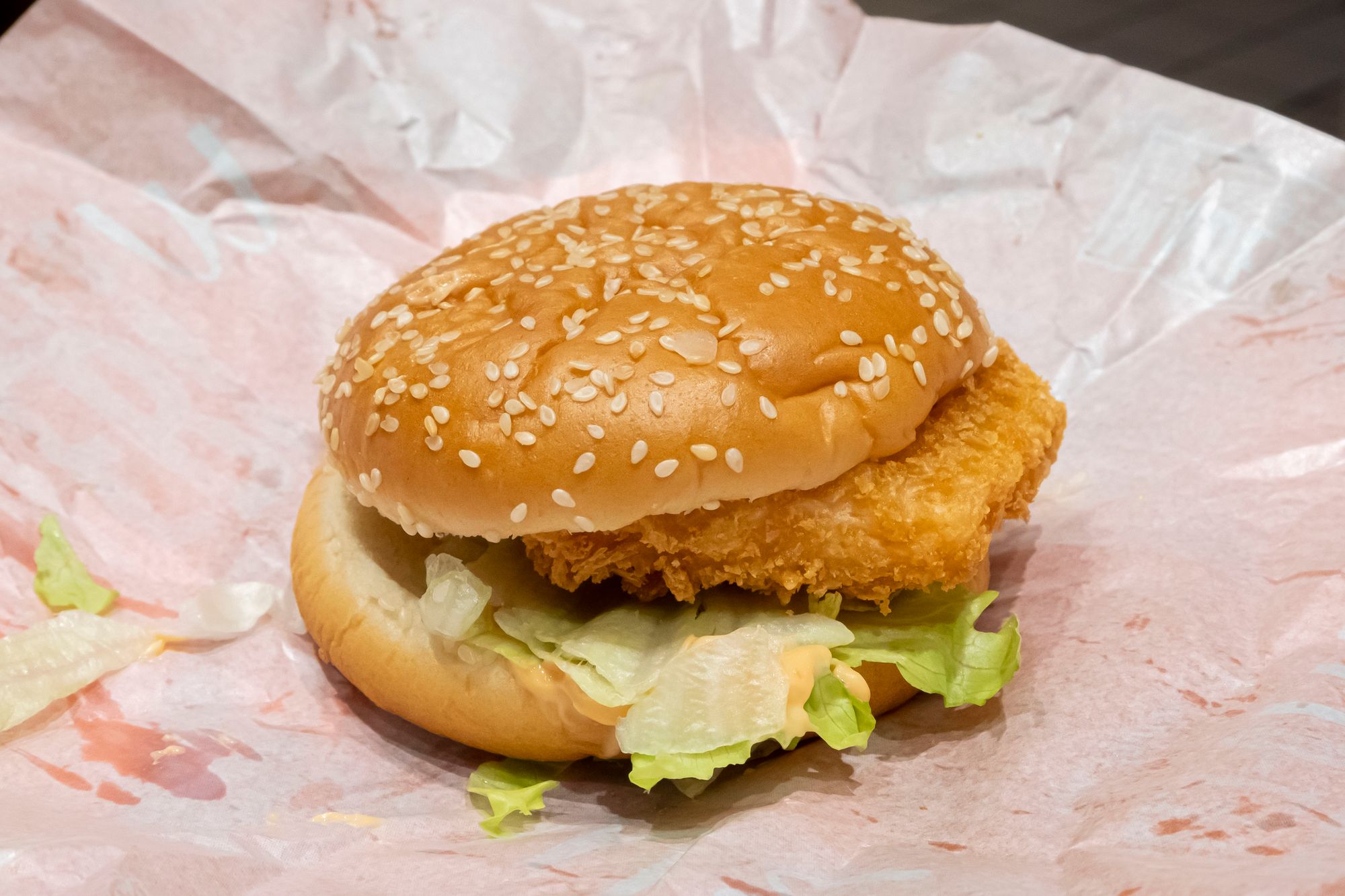 12. Crab Cream Croquette from Deli Fu Cious
We're getting into the section of the list where I'm including places where I feel I ordered the wrong item as opposed to being wronged by a particular restaurant or concept.
The crab cream croquette burger from Deli Fu Cious, in my mind, is not the burger to get. The crab cream is a viscous paste applied to the fish croquette patty and in all honesty, it was slimier than I would have liked. I guess I should have listened to the menu which recommended the "Pickled Tuna Cheeseburger". I think Deli Fu Cious is still a very unique restaurant in Tokyo. I feel like I just goofed on choosing the right item for me.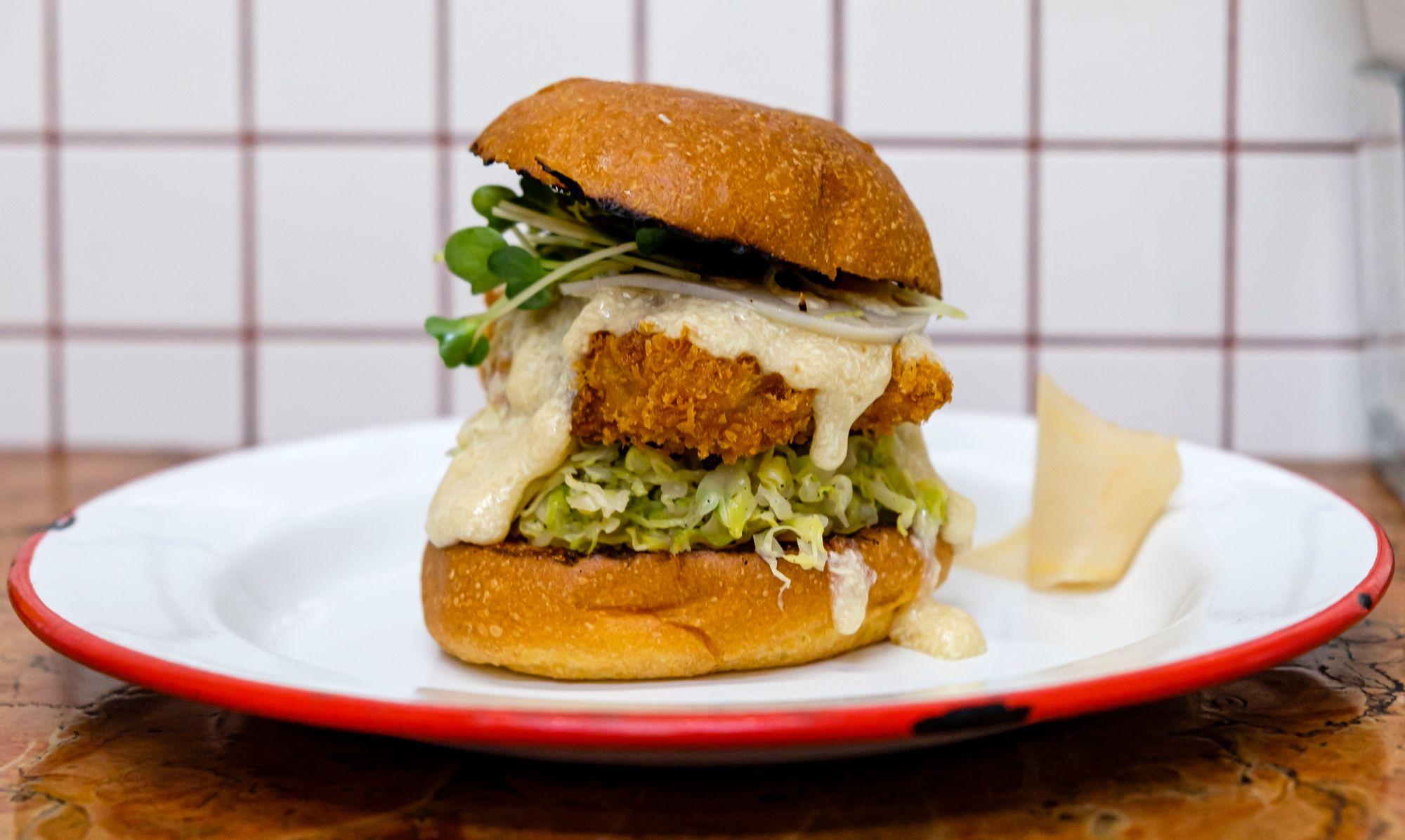 13. Chef's Special Burger from Sawamura
Sawamura is a European-inspired cafe so it's a nice deviation from the local flavour of Tokyo (one can only eat ramen for so many meals over 15 days, see). The Chef's Burger costs 2000 yen if you want all the fixings, which is kind of crazy in hindsight. Higher-end restaurants in North American rarely go above $20 USD for a burger and trust me, Sawamura was not up at that level of restaurant. I think the takeaway here is that if you want something North American-inspired at a Japanese restaurant then you're going to pay a premium for it. This wasn't a bad burger by any means, but if you hail from North America, you very likely have better options at a cheaper price back at home.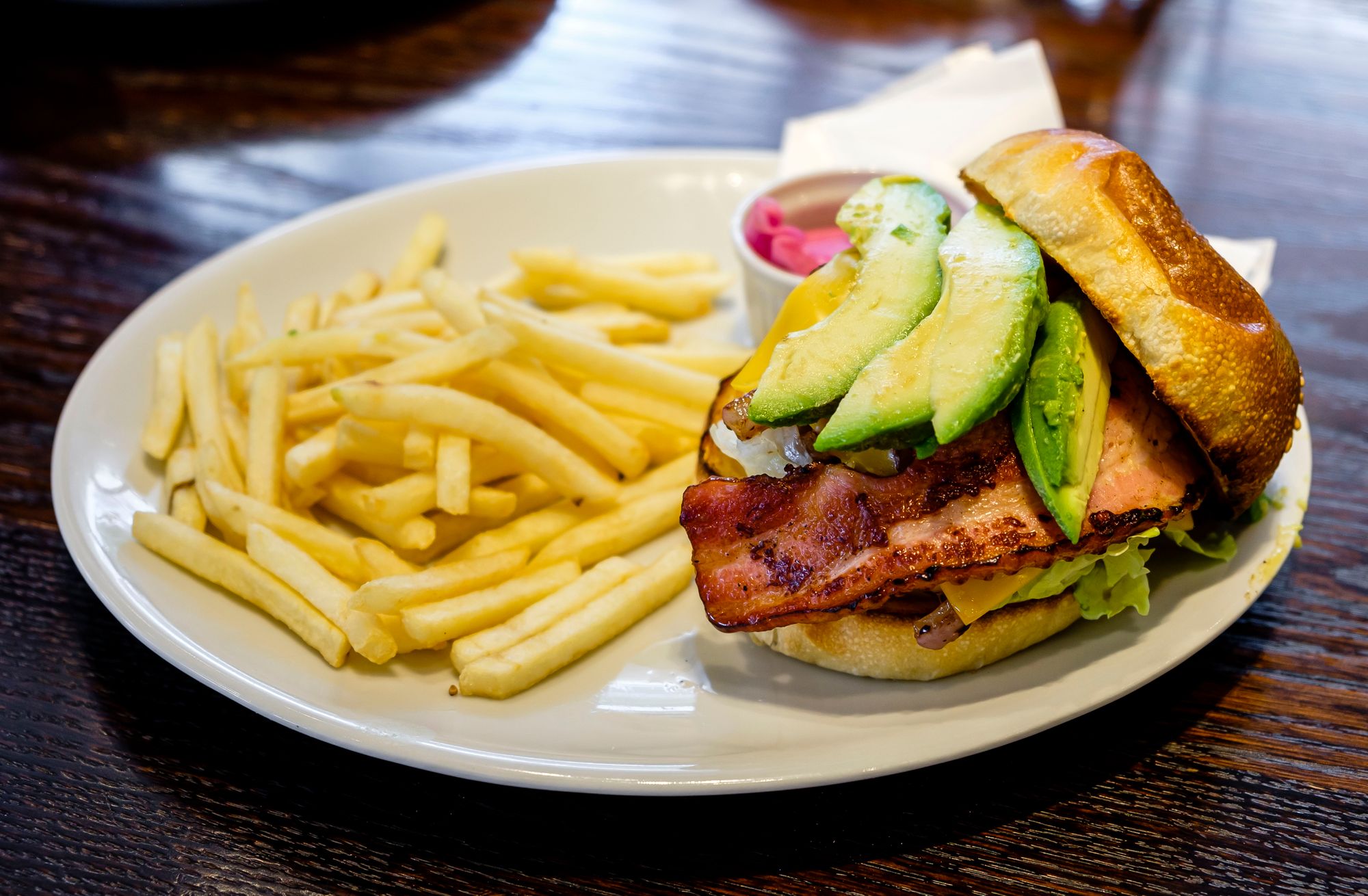 14. One Great Burger from Sarabeth's
Now if the Chef's Special Burger from Sawamura wasn't already a tax, the One Great Burger from Sarabeth's proves there can always be a more expensive burger. With all the fixings, this burger comes in at 2,150 yen). You'll probably come here because Sarabeth's in Tokyo is cheaper than Sarabeth's in New York City, but maybe you'll opt for something other than the burger because, again, if you hail from North America, comparable or better burgers can be had for cheaper.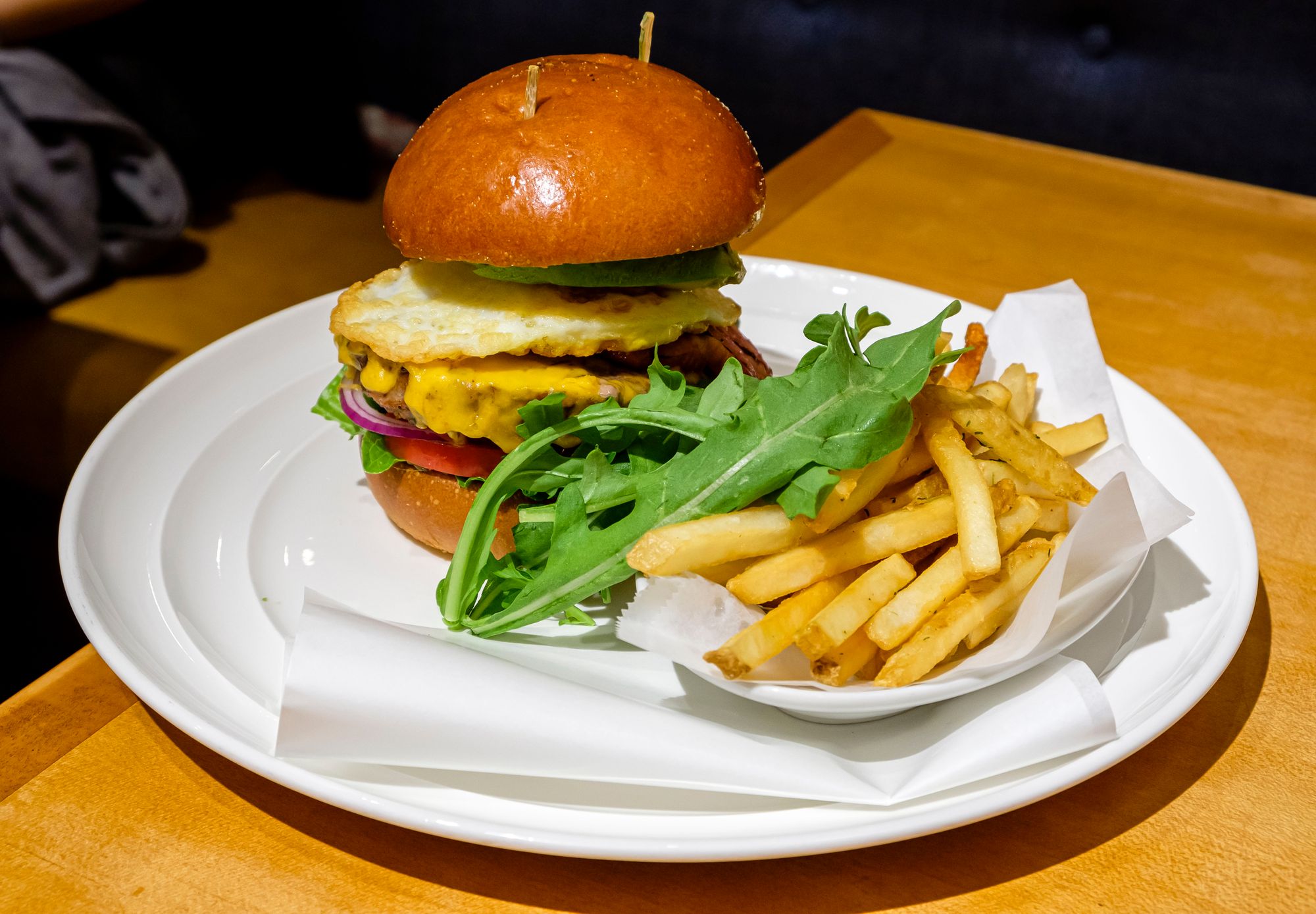 15. Shin Udon
At this point, this is kind of a petty pick to include Shin Udon on this list. I loved Shin Udon. The reason Shin Udon is on this list is because Maruka Udon exists in Tokyo. Maruka is cheaper than Shin Udon, offers a similar variety of udon, and may be less of a line compared to Shin Udon (though their operating hours are narrower). I raved about Maruka in my other list and it really is hard to beat the sub-600 yen udon there when you compare it to the 1,200+ yen udon at Shin Udon. If you must wait in a line for food around south Shinjuku, maybe spend it in a line for Fūunji.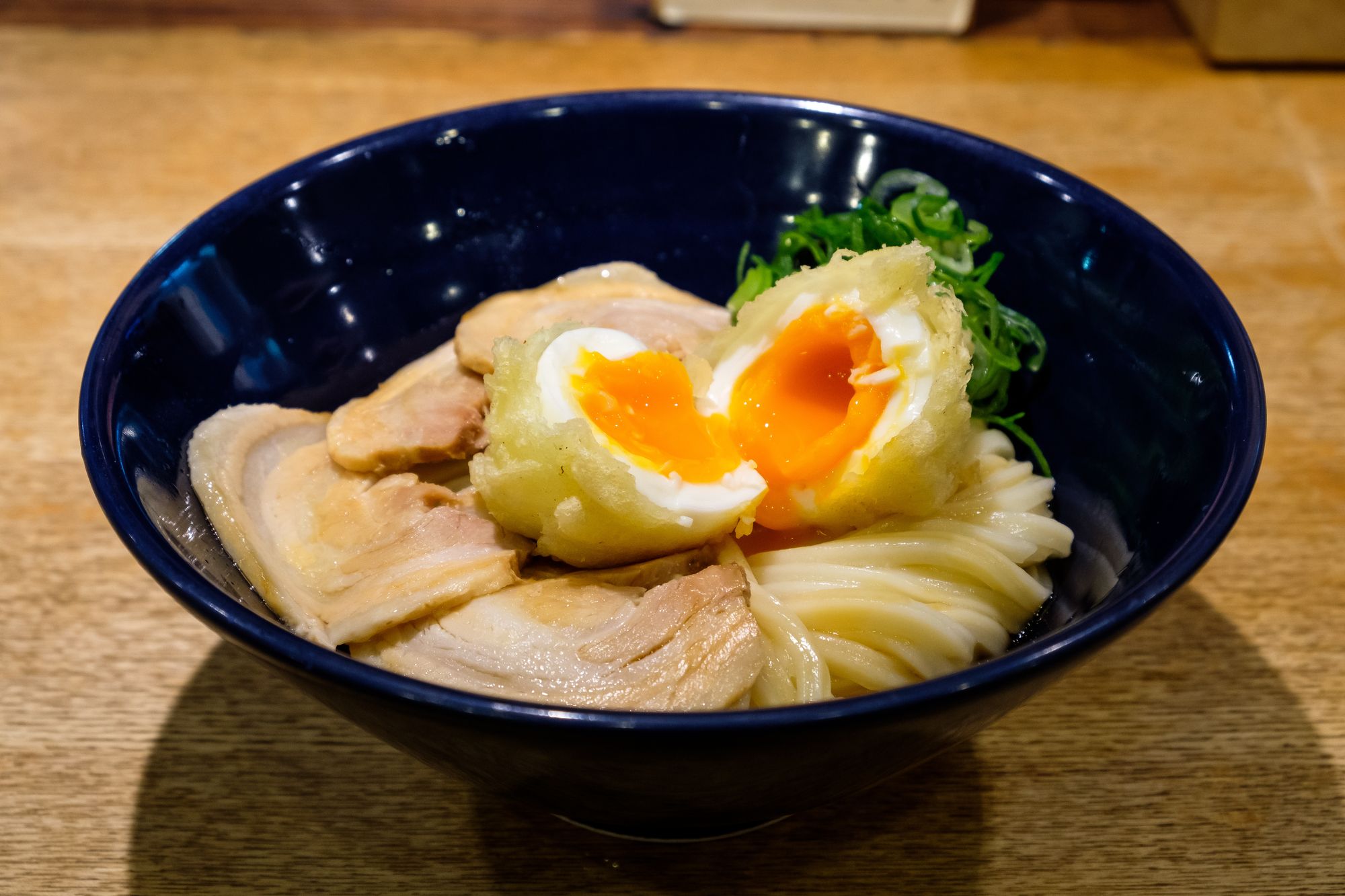 Final Thoughts:
And that's it! That's the whole list of places I'd write home about from my experience in Tokyo. Of course, with all the food that I'm keen on sharing, there is also a list of desserts I think deserve the same treatment. Stay tuned for the next blog post on "Tokyo, Japan – Desserts to Write Home About".