Some restaurants have a few core food staples with which they'll make various takes on (hello, Romers). At Dachi, the choices on the menu touch a variety of palates and are meant to be served en masse. At the last food blogger gathering I attended, we made Dachi our destination and basically ordered one serving of everything to experience the entire menu.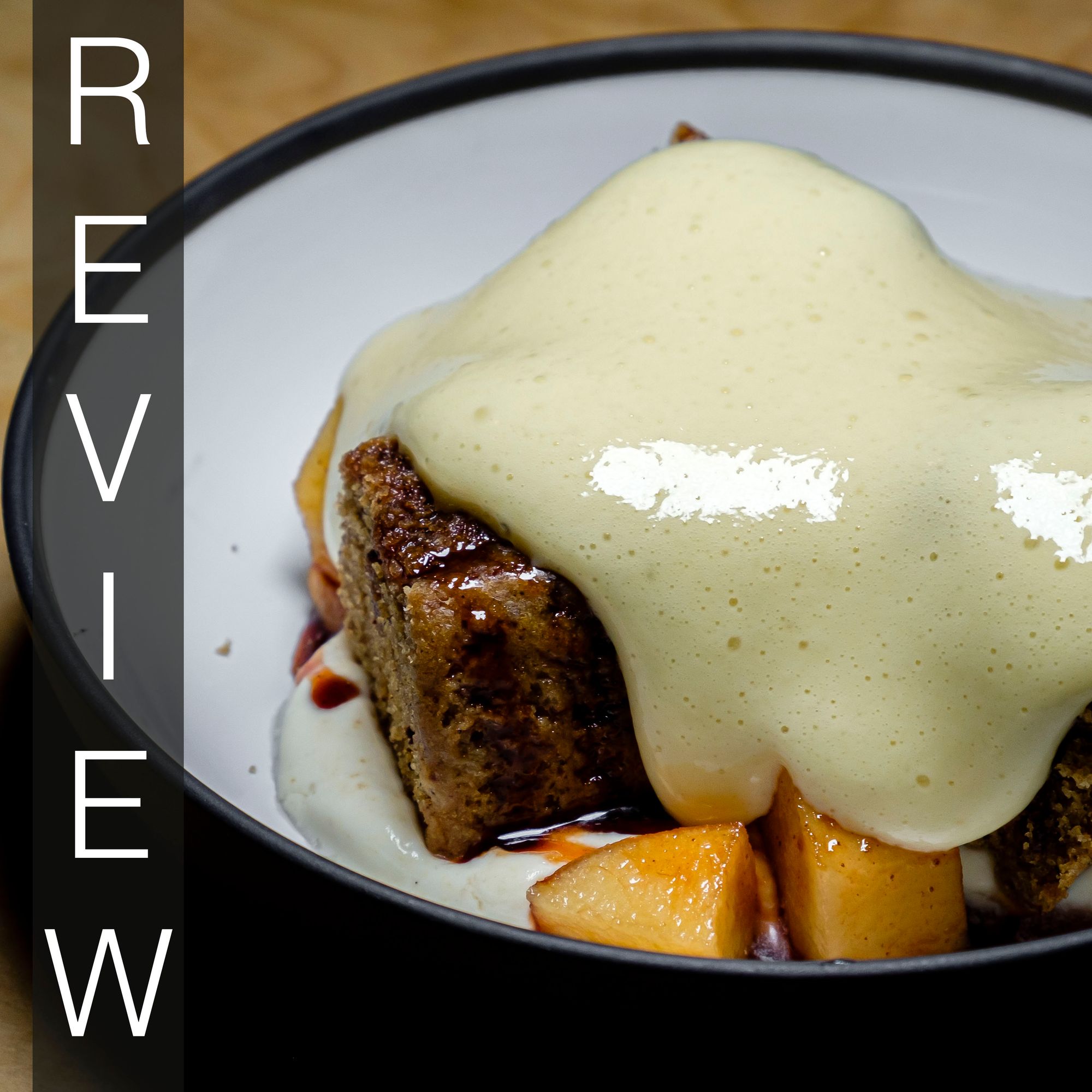 Food and Drink:
Team Blogger (well, 6 of us), came by for a weekday spring dinner and I had a great taste of the following:
Dageraad 'Burnabarian' Belgian Style Table Ale ($6.50)
3-Year Aged Cheddar and Buttermilk Biscuits ($7)
Burrata ($19)
Yarrow Meadows Duck Confit Croquettes ($12)
Mushroom and Toasted Seed Pierogies ($16)
Vancouver Island Manila Clams ($22)
Ricotta Gnudi ($18)
Country-Fried Steelhead Trout ($22)
Roasted Winter Squash Stew ($16)
Braised Pork Cheeks ($21)
24-Hour Roasted Beef Chuck Flat ($27)
Poached Granny Smith Apples ($10)
69% Cocoa Chocolate Ganache ($10)
A pint of beer makes waiting for friends a little less lonely. The locally-named Burnabarian was a frothy bundle of carbonated oats and coriander on the tongue. In hindsight I'd pair this with the steelhead trout but I was finished with my beer by course number 4.
The first plate on our table was the three year aged cheddar and buttermilk biscuits. Served with a mutsu apple butter of Japanese origin, these were a scrumptious collection of biscuits served in the cutest manner. There was a generous amount of apple butter with which to lather onto a biscuit. The aged cheddar invoked a longer aftertaste for the biscuit but nothing too offensive.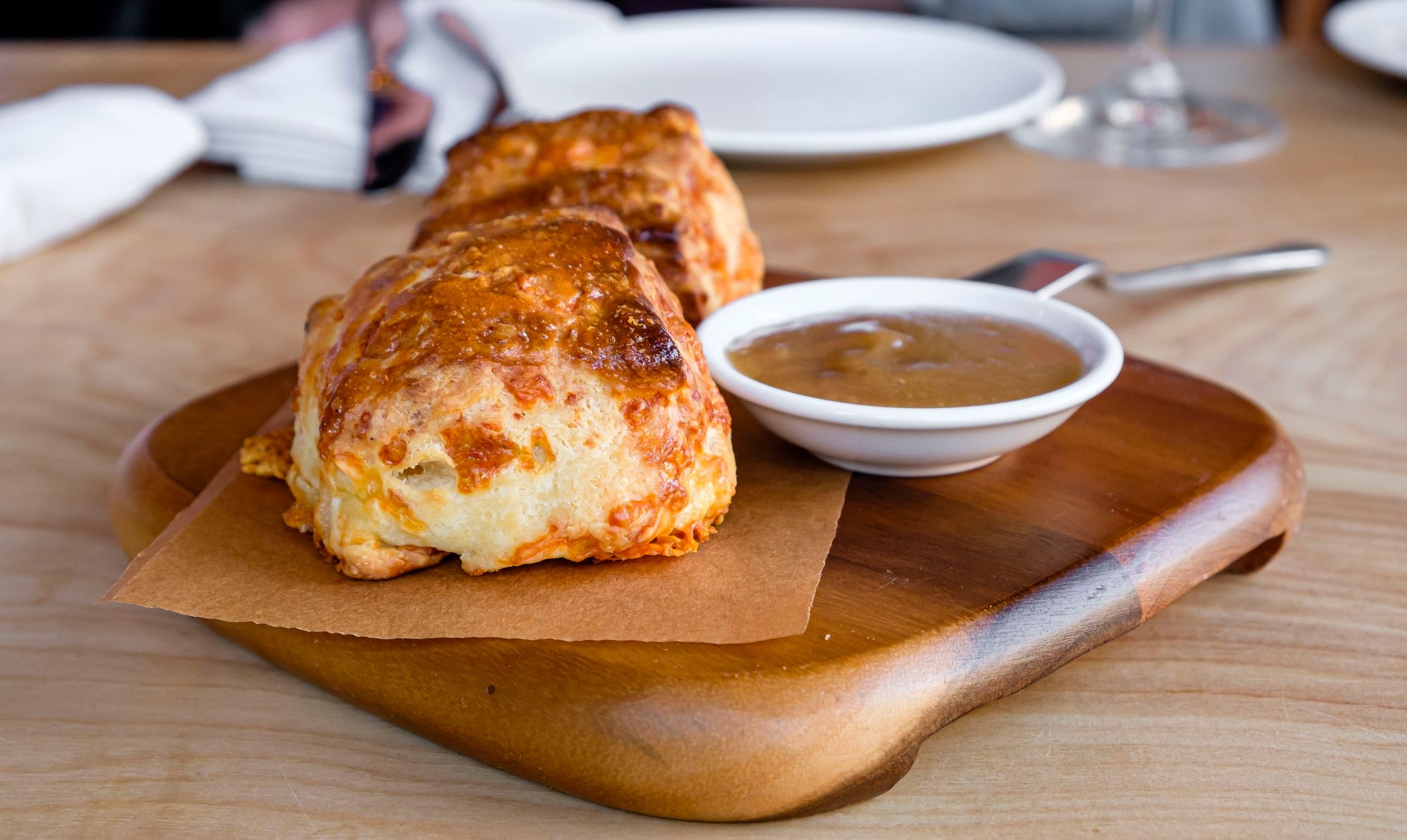 Next up were the Yarrow Meadows duck confit croquettes. Yarrow Meadows is a farm from Chilliwack so it's cool to see the restaurant sourcing locally. This was served with a smoked golden raisin puree and pickled celery. As cute as these were to look at, these were even better in the mouth. I wasn't a huge fan of the raisin puree because when I'm eating a croquette, I'm all about the savoury. Speaking of which, the savouriness of the duck confit filling was a fitting compliment to the bed of pickles the croquettes rested on.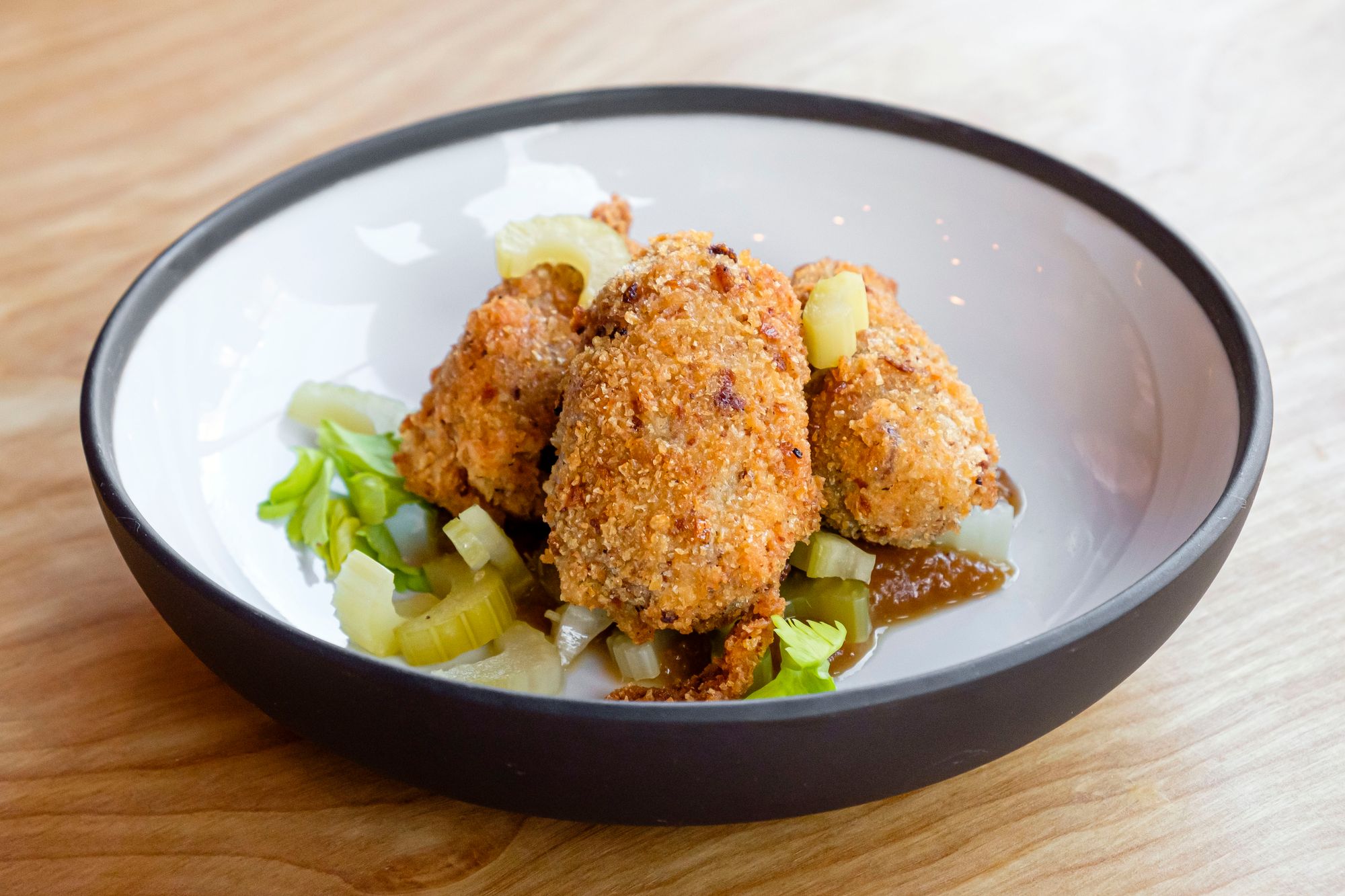 The burrata was something to write home about. Served with a garden of toasted seeds, radicchio, and anjou pear, the burrata was a silky as they come. I would have preferred a thicker crust on the bread but I might be just one of those people who feel a need to gnaw off the hard crust of a sourdough loaf on a daily basis.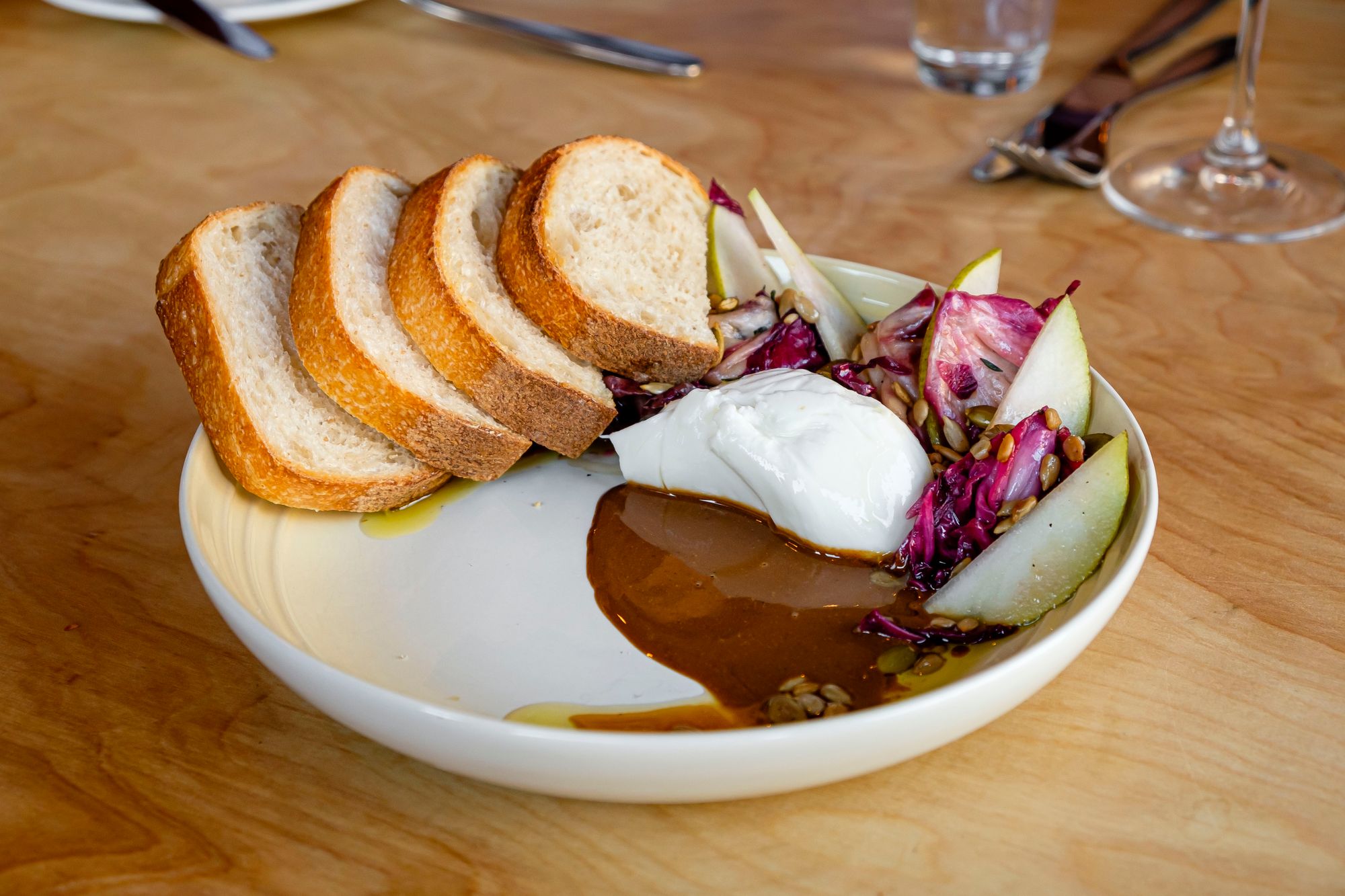 I freaking love dumplings so the mushroom and toasted seed perogies were right up my alley. In addition to the pronounced crimping on the perogies, the king oyster mushroom had its own scoring which added to the textured look of the entire dish. The celeriac puree embedded in the perogy was quite delicious though I wondered how the oyster mushroom was supposed to fit in the mix. I perceived it as more of a decorative element and I ended up just slicing my bit into pieces as I chomped into my perogy.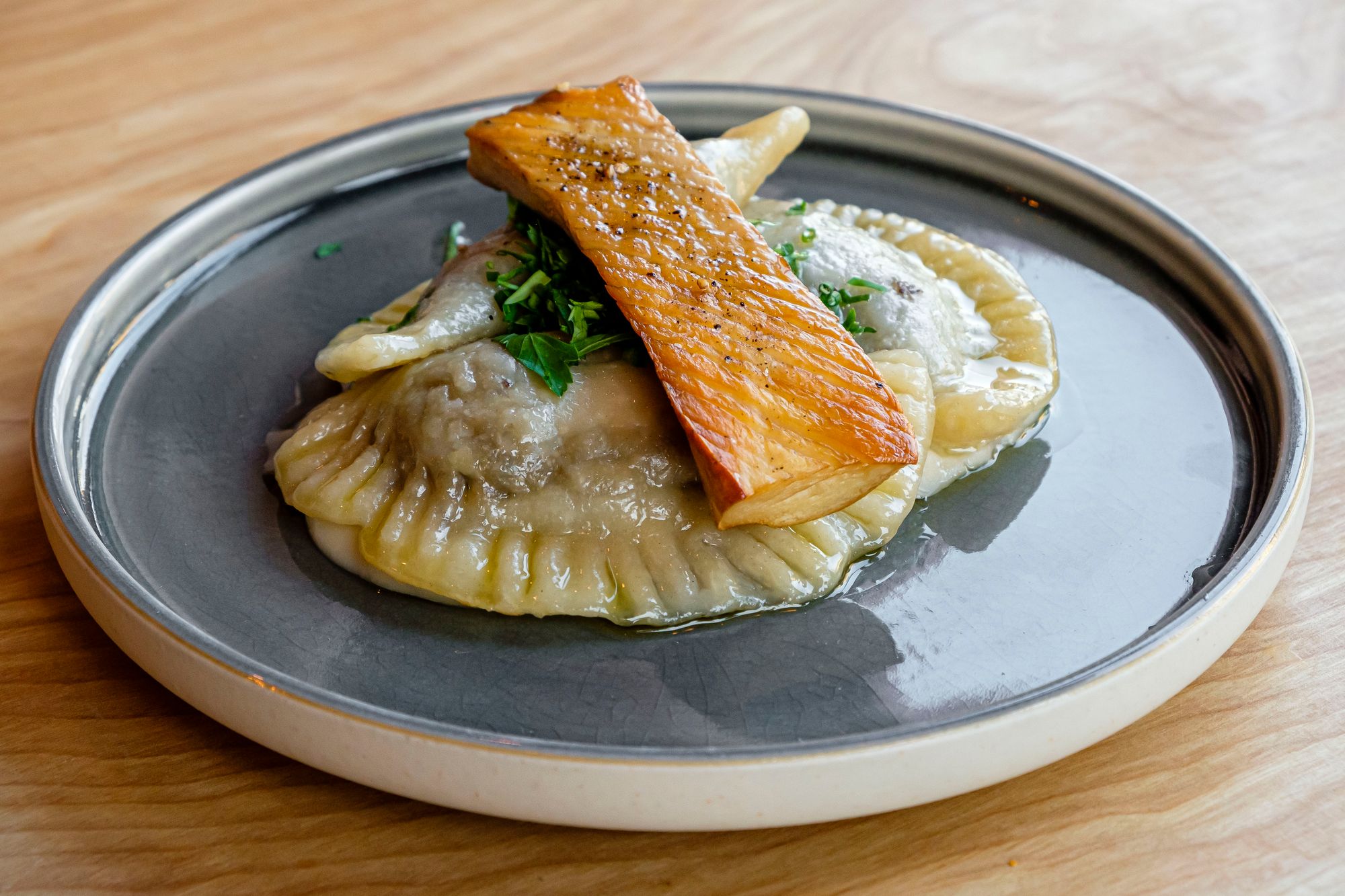 Nope, that's not a typo. Though they look like pieces of gnocchi, what we were served was ricotta gnudi, or ricotta-stuffed gnocchi-like shells. If there was a way to make globs of ricotta taste great, it was to roll them into gnudi and to swirl them into the kombu briased leek puree, toasted buckwheat, and sweet onion that completed this dish.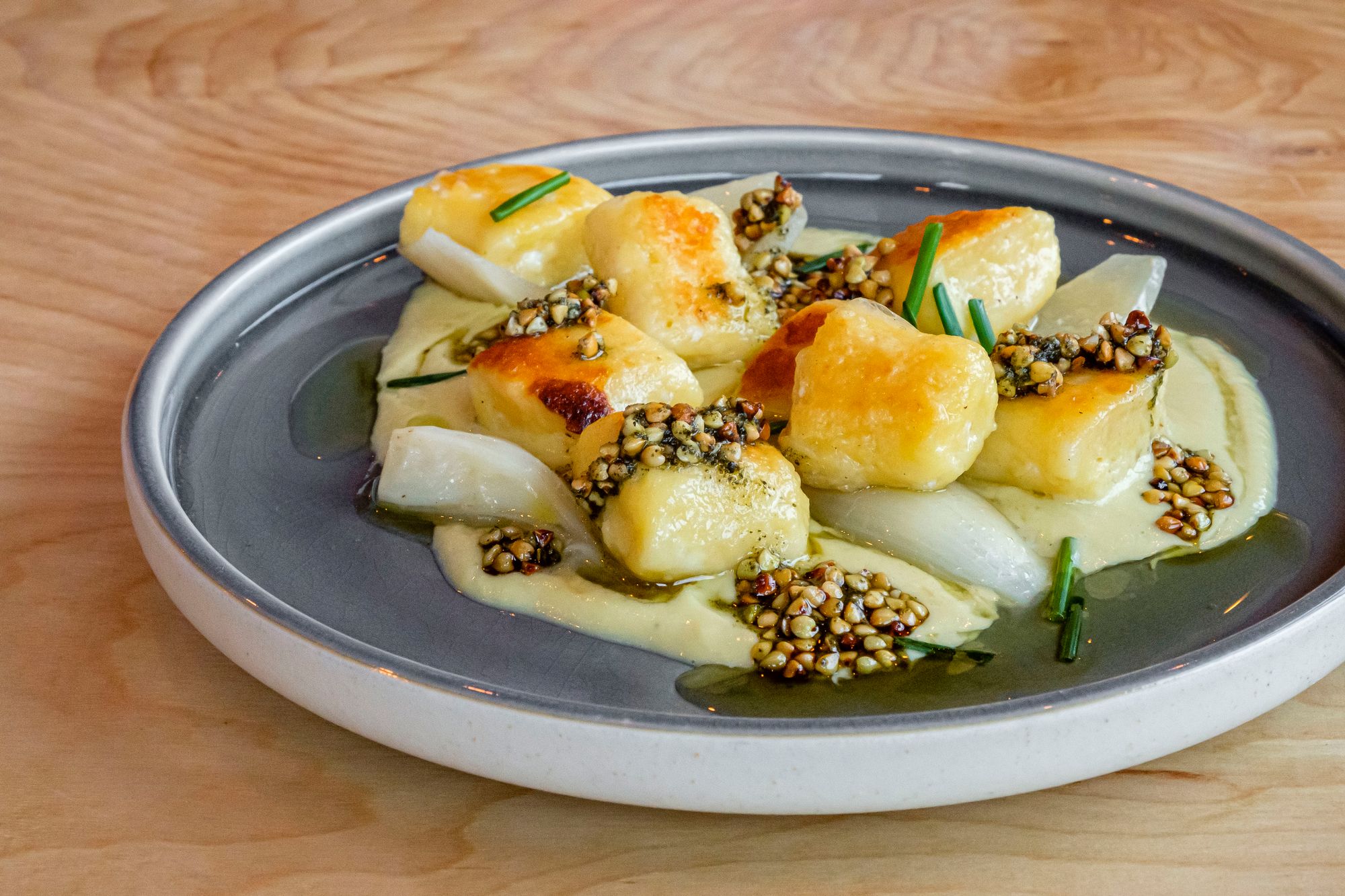 This next dish didn't resonate with me very well. The Vancouver Island Manilla Clams were served with a crispy pork belly and roasted onion broth mixed with egg yolk. While the clams were cooked perfectly, the advertised pork belly was quite a paltry serving and I thought it was too easy for them to get soaked in the broth and lose their crispiness. I felt the broth was quite thin in both flavour and seasoning so I either got unlucky or you should spend your $22 on something else on the menu.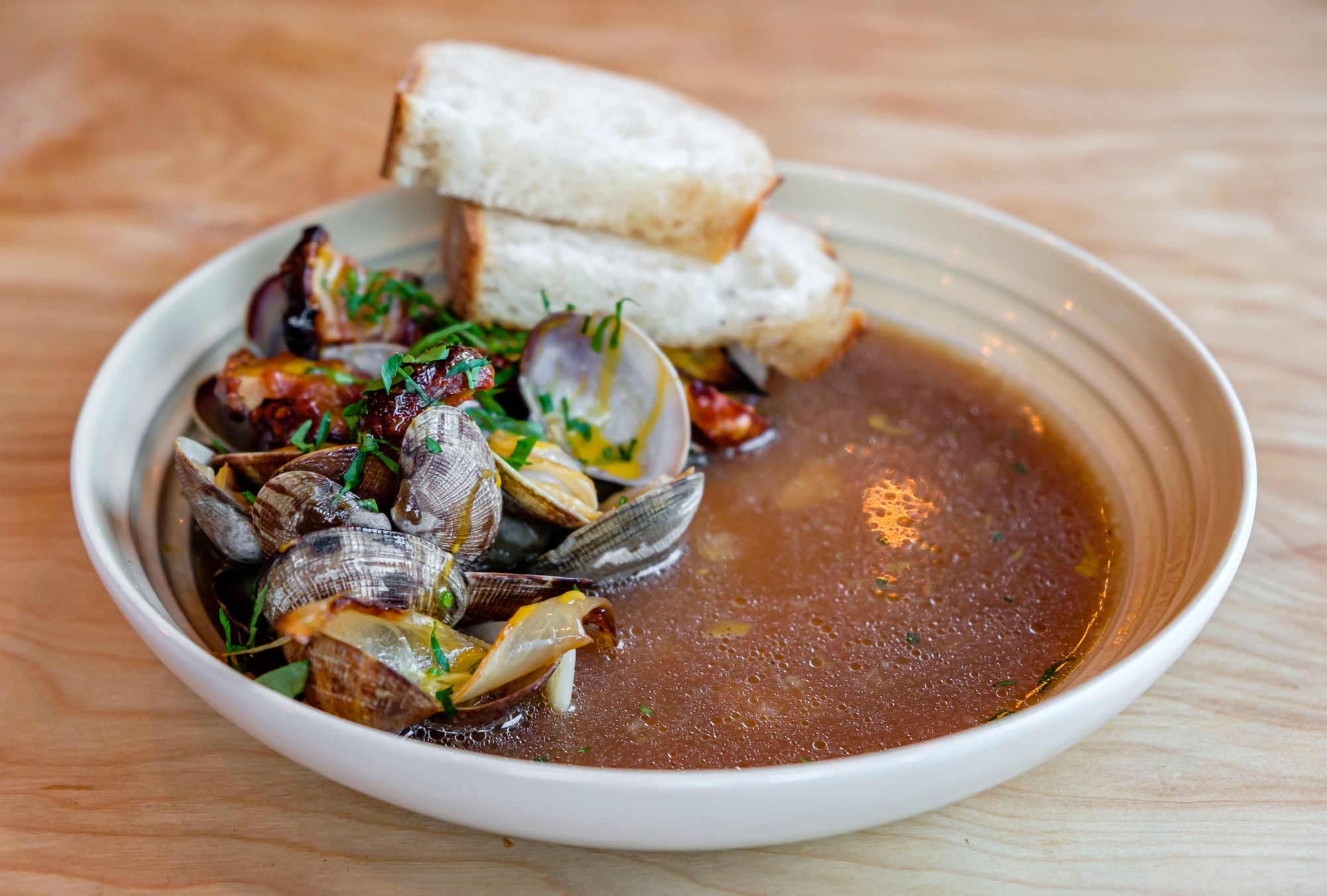 Next up was the roasted winter squash stew served with cashew butter, ricotta, and px vinegar. The biggest oomph that transformed a regular squash stew into a Dachi-style stew was the cashew butter. This lathered over the squash beautifull, creating a wholesome sandbox for the roasted squash to be dunked into repeatedly. The cilantro was a little much for my palate (we're talking full leaves in this implementation) but nothing my knife couldn't help me solve. The ricotta from the gnudi makes a second appearance here too.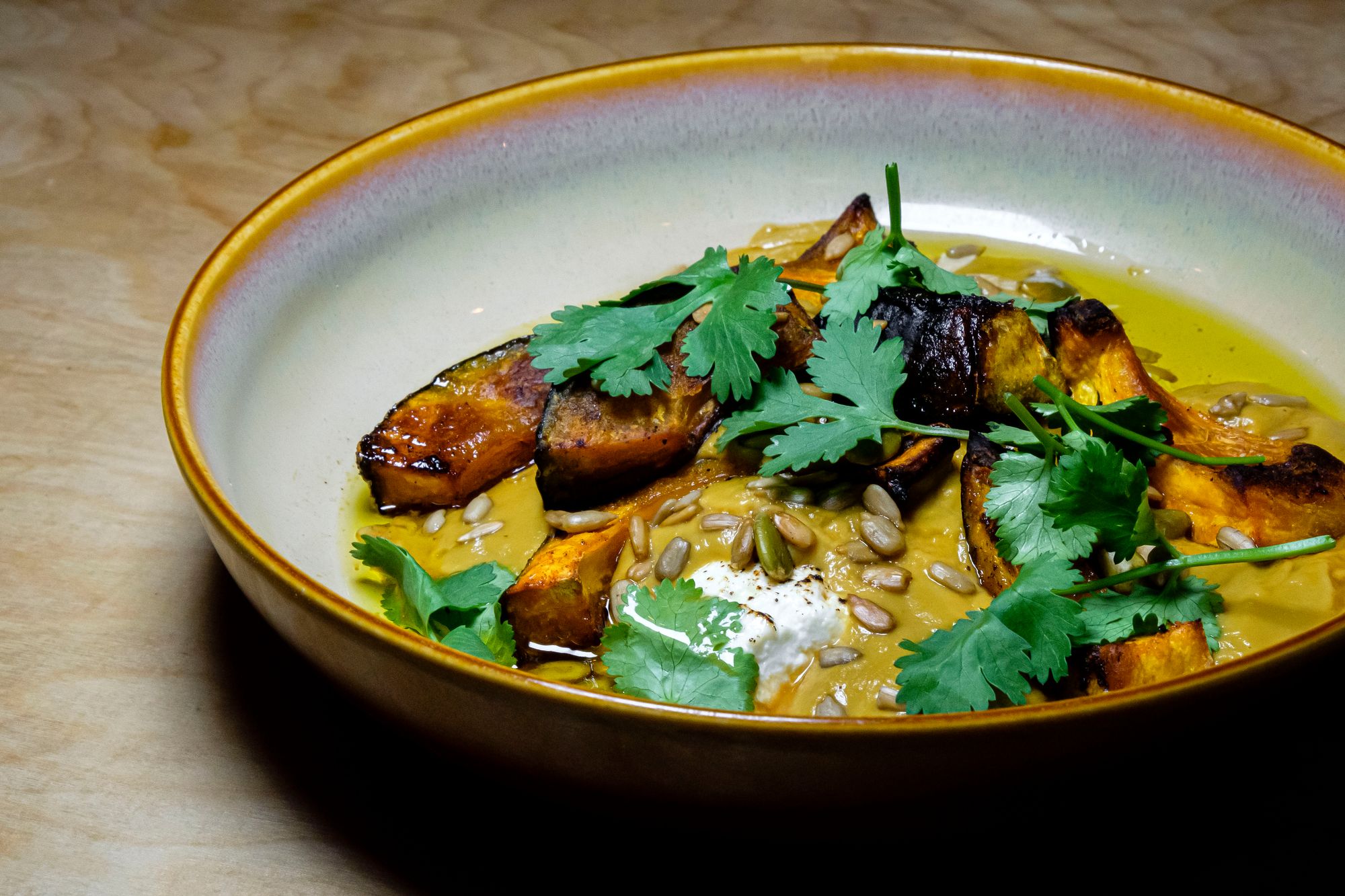 The country fried steelhead trout was something I never thought I'd see on the menu of a restaurant like this but it just goes to show that a creative menu transcends any preconcieved notion of what a restaurant's menu "should have". The breading here was crisp and each cleave of my knife revealed a hearty serving of trout stuffed right to the fried skin. Salted beets and horseradish gribiche (mayo egg sauce) rounded out the plate in what was a very homey creation. Cilantro makes a third appearance here.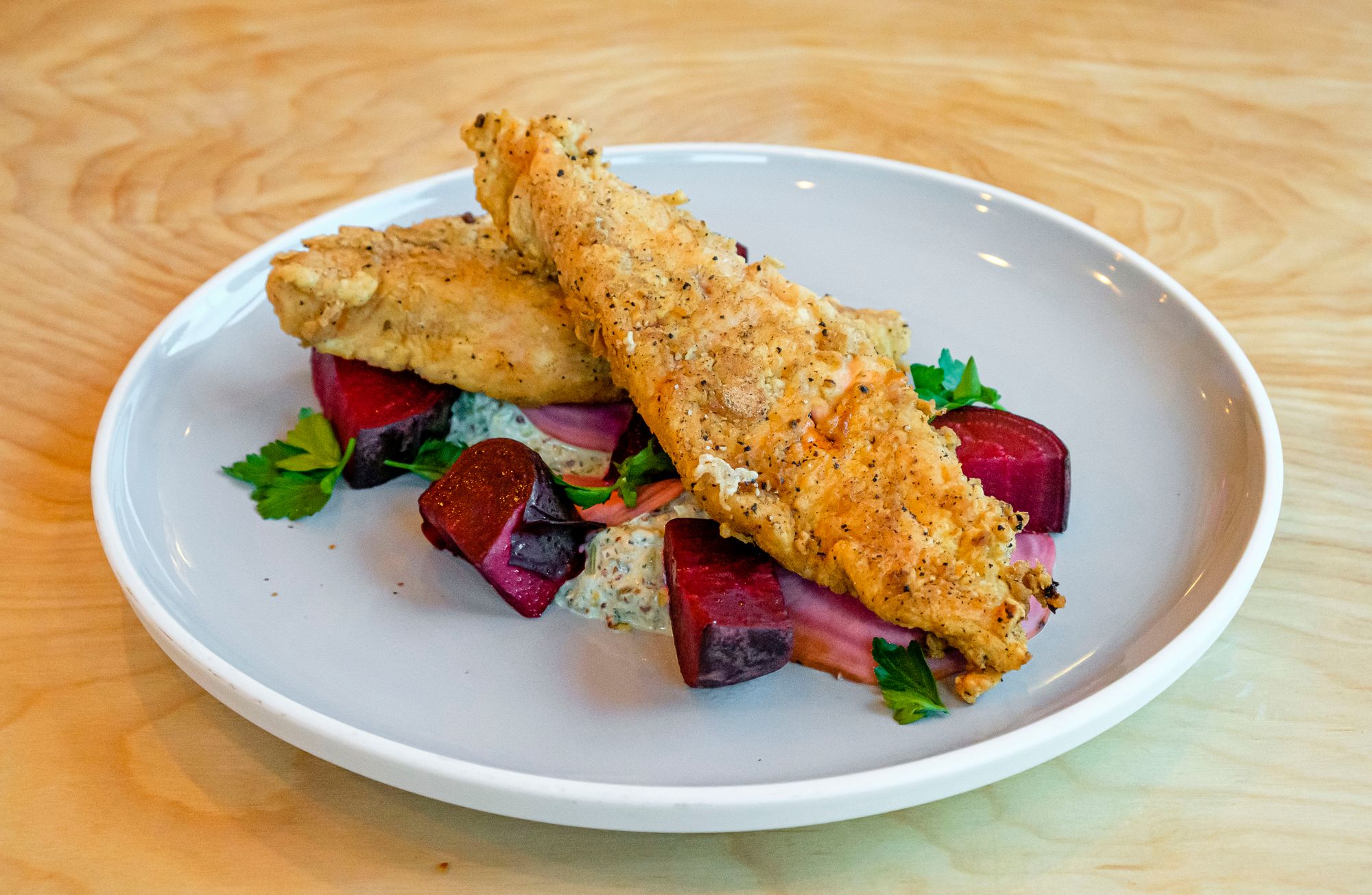 Moving onto the red meat, the braised pork cheek and sunchoke was up next. Plating was on point on this dish with parsnip puree, roasted hazelnut, and a oloroso sherry sauce rounding out the plate. The roasted hazelnuts were a fun addition, adding some crunch to the extra tender pork cheek. The parsnip puree I could eat for days, but I feel the sherry sauce was a little disproportionate in relation to the rest of the dish. Cilantro makes a fourth appearance here.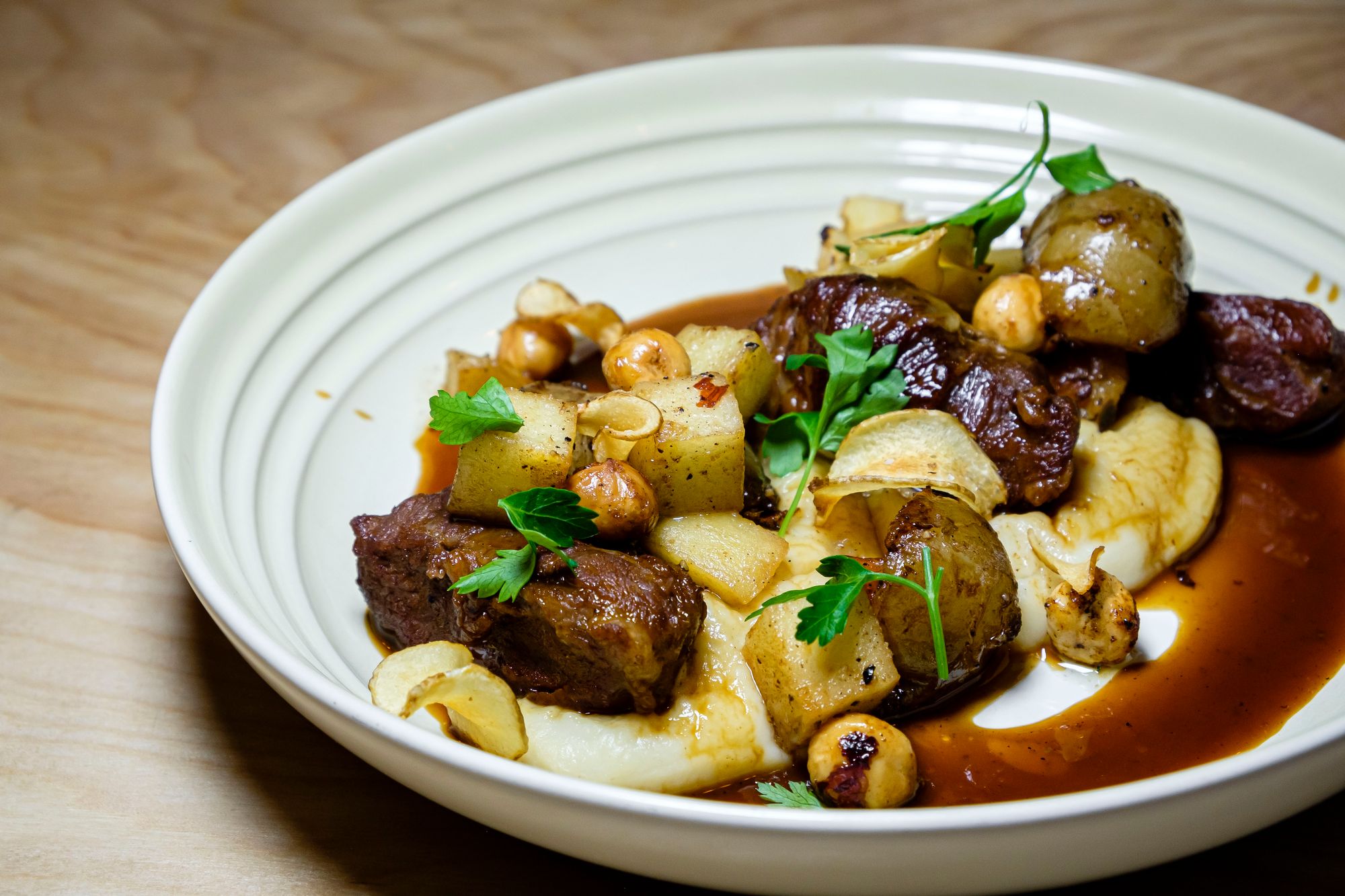 Our final entree was the twenty four hour roasted beef chuck flat served with heirloom carrot, red miso, and swiss chard. This was a classic steak and greens kind of plate but with an even medium-rare juiciness on the thick slabs of chuck flat. With 24 hours roasting thrown into the mix, I could taste a ton of flavour in every bite of the chuch flat. Presentation-wise, I felt this didn't look as good as the other dishes on the menu but it was a classic way to finish off the entree portion of our dinner.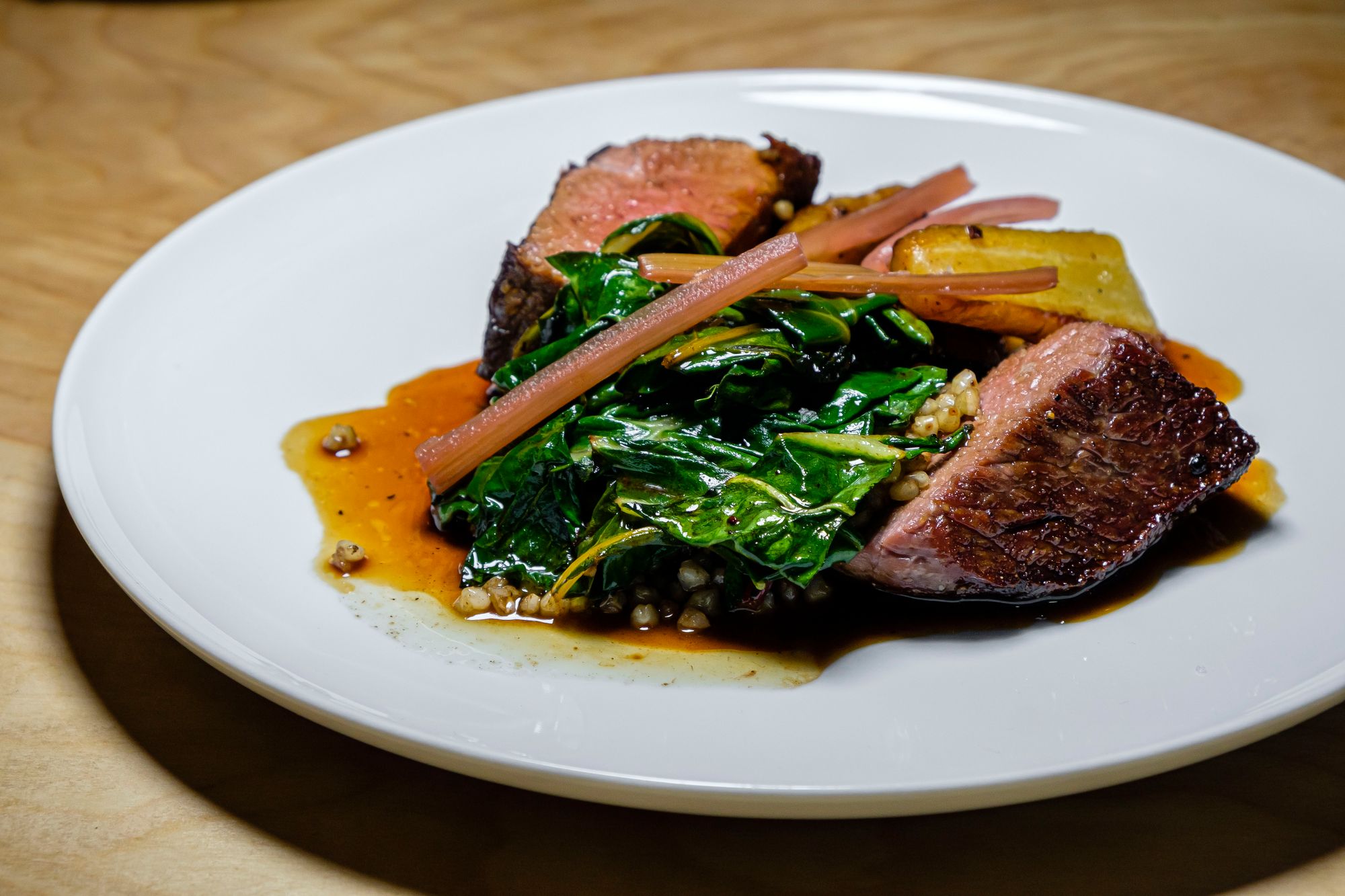 One of our desserts was the 69% cocoa chocolate ganache which was adorned with dollops of meringue, hazelnut streusel, and pear vanilla puree. While the globs of meringue were cool to pick at, this dessert was way too sweet for my palate. Chocolate lovers will rejoice, but for me, even the hazelnuts were failed to temper the sweetness of this dessert.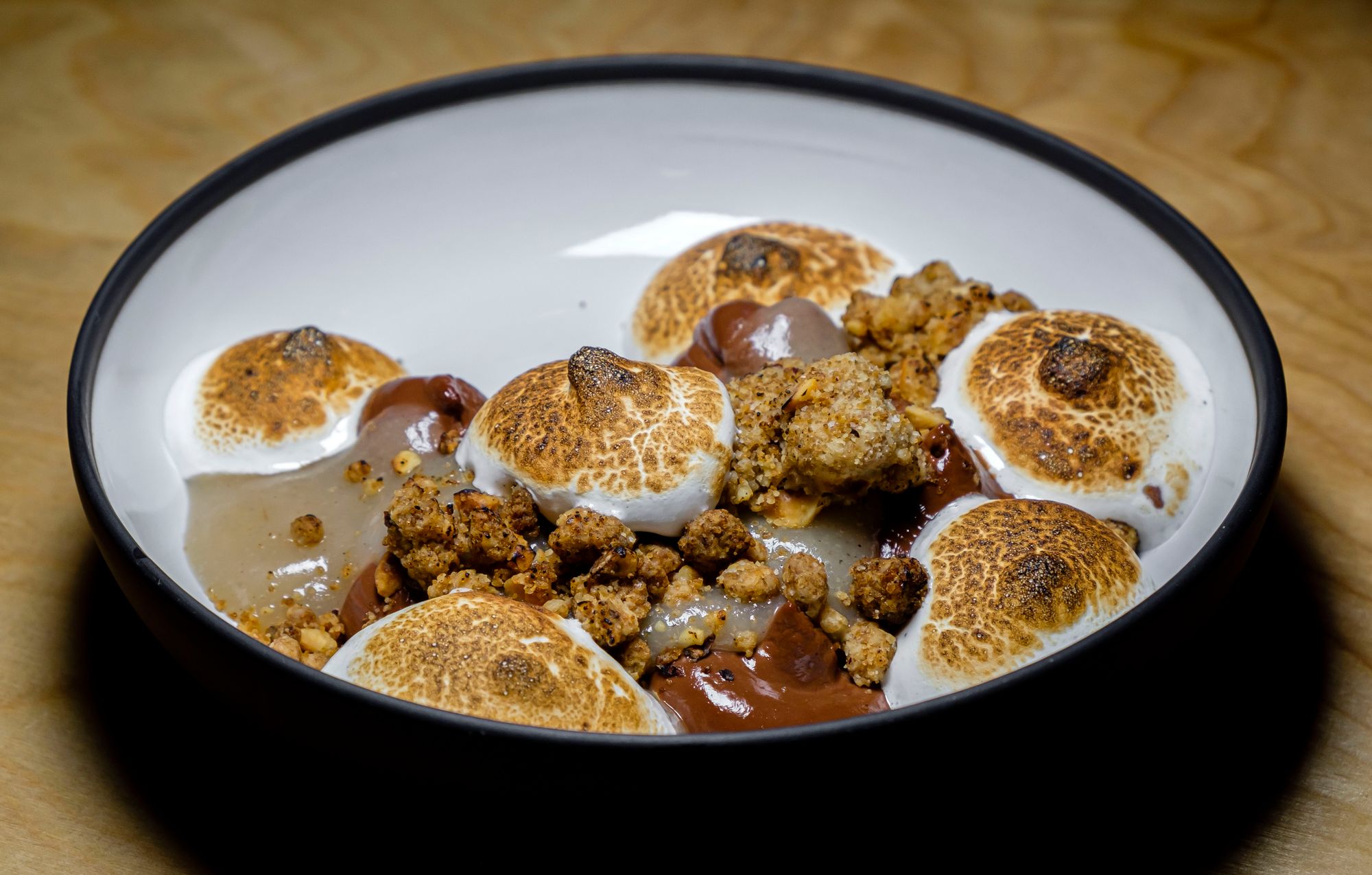 My favourite out of the two desserts was the poached granny smith apple dessert which was served with a cider sabayon, spice cake, and ginger mascarpone covering. This was my first go at having a liquified mascarpone cheese covering a spice cake but it was a delightful implementation. The cider sabayon worked to keep things interesting and energetic and swirling the spice cake in the liquids made for a fun mix of mascarpone, apple, and cake. Mmmmm, cake.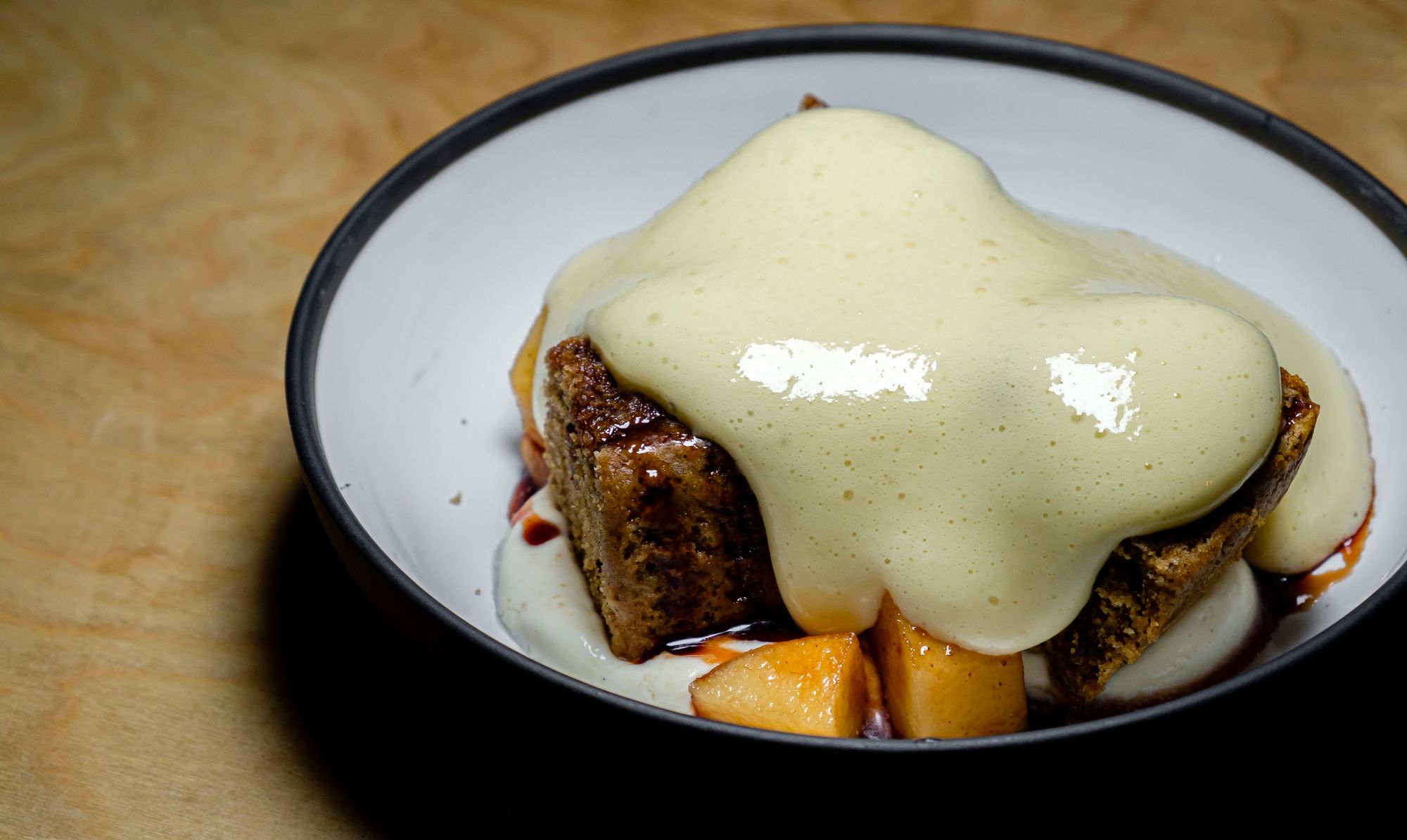 Features:
Dachi takes up residence in the former Campagnolo Roma, and with it, retains the bar in its original spot and most of the original layout. The best place to sit is at the long table at the front window but you'll need at least 5 friends sitting with you to qualify. There is seating for about 50 guests among the bar and remaining tables.
The vibe at Dachi is quite cool. It's a little bit of elevated dining but set against the regular hustle and bustle of Hastings-Sunrise which gives it a bit of a homey neighbourhood feel. It's a good combination of atmosphere and menu options, in my opinion.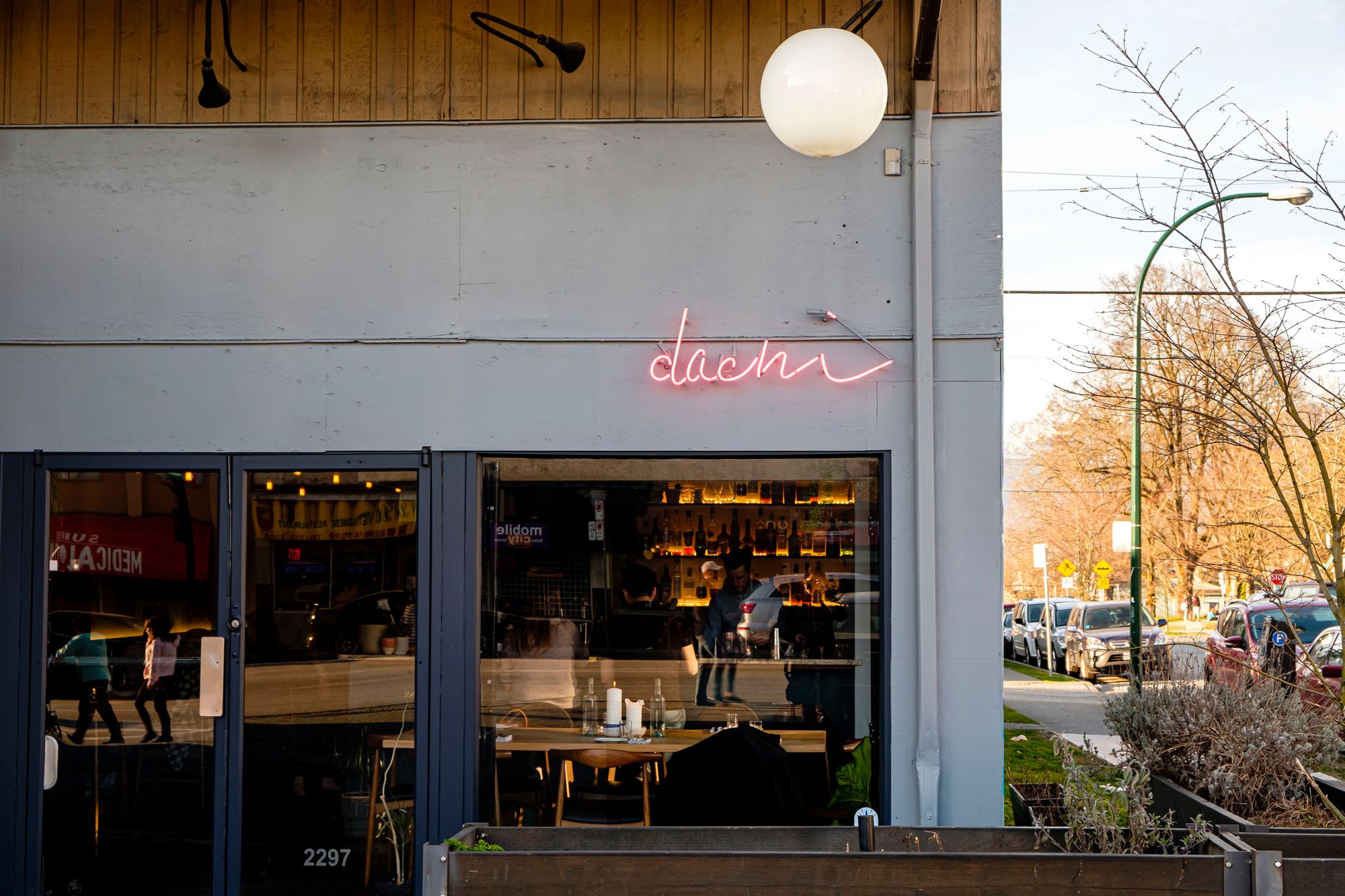 Service:
Service was terrific at Dachi. The front of house was mainly manned by a couple of servers who were experienced at the bar and at waiting tables. Our server answered any question we had about the restaurant and was very courteous in leading me towards my choosing of the Dageraad Burnabarian beer.
Food took about 15 minutes to start arriving but the timing was impeccable. As we were a group of 6 sharing most items on the menu, the staff were accommodating enough to serve us items together that made sense. For example, we made it clear we were going to order both desserts, so the desserts just came together so we could simultaneously jump into both at our leisure.
Final Thoughts:
One-liner: Homey Pacific Northwest fare that speaks to local farms, the neighbourhood, and a little bit of elevated dining
Highlight: Country Fried Steelhead Trout
Price per person: $40-$70
Would I go back? Yes.