The sun is coming so it's an appropriate time to talk about the newest opening of Soft Peaks. After a few years of dominating the Gastown soft serve scene (peace out, UYU), the owners have opened a new location across the street from Metrotown in Burnaby. Last week, I was given an opportunity to visit and try some items both new and old from the menu.
Disclosure: This was a complimentary tasting provided in exchange for an honest overview and no monetary compensation.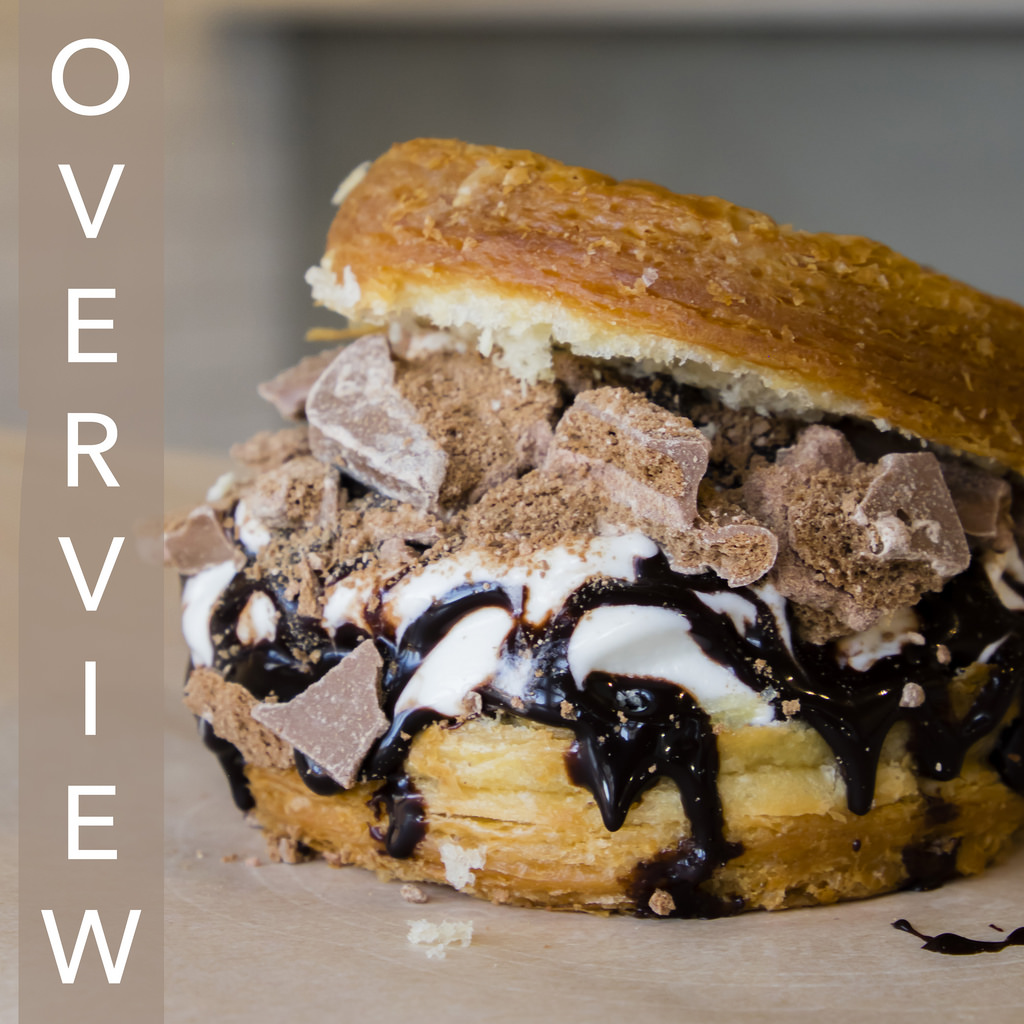 Soft Serve Ice Cream:
Team GlueCrew came here for a Saturday soft serve kind of day and I had a great taste of the following:
Gastown ($7.50/ cone)
Frissant Ice Cream Sandwich (Mudslide - $6.75)
Frissant Ice Cream Sandwich (custom with cereal and honey) (~$6.50)
What was once a seasonal flavour looks like it's made it onto the regular menu. The Gastown is a soft serve ice cream cone with tiramisu toppings (e.g. lady finger and espresso dusting). The handcrafted soft serve had a smooth texture much less sweet than what soft serve regulars would be used to at fast food chains. For me, I enjoy this milkier sensation as I feel more at peace with decking out the ice cream with toppings. In the Gastown, the mix of espresso with soft serve spoke to the affogato lover in me and made a great combination with the airy home-made lady finger.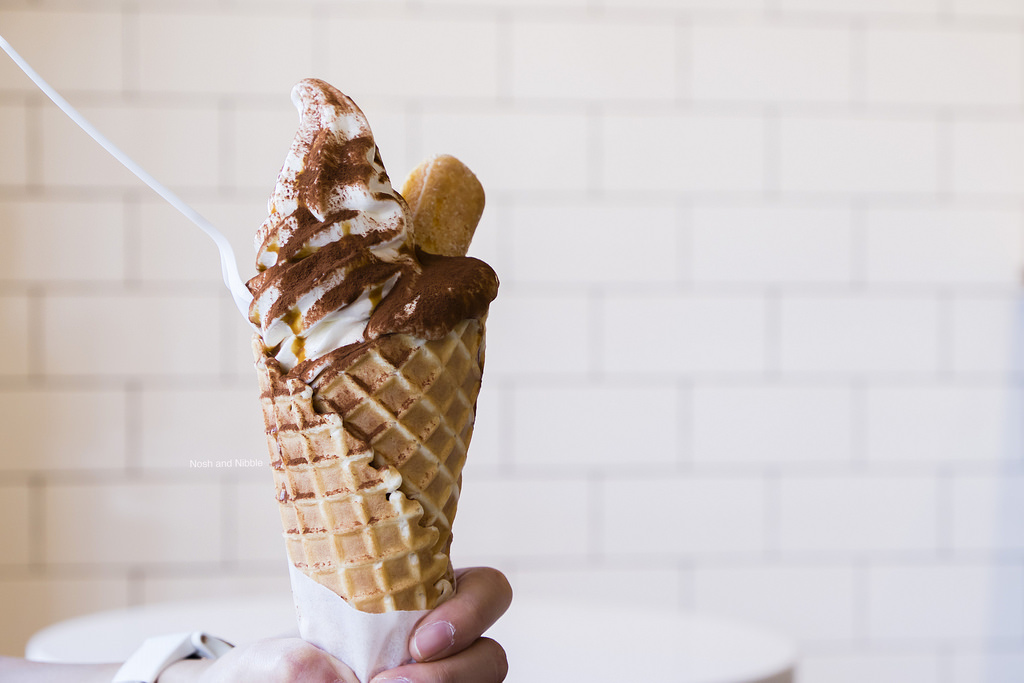 Gastown Cone
One of the recent additions to the menu are the frissant ice cream sandwiches. Following the trend of sourcing locally, the frissants (i.e. fritter + croissant) are a product of Swiss Bakery, a Vancouver bakery known for creating Vancouver's version of the cronut.
My first experience came with a Soft Peaks Mudslide version of the frissant ice cream sandwich. Coming with Tim Tam chunks (not crumbs) and chocolate syrup, this sandwich was eye-catching and held itself quite well in its wrapper. Logistically, I would suggest grabbing a spoon to help manage the drippy nature of this dessert. Being a messy eater, I managed to drip some melting soft serve on my pants before grabbing a spoon to accelerate my consumption.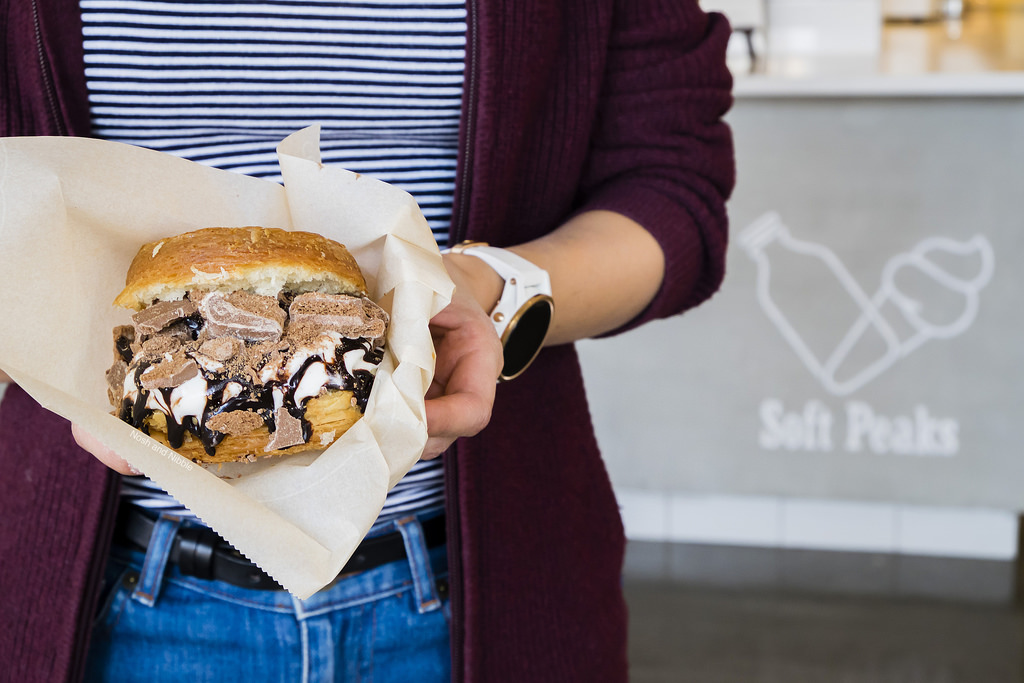 Mudslide Frissant Ice Cream Sandwich
We were also given another custom frissant ice cream sandwich to try. This one came with cereal and liquid honey. Honey and soft serve is the quintessential combination and the pleasure was no different in a frissant shell. The cereal here looked like corn flakes but were crunchier and unsweetened to allow the soft serve to speak for itself. Logistic issues aside, it's a nice sight to see local businesses partnering together. Just remember to ask for a spoon to facilitate eating this sandwich if you're messy like me.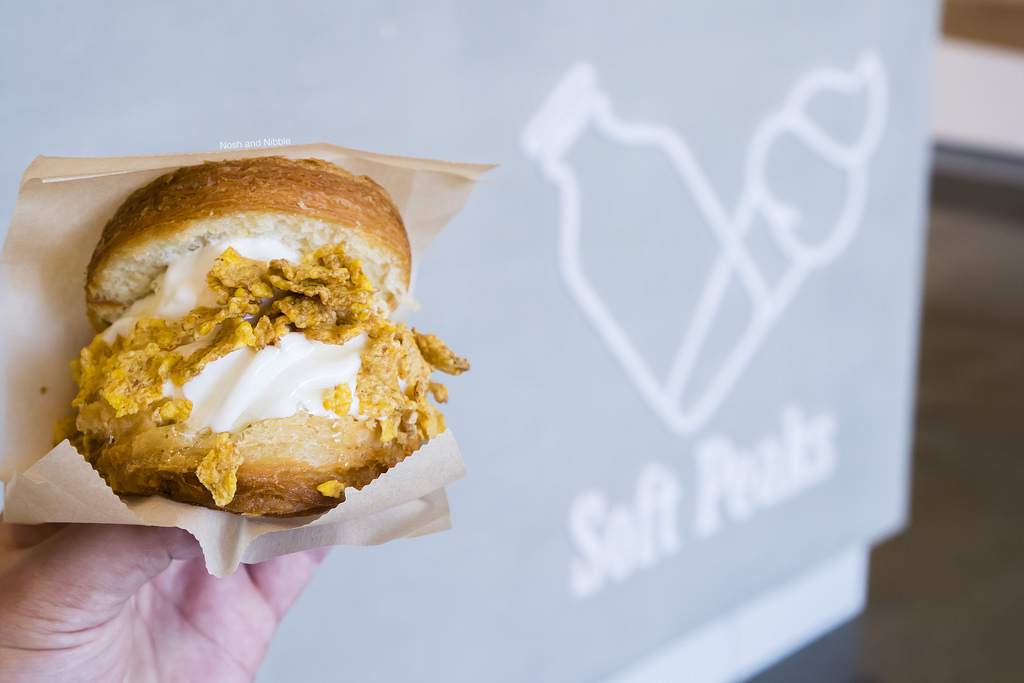 Frissant Ice Cream Sandwich w/ ceral and liquid honey
Features:
Soft Peaks in Burnaby takes residence across the street from Metrotown. The fully renovated interior is sleek and seats more guests (around 30 among tables and a spacious bench) compared to the Gastown location. The menu here is easier to read, making it obvious the different choices/toppings available and lets diners choose from classic milk, kinako (roasted soybean), twist, and soon, chocolate flavours of soft serve.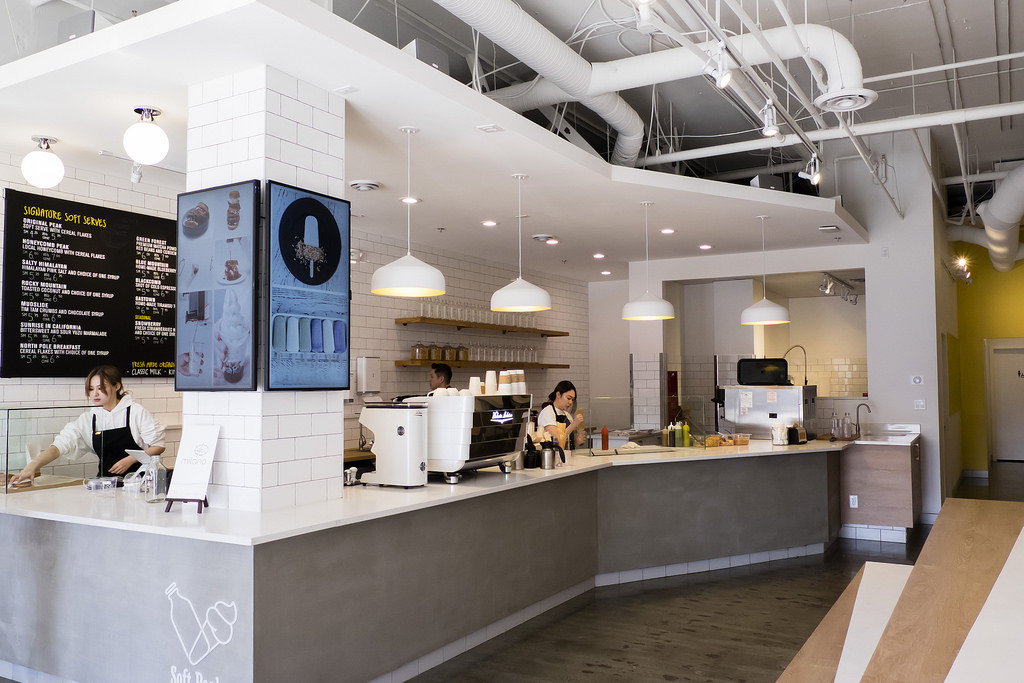 Inside Soft Peaks Burnaby
And for those wondering, Avalon milk is still the name of the game of Soft Peaks' soft serve. I don't know of any other company that's as proud of their use of local organic milk as Soft Peaks. I was informed that Avalon milk was a prominent part of the founders' childhoods and now plays an integral part of their business.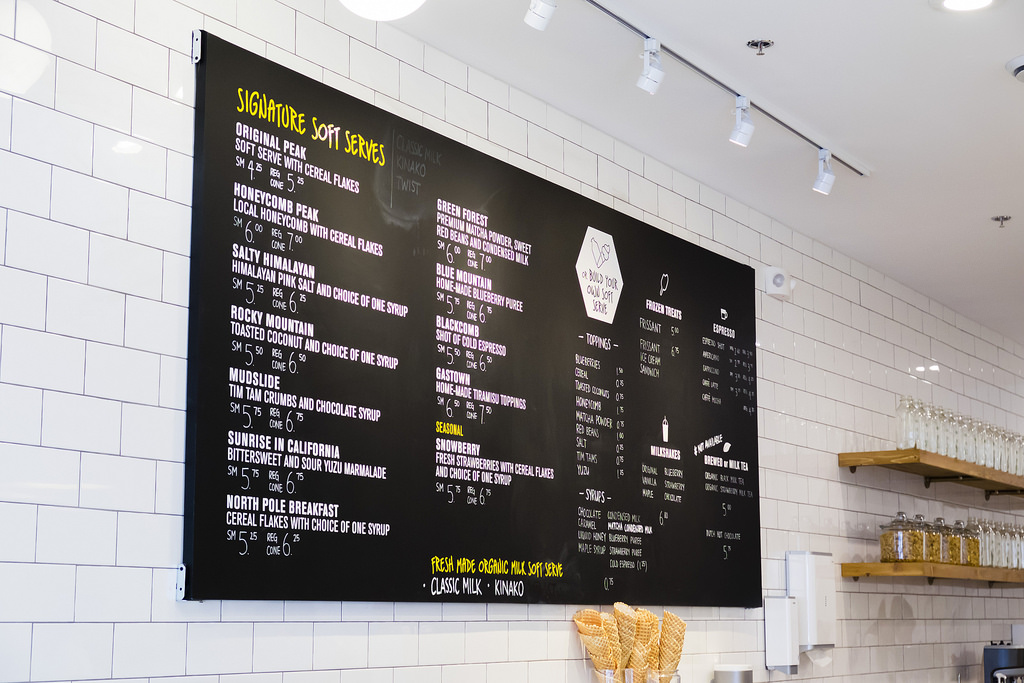 Soft Peaks Menu
Final Thoughts:
One-liner: Organic soft serve ice cream that pushes a local and natural ingredient agenda
Highlight: The "Gastown" flavour
Price per person: $4.50-$10
Would I go back? Yes.