Destination dinners are a great way to plan a getaway. A couple of weeks ago I had the opportunity to experience a Pacific Northwest showcase of wine by Sokol Blosser Winery expertly paired to culinary creations by Bruno Feldeisen and Devin Kellogg, the head chef and sous chef respectively at Semiahmoo Resort. Located in Blaine, Washington, Semiahmoo Resort is really a stone's throw across the border from White Rock. I for one loved the proximity and am so excited to share the eats and drinks from this evening.
Disclosure: This was a complimentary winemaker dinner experience provided in exchange for an honest overview and no monetary compensation.
Food and Drink:
Team Tastic came here for the Sokol Blosser Winemaker Dinner ($124 USD per guest) and enjoyed the following 5 courses:
Salt Cured Tuna paired with Dundee Hills Pinot Gris 2017
Brie Cheese Brulee paired with Rose of Pinot Noir 2017
Pan Seared Duck Breast paired with Dundee Hills Pinot Noir 2014
Butter Poached Crab Claws paired with Evolution Pinot Noir 2016
Chocolate Marquise & Local Strawberries & Raspberries paired with Orchard Block Pinot Noir 2012
As if 5 paired courses weren't enough, we also started the evening with some bubbly champagne, crab cakes, and smoked salmon tarts.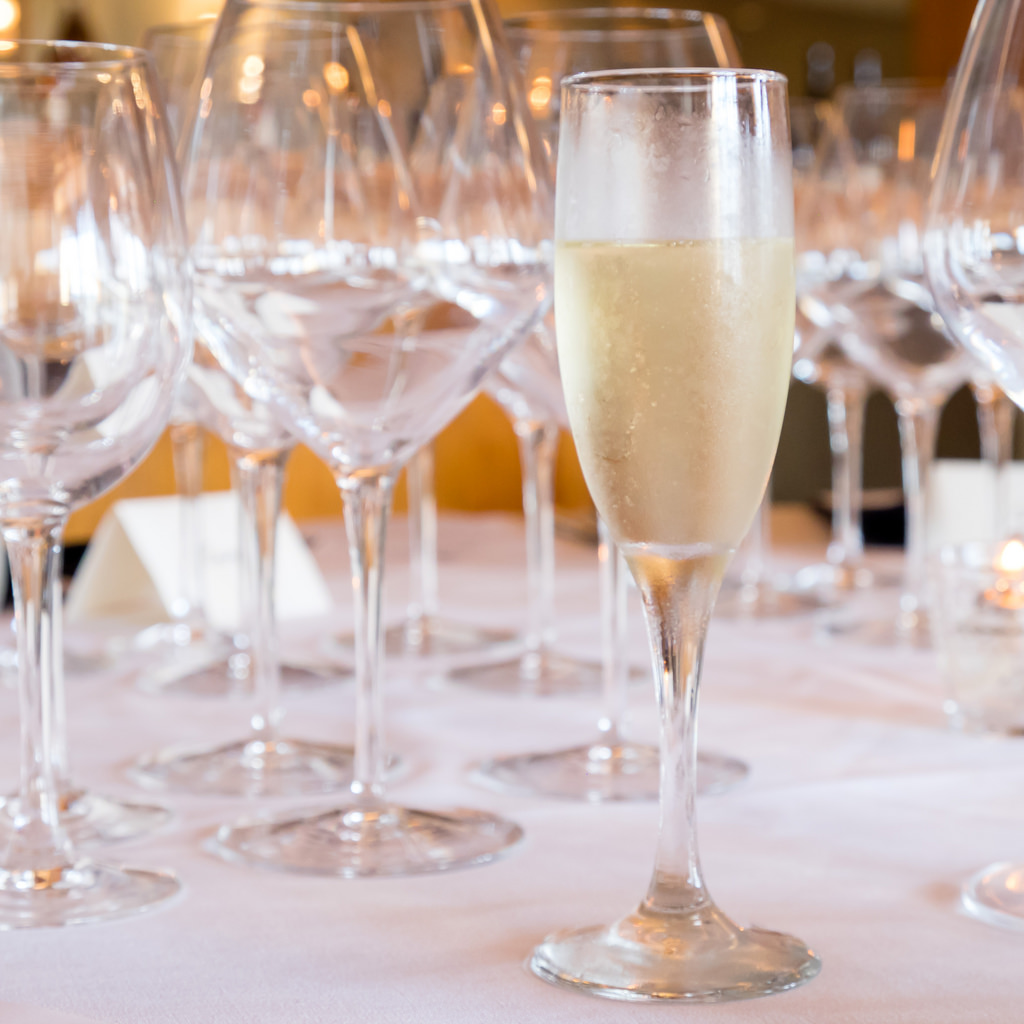 Welcome Champagne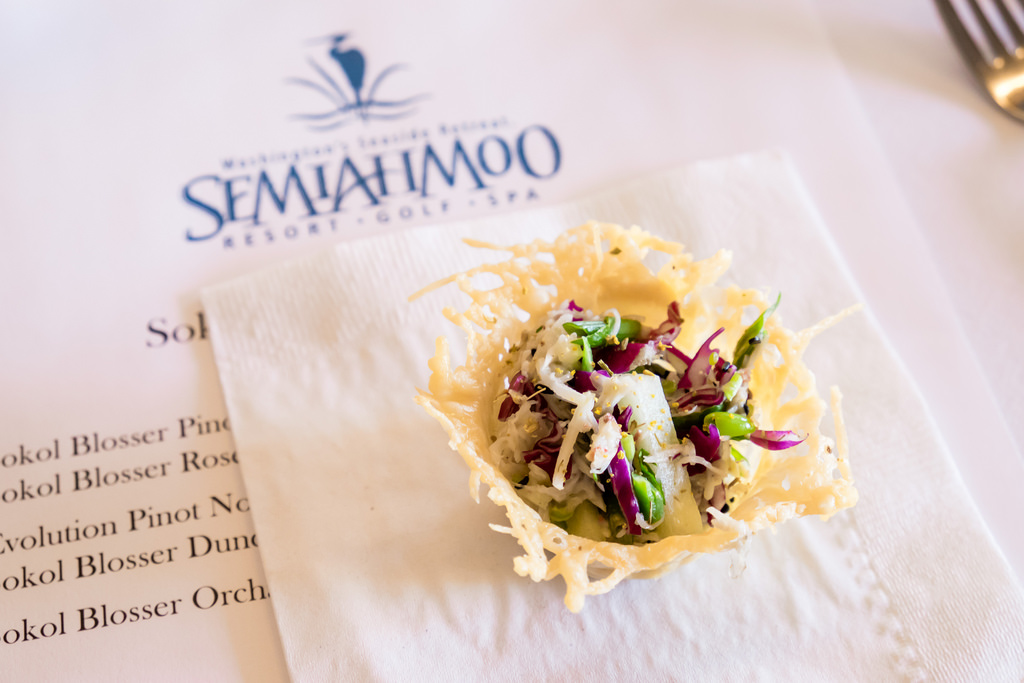 Crab Cakes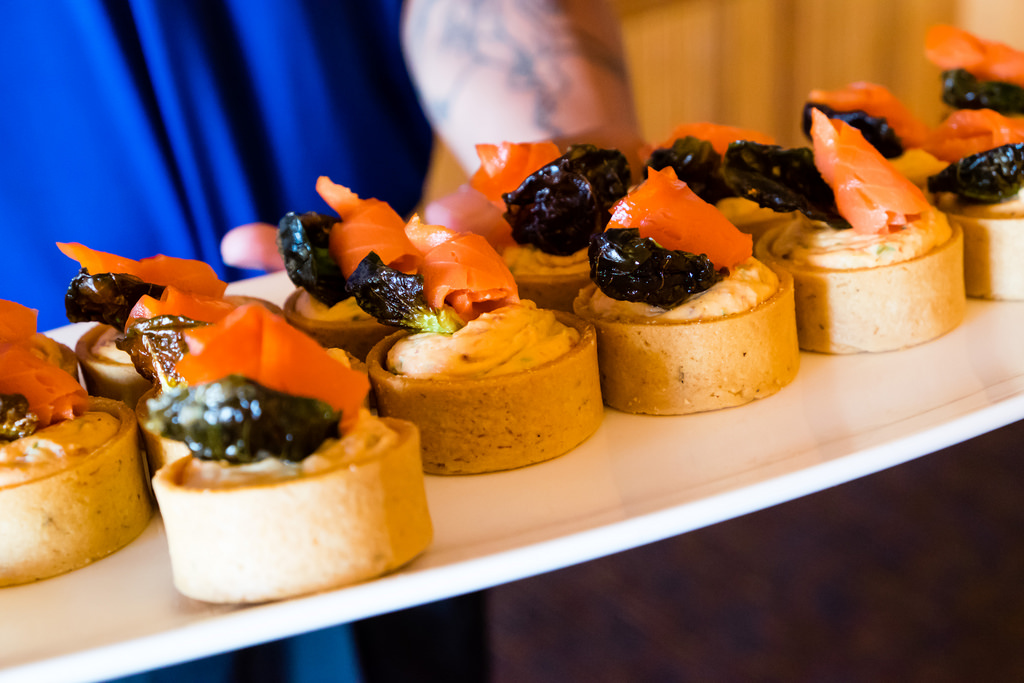 Smoked Salmon Tarts
First Course
The salt-cured tuna was a pretty petal-shaped dish garnished with basil oil, cucumber, avocado, miso, and yuzu cream. I loved swirling the pressed tuna into the basil oil to lather up extra flavour.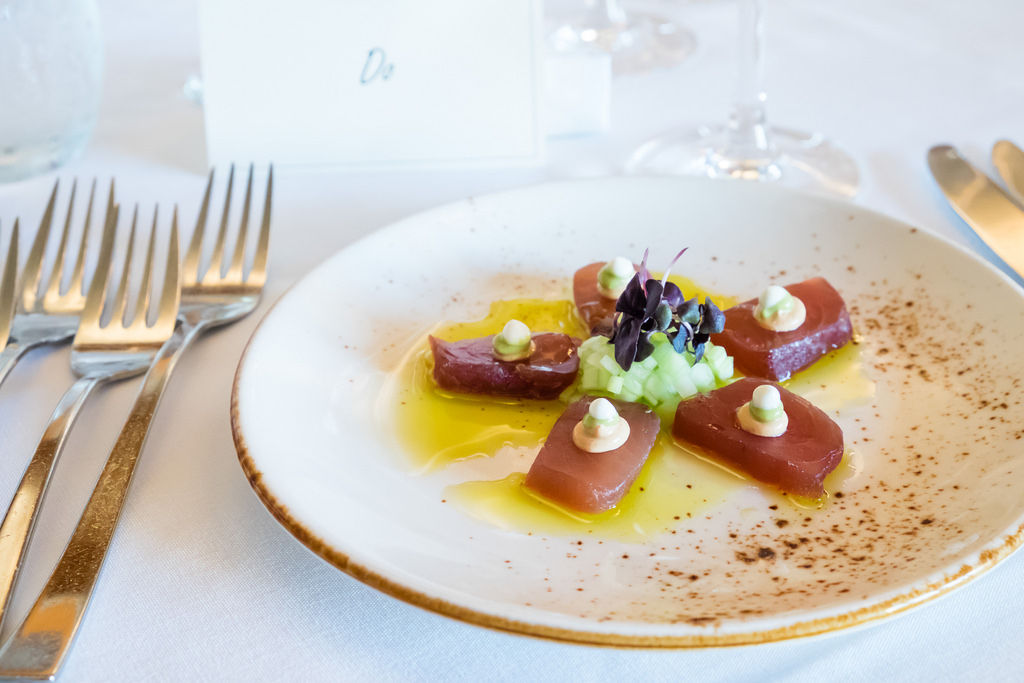 Salt Cured Tuna
The Dundee Hills Pinot Gris 2017 paired with this was rather refreshing with a green apple flavour. I find most Pinot Gris to have a slight bitter finish but not this one. Turns out, Sokol Blosser's Pinot Gris is gently whole cluster pressed to minimize the extraction of bitterness from the skins. How's that for quality?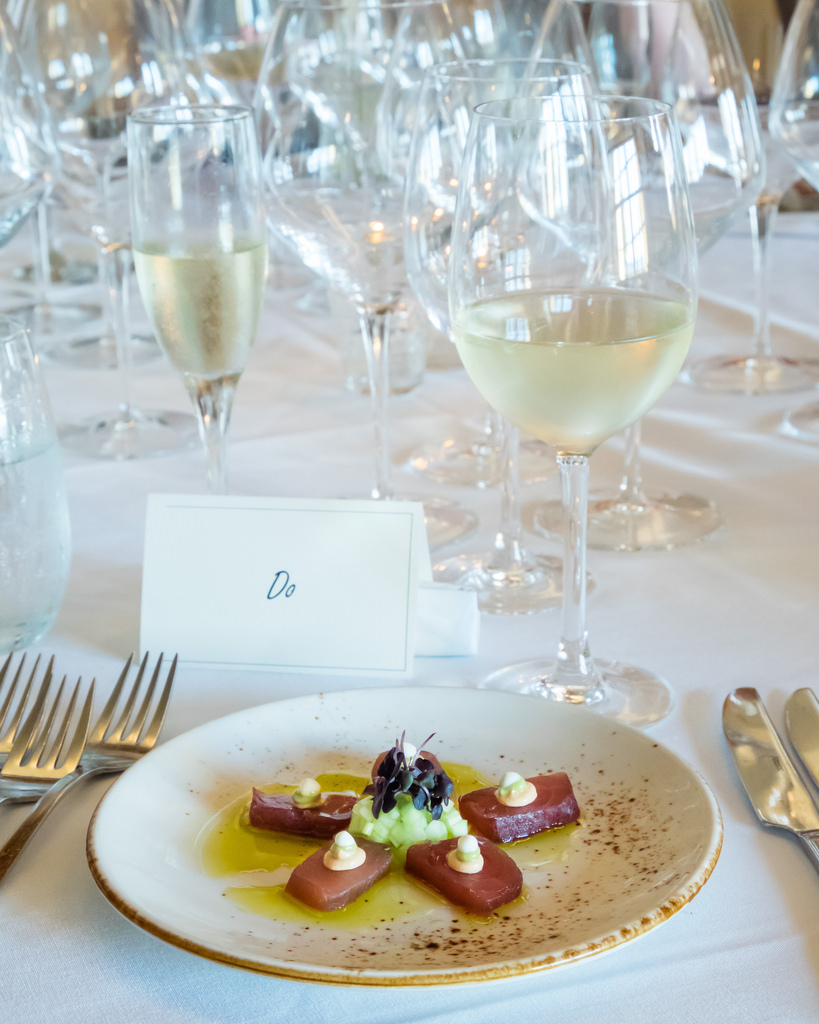 Salt Cured Tuna with Dundee Hills Pinot Gris 2017
Second Course
Next up was the brie cheese brulee which was served with an apricot chutney, fresh blueberries, rosemary ash, and oregano oil. This was hands down the most mind-blowing dish of the night. I like brie as much as the next guy, but the seared top of this brulee evoked an extra savoury sensation to a normally savoury cheese. The rosemary ash was another fine touch to add an herbal goodness to grace my palate.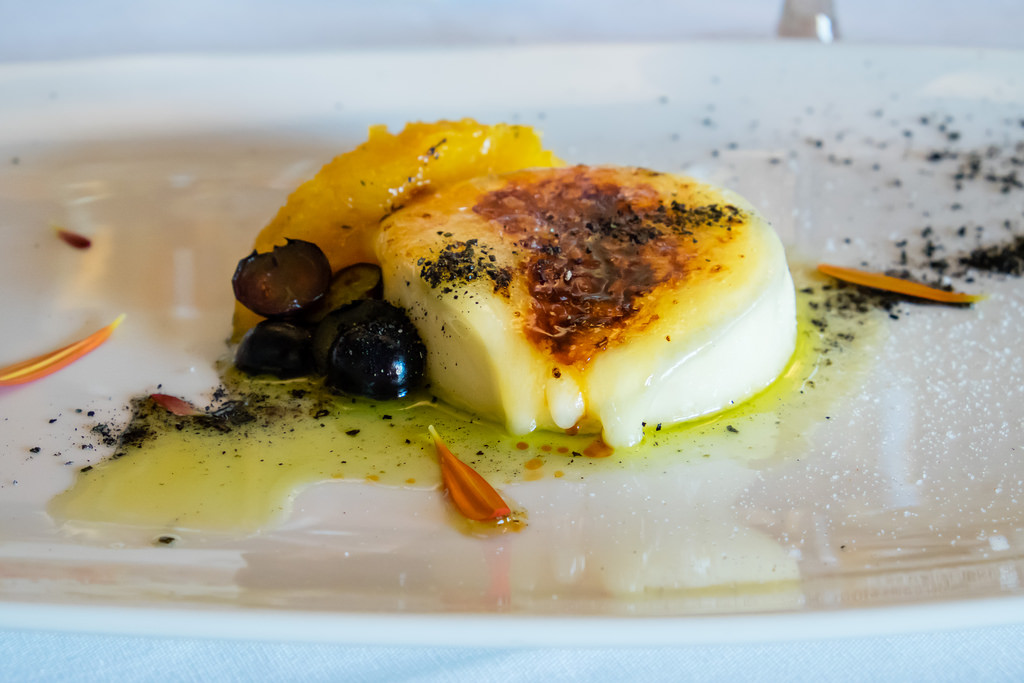 Brie Cheese Brulee
Appropriately, we broke into our first of many Pinot Noirs, the Rose of Pinot Noir 2017. For those who don't know, the Pacific Northwest loves pinot noir. Almost every Oregon winery I've tasted has at least one feature pinot noir and you can thank the milder climate and later harvests for this wine specialty. Unlike rose wine where red is mixed with white, this wine was a true rose in that it used 100% pinot noir grapes aged just enough to produce a rose. It's on the drier side of sweetness which was a good match with our brie cheese brulee.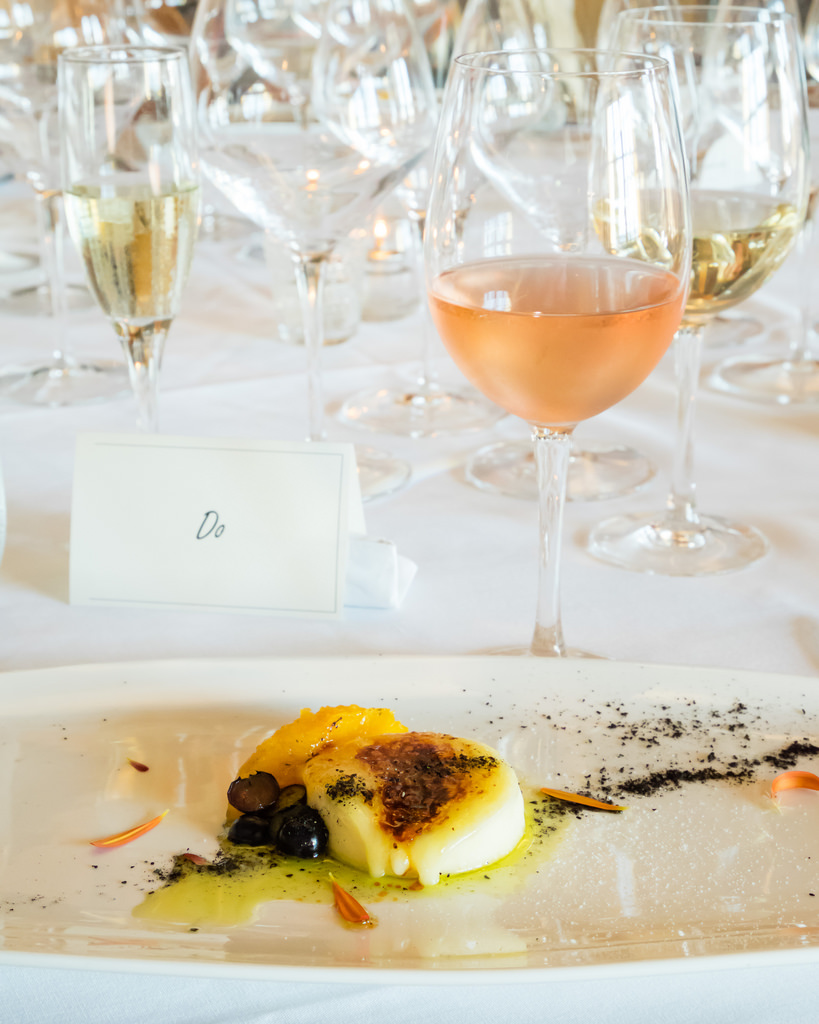 Brie Cheese Brulee with Rose of Pinot Noir 2017
Third Course
Our main entree this evening was the pan-seared duck breast which was served with brandied rainier cherries, fromage blanc and wild mushroom strudel, and a pinot reduction. The chefs did a number on the guests as they had the mindfulness of de-pitting the cherries and brandying them up. The result was a juicy and flavourful cherry which was a savoury (but not too boozy) pairing with the perfectly cooked duck breast. If all that wasn't enough to wow your palate, the strudel was a filo-shelled pastry and every bite of this was a big body of mushroom aroma and flavour.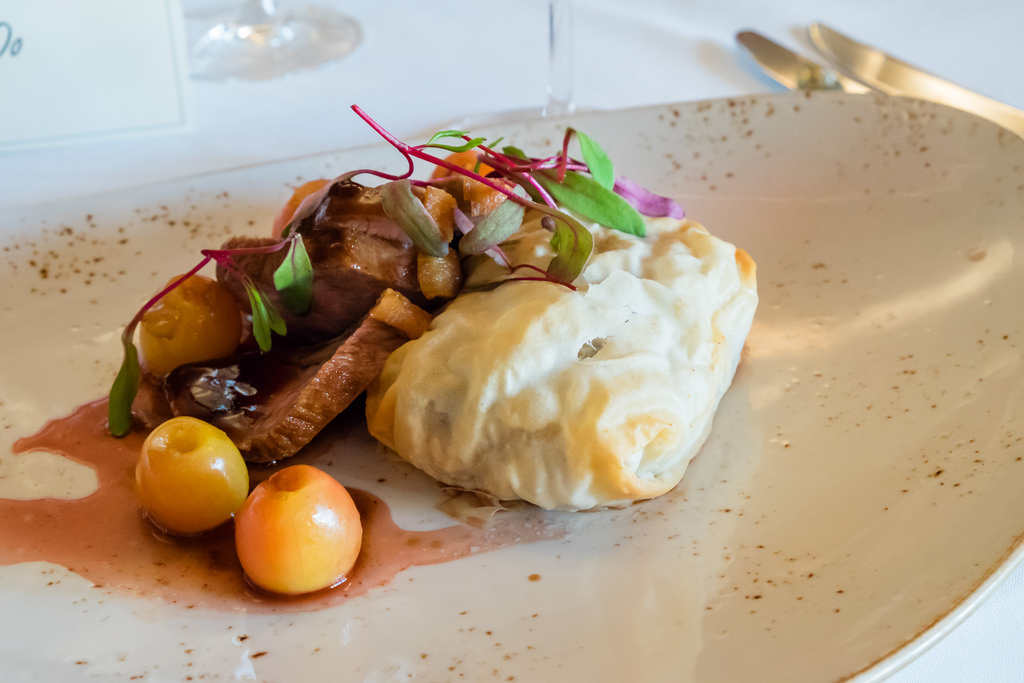 Pan Seared Duck Breast
To match the boldness of the entree, I thought the Dundee Hills Pinot Noir 2014 was a great pairing. An older vintage generally means a bolder flavour and this 2014 vintage delivered on bold. Again, the bitterness of this pinot noir was kept to a minimum which was great news for my palate. Tasting notes were plenty of cinnamon, plums and dried cherries. This wine is also in the $20-$30 sweet spot where I find the most diverse vintages.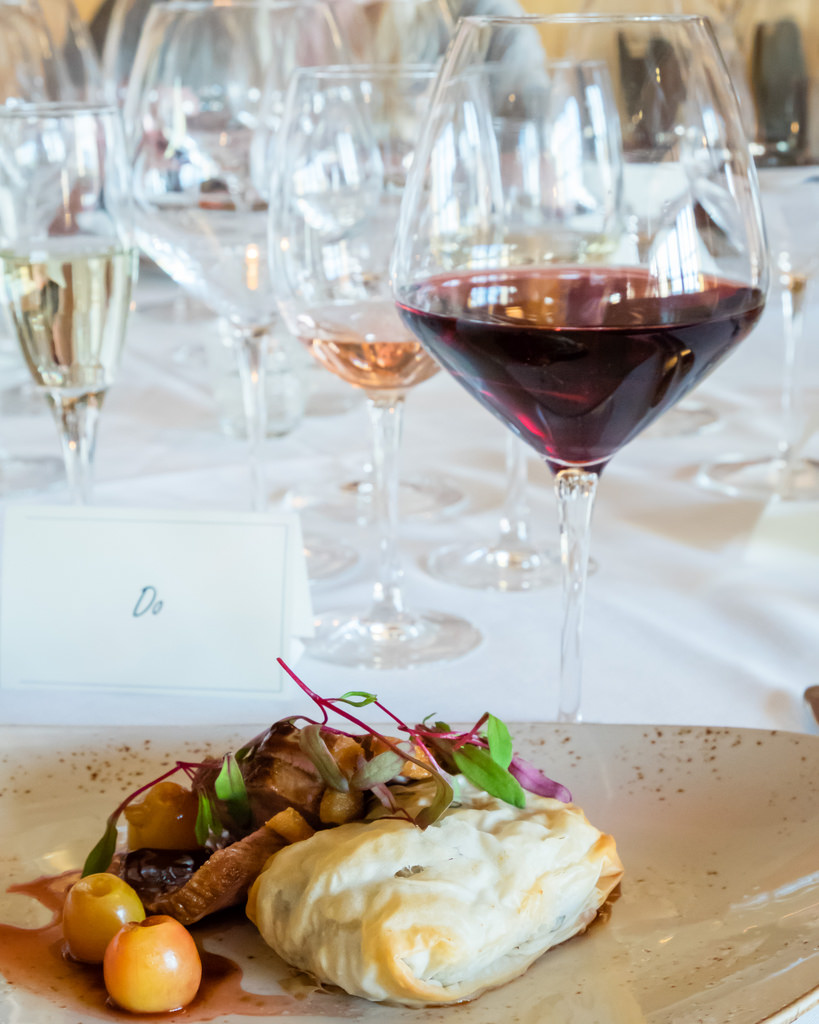 Pan Seared Duck Breast with Dundee Hills Pinot Noir 2014
Fourth Course
Our seafood for this night were butter poached crab claws served with fava beans, pea puree, braised artichoke, and fried morels. I am biased for morels (a mushroom with lots of surface area to absorb flavour) so I instantly loved this dish. I wish we were given some tiny forks to wedge out the full crab claws but they were otherwise cooked perfectly and shaped perfectly on everyone's plate.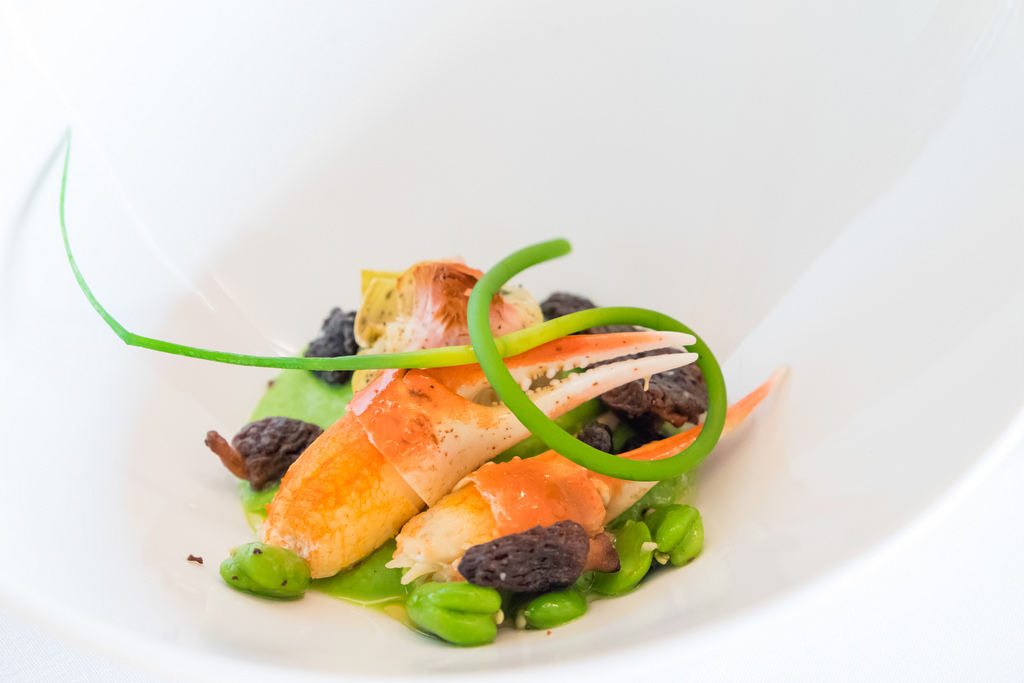 Butter Poached Crab Claws
The pairing for this seafood was, gasp, not a white! The Evolution Pinot Noir 2016 however, had a very light body for a Pinot Noir. You could probably chill this red and serve it as a pseudo rose. This pinot noir, with its earthy and soft tannin taste, would be a great way to raise some eyebrows at a dinner party and positively surprise your dinner guests.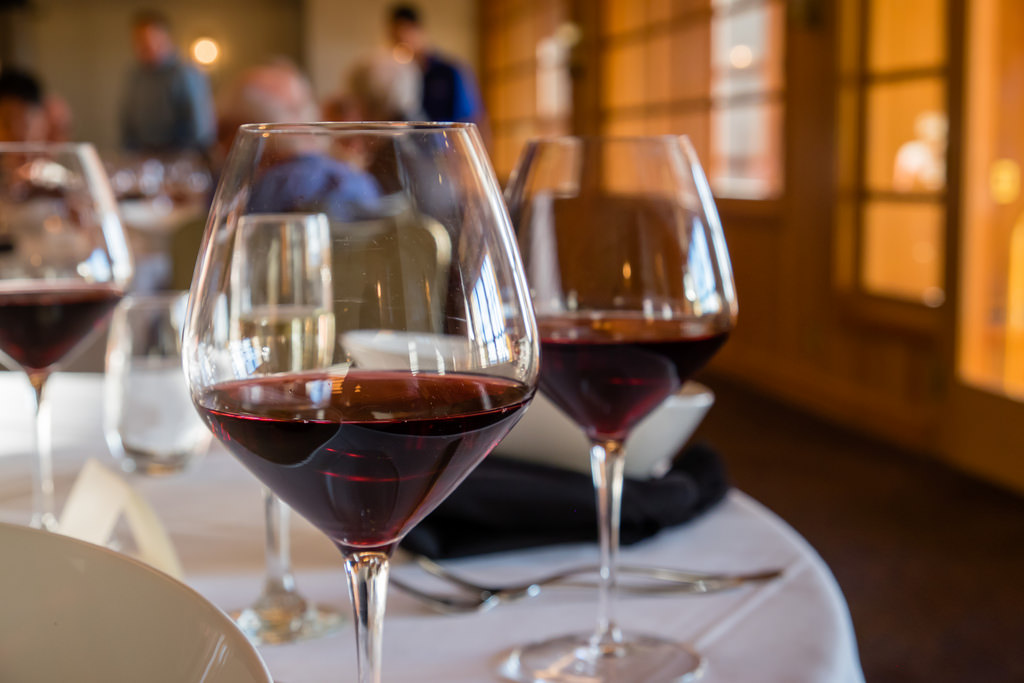 Evolution Pinot Noir 2016
Fifth Course
Finally, for dessert, we enjoyed a chocolate marquise with local strawberries and raspberries. Essentially a taste of Washington, this marquise was a great homage to the local area and was a dessert Chef Devin Kellog described as donut-shaped. I thought it was shaped like a bird's nest but chef knows best. The almost cakey texture was cool to cleave through as the fresh cream within had a whipped freshness which lent greatly to the paired wine.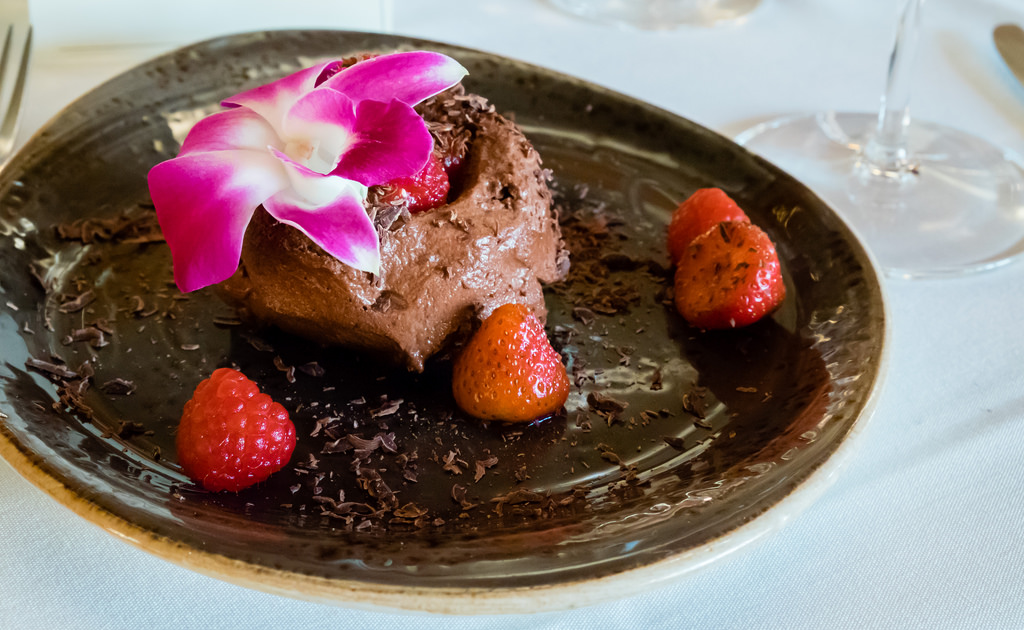 Chocolate Marquise
One final pinot noir, the Orchard Block Pinot Noir 2012 was the cap to this creative marquise dessert. These are special grapes as only a single block can be used for limited production, dependant on climate. Tasting-wise, this wine was light on its feet but dense with plum and currant fruit. The price of this glass alone likely makes up a big chunk of the dinner price due to limited availability, the specialty of its dirt/soil/terroir, and a rare perfect storm of climate in 2012.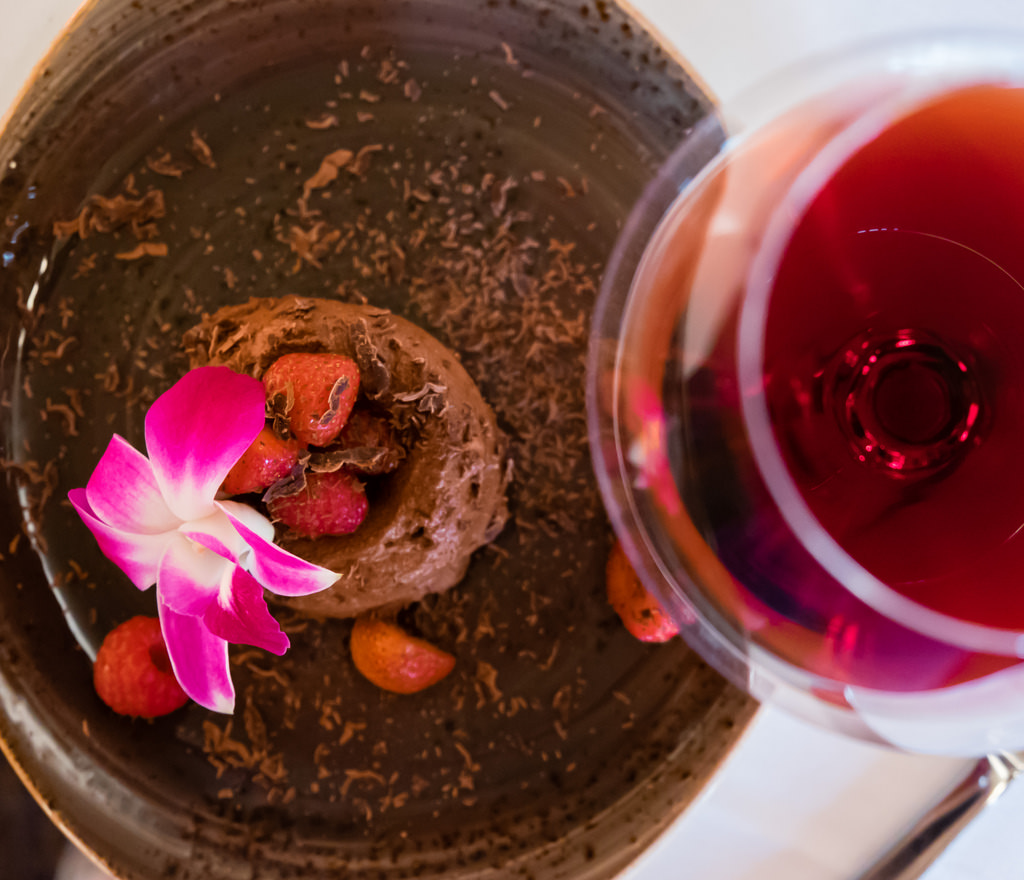 Chocolate Marquise with Orchard Block Pinot Noir 2012
Features:
Winemaker dinners like this one hosted by Semiahmoo Resort and Sokol Blosser offer a number of benefits to guests:
Direct access to the winemaker and chef to understand how the wine inspired the food pairings

An expert commentary on each dish and wine is presented by the chef and winemaker

Huge servings of wines at each course so you can fully get to know the wines
Discounts on the list price of the wines tasted in the evening
A tasty try-before-you-buy experience, especially for the limited production wines

That Orchard Block Pinot Noir 2012 glass could easily go for $20/glass if you could find it in a restaurant

A pristine environment to experience the Pacific Northwest (seriously, this resort is located at the edge of a spit looking at the Strait of Georgia)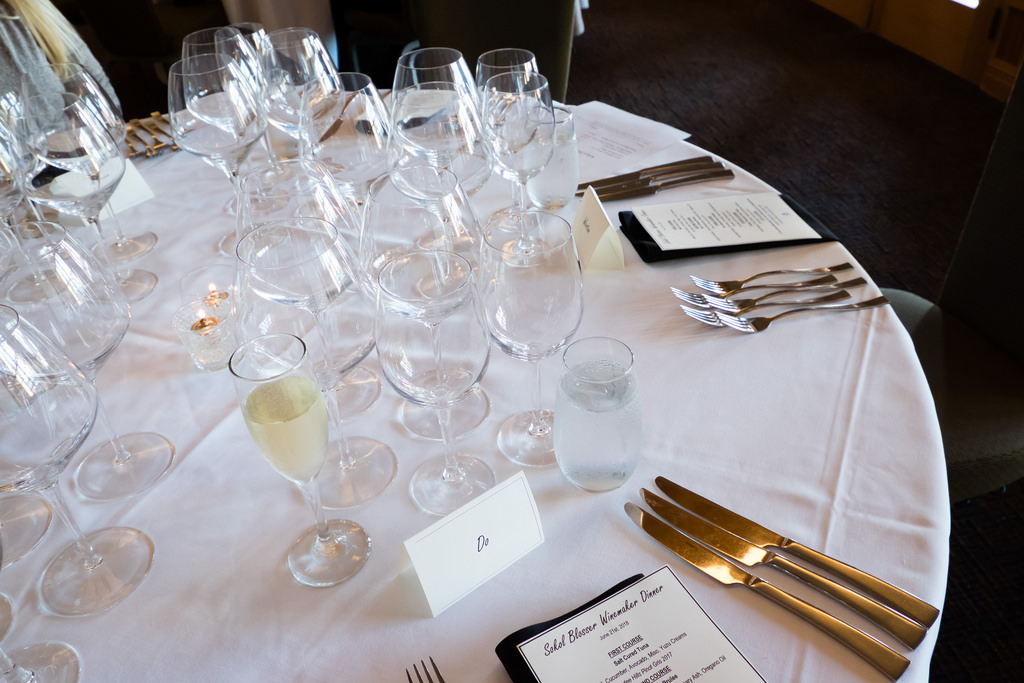 Winemaker Dinner Table Setting
Logistically, this event was very well put together. The evening started and ended on time and was bookended with opportunities to speak to all the supporting personnel of the night. Plates were promptly replaced and courses came out in a timely manner with time to listen to the chef and winery speak to each pairing and vintage.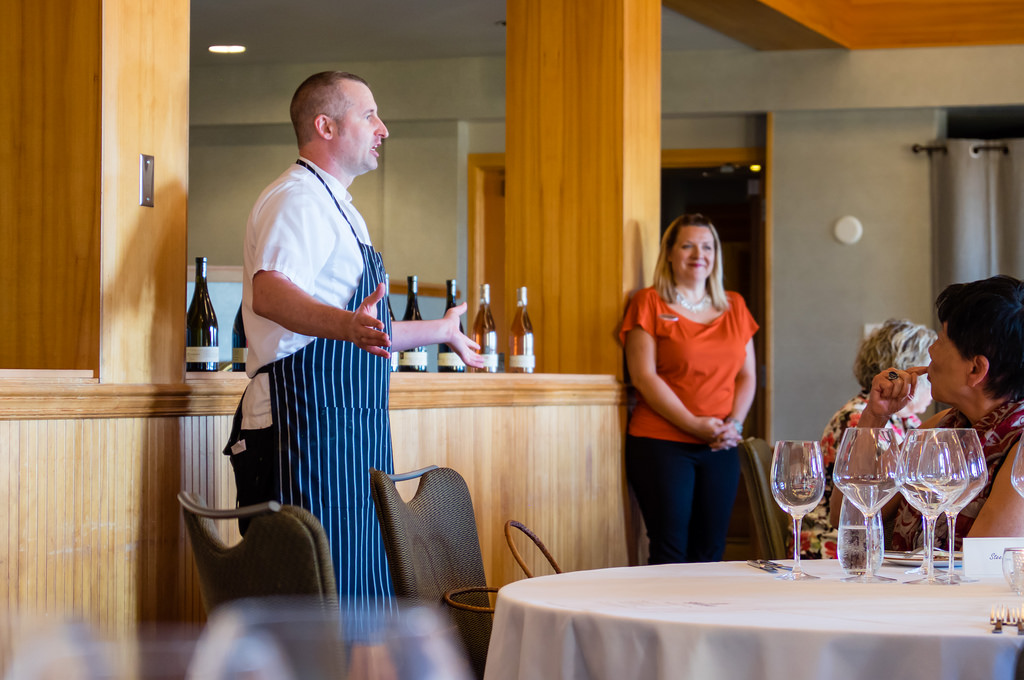 Chef Devin Kellog Speaking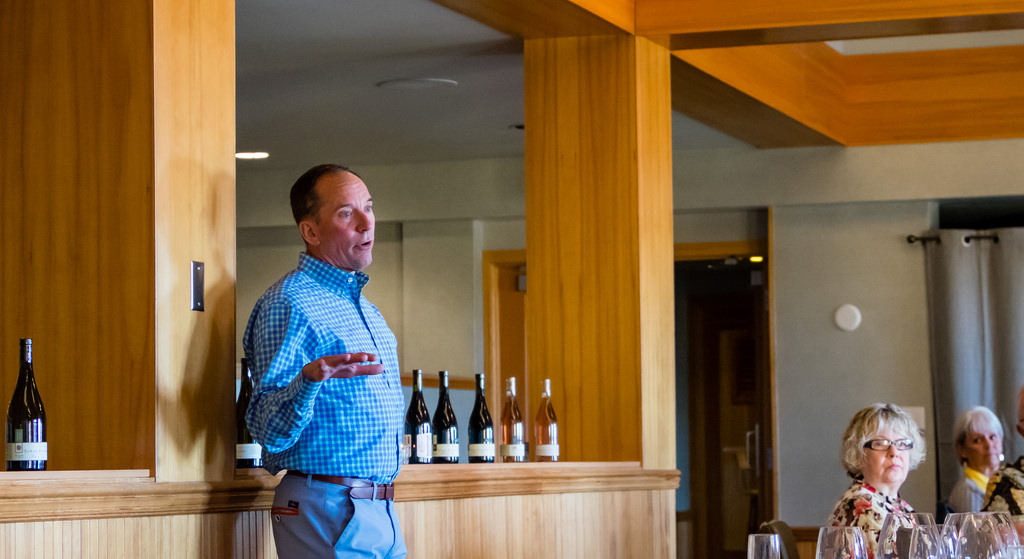 Sokol Blosser Regional Manager Don Weston Speaking
The next Winemaker Dinner will occur on July 18 and will feature Thurston Wolfe Winery (from Prosser, Washington). To find the ideal winemaker dinner date for you, visit Semiahmoo Resort's website.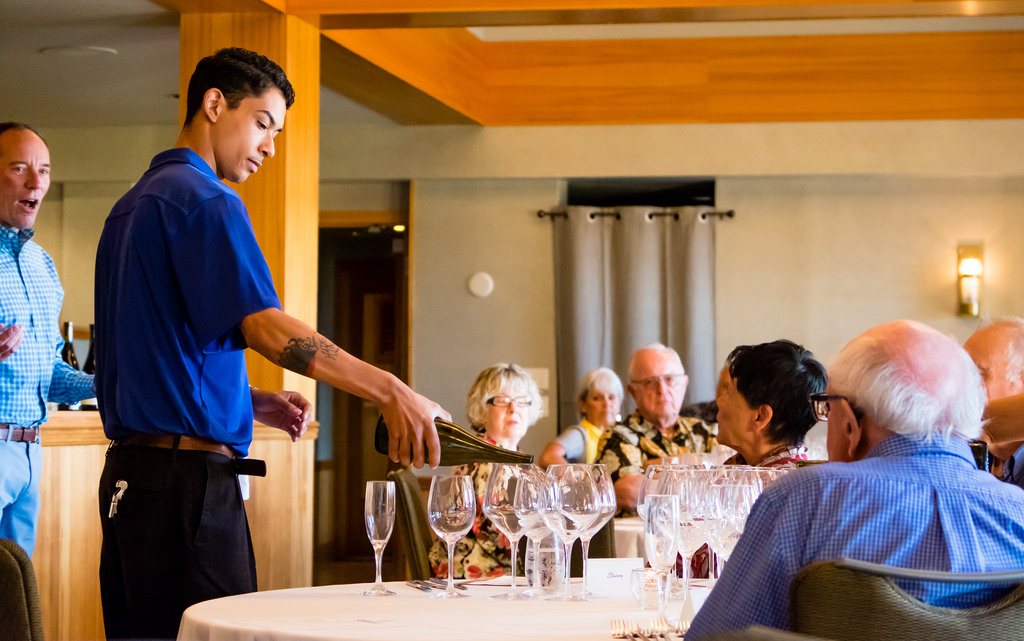 Semiahmoo Resort Wine Pour