Commercial Drive is a largely Italian-driven neighbourhood in Vancouver and the newest opening further strengthens that representation. Spade, from the operators of Prado Cafe, has just opened up a block away from Prado Cafe on The Drive. Focusing on a mix of cafe treats transitioning to Italian tapas and family-style dishes in the evening.
Disclosure: I was invited to this media dinner and all opinions are my own.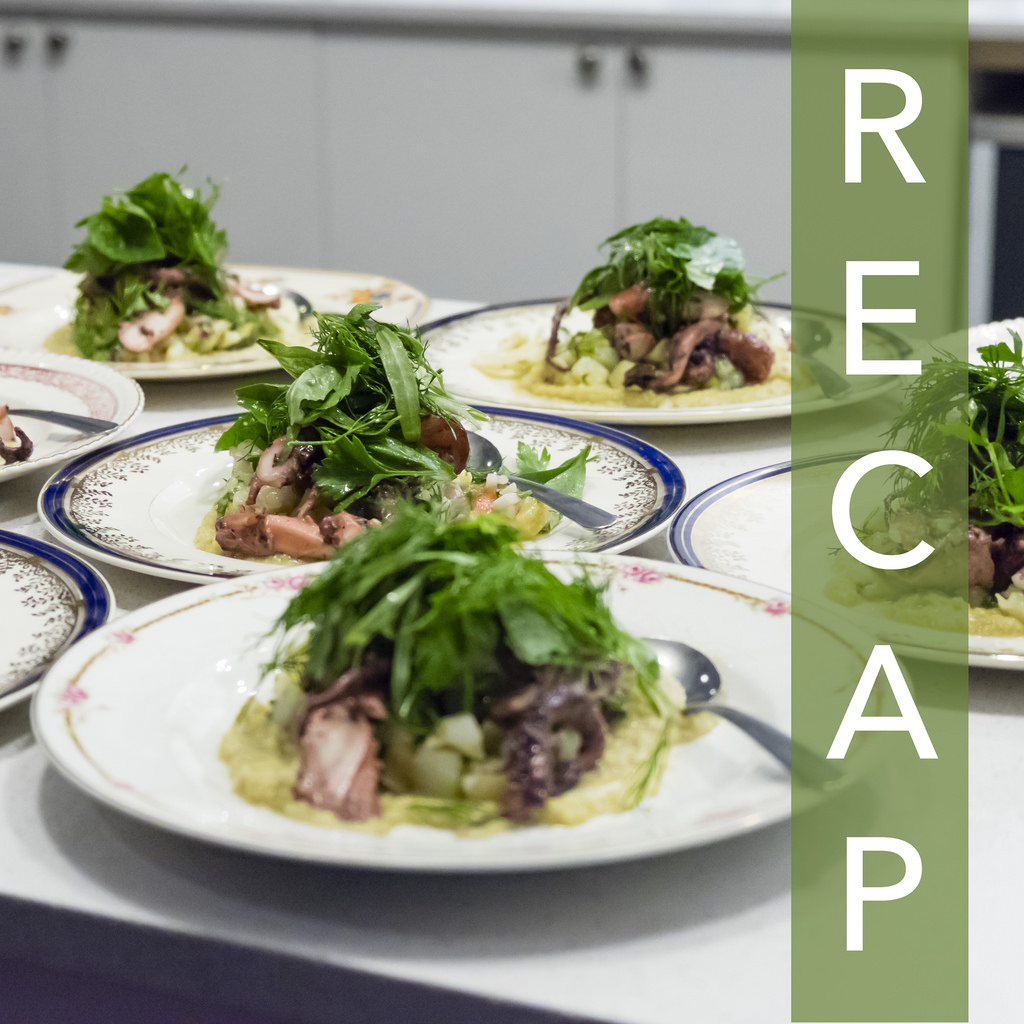 Food:
I was invited to a media dinner previewing most of the dinner menu and I had a great taste of the following:
Amuse Bouche:
First Course:
Second Course:
Third Course:
Octopus Conserva
Pappardelle with Lamb Shoulder Ragu
Fourth Course:
Finale:
Chocolate Raspberry Cake
Café Latte Panna Cotta
Please note everything above was served sampler-style to accommodate everyone's stomach.
We started the evening with a plate of house-made pickles. These were delightfully crunchy.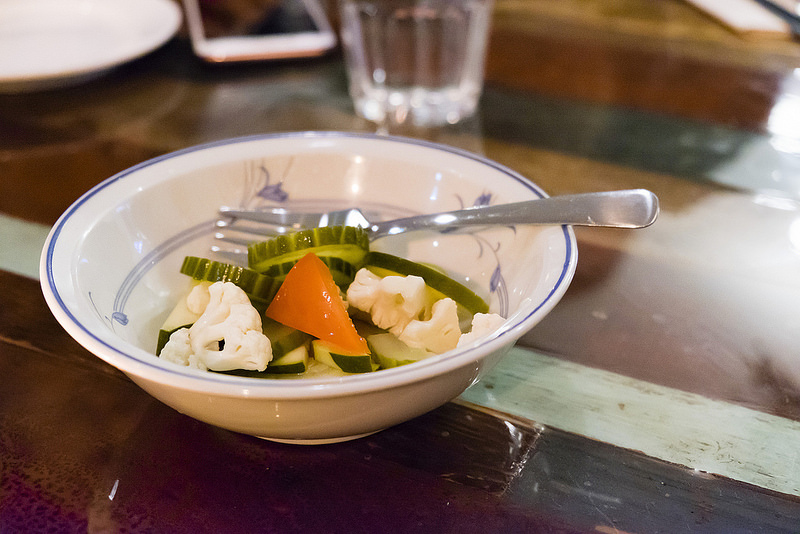 House-Made Pickles
Our amuse bouche was the insalata di halloumi. With berries, pesto, walnuts, endive, halloumi (a Cypriot cheese), this was a cool dish using the endive as a vessel. Endives are a bit too bitter for my tastes so this wasn't my favourite.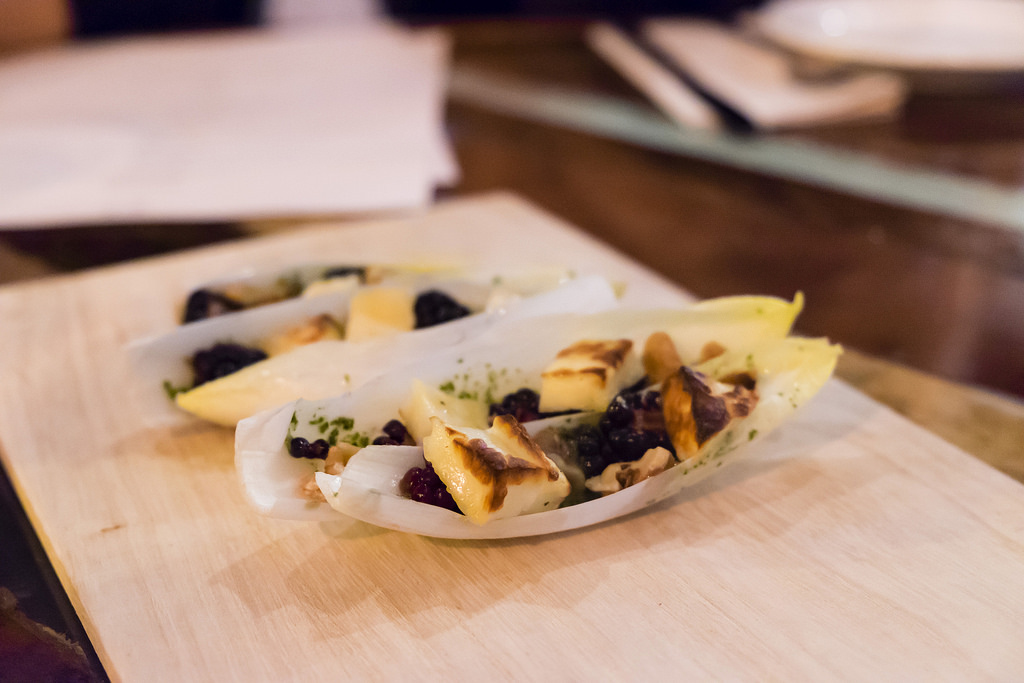 Insalata di Halloumi
Our first course was a nachos Italiano. This was a classic nachos dish spun with Italian arugula and an herby olive oil sauce. Those who are looking to try something creative will enjoy this spin and can fall back on knowing the chips are still layered with gooey cheese.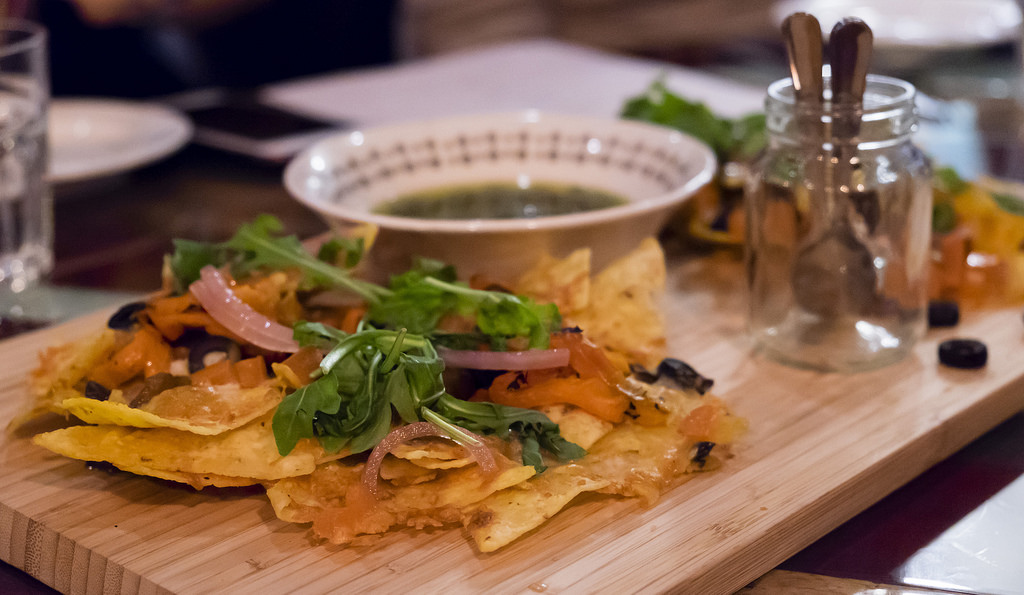 Nachos Italiano
Our second course consisted of cauliflower and gnocchi dishes. The roasted cauliflower included ricotta, salsa verde, seeds, and was full of savoury flavour with the cheese. The gnocchi was the first showstopper though, with squid ink, black garlic, cream, lemon. This made for a dramatic presentation and enhanced the chewy gnocchi.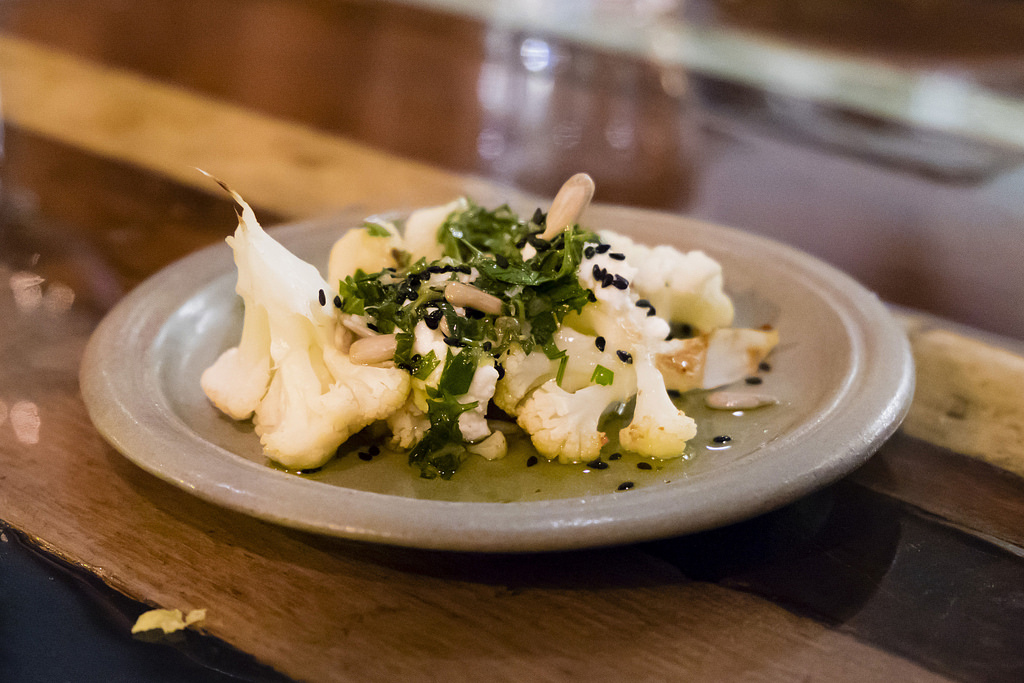 Cauliflower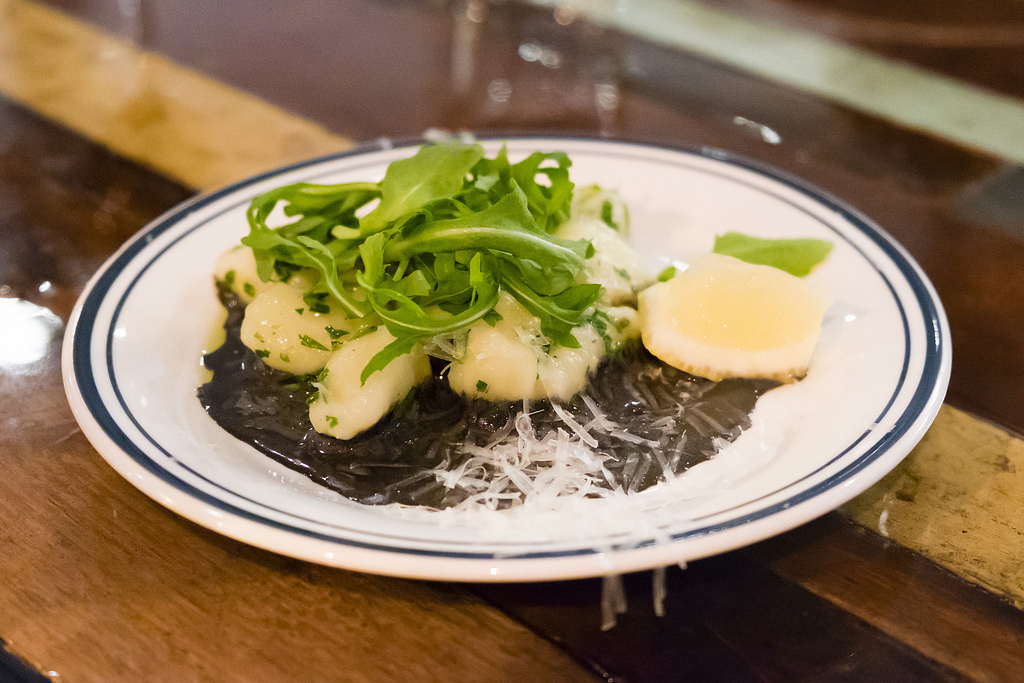 Gnocchi
The third course was bookended by an octopus conserva and pappardelle with lamb shoulder ragu. Both of these dishes were winners in my book. The octopus was as savoury and thick as Savio Volpe's octopus and the pappardelle's ragu was extra stewy and savoury.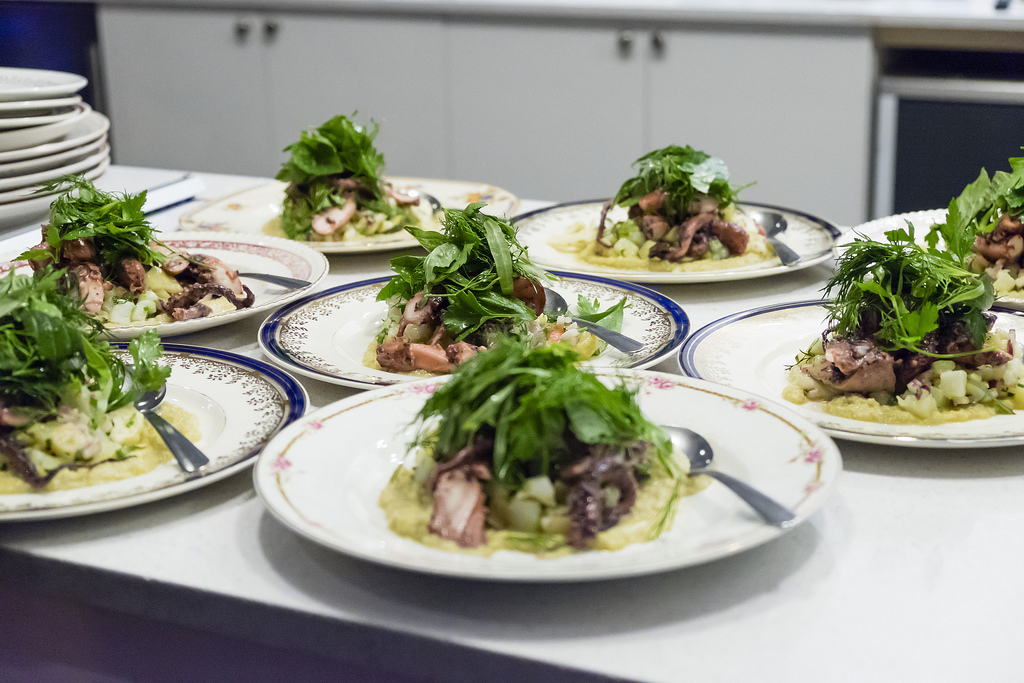 Octopus Conserva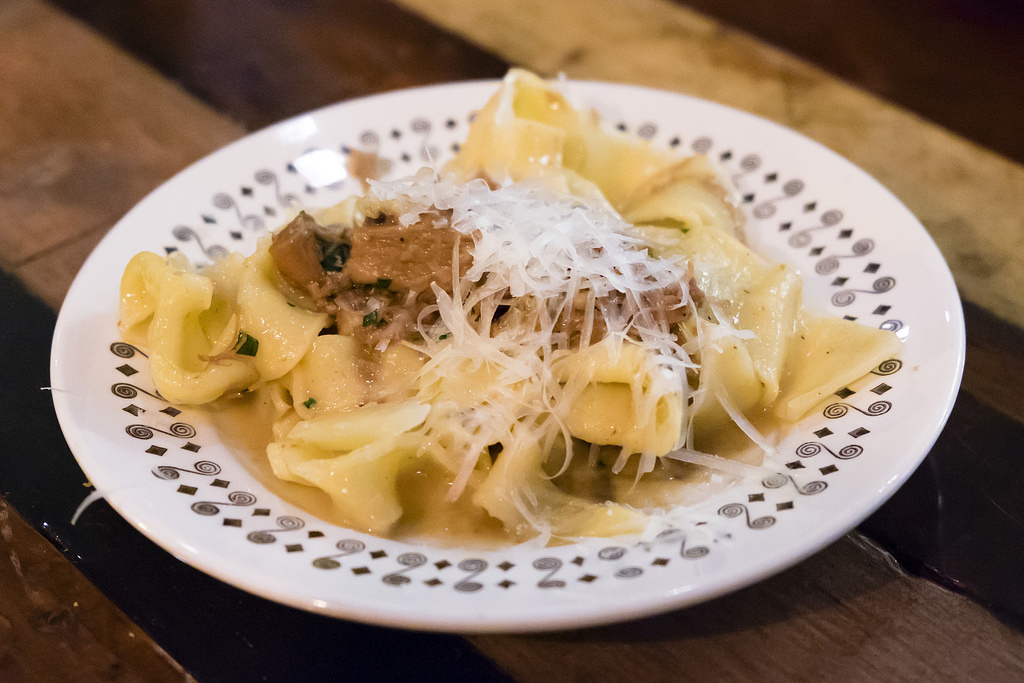 Pappardelle with Lamb Shoulder Ragu
The fourth course winded down with a burrata and meatballs. The burrata was served with fennel, citrus, serrano jamon (Spanish ham), basil, and breadcrumbs. The burrata cheese was super silky, almost yolk-like in texture, making for a refreshing bite after the savoury dishes above.
The meatballs, served with rosemary garlic cream, mushroom, braised endive, gorgonzola, and walnuts, were cute in shape and presentation. However, endives made another appearance and I'm just not a fan of their taste.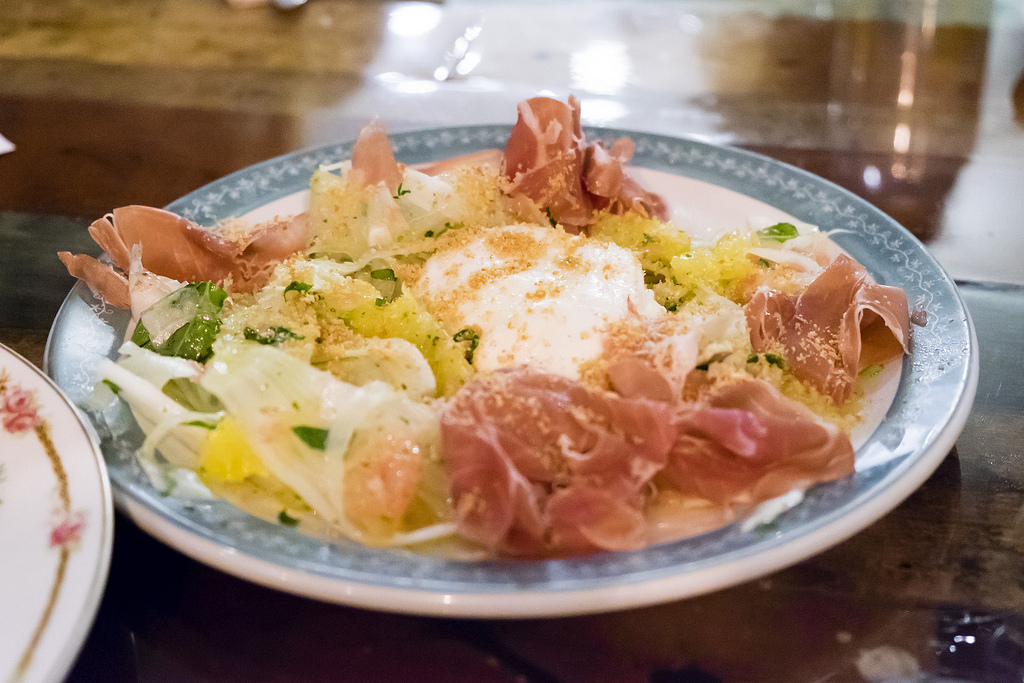 Burrata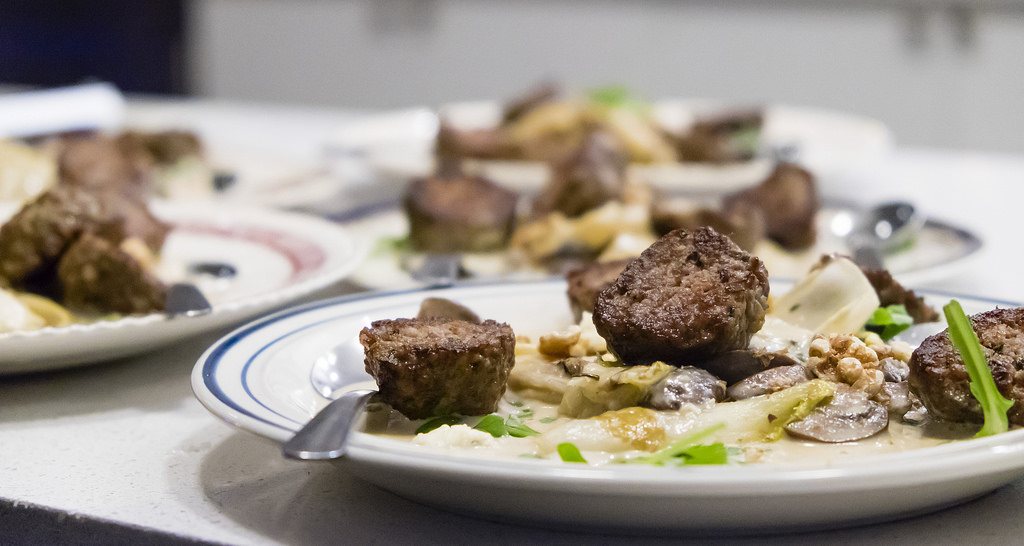 Meatballs
Finally, we finished with a classic chocolate raspberry cake and café latte panna cotta. The chocolate raspberry cake was moist and balanced with a layer of whipped cream and blackberries. It was pretty tasty but the panna cotta was an eye-turner.
Served in a coffee mug, the café latte panna cotta featured a frothy milk cap dashed with espresso. Underneath this helmet of froth though was a silky smooth gelatinous cream filling. Like a good tiramisu, one good bite deserved another and I felt I should have stolen this for myself (we shared a lot of food tonight).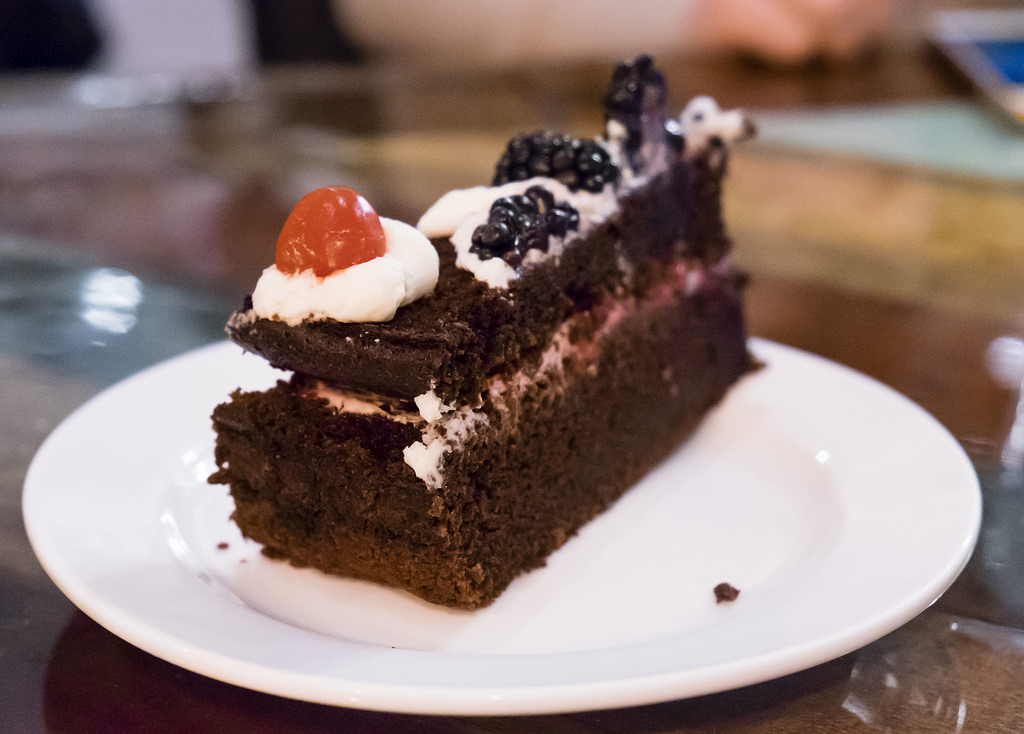 Chocolate Raspberry Cake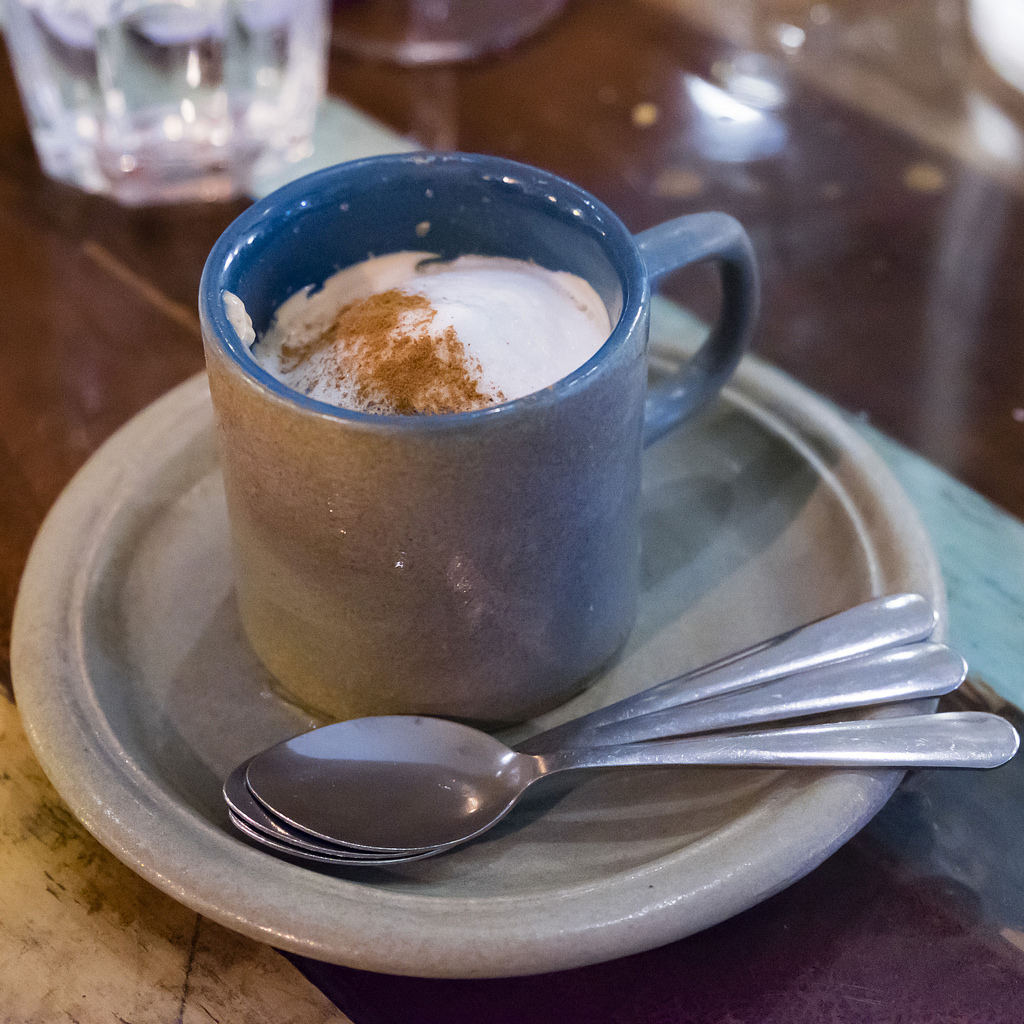 Café Latte Panna Cotta
Final Thoughts:
One-liner: A cool new Italian concept cafe bistro that flips its culinary table as the sun sets
Highlight: Café Latte Panna Cotta
Recommended order: Gnocchi, Pappardelle, Burrata, and Panna Cotta
Would I go back? Yes.
Remember, these folks serve a totally different menu during the day. Stay tuned for my coverage of Spade's brunch menu!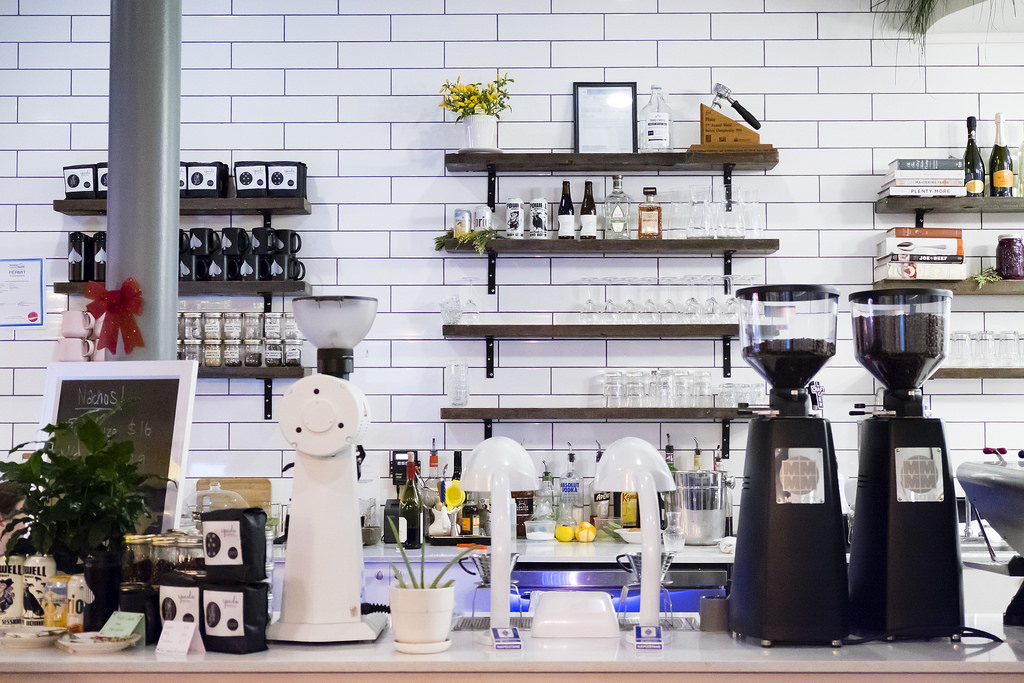 Inside Spade