I love bubble tea (or boba for you Americans). Even though I'm a fan of these specialty tea drinks, I'm aware that many "traditional" shops serve up slushes full of sugar syrups and milk teas with flavoured powders. That's a pretty poor diet long-term, so I'm happy to see there are alternatives such as T-Go Tea which has recently opened their first shop in Central at Garden City. Does this local startup brew bubble tea with enough flavour to choose it over the classic model of powdered flavours and syrups?
Disclosure: This was a complimentary tasting and all opinions are my own.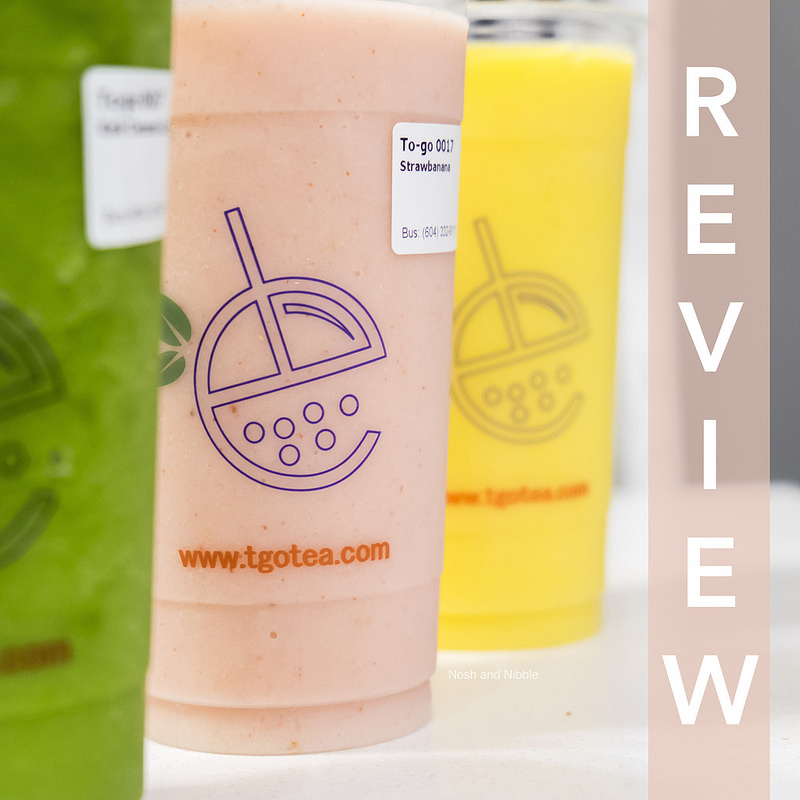 T-Go Smoothies
Drinks:
Team Pork Ninjas came here for an afternoon tasting and I had myself a great taste of the following:
Purple Rice Black Sea Salt Milk Cap ($5.80)
Emerald Milk Tea with Black Pearls ($3.80 + $0.50)
It was my first time seeing purple rice as a tea option on a menu, so I knew I had to try it. My purple rice tea had a bit of a grainy taste in its dark purple colour. With additional notes of berry, I'd liken this to a rooibos type of tea. It's a pretty cool concept and I'd recommend trying a sweeter drink with this type of tea.

Purple Rice Black Sea Salt Milk Cap
In addition, this drink included the ever-popular milk cap which is considered a bit of a premium these days. The sea salt milk cap requires the drinker to make 2 incisions into the cup's seal: one large (for your mouth) and one small (for airflow). Essentially, you're drilling your own lid (a la Starbucks takeout cups) but it's nice that the shop offers little plastic knives to help achieve this task. The sea salt had a pleasant flavour that mixed well with the semi-sweet tea. The inherent milk moustache you get from drinking into the foam would make for a great selfie!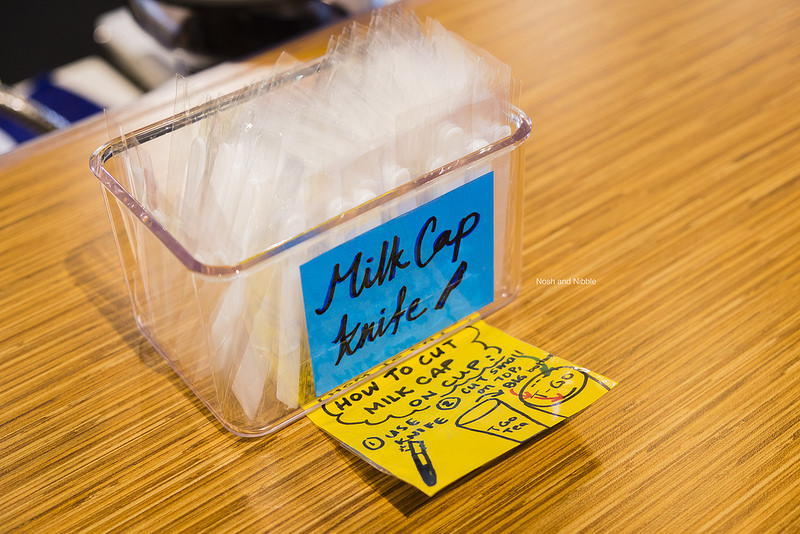 Milk Cap Knives
The other drink I had was the emerald milk tea with black pearls. The owners assured us their pearls were clear of plasticizers (not really seen in pearls for a few years now) but the important thing was that these pearls had a shorter shelf life than bigger chains' pearls, owing to their higher quality. Taste-wise, each pearl was as good as the last (nothing mushed up) and the drink survived my 15km drive home. As for the "emerald" bit, this tea was made with green tea instead of the traditional black tea, which is great for those who want less oxidation in their tea. So many choices of tea here!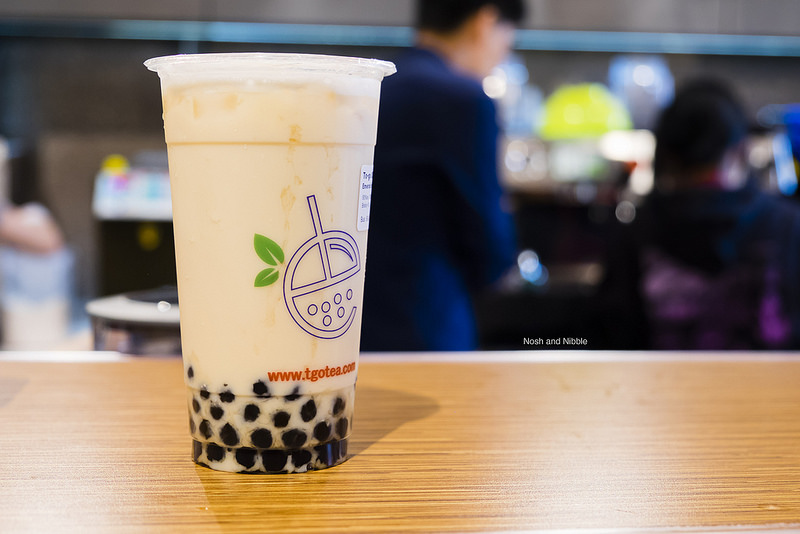 Emerald Milk Tea with Black Pearls
A note on the teas. The teas are small batch teas made from real tea bags (i.e. no powder) shipped in gold sealed containers (i.e. premium packaging) from Taiwan. Since they don't use any flavour powders, you won't see things like "Strawberry Milk Tea" on the menu. You will however, see smoothie drinks and these are blended with real fruits. It seems the new trend these days is to have fresher brewed tea in addition to quality ingredients. A number of their drinks (e.g. Teaspressos) even use fresh milk as opposed to traditional milk powder. All in all, the quality of ingredients while retaining the variety of options was impressive for my visit.

Tea Leaves
The only thing I can complain about is the flimsiness of the plastic cups used. I wish the cups were firmer to hold but I do appreciate being compensated with higher quality tea.
I didn't try everything else on the menu but snapped a few photos for your viewing pleasure below.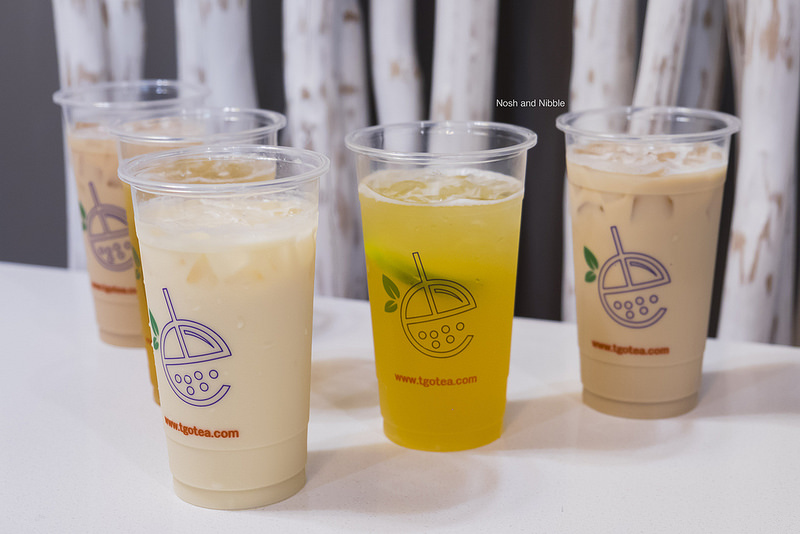 Miscellaneous Drinks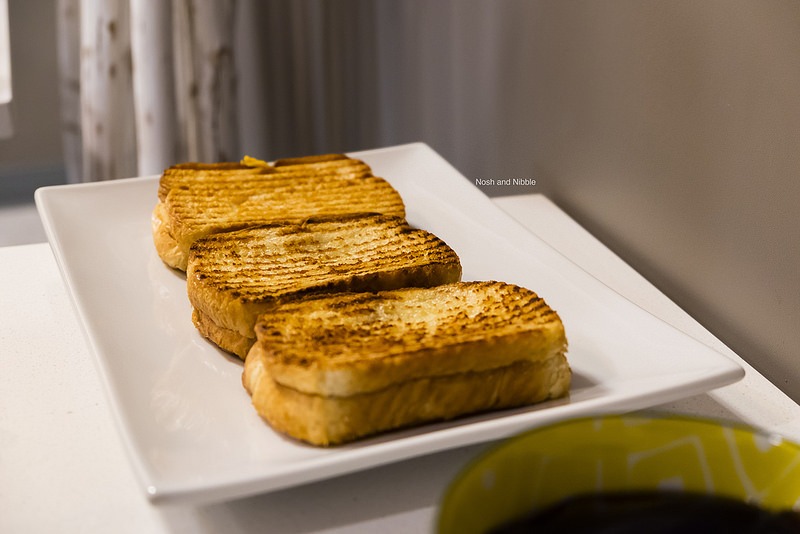 Panini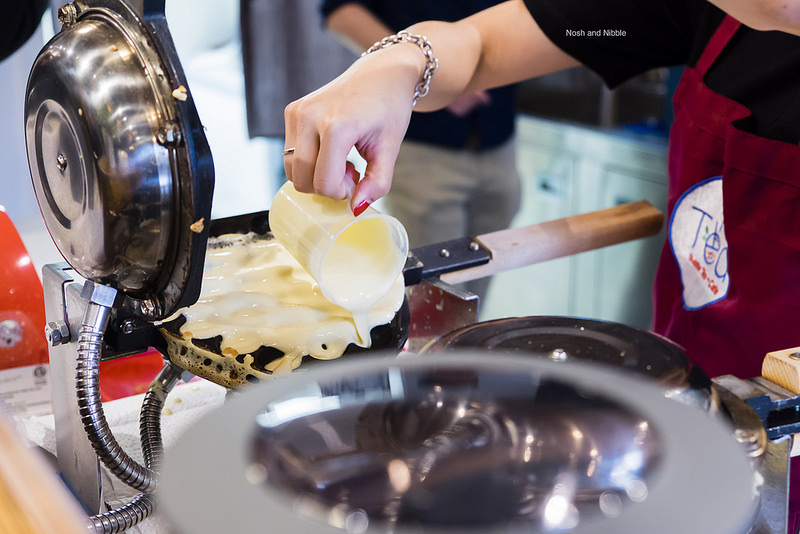 Bubble Waffle Grill
Features:
T-Go Tea is located inside the new Central at Garden City plaza near Alderbridge Way and Garden City Blvd. This tiny shop is a counter-based cafe with a long couter of teas and lots of local art hung on the walls. Compared to most bubble tea places, I'd rank the decor here as more pleasant and with a somewhat uplifting vibe with the hanging lights. While this location has 8 or 9 seats at the back, future locations will be mainly grab-and-go shops.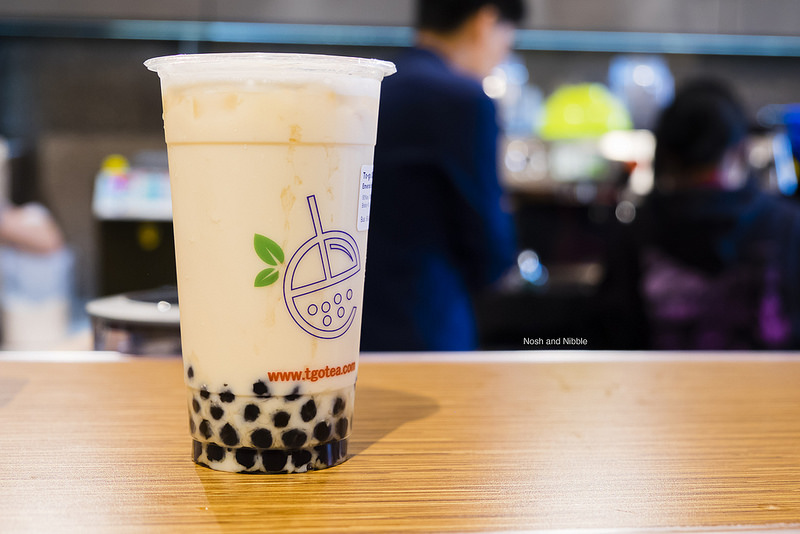 Inside T-Go Tea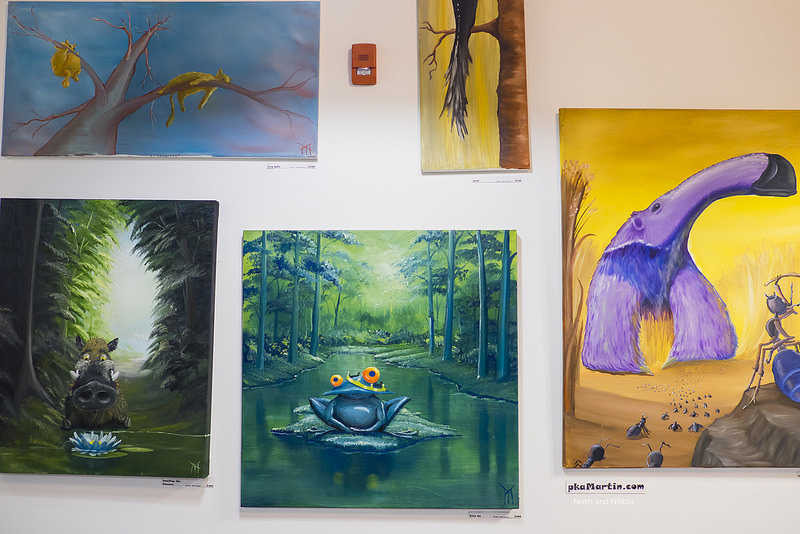 Interior Art
Service:
At T-Go Tea, you'll place and pay for your order prior to picking it up on the side. The staff here were pretty friendly during my visit and had enough product knowledge to explain the different teas to me. The wait for my drink was about 10 minutes which is okay given the place was pretty busy on a Saturday afternoon.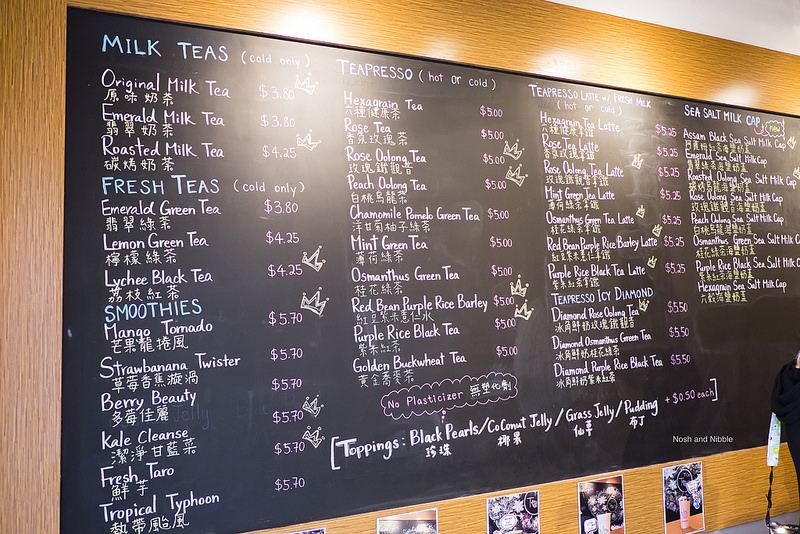 T-Go Tea Menu
Final Thoughts:
One-liner: Tasty, fresh bubble tea made with real tea and ingredients that up the entire bubble tea game
Highlight: Purple Rice Black Sea Salt Milk Cap
Price per person: $4-$10
Would I go back? Yes.