Dust off your champagne flutes because June 18-24 is Yelloweek in Vancouver. Celebrated by champagne and bubbly lovers alike, this coming week is going to mark the launch of Tableau Bar and Bistro's new Spring/Summer Happy Hour menu as they celebrate the 6th anniversary of Yelloweek 2018. Last week I was given a glimpse into the chic pairings of Veuve Clicquot Brut Champagne and a number of Happy Hour bites.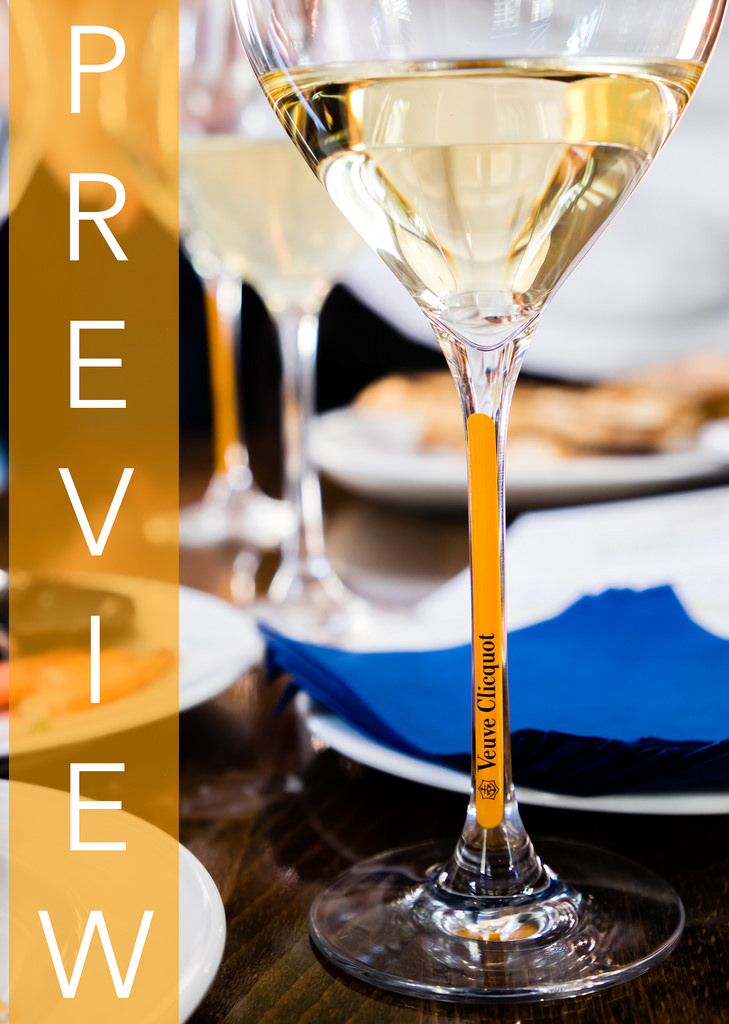 Food and Drink:
Last Thursday's preview of Tableau Bar and Bistro's new Happy Hour menu featured the following:
Veuve Clicquot Yellow Label ($18/glass, $90/bottle)
Bone Marrow ($12/order)
Cocktails de Crevettes ($12)
Croquettes de Poissons ($8)
Petit Plateau ($50)
Yelloweek starts and ends with its main star, the Veuve Clicquot Yellow Label Brut Champagne. Having been in operation for 246 years, Veuve Clicquot's had time to refine its champagne. The result? A fresh pour at the right temperature, and as Wilfred Wong of wine.com puts it:
Medium straw, yellow colour; complex aromas of ripe apple and light cream, excellent depth and persistence; medium bodied, active and layered on the palate; dry, medium acidity, well balanced; bright and beautiful ripe fruit and cream in the flavours; medium finish, lasting impression in the aftertaste.

Veuve Clicquot Pour
I found the feeling of Yellow Label to be very crisp, not too dry, and having the right amount of bubbles. Some sparkling wines out there might explode with bubbles and Yellow Label is a pretty happy medium which will fill most palates quite gently. Another great look is the silent stream of bubbles that rise from the bottom of the glass to the top.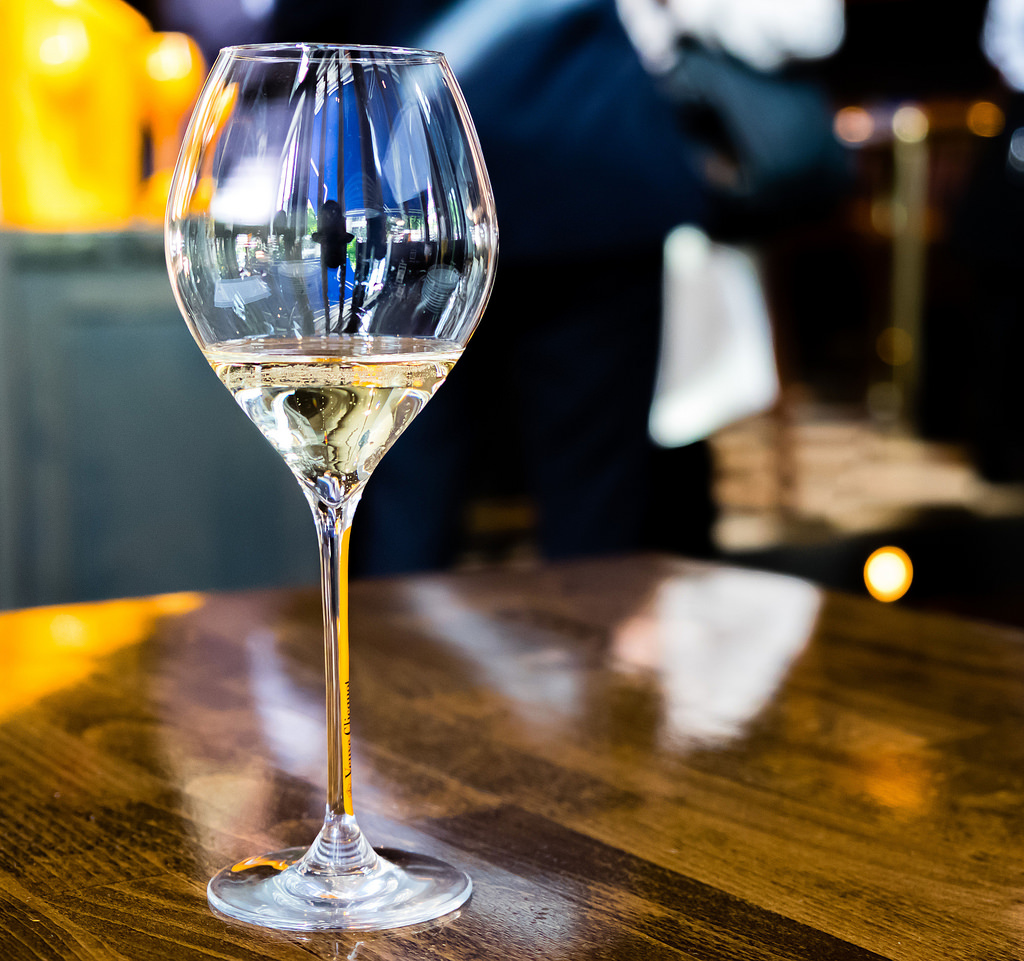 Veuve Clicquot Yellow Label
Moving onto the appies, the main attraction was the bone marrow. It's not often you see bone marrow on a menu so it's cool downtown diners have the option. These had a delightful fattiness which was made a perfect companion to be paired with Yellow Label. The crisp champagne was a great way to cleanse my palate between scoops of marrow.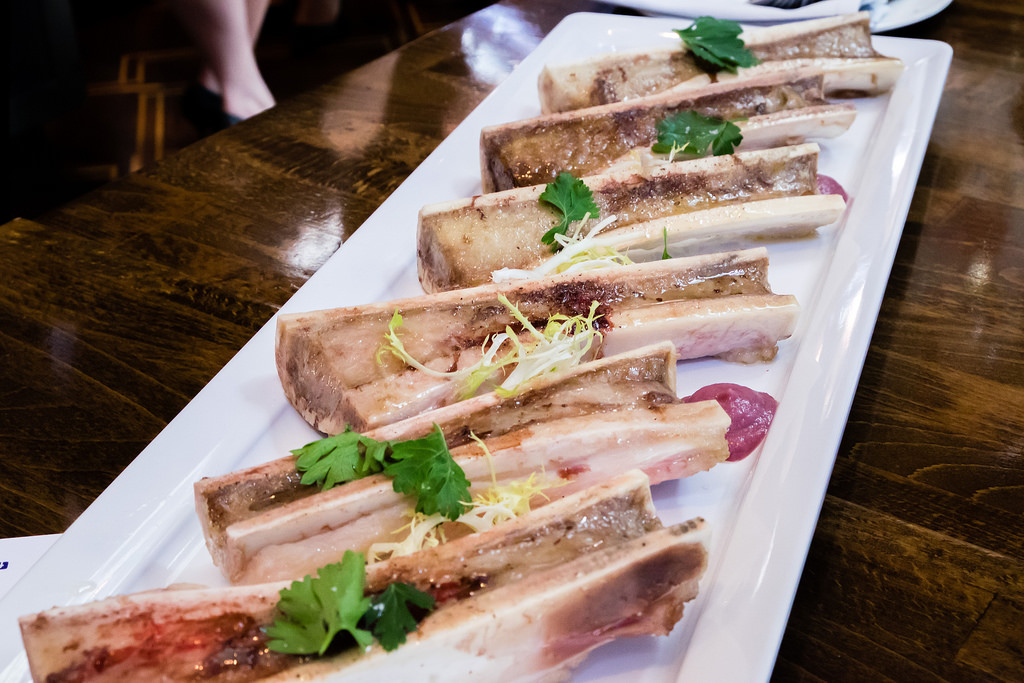 Bone Marrow
Another seafood classic to enjoy for Happy Hour is the Cocktails de Crevettes. Served in classy glassware, this is way above the average Costco platter. What you're getting are shrimps cooked just right. There's an appropriate amount of cocktail sauce allowing for multiple scoops and dips of the finger-friendly shrimps.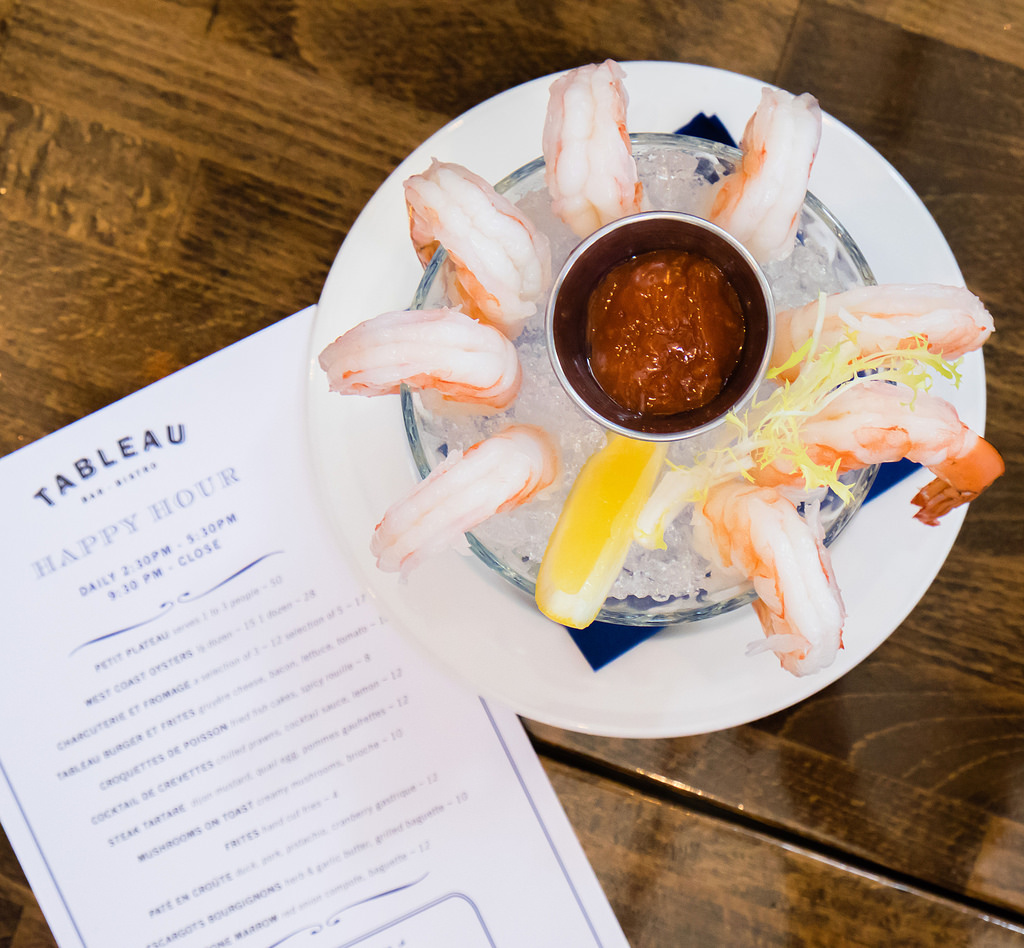 Cocktail de Crevettes
Another joy were the Croquettes de Poissons. Featuring spicy rouille, these fried fish cakes were gone in a flash. The insides were packed with fish and other goodies giving them an ooey gooey finish.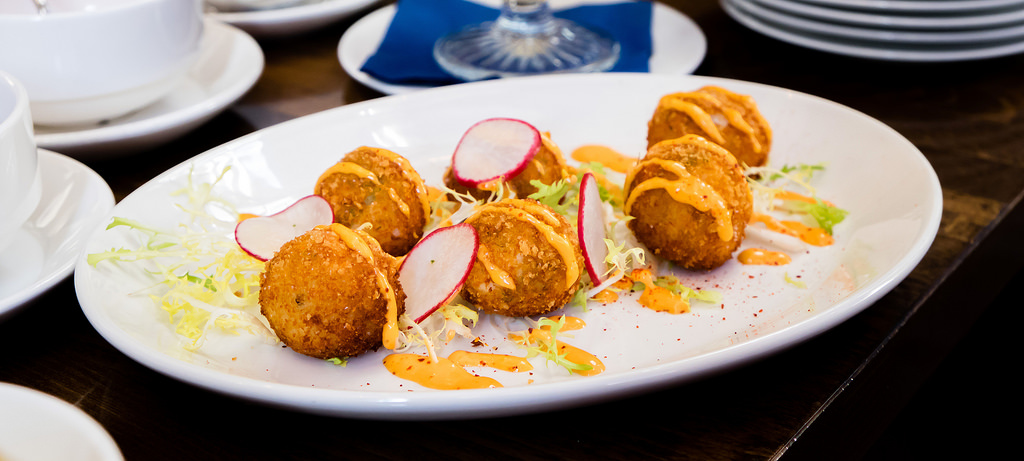 Croquettes de Poissons
The biggest feature of Tableau Bar and Bistro's new menu though has to be the Petit Plateau. Serving 1-3 guests, this two-tier treat features a number of finger-ready shrimp, crab, tuna tataki, mussels, and oysters. Presentation-wise, this is stunning. The two-tier display was perfect for a nightcap (or more accurately, a Happy Hour-cap) pairing with Yellow Label.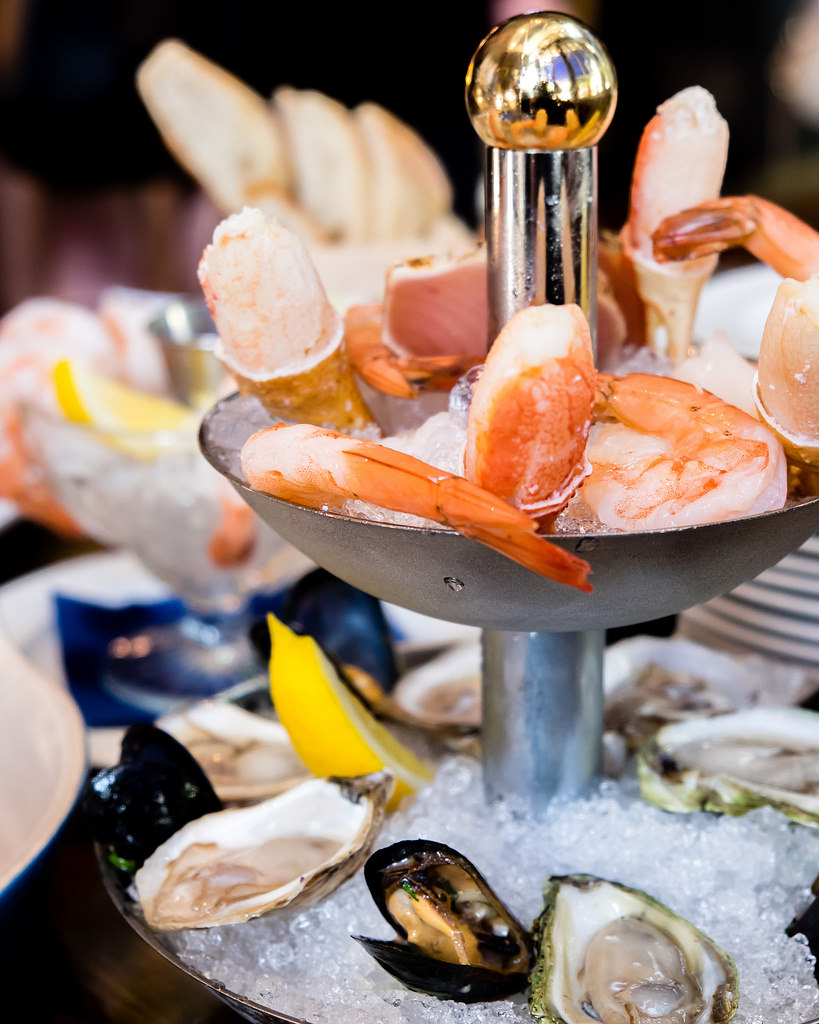 Petit Plateau
All in all, the happy hour menu (rolling out on Thursday June 21) is a pretty sweet deal. Looking at the classics, I see the burger et frites are a steal at $10. The items are all discounted but you're still getting primo ingredients targeted at serving a variety of diners. The new menu is a product with recent acquisition Oli Bureau, a general manager with experience at Bearfoot Bistro (Whistler), Market by Jean-Georges, and Cioppino's.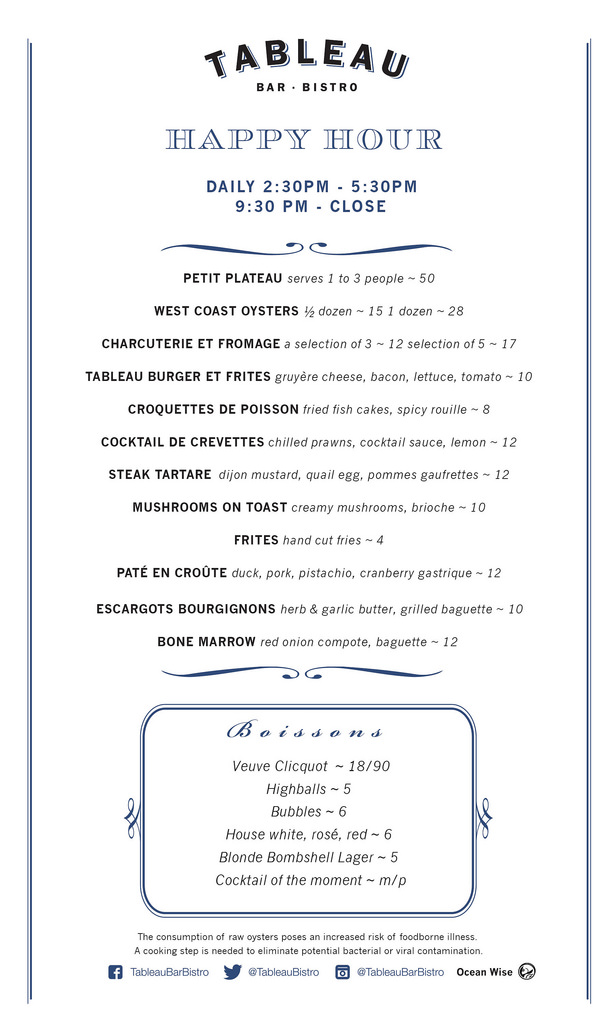 Spring/Summer 2018 Happy Hour Menu
Final Thoughts:
One-liner: Terrific Happy Hour pairings with Veuve Clicquot perfect for champagne lovers
Highlight: Bone Marrow + Veuve Clicquot Yellow Label pairing
Price per person: $12-$40 for Happy Hour
Would I go back? Yes.
For more information on Yelloweek 2018, visit https://www.veuveclicquot.com/en-ca/yelloweek-2018.