It's hard for any food-related business to reach its 7th year of operation but here we are in 2019 and Richard Wolak, AKA Vancouver Foodster, a Vancouver media personality, has taken Tasting Plates YVR to its 7th birthday. As a series of food crawls in Vancouver neighbourhoods, Tasting Plates is a self-guided tour of eats and drinks with diverse eateries participating in every crawl. Last week, I attended Tasting Plates 7th Anniversary which took place in downtown Vancouver.
Disclosure: I was given a complimentary media pass to this event. All opinions are my own.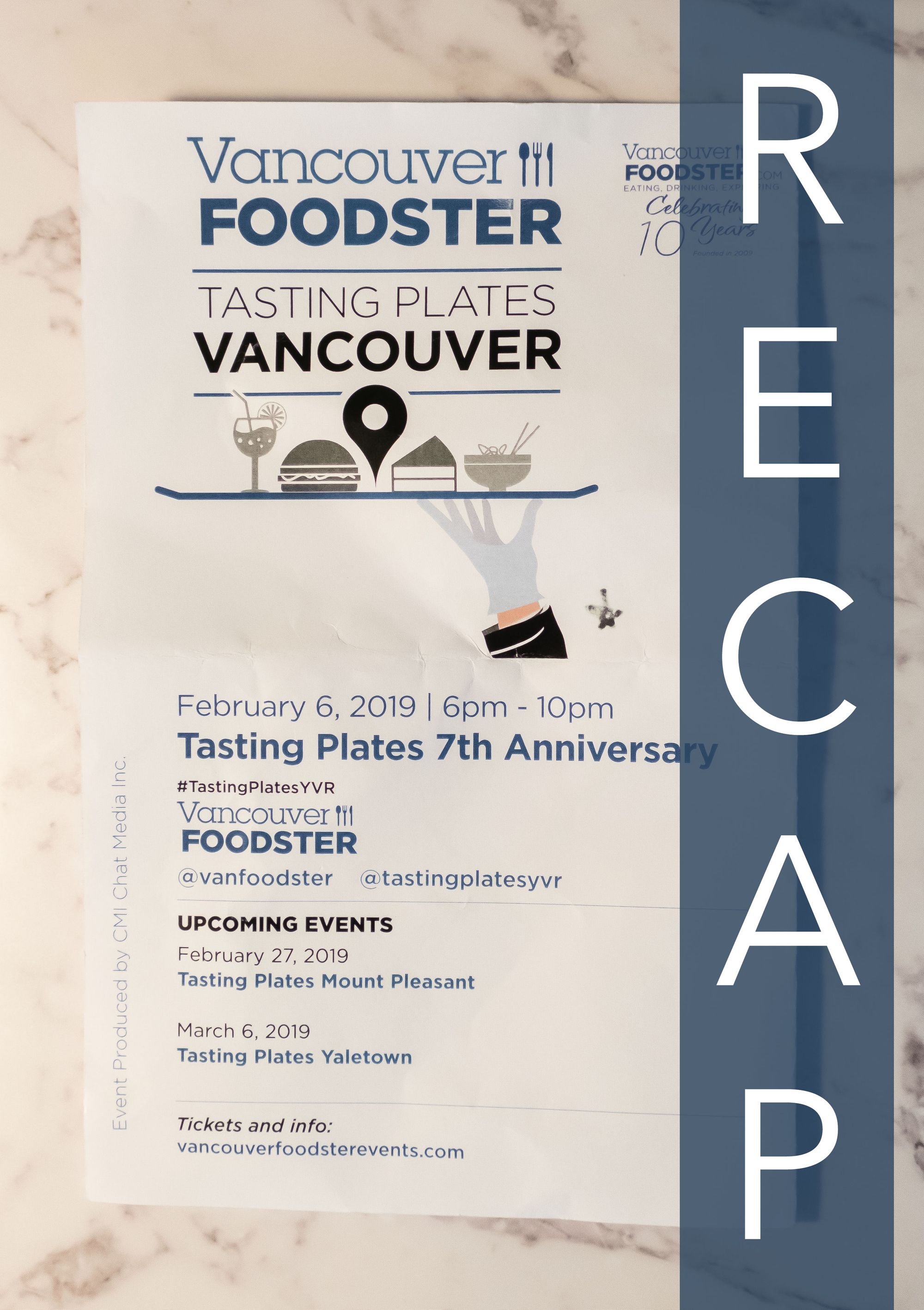 Tasting Plates Food Crawl:
Team GlueCrew came on this Tasting Plates food crawl which had the following itinerary:
Bonus Bakery Café – blueberry muffin, walnut brownie, Bonus cookie
Pacific Poke – poke bowl and coco panda
Davie Dosa Company – adai, avial, chettinad kara paniyaram, and kesari
Mumbai Local – shev puri, prawns rava, chicken lollipop, shrikhand
Donnellan's Chipper – spice bag, taco fries, DC burger, breakfast roll, battered sausage
Our first stop at Bonus Bakery Café served as a place to check in and snack up prior to beginning our crawl. The café prides itself on its zero use of animal products in their food, so I was pretty floored by how moist the butter-free brownie was. The cookie was also chewy despite the butter-free environment. I'll need to re-visit for a closer investigation.
I'm a big fan of poke so I was most looking forward to visiting Pacific Poke which not only provided a poke sampler but also offered up a drink. I opted for a poke option named "The Main" which was a mix of:
Sockeye salmon, spicy ahi tuna, crab & shrimp, jicama & cucumber, avocado nori, organic seaweed salad, citrus mayo, sesame miso dressing, shoyu, yuzu & lime juice, herbs & sprouts.
The Coco Panda drink I had was a coconut-based drink with coconut and pandan leaf juice mixed together to form a thicker mixture with consistency similar to a milkshake.
I loved every bit of this stop and fully plan to visit the other locations if I'm ever in the area needing a lunch.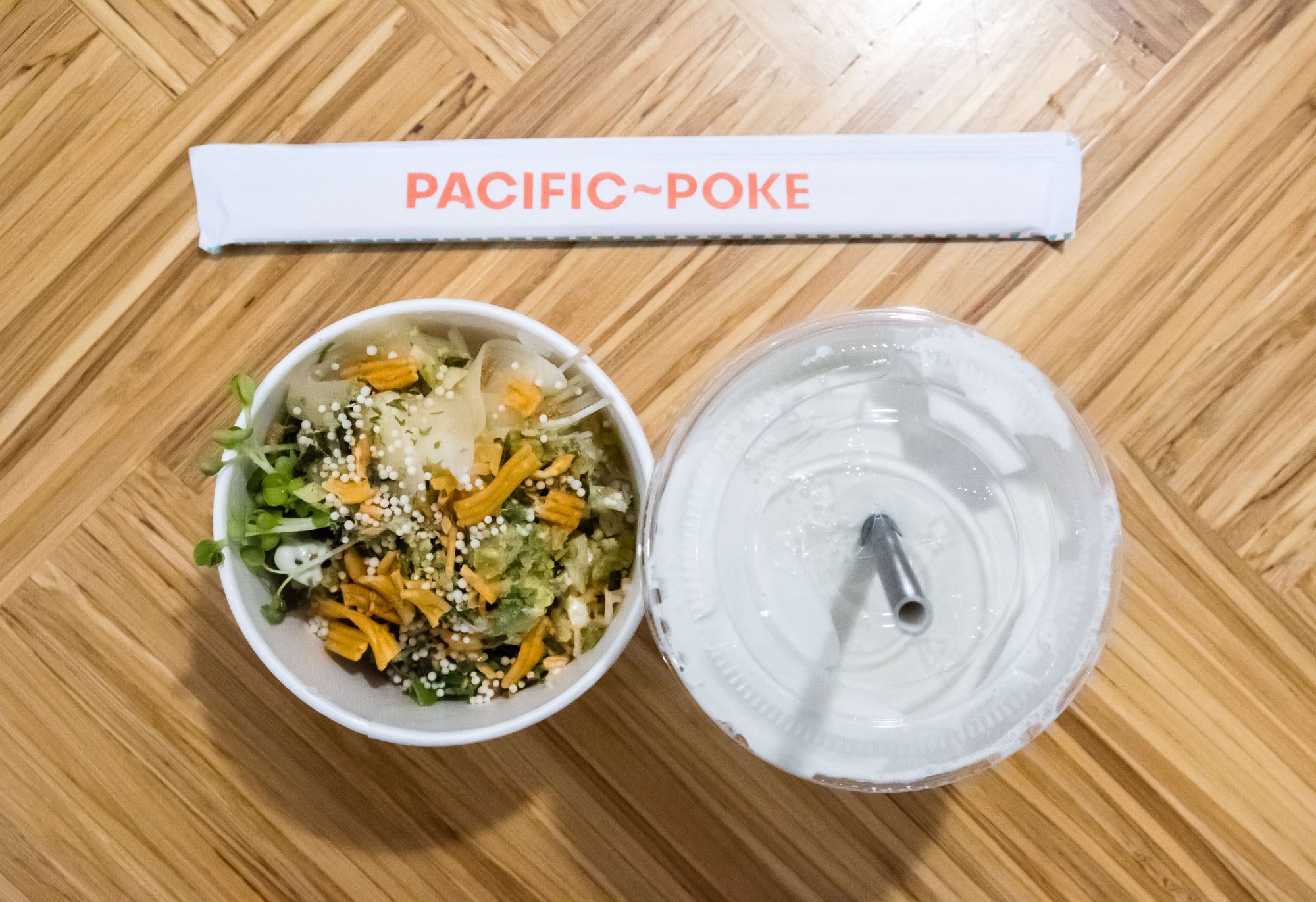 Stop number 3 took us to Davie Dosa Company, an eatery that was also featured in Tasting Plates West End a few months ago. Here we enjoyed a sampler dish of Indian treats which translate to English as follows:
Adai: Sprouted Lentil Pancake
Avial: Coconut Veg
Chettinad Kara Paniyaram: Savoury Muffin
Kesari: Samolina Halwa
Out of everything, the wildest item here were the chettinad kara paniyaram, both of which were muffins that left a spicy aftertaste on the tongue. If you're looking for a kick to your muffins, it looks like Davie Dosa Company is a place to satisfy that need.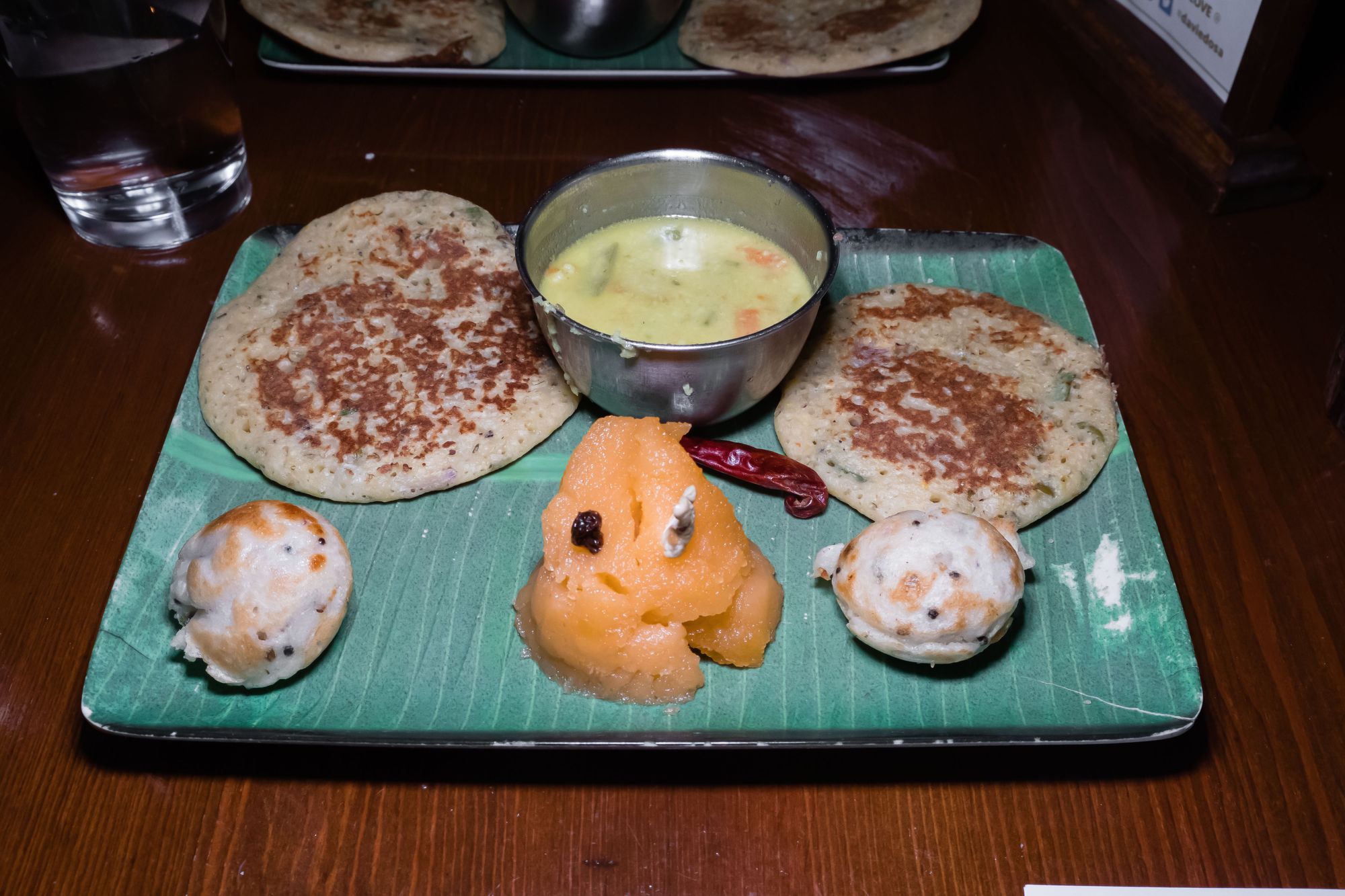 Another Indian restaurant was on the itinerary tonight, but Mumbai Local bills itself as a Central Mumbai street food locale so the eats here were a little different. Everything here was incredibly juicy for what it was. There was even a spot for dessert in the shrikhand (pineapple with a spoonful of sweet strained dahi).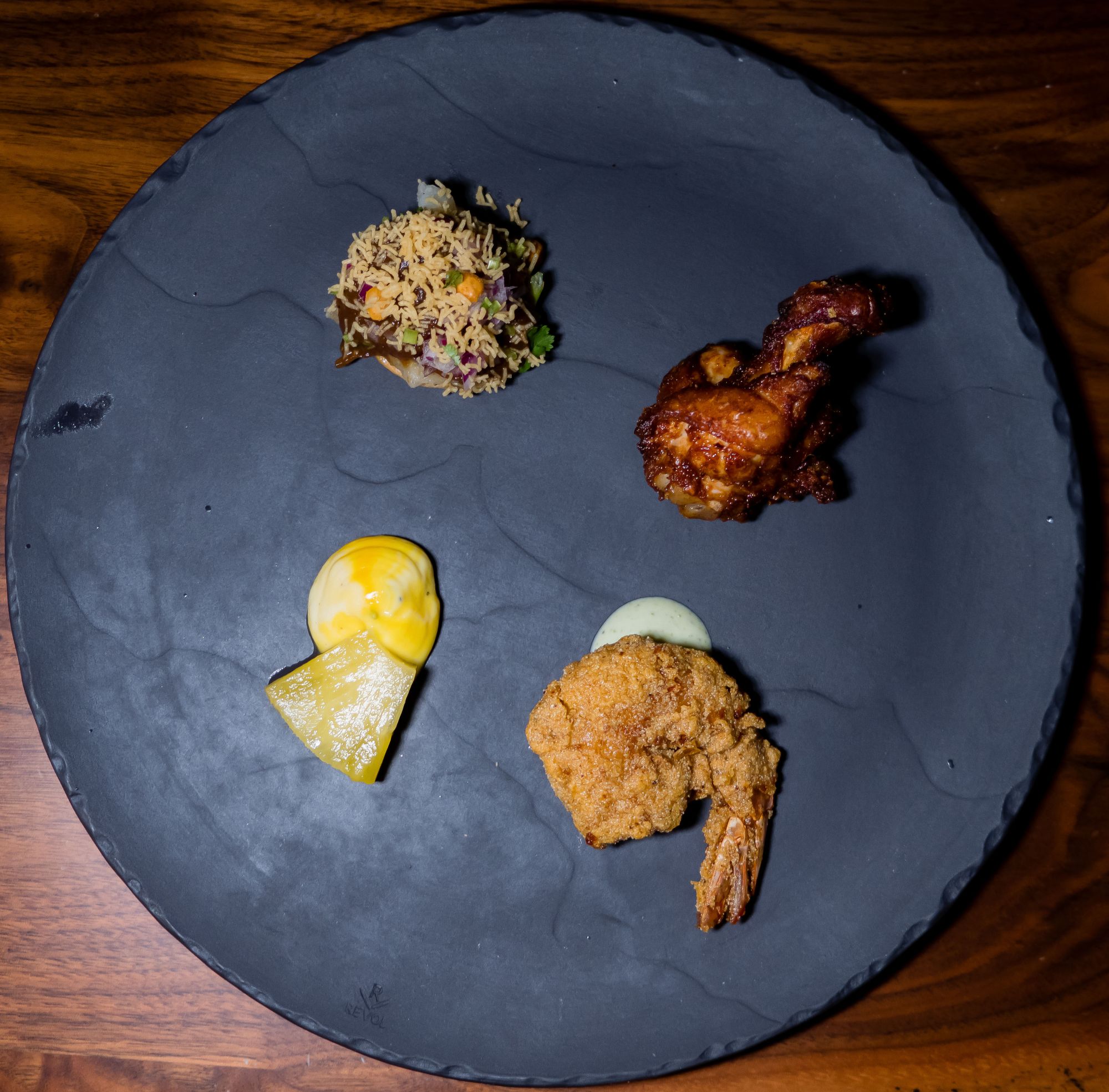 For the last stop, well, we didn't make it. When we arrived for the first time, the staff told me it was likely a 30-40 minute wait and that other guests had already been waiting that long. Seeing this fact, we hopped over to Mumbai Local as our 4th stop, which still took a good 40 minutes to complete the stop. By the time I made it out of Mumbai Local, it was past my curfew and I had to head home. I did take a picture of the exterior though on my way home though.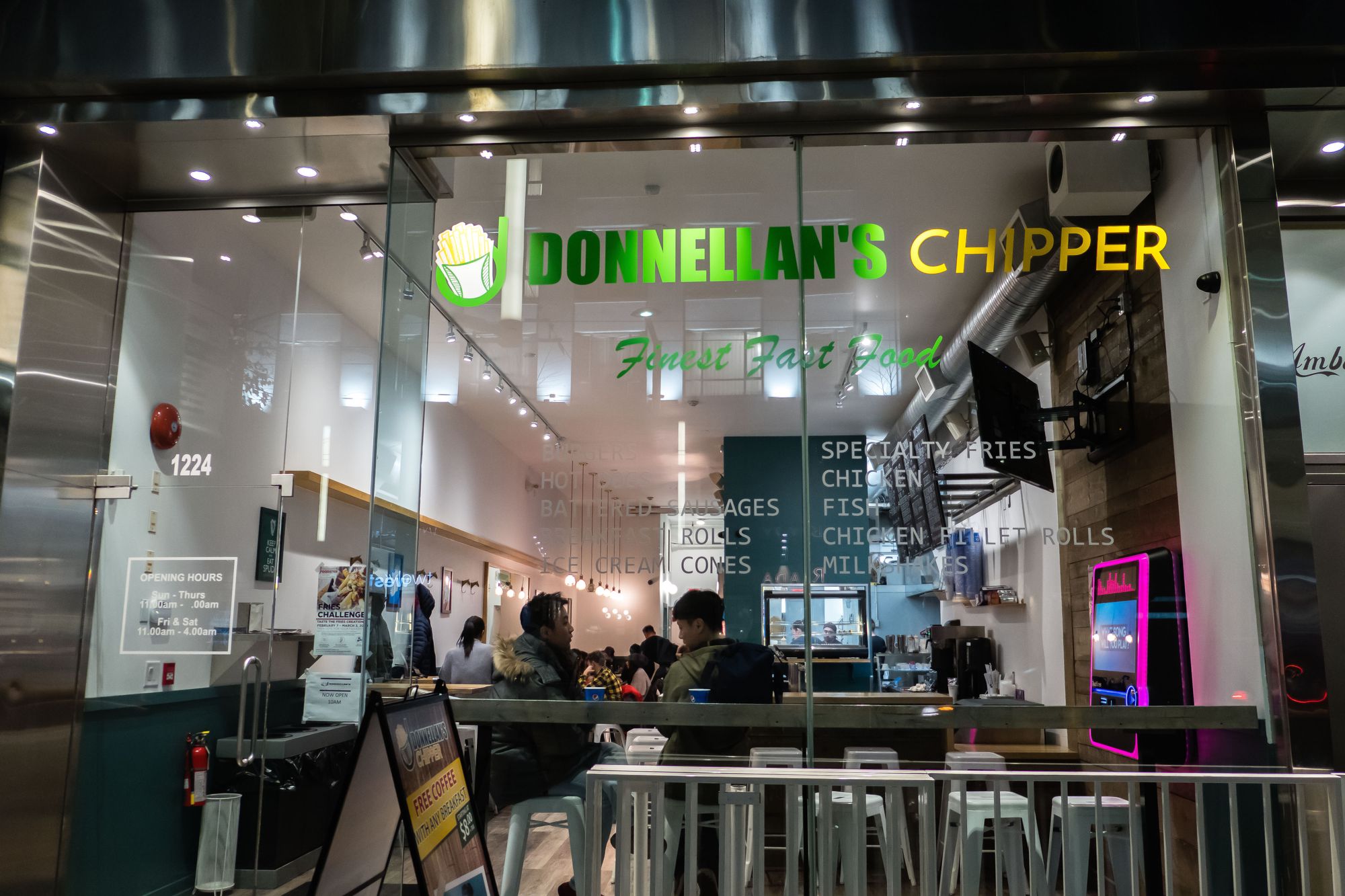 This experience of a logjam of guests was our own doing though. When we checked in at Bonus Bakery Cafe, the Tasting Plates staff instructed us to visit Donnellan's Chipper first to avoid crowds. But since we were walking to every destination, we decided not to listen. We paid the price in missing out on a stop. While I don't love the amount of walking you sometimes have to walk for a Tasting Plates crawl (this was a 3.3km end-to-end walk), I do understand that the recommendations provided by Tasting Plates staff are sound and are best adhered to so that you get to visit every eatery in an efficient manner.
Final Thoughts:
One-liner: A tasty tour of downtown Vancouver that showcases eateries new and old for your dining documentation
Highlight: Pacific Poke
Price per person: $35 Early Bird
Would I go back? Yes (and this time I'll listen to instructions).