Visiting one new eatery in a day is a thrill, so how about visiting 5? Vancouver Foodster's Tasting Plates YVR events offer just that with an eclectic mix of food/drink venues, all within a reasonable distance and duration. A couple weeks ago I was at Tasting Plates Lonsdale and checked out a few eateries, some new and some old.
Disclosure: I was given a complimentary media ticket to experience this event. All opinions are my own.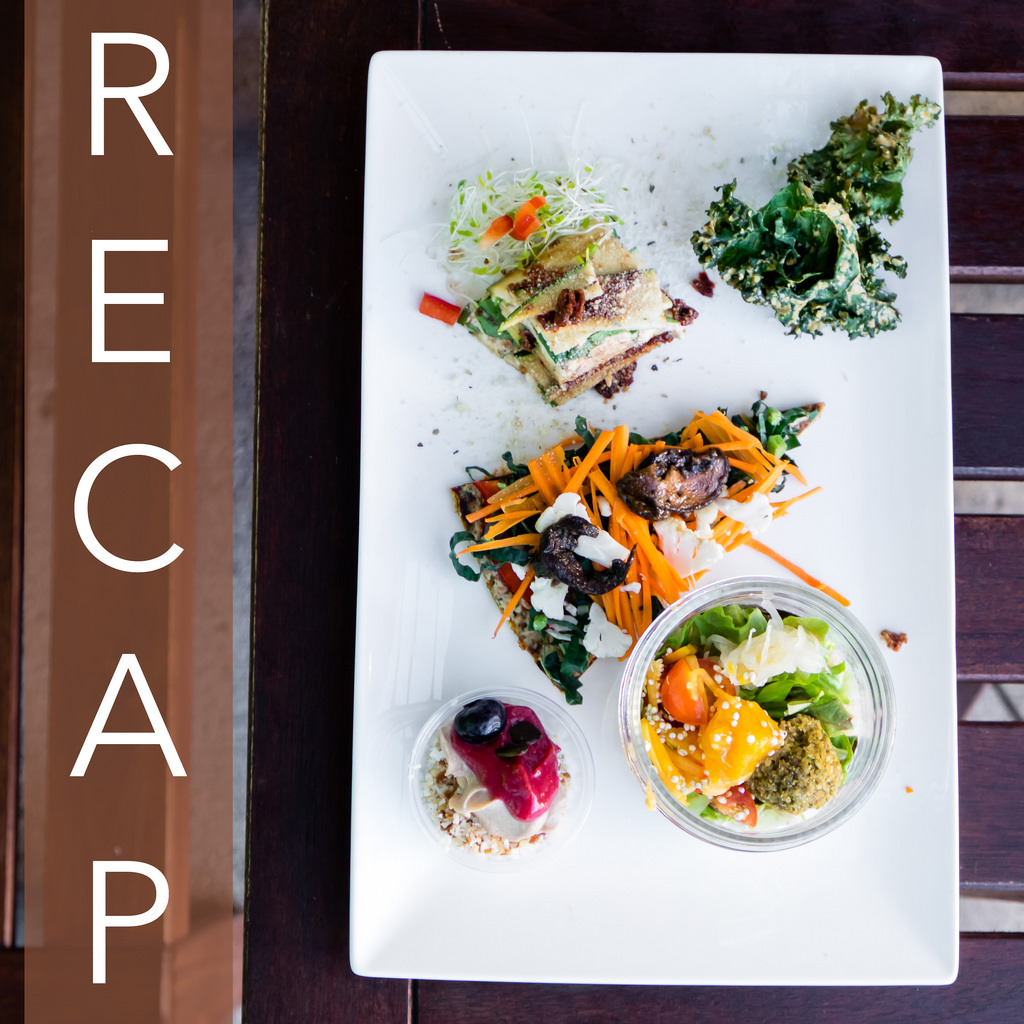 Tasting Plates Passport:
Team Tastic took on a tasting plates passport and visited the following:
Butter Lane Bake Shop
Cafe by Tao
Coconama
Albarello Pizzeria
Welcome Parlour Collaboration w/ Bad Dog Bread
At Butter Lane, we enjoyed a plate of earl grey donut, scone with clotted cream, and gluten-free carrot cake. The earl grey donut was the big standout for me here as the glaze was quite fragrant and the donut had some good pull.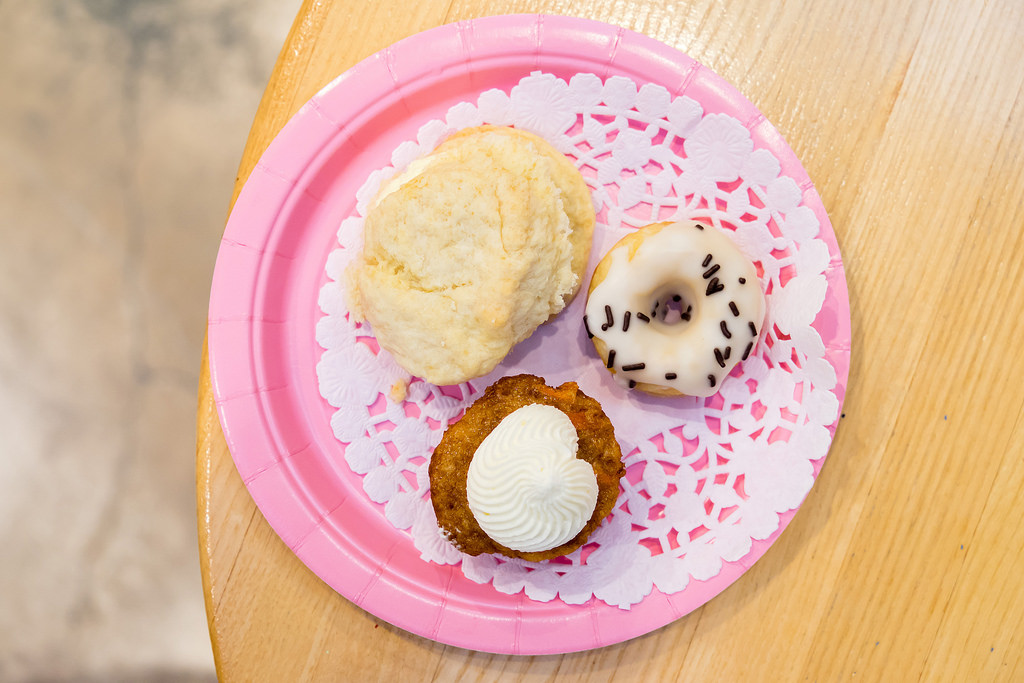 Butter Lane Bake Shop
Next up was Cafe by Tao, one of the healthiest menus I've ever tasted. Here we had a sample platter of mango salsa quinoa bowl, falafel, sauerkraut, rawkin' pizza, rawsagna, kale chip, and lucuma parfait. Everything was plant-based so that rawsagna was vegan-friendly. The quinoa bowl packed a ton of flavour and I could totally see myself stopping by to grab a bowl on my way to work if I lived in the area.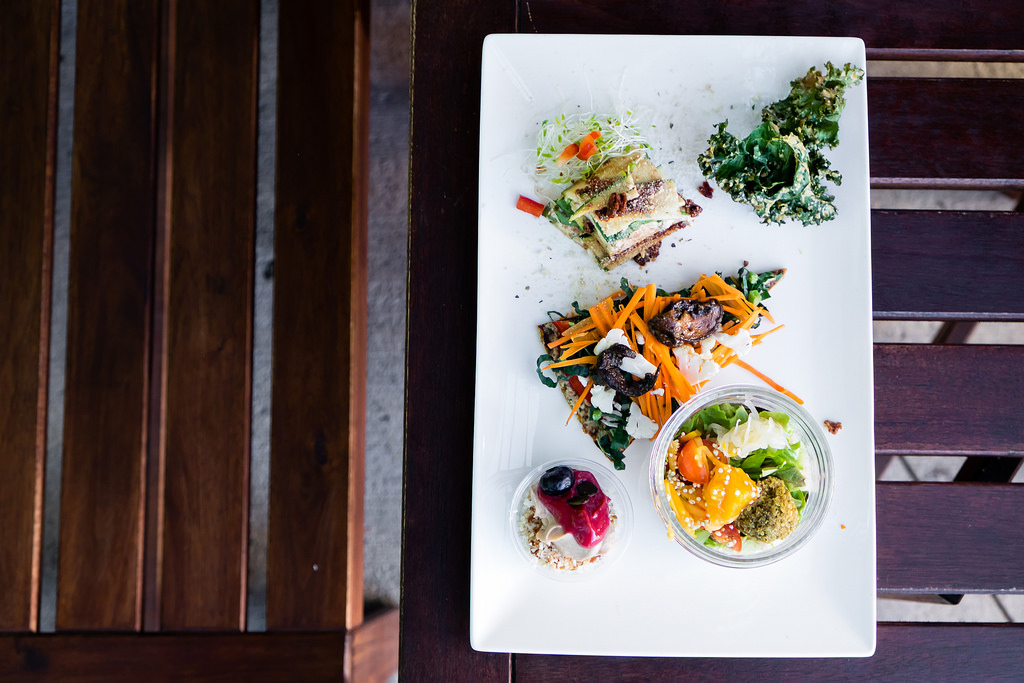 Cafe by Tao - Sampler Platter
Third on our itinerary was Coconama. Here we enjoyed a short introduction to their full production workflow and tasted samples of their various chocolates and famous ganaches (I would buy these all the time in college).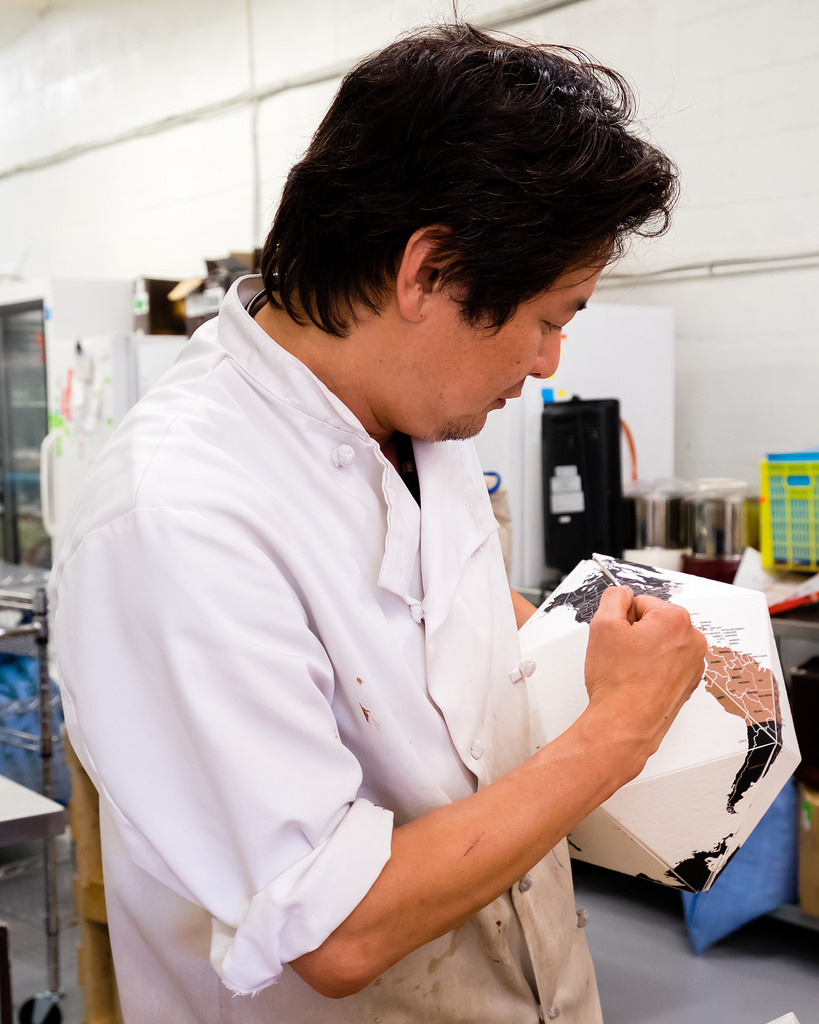 Coconama Demo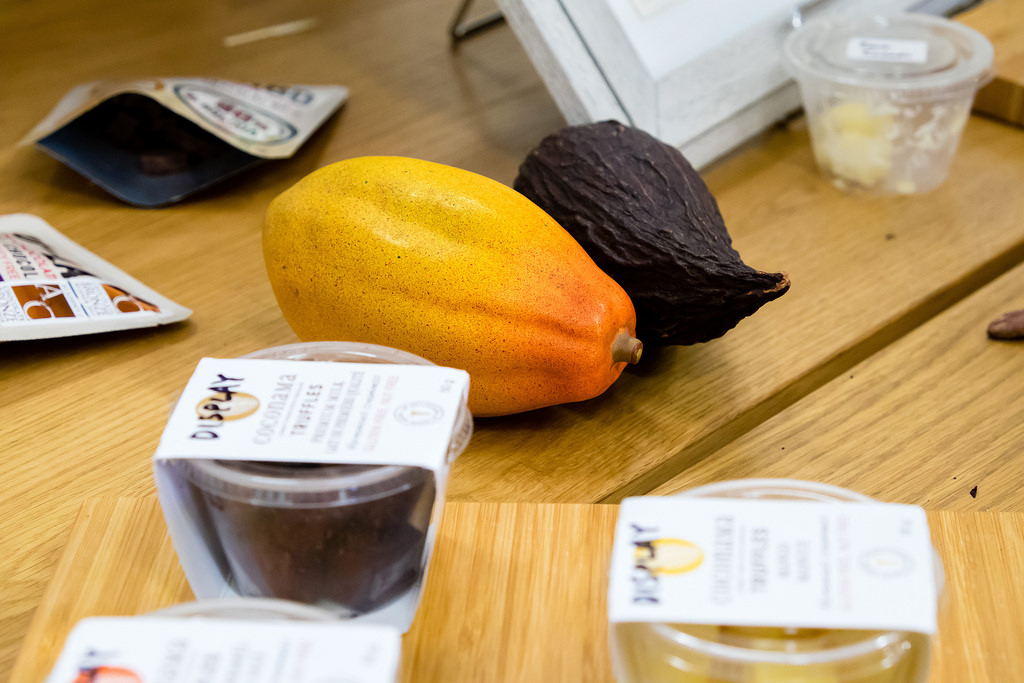 Coconama Bean
My favourite stop of the night was Albarello Pizzeria. I'm basic for pizza and I am proud to share the love. Here we had a sampler platter of their verde noce pizza (pesto, walnut, roasted peppers, mushrooms, onion, goat cheese, and basil), salsiccia pizza (tomato sauce, home-made fennel sausage, mozzarella, caramelized onion, and roasted red pepper), and home-made meatball. Anyone who's been a participant of Vancouver Foodster's Pizza Challenge will recognize Albarello Pizzeria for winning the competition back in 2015. The winning pizza remains on the menu to this day. If you like a bit of crunch to your crust, you'll enjoy the thin crust here.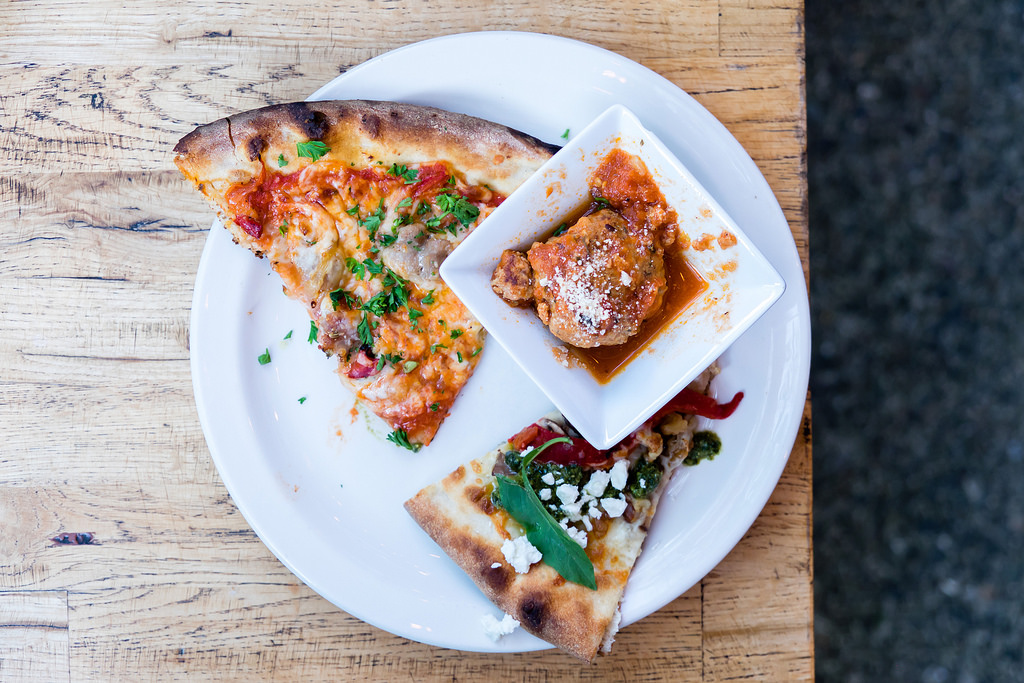 Albarello Pizzeria - Pizza and Meatball Platter
Last but not least, we stopped by Welcome Parlour for dessert. These folks partnered with Bad Dog Bread, another North Shore business, to produce a cinnamon bun ice cream sandwich. The cinnamon bun was chewy with a satisfying classic flavour. Couple this with a dollop of specialty vanilla ice cream and this was the perfect end to our tasting crawl.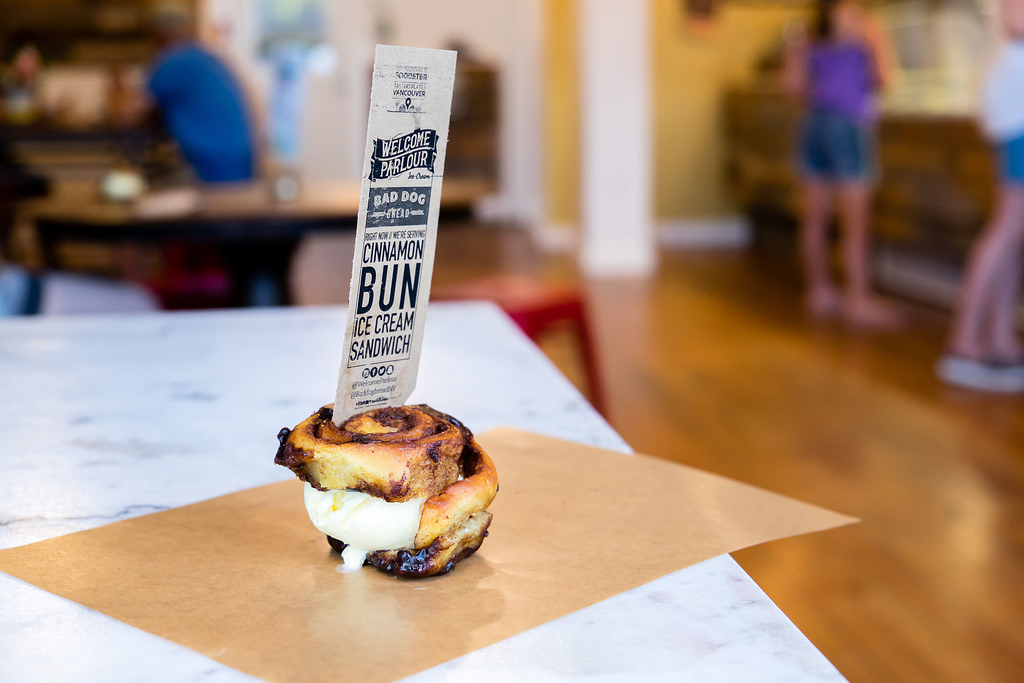 Welcome Parlour x Bad Dog Bread - Cinnamon Bun Ice Cream Sandwich
Final Thoughts:
All in all, Tasting Plates is a fantastic way for the average foodie to get to know a neighbourhood. Generally, the servings are just the right size so you can get a taste before moving on. The restaurants/eateries are all on the ball with serving you promptly so you can be in and out to your next destination almost as quick as you like.
One-liner: A fun taste of Lower Lonsdale, North Vancouver's foodiest neighbourhood
Highlight: Welcome Parlour x Bad Dog Bread Cinnamon Bun Ice Cream Sandwich
Price per person: $29+
Would I go back? Yes.