I love me a good dessert after hiking. After a pleasant plod through some trails at Lighthouse Park, I knew we would pass by Temper on the way back into Vancouver. Great planning, right? There isn't too much hype in the Dundarave neighbourhood these days, but I thought I'd poke my head in here for a looksee.
Food and Drink:
Team Tastic came here for a post-hike stop and I had a great taste of the following:
Latte ($4/8oz)
London Fog Bon Bon ($2.10)
Matcha Yuzu Cake ($7)
Dark Chocolate Cake ($7)
First off about their lattes, they're one of the few shops in Vancouver that serve Stumptown Coffee. It's an overhyped hipster beans but I find it a very average flavour which appeals to a wide audience. My latte here was a double shot which added some serious punch to an 8oz mug with much more espresso-to-milk proportions than usual. If you're not in for a sharp caffeine kick, maybe ask for the larger 12oz size for 25 cents more. It's otherwise great value to get a double shot of espresso for less than $4.50.
Chocolate is in the name of the cafe so I had to try at least one. The London fog bon bon looked spectacular on the outside (we're talking Beta5 good) and the flavour concentration on the inside was also quite satisfying. I think these would make a great gift.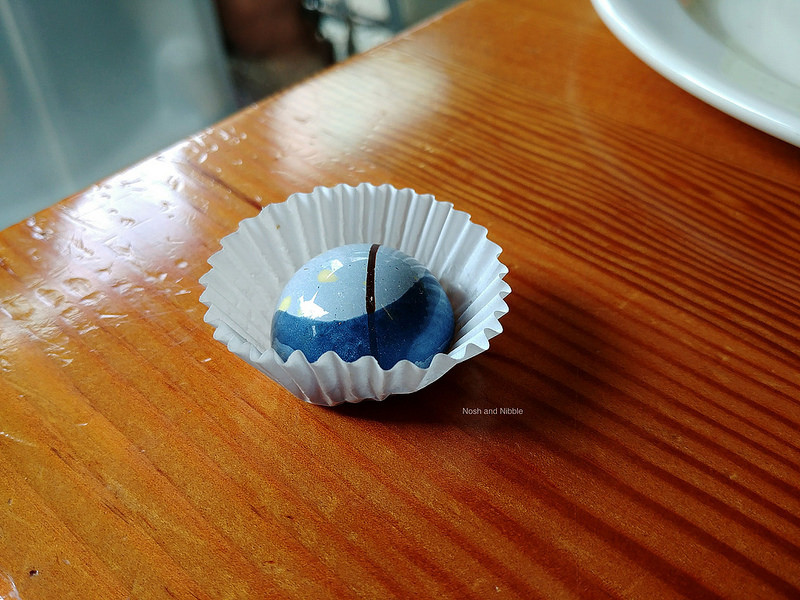 Despite having "pastry" in their name, Temper serves a lot of cake. The first cake I tried was the matcha yuzu cake which had yuzu cremeux, matcha bousse, ladyfinger sponge, matcha yuzu syrup, and a feuilletine base. This had a fluffy texture with strong notes of yuzu (a sour Japanese orange). Due to the strength of the yuzu, I felt there was a lack of matcha bitterness. What a shame. Otherwise, this wasn't very sweet and could probably satisfy the dessert naysayers who tend to complain about sweetness.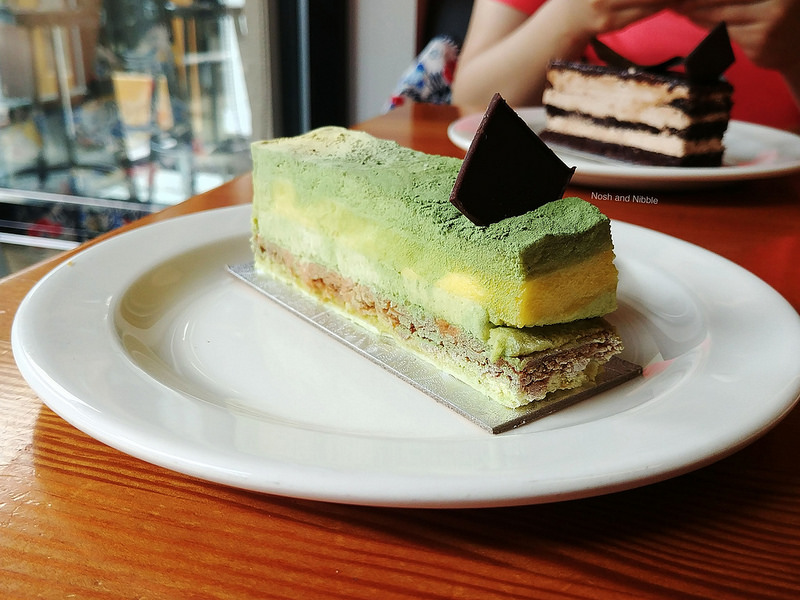 The other cake I tried was the dark chocolate cake. With 70% chocolate ganache and chocolate buttercream, this was a borderline dark chocolate cake. The buttercream was just firm enough to cleave into with a fork and the profile of the cake was mostly clean cut with 7 layers. This was my preferred cake out of the two, but I admit it seemed sweeter than the matcha yuzu cake.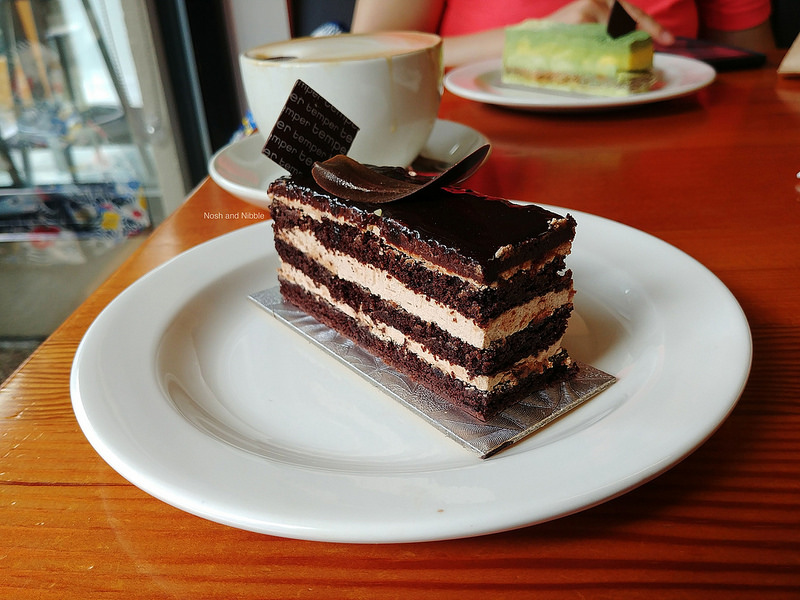 A cool feature of all the cakes here is a strip of chocolate on the base which glues the cake to the serving platter and effectively prevents any cakes going down sideways. Brilliant!
Features:
Nestled in the Dundarave neighbourhood in West Vancouver, Temper is a one-of-a-kind eatery along the Marine Drive strip. The marble counter and walls inside here give Temper a very modern look. The turqoise and wooden slats also add character to the atmosphere inside where you'll find a very organized line and seating for about 12 guests.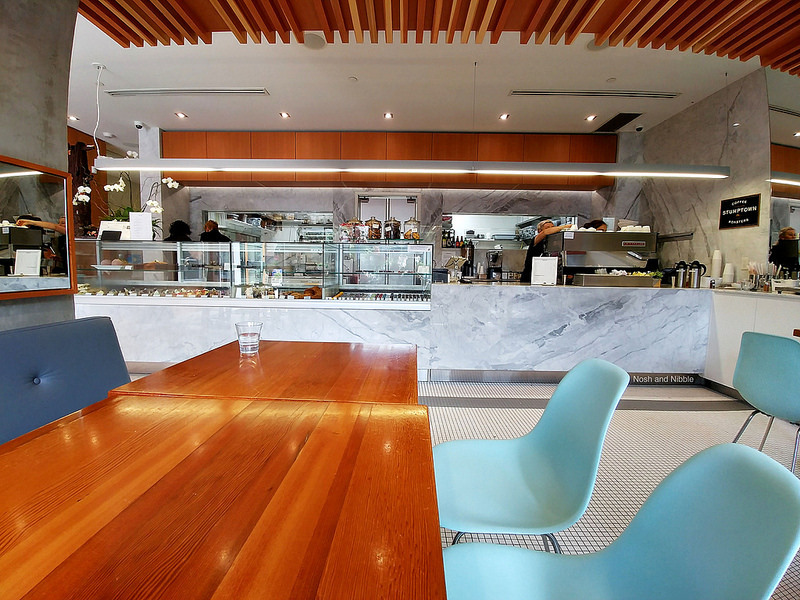 The magic is outside though. With a patio seating about 20 guests, Temper has a French feel where one can enjoy an afternoon of coffee, cakes, and people-watching. I'm thinking of comparables in Vancouver but I believe Temper must have one of the largest bakery patios in the Lower Mainland.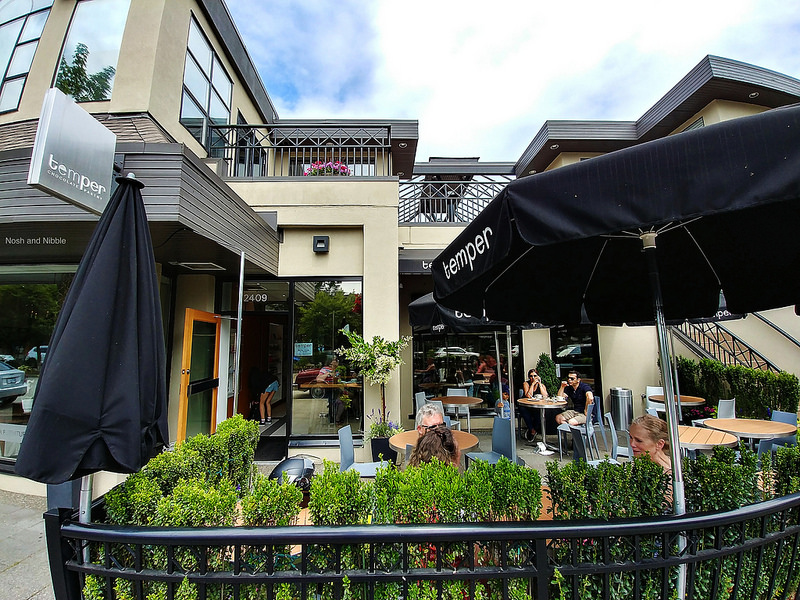 Service:
Here you'll place and pay for your order prior to receiving it. The staff were ready to handle the lines and had an organized system of taking orders. You'll have to pick up your coffee yourself and bus your own table.
The girl pouring my latte spilled some foam on the side whilst pushing it across the counter. I got an apology, but as you see above, the latte art was mostly ruined and I would hope spending more than the average customer might warrant me a replacement latte. That was not the case.
Final Thoughts:
One-liner: Tasty cakes and bon bons would have been great but a tiny blemish on a partially spilled latte spoiled the experience, just slightly
Highlight: Dark Chocolate Cake
Price per person: $7-15
Would I go back? Yes.