First off, it's pronounced "ten-don" as in "donburi" without the "buri". Tendon Kohaku is a 2021 gem that's opened 2 locations in Vancouver and Burnaby and they're taking the donburi game by storm. You've likely stared at a Japanese restaurant's donburi menu thinking what a bleak outcome it was to order a donburi filled with excessive rice and a smattering of cheap toppings. With Tendon Kohaku, the proportions are fixed, the tempura is crisp, and the price reflects this change. The wait is insanely long every single day, so what's the deal?
---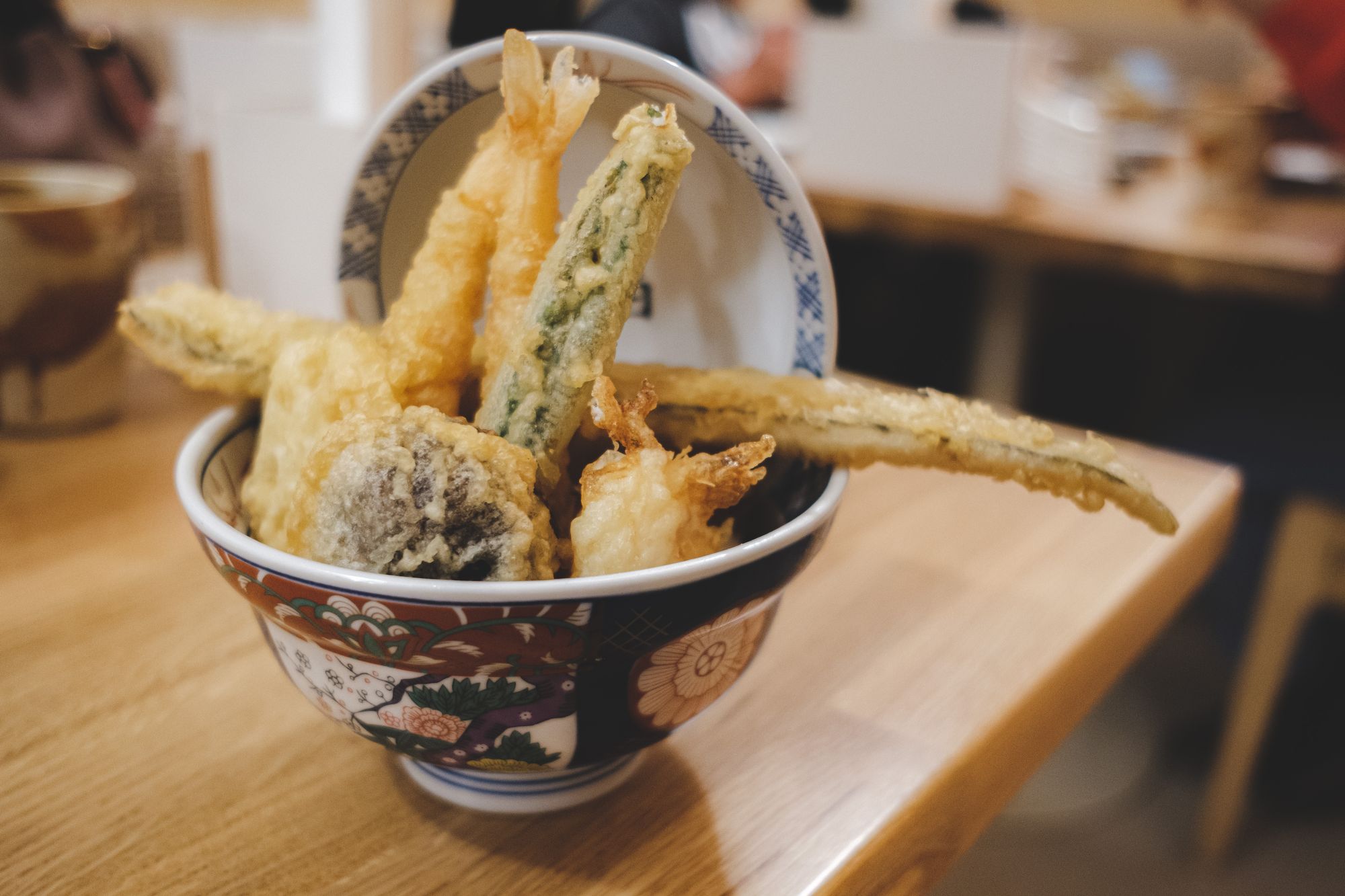 Food:
Team Block Party came here on a Thursday evening and I had myself the following:
The anago tendon is their eel offering with 2 prawns, 1 chicken, 2 French beans, 1 shiitake mushroom, 1 lotus root, and 1 soft fried egg. Note that each of these units represent tempura pieces you get in the bowl. This is their most expensive offering and if you haven't guessed by the picture, it's because you get a massive sliver of eel that extends way past the rim of the bowl. That's the type of filling I like to see. The eel itself tastes like most unagi out there but the size and pristine batter is what makes it memorable.
Just like in a traditional Japanese tempura spot in Tokyo, tempura here is a delicacy. Each bite I took had a light, crispy texture indicating a fresh frying experience and proper plating so as not to get soggy. If you order "sauce on the side" like I did, you'll guarantee your tempura stays crispy as you chomp through it. By default the sauce is poured into the bowl and tempura which means there is a risk that things get soft if you are a slow eater like me. Ain't nobody got time for a tempura-fied soft boiled egg gone soggy. I opted for the spicy sauce which was full of umami and heat.  Ask for a second serving if you can't get enough of the sauce for no additional charge.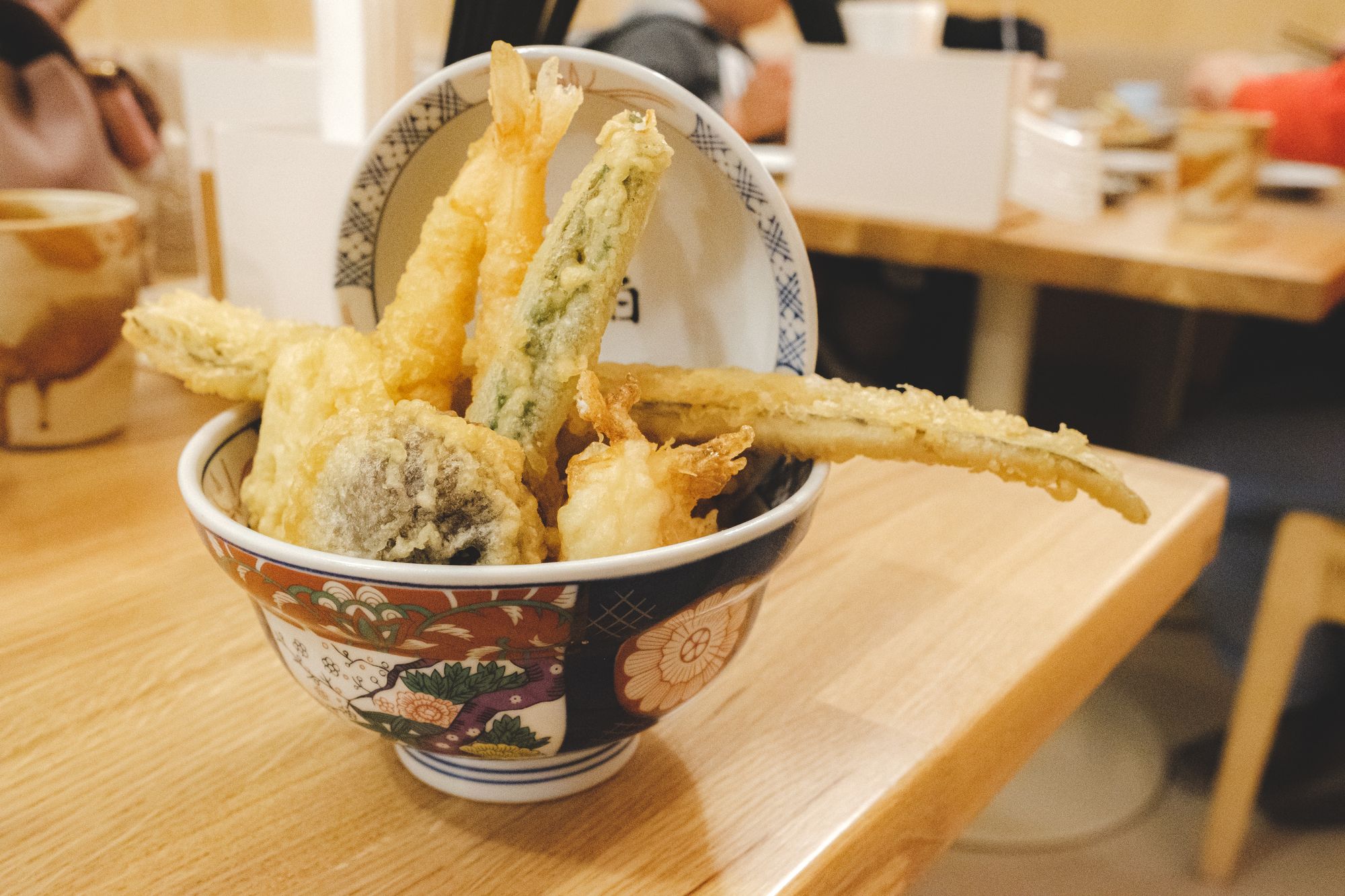 Unlike the cheapest Japanese restaurants, even the rice here is worth writing home about. It's a balanced combination of starchiness and hardness on each bite, and it's portioned on the smaller side. This is quite welcome as I was stuffed from the rest of my meal and in my past donburi experiences, I've often found myself staring down a bed of rice with few toppings to keep me busy.
With every tendon order you also get a miso soup. The miso soup itself isn't worth writing home about, but the bowl here, much like the tendon, looks immaculate and ornate, giving off a posh feel for Japanese food.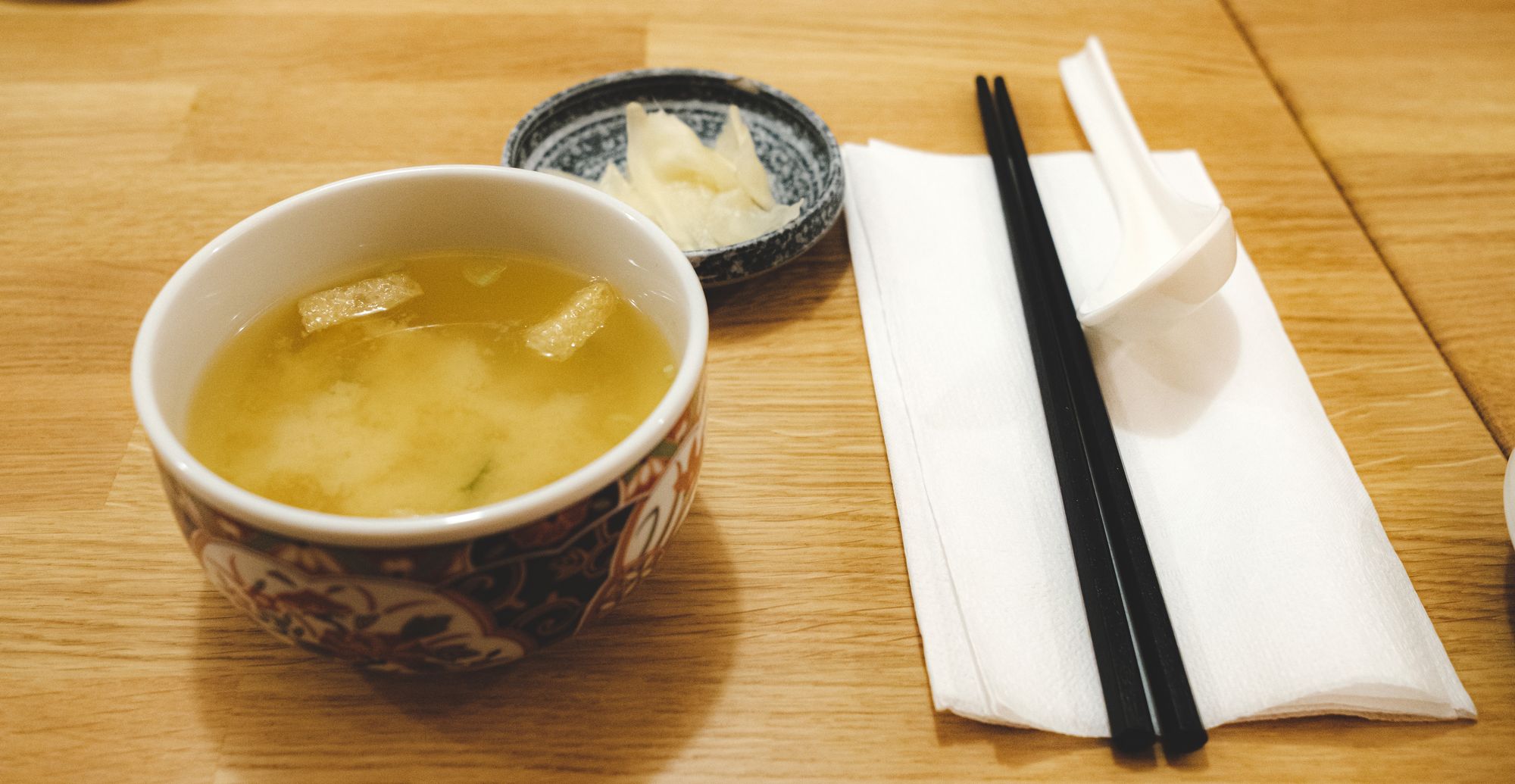 Features:
Tendon Kohaku in Burnaby occupies a narrow space that then turns into an L-shaped restaurant with a window facing Lougheed Highway. Light woods, ridged walls, and fluffy ceiling decor give the space an intense feeling of texture and layering. I wouldn't fault you for thinking this was an interior furniture store until you saw the kitchen staff pumping out tendons. There's seating for about 80 guests during this time. It's not extremely loud inside but you are definitely close enough to hear your neighbours' conversations if your table gets a little quiet.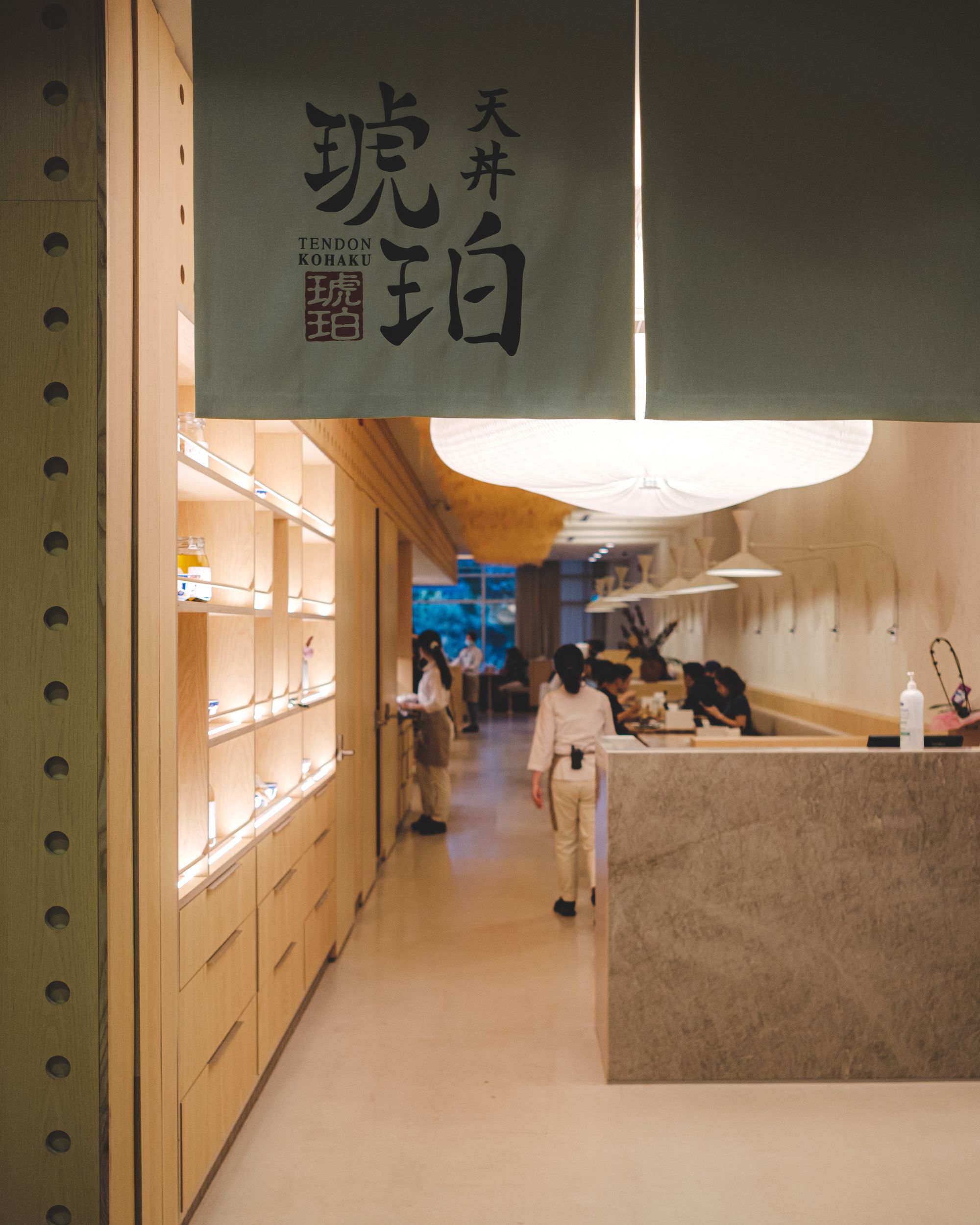 Service:
The worst thing about Tendon Kohaku is the lineup. My group arrived at 6:15pm on a Thursday summer evening and we ended up waiting for 80 minutes to get our table of 3. We had more than enough time to walk over to Xing Fu Tang to get bubble tea, come back, and still have time to wait for our table. There is also no estimation method either. You walk into the restaurant, put your name and number into an iPad app, and you are inserted at the back of the queue. In our case, we had 18 groups ahead of us, so take that information as you will given our 80 minute queue. There is no reserving at Tendon Kohaku so suck it up and go as early as you can.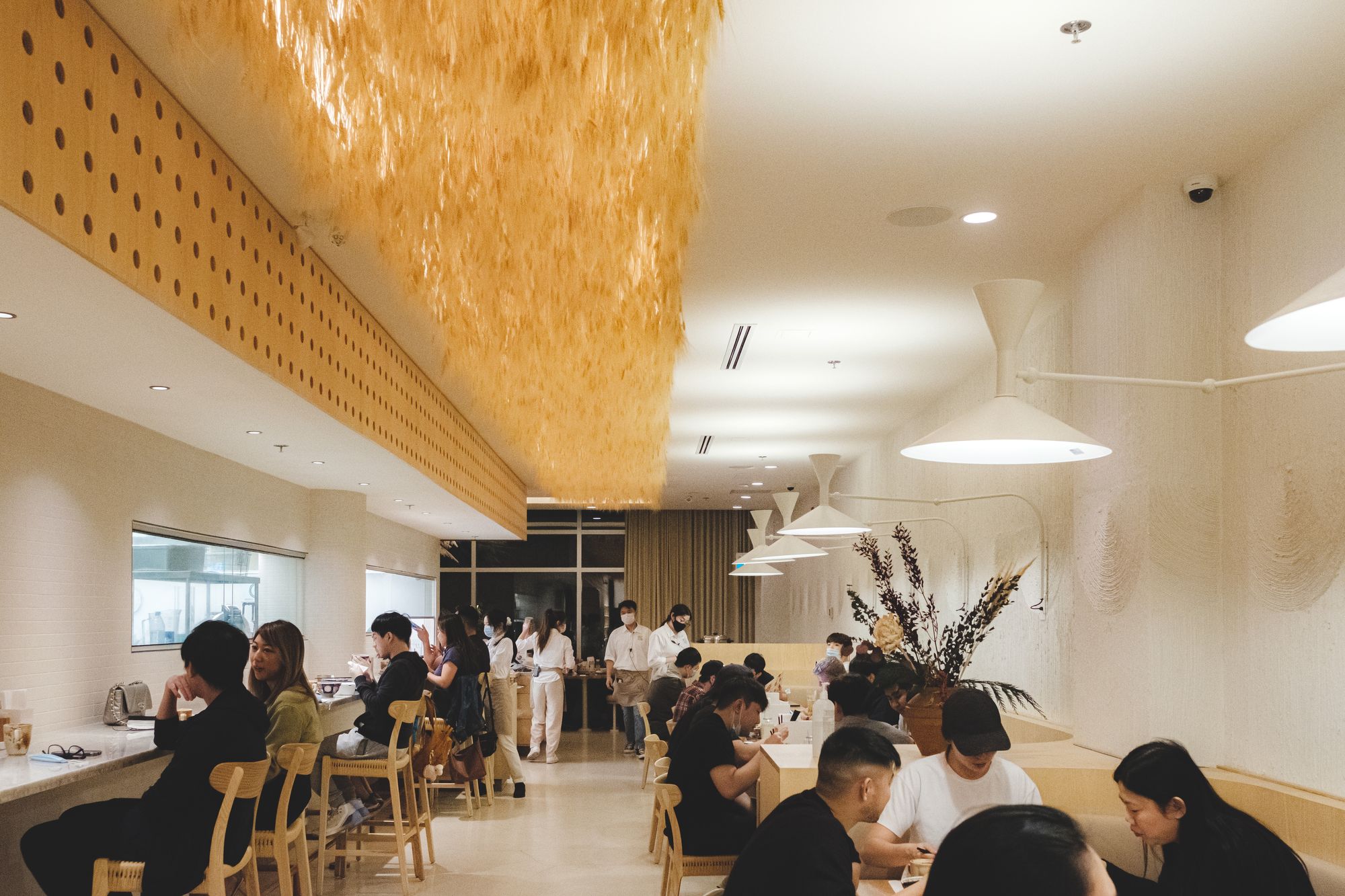 Once inside, service is quite optimal at Tendon Kohaku. The staff are very aware of the long wait for a table and will even take the iPad away closer to closing time so that they don't stay open forever. Staff are efficient with filling up water, giving you your bill, and shooing you out for the next party, but they'll always do it with a smile.
The food for us took about 12 minutes to arrive after we ordered which is fantastic. It really felt like everything in the kitchen was going as planned and food was served as fresh as possible.
Final Thoughts:
One-liner: The crispiest tempura on rice you've ever had in Metro Vancouver
Highlight: Anago Tendon
Price per person: $19-$26
Would I go back? Yes.