Amongst cuisines that are staples for entry-level restaurant dining, Japanese food covers a huge range as far as how extreme pricing can go. Sushi can cost a lot. The highest level of sushi is usually done in the form of "omakase", literally meaning "to entrust", and, apart from stating your dietary restrictions, is a order where you cede all control to the chef to decide what to serve you.
For my latest omakase adventure, I went to Tetsu Sushi Bar, and from their 2 omakase option, chose the more expensive $150 option. The skinny for this experience is that most people will be happy with the $110 omakase option instead, but I'm happy to provide detail on everything we received and why I think the nigiri omakase is probably a better option for most diners like me.
---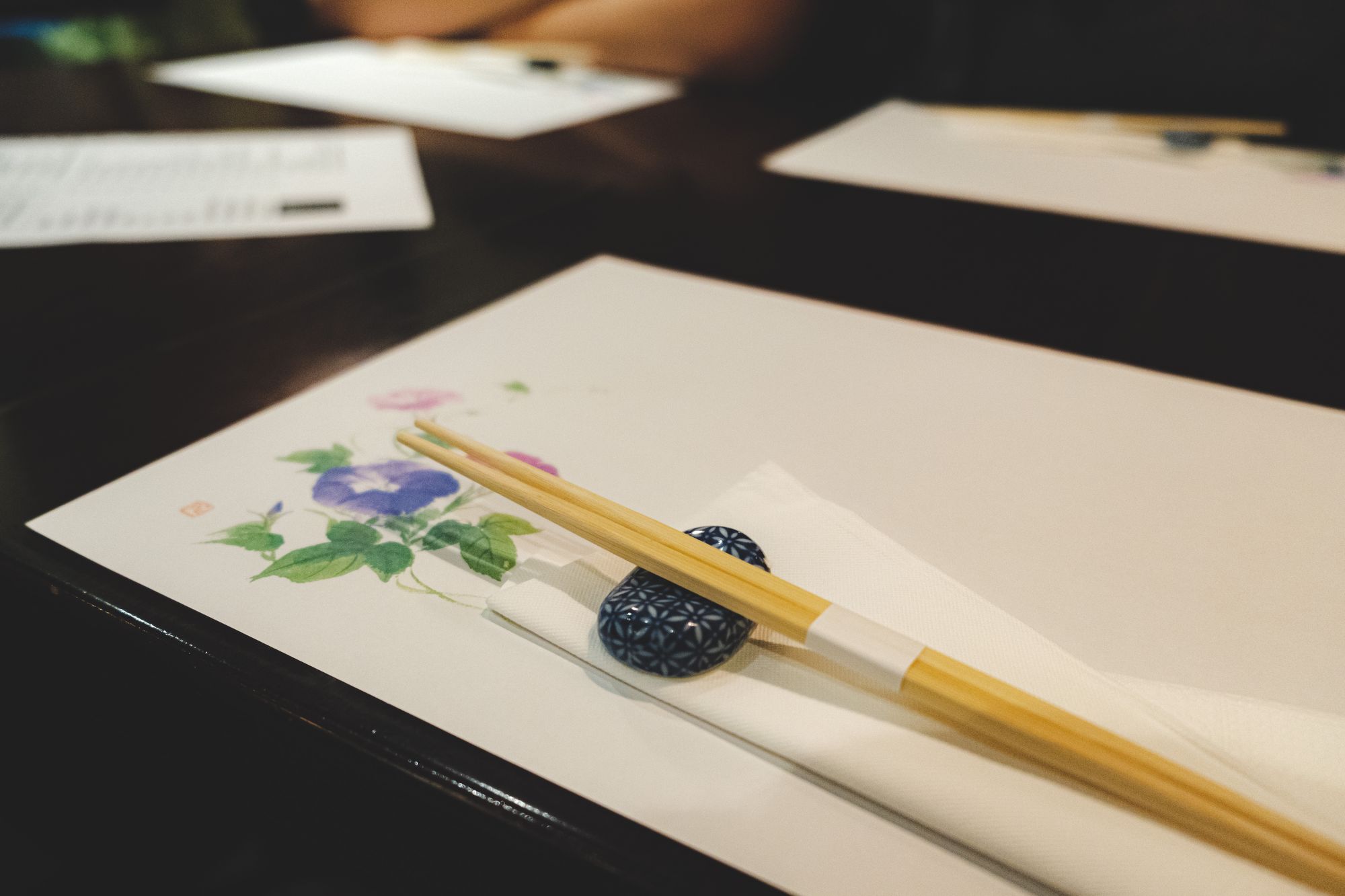 Food:
Team Domah came here for a Saturday 7:30pm seating and I had the following for my $150 omakase:
5-piece appetizer set (BBQ Eel, Grilled King Salmon Kama with Saikyo Miso, Hokkaido Black Abalone, Smoked Katsuo Bonito, and Smoked Oyster)
Houbou (Gurnard) + Japanese Hotate (Scallop) Nigiri
Shimaji (Striped Jack) + Spot Prawn Nigiri
Tachiro (Cutlass) + Nodoguro (Blackthroat Seaperch) Nigiri
Ikura and Uni cup
Bluefin Tuna Chutoro + Bluefin Tuna Otoro Nigiri
Negitoro Roll
Anago (Sea Eel) Nigiri
Brown Sugar Warabimochi
The 5-piece appetizer is the main difference between omakase options, so be honest with yourself with what you want because nigiri purists might not be enthused with this $40 appetizer difference. The Hokkaido Black Abalone is a huge chunk of the value for this appetizer, so we'll dive deeper there. This abalone was a truly meaty piece of seafood with just the right mix of seasoning and meticulously served on a shiso leaf within a shell with brilliant shine. This is not just assembly line food. Food becomes a work of art at this level of dining and the presentation on this appy platter did not disappoint. That being said, now that I'm on the other side of having eaten this appetizer, I would have been happier sticking to classic nigiri for this omakase. Looking back, I didn't really appreciate the fine techniques and ingredient selection used for this $40 omakase difference.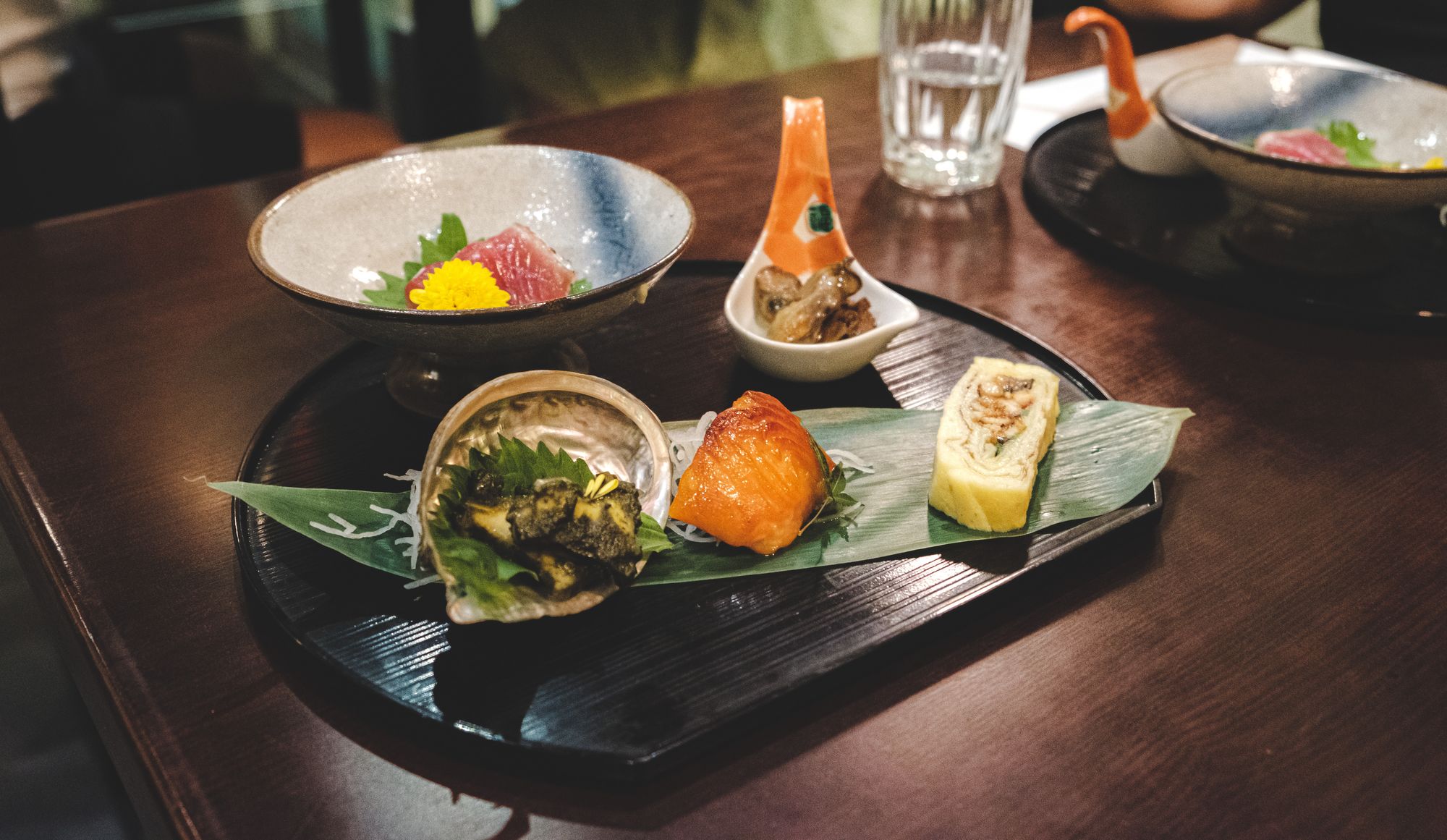 Moving onto the nigiri, some cliff notes to start for this omakase experience:
The sushi chef prepares each serving one fish at a time to be served simultaneously and this is why there are prescribed seating times (5pm and 7:30pm when I reserved)
Each nigiri comes with a special sauce or seasoning chosen by the chef to best compliment the qualities of the fish. These aren't described on the menu nor are they easy to pick up from the server, so I apologize for failing to obtain this information for this blog post
Every piece of nigiri is served in a pair and introduced to diners right-to-left, presumably because most people are right-handed and would naturally pick up the rightmost nigiri first
My tasting notes for each nigiri:
Houbou (Gurnard) – neutral taste, but still fish
Japanese Hotate (Scallop) – neutral taste with a citrus zing from the sudachi seasoning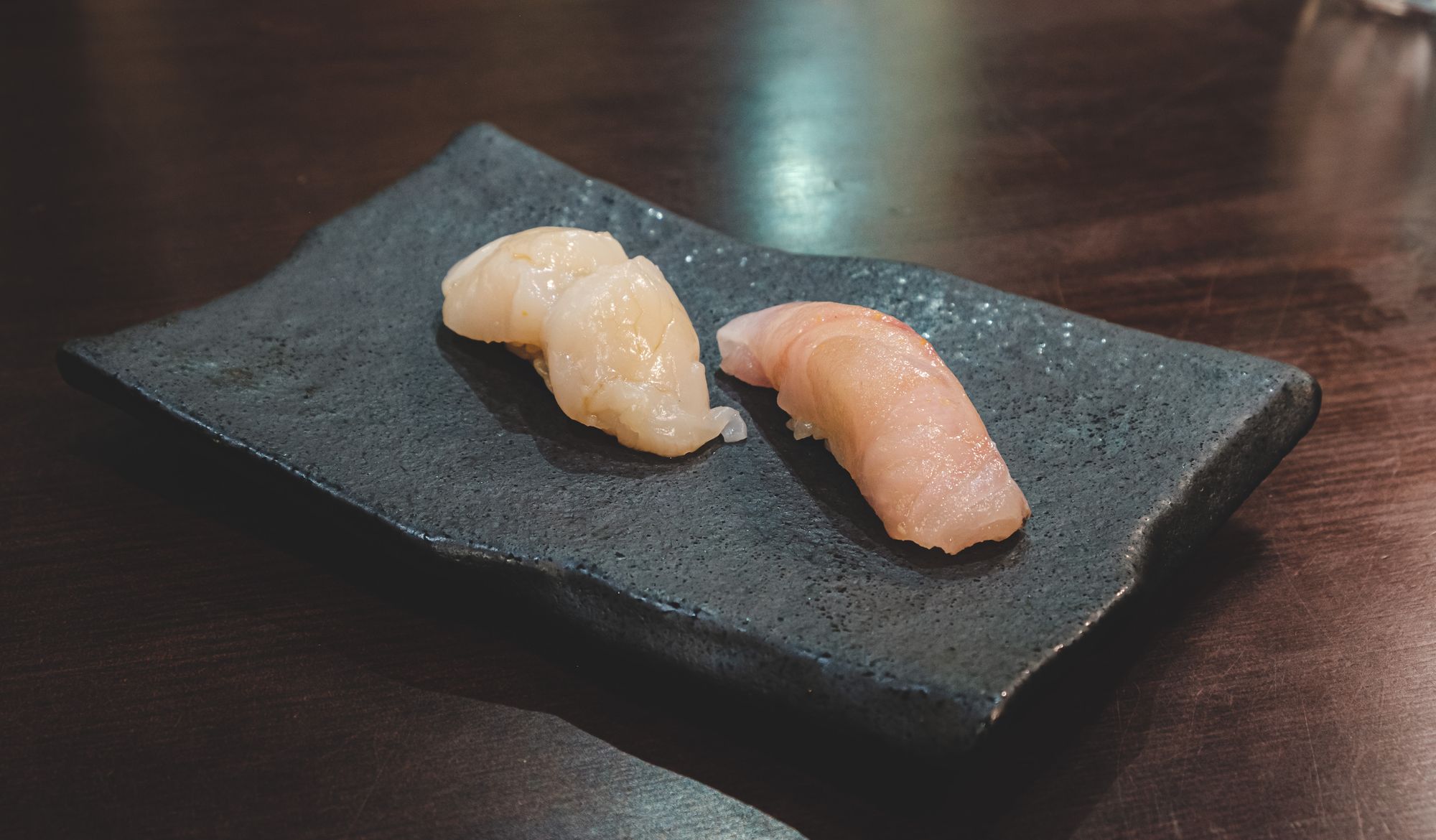 Shimaji (Striped Jack) – call me crazy but this fish was borderline crunchy which was a surprisingly welcome texture
Spot Prawn – this came with a shaoxing (Chinese wine) sauce which permeated through the top layer of rice, giving this already smooth fish a very big body flavour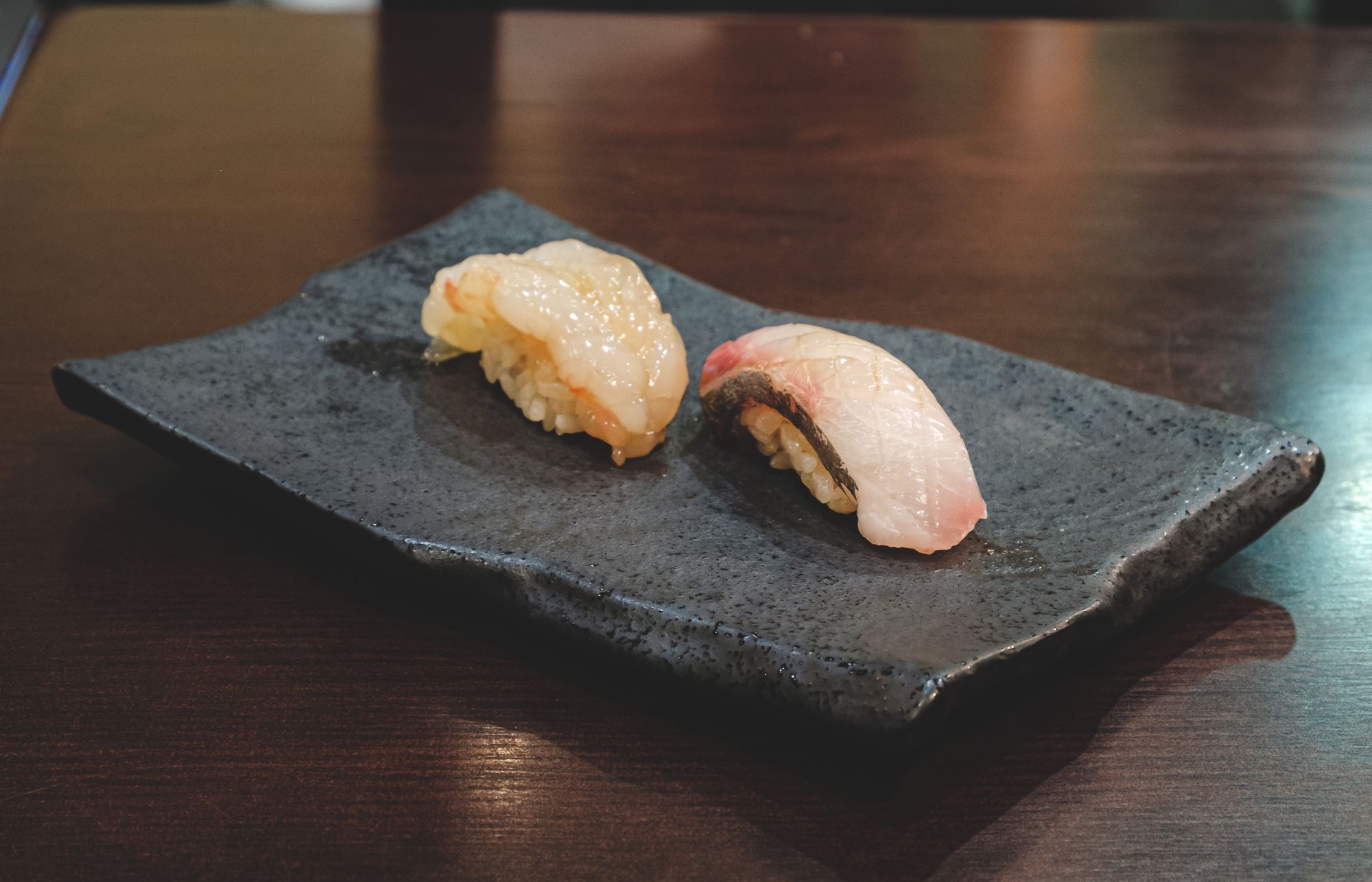 Tachiro (Cutlass) – sudachi seasoning makes another citrus appearance with a little extra soy sauce to boot on this medium-body fish
Nodoguro (Blackthroat Seaperch) – the meatiest fish of the bunch which I was told was procured by the chef the day before, implying it was "extra fresh". Hard to me to know the difference between day-old nodoguro and 2-day old nodoguro though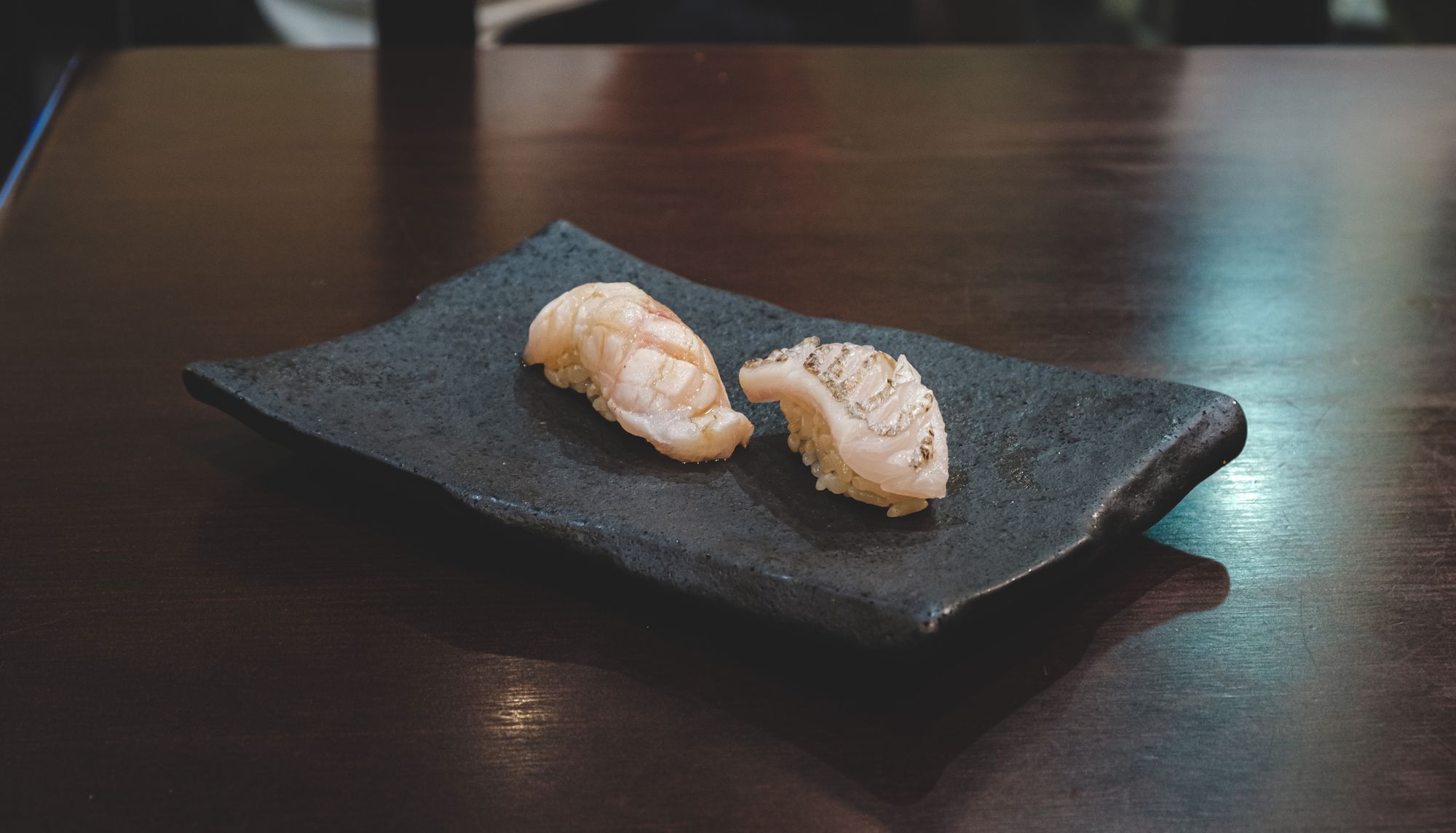 Chutoro (mix of lean and fatty Bluefin Tuna) – this is tuna like you've never known it with lots of umami and big-body feeling in each bite
Ootoro (Bluefin Tuna Belly) – this is tuna like the above, but with an extreme butter-iness that makes it obvious why this fish is in danger of becoming extinct. Looking back on this and knowing that bluefin tuna is endangered, I'm motivated to clarify with restaurants that if their bluefin tuna is sourced from the ocean (and likely the product of some supplier's over-fishing), as opposed to a farm, I'll have to ask for a substitute during my next omakase.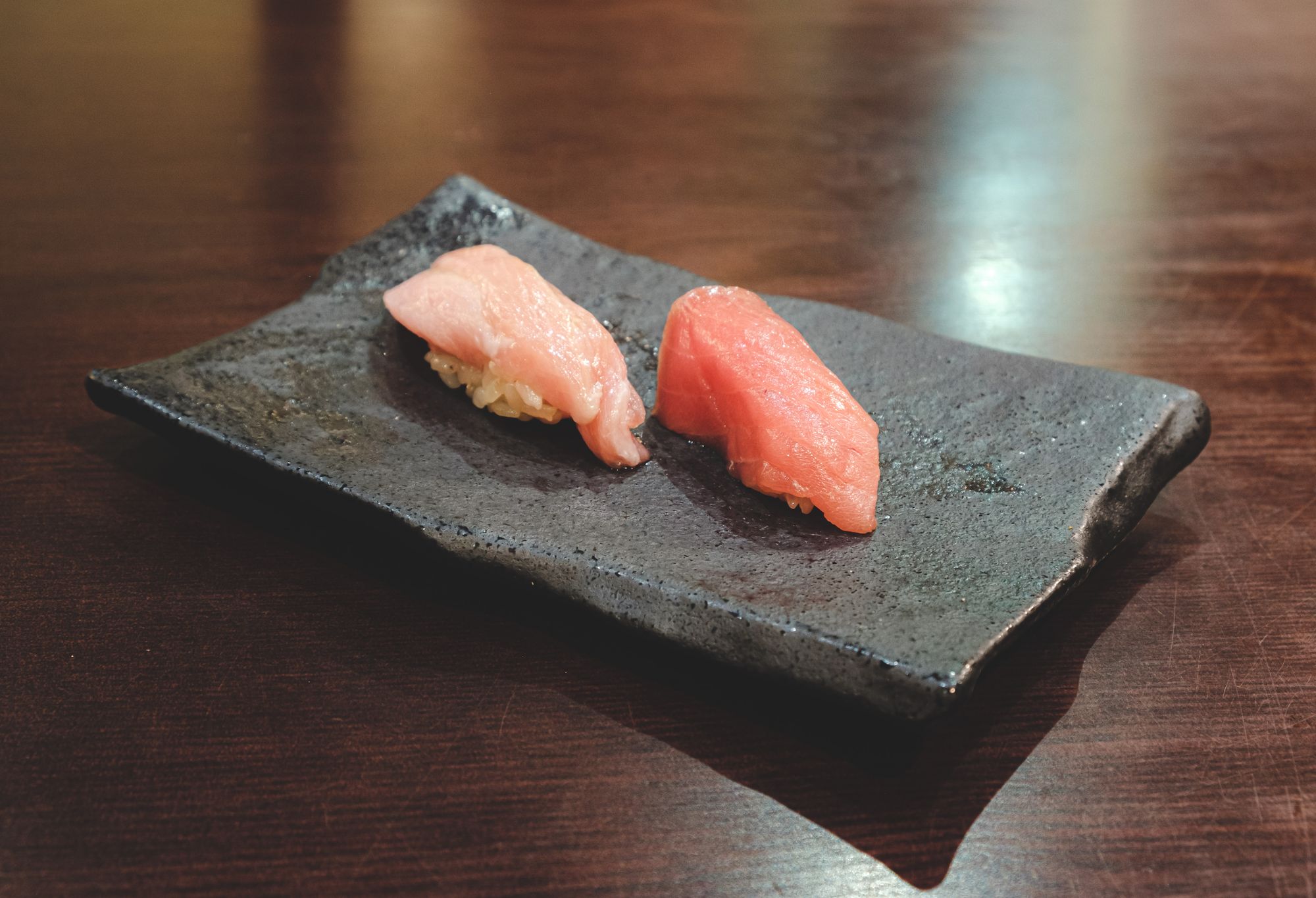 Negitoro Roll (Tuna Belly) – this is still fatty tuna but the main difference from bluefin, at least on my palate, is that standard negitoro has a slight sour zing and less body in flavour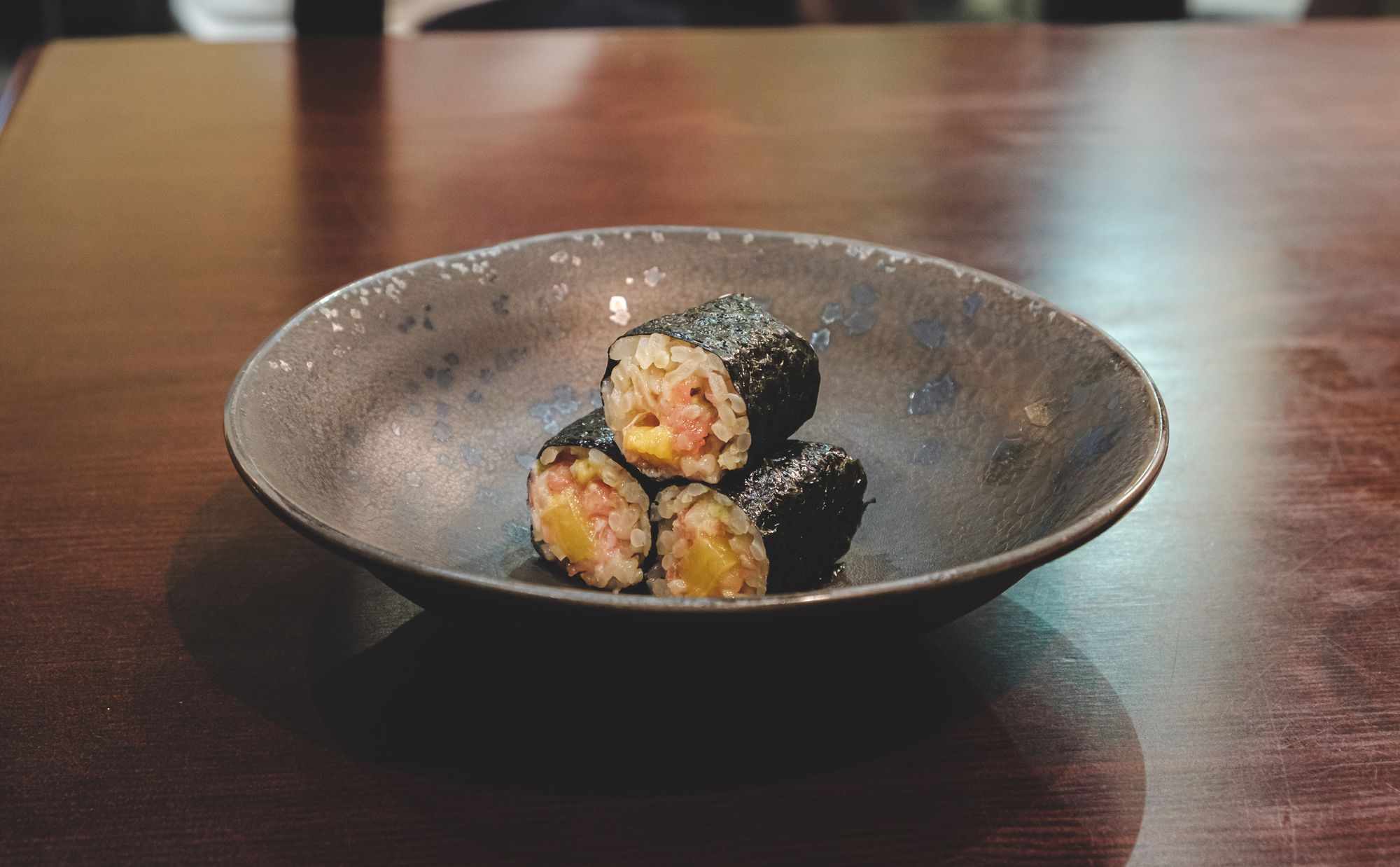 Anago (Sea Eel) – this was an fattier version of eel that I'm used to with extra torching and a slight neutrality in flavour serving as an indicator that the omakase experience is coming to an end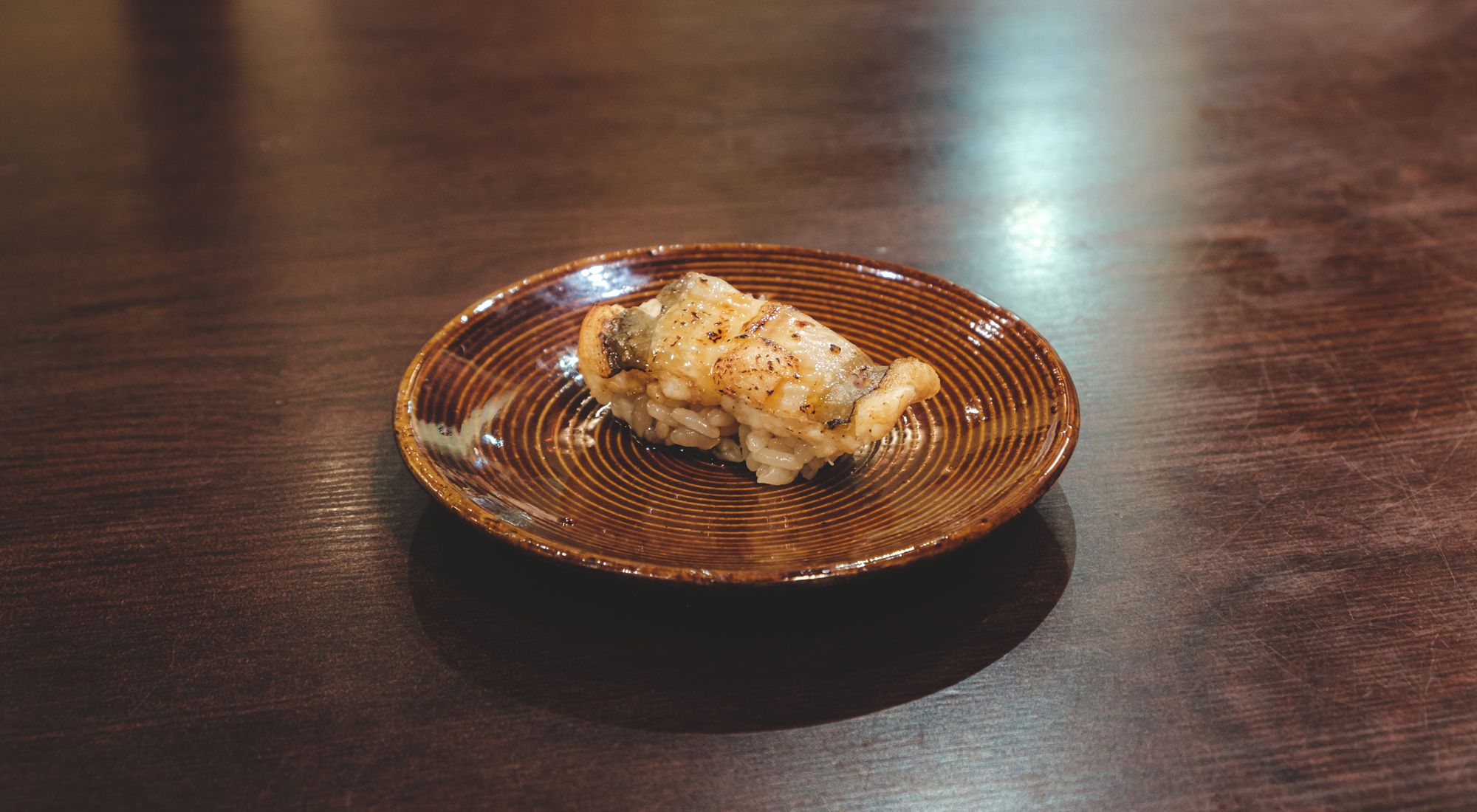 We were also given a combination of pickled ginger and house-made ginger to help cleanse our palate between dishes.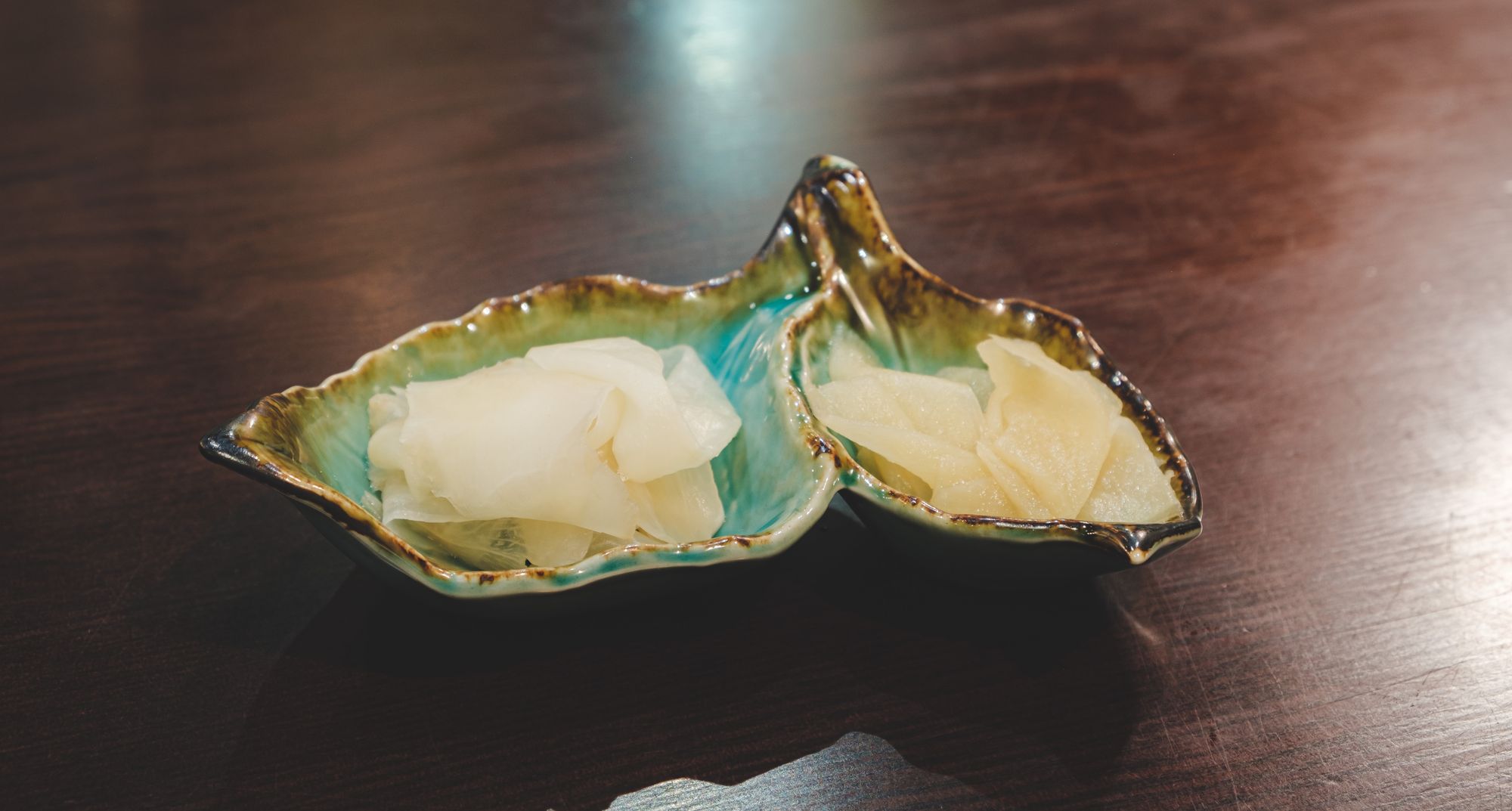 Serving as an interlude between the tachiro + nodoguro nigiri and the bluefin tuna fish was a small cup of ikura and uni (fish egg and sea urchin). This was a buttery and savoury taste from the uni that blended well with the "popping" sensation of the ikura fish eggs.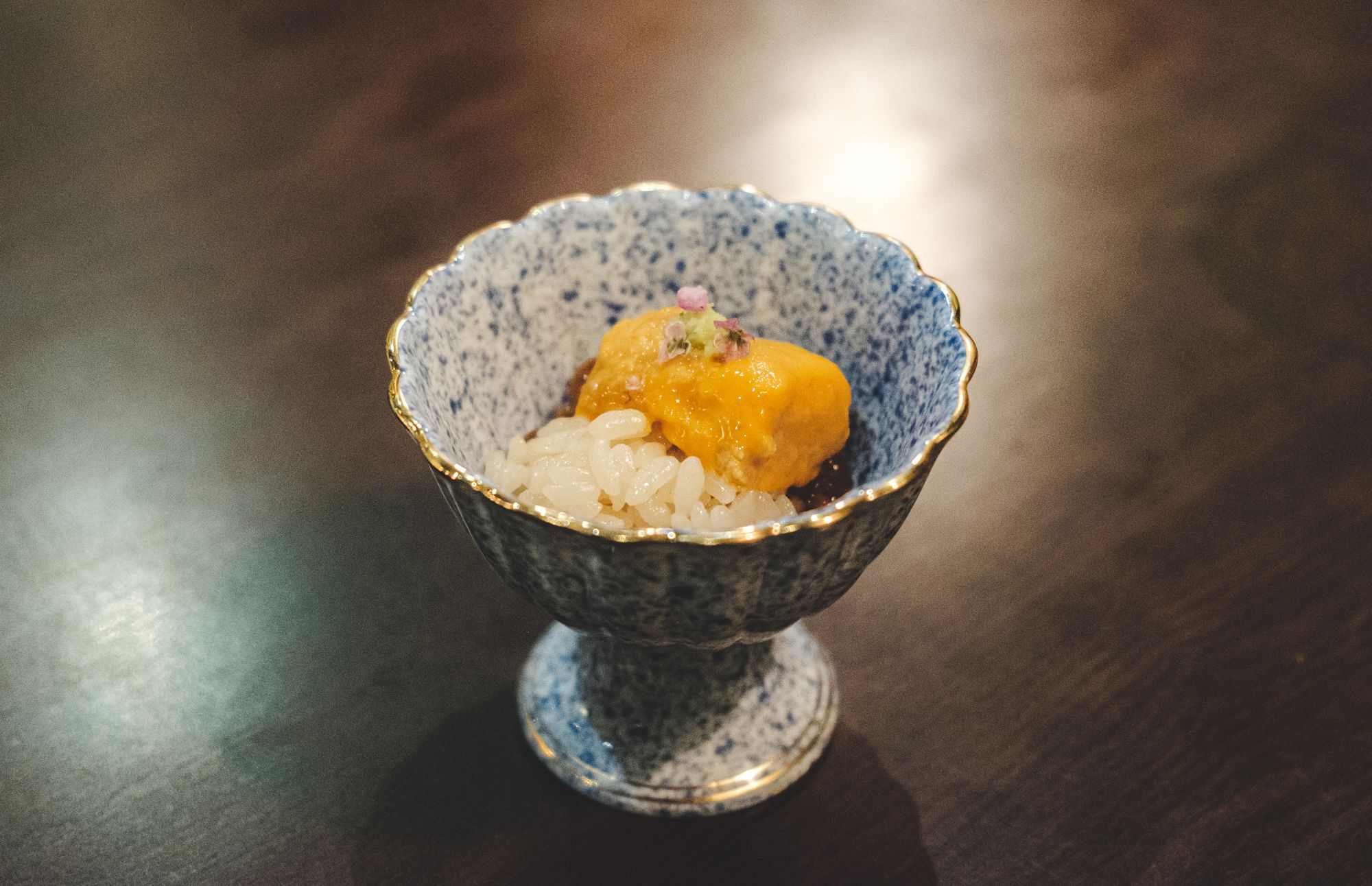 Dessert for me was a brown sugar warabimochi. If you're unfamiliar with warabimochi, this is an extra jiggly version of mochi that is made with bracken starch instead of glutinous rice that you'd see in mochi. The result here was an extra fun dessert that was just asking to be swirled in brown sugar, stabbed onto a prong, and plopped into your mouth. This dessert comes with both the Nigiri and Tetsu omakase options.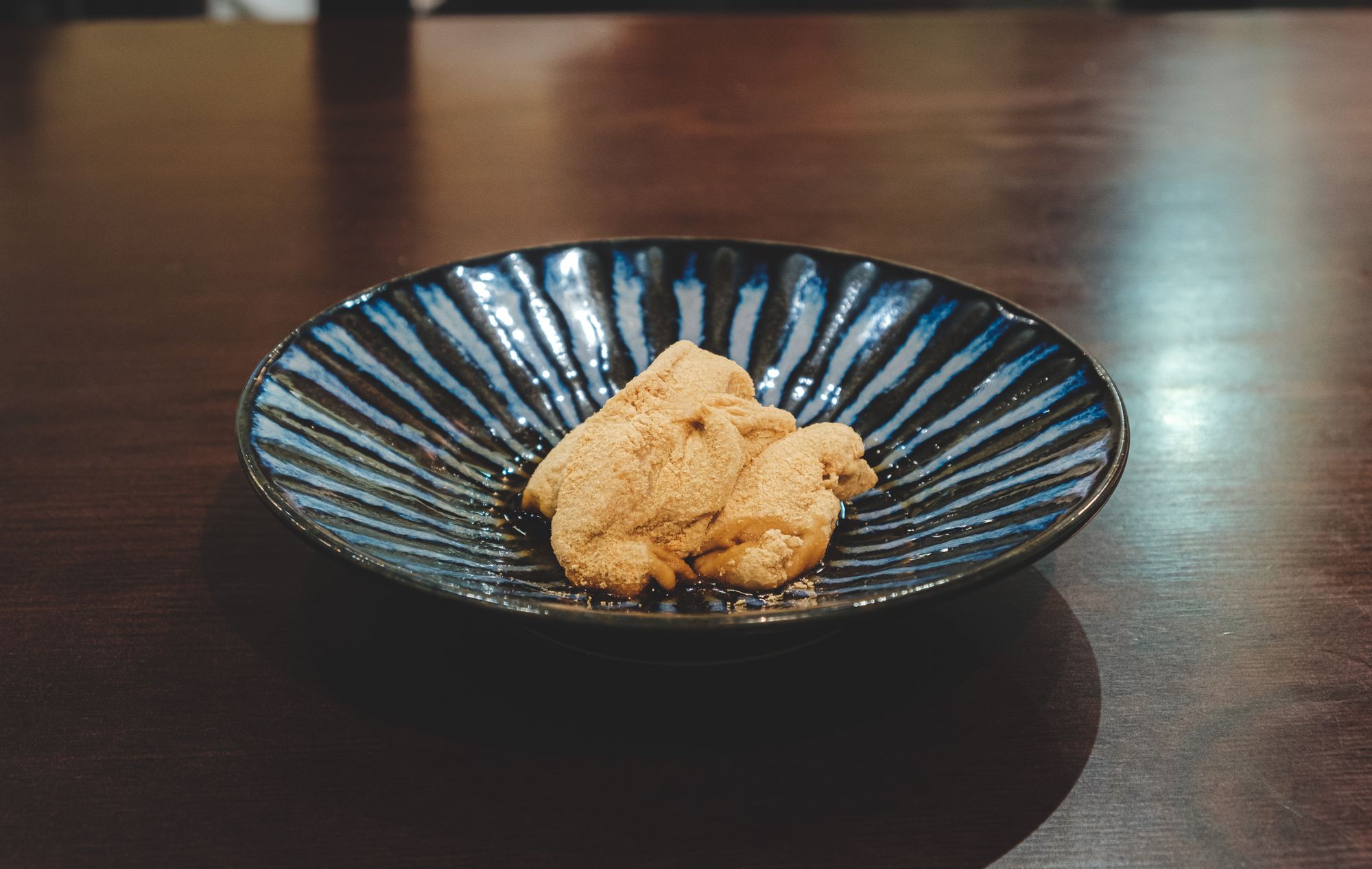 Omakase is more an experience than a value option
Because everything can be ordered a la carte in some shape or form, I'm unsure if there's any value to be gained by choosing the $150 omakase over choosing things yourself. By counting up the prices of what I could find on the menu, I estimated the total for our fish was $96. I took the face price of ikura and uni from the menu even though we got small pieces for our interlude. So from $150, that would suggest $56 goes towards the appetizers and dessert. With this in mind, if someone asked me to omakase with them at Tetsu, I'd have to instead order my favourite dishes a la carte to ensure I leave happier, meaning I'd leave out things like the black abalone and anago nigiri.
For the Tetsu Omakase option, you could argue it's just a mish mash of what's on the daily fresh sheet, which is sadly true. While the ingredients might change daily, the feeling of exclusivity is lost when most things are available on the menu by the average diner. This behaviour is in contrast to a place like Sushi Bar Maumi, where everyone is required to order the omakase, and only after are you allowed to order a la carte from the fresh sheet.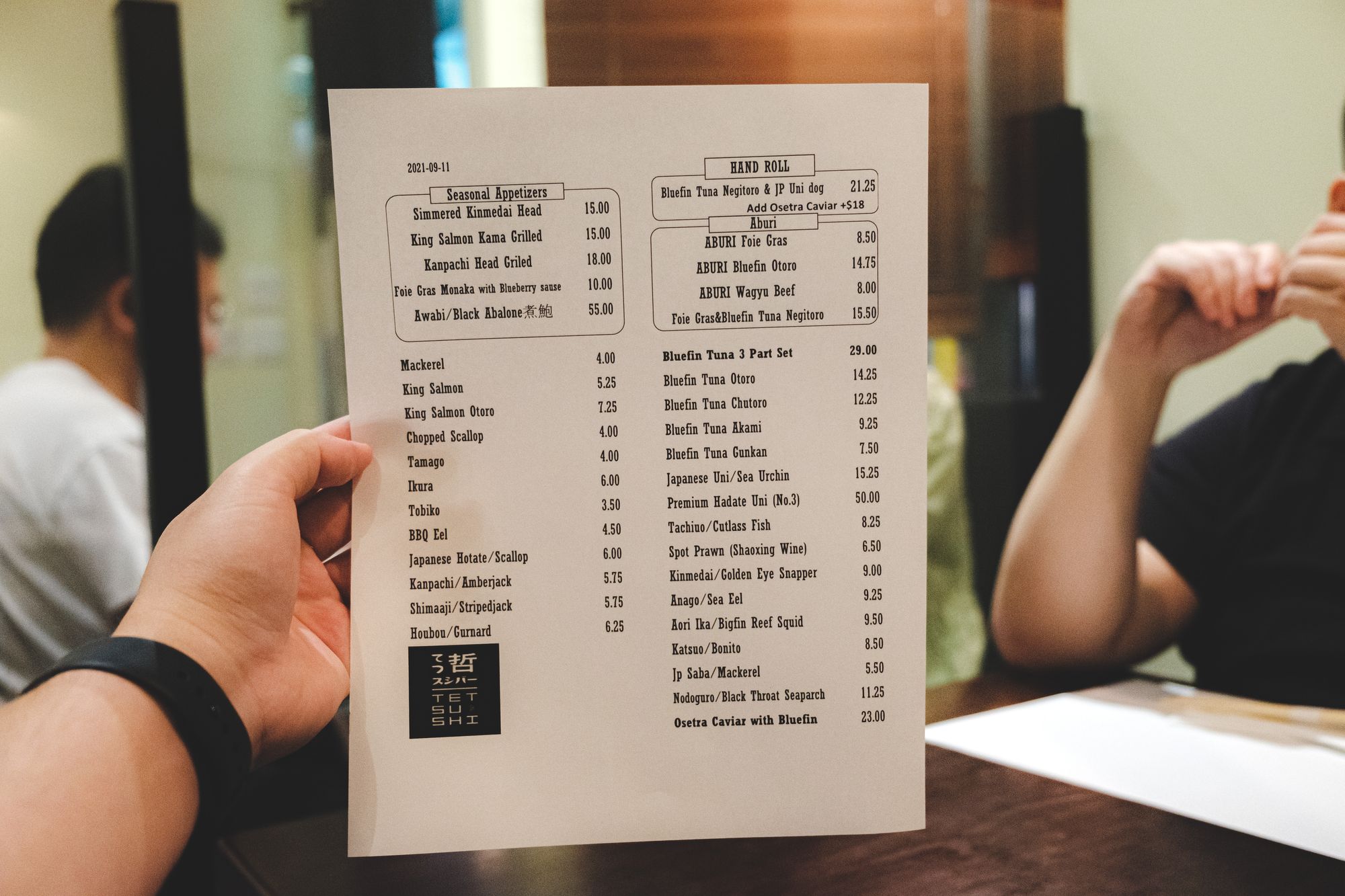 Features:
At the moment, Tetsu Sushi Bar is operating at a reduced capacity due to the COVID-19 pandemic, so there is only seating for about 10 guests at a time, at one of 2 daily seatings. On the other hand, if you're dining at Tetsu, you can feel a little fancy knowing you yourself represent ~5% of the total number of guests that night for dinner.
The interior of Tetsu is quaint with lots of Japanese sake on display from the bar. There's a cute little coatrack on the side which adds a little hominess, but since we're in a pandemic, it's not in use. The feeling is quite intimate and given how small the space is and how few people are seated at a time, it's very likely you'll be able to hear your neighbours' conversation.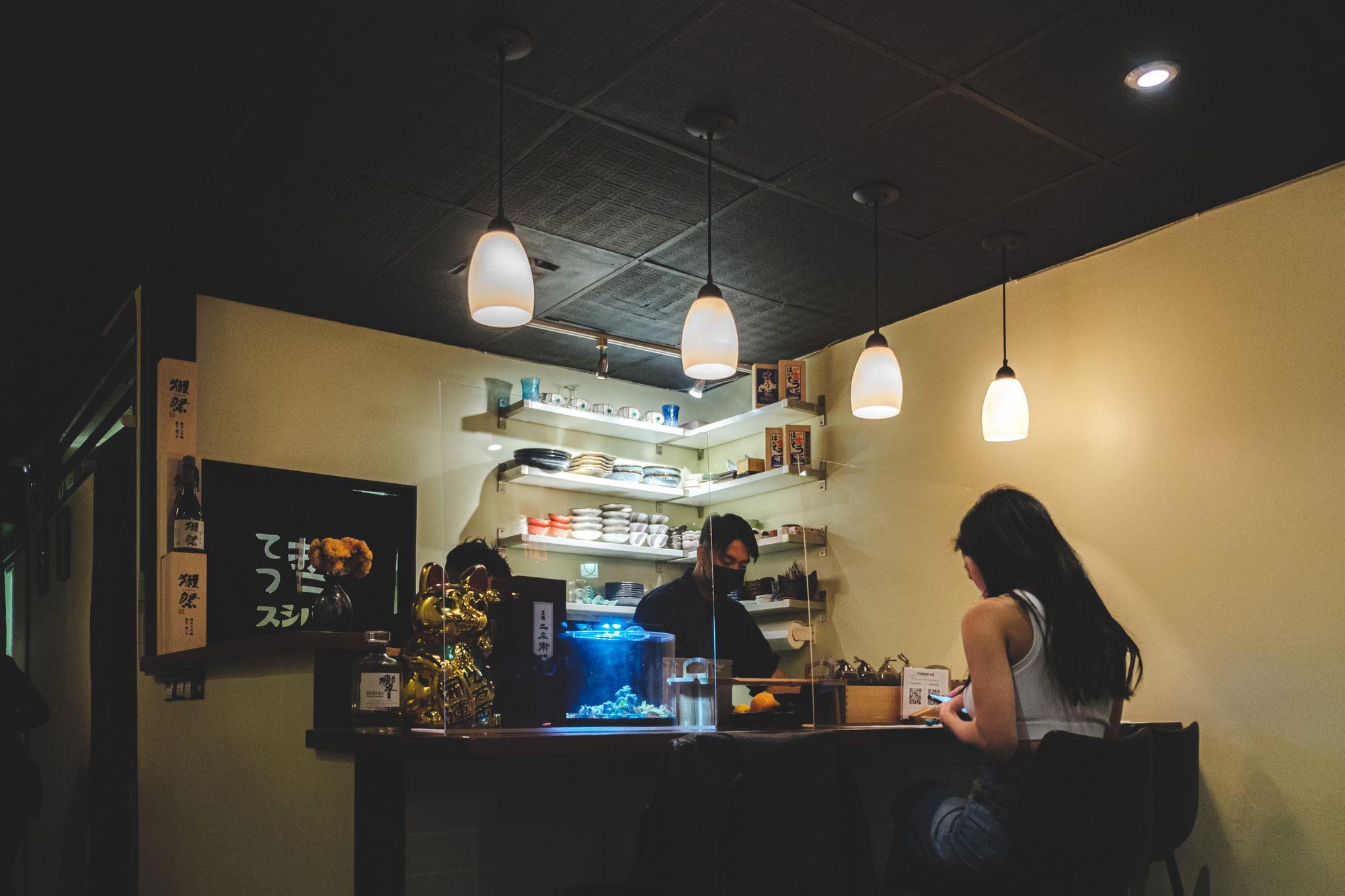 And yes, at this price point, your dining is protected further with hand sanitizer available at every table. This is some fancy AG Body Care sanitizer which runs at $13 a bottle on Amazon.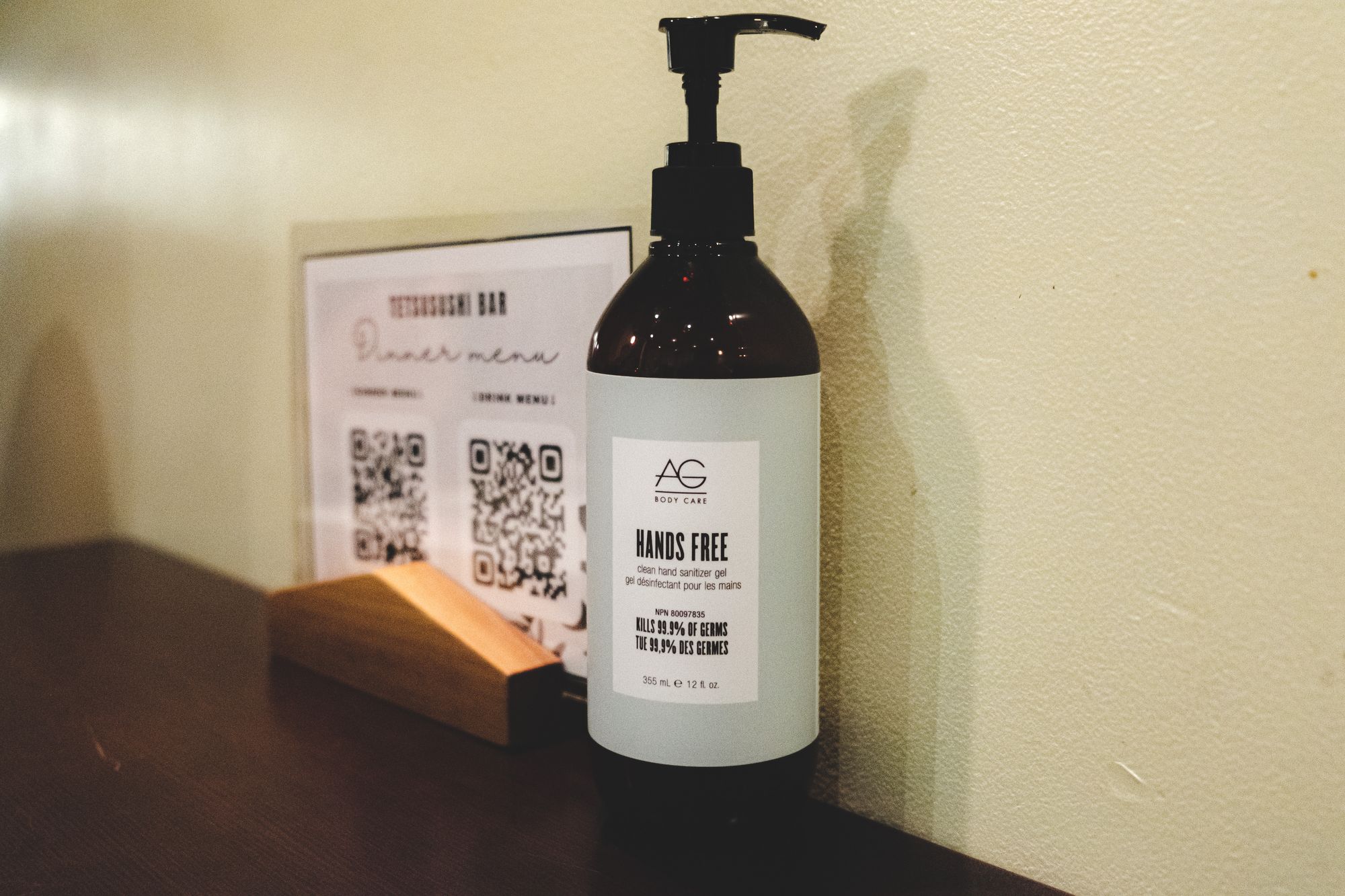 Service:
Service at Tetsu Sushi Bar is solid. There's one server for the seating and for our omakase, since we sat at a table, our server came to visit us many times to clear plates and come back with more food. Kudos to her for being the one server for every table while still managing drinks and food.
There was certainly no way to walk in and expect to get a table where there were only 10 seats and reservations are recommended by the business. I booked my Saturday omakase 2 weeks in advance and was given the option of both seating times, so take that as you will for how soon in advance you'd like to book. There are 4 seats at the bar and 6 seats amongst 2 tables so it would be reasonable to cap your party to no more than 6 guests.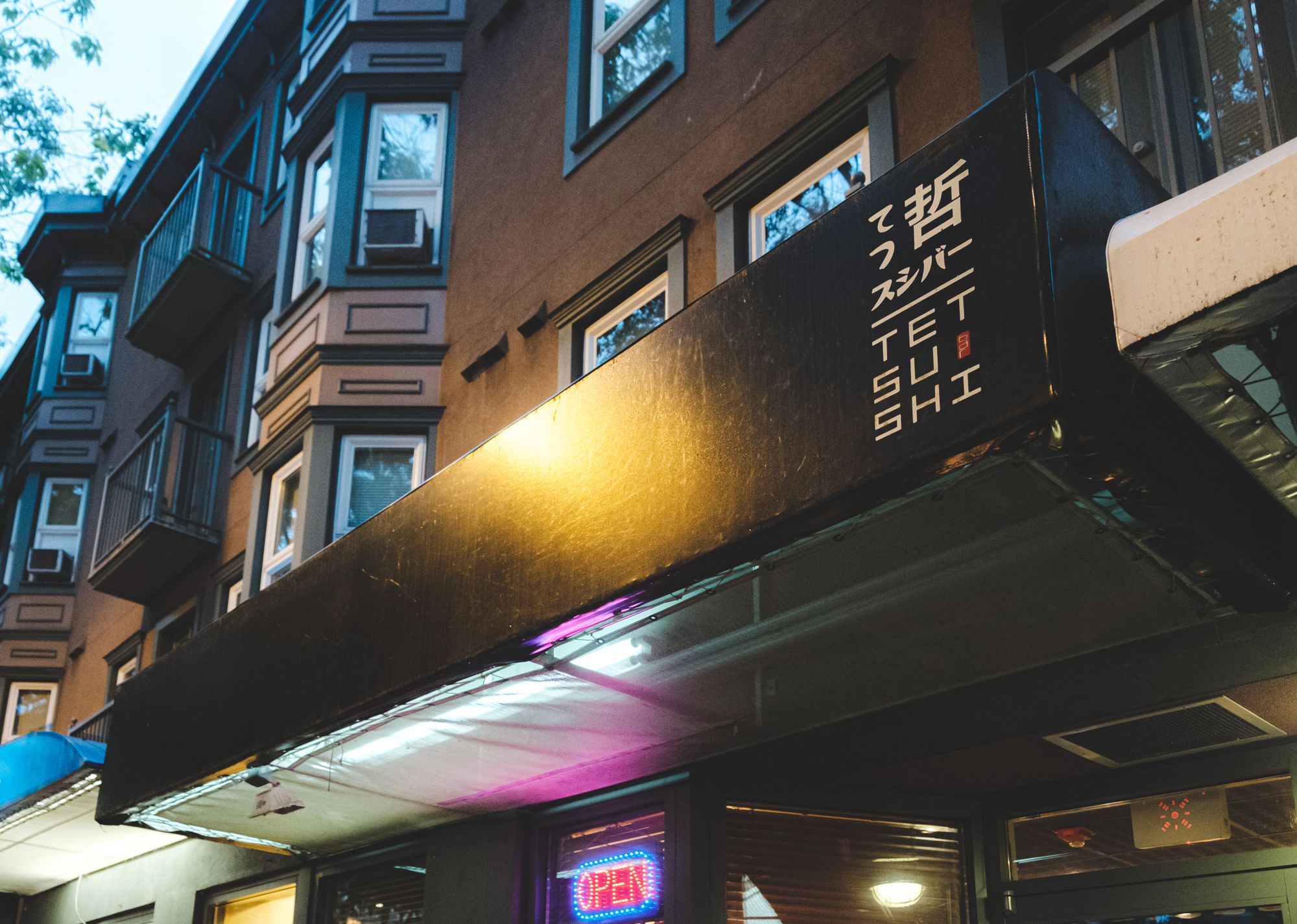 Not that it really matters for omakase guests, but I was told on the phone that every guest must order at least $80 worth, so keep that in mind.
Final Thoughts:
One-liner: Premium nigiri omakase with a changing fresh sheet that's not as exclusive as other omakase-only places if you just want to order some good fish for a meal
Highlight: Nodoguro Nigiri
Price per person: $150-$200 for omakase
Would I go back? No.