With places like Olive Garden packed on a daily basis, one wonders why Langley residents love Italian food so much and what a diner has to do when the cravings are for something a little more modern. Aptly, that might be where The Italian by Joseph Richard Group fits in. Last Thursday, I had the opportunity to taste my way through a few Italian pastas and experience The Italian.
Disclosure: This was a complimentary tasting provided in exchange for an honest overview and no monetary compensation.
Food:
Team Tastic came here for a Thursday dinner and I had a great taste of the following:
Antipasti For Two ($24)
Ricotta Gnocchi Pomodoro ($20)
Forest Mushroom ($22)
Local Butternut Squash Ravioli ($22)
Nonna's Lemon Tart ($9)
The antipasti for two was a giant platter of finger-friendly goodies. Amongst prosciutto, capicollo, salami, cheeses (fior di latte, chèvre blanc, and piavé vecchio), olives, pickled peppers, pickled artichoke, caponata (Sicilian eggplant), breadsticks, and house-made granola, there was something for everyone. The pea shoots sprinkled about gave this board a positive kick to its presentation. All of this was accompanied by a side of crispy baguette slices allowing us to stack what we wanted into cute bruschettas.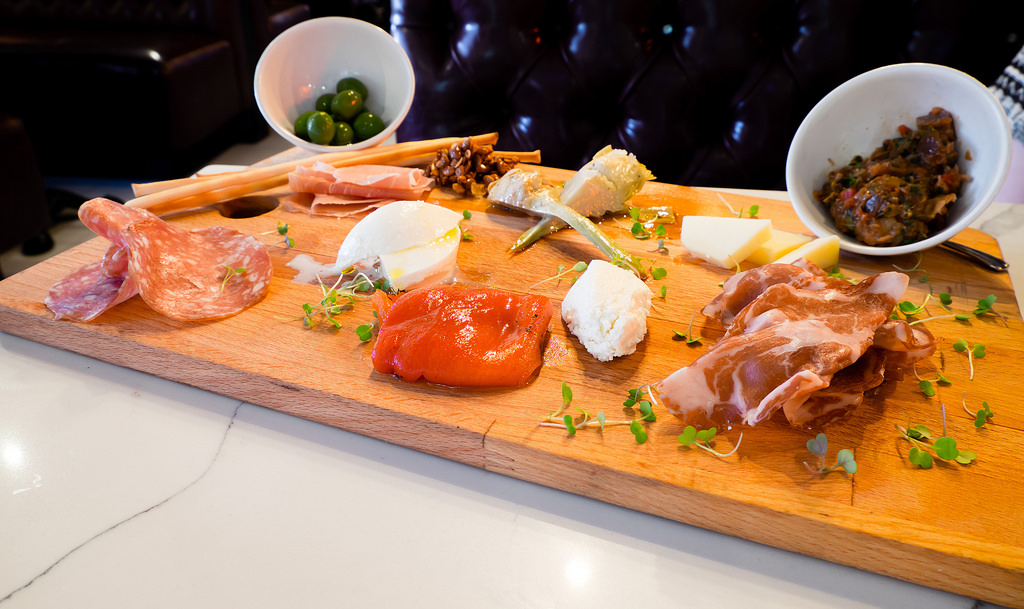 Antipasti for Two
Moving onto our first pasta, the ricotta gnocchi pomodoro featured grape tomato sauce, local garlic, basil, Tuscan olive oil, and Grana Padano cheese. Compared to potato-based (i.e. pillowy) gnocchi, this ricotta base had a bouncier bite. For me, this was a fun experience to chew through.
I have to give some kudos to The Italian for their grape tomatoes. Each bite was a self-contained burst of mild-temperature tomato, and none of that uneven heat burst you get when your grape tomato dish is heated in a microwave. Not that The Italian would use a microwave to heat up their dishes, but I've seen enough episodes of Kitchen Nightmare to know it's a possibility.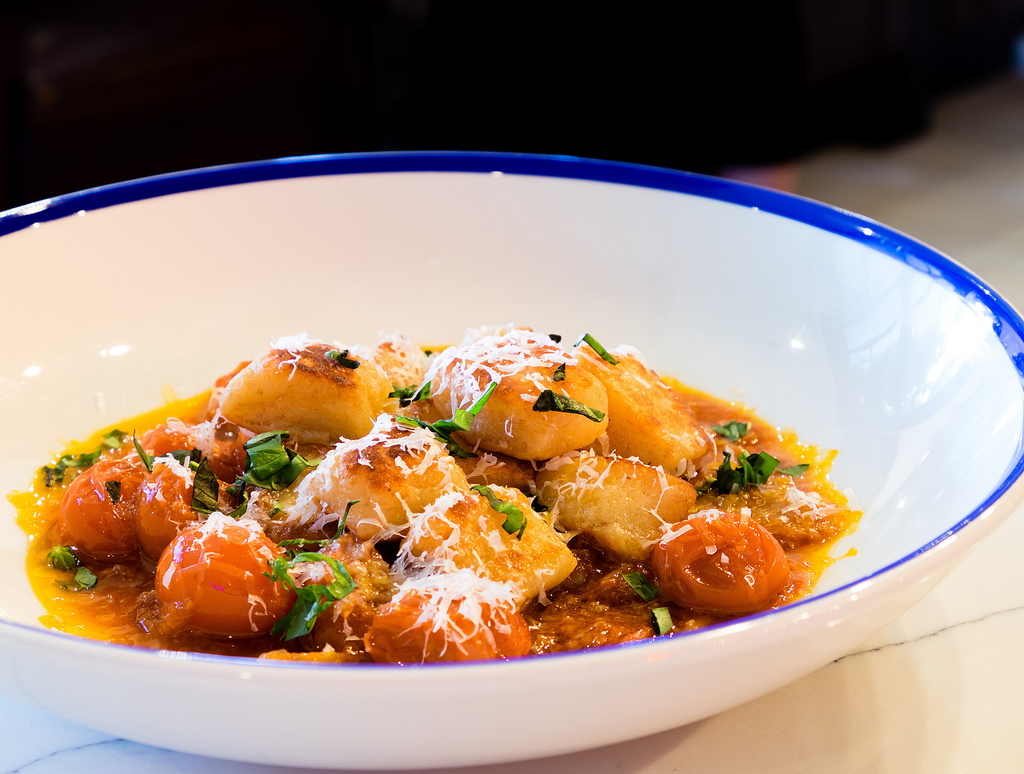 Ricotta Gnocchi Pomodoro
Note: This photo represents a half order of a full Ricotta Gnocchi Pomodoro
Next up was the forest mushroom. This was the most aromatic pasta of the night with huge wafts of flavour coming from the truffle cream. This cavatelli pasta also featured roasted mushrooms, charred pearl onions, Grana Padano cheese, and micro herbs. I loved the use of cavatelli pasta which featured small pockets which easily picked up extra truffle cream sauce in every bite. Eating leftovers for this the next day was also a joy.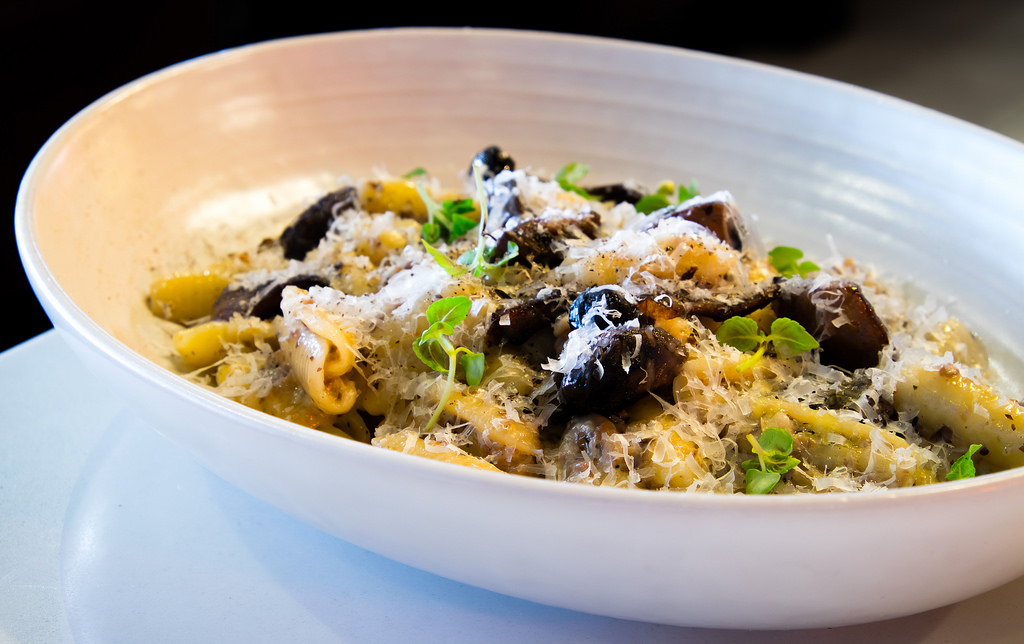 Forest Mushroom
Note: This photo represents a half order of a full Forest Mushroom
Our final pasta was a local butternut squash ravioli. Featuring brown butter sauce, house-made ravioli, roasted mushrooms, caramelized squash, and Grana Padano cheese, the sauce for this ravioli was had a pleasant caramelization. Each bite of the ravioli had good feedback and a fun chew on the ridged edges.
You wouldn't be faulted for thinking this was a dessert pasta with its thick brown butter sauce and sticky sweet bits. I'm personally more of a savoury pasta lover (i.e. I'm a truffle junkie), but it's nice to know the menu has a wide enough variety to offer a sweeter flavour option.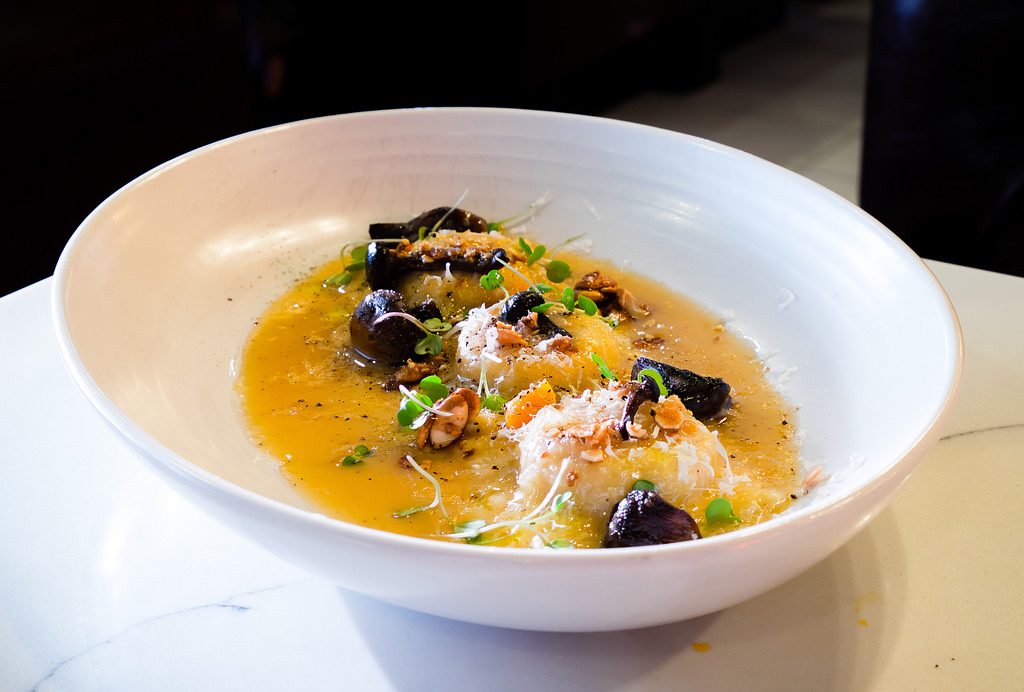 Local Butternut Squash Ravioli
Note: This photo represents a half order of a full Local Butternut Squash Ravioli
If it wasn't obvious from all the "half pasta" photos above, the carb love is real at The Italian, and it's quite likely that the average person could get away with ordering a full entree and calling it a night. That being said, there's always room for dessert.
To finish our meal, our dolci (dessert) was nonna's lemon tart. This was a beautiful deconstruction design with a pool of lemon custard embedded with coconut crumble, vanilla bean gelato, meringue chunks, and pea shoots. The ice cream was sourced from Mario's Gelato, an underappreciated Vancouver secret. I loved the meringue – it was much more manageable in slices rather than the usual large chunks.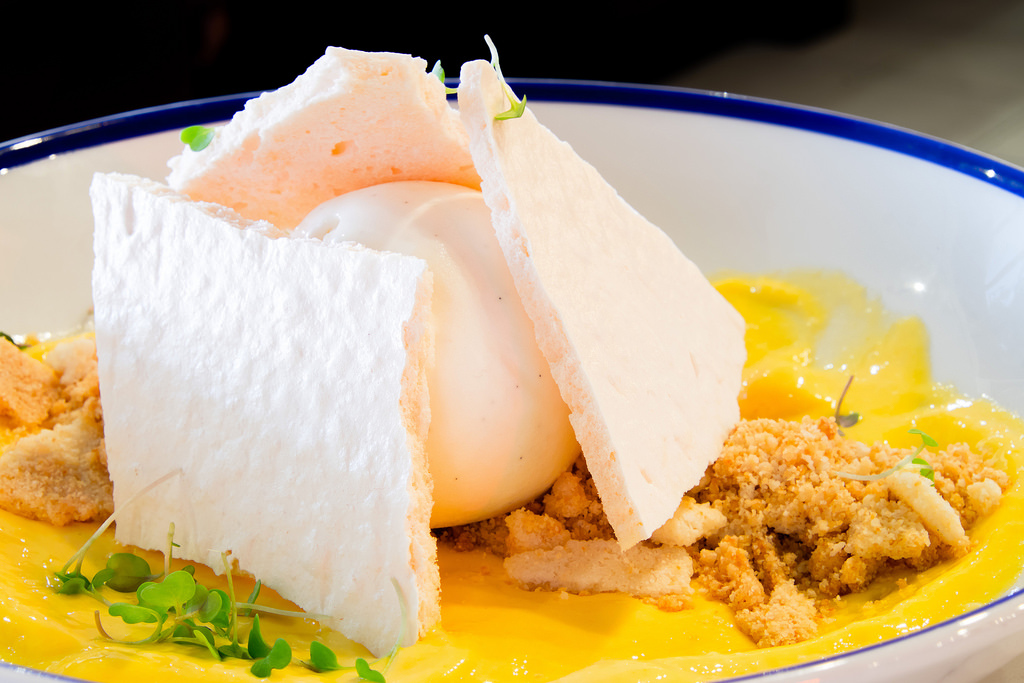 Nonna's Lemon Tart
Features:
The interior of The Italian is a modern one. With classy booths, an exposed wine cellar, open pizza kitchen, and illuminated taps at the bar, the atmosphere here is way higher than a place like Olive Garden. Due to the low-light ambiance, fun decor, and neon lights, The Italian feels much like an old 90's version of Di Beppe Ristorante's aesthetic in Vancouver's Gastown. Seating-wise, there is space for at least 100 guests amongst dining booths, tables, and bar seating.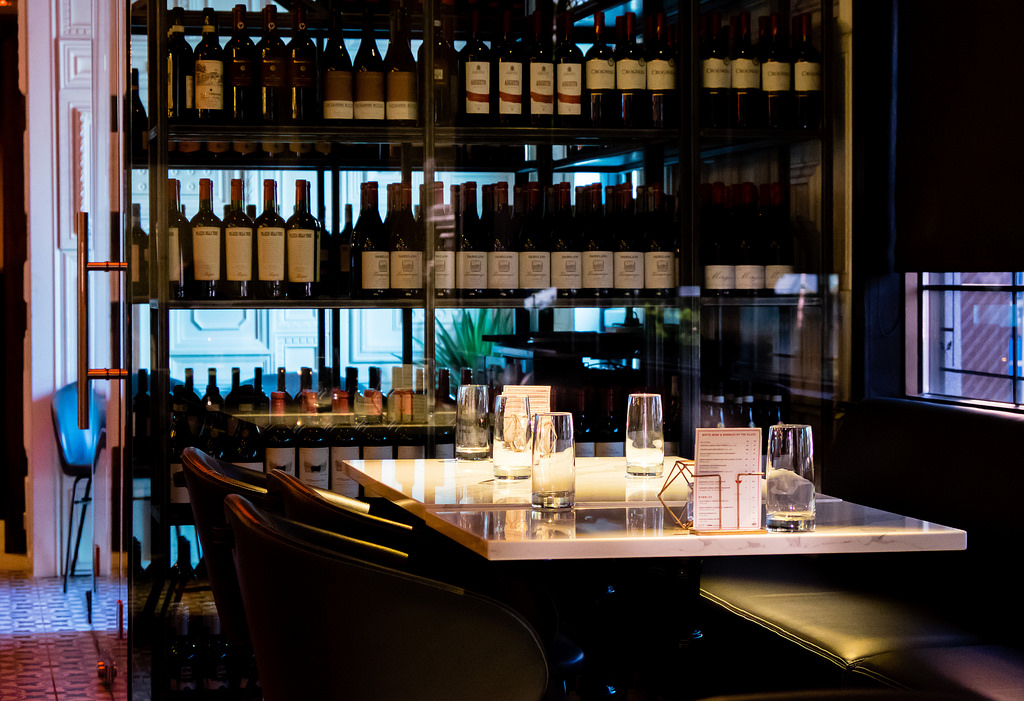 Inside The Italian
Final Thoughts:
One-liner: Pasta that takes Olive Garden quality up a notch without sacrificing in the quantity department
Highlight: Forest Mushroom Pasta
Price per person: $18-$35
Would I go back? Yes.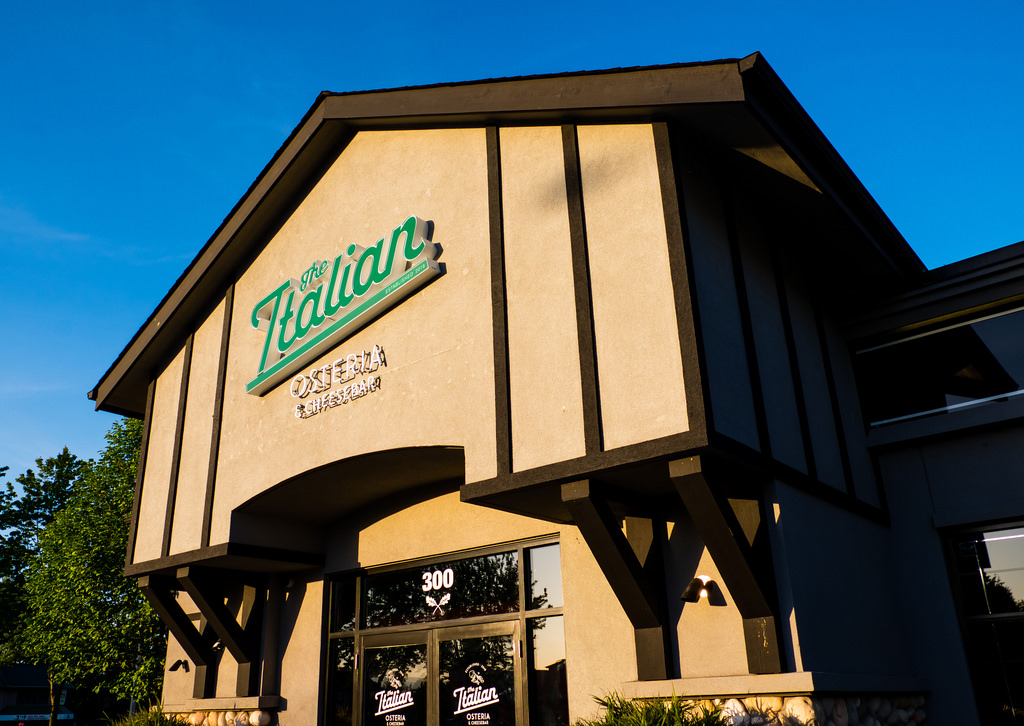 Outside The Italian