If you cruise down Granville Street looking for a bite and drink prior to your concert or night out, you'll notice the plethora of fast food, fast poutine, and fast tacos vying for your attention. Shift your gaze to what used to be The Fish Shack by Glowbal Group and in its place you'll see The Compound, a new restaurant and bar that's sprung up in 2018. Last week, I had the opportunity to try out the food and drinks on their latest menu.
Disclosure: This was a complimentary tasting provided in exchange for an honest overview and no monetary compensation.
Food and Drink:
Team Tastic came here for a Friday dinner and I had myself a great taste of the following:
A First Kiss Cocktail ($9)
Cedar-Smoked Whisky Sour Cocktail ($14)
Potato Salad ($14)
Mushrooms ($12)
Mac and Cheese ($12)
Chicken For 2 ($18)
Vegan Chicken Burger ($15.50)
A First Kiss was a mix of pisco, passionfruit, grapefruit, and bubbles. I'm a bubble junkie so I knew this was the drink for me. The bubbles were real and helped freshen up the pisco.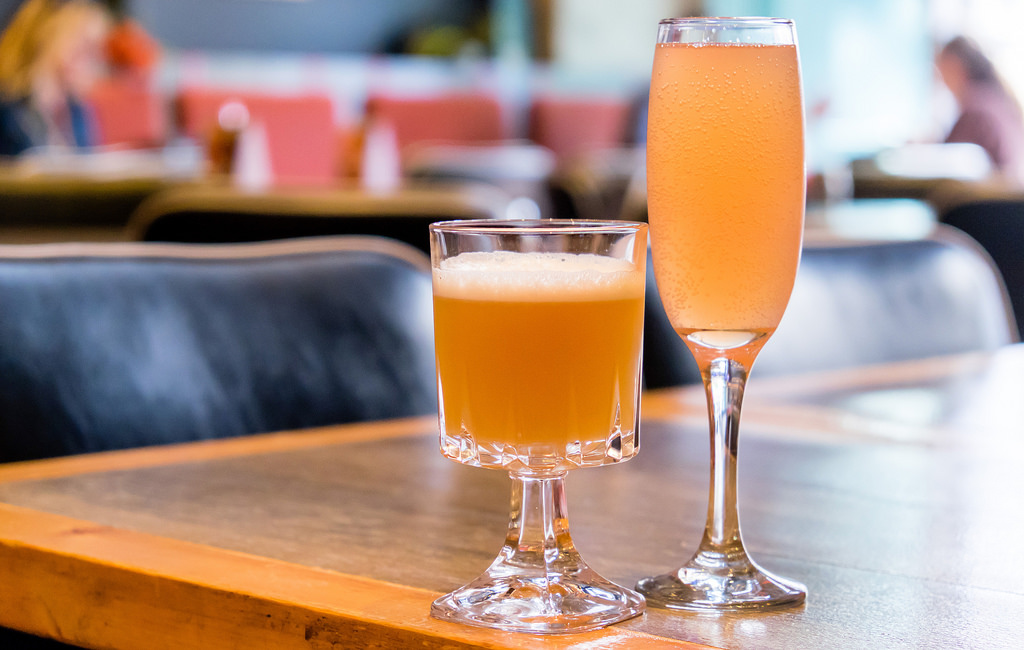 A First Kiss Cocktail (right)
Our other drink was a Cedar-Smoked Whisky Sour Cocktail which featured Lot 40 Whisky, lemon, vanilla, cedar cherry bitters, and white of egg in a cedar-smoked glass. The smoky flavour was quite pronounced in this drink, and mixed with the sour lemon, produced a complex flavour profile. Some may turn their noses at a $14 cocktail but this was a pretty decent whisky (i.e. not some entry-level Johnnie Walker Red Label) so the price is justified.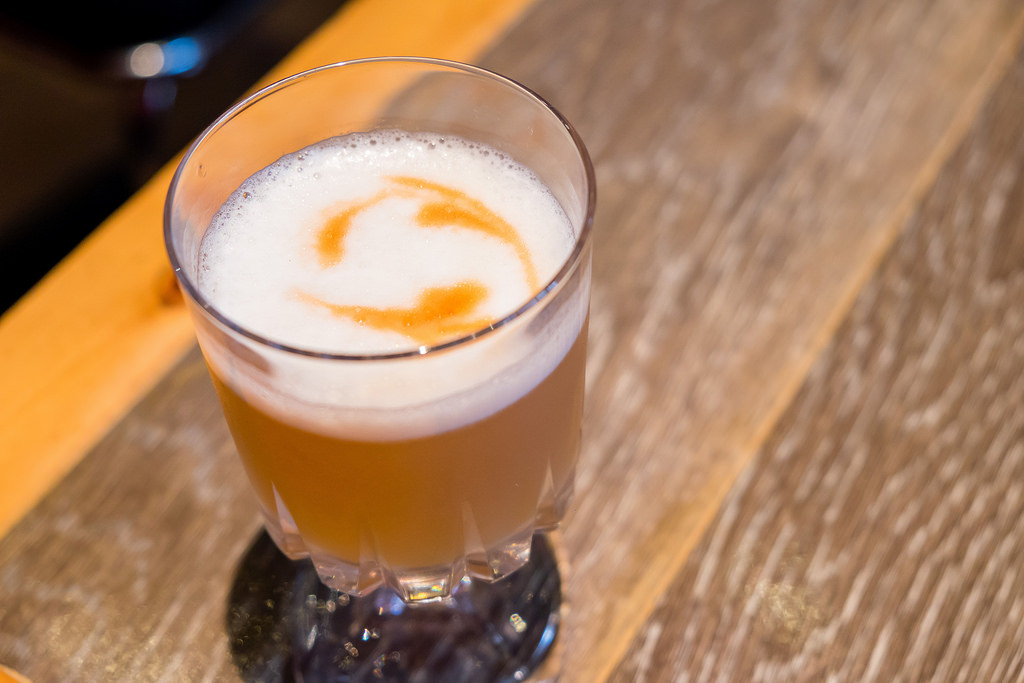 Cedar-Smoked Whisky Sour Cocktail
Moving onto food, the potato salad was up first. Potato salad might be the last thing you're eyeing on a menu, but trust me this potato salad was quite the looker. Coming in a sleek cylinder shape, this potato salad had elegant alternating layers of potato and pepper with the usual egg and mayonnaise. The asparagus stalks looked elegant leaning onto the salad. Taste-wise, this had a fresh feeling and I enjoyed the crunch of the peppers.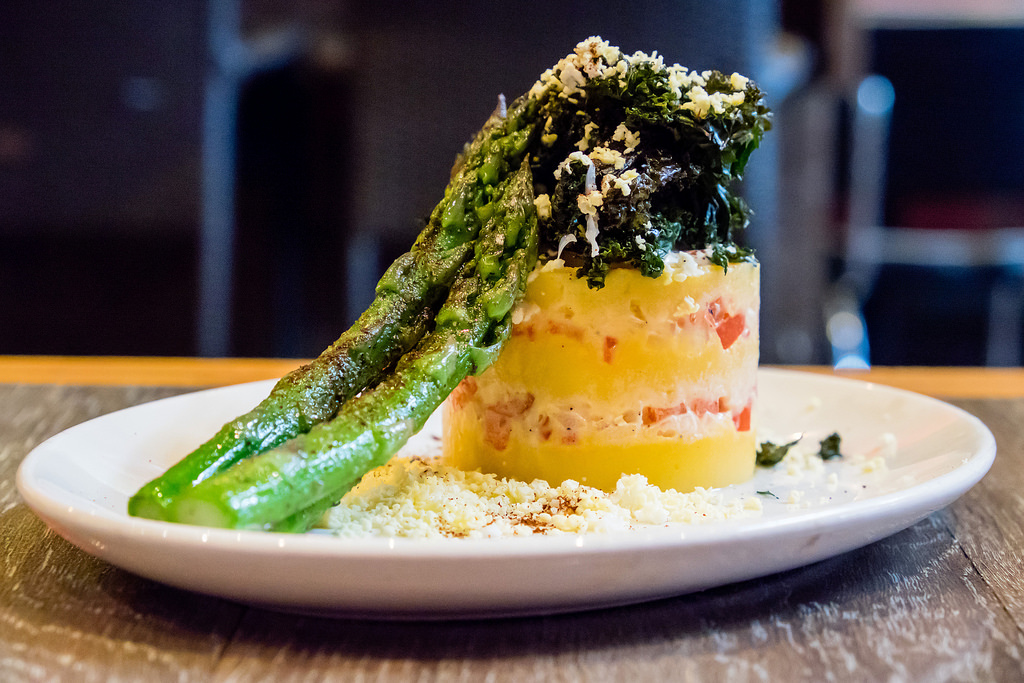 Potato Salad
Next up was the mushroom. This was a combination of portabello, oyster, and shiitake mushrooms prepared three ways. I'm sure if you were at a finer dining restaurant, you could get something like this for at least $20, but The Compound's culinary chops shoot above their price point offering something pretty creative for $12. The oyster mushrooms were my favourite with their deep smokey roasted flavour. Each bite felt extra savoury and I loved the full body mouthfeel. These were followed by the deep fried portabello mushrooms (crunchy exterior) and the shiitake mushrooms (reminded me of the mushroom version of orange chicken).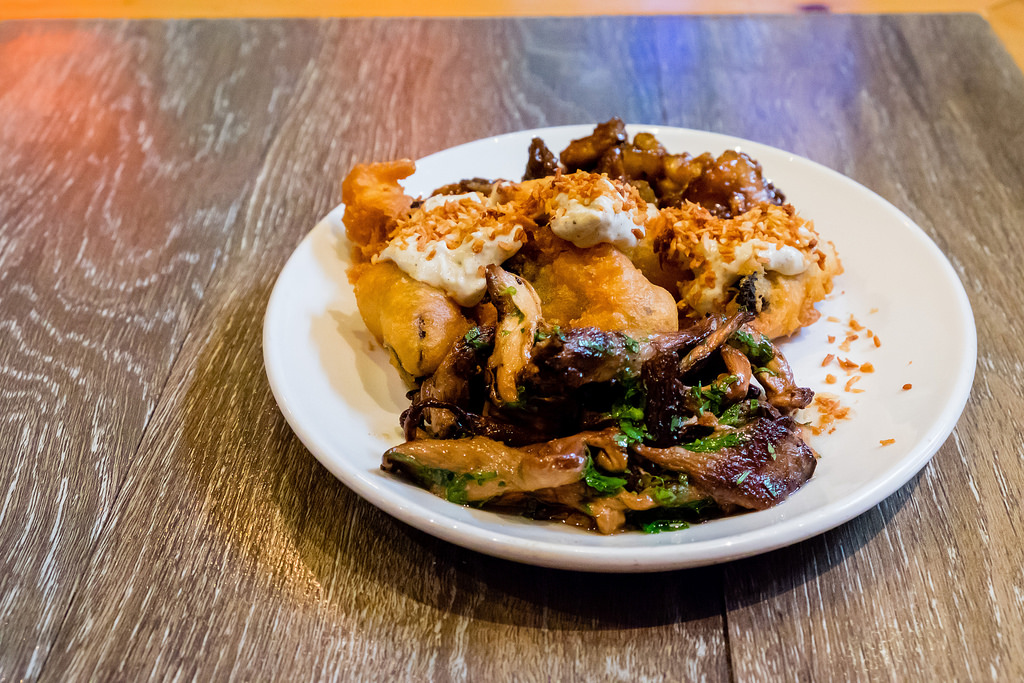 Mushrooms
The mac & cheese was a classic mix of white wine and 4 cheese sauce. The macaroni was quite al dente on each bite and retained their chewiness to the last bite (i.e. no dramatic sogginess found at the bottom of the bowl). Ultimate comfort food.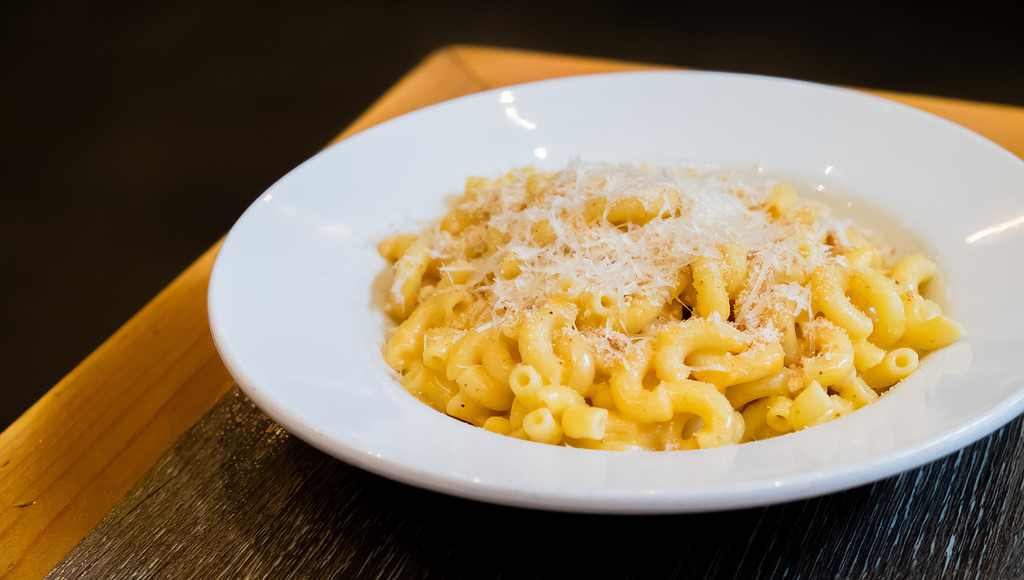 Mac & Cheese
The Chicken for 2 (described as Chicken "Share" on the menu) was a plate of buttermilk-soaked chicken and deep friend with 12 herbs and spices. The chicken here was chicken thigh, which provided a juicier flavour than a white breast. Deep fried food makes perfect sense to me, so I thought the deep-fried chicken thighs were a real treat. There were even stewed greens on the bottom so you could make a joke about getting enough vegetables in your diet.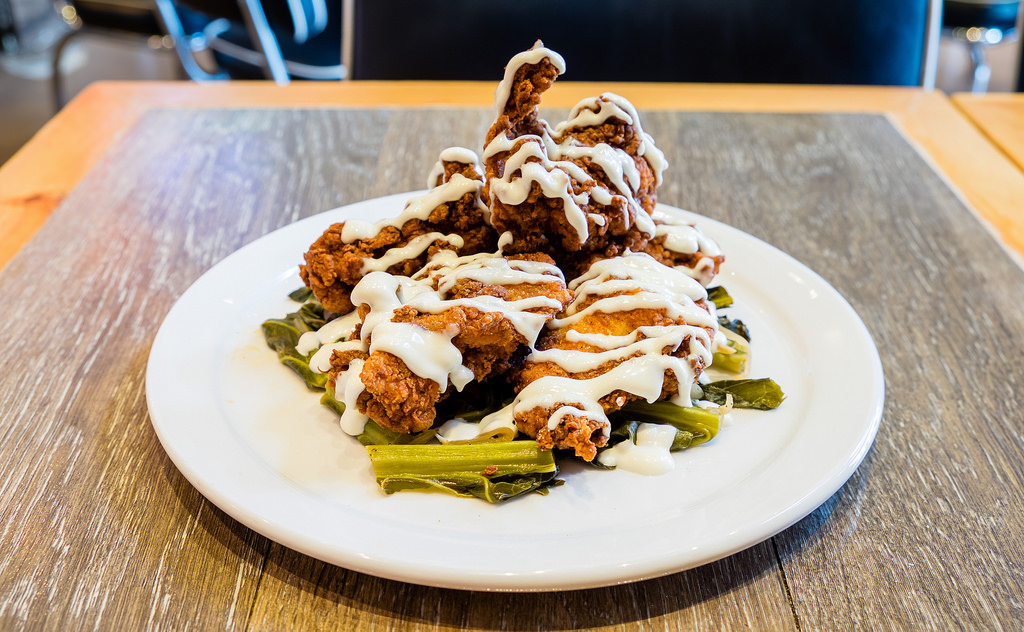 Chicken for 2
Last but not least, the vegan chicken burger. Now, chicken is not vegan, but you might be fooled by the crunchy exterior of the patty. The secret ingredient here is seitan, which is a gluten-ful substitute for meat. The sensation here is similar to that of a fried potato hashbrown, and who doesn't like hash browns? The ranch sauce is also vegan so those on a vegan diet won't find any surprises in this burger other than how good it tastes.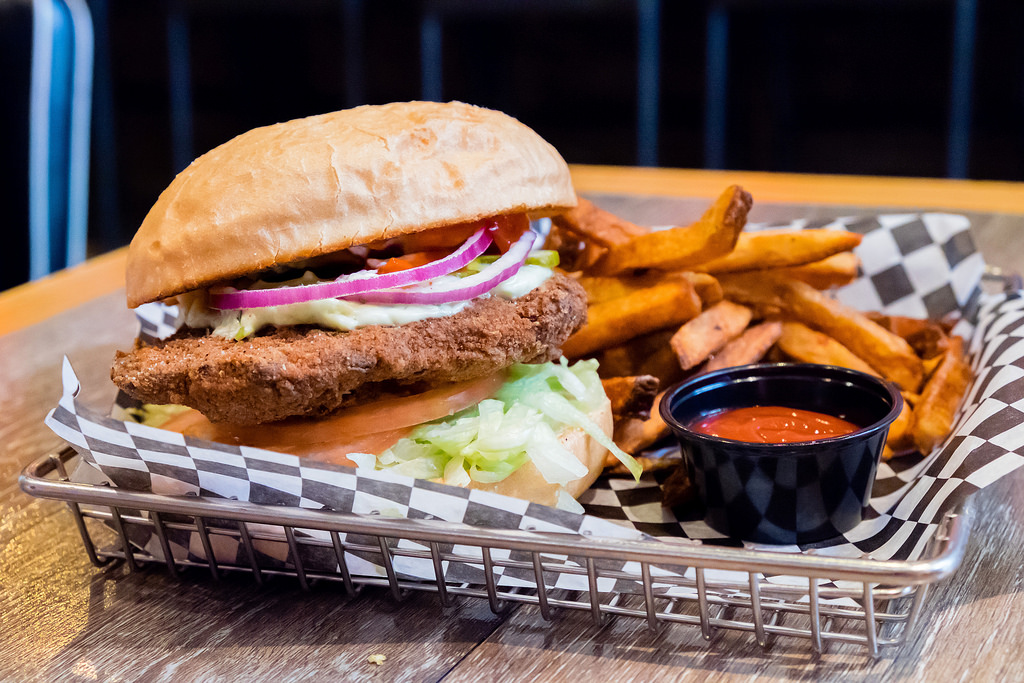 Vegan Chicken Burger
Features:
The Compound takes up the same address as the previous Fish Shack restaurant. Inside, you'll find a similar wall of shipping cartons from the previous business, but a lot of the interior has been redone. I was told the owners transformed the space in a matter of days to re-open as The Compound. The loft-style interior lends to a very high ceiling which makes the long restaurant feels extra spacious. Among tables, booths, and an outdoor patio, there's seating for about 80 guests.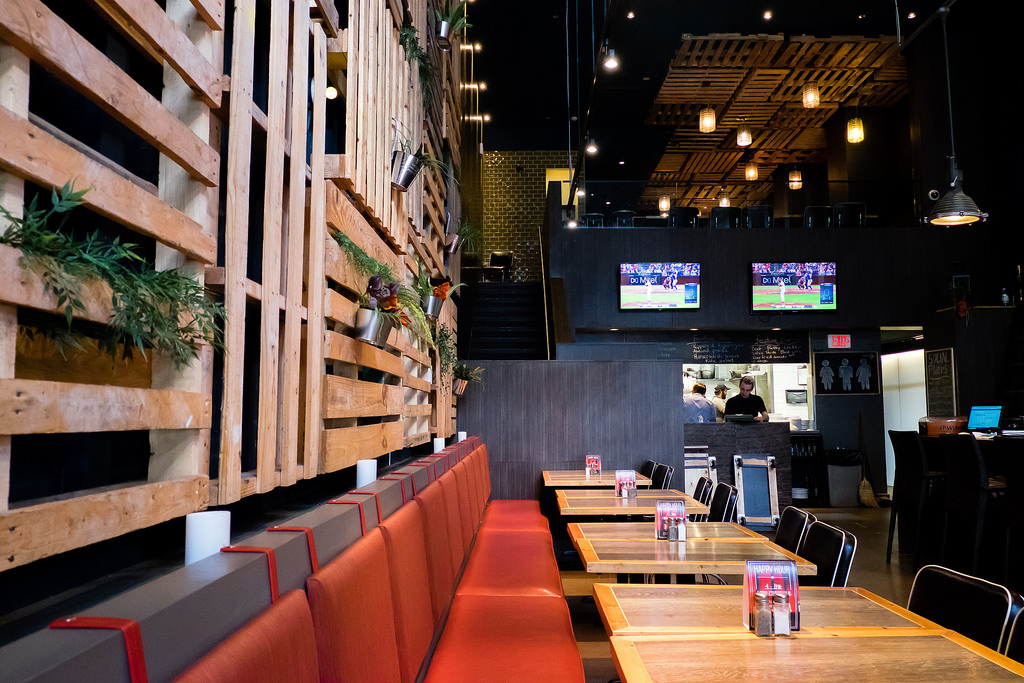 Inside The Compound
Coming up this summer for The Compound will be a series of dinners where they invite esteemed chefs from across the country to take control of the kitchen and produce limited time menus. Stay tuned to The Compound's Instagram to know when those dinners are happening.
Final Thoughts:
One-liner: Pregame-friendly food that's a notch above the usual Granville Strip suspects and a promising hub for those on a vegan diet
Highlight: Mushrooms (in particular, the oyster mushrooms)
Price per person: $20-$40
Would I go back? Yes.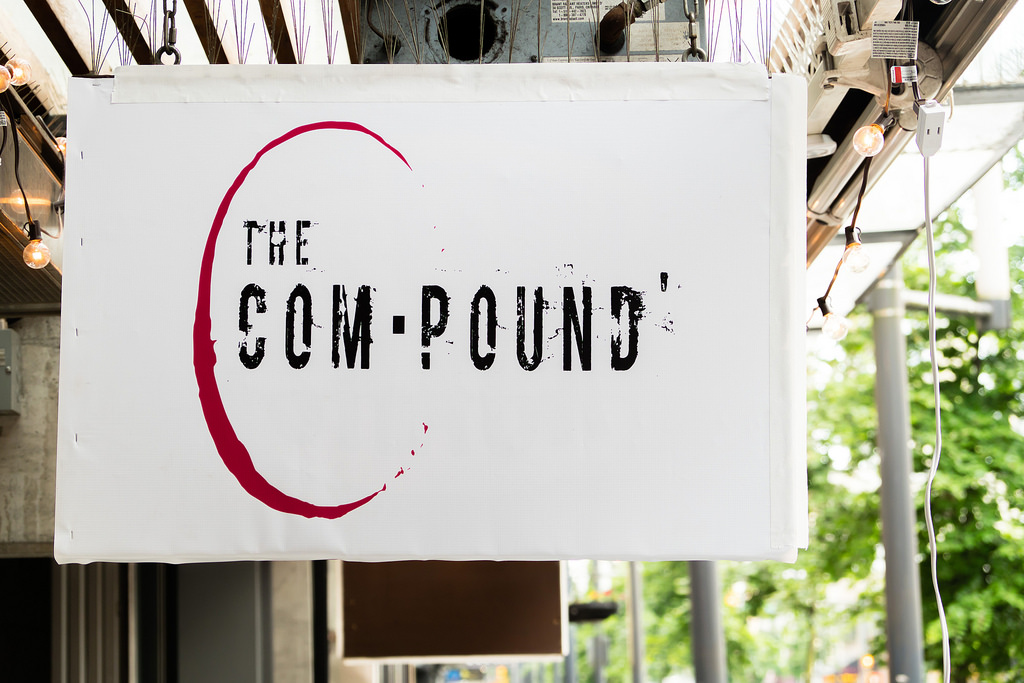 Outside The Compound