Dim sum is essentially the Hong Kong version of "brunch". Typically enjoyed on weekends in Vancouver, it's a great way to meet up with friends and try foods served in cute morsels and steamed containers. At Parq Vancouver, 1886 is a fine dining Chinese restaurant that provides a dim sum menu. Recently, they announced their new All-You-Can-Eat Dim Sum Menu ($38.88/person). I thought this was a good time to share some dim sum eats during my last visit to 1886 so diners know what's up. Should you spend $38 for what sounds like the fanciest dim sum in town?
Dim Sum:
Unfortunately, I don't have the prices of the dim sum but can confirm every dish was between $8 and $14. Team GlueCrew came here for a Thursday lunch and I had a great taste of the following:
Shrimp Dumpling (水晶鮮蝦餃)
Barbecue Pork Bun (蜜汁叉燒包)
Barbecue Pork Pastry (雪影香妃包)
Shanghainese Pork Soup Dumpling (滬式小籠飽)
Fish Caviar Shu Mai (魚子燒賣)
As with all dim sum meals, you'll start with your choice of tea. We ordered Bo Lay Tea (普洱茶).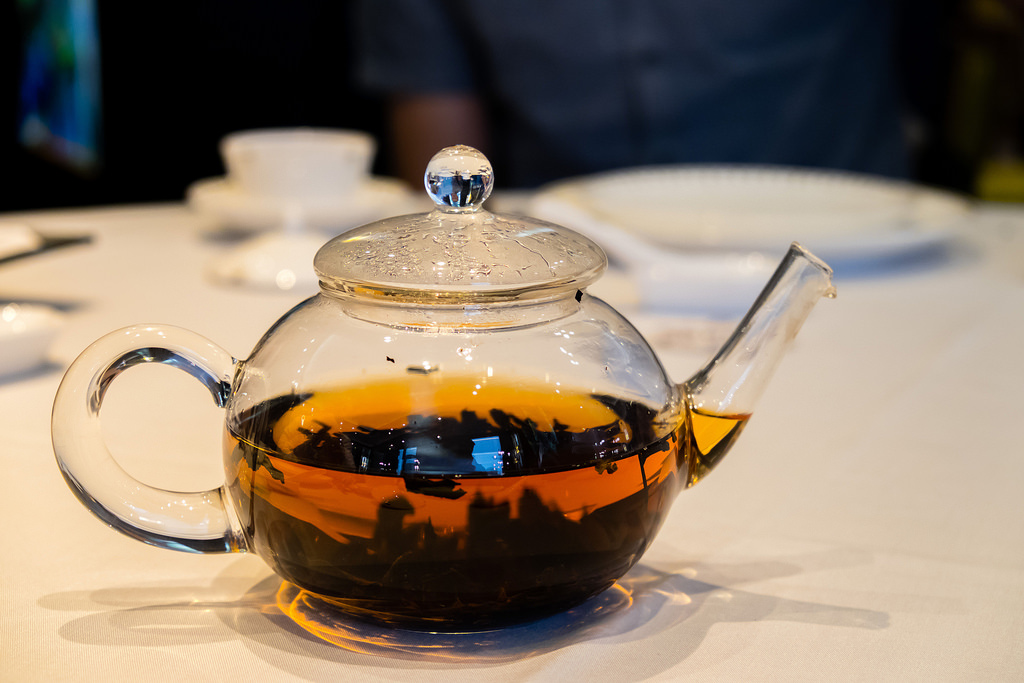 Bo Lay Tea
We started with shrimp dumplings, a dim sum classic. Despite the "crystal" description in Chinese, these tasted like most good dim sum with a chewy outer skin and a fully cooked ball of shrimp inside.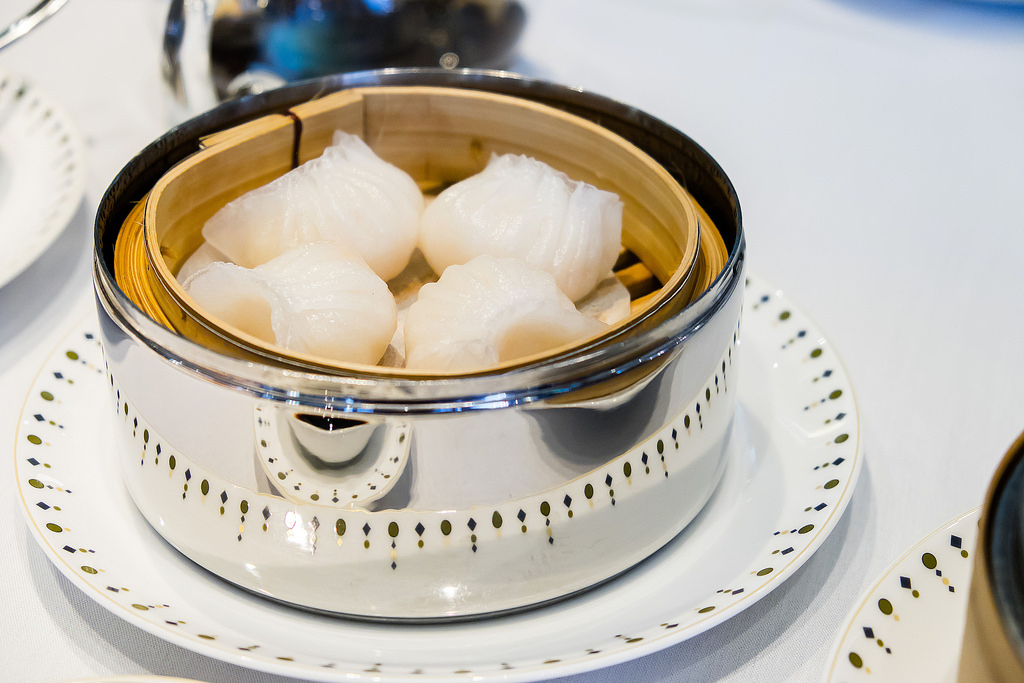 Shrimp Dumplings
Next up was a barbecue pork bun. These had a fluffy outer bao and a honey-tinged pork filling.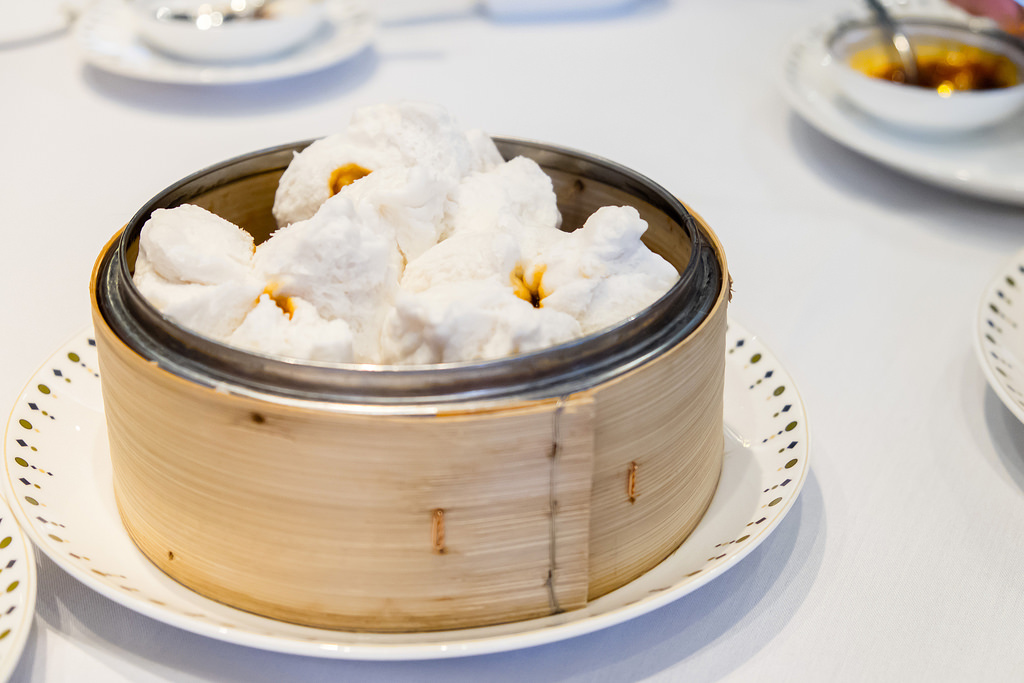 Barbecue Pork Bun
Strangely enough, the next item was also called barbecue pork bun, but I knew it was a barbecue pork pastry because it was on the "Baked and Fried" section. In any case, these were presented very exquisitely. At casual dim sum places, you'll be lucky if you get a doily to line your pastries, but here we got a full lotus leaf and some actual garnish on the side.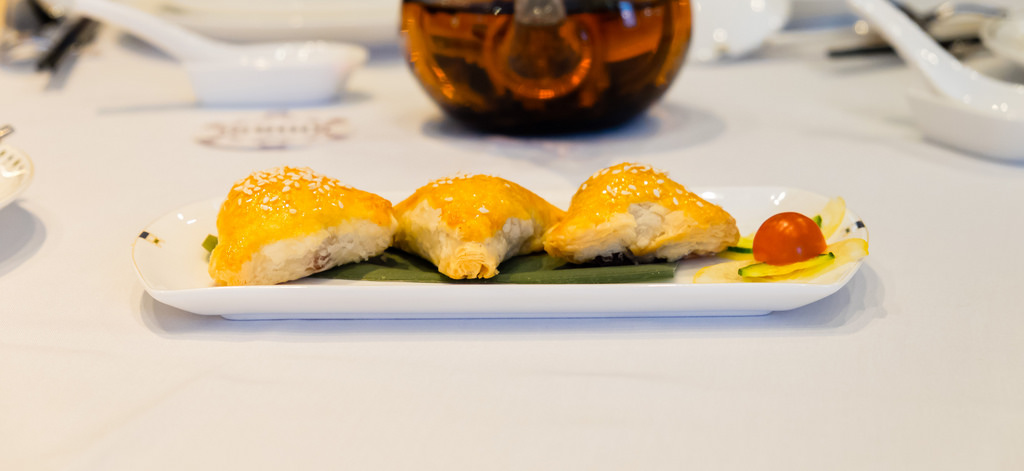 Barbecue Pork Pastry
Next up were the Shanghainese soup pork dumplings, aka XLBs. These passed the skin stretch test, meaning I could pick them up by the tip without them breaking apart and leaking their soup out.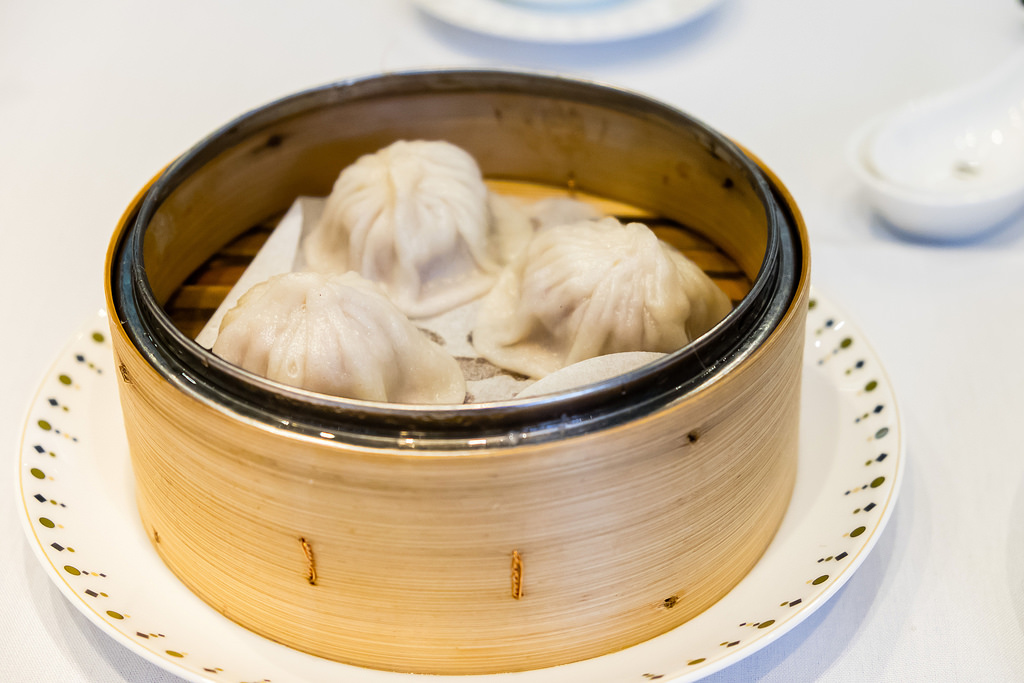 Shanghainese Soup Pork Dumplings
Last but not least, the fish caviar shu mai. This is the part where things got weird. Being on the finer side of dim sum pricing, I was curious as to whether these were filled with fish caviar or just topped with fish caviar. I asked our server. Our server was unsure and ran off to ask the kitchen.
When he came back, he said something along the lines of "It's just normal shu mai". I felt he could have sold it a bit more or at least explained that the fish caviar replaces the normal fish roe. After that description, these really did just taste like regular shu mai. They were still the juiciest of the entire meal and felt the freshest despite us waiting the longest time for this to arrive.
Keep in mind, that despite the name "fish caviar", what we got did not look like traditional sturgeon caviar at all. It looked like any old orange tobiko.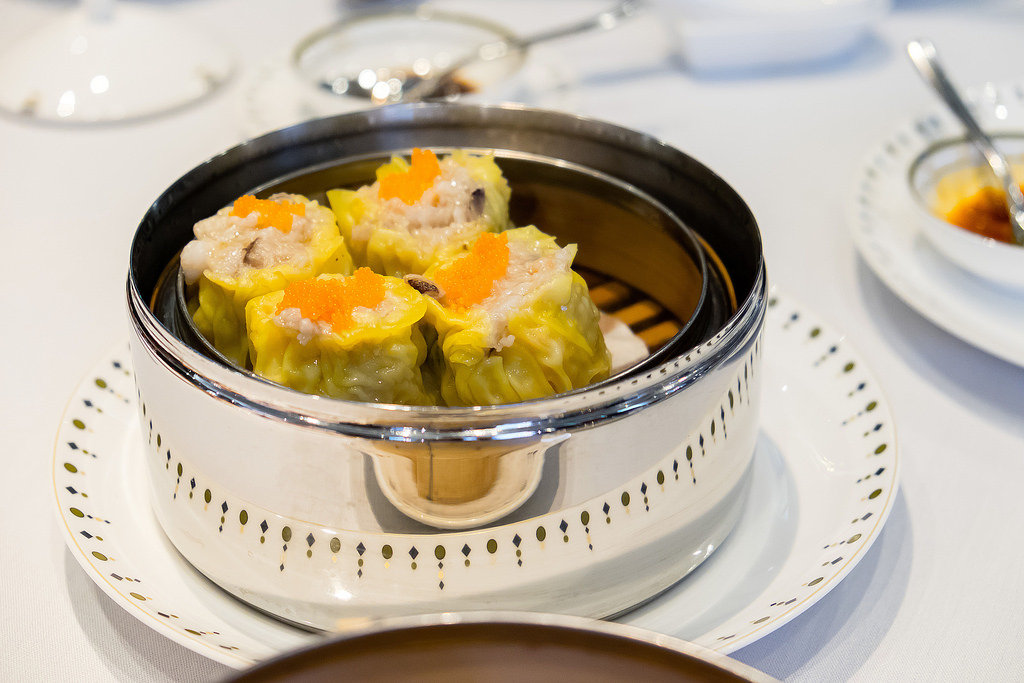 Fish Caviar Shu Mai
The fish caviar shu mai topped off what was really a normal tasting dim sum. A ton of names were jazzed up, either in Chinese or in English, but the results were the same. You'd typically receive fewer pieces of what midrange places serve and pay a higher price. This is normally a recipe for "meh", but I held on hope for a swing in the atmosphere and level of service.
Features:
1886 is named so after the launch of Chinatown in Vancouver. Inside you'll find extremely high ceilings, an air of classiness, and huge doors leading to private rooms. There's a ton of seating like any good Chinese restaurant should have and a nice change from the usual drab warm lighting and pink or white walls you see far too often at nearly every casual to midrange dim sum restaurant. There's seating for about 200 guests.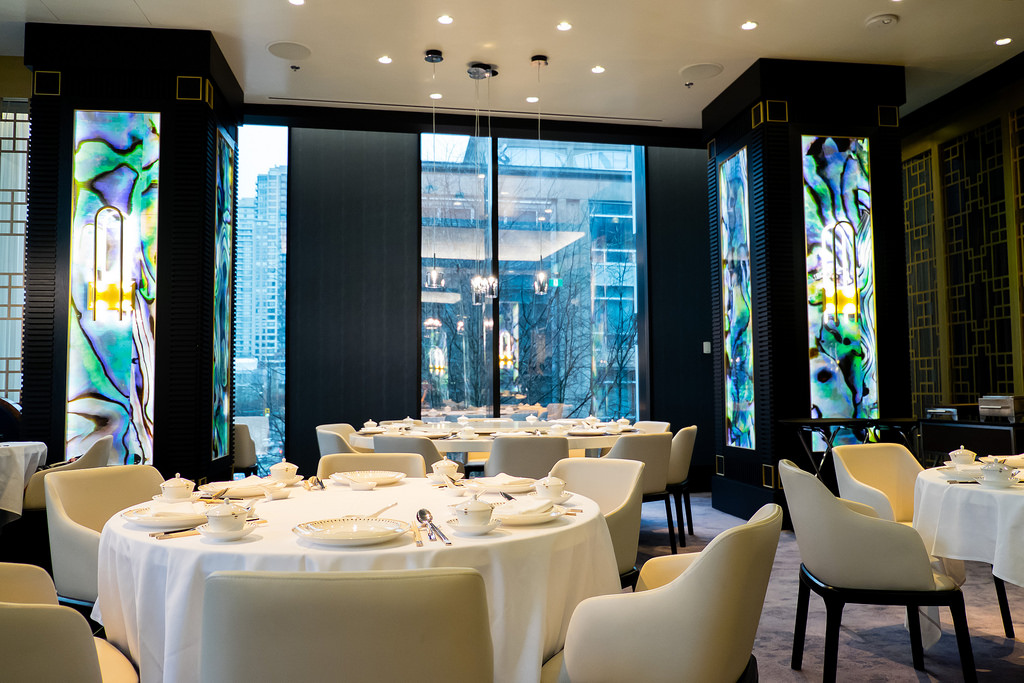 Inside 1886
Service:
At this price point, I was expecting nearly instant table service considering most of the items tasted of a category seen at more casual dim sum restaurants. That didn't happen, and I was there pouring my table's tea and asking for teapot refills.
It was so weird having each dish brought out menu item at a time. That is, our 2x shrimp dumplings came out first. When those were finished and cleared, the pork buns came out. I'm used to dim sum being served as fast as possible, often with dishes coming simultaneously. That was not the case during this lunch. Because of this, it took about 30 minutes to get everything out. Our table of 6 would consume a bite of dim sum, wait for the dishes to be removed, and then wait for the next menu item to be served. It was an awkward process.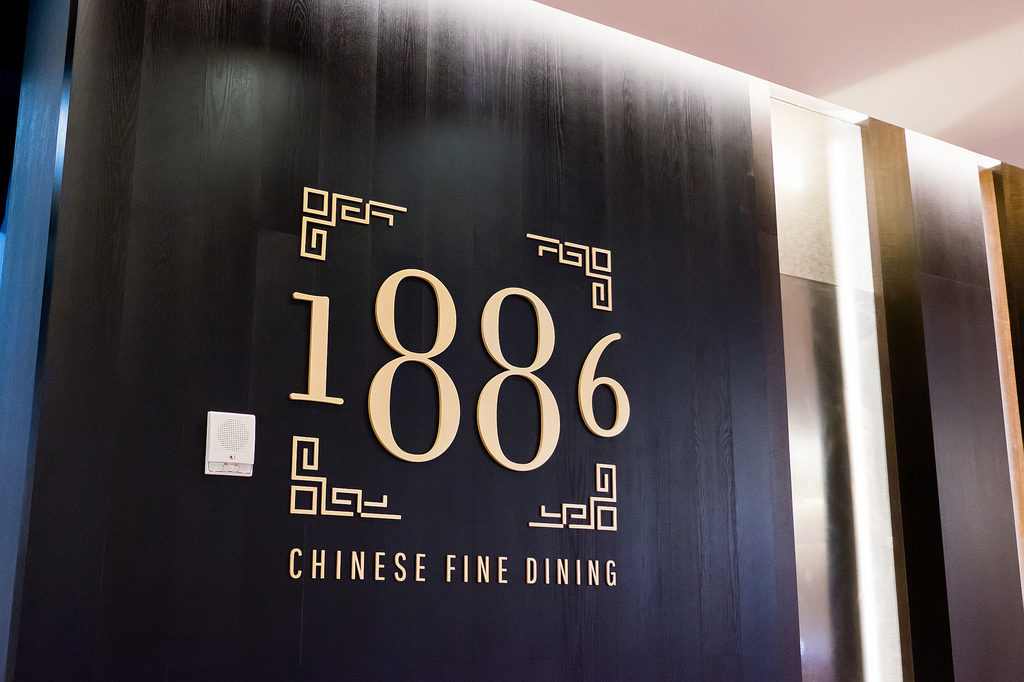 Outside 1886
Final Thoughts:
To be honest, maybe the reason I didn't enjoy any of this was that I normally don't dine at this level of classiness. I don't get why dim sum was served in sequential order. I don't get why the shu mai was characterized as "caviar" when sturgeon eggs were uninvolved. I don't get why we're paying ~$10/dish, pouring our own tea, and asking for tea refills.
The question: is a $38 AYCE dim sum menu worth it? Given what I experienced in the menu, the middling service, and the otherwise midrange-tasting dim sum, it's a hard sell for me.
One-liner: Average dim sum that I'm either not in the target audience for or is just overpriced
Highlight: The décor
Price per person: $38.88/person for weekend all-you-can-eat
Would I go back? No.