I know you've heard this one before. A totally different concept springs up and beyond the media singing praise for a couple weeks, it turns out to be a total wash and you'd like your time and money back. This is not the case with Uncle's Snack Shop. Founded by a group of people closer to the Vancouver food scene than you think, this eatery hits on all fronts in creativity and design with the result being a fun atmosphere that brings out impactful flavour and an existential energy I haven't yet felt in Metro Vancouver.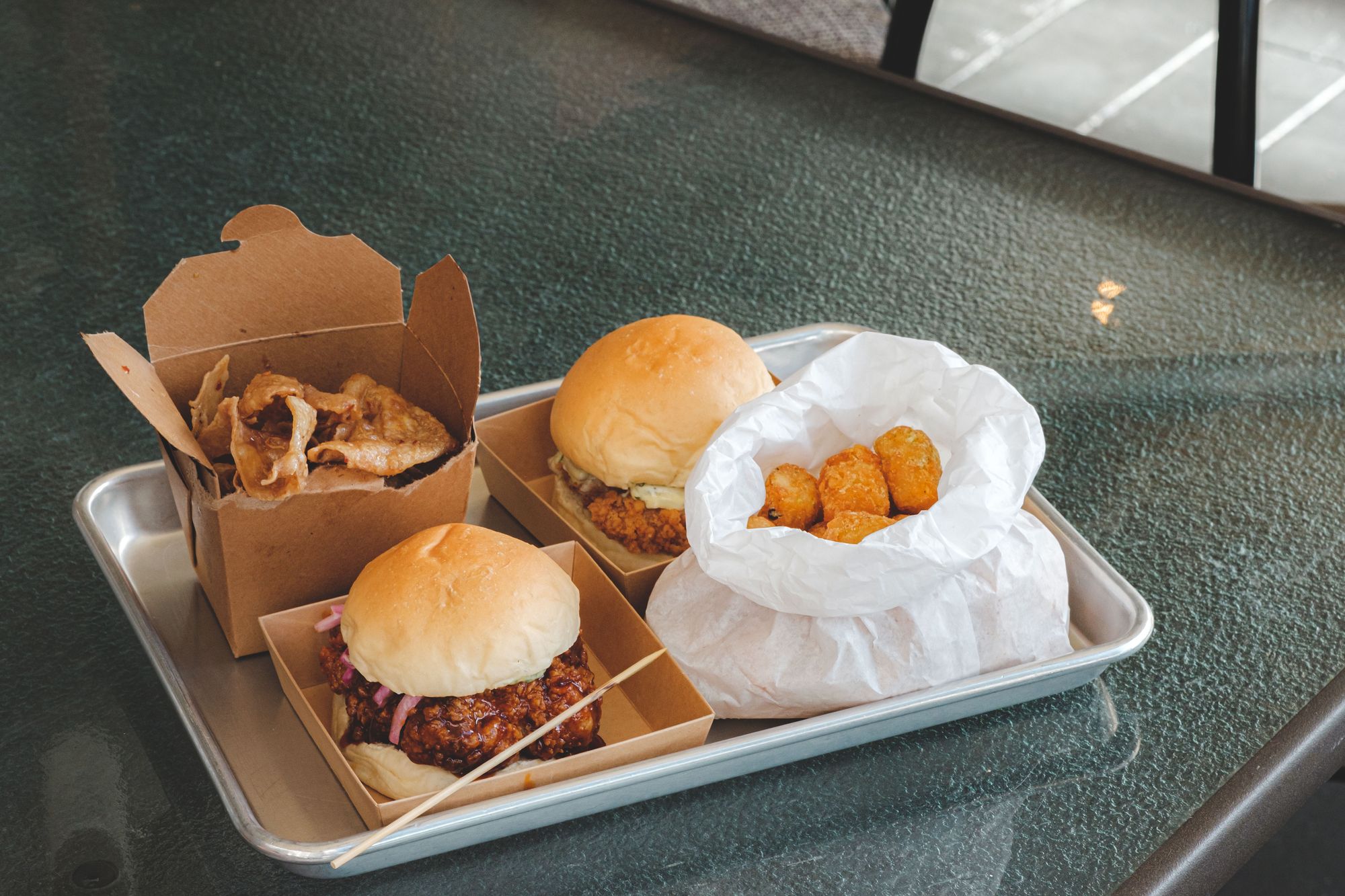 Food:
Team Tastic came here for a Friday evening dinner and I had a great taste of the following:
Filet O Chick Sandy ($10)
Hot Chick Sandy ($10)
Chickarron ($6)
Shake Shake Tots with Sour Cream Jalapeño Seasoning ($6)
The filet o chick sandy is a play on the famous filet-o-fish from McDonald's, but like every item at Uncle's Snack Shop, it's also so much more. This was a hearty piece of fried chicken decked out with a ginger scallion sauce and cucumber salad. This was a surprisingly refreshing feeling on the palate with lots of surface area on the cucumber to lather in the burger sauce. By the way, the buns here are milk bread buns which were super soft, airy, moist, and slightly sweet. This is going to be the first of several times I mention this, but this Filet O Chick Sandy (now since rebranded as a Hainanese Chicken Sandy) feels truly unique in a sea of very similar fried chicken sandwiches in the local scene.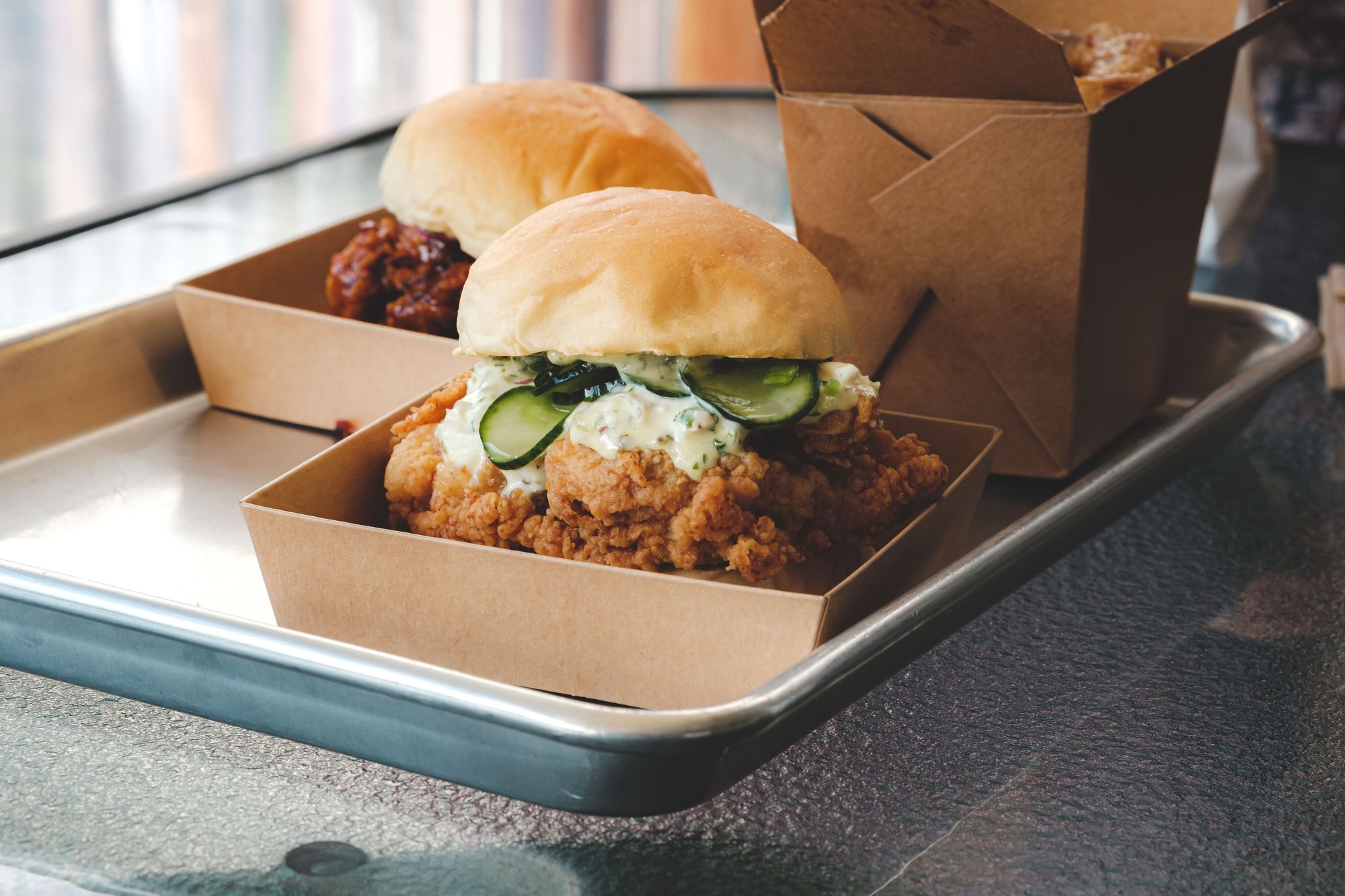 Another burger we enjoyed was the hot chick sandy, which comes with a cabbage and daikon slaw and dressed with a Thai basil aioli. This burger employs the same great fried chicken but is lathered in a sweet and earthy sauce that for me, felt a little too wet and sweet. Simply tilting this burger on its side to prepare for entry into my mouth yielded more juices running out than I would have liked, and though I could have sopped things up with my bun, the sauce was still too runny to taste good in a soaked bun. I still think this is a really original creation but I think I'd recommend the filet o chick sandy we got much more than the hot chick sandy.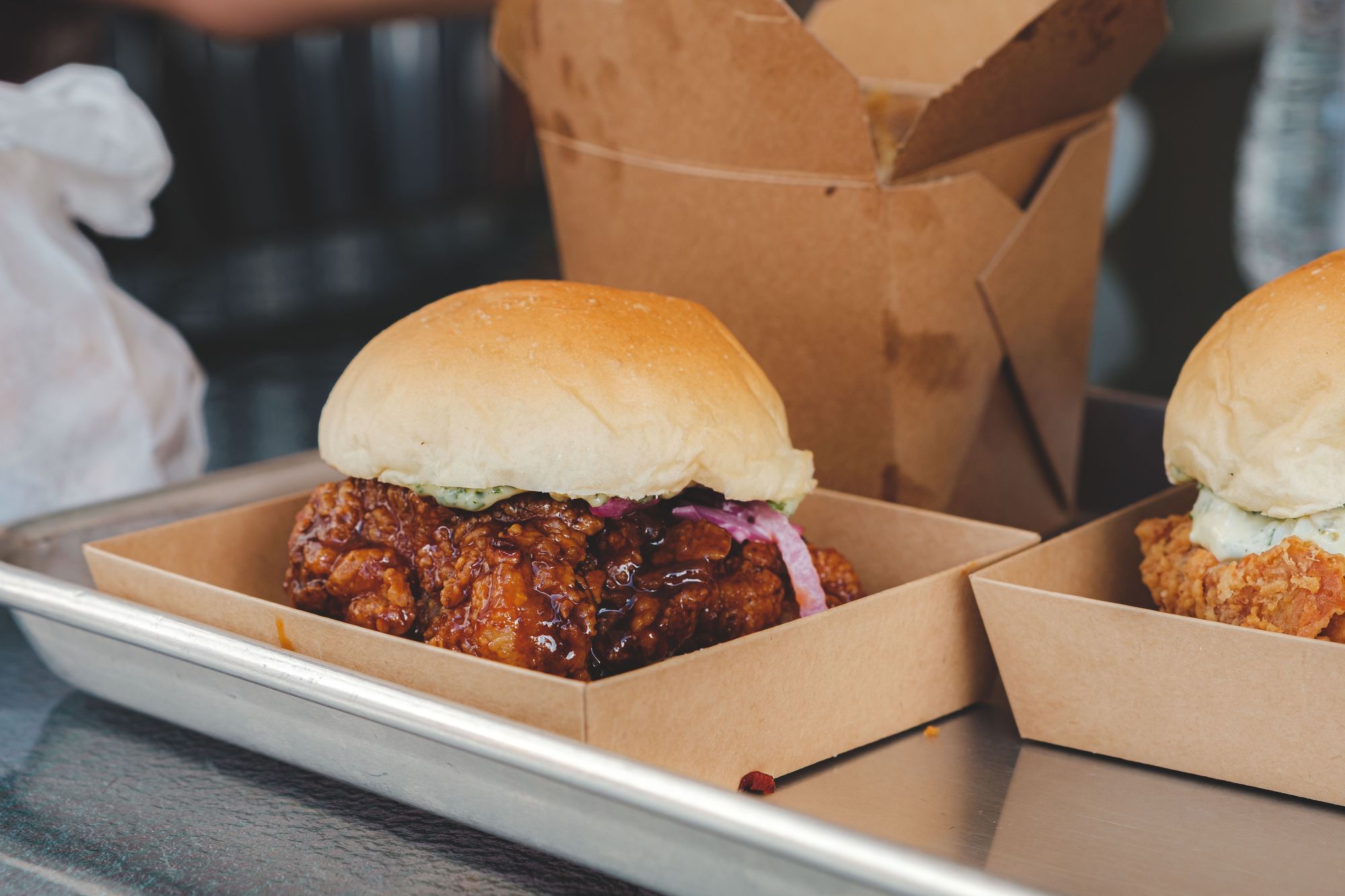 Moving onto the sides which don't come included with the sandwiches, first up was the chickarron. These are a play on pork "chicharron" but use chicken skin instead. The chickarron are dressed in a sweet sticky sauce similar to plum sauce and are extra crispy once served. The bummer with the chickarron was that as a slow eater, by the time I got to the bottom chicken skins, the sauce had saturated through the actual skin, making it soggy and less enjoyable to chew through. I think this could have been avoided if the sauce were served on the side but that could have introduced risk on the consumer not dressing enough sauce on the chicken skin. It's a tough problem, but I guess you can be warned that slow eaters might be punished by the end of this snack.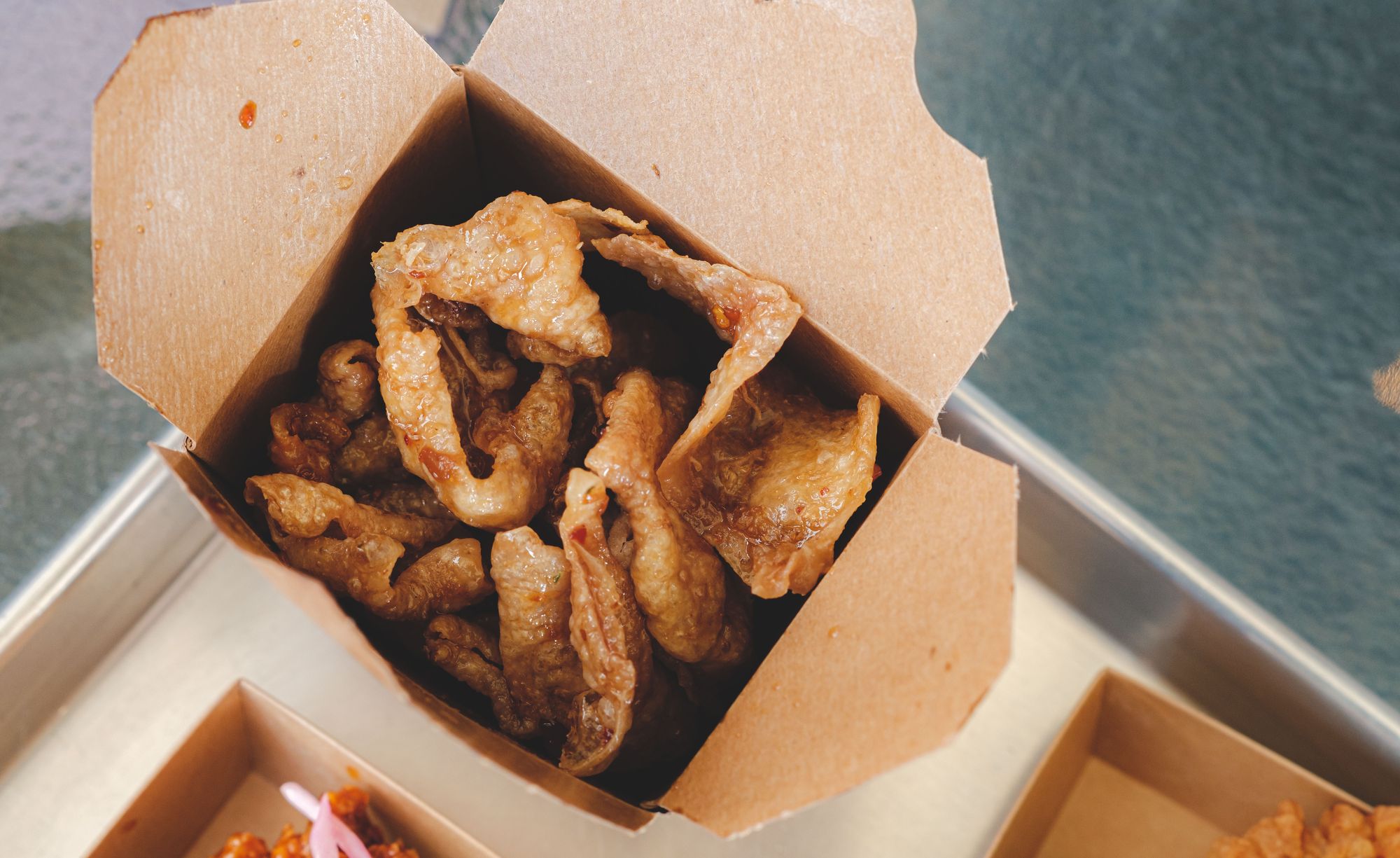 On a happier note, the shake shake tots were awesome. Sure these are simple in craft, but the seasoning goes a long way. We chose the sour cream and jalapeno seasoning, added it into the bag of tots, and shook it all up. The result was a light, even coating on each shake shake tot and just enough flavour to differentiate the tots from the regular grocery kinds. Check these tots out if you want to guarantee your satiety by pairing it with a sandy (sandwich).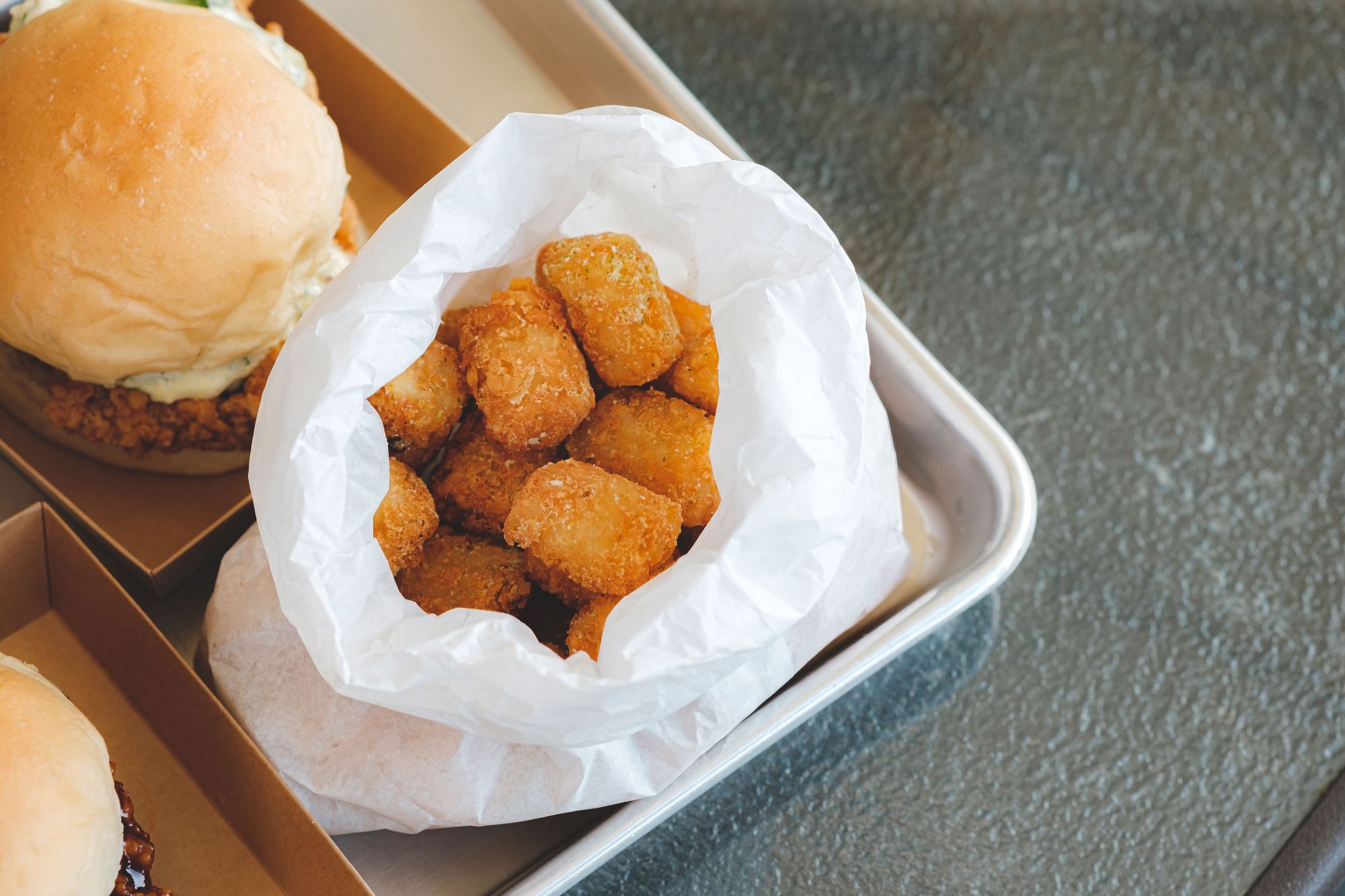 Features:
Walking into Uncle's Snack Shop feels like walking into a promotional video for a Los Angeles hot spot. Kind of like the famous Paul Smith Pink Wall, the feels inside Uncle's Snack Shop exudes good vibes and lots of lighting. At the time of my visit, there was even a friendly Instagram-themed dining room in preparation for regular dining that I'm eager to enjoy a meal in. Everything in there just feels fun, even if you can tell there was a lot of DIY renovation inside and out (seating for about 20 on the patio). The joinery and finishing isn't something to write home about, but the paint and digital design of the entire operation has you feeling somebody's heart was poured into bringing the restaurant to life.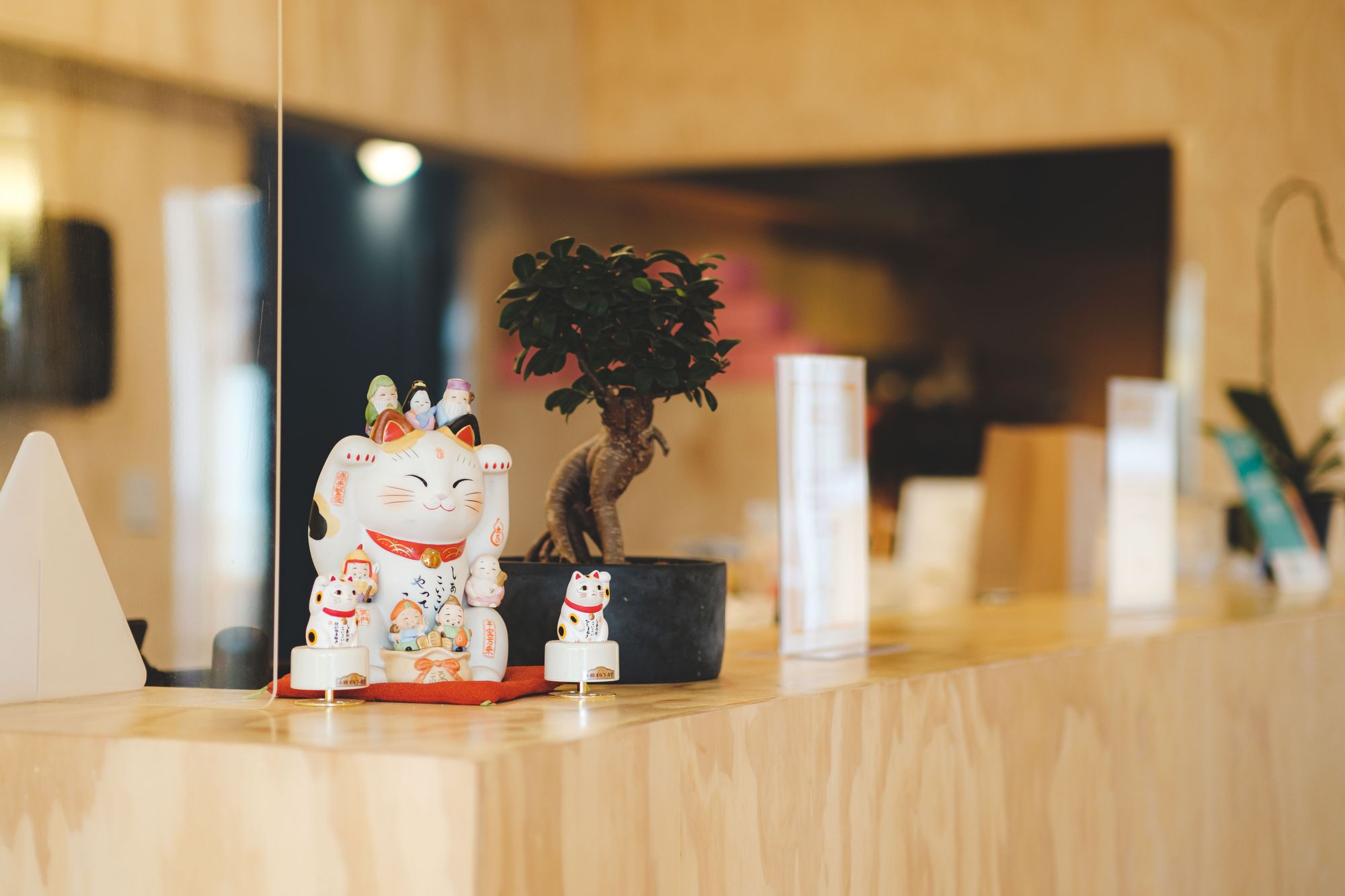 Service:
At the time of my visit (June 2021), Uncle's Snack Shop is takeout-friendly food but if you are to "dine in", that means you'll be sitting outside on the patio waiting for your food to be served on a tray. The staff are certainly friendly on the phone and speak great English. I shouldn't have to specify the language requirements but since this is Richmond, I thought it was good to disclose just in case.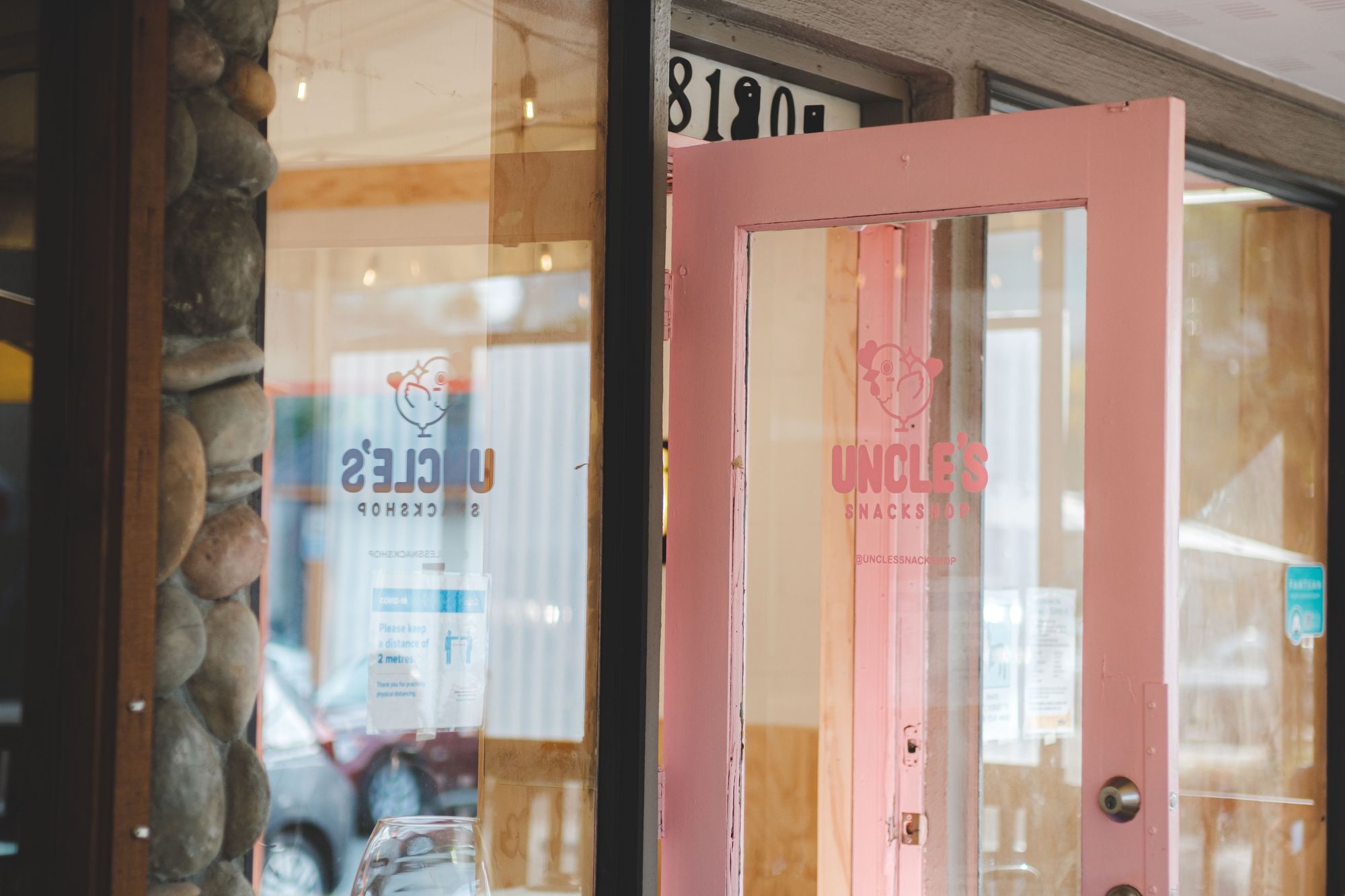 I ordered "take out" over the phone but when we arrived and saw space on the patio, the staff were cool with converting our order to "dine in", and I guess the timing was a little off. I ordered an hour in advance, arrived on time, and the food wasn't ready, so we spent a few extra minutes on the patio after paying to wait for our order. The restaurant had empty outdoor tables on a Friday evening at 6pm which makes me feel this restaurant is super underrated at the moment. If you are looking for an alternative Asian-inspired dining experience, Uncle's Snack Shop feels so progressive compared to classic burger joints and I left feeling I wanted a second stomach to order more.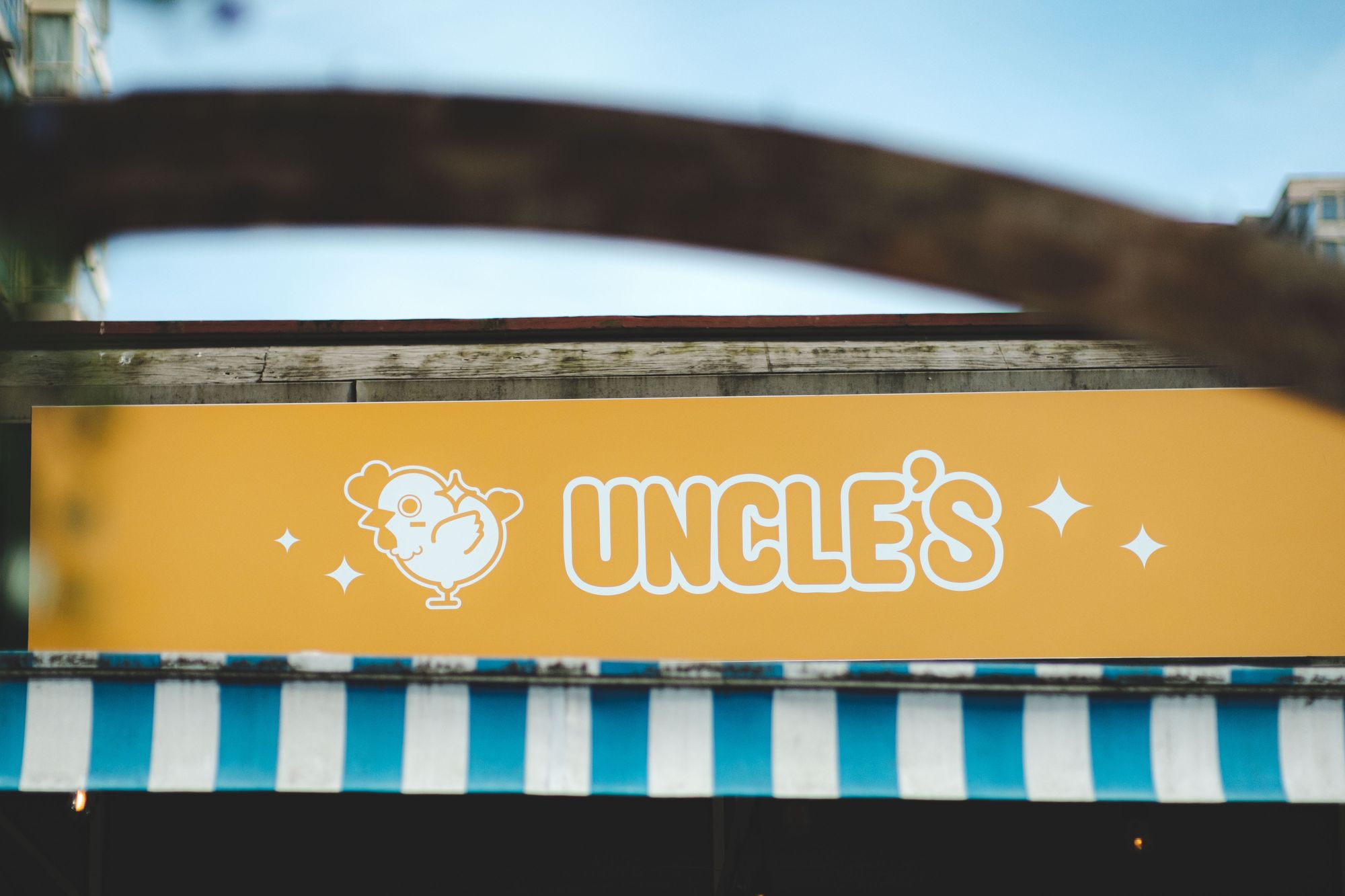 Final Thoughts:
One-liner: Progressive Asian-inspired sandwich shop with an eclectic interior and tons of fun vibes in the execution
Highlight: Filet O Chick Sandy
Price per person: $18-$25
Would I go back? Yes.