Despite what people say about the pricing at the Vancouver Christmas Market, I think it's one of the best places to spend your holiday dollars if you've never been. Absolutely you could spend $100 for 2 at a pretty decent restaurant but you'd miss out on the lights, the vibe, and the overall Christmas joy this market provides. That being said, the market asks more of its visitors year over year, with scaled down amenities (goodbye Kathë Wohlfahrt) or scaled up prices. It's a negligible change if you don't go every year but annual fans like me can't help but notice the small changes in accessibility each year required to keep the business of the Vancouver Christmas Market alive.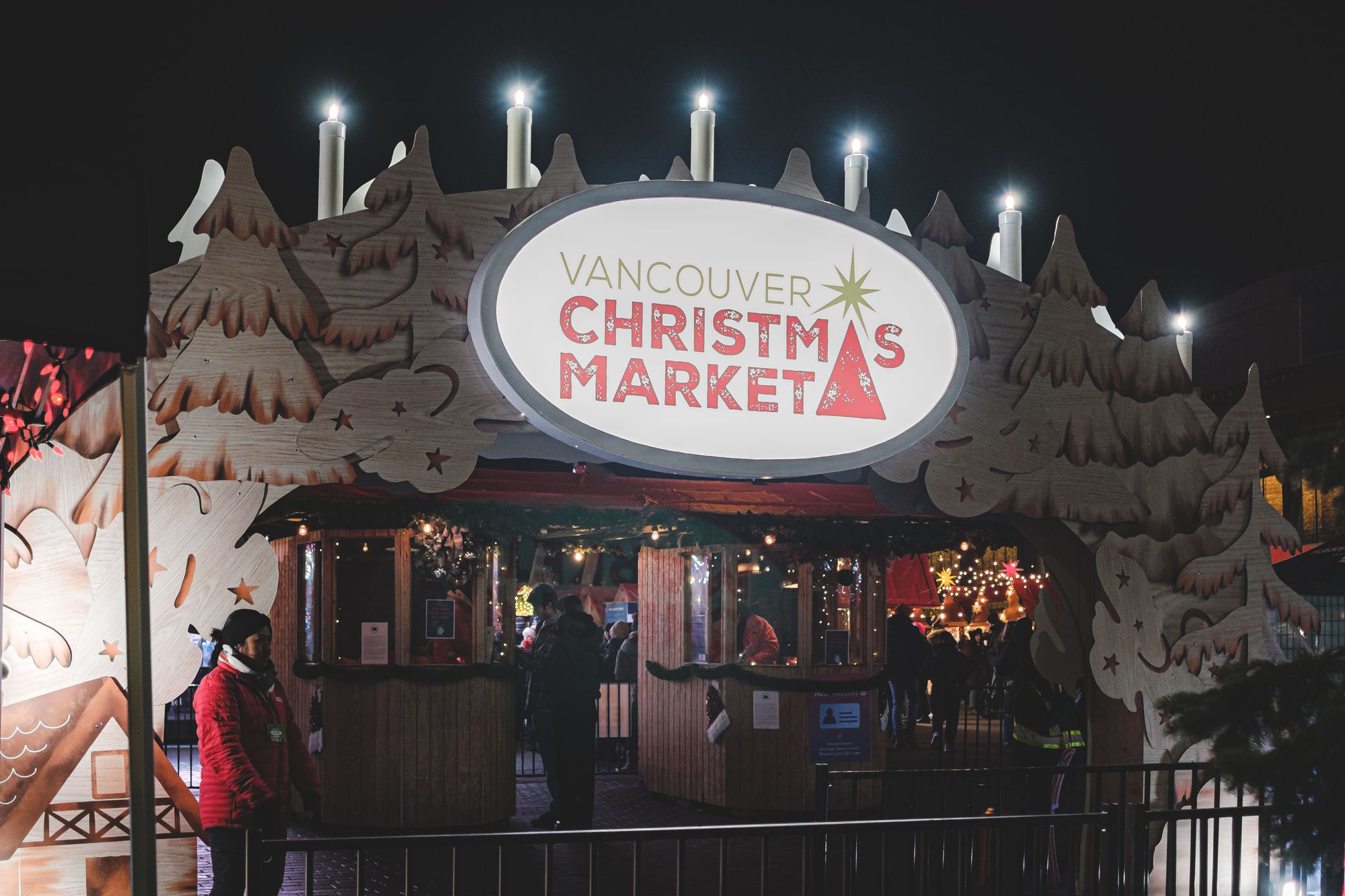 Food and Drink:
Team Haxers came here on a Tuesday evening and I had a great taste of the following:
Glühwein ($9.50)
Pork Hock Sandwich ($9.50)
Hurricane Potato ($9)
German Pork Schnitzel with Potato Salad ($19)
Medium Squid Bowl ($13)
Not eaten, but other prices I noticed:
Kartoffelpuffer with Brie and Smoked Salmon ($21)
Bratwurst ($10)
Beef Goulasch in Bread Bowl ($17)
No trip to the Vancouver Christmas Market is complete without glühwein, the signature holiday drink. This spiced warm is served extremely hot and meant to be sipped slowly. The price may have gone up but the recipe hasn't changed. This is still a really tasty drink if you're a fan of red wine, cinnamon, and other homey spices.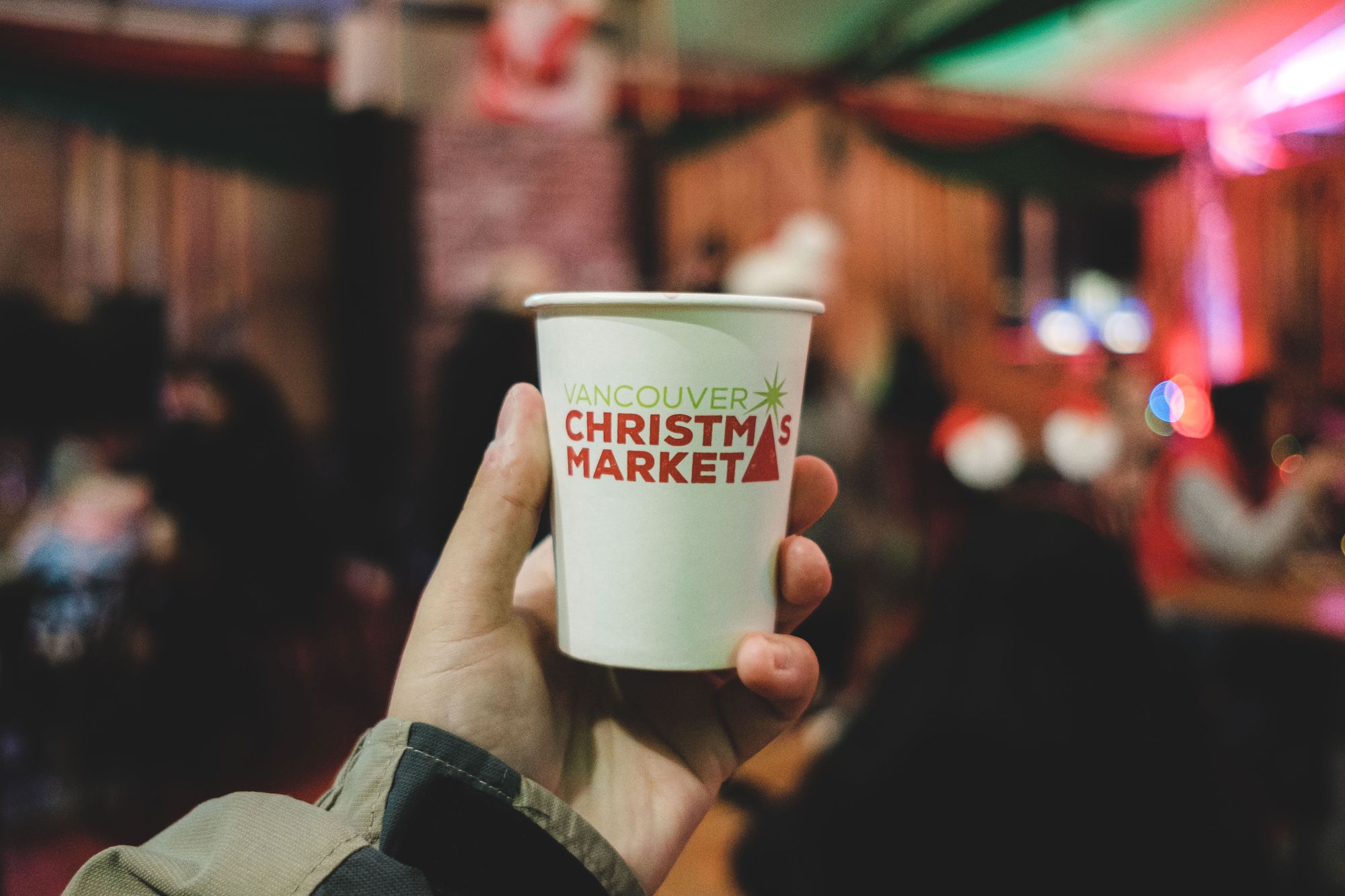 We then moved to Haxen Haus, my favourite vendor at the market. To my dismay, they were not serving full pork hock this day. They assured me it was a one-day only kind of thing but still really disappointing because I'm not interested in buying a 2nd ticket to the market just to get some pork hock. Nevertheless, we got a couple of pork hock sandwiches which had a little bit of pork, pork crackling and a lot of sauerkraut on a cold bun. Despite the disappointment in availability, this was the best-tasting item I had.
Speaking of rising prices, new for this year, Haxen Haus charges you an extra $1 for the container serving their food. It's difficult for the average guest to learn about this rule though so if this was a strategy to help reduce waste (which I'm all for), the execution left a lot to be desired.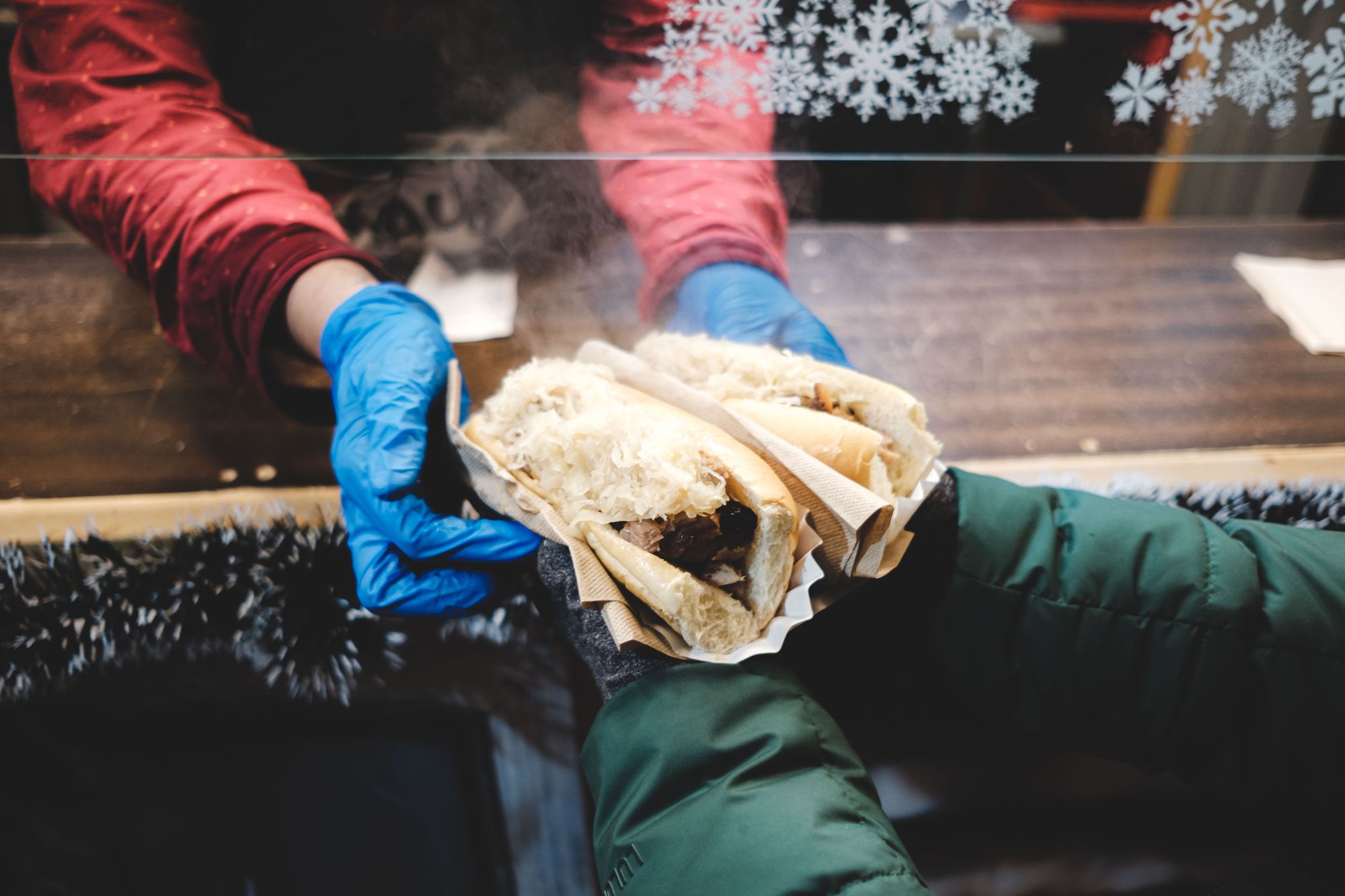 Moving on to our next hut, we chose Das Kartoffelhaus Hurricane Potatoes to get some hurricane potato. We don't often go to the night market anymore so this was a fun limited-time treat to get at the Christmas Market. There are a plethora of sauces and powders to choose from and the base potato is really crispy since it's deep-fried. The only drawback is because of all the surface area exposing the potato to the elements, this stick is hard to eat cleanly and cools down really fast.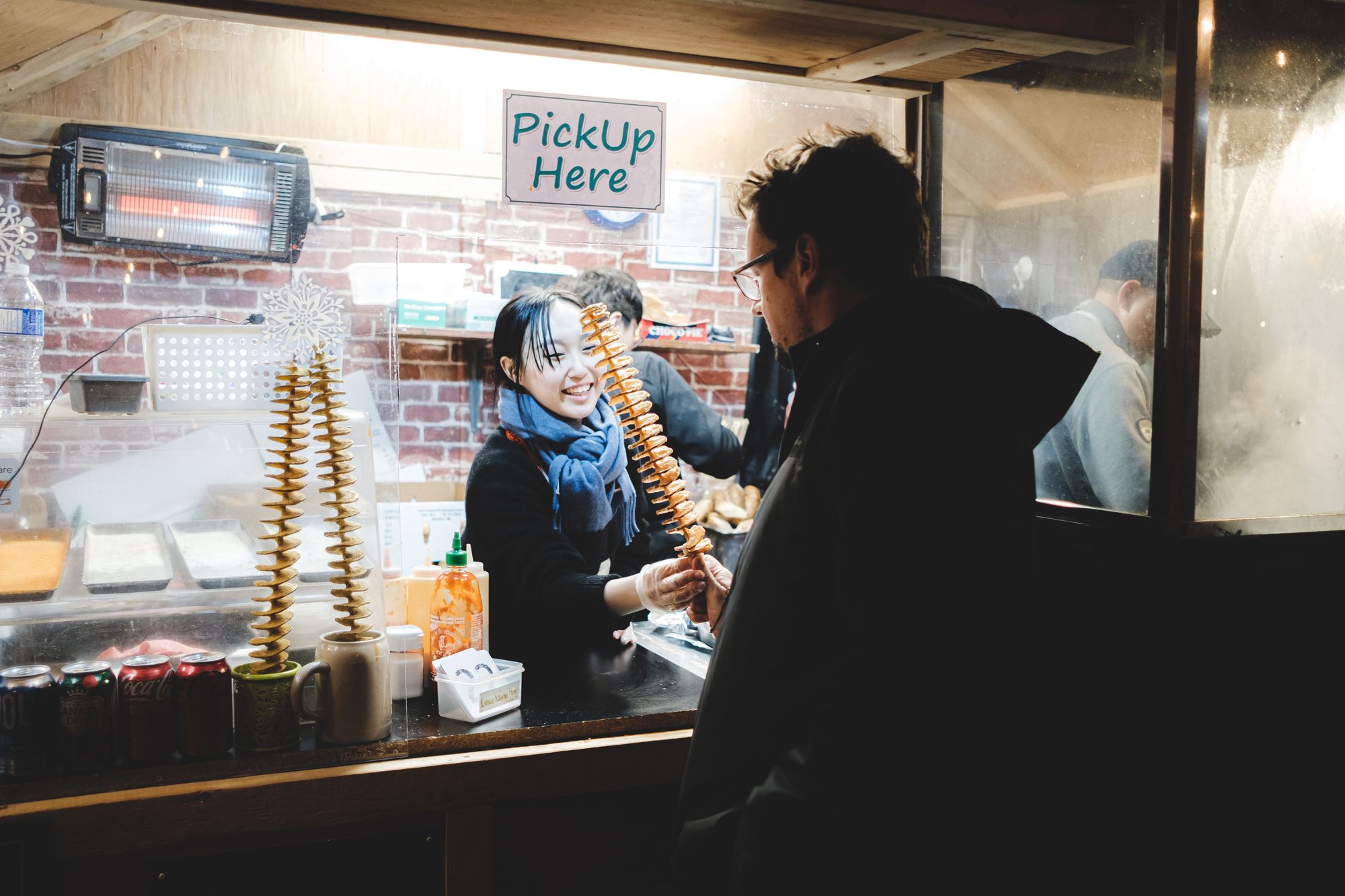 From Das Schnitzel Haus, we enjoyed a German pork schnitzel with potato salad. This was quite a disappointment relative to other years I've visited the Christmas Market. There's no guy tenderizing the schnitzels live and the delivered product is smaller than the picture. The meat itself tasted more like a salisbury steak than a crispy and hot schnitzel. Check out the difference in what I got versus the menu picture below.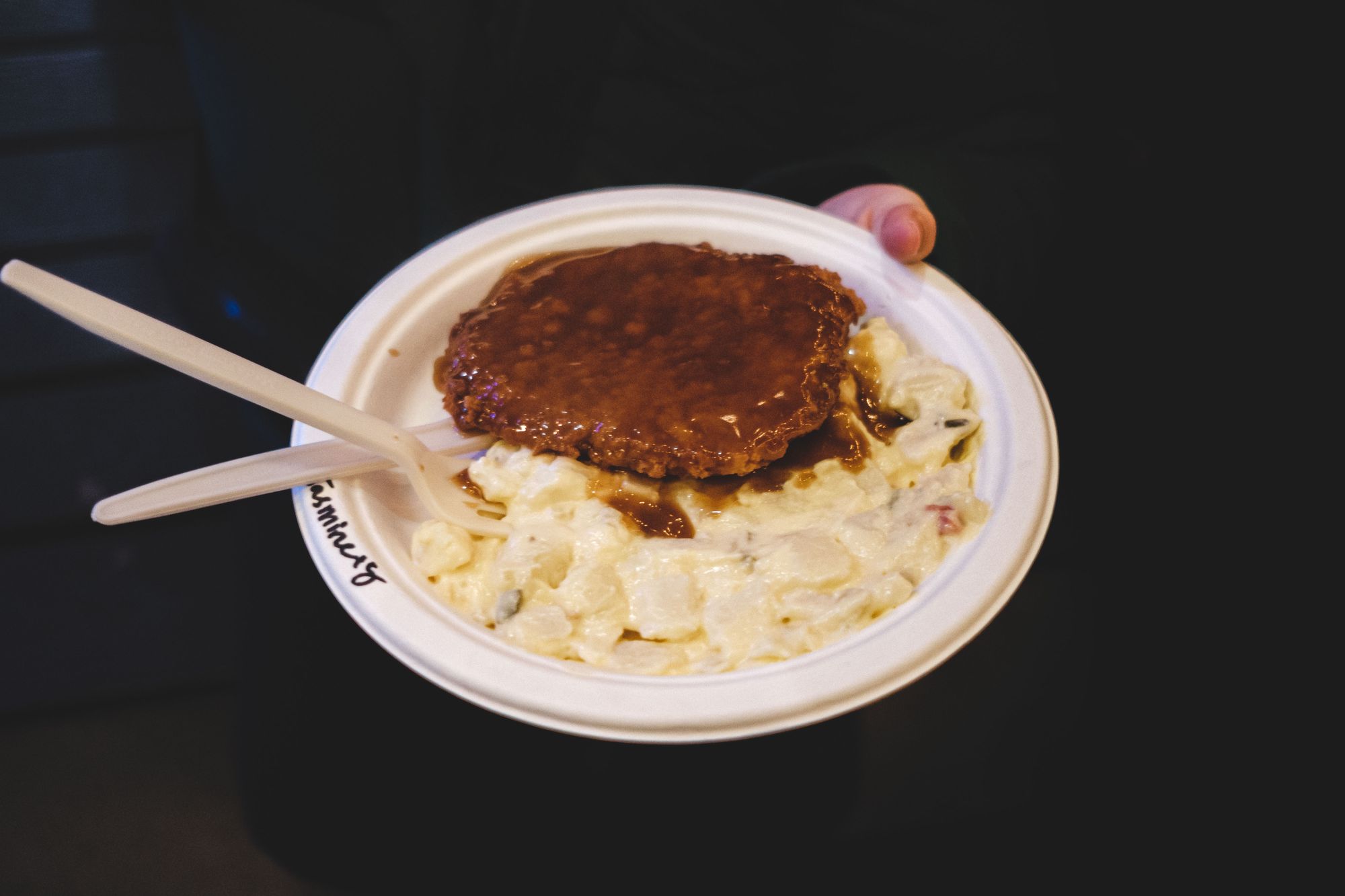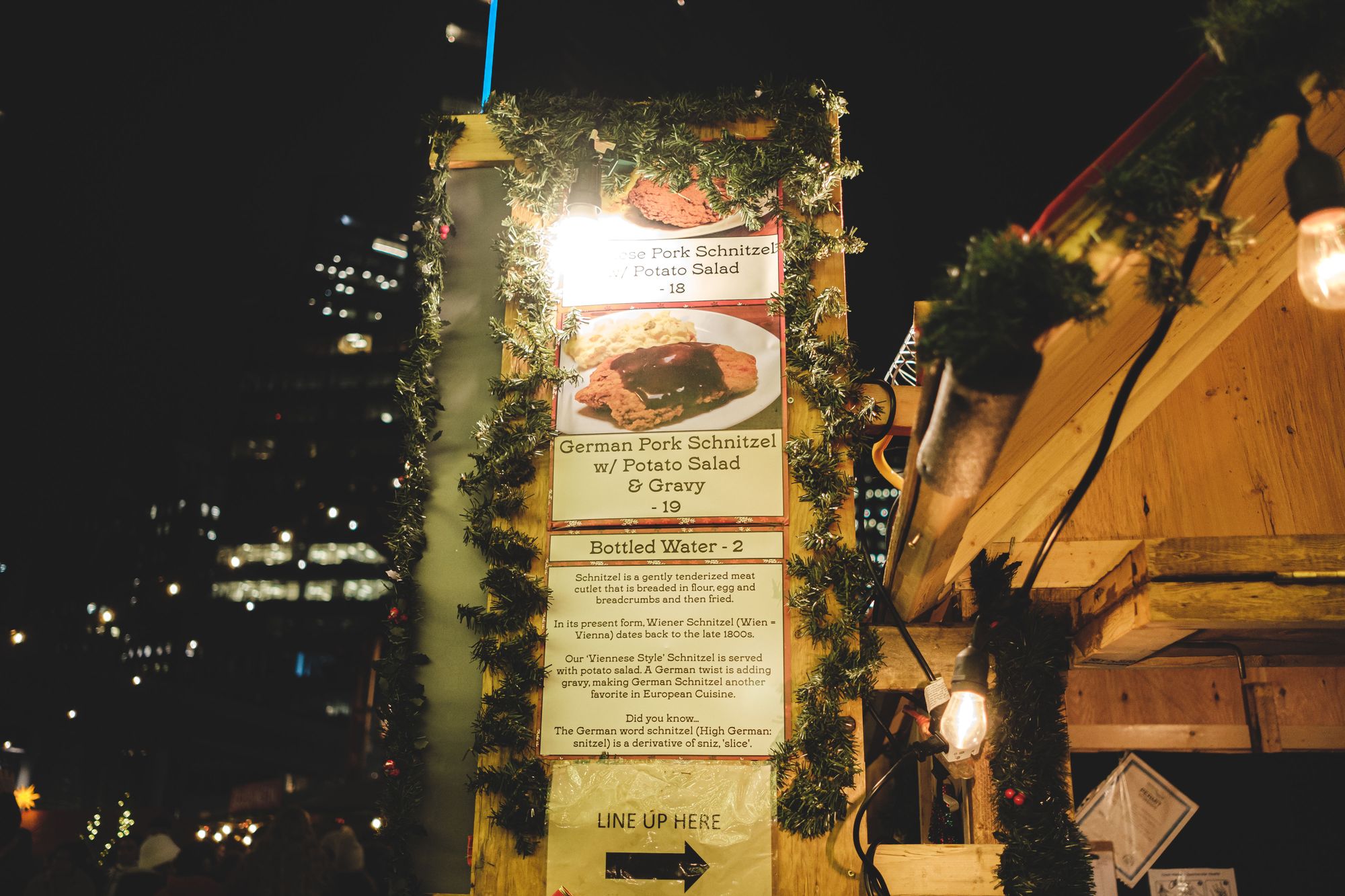 Last but not least, we went to the new Squid Feast stall for some deep fried squid which was served with a signature spicy and sweet sauce. The squid itself was very crispy and seasoned but I found the signature sauce to be a very sweet topping and because it wasn't evenly distributed meant some pieces were extra wet compared to others.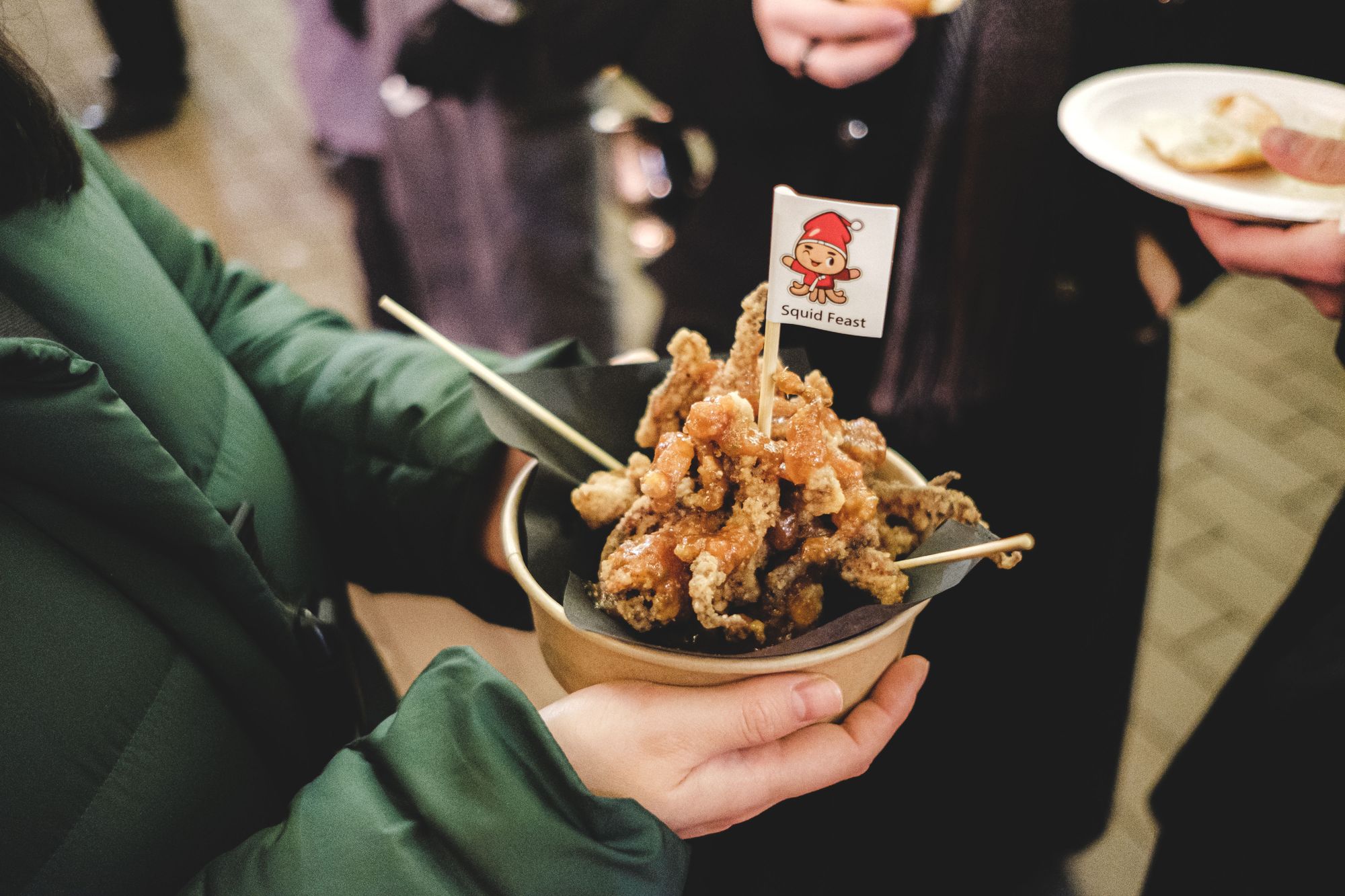 Features:
I hate to be a downer on the market food but at least the Christmas vibes are real and you can find some neat things (think home goods and Christmas ornaments) walking up and down the line of huts. There are a couple of fun attractions too like the Lovers Lane light tunnel and the classic carousel so you're getting a little excitement for your entry fee.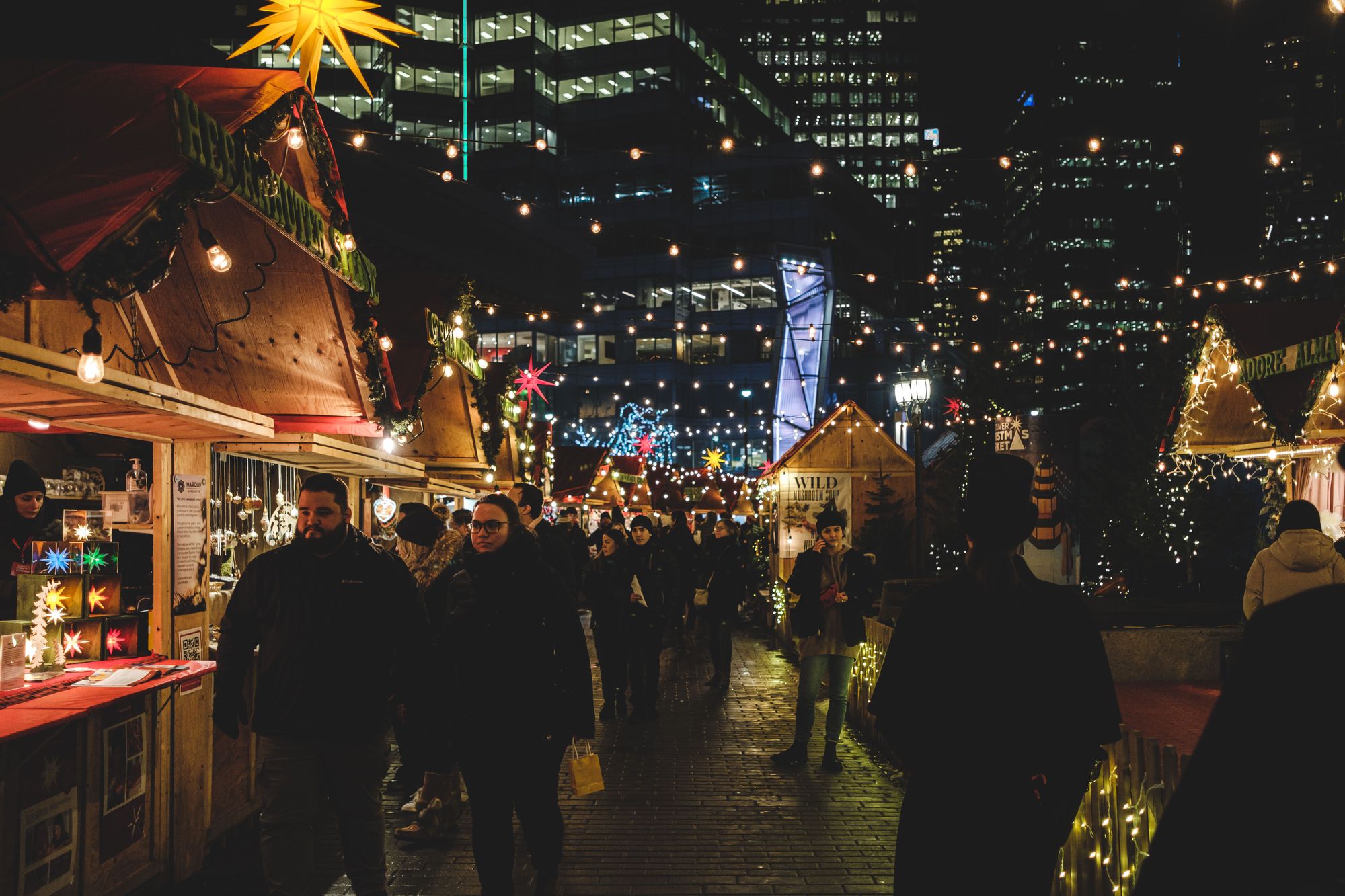 There's live music interspersed through the generic Christmas music being played from the Christmas Pyramid which adds a nice touch to the experience.
Capacity-wise, it was not too crowded on Tuesday evening. I have heard stories about 30 minute waits for pork hock on the weekend but nothing was longer than 10 minutes during my visit, so I'd recommend going on a weeknight if you can to avoid ultra-dense crowds.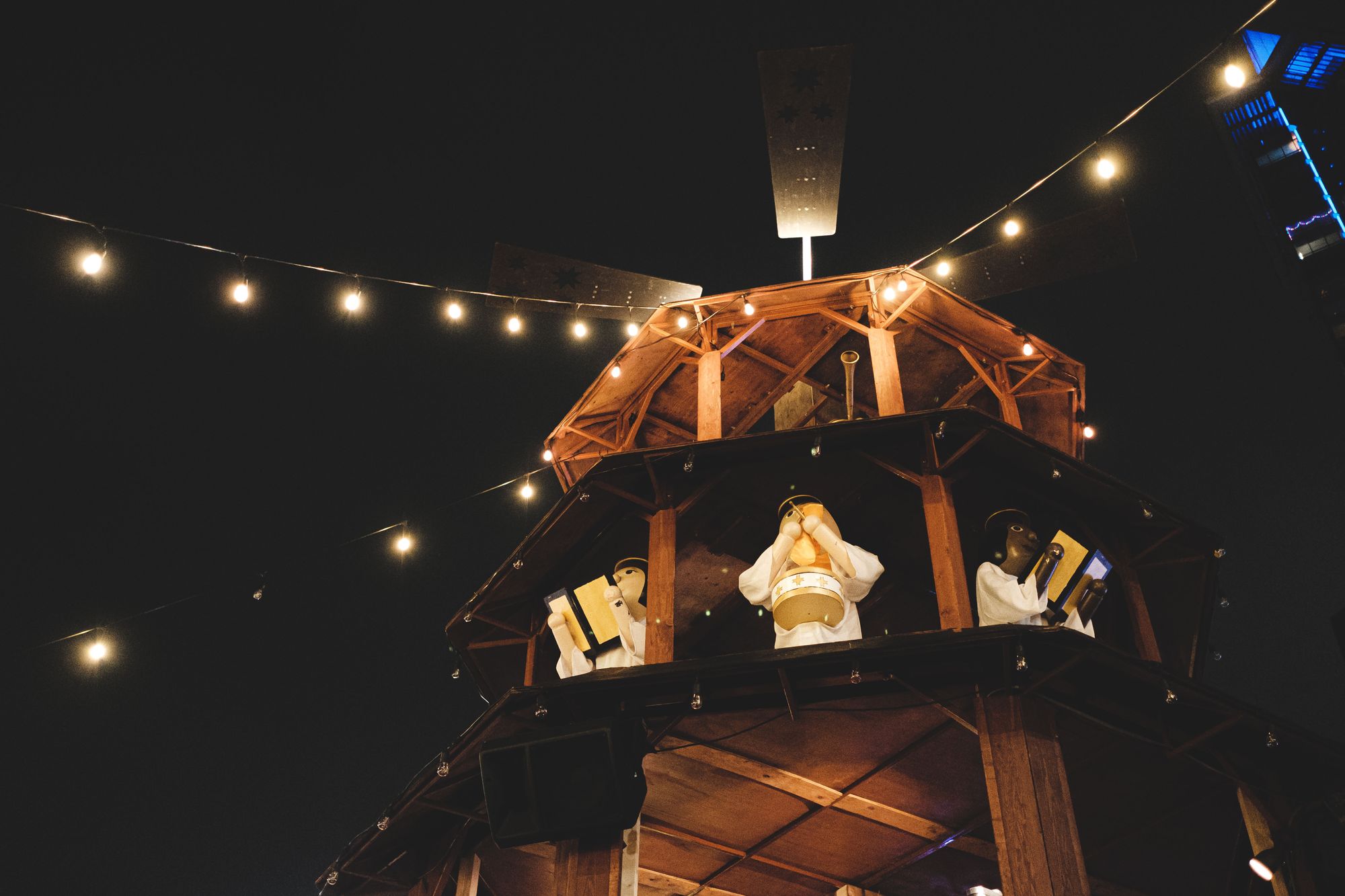 As hard as it is for me to admit, at this point I don't think the Vancouver Christmas Market is a must-visit each year. Not when I see food prices increasing, food portions decreasing, and similar amenities year-over-year. Maybe I'll buy a season pass next year just to absorb the vibe of the market but man the food really got me down this year especially with Haxen Haus not selling their signature full pork hock on the day I planned to visit.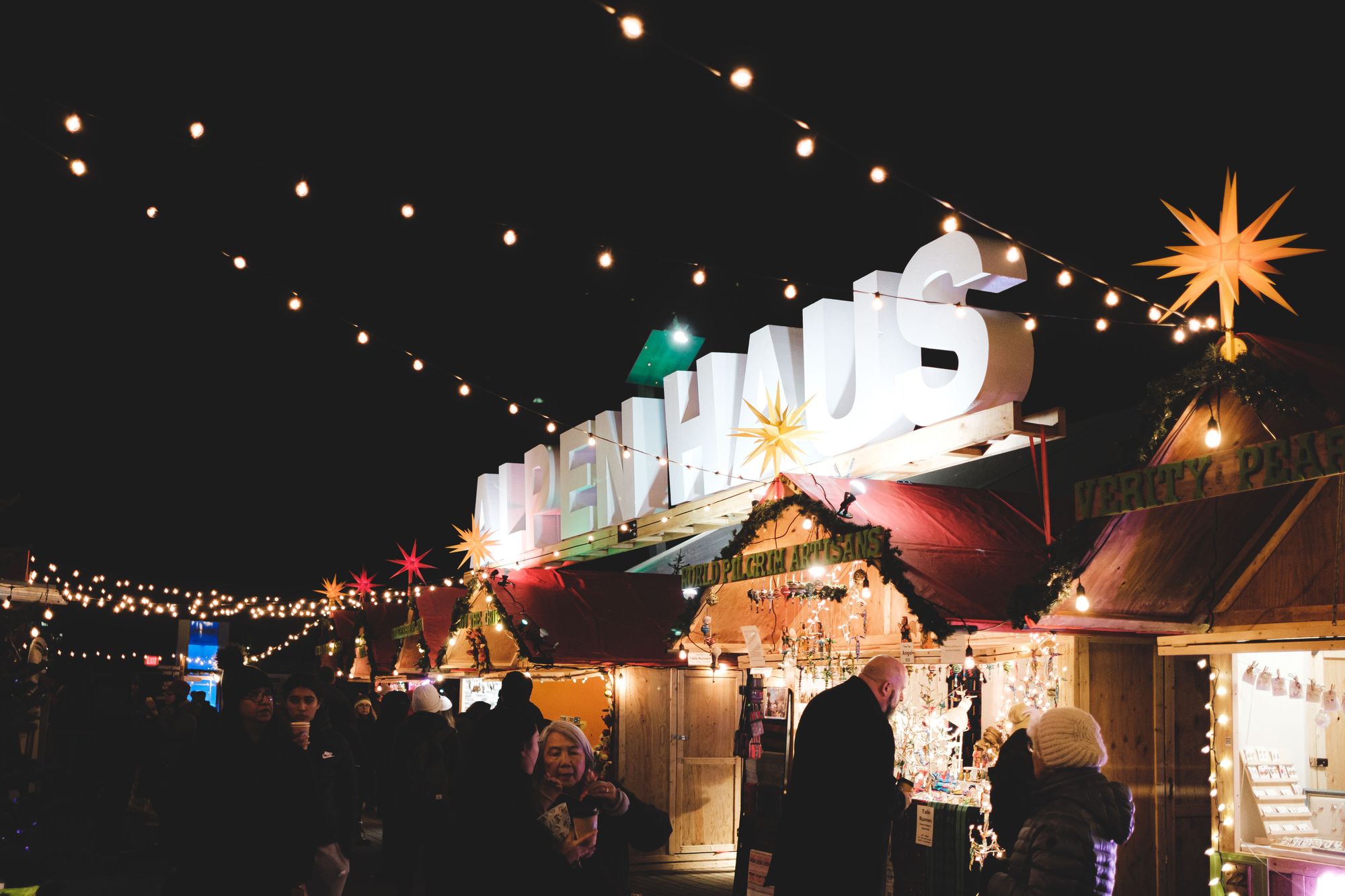 Final Thoughts:
One-liner: Another year for the Vancouver Christmas Market, another opportunity to see what gets scaled back in the face of rising prices
Highlight: Pork Hock Sandwich
Price per person: $50 including entry, glühwein, and some food
Would I go back? Hard to say.