When you talk about Mexican food pioneering in Vancouver, La Taqueria is always a part of the conversation. While they aren't the tiny Cambie Street nook slinging out $2.50 tacos anymore, they are the casual taco place I can recommend to just about anyone looking for Mexican. I recently went to their new location at The Amazing Brentwood and once again came away impressed by their creativity and mission to create a fun dining atmosphere at a reasonable price.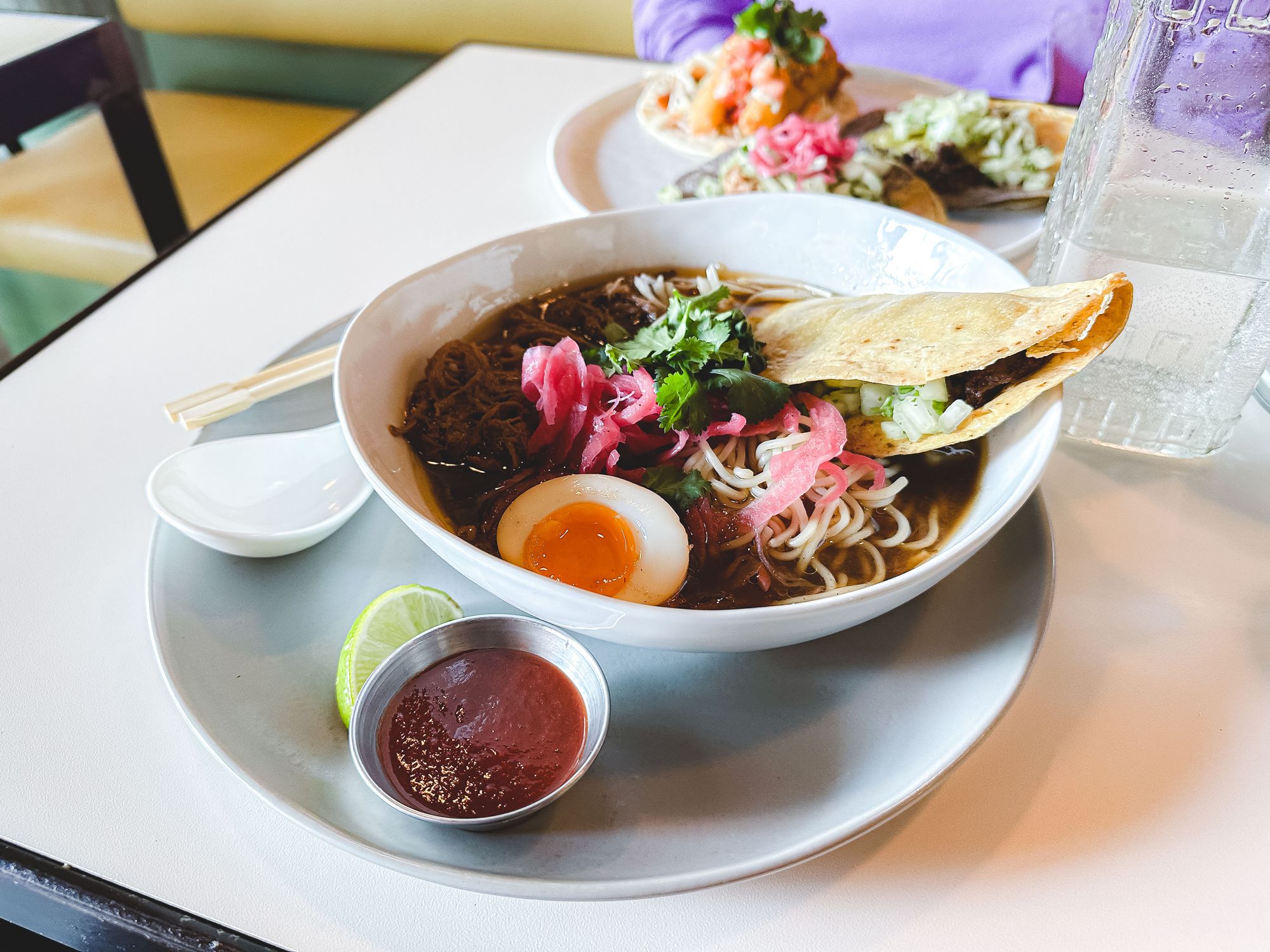 Food:
Team Tastic came here for a weekday lunch and I had a great taste of the following:
Fish Baja Taco  ($7.50)
Carnitas Taco ($7)
Cachete Taco ($7)
Birriamen ($15)
I'll talk about the tacos together because they are served as a set. The reality is you can't go wrong with these tacos. These are traditionally plated tacos meaning you get 2 corn tortillas holding all the ingredients of joy. The extra 50 cents on the fish baja went the extra mile because this came with 2 really hearty pieces of battered fish with a silky smooth chipotle mayo.
That doesn't mean the carnitas and cachete disappointed though. The carnitas could have had some crunchier cracklings but the pickled red onion was a great topping. The cachete was incredibly tender and proved that sometimes you don't need a lot on a taco to make it taste amazing.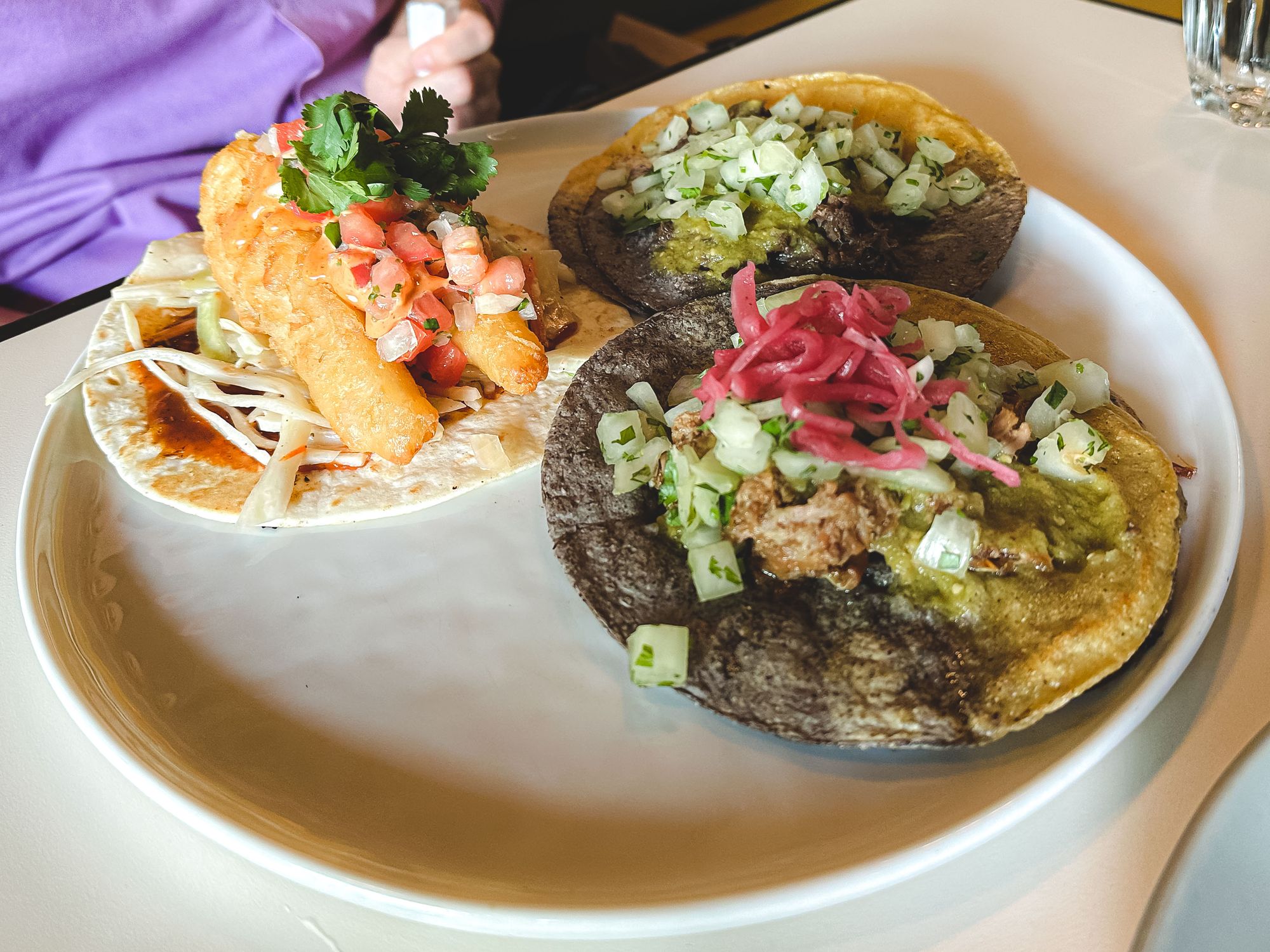 Now about that birriamen. I feel like this was a dish made especially for me. I love noodles. I love making instant noodles at home almost as much as I love ramen in restaurants. Hailing from a recent surge in popularity in Mexico City, the La Taqueria version of birriamen was a bowl of birria tatemada brisket broth with handmade rice and corn noodles, a diablo soft-boiled egg, pickled onions, white onion, shallot oil, and a crunchy birria taco.
Boy oh boy was this a savoury dish. Birria already lends itself to an intense savoury experience but mixing it with ramen is magical. Note that this is a pretty greasy bowl of ramen but if you're coming to a Mexican restaurant, you kind of have to be prepared for some grease. The birria taco had a good crispiness, but the noodles were a little too flimsy. Maybe it's a rice thing but these noodles felt a little too brittle for me. Now if Jinya down the street could supply noodles, I might be interested in a round 2.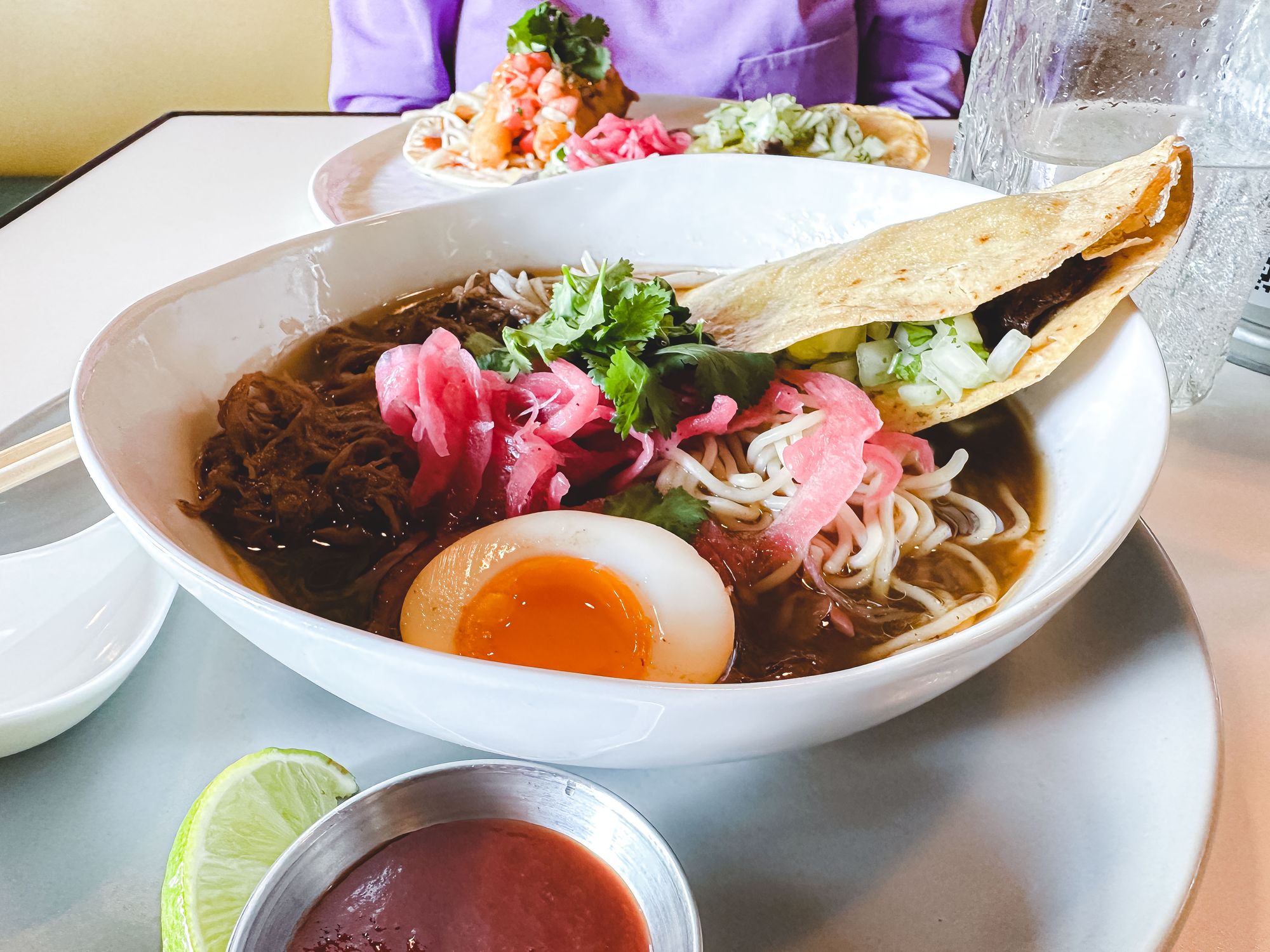 Overall, I applaud La Taqueria for innovating and importing a new dish from Mexico that will hopefully stick around on the menu and influence other Mexican places to innovate.
Features:
The vibe at La Taqueria is awesome. As soon as you walk through the door, the warm green bar greets you and a giant handpainted mural depicts a typical taco corner in Mexico City. Terrific feeling.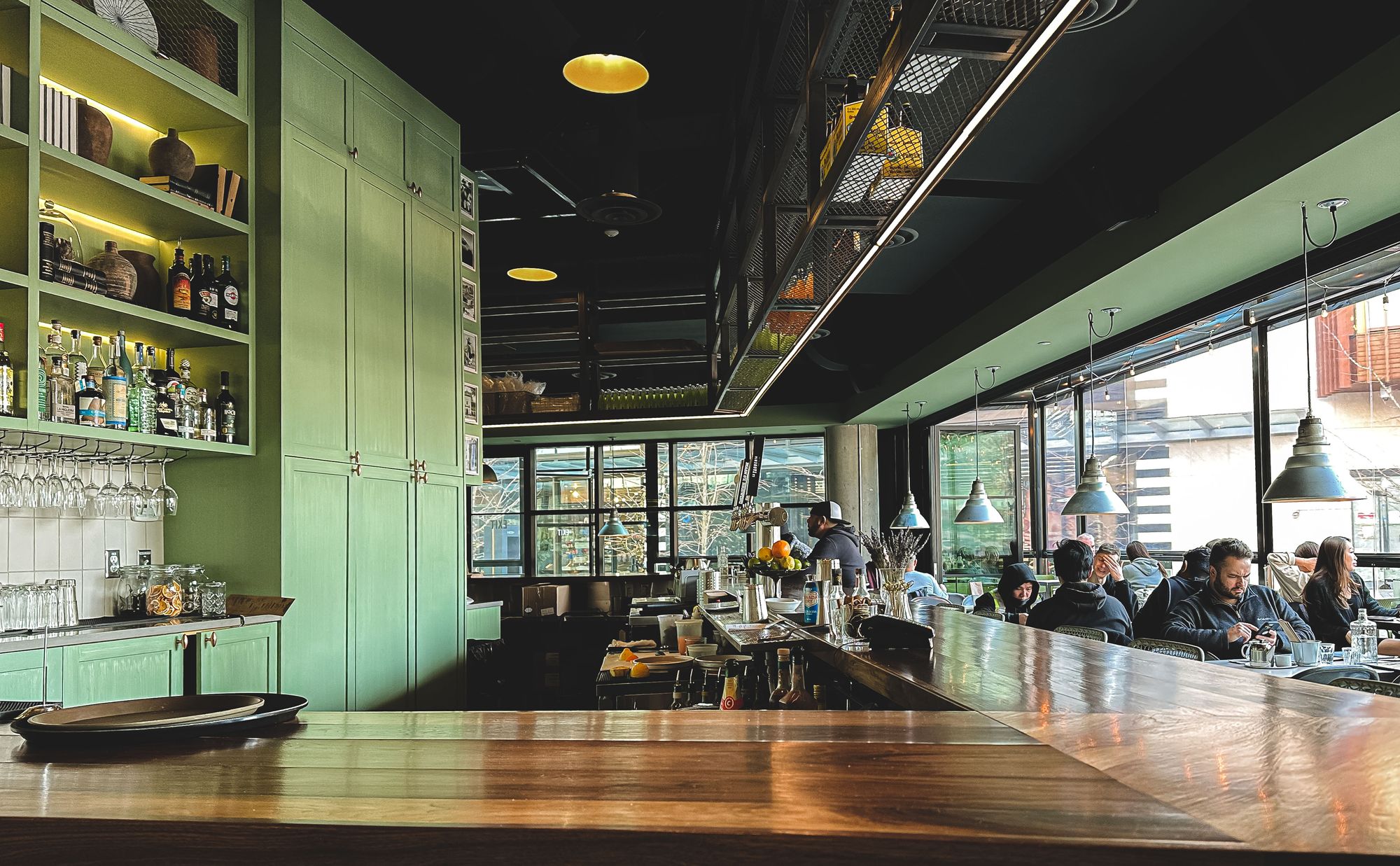 There is seating for about 100 guests in the U-shaped bar, a heated patio, and regular dining tables. The main drawback of the space is there is only a single unisex washroom. There was no line on a Monday lunch hour but I could imagine at night when the cerveza gets flowing, the line could drag out.
Service:
Lunch service at La Taqueria was fantastic. Our server had a ton of pep to their step and came back to check up on us. There was no refill of water but they gave us a large jug to pour it out ourselves. Food was really fast to come out too. I think our food was out in about 10 minutes so that's a good look for staffing levels during a lunch hour I think is naturally busy with all the residential towers nearby and people working from home. There was no reservation needed for our table of 2 and it didn't look like anyone really needed one.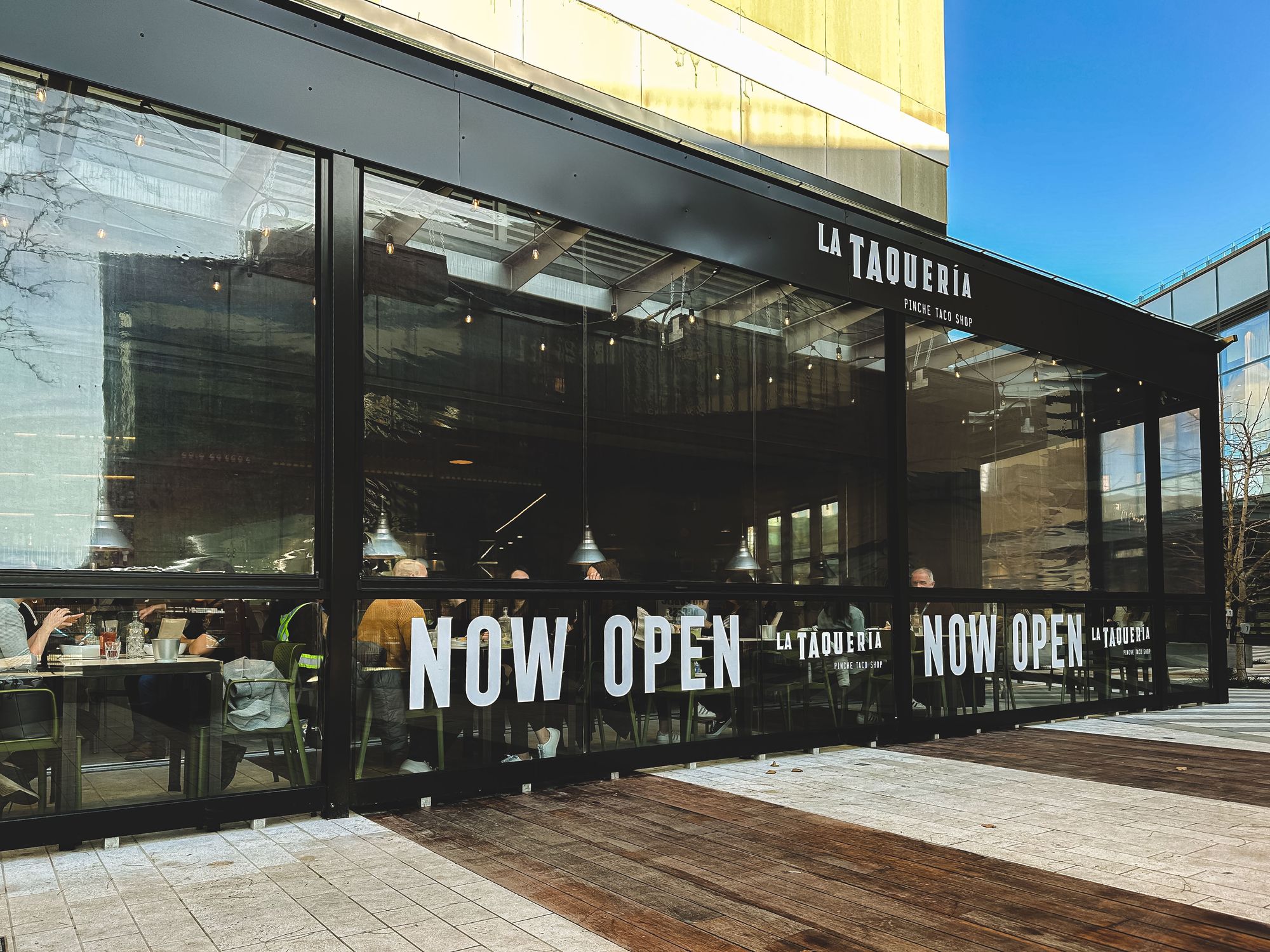 Final Thoughts:
One-liner: Mexico City hits really high notes with homey Mexican tacos and birriamen at La Taqueria
Highlight: Fish Baja Taco
Price per person: $20-$30
Would I go back? Yes.