One good drink deserves another, so when I was invited to the West End Cocktail Crawl last week, I was up and ready. I was pleased to see that both new (Centro) and old (Bayside Lounge) were represented on this walkable West End itinerary. This crawl was organized by Vancouver Gourmet Club, a new company that specializes in the more drunken side of Vancouver, offering a number of discounts for members (free membership with attendance of a cocktail crawl) and the aforementioned cocktail crawls.
Disclosure: I was given a complimentary media ticket. All opinions are my own.
Cocktail Crawl Passport:
This night's cocktail crawl (starting at $40/person) had us stop at the following:
First up, Bayside Lounge supplied me with a Cucumber Collins (gin, muddled cucumber, lemon juice, and egg whites) served with Mozzarella Arancini (deep-fried rice balls stuffed with mozzarella). The Cucumber Collins had a pleasant sweetness cut through with a hearty squeeze of lemon juice and refreshing cucumber. It was a classic cocktail and matched the feeling of Bayside Lounge very well.
I also managed to steal some of my partner's blueberry smash cocktail and sweet potato & avocado bites for my photos.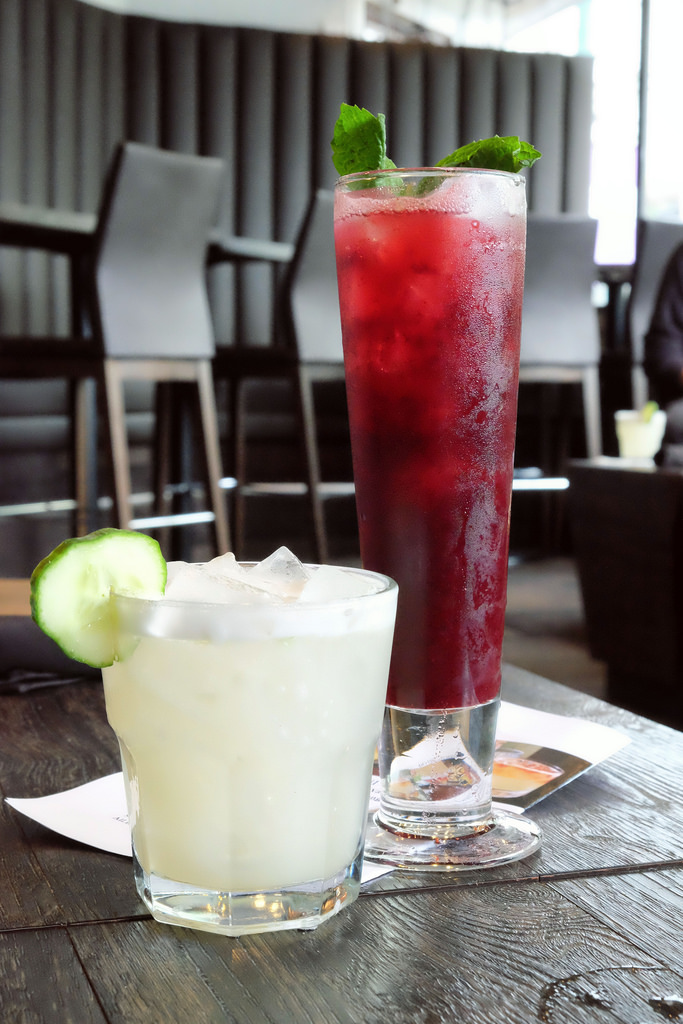 Left: Cucumber Collins
Right: Blueberry Smash Cocktails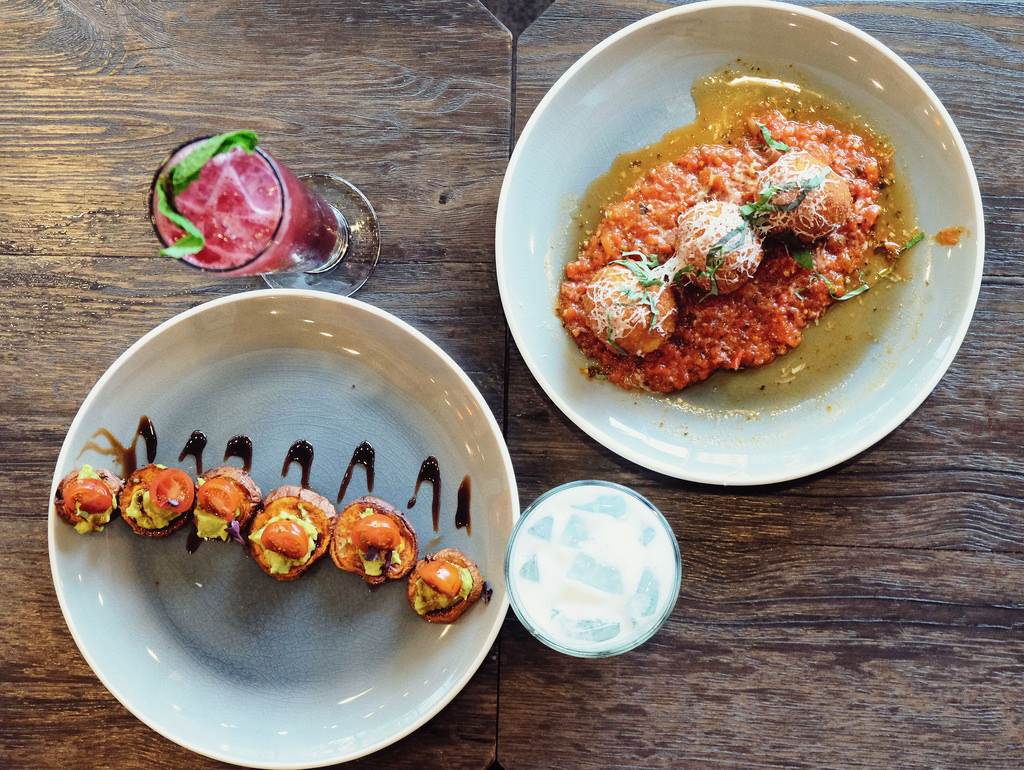 Sweet Potato & Avocado Bites and Mozzarella Arancini
A short walk later and we arrived at the West End's latest restaurant opening – Centro. Here I had myself a Pear Necessity (Bacardi gold, lemon juice, pear nectar, and a Boulevardier float). This cocktail had some serious punch and no amount of lemon juice would have been able to mellow it out. A shootable cocktail, this was not. This cocktail demanded to be sipped and enjoyed slowly. If you're looking to be a one-cocktail wonder for dinner, the Pear Necessity is likely a great choice.
We also enjoyed a small meatball appetizer.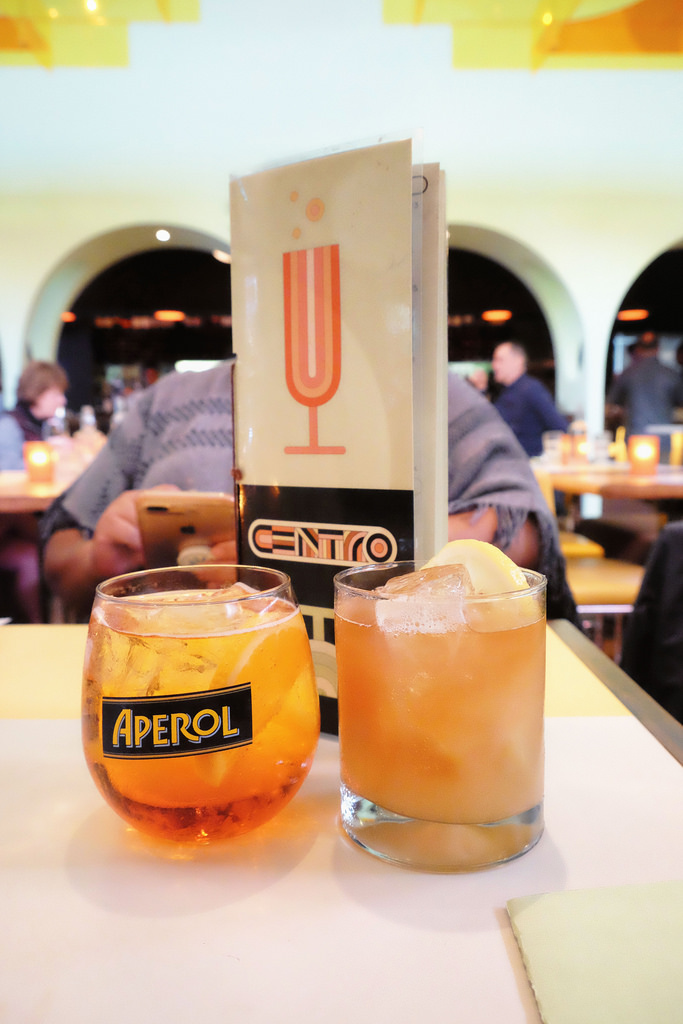 Left: Aperol Spritz Cocktail
Right: Pear Necessity Cocktail
Our final destination was the ever-beautiful Adesso Bistro. Here we were seated in their outdoor garden patio and I ordered an Elder & Younger (elderflower, thyme, dill, and cucumber muddled with gin and Cinzano, an Italian vermouth). I'm pretty biased for cucumber in cocktails so this was an easy sell for me. The muddled cucumber was floating in the cocktail which added some texture and had a refreshing finish with the herby thyme and dill.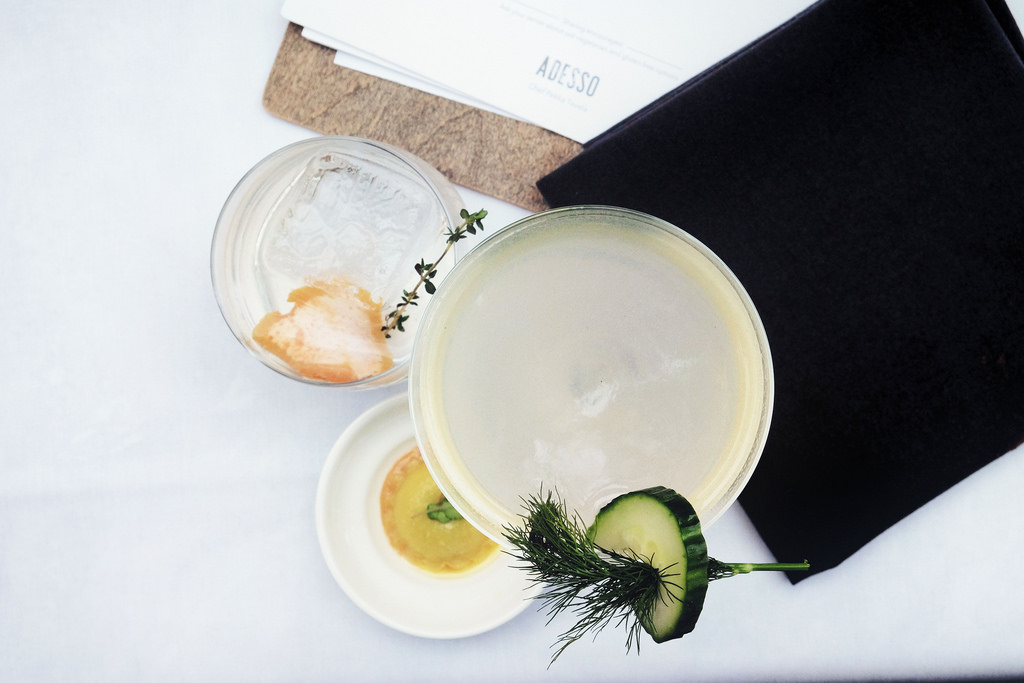 Left: Negroni Bianco Cocktail
Right: Elder & Younger Cocktail
Final Thoughts:
Every restaurant was expecting our group's arrival which is partially why 2.5 hours was more than enough time to visit all three restaurants. Having a reserved table for our group was awesome because some restaurants were packed on this Thursday night. $40 is a very fair price given you're getting food, drinks, and timely, organized service (gratuities extra) at 3 restaurants.
One-liner: An informative 3-stop cocktail crawl at 3 restaurants ready to mix up new and classic cocktails
Highlight: Bayside Lounge's Cucumber Collins
Price per person: Starting at $40/person
The next crawl: Chinatown! Visit https://www.vangourmetclub.com/ for more details.