With great wine comes great food pairing responsibility. The 2019 edition of the Vancouver International Wine Festival saw the return of another festival favourite: the PICA Kitchen Party. Featuring 9 wines, 8 chefs, 6 kitchens, and a whole ton of food and beverage, not a soul left famished during this 2.5-hour grazing event hosted by the Pacific Institute of Culinary Arts. For those who missed out on this sold-out event, I've got a quick recap of what guests enjoyed below.
Disclosure: I was given a media ticket to attend this Vancouver International Wine Festival event. All opinions are my own.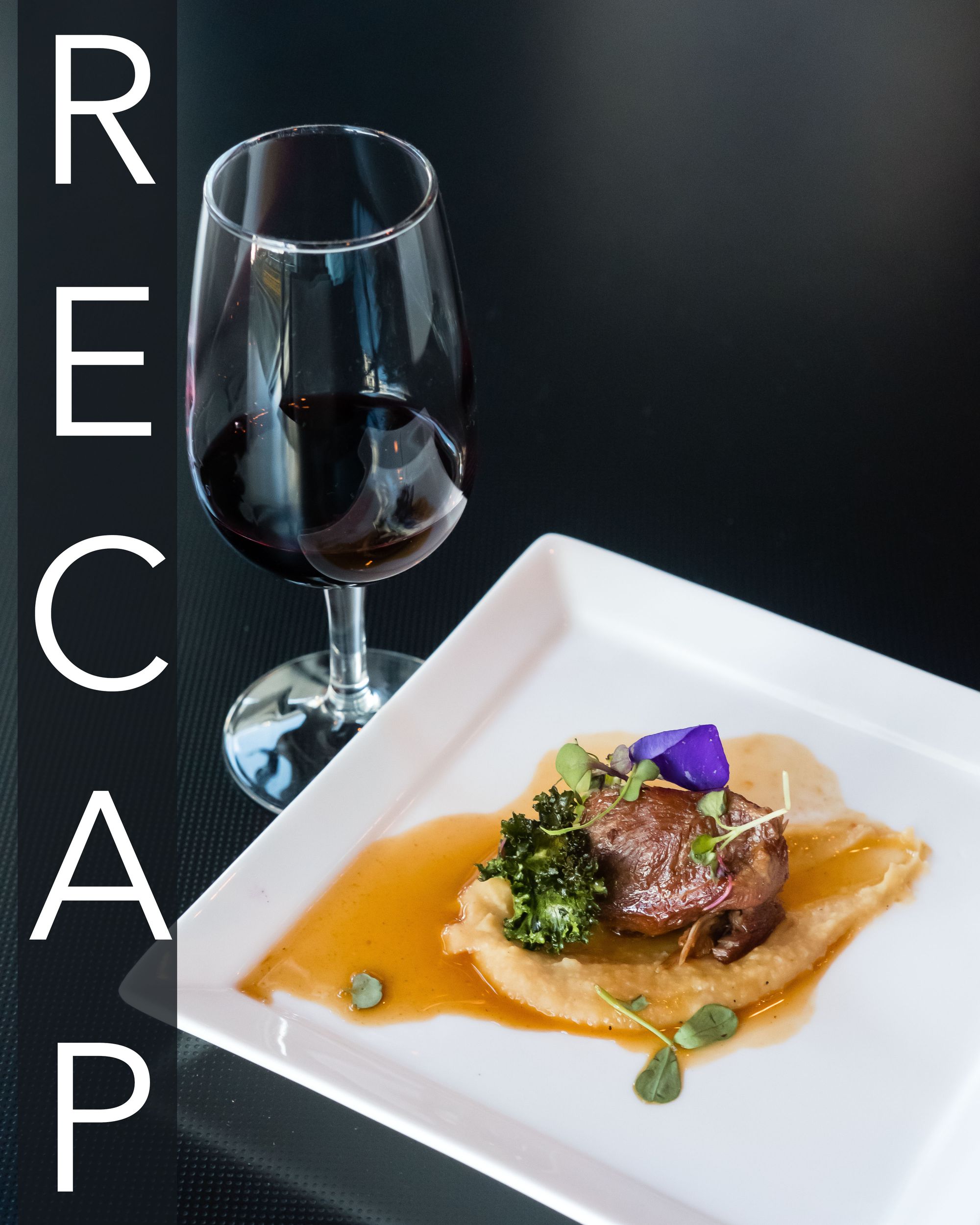 Event Organization:
This was a unique event that took advantage of the various kitchens available at the Pacific Institute of Culinary Arts. After checking in and hanging up a coat, guests were free to peruse the different kitchens, get their wine glasses filled, and pair the wine with a chef's featured dish. Not a fan of the type of wine? No problem, just grab a plate and go. Not a fan of the food? No problem, just fill up on the wine and come back for a refill later.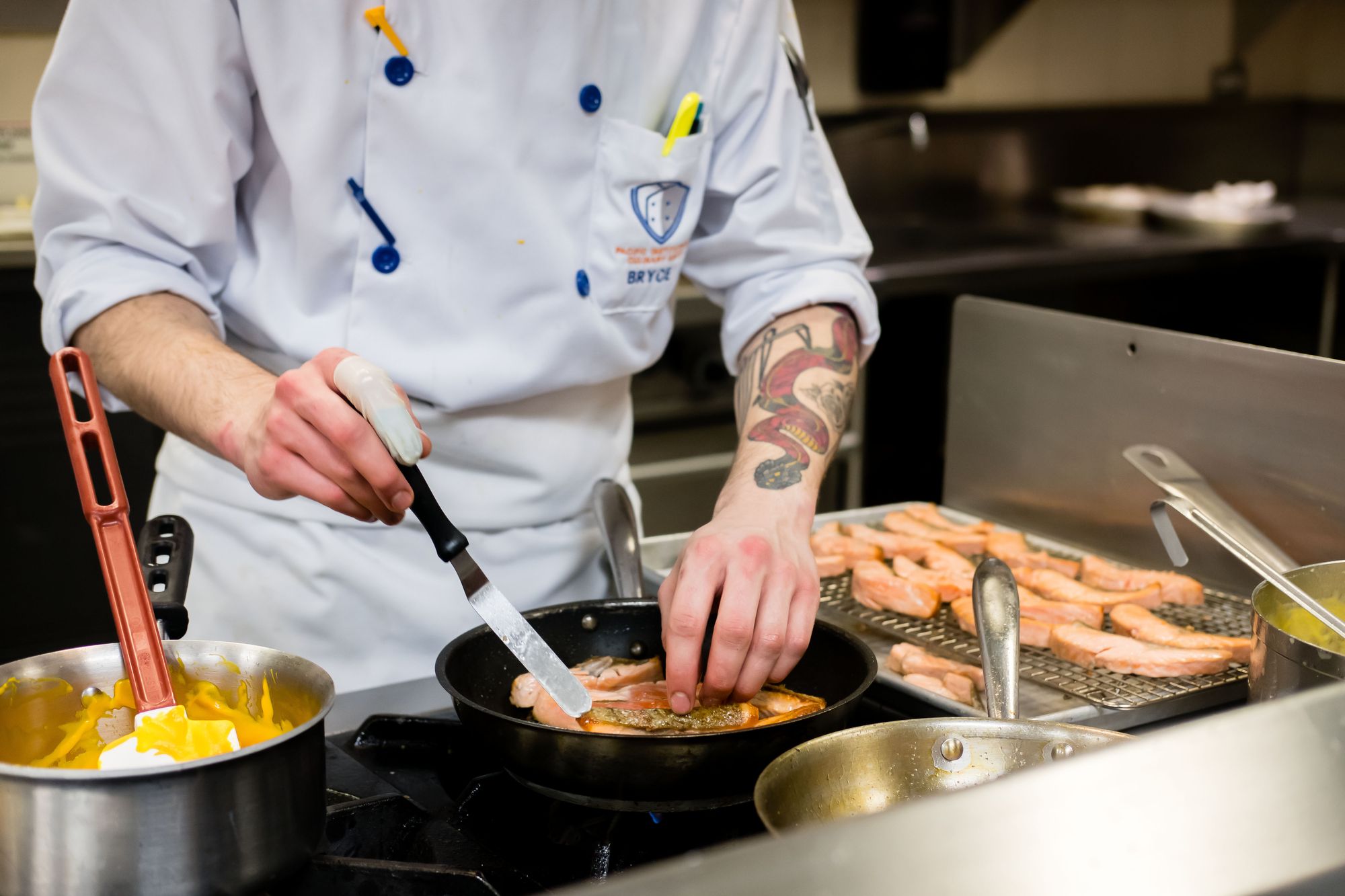 With 6 kitchens holding the food and wine stations, there was never a lack of food to go around. In addition, many of the kitchens were on the ball with keeping up with the demand for food. In the few moments a chef's team was catching up with hungry attendees, the winemakers and wine team were on hand to keep wine glasses filled up. Nobody left this event feeling famished.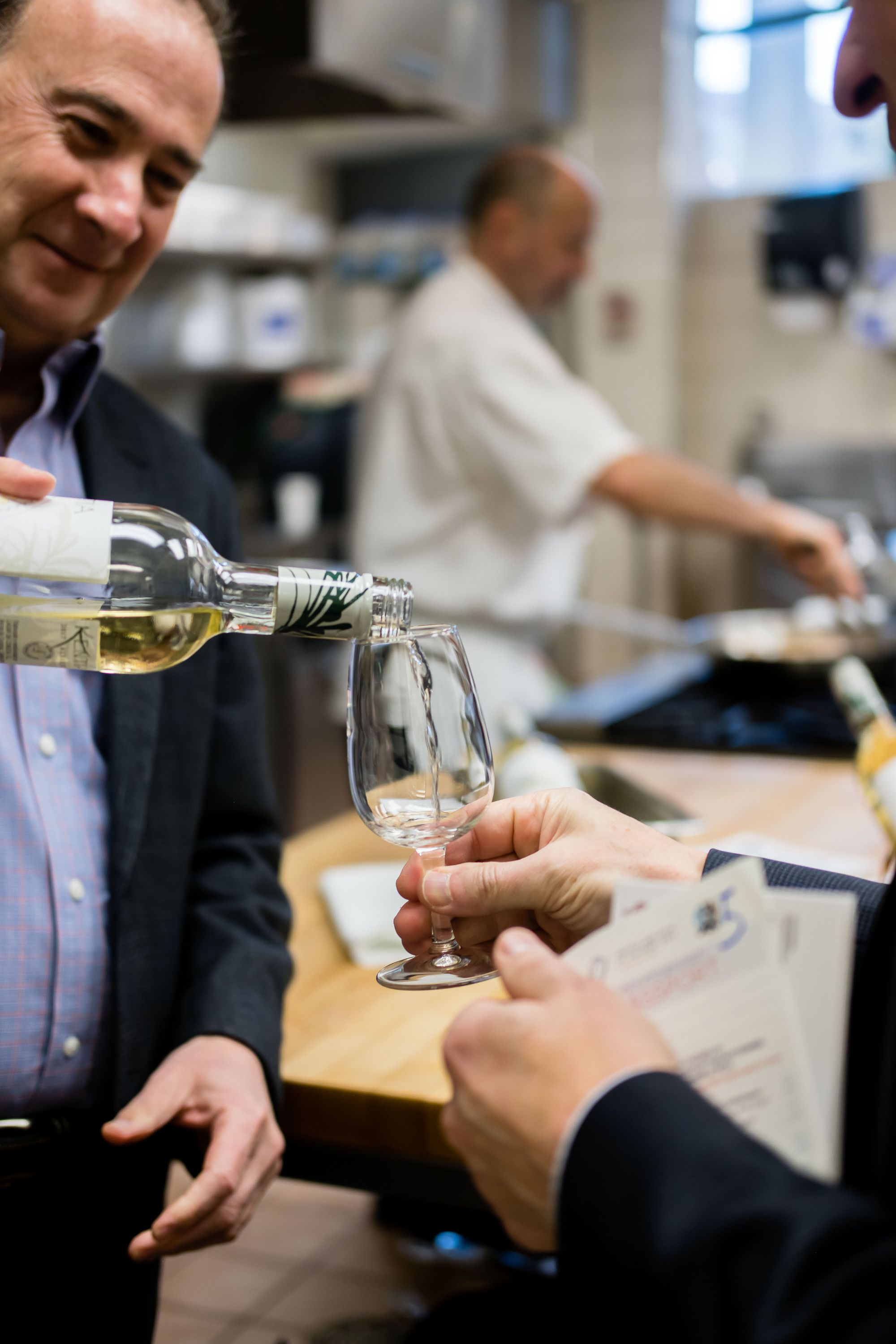 Every station featured a chef that was prepared to talk about the food and a wine principal prepared to talk about the pairing. The topics of conversation I heard were very engaged and intimate. Given that the kitchen is a chef's natural habitat, it was a neat feeling capturing the conversations and wine pours from behind my camera lens.
Food and Drink:
For the PICA Kitchen Party ($99/ticket), I enjoyed a great taste of the following:
Assorted Canapes (PICA) paired w/ Rutini Wines Trumpeter Extra Brut NV
Baked Trout (Food Art Music Inc.) paired w/ Kim Crawford Signature Reserve Sparkling 2013
Seared Yesso Scallop (Shangri-La Hotel Vancouver) paired w/ Gil Family Estates Kentia Albariño 2017
Fire Bannock (Outer Shore Expeditions) paired w/ Familia Zuccardi Tito Zuccardi Paraje Altamira 2016
BC Spot Prawn (PICA) paired w/ Minuty M de Minuty 2018
Kelp Custard (pilgrimme) paired w/ Elk Cove Vineyards Willamette Valley Pinot Gris 2017
Braised Fennel (Royal Dinette) paired w/ Yalumba Eden Valley Viognier 2017
Morcilla (cacao) paired with Columbia Crest Intrinsic Cabernet Sauvignon 2016
Braised Lamb Shoulder (bon vivant catering) paired w/ Chapel Hill Winery McLaren Vale Shiraz 2016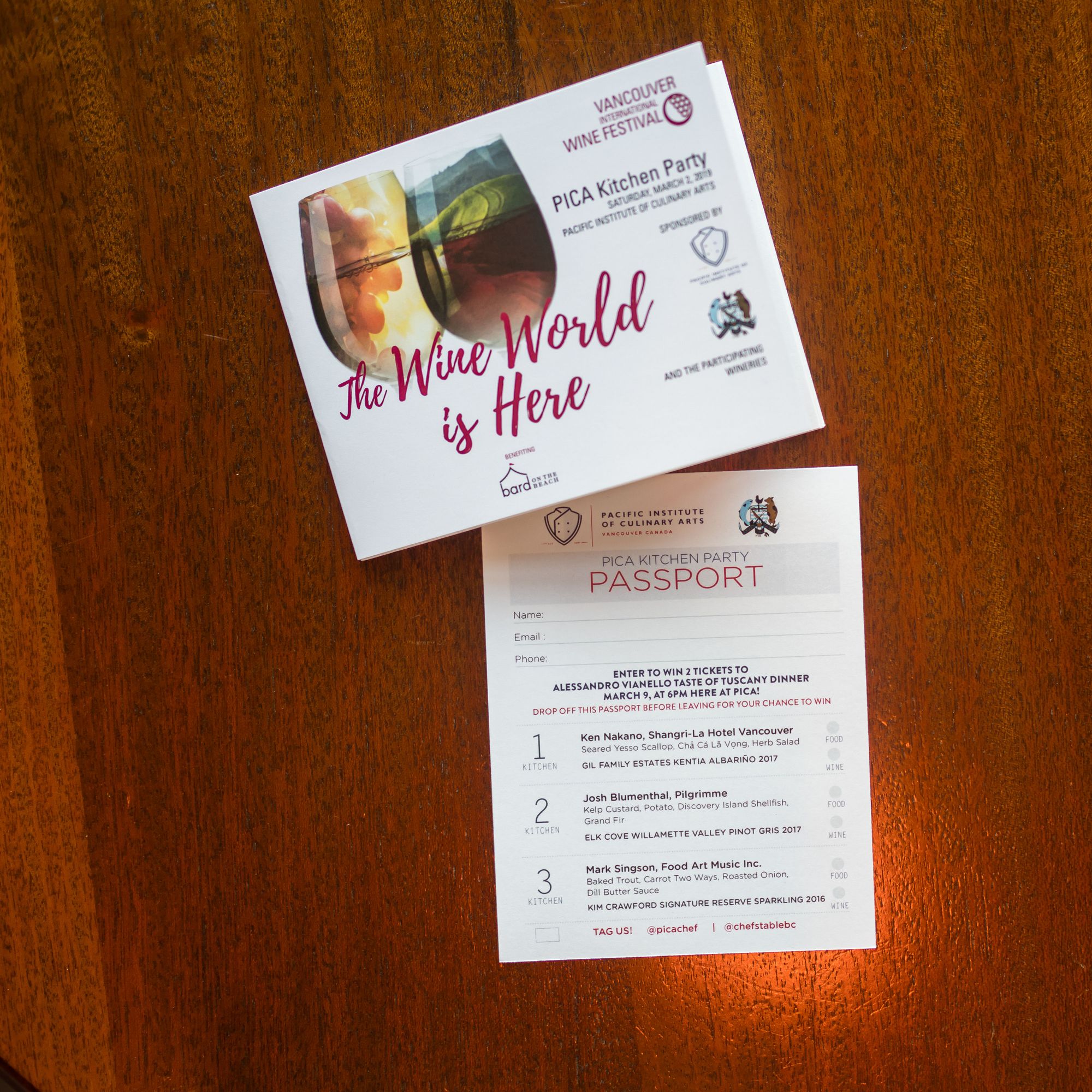 For the start of the event, canapes were passed out while we waited for an introduction by Executive Culinary Chef Darren Clay. Mini croquettes were a finger-friendly way to start the event but my body was eager to run into the kitchens. At this time, a Trumpeter Extra Brut NV by Rutini Wines was being passed around.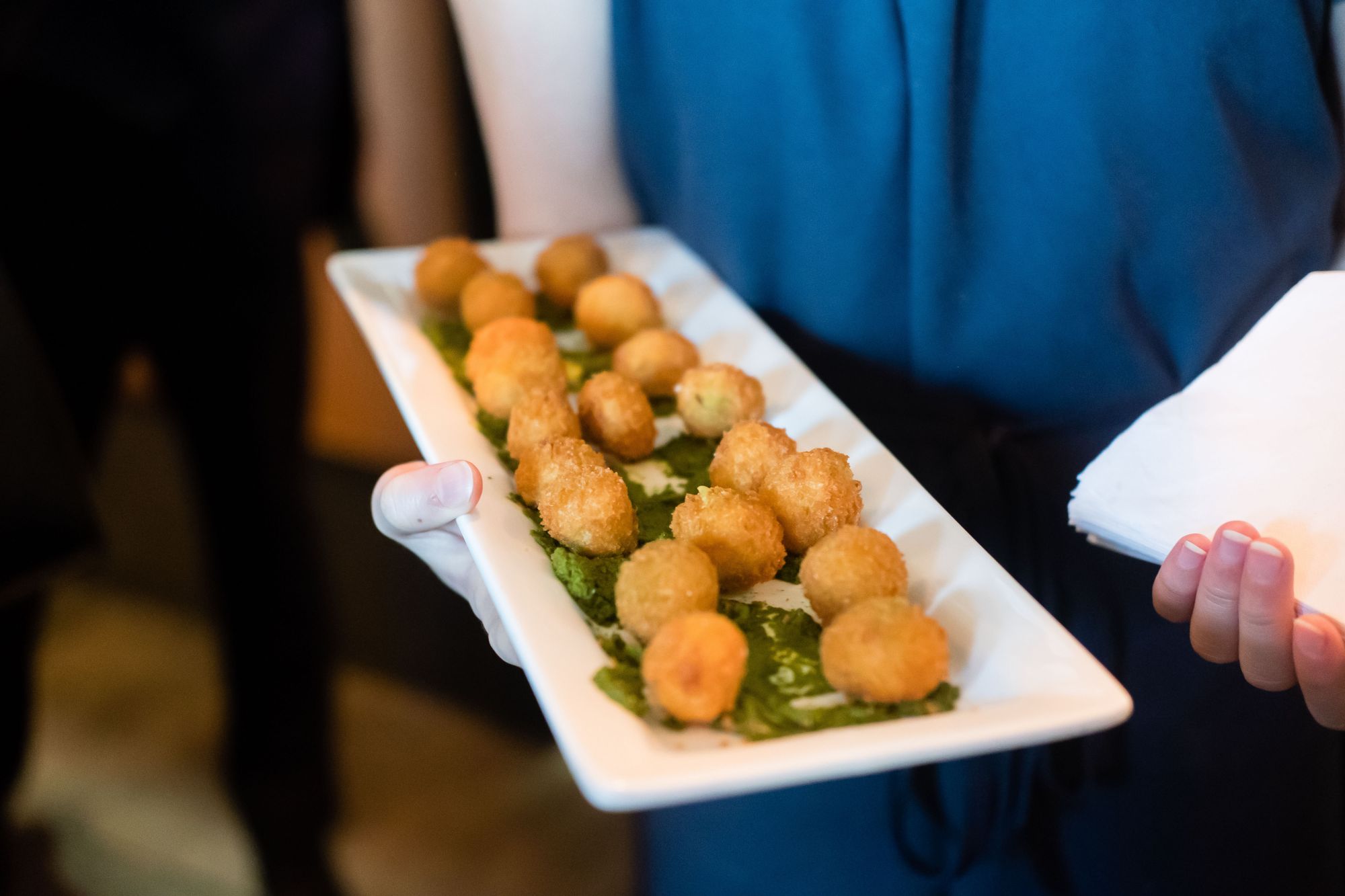 Once the intros were done, it was an organized rush into the various kitchens. As a media guest, I was free to join any group I wanted as they headed into their first kitchen.
Let's get started with my favourite dish of the entire event. The baked trout by Chef Mark Singson (former runner-up on Top Chef Canada) was long and away the tastiest dish. Served with carrot two ways, roasted onion, and a dill butter sauce, this trout tickled the taste buds in decadent ways. Every bite was a savoury and perfectly cooked harmony of trout and carrot. I would hope Mr. Singson opens a public restaurant soon because I would be first in line. Overall, this was a really fun kitchen that was also live-streaming the entire event.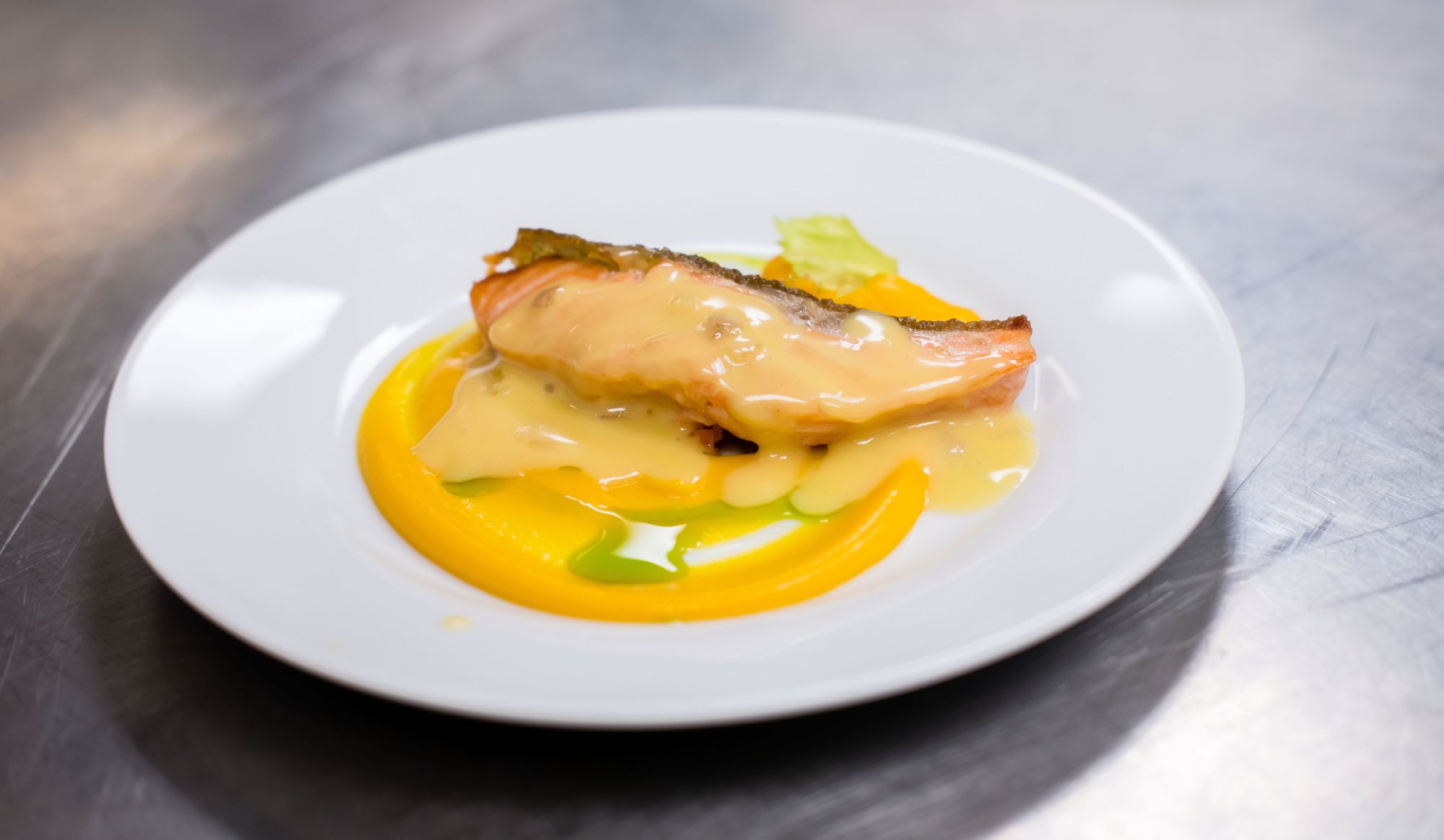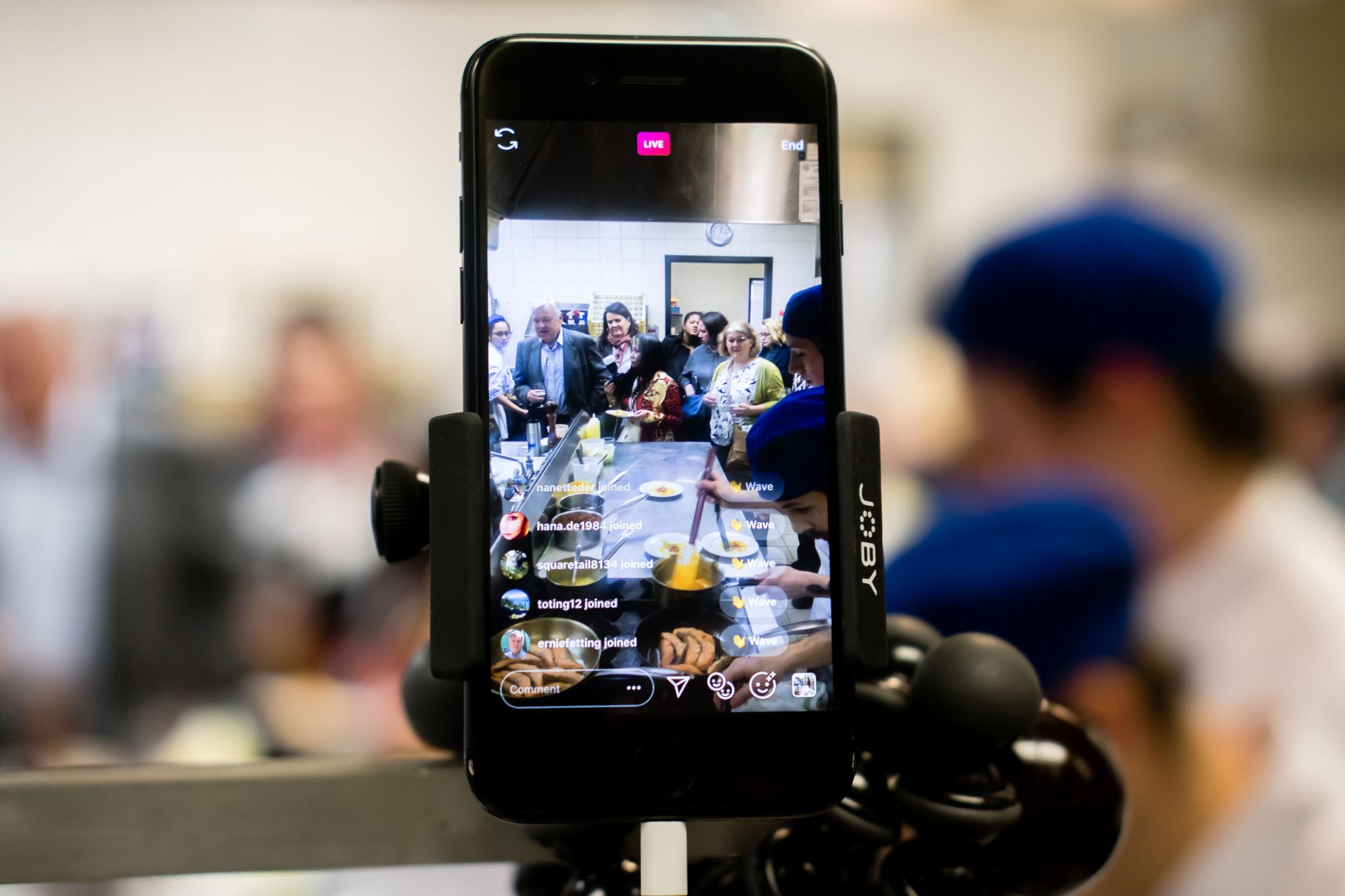 The baked trout was paired with a Kim Crawford Signature Reserve Sparkling 2013 which delivered just the right amount of bubbles to keep the trout tingly on the tongue.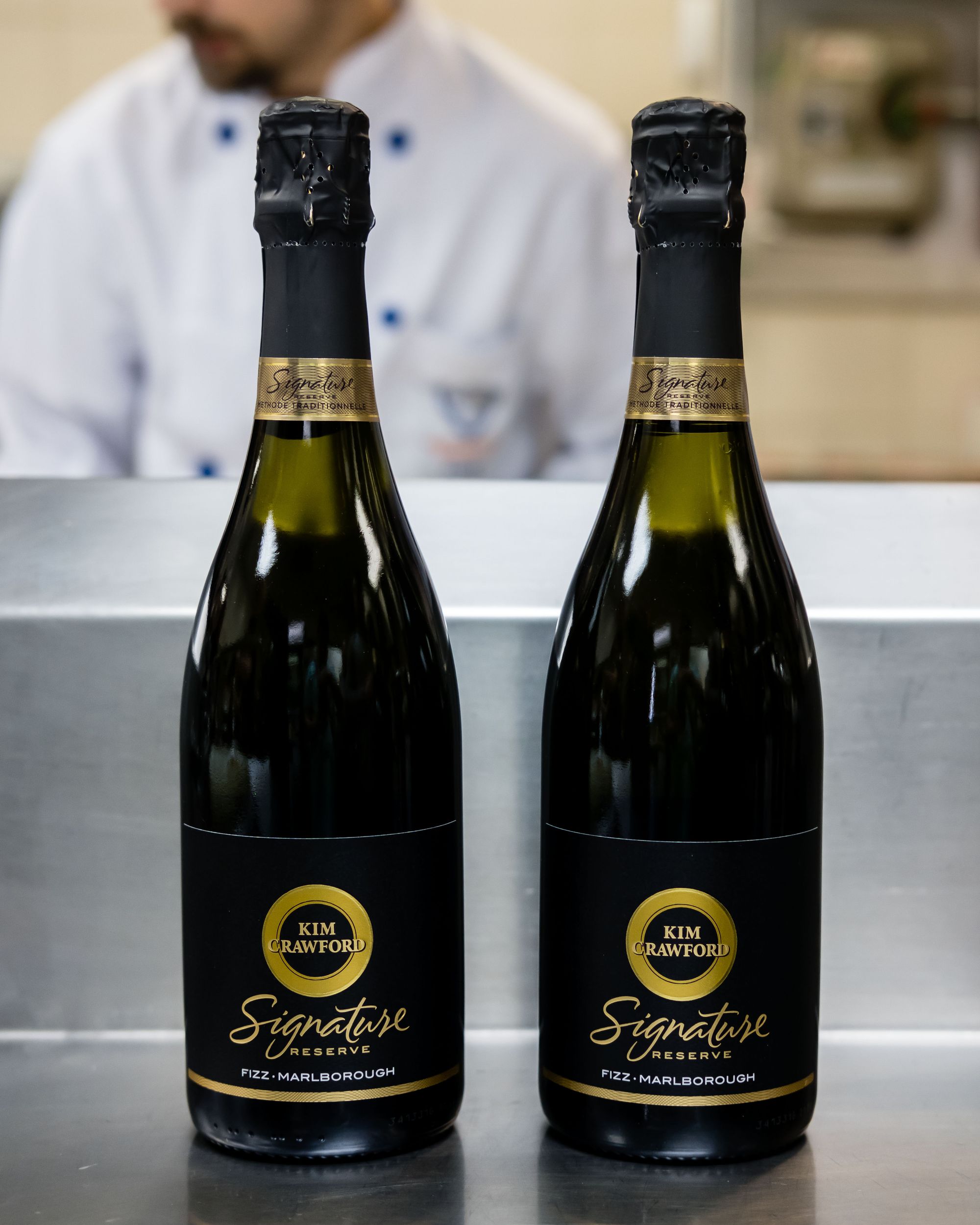 In the next kitchen, Chef Ken Nakano was banging out a seared yesso scallop with Vietnamese cha ca la vong and herb salad. The single scallop was almost too cute to eat but I put my emotions aside and enjoyed every bite. You and your squad have probably all gone for the regular bowl of pho together, but the magic by Mr. Nakano here convinces there's a lot more potential for Vietnamese food in Vancouver given how good his scallop was.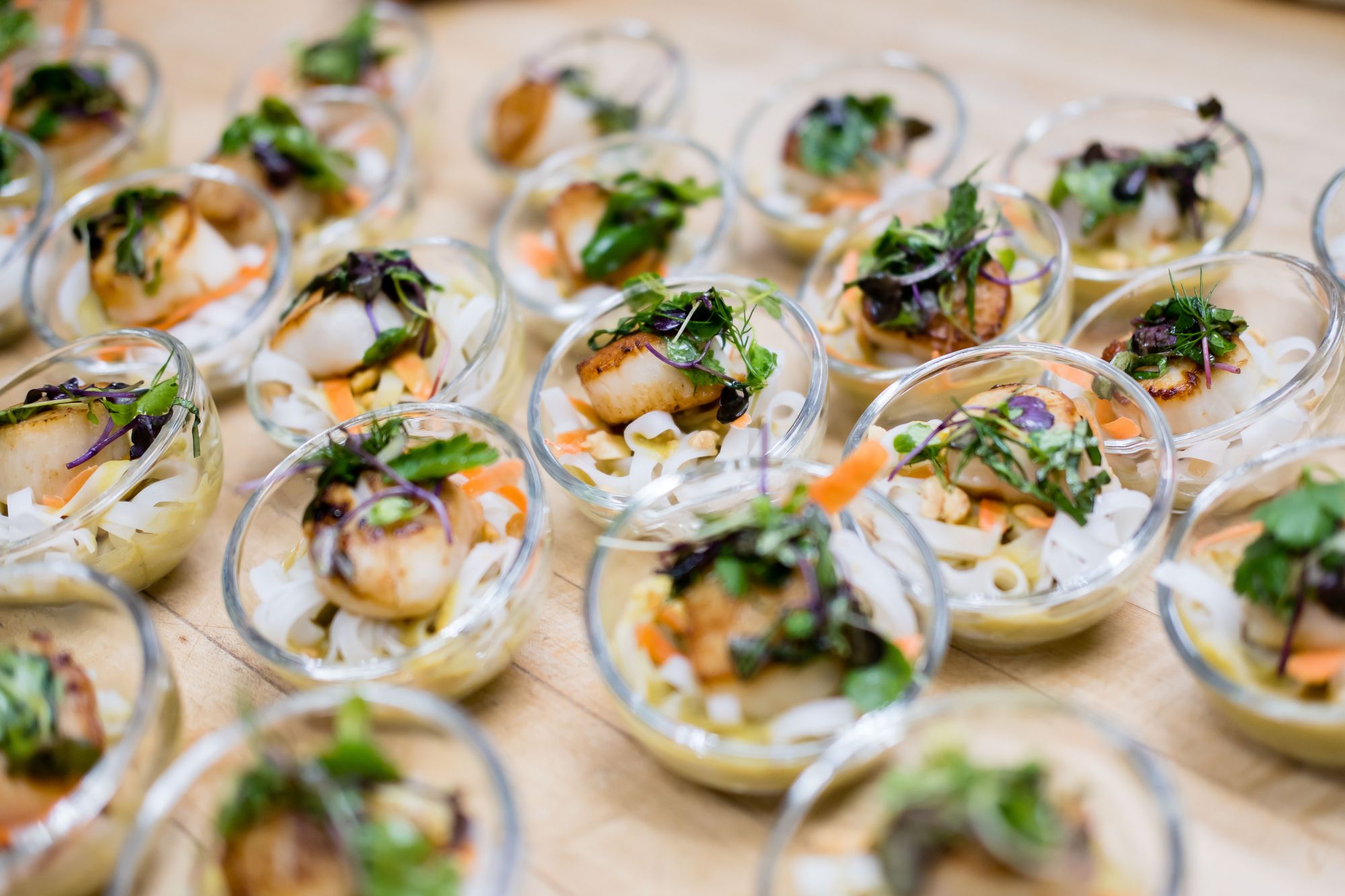 The seared yesso scallop was paired with a Gil Family Estates Kentia Albariño 2017 which had a fresh fruit palate with mild notes of cloves. This mild complexity was a great complement to the scallop which had a little bit of its own char to keep things smoky.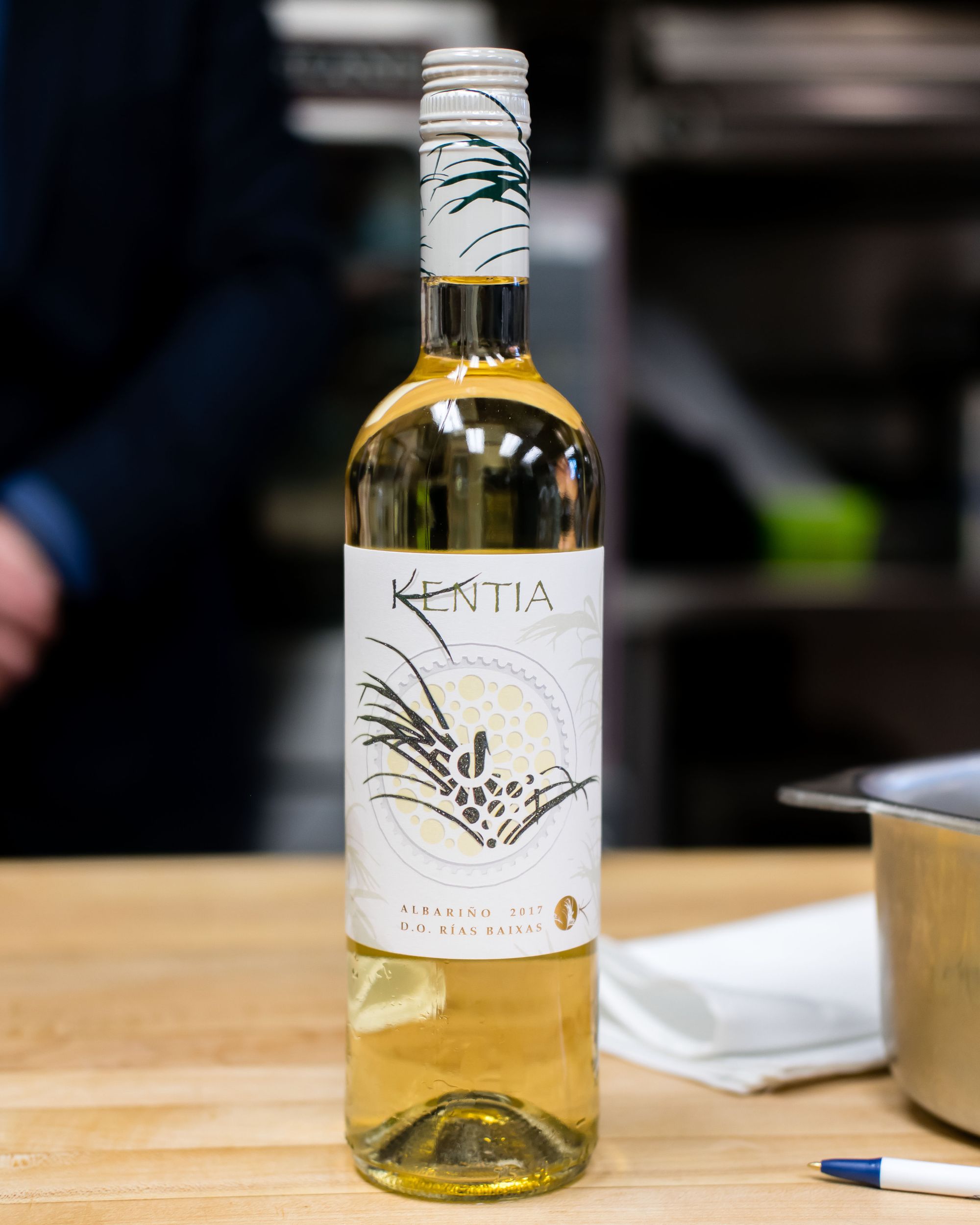 Another kitchen over was actually a double dipping of fire bannock served in savoury (pine cone pepper and smoked fish) and sweet (huckleberry) pairings. The bannock, a staple of Indigenous cuisine, was fried and rolled with a hearty helping of cinnamon so really both varieties had savoury and sweet properties. The spruce was really a novelty ingredient as chewing on it didn't do much for me. I'll give props to Chef Erin Vickars for bringing a dish like this to the event though. Whenever there's a wine event, you know there will be staple pairings for fish, red meats, and salads, but bannock is a pretty unexplored category so this was a fresh idea.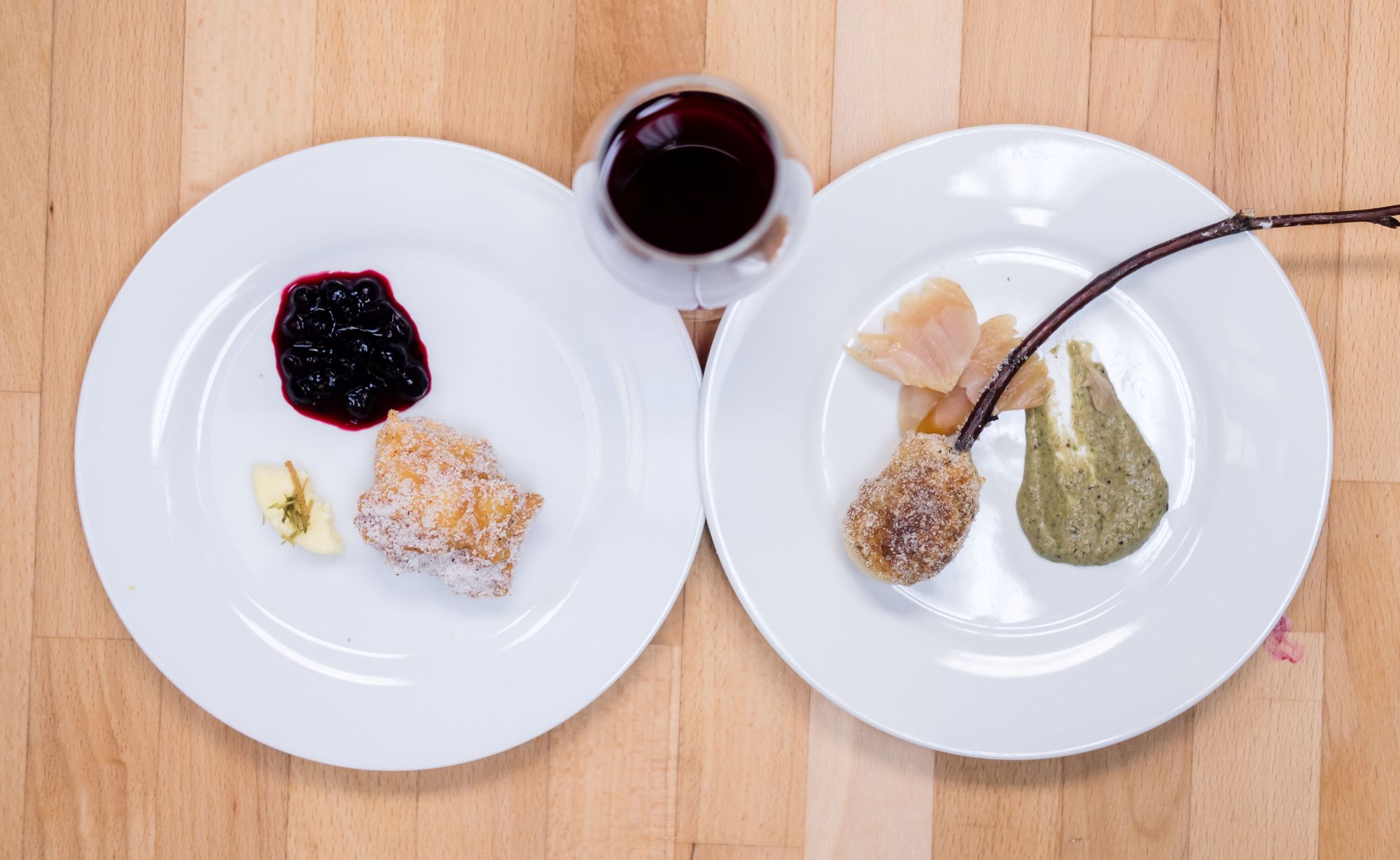 The fire bannock was paired up with a Familia Zuccardi Tito Zuccardi Paraje Altamira 2016. This wine had the standard fruit flavours but a mildly interesting floral finish which carried well with the pine cone pepper of the fire bannock. I preferred this pairing with the smoked fish variety of the firebannock. The sweeter huckleberry just felt like an abstract contrast so I preferred eating that one wine-free.
Taking place in the same kitchen (this one was extra crowded) was a creation of BC Spot Prawn by the work of Chef Julian Bond. This was served with a ricotta tortellini, lemon verbena, and strands of pomelo. Each sample I took was very savoury and cooked just right. You know it's a good spot prawn by how tender the meat is (almost like a crab claw) and the tortellini was fun to slurp up.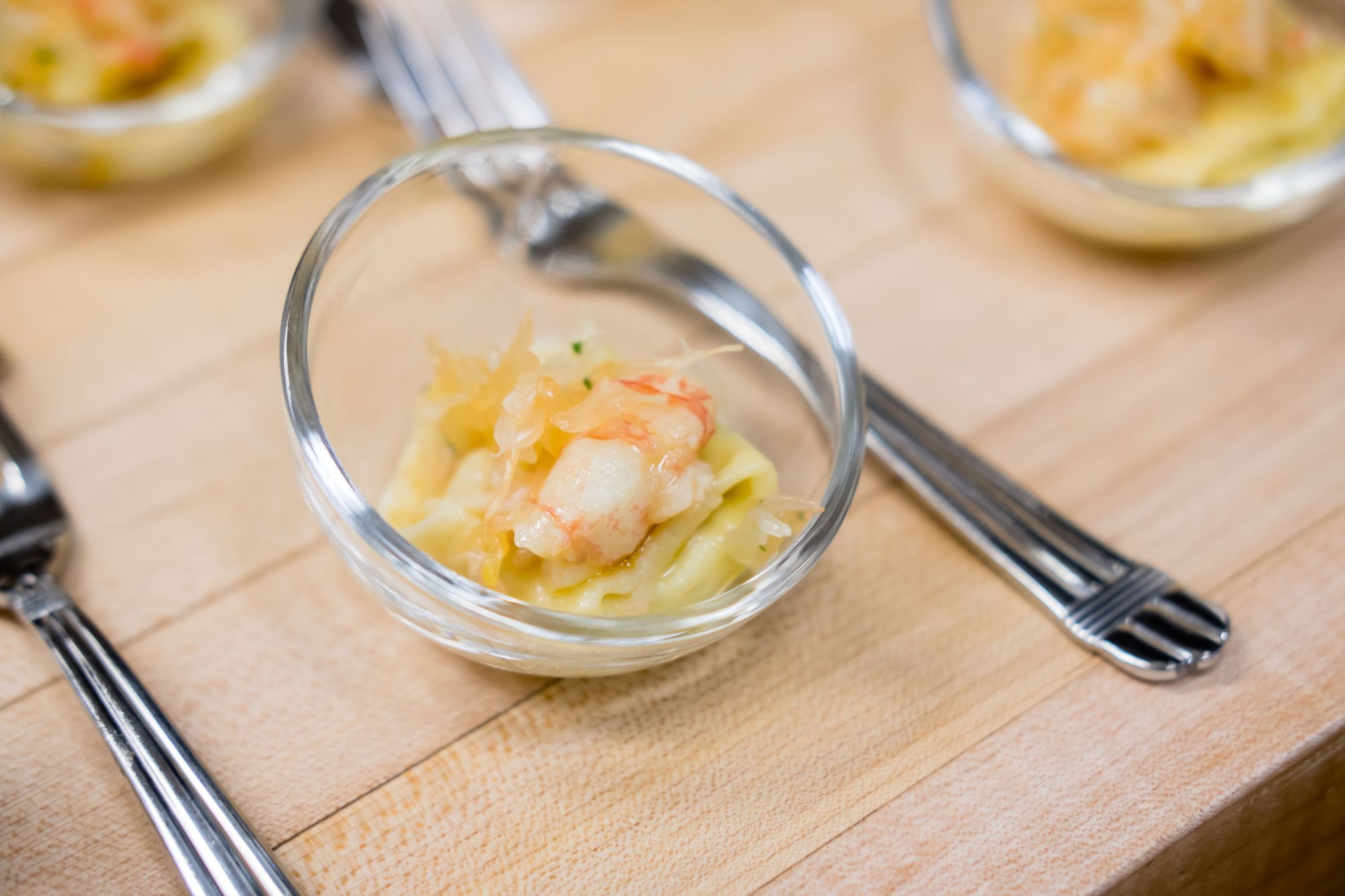 The BC spot prawn was paired up with the Minuty M de Minuty 2018. This was a young rose wine that was all parts summer and refreshing dry finishes. I personally prefer my rose to have bubbles so this pairing didn't really speak to me but I did enjoy M de Minuty as a sipping wine later on in the day.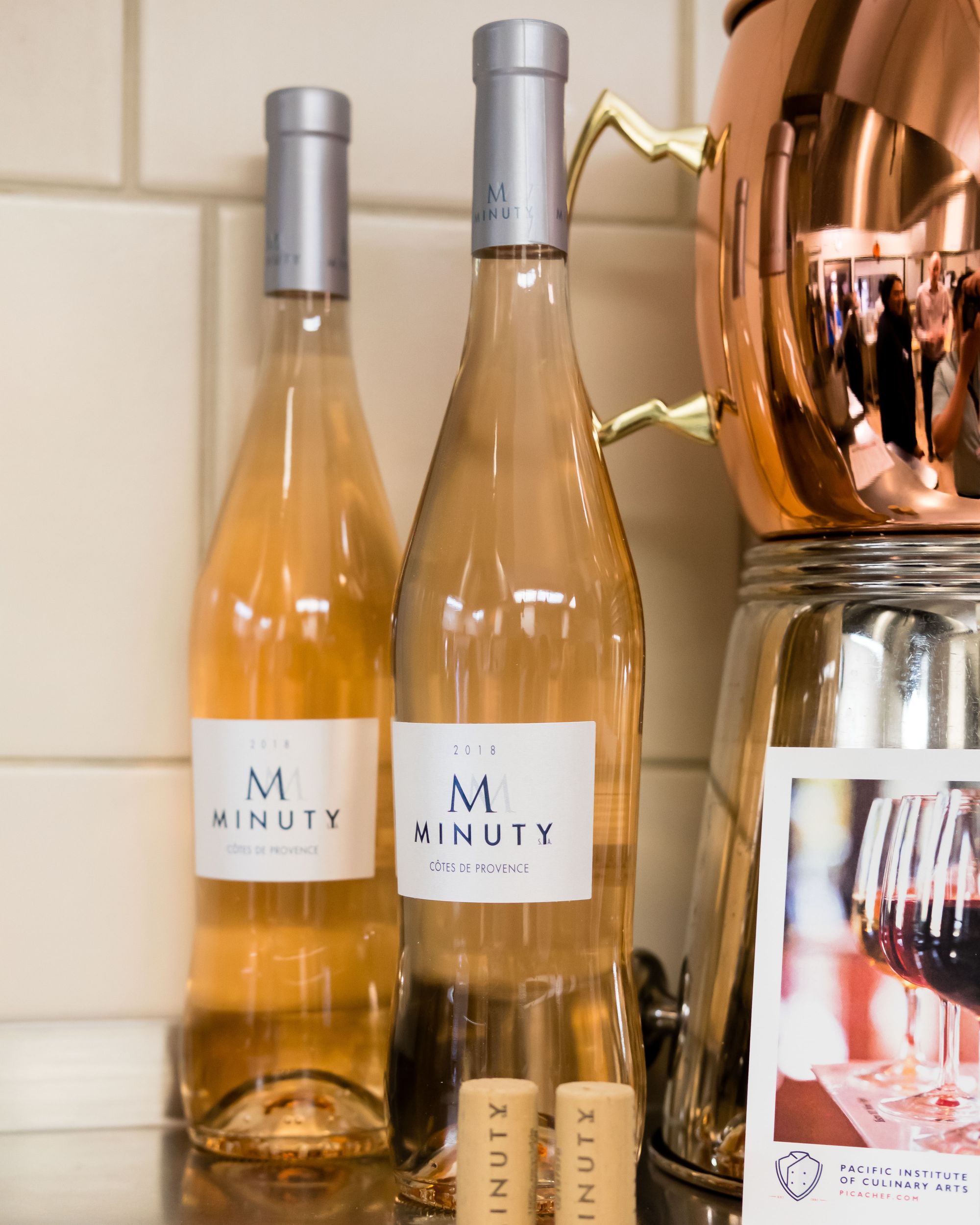 In the next kitchen, Chef Josh Blumenthal of pilgrimme fame was brewing up a kelp custard in a ramekin accompanied by potato, Discovery Island shellfish, and grand fir. This eggy custard was full of jiggy and juicy seafood. The effect was similar to a chawanmushi which is something you usually find at finer restaurants. Yet, here it was in unlimited samples for the PICA Kitchen Party so you could feel your dollar going further. The seaweed taste might be a little much for those with an aversion to seawater salt but I think the custard mitigated most of this salty sensation.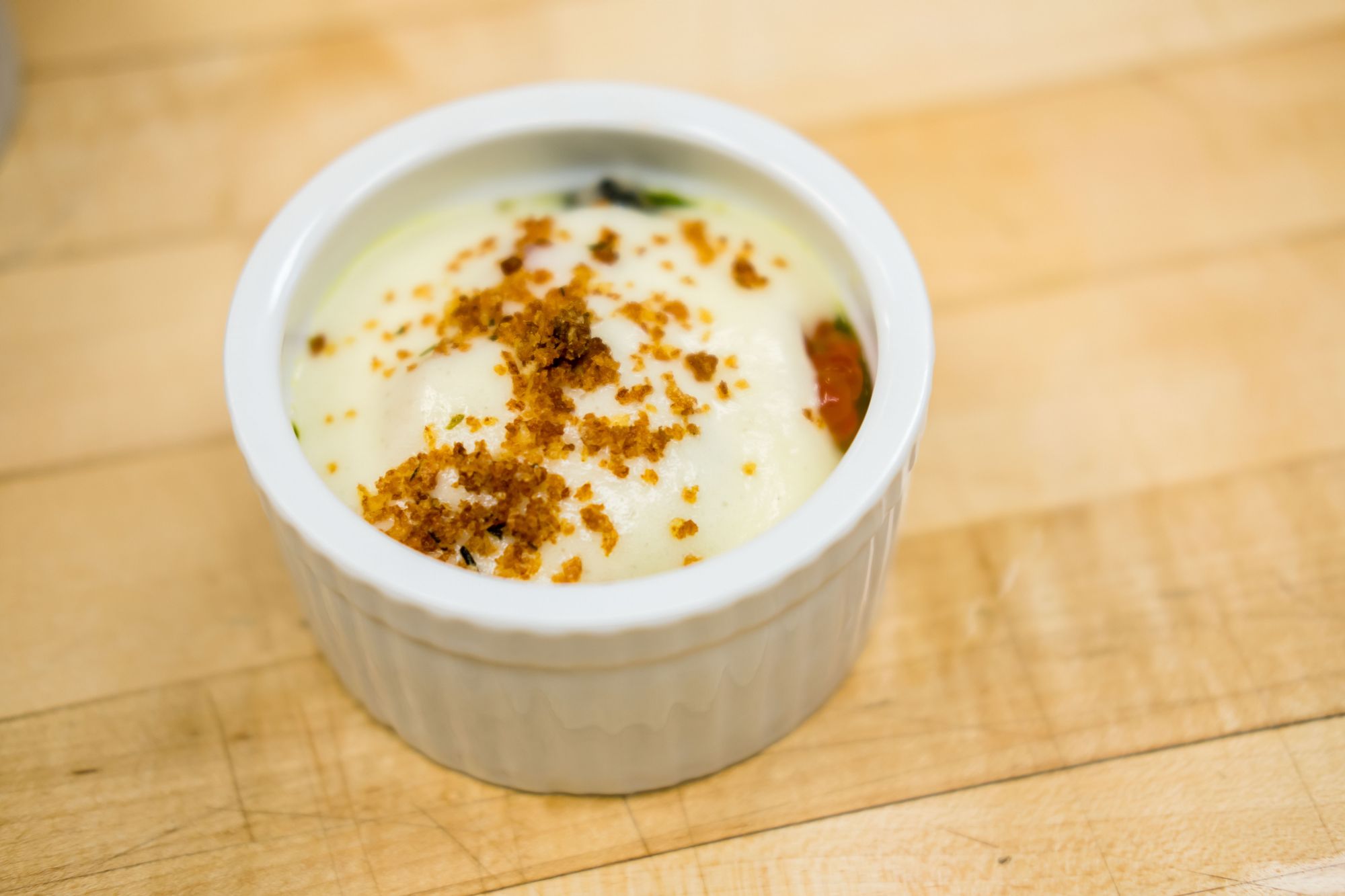 I saw a lot of guests really enjoy the pairing of the kelp custard with the Elk Cove Vineyards Willamette Valley Pinot Gris 2017. The drier wine helped keep the seawater feeling of the kelp custard in check and made it a more enjoyable experience for guests. Me? I could enjoy the kelp custard a la carte as it was because the seafood inside paired wonderfully with the eggy custard.
From the Donnelly Group's Royal Dinette came a Hazelmere Organic Farm's fresh, seared, braised fennel courtesy of Chef Amanda Healy. This was served with a Tesfa Farms' buffalo milk ricotta, elderflower, and celery leaf. If vegetarianism was a spectrum, this dish would be on the extreme end of "really vegetarian". While I loved the actual fennel in its braised glory, the celery leaf was hard as balls to chew through and I could feel strands of cellulose getting stuck in my teeth that I'd need to floss out after.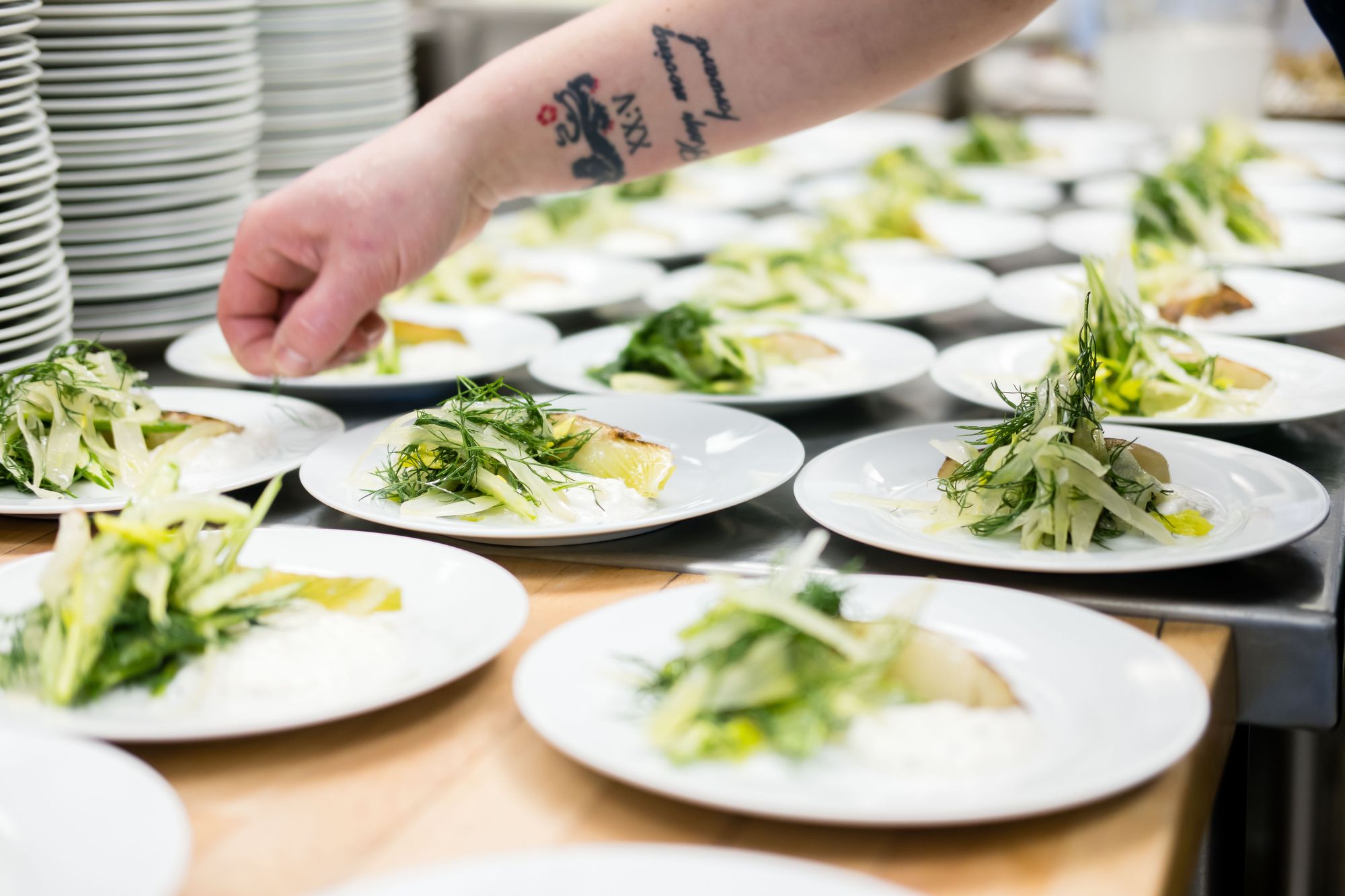 The pairing here was with a Yalumba Eden Valley Viognier 2017. I really got to swish in the wine here to try and flush out the celery leaf stuck between my teeth. This had the regular fruit vibes that weren't too intense nor complex. A simple wine for a simple dish of vegetables so this gets a thumbs up from me.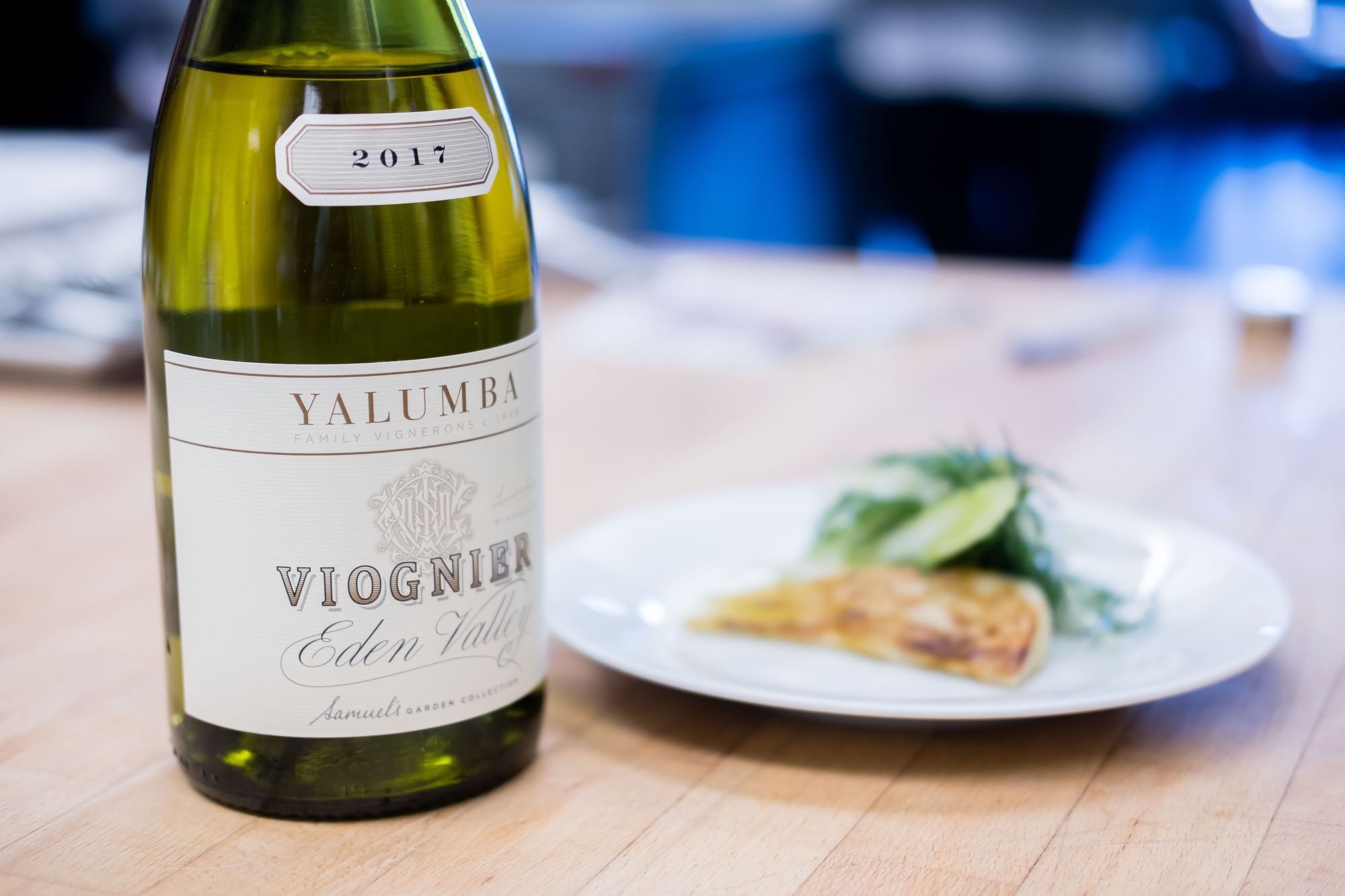 From the next kitchen came a morcilla dish by the work of Chef Jefferson Alvarez. Despite the sweet experience, this was actually a savoury combination of rice and sofrito (fried onions and garlic of Spanish cooking). If the classic brownie had a savoury cousin, this chewy and warm morcilla would be that cousin.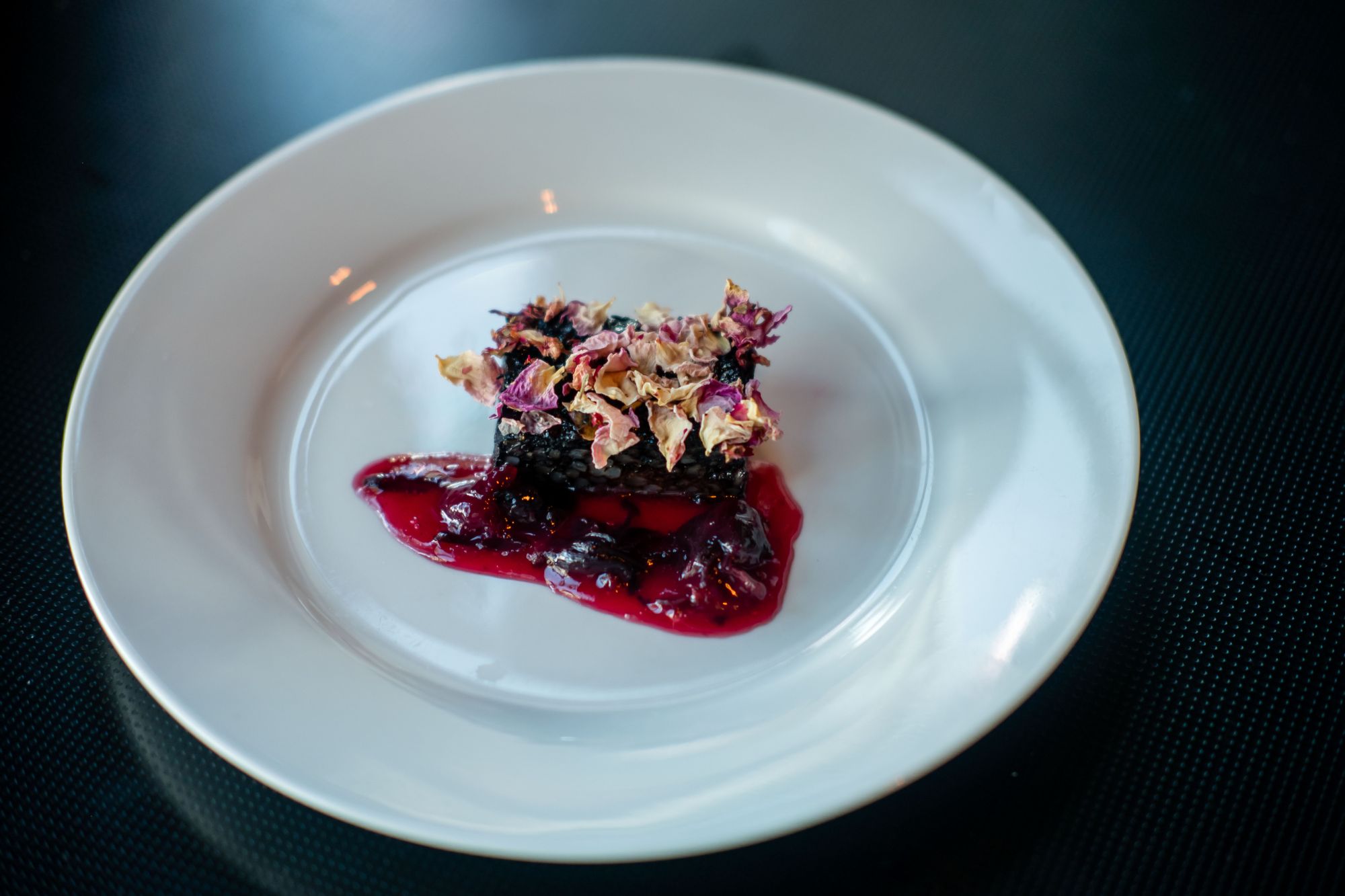 The pairing for the morcilla came in the form of a Columbia Crest Intrinsic Cabernet Sauvignon. Big body garlic flavours in the morcilla played wonderfully with the big body (but not face-smashing steak big body) red wine.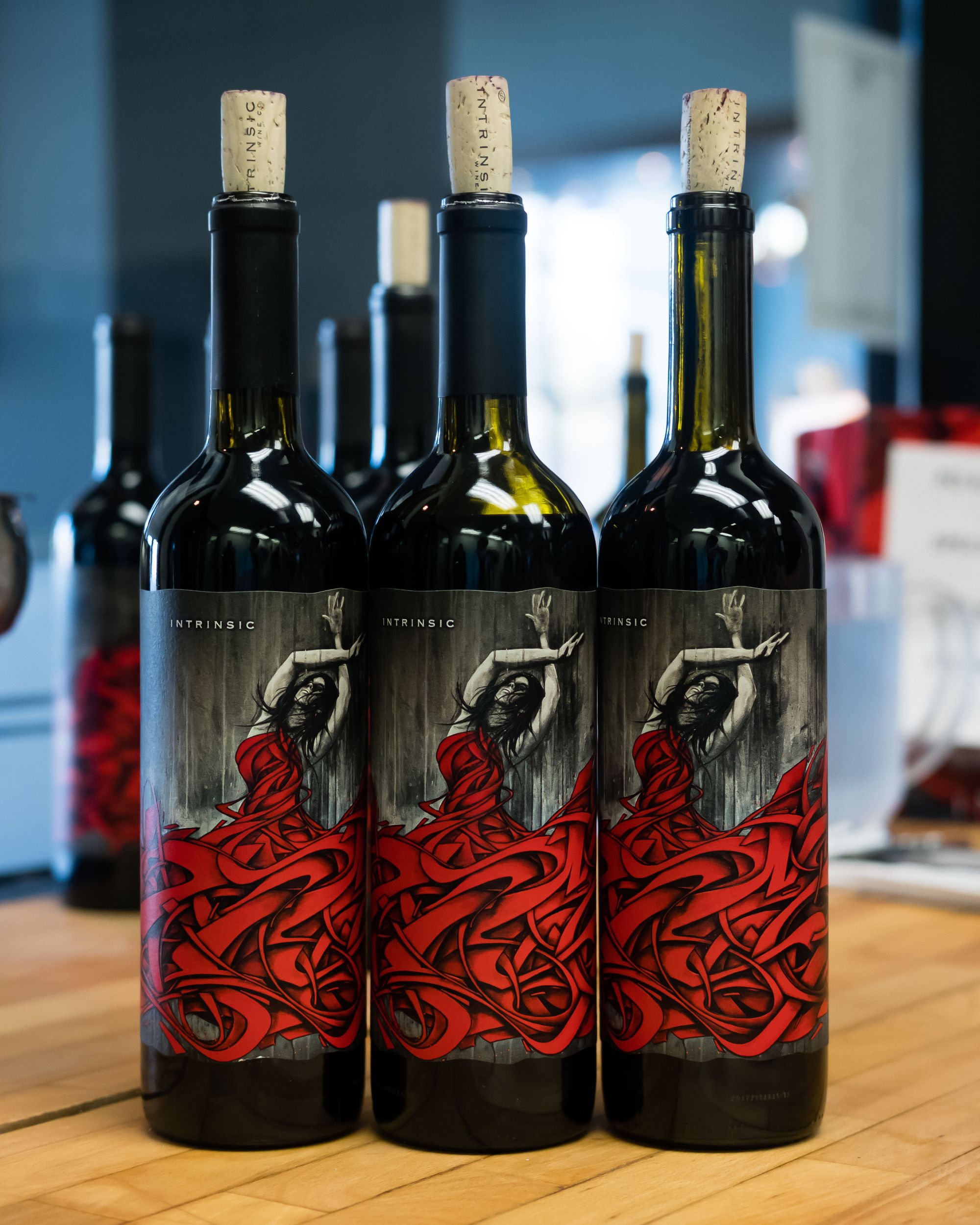 Last but not least, the braised lamb shoulder of bon vivant catering deserves special mentioning. Prepared by Chef Dino Renaerts, this lamb was some of the most tender meat I've enjoyed in recent memory. With enough rosemary & white bean puree and sautéed kale to supplement, each swirl of my fork into the lamb yielded a satisfying bit of drool as the sample made its way into my mouth. Equal parts fatty. Equal parts lean. This lamb shoulder was a perfect balance that was further complemented by the pairing of Chapel Hill Winery's McLaren Vale Shiraz 2016. The tannins were real deep in this shiraz and I could imagine chowing down into something like this pairing if I had to host a fancy dinner party.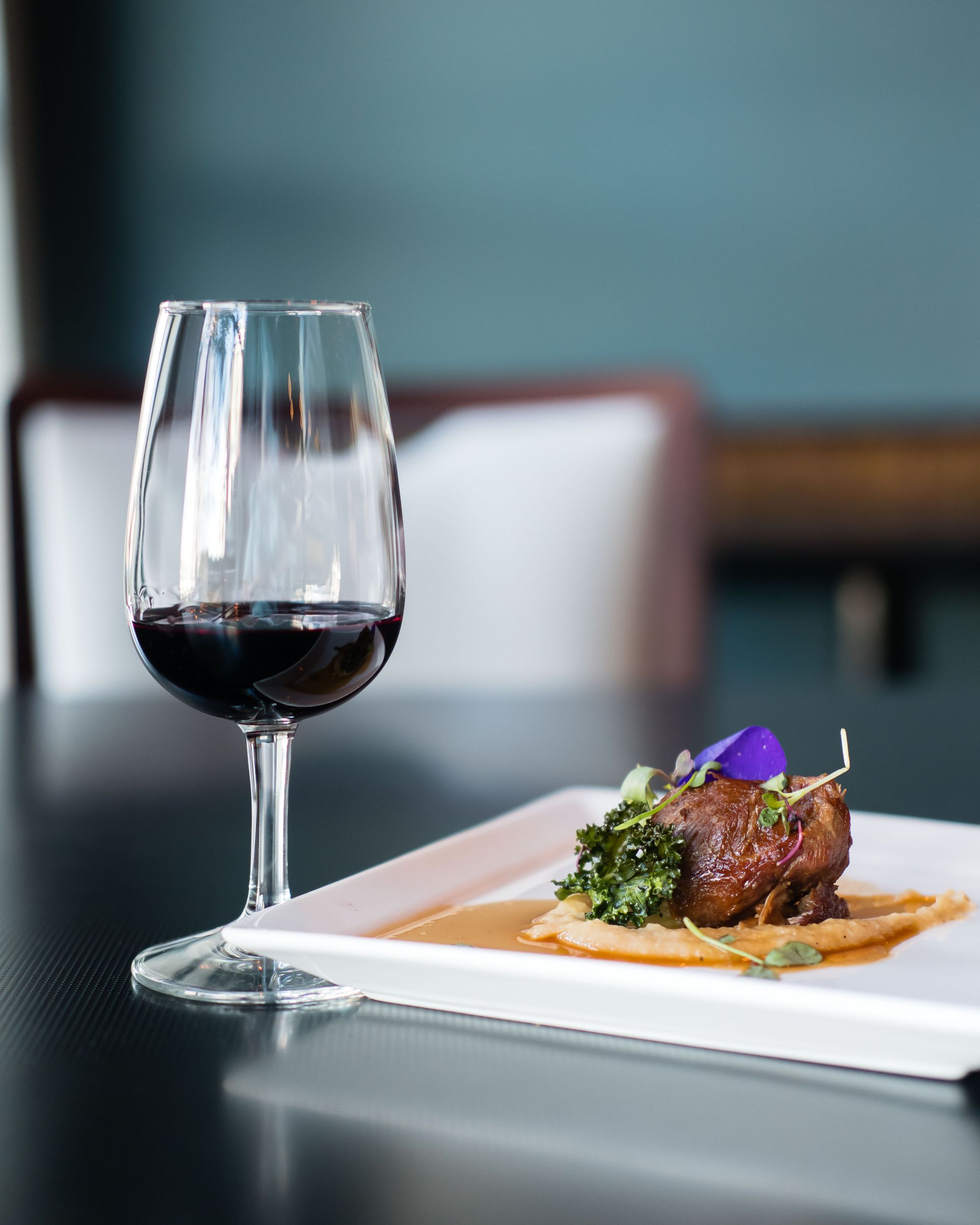 Final Thoughts:
One-liner: A ton of food in the most intimate setting, a kitchen, paired with fantastic wines and conversations with the people responsible for the magic being performed
Highlight: Mark Singson's Baked Trout
Price per person: $99/ticket
Would I go back? Yes.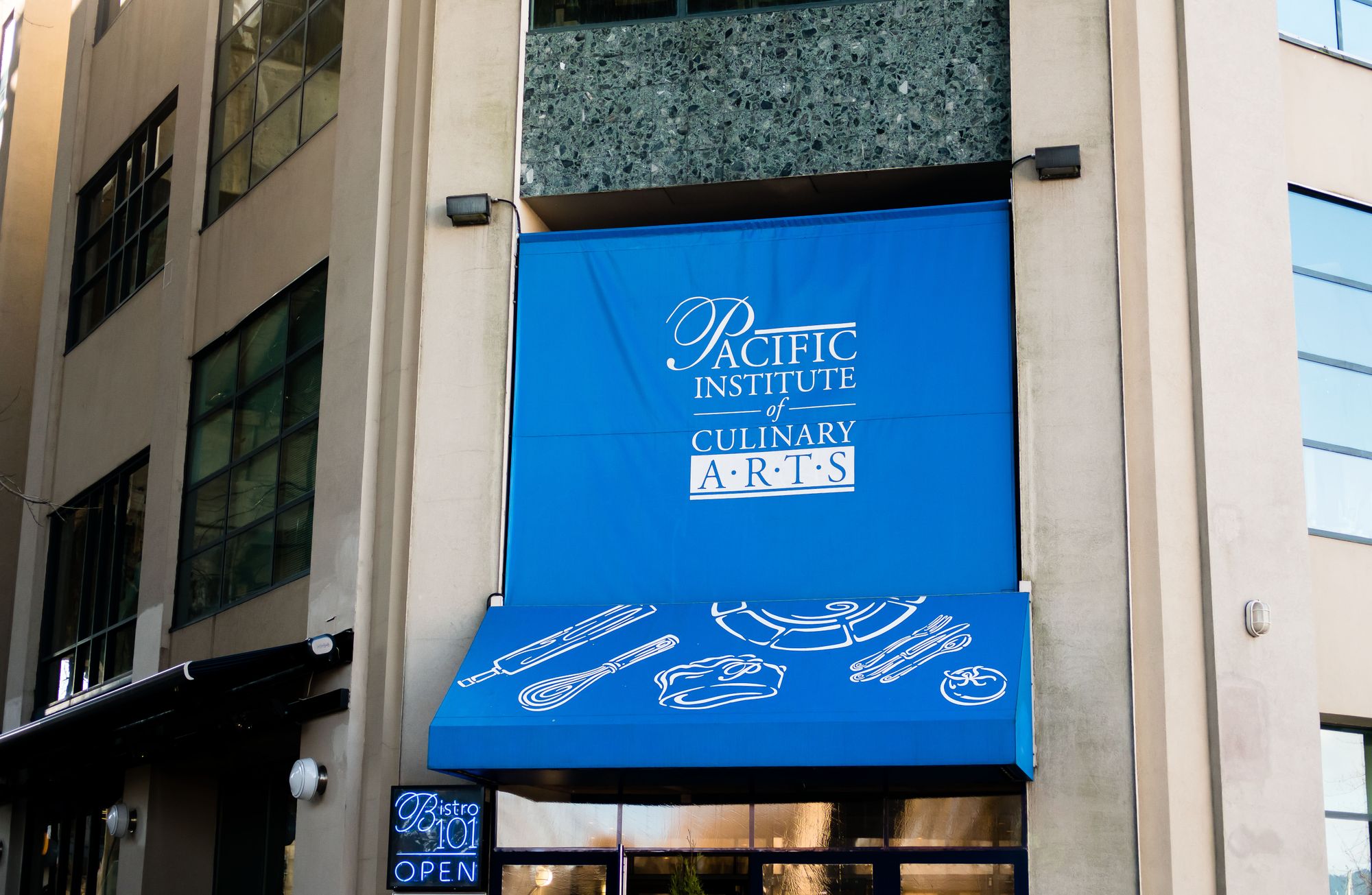 For additional coverage on the 2019 Vancouver International Wine Festival, check out my article on 10 Personalities of 10 Wines.