I was trying to think of a blog post title to better describe The Greek Gastown but the shorthand name really says it all. It's Greek food in Vancouver's historic Gastown neighbourhood. It's the only Greek restaurant in Gastown, actually. It has recently opened in a spot where restaurants have struggled, but this one I've got a good feeling about. A couple of weeks ago I went in to try out the dinner menu.
Disclosure: This was a complimentary tasting provided in exchange for an honest overview and no monetary compensation.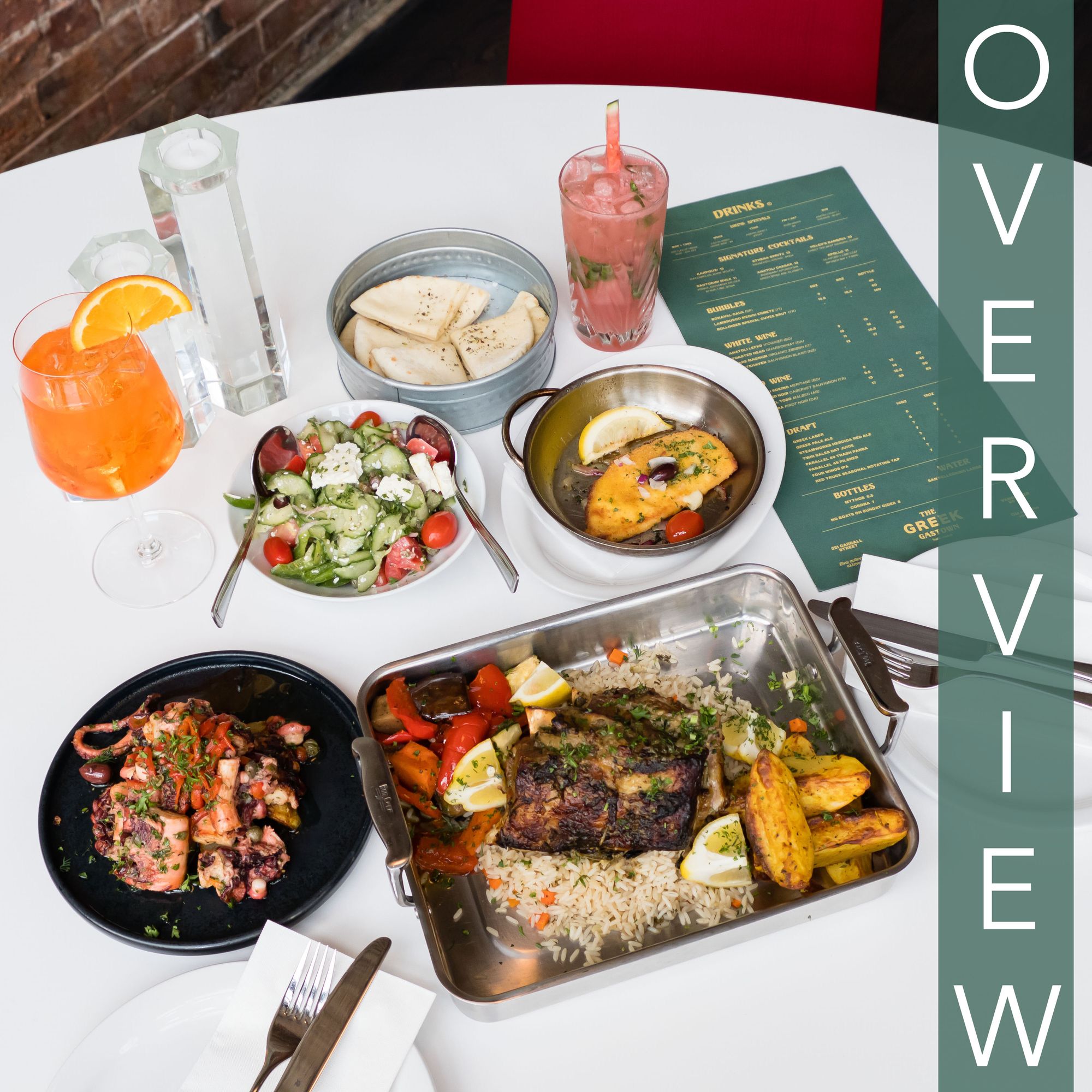 Food and Drink:
Team GlueCrew came here for a Monday evening dinner and I had a great taste of the following:
Athena Spritz Cocktail ($12)
Greek Salad ($13/small)
Saganaki ($14)
Octopothi ($20)
Country Lamb ($32)
Ekmek ($10)
Baklava ($10)
My drink for the evening was an Athena Spritz Cocktail. This was an aspirated cocktail featuring prosecco, Aperol, and soda. This was a classic mix with lots of carbonation and a twist of orange to keep things interesting. In my opinion, ordering a wine-cocktail like a spritz keeps the cocktail lasting longer as diluting wine is generally more tolerable than diluting spirits. Holding this cocktail by its tiny stem also made for a great workout for my hand.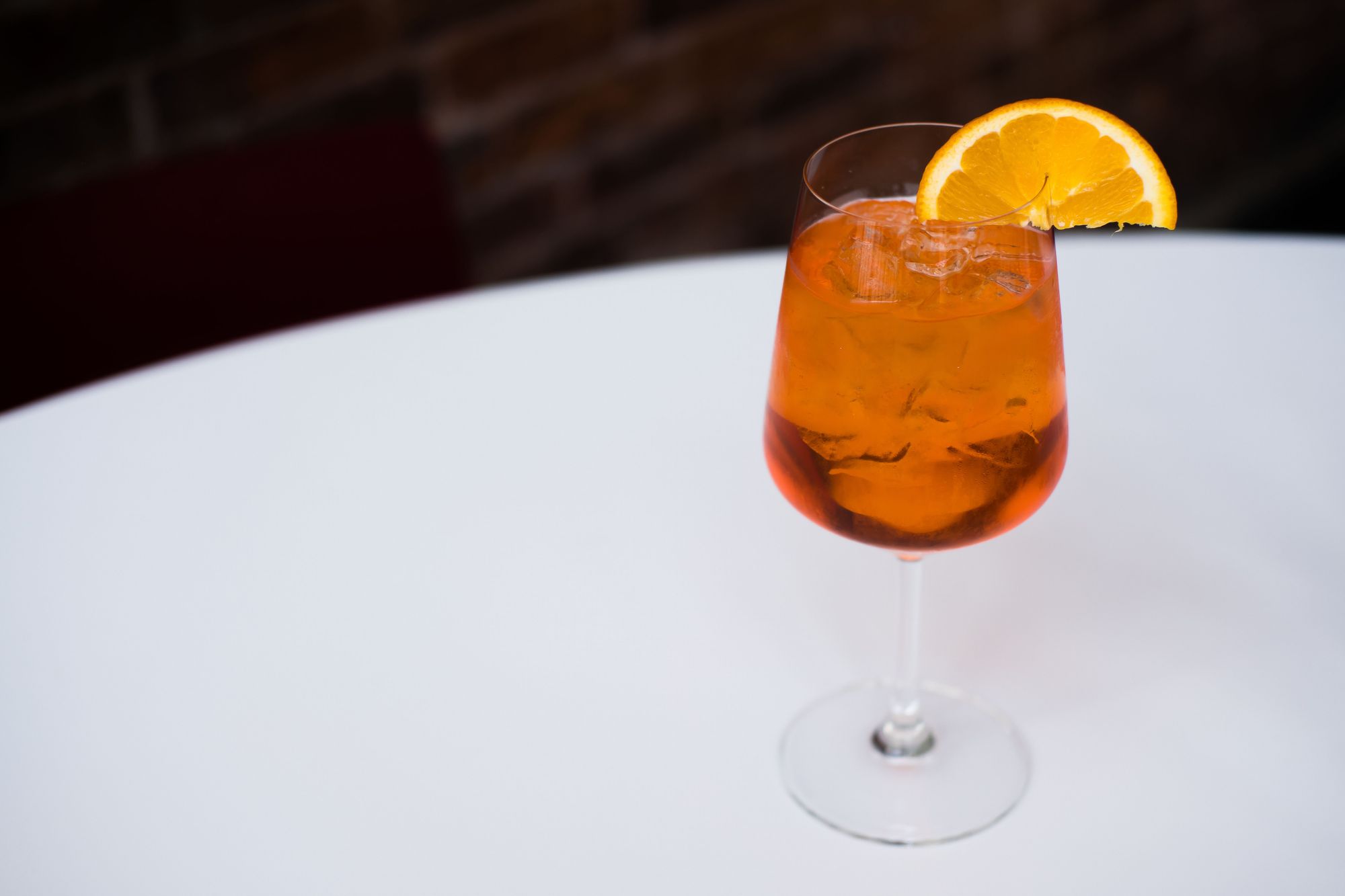 Our starter was a classic Greek salad. Featuring fresh tomatoes, cucumber, peppers, onions, feta cheese from Greece, capers, and olives, this was a fresh mix of vegetables. The cucumber slices had a pickled taste to them and the chunks of feta (read: not the sprinkled dusting you get on most Greek salads) broke into satisfying bite-size chunks. This really had the whole shebang when it comes to Greek salads when a lot of lower-budget restaurants would chop tomatoes, cucumbers, sprinkle feta, and call it a day.
From the Mezzethes (Greek-style tapas) menu we had the saganaki, a breaded pan-fried mountain sheep cheese with pita. If you've never had deep-fried cheese before, The Greek Gastown might be just the place to order some. This cheese cut like a German schnitzel but was completely meat-free. Using my knife, I would make small cuts to eat with the paired pita. The pita, by the way, was excellent. This pita released a light stream of steam indicating its freshness out of the kitchen. The herbs on the pita were simple but gave it a little extra oomph making it a great vessel to transport the saganaki into my mouth.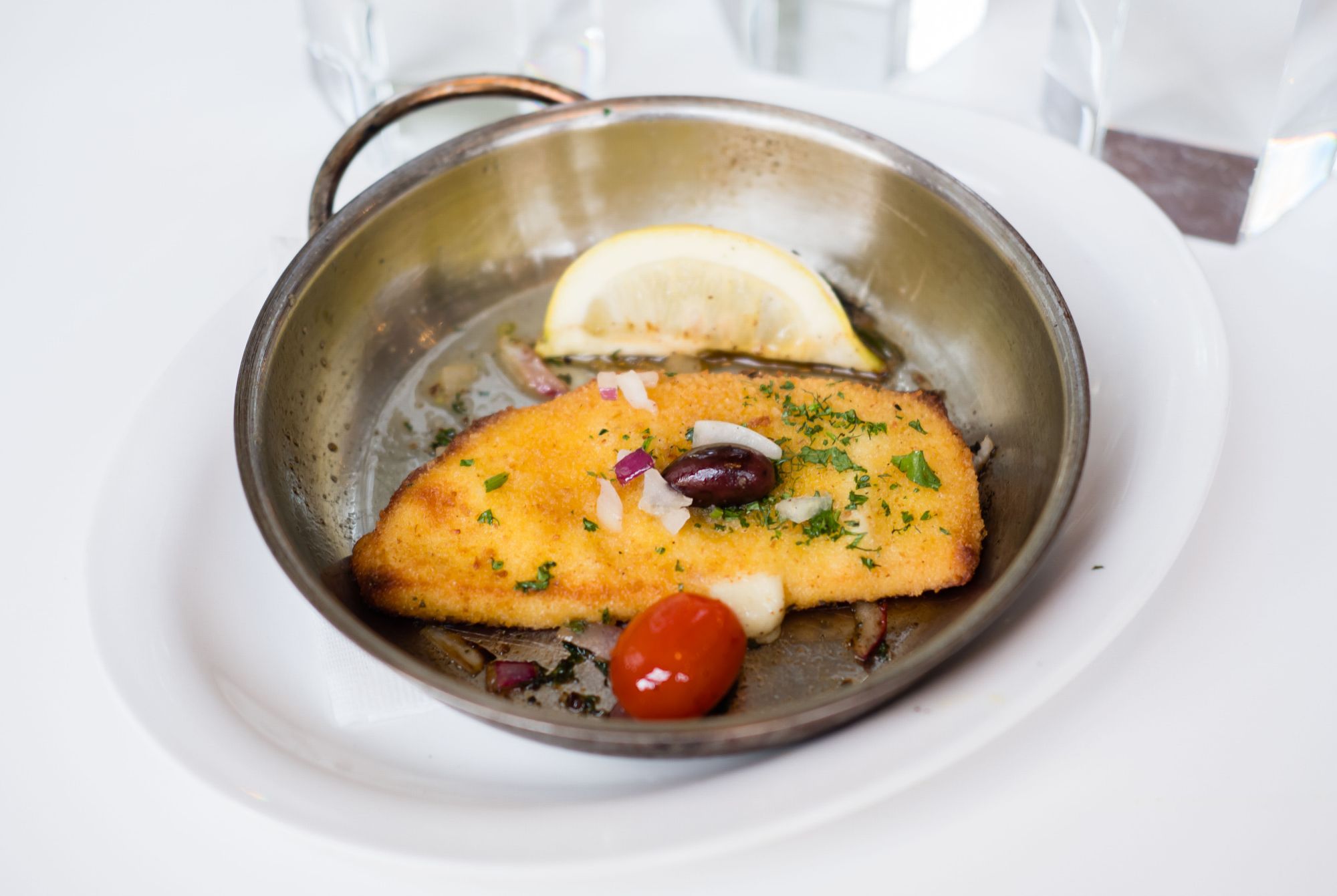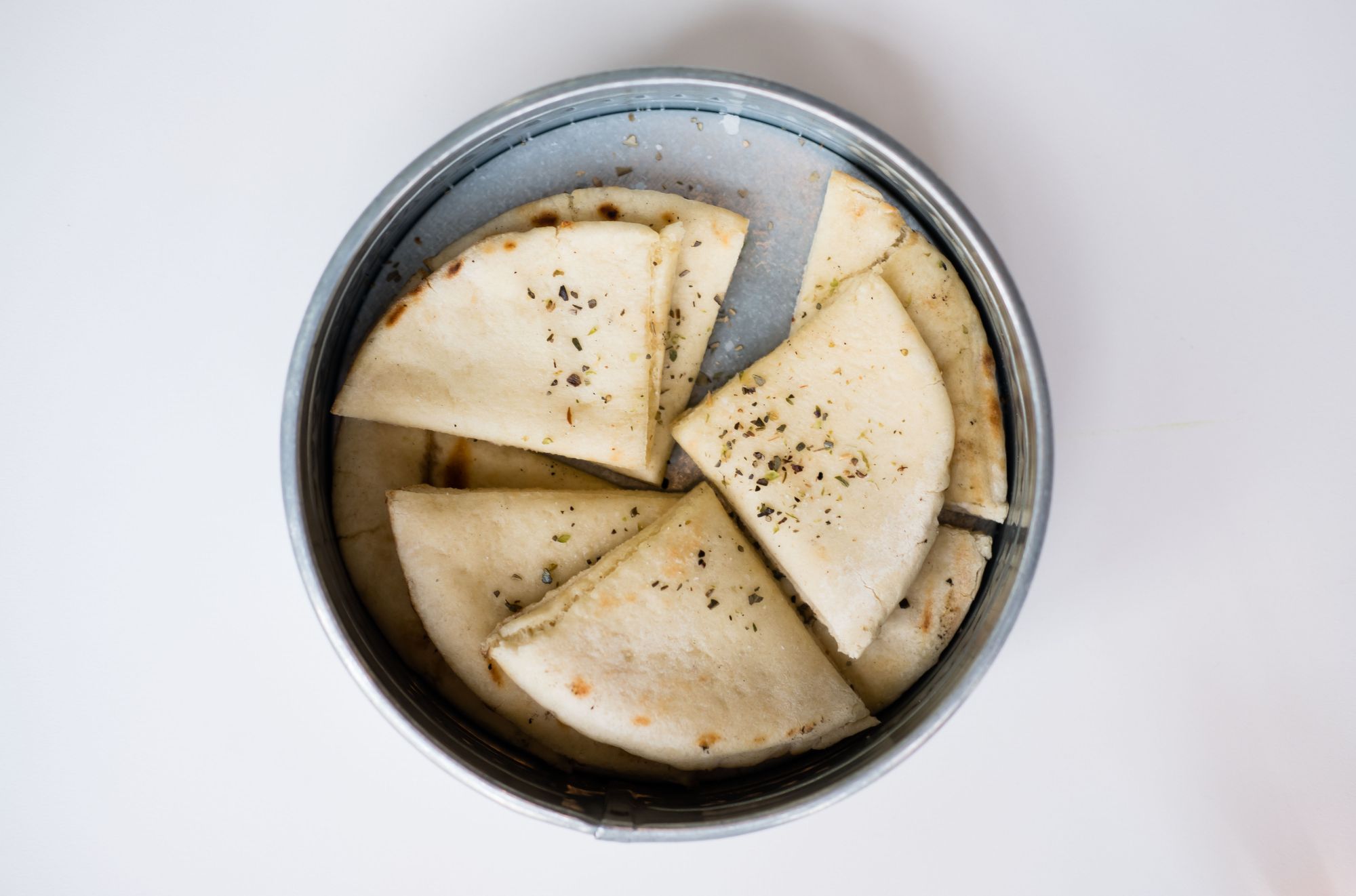 From the fish menu came the octopothi, which was grilled octopus served with olive oil, lemon caper dressing, and crispy potatoes. Oh man, this was by far my favourite dish of the evening. Before The Greek Gastown, I was thinking the octopus from Nightingale was my favourite, but The Greek's take was positively meaty.
With a solid mix of tentacles and suckers to chew on, this dish never got boring with subsequent bites. The olive oil was a pleasurable sauce that lathered itself into every bite of octopus. The perfect contrast to this umami flavour was the bed of crispy potatoes underneath it all. If you're here for your first experience of The Greek, I'd highly recommend ordering the octopothi and resisting the urge to hog it from the rest of your table.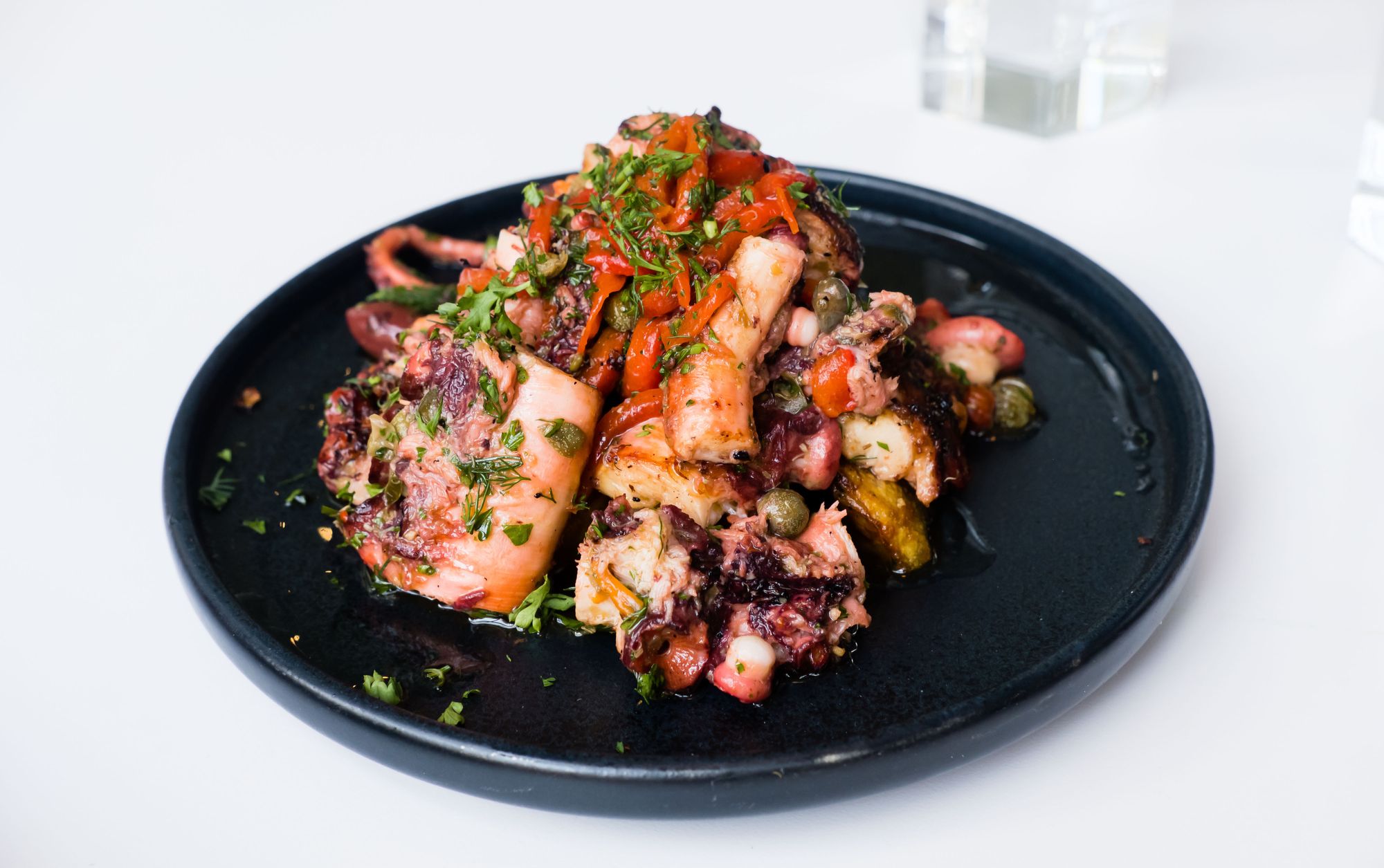 Next up was the country lamb, a "fall off the bone" lamb shoulder with seasonal vegetables, potatoes, and rice. This was served in the cutest silver casserole dish with an intense aroma rising up from the slow-cooked lamb. Each cleave of my fork into the lamb yielded a ton of lamb. The skin was the greatest sin, calorie-wise, but also so delicious. I could imagine myself sharing this country lamb with 2 other diners if I was also eating the octopus (and based on my recount above, I know I'm ordering the octopus again). The potatoes and rice were not to be forgotten either. While the rice was full of spices to keep it interesting, I was hoping some flavours or aroma would have penetrated the potato because as they stood on their own, they were really just thick chunks of potato, and a little less exciting when compared to the potato served with the octopus.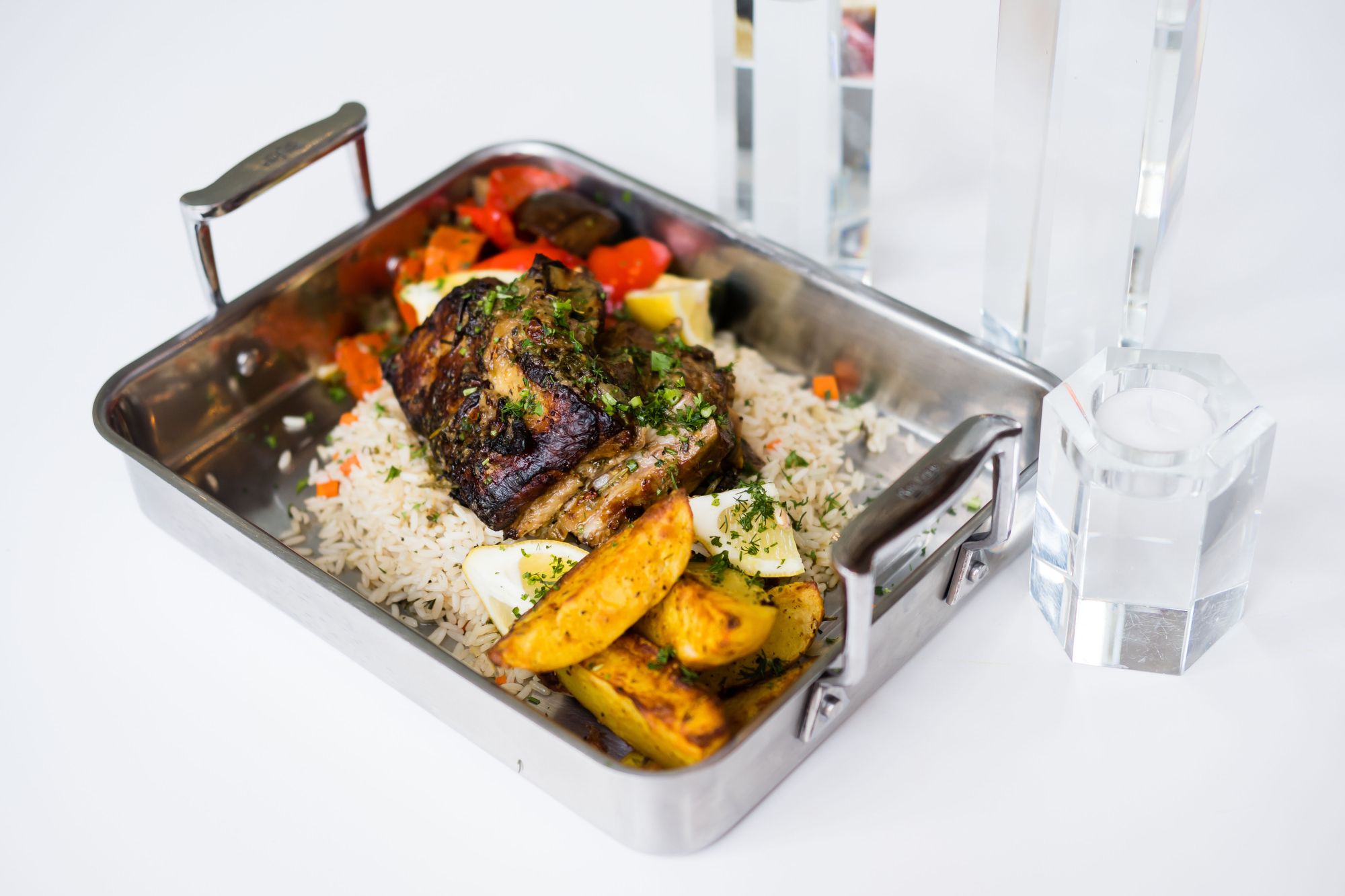 Moving onto desserts, we had both the ekmek and baklava. Both being traditional Greek desserts, I was excited when both arrived at the same time. The ekmek was a vanilla custard with an embedded kataifi (vermicelli-like pastry) crust, whipped cream, and pistachio. This was my favourite of the two desserts. The custard was extremely smooth and mixed well with the pistachio. You know the sensation when you've got a good vanilla ice cream with bits of vanilla bean within? Same feeling here.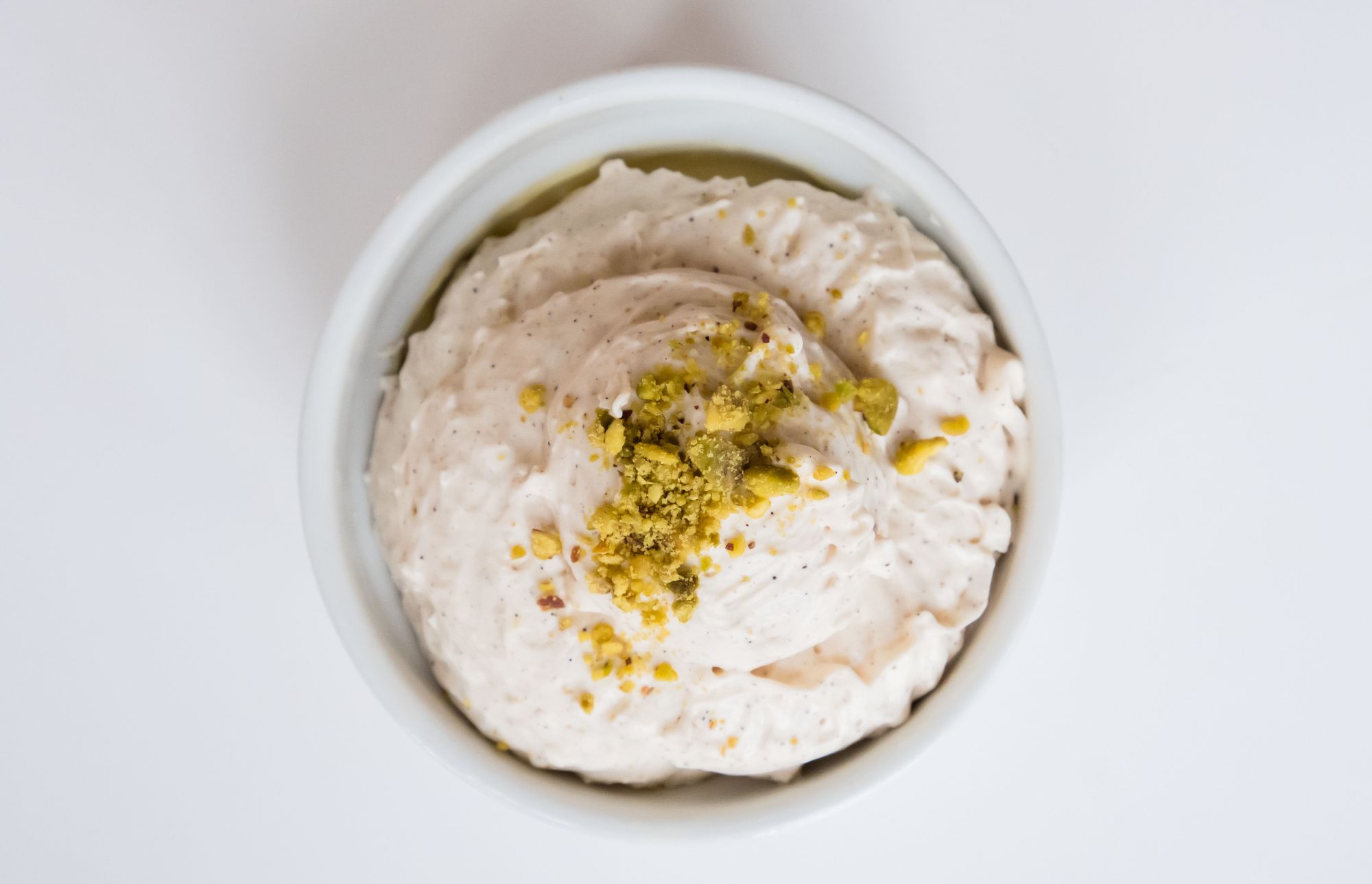 Baklava may have been made extra famous by Reddit's promotion of the Vancouver baklava man, but The Greek Gastown takes things up a notch with their version. Featuring layers of filo, nuts and spices, and served with seasonal house-made pistachio ice cream, this was a dessert full of nutty goodness. The filo pie itself would have made for a fine dessert so the ice cream was pure bonus to the experience. I think the filo here was especially flaky and likely because it was fresh out of the kitchen. You can't refrigerate something like this and expect it to remain so flaky and crisp, so I applaud the dessert menu going on at The Greek Gastown. If you weren't full before this baklava, you will be now.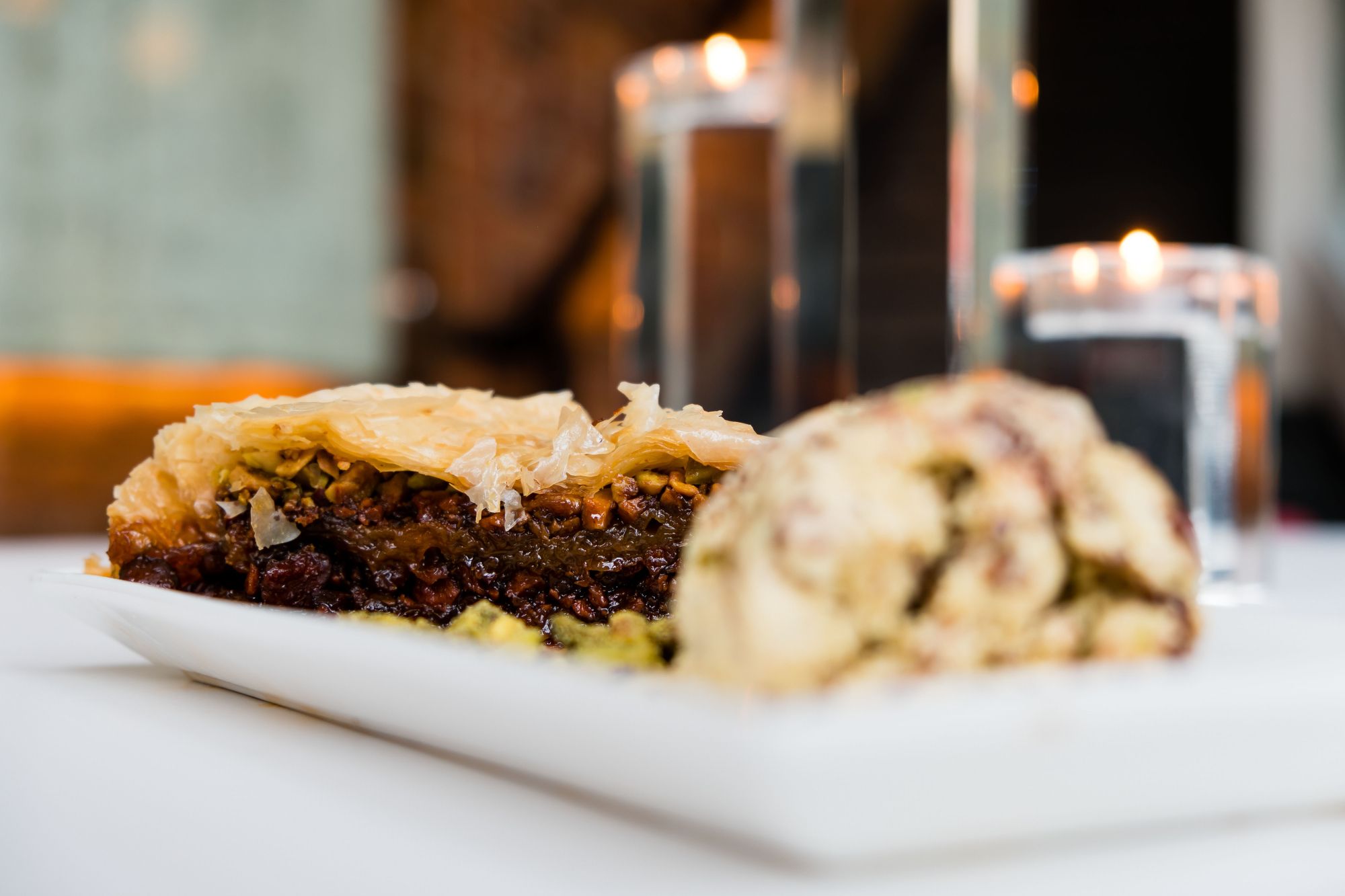 Features:
The Greek Gastown takes up residence in the former Bao Down Snack Bar restaurant space, and with it, have completely redone the fixtures. The furnishings are way classier now, giving off the rustic meets chic vibe you'd expect in high-end restaurants. Thankfully, The Greek is not priced as such, with items like the Country Lamb and nutty desserts providing lots of good value items to get you from famished to full.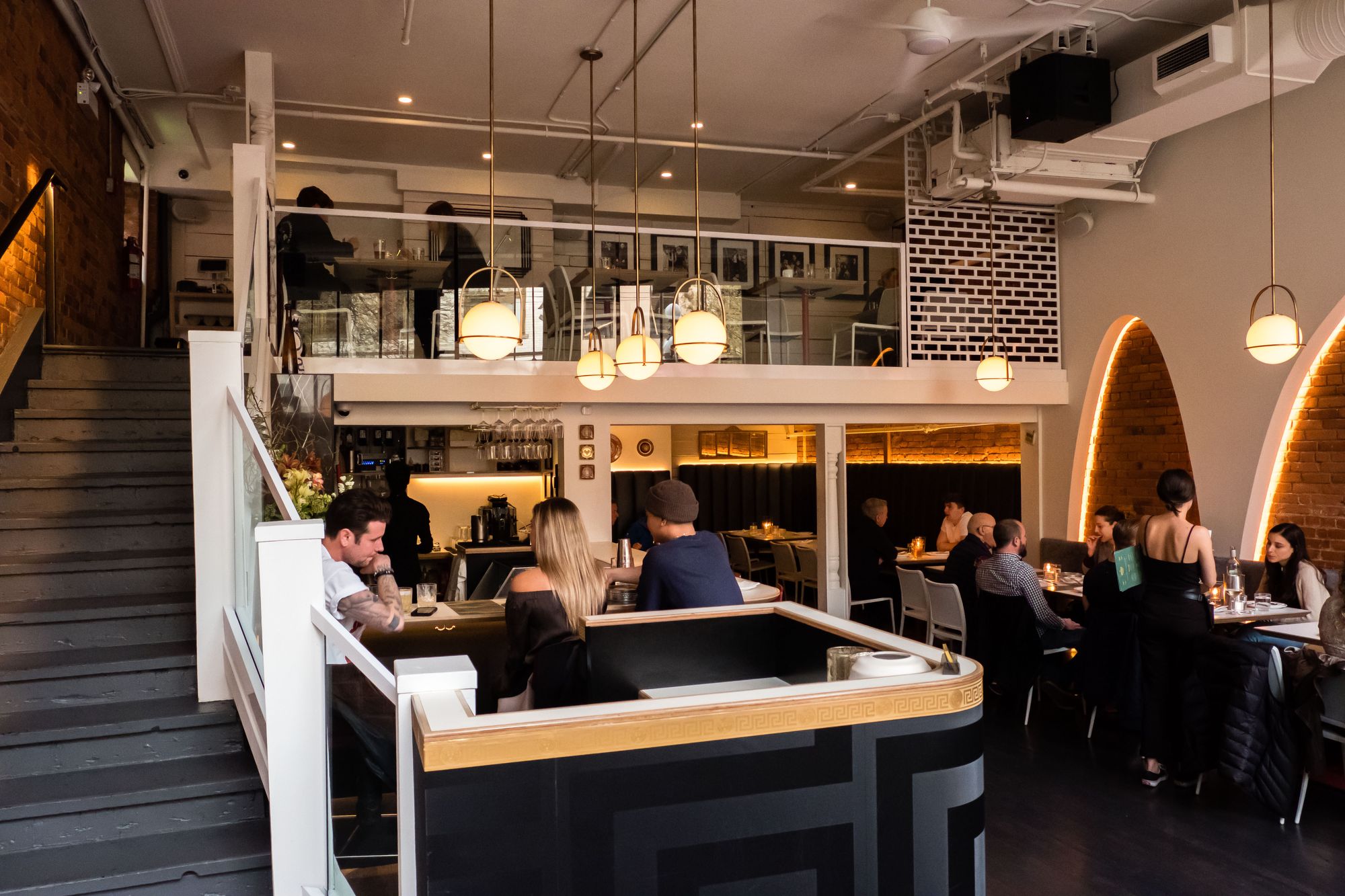 Inside, there is seating for about 80 guests in a loft-style interior and a bar area. The vibe is that of a classic Gastown vibe, with lots of happy banter and brick walls to warm you into the space. On a Monday night, this place got pretty packed by 7pm, so I'd recommend making a reservation and asking for a window table for maximum enjoyment.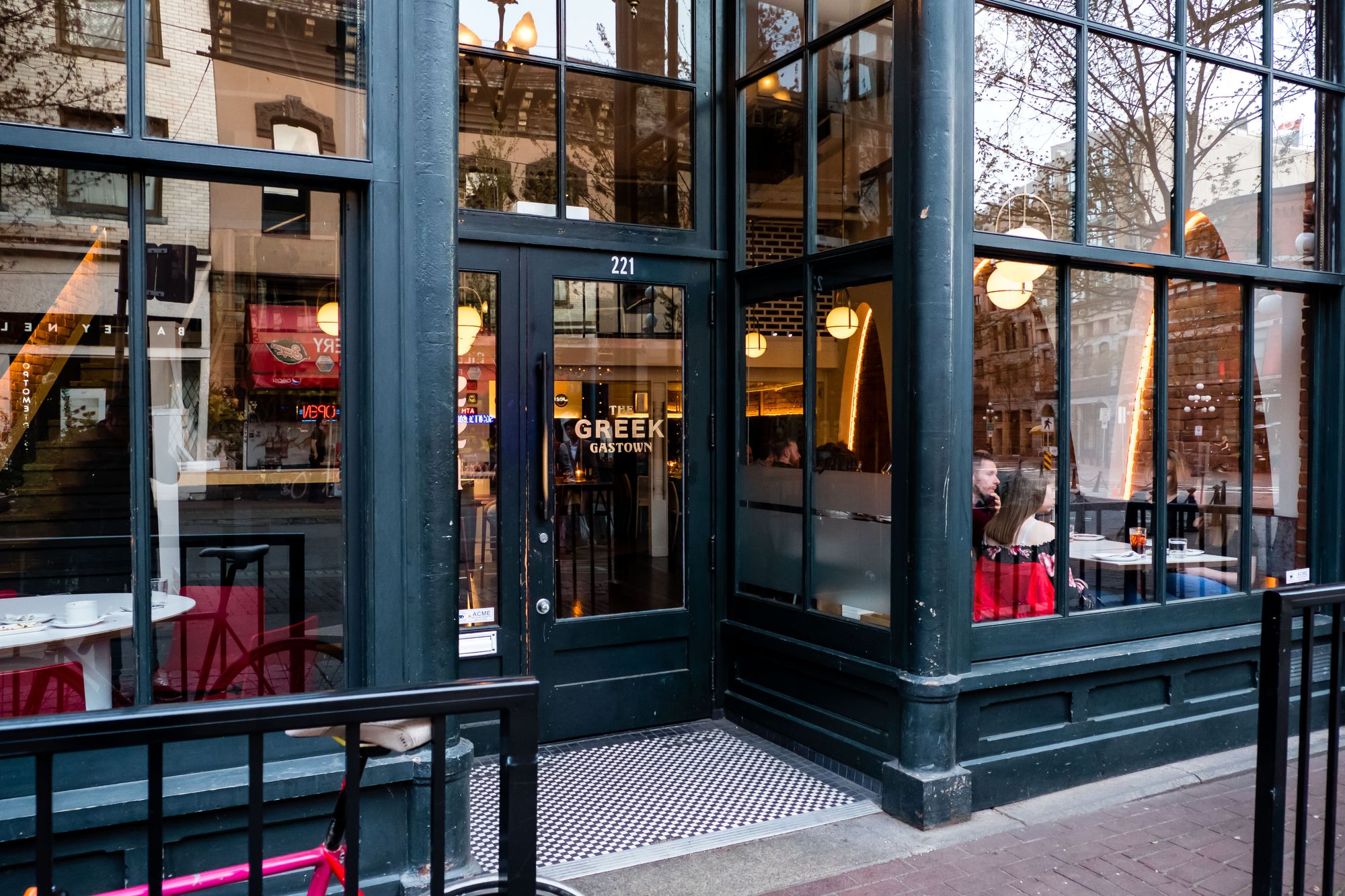 Final Thoughts:
One-liner: A premier Greek destination in Vancouver featuring hearty food, a variety of cocktails, and a vibe that showcases the best of Gastown
Highlight: Octopothi
Price per person: $25-$50
Would I go back? Yes.