Imagine being whisked away for a holiday hangout away from the woes of everyday life. This holiday hangout includes food, drink, and Yule tide joy over a 3-night stay at a luxury hotel. The food is prepared by celebrity Canadian chefs who will not only cook for you, but chill with you before and after meals in the joyous occasion of Christmas. Open your eyes and you'll see the 29th Christmas in November, a much-anticipated event held annually at Fairmont Jasper Park Lodge.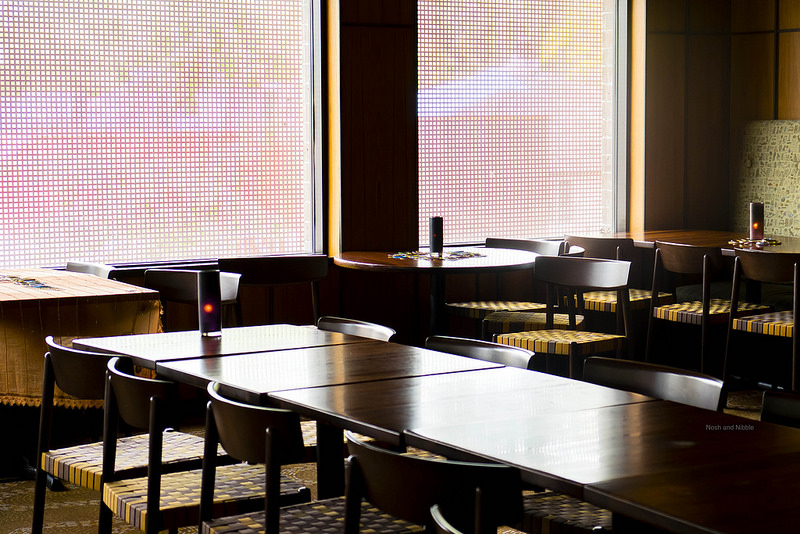 Inside Vij's Restaurant
At this time of writing, spots are filling up fast, but I'm here to inform you of one celebrity chef returning from last year's shindig: Vikram Vij (of Dragon's Den and local Vij's Restaurant fame).
Disclosure: I was invited to partake in this media launch lunch. All opinions are my own.
Food:
I was invited to a luncheon at Vij's Restaurant and had a great taste of the following:
Chicken Curry
Chickpea Curry
The Chicken Curry was a terrific balance of savoury, juicy chicken with a mix of Indian spices and fresh herbs. If I wasn't sitting with neighbours at my table, I could have eaten this straight from the bowl. Vikram Vij came over while I was eating and advised me to set an example for others and eat with my hands. To consume this, I lathered the curry into some rice, then used a spoon to guide the mix onto a slice of naan, then chomped down. The flavours were intense but still well-balanced between salty and spicy.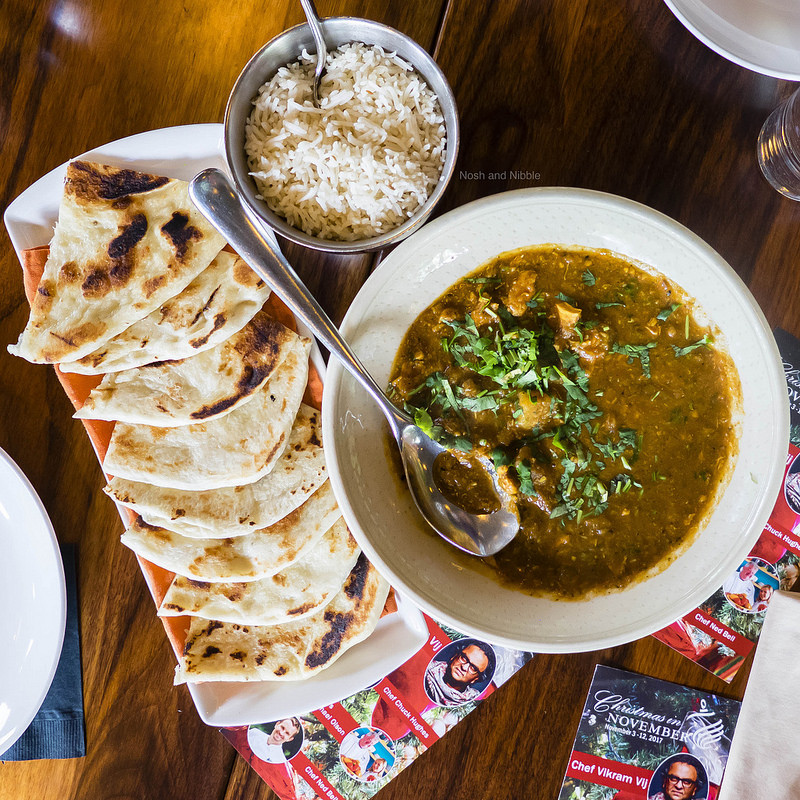 Chicken Curry
I'm not vegetarian but I was still very impressed with the Chickpea Curry. The chickpeas were also cooked just right. That is, they weren't too mushy and had a satisfying firmness. The flavour really soaked in too. Sometime you get chickpeas that are chalk dry on the inside, but these chickpeas were benefactors of flavour penetration from the vegetarian curry. As such, this was a delicious curry that promoted a much healthier diet than what I normally put my body through.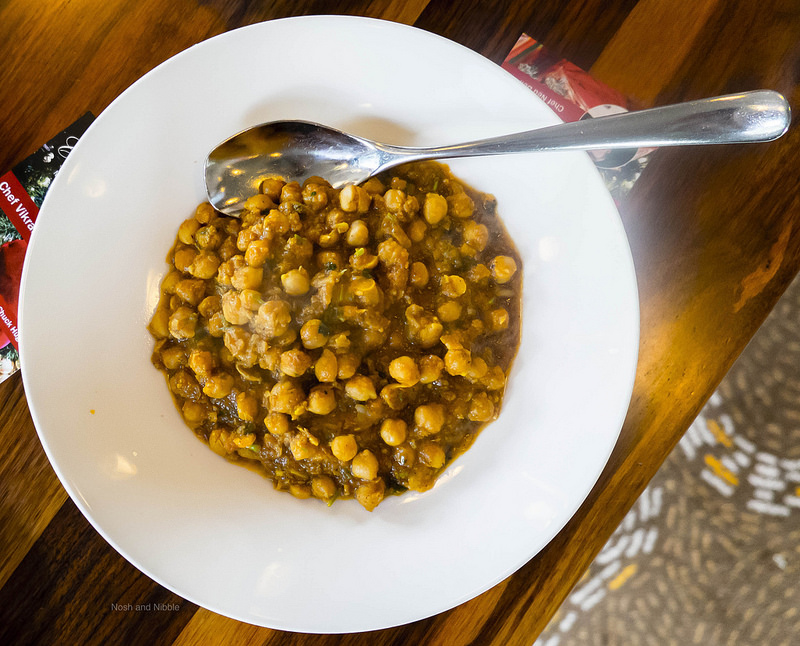 Chickpea Curry
Demo:
To flex his culinary chops, Vikram Vij gave a short demonstration of his cooking. Passing around his personal spice rack (pictured below), he whipped up a curry that instantly filled the room with aromatic flavour. This was all done with a portable burner, and I wish I had half the skills this man flaunts with an additional dash of sass. Having a chef like Vikram Vij ups the culinary game of Fairmont, even if just for a week.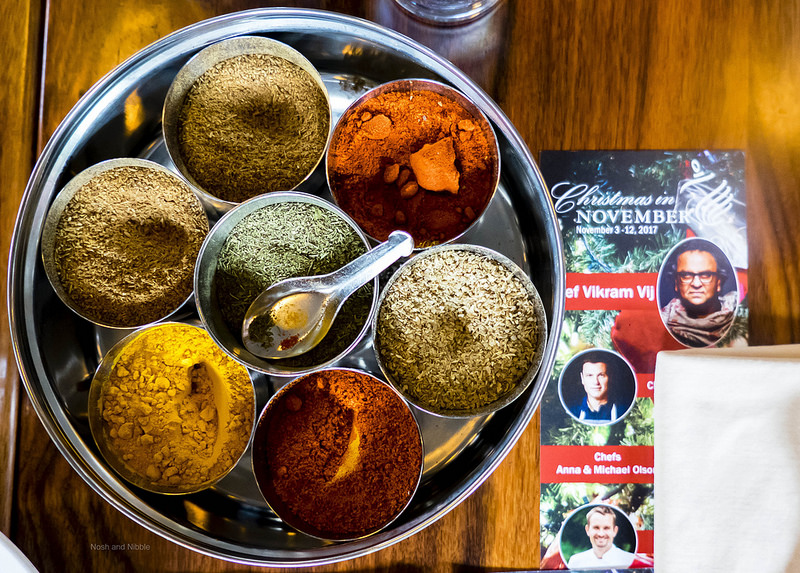 Vikram Vij's Spice Rack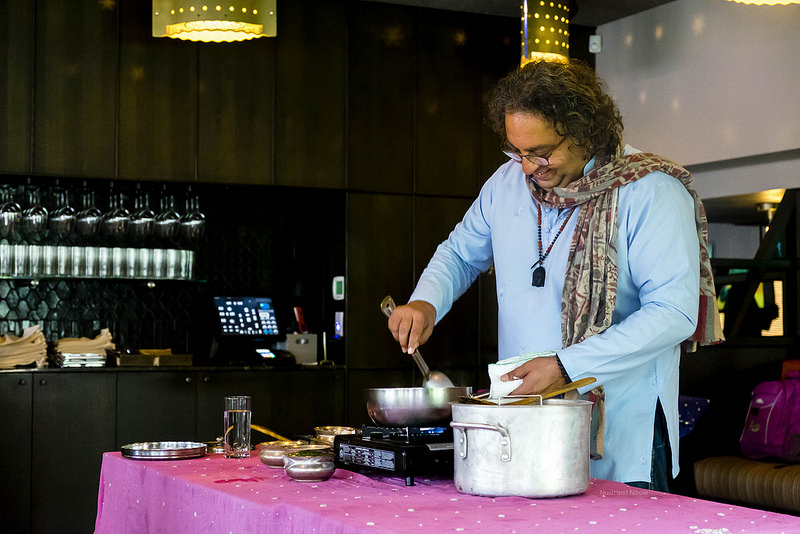 Vikram Vij Demo
Christmas in November:
It does sound early for Christmas, but my take is what you learn during Christmas in November can be taken back home and used in your other Christmas gatherings! Depending on your availability, Christmas in November is available in three 3-night packages from November 3rd-12th beginning at $999/person. This includes the following:
Accommodation
Welcome reception
Breakfast, lunch, & dinner for 2 nights
Final day continental breakfast and brunch
Instructional seminars and interactive classes
Tasting workshops
Take home cookbooks from select presenters
Mix and mingle with guests, celebrity chefs, and decor experts
Music by The Willows Trio, a Canadian vocal group
Gratuities
Considering a Fairmont room normally costs from $230-$410 per night at Fairmont Jasper Park Lodge around this time, getting a couple more nights in addition to experiencing the star-studded itinerary of events sounds like a very unique experience!
Additional Chefs:
Vikram Vij will be joined in Fairmont Jasper Park Lodge by:
More Info and Bookings:
For more information, bookings, and a live countdown to Christmas in November, visit their official website at https://www.christmasinnovember.com