In the animal kingdom, having water nearby is a key source of choosing a habitat. I guess the dining equivalent would be having your restaurant near beautiful scenery and again, a source of water. Ancora Waterfront Dining and Patio takes this to the next level by situating themselves in a calm area by Vancouver's seawall with panoramic views of False Creek. Does the food compare to the stellar views?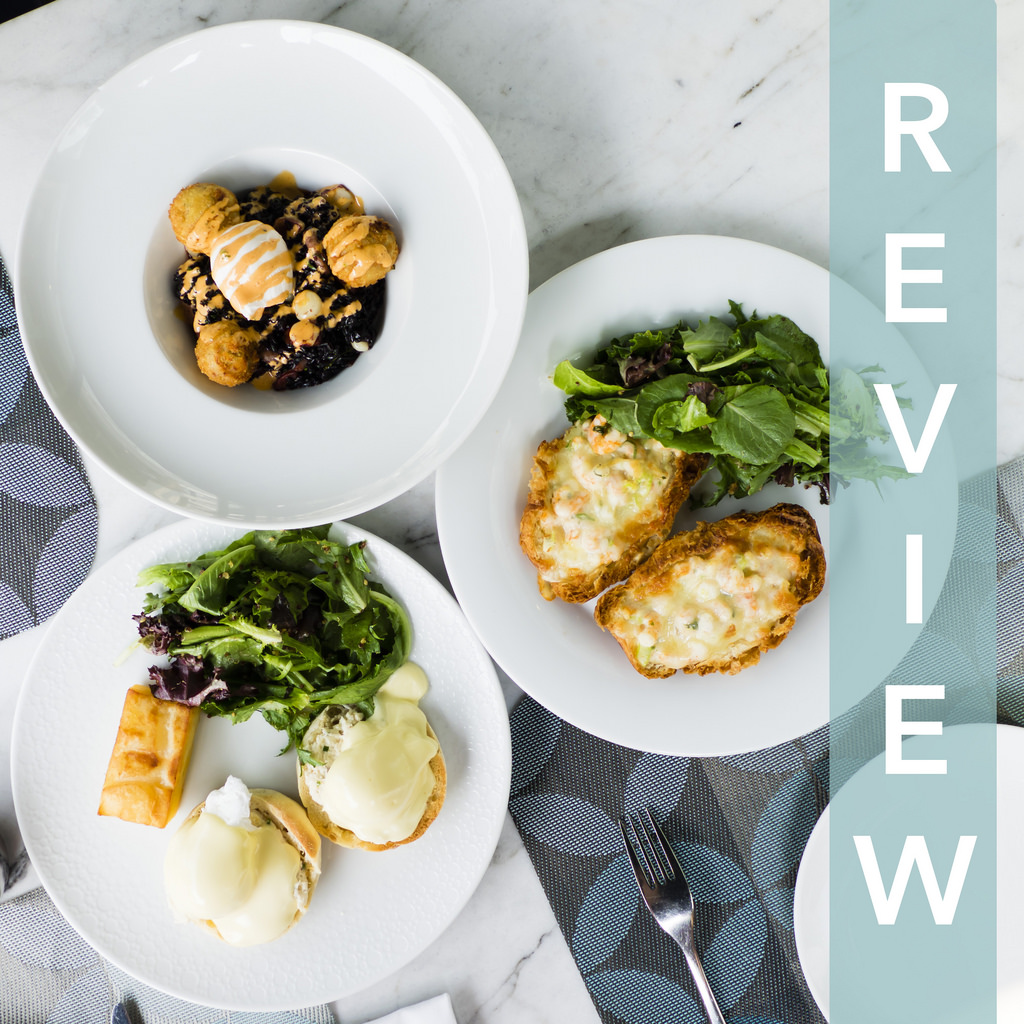 Food and Drink:
Team Tastic came here for a weekend summer brunch and I had myself a great taste of the following:
Latte ($4.75)
Dungeness Crab Benny ($21)
Peruvian Style Paella ($21)
Butter Croissant Shrimp Melt ($22)
Lattes in general do not fare well at higher end restaurants compared to coffee shops. I'm happy to report that Ancora at least makes an effort in swirling up some blobby latte art. The foam disintagrated quickly, but was present long enough for me to capture its photo.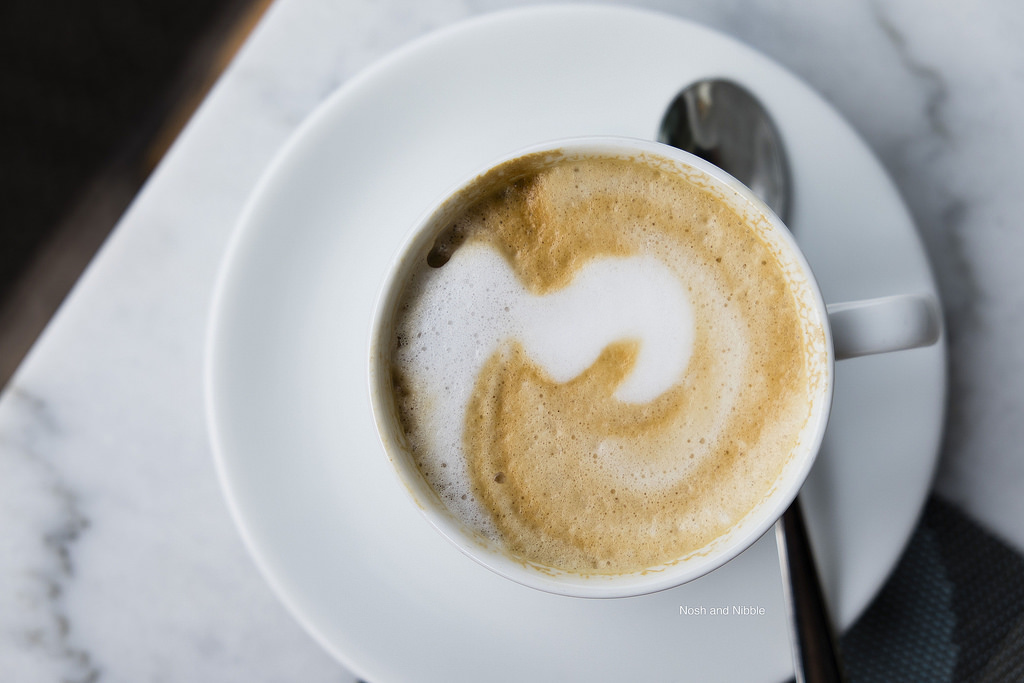 Latte
Onto some real food, the dungeness crab benny came with hollandaise, poached eggs, potato pave, and organic salad. Being spoiled by thick/dilly/citrusy hollandaise at other brunch restaurants left me feeling the hollandaise at Ancora was a little too pure and light. On the bright side, the potato pave was a work of art and cleaved into clean sheets. Topping-wise, the dungeness crab was as real as it gets (i.e. zero shrimp paste mixed in) to truly qualify this a $21 benny which is still better value than Hawksworth's Classic Benny.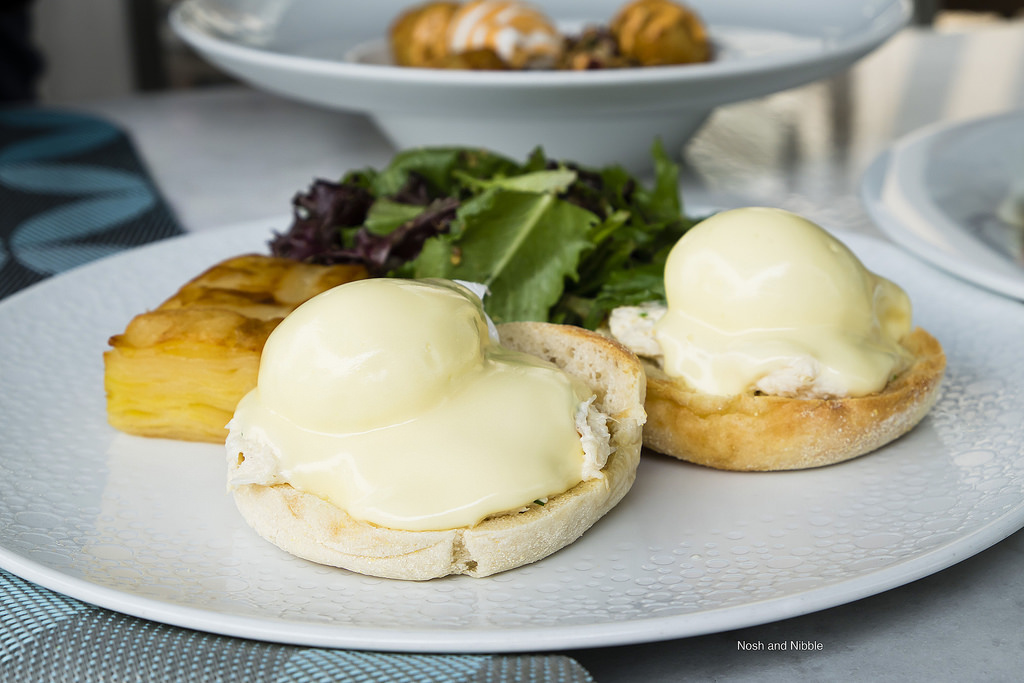 Dungeness Crab Benny
Being a Japanese/Peruvian fusion restaurant, Ancora's Peruvian style paella intrigued me. With black cod croquettes, chorizo, Peruvian corn, shellfish, a poached egg, and paprika aioli, this plate was packed with flavour. Anyone who's into fried balls of dough would find these croquettes a joy to eat. I personally found the rice a beautiful touch and unlike any other paella I've had in the city.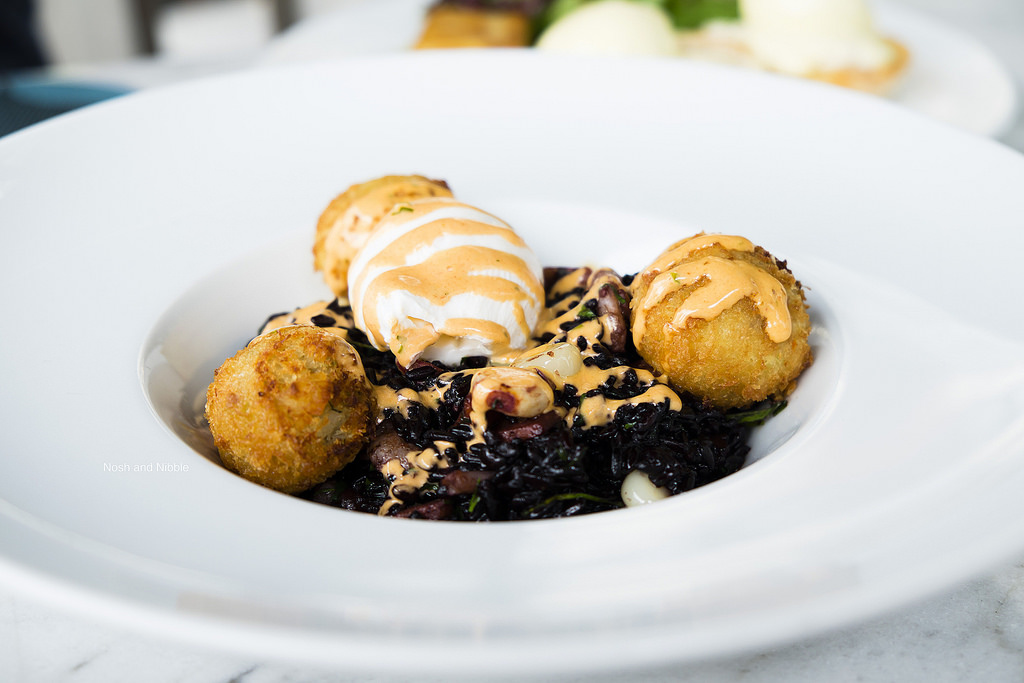 Peruvian Style Paella
Not sure why any croissant needs a butter introduction, but the butter croissant shrimp melt was my favourite brunch item of our set. This featured 3-year aged white cheddar and an organic salad. Man this was good! The croissant was super crisp, flakey, yet still gooey on the inside with all the cheese and butter. Where the benny may have been lacking in butter, I felt the croissant had just enough to make it a delicious option.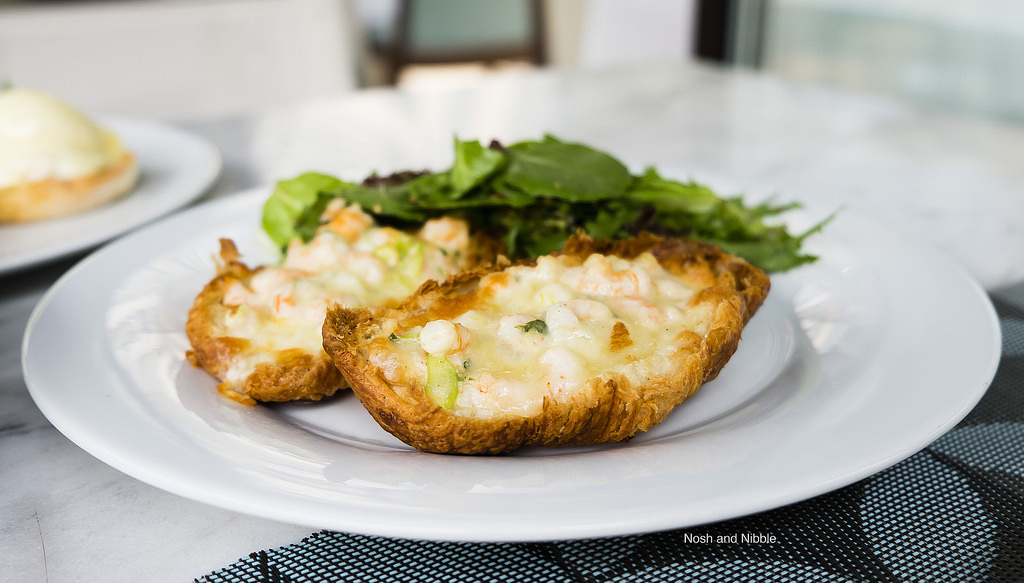 Butter Croissant Shrimp Melt
Features:
The view may be what makes Ancora great, but there's other details that I think diners will love. The interior is very white so it's great for reflecting lots of light through the ceiling-height windows. Most of these slide out to allow a breeze in from False Creek during the warmer months. There's seating for about 80 guests amongst the dining room and outdoor patio and the atmosphere is very relaxing from all the natural light.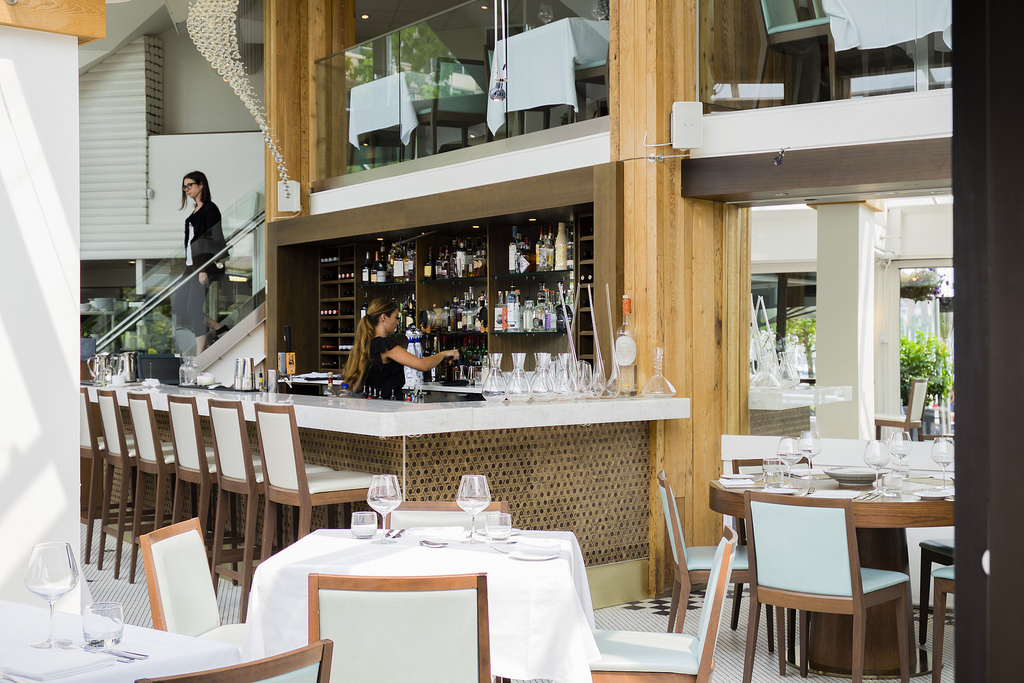 Inside Ancora
Mosey on past the hanging chandelier, up the stairs, past the wine cellars, and you'll land inside one of the classiest washrooms. We're talking personal hand towels at the faucet and an air of class. You want to redo all your sweaty makeup and wipe off? You grab as many hand towels as you need, pal.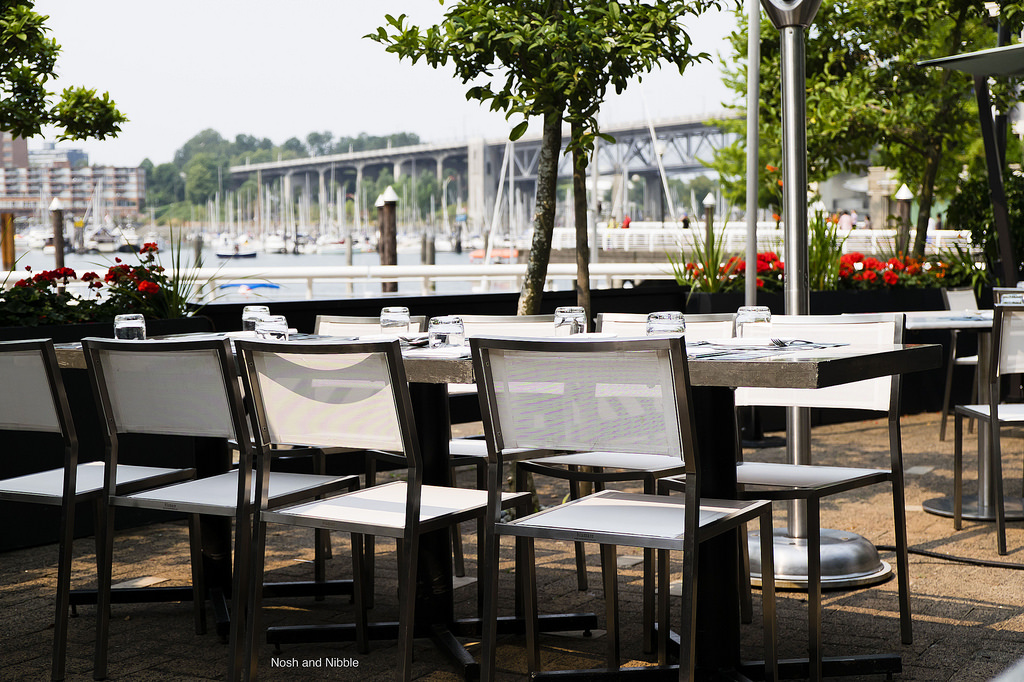 Ancora Patio
Service:
Service was where I felt Ancora dropped the ball. I'm not sure if it's the lack of talent available for restaurant-related careers, but Ancora certainly felt understaffed with just 2 servers and one staff manning the bar.
Food took 20 minutes to come which was borderline okay but hunting down our server to grab the bill was a huge chore. In the end we had to flag down a preoccupied manager-looking fellow to help us instead. It was mildly busy on a Sunday brunch hour so if you're looking for views, you can mosey on in with a party of up to 6 persons to be seated promptly.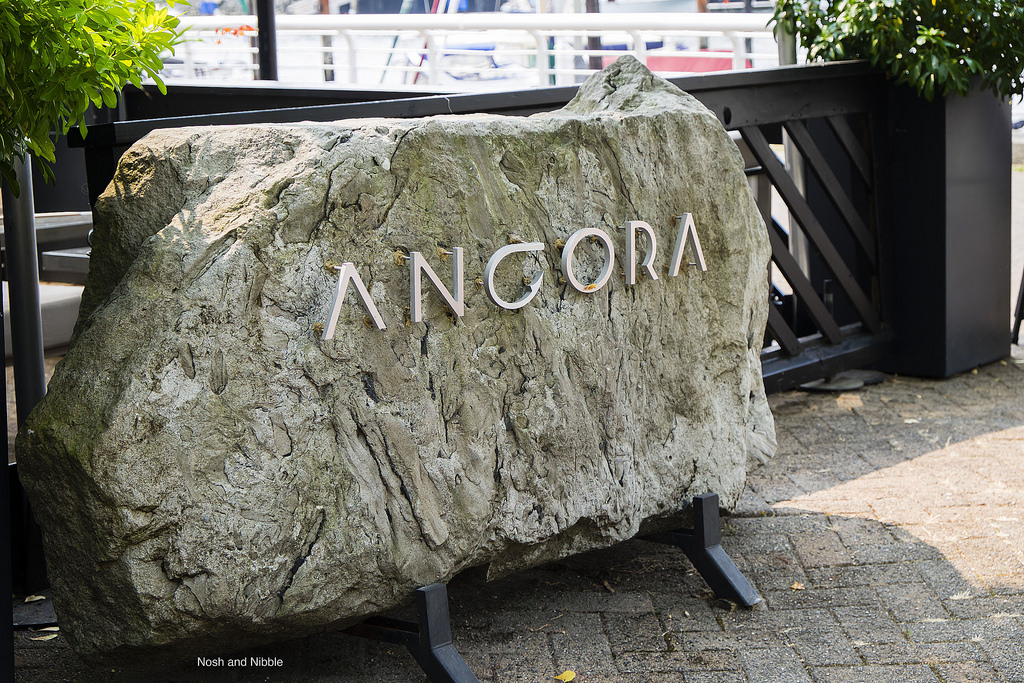 Outside Ancora
Final Thoughts:
One-liner: Interesting non-benny brunch items with a lot to be desired in the service side of dining
Highlight: Butter Croissant Shrimp Melt
Price per person: $25-$35
Would I go back? No.