If there's a black box category of dining where you don't always know what you get, it's catering. Considered by the corporate world as the finer alternative to quinoa salads from Costco, catering services can have all sorts of backgrounds marketing to similar customers. Take Louis Gervais Fine Foods and Catering as an example, and if you don't recognize the name, you're probably a millennial like me or you're just unaware Louis Gervais is what made dining at the Sutton Place Hotel a popular thing in the 90s. This past week I had a chance to try out his new catering menu in a family-style preview.
Disclosure: This was a complimentary media dinner and all opinions are my own.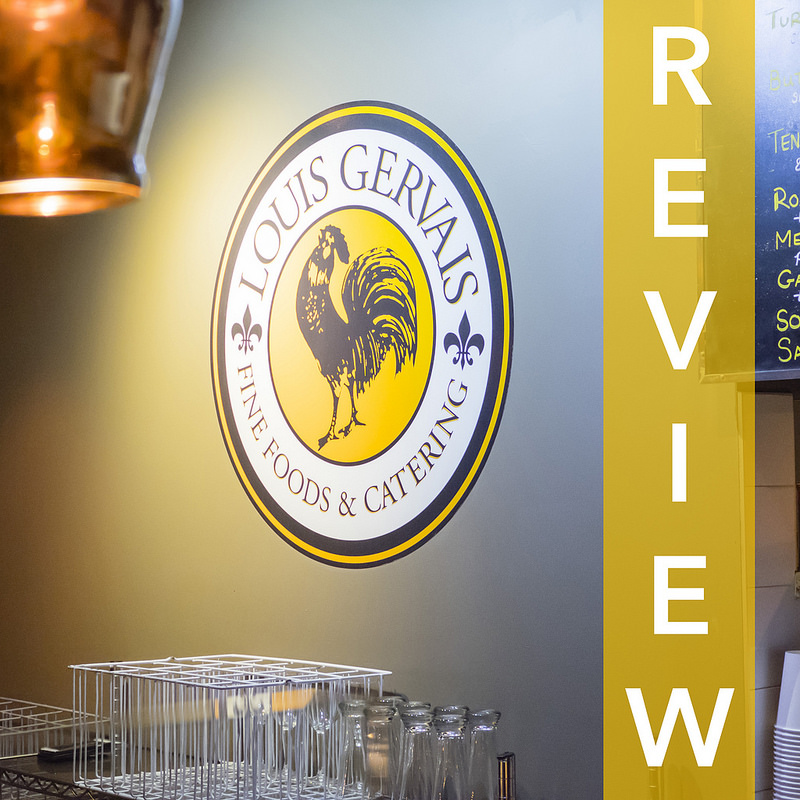 Food:
Team Food Soc came here for a Wednesday evening dinner and I had a great taste of the following:
Nova Scotia Lobster Grilled Cheese on Sourdough
Battered Curried Cauliflower w/ Scallion Mint Yoghurt Dip
Spanish Cod Escabeche
Saffron Brioche Crusted Lamb Chops
White Chocolate Croissant Pudding
The lobster grilled cheese was the savoury starter of dreams. Maybe it's cause I work in a software development company but I know any event featuring this crispy sourdough and grilled cheese would be an instant hit. Butter on both sides? Check. Lobster that isn't compromised with shrimp paste? Check.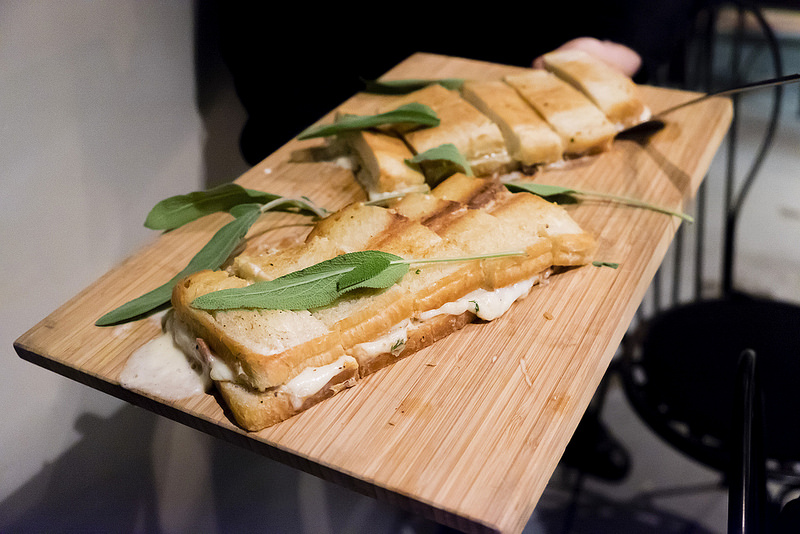 Nova Scotia Lobster Grilled Cheese on Sourdough
The curried cauliflower was a large plate of golden cauliflower fully battered and served with a generous bowl of mint yoghurt dip. This reminded me of vegetable pakora you can get in Indian cuisines but with all cauliflower and zero potato. I wasn't huge on this dish (as I personally prefer roasted cauliflower) but I think this adds an interesting option on the menu.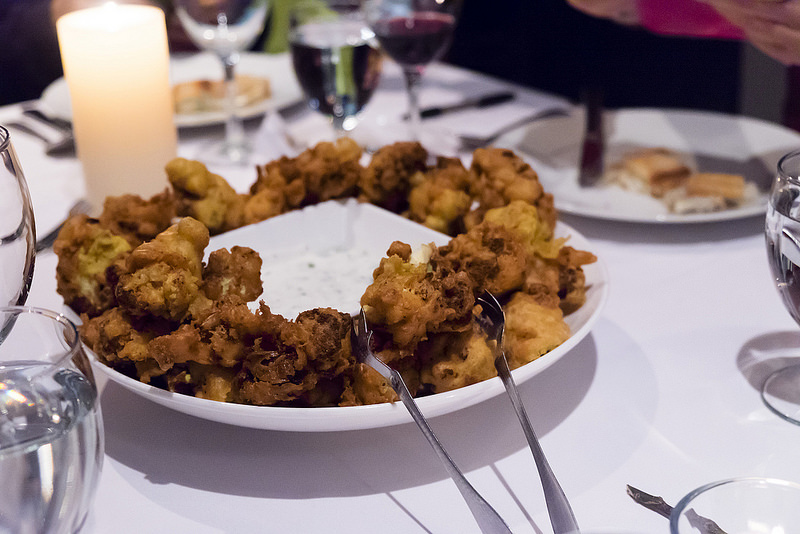 Battered Curried Cauliflower w/ Scallion Mint Yoghurt Dip
The spanish cod was the most substantial dish on tonight's menu with a Mediterranean capsicum vera pasilla pepper & olive ragout served on truffled black linguini. I'm not sure what made the linguini black (coconut ash, maybe?) but the pasta was al dente and the cod cooked just right. It wasn't as buttery as a sablefish but considering most catered dinner menus here are priced between $45-$62, having cod this good is fair.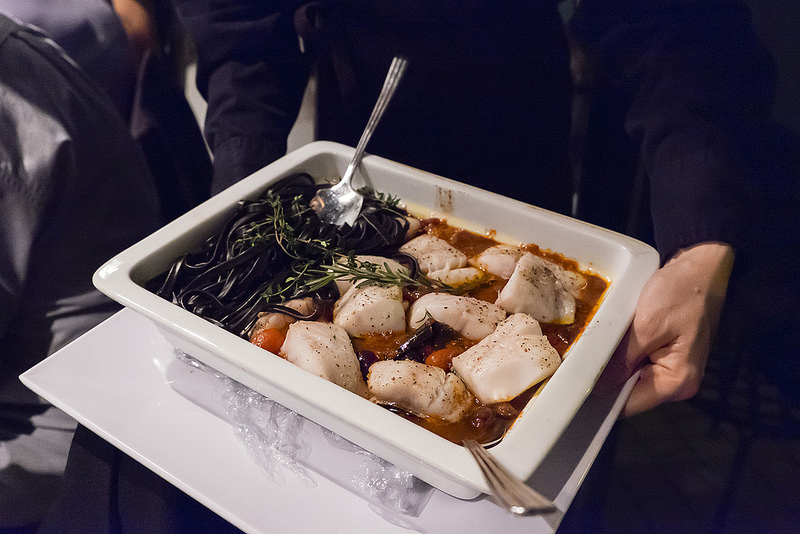 Spanish Cod Escabeche
For anyone who likes their food to be served in edible vessels (hello, clam chowder bread bowl fans), the crusted lamb chops were the ultimate treat.
Step 1: grab a juicy saffron brioche lamb chop.
Step 2: grab a scoop of the banana squash holding the lamb chops.
The lamb chops were just rare enough for me to eat and had a tasty seasoning in the crusting. Most people know a little saffron goes a long way and Louis Gervais demonstrated this knowledge with the lamb chop.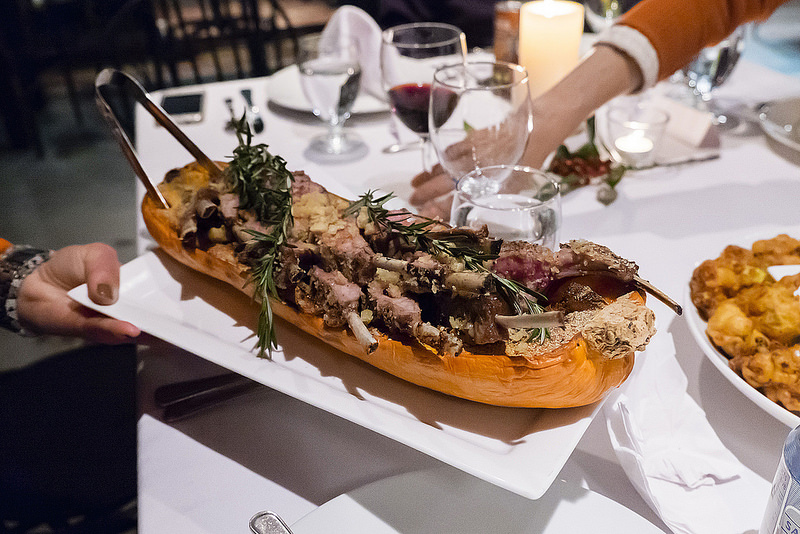 Saffron Brioche Crusted Lamb Chops
By the time dessert rolled around, I was thoroughly full but intrigued by the white chocolate croissant pudding. Originally thought of as a bread pudding, my predictions came true when it came time to pour the caramel syrup over everything. Butter really does make everything better and the chunks of croissant in this pudding agreed. Make sure any diner you treat with this croissant pudding properly paces themselves prior to digging into this.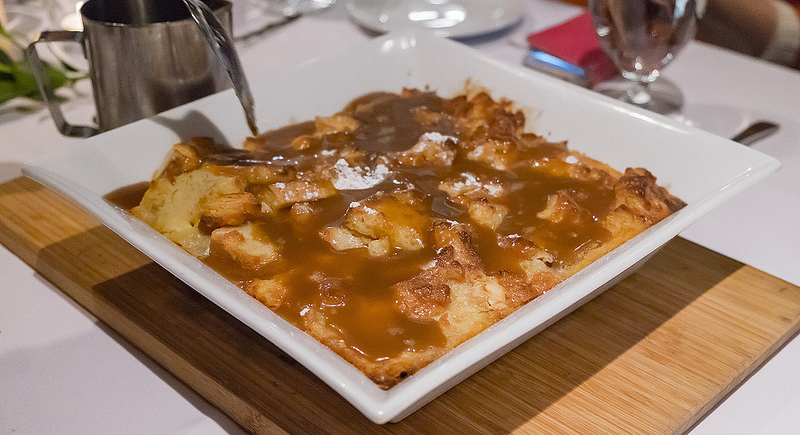 White Chocolate Croissant Pudding
Features:
Louis Gervais Fine Foods and Catering, while known as a catering service, also offers a walk-in bistro Monday-Friday 8am-4pm. It's a bummer for me since I work a regular 9-5 cause after having the above, I'd be really interested in trying out their more casual menu.
The location is a little ways away from Vancouver proper, no doubt. Louis Gervais Fine Foods and Catering offers free shipping to the North Shore between the two bridges and can negotiate for delivery to the rest of Greater Vancouver depending on your needs (staffing, beverage, silverware, etc.)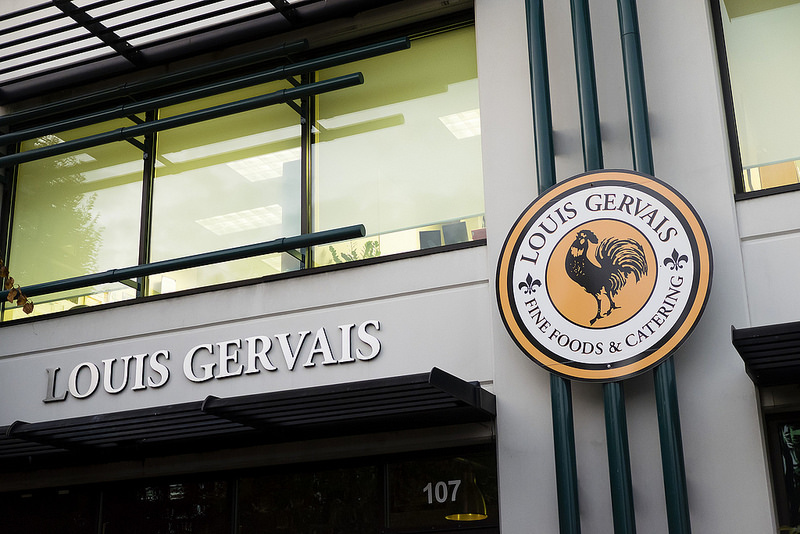 Outside Louis Gervais Fine Foods and Catering
Final Thoughts:
One-liner: Fine foods that can be catered for any occasion from a brand and man of historic pedigree (40 years and counting)
Highlight: Saffron Brioche Crusted Lamb Chops served in Banana Squash
Price per cater: $38-$62/person (based on a 50 guest event)
Would I go back? Yes.