Summer's over but you still gotta go out to eat and drink, right? Actually, autumn might be the best time to go out to eat since students tend to have more exams they should be studying for. In the case of Parallel 49 Brewing Company, these folks just got a new Head Chef, Aubrey Pingitore (previously of AnnaLena and Heirloom fame), and with him, a new all-day menu. I was invited to try out the new menu this weekend.
Disclosure: This tasting provided a complimentary $50 gift card which I received in exchange for an honest review and no monetary compensation.
Food and Drink:
Team Tastic came here and I had a great taste of the following:
Dark Ginger Beer ($3)
Daily Donut ($4)
Crispy Cauliflower ($12)
Fish Tacos ($13)
Pork Belly Sandwich ($15)
I had a ton of Parallel 49's new Trash Panda IPA recently so I was taking it easy on the beer. Instead I had the dark ginger beer. This had a moderate amount of ginger – enough to notice, but not enough to make me cringe. I'm not sure if the colour had any effect but it did make for a pleasant photo.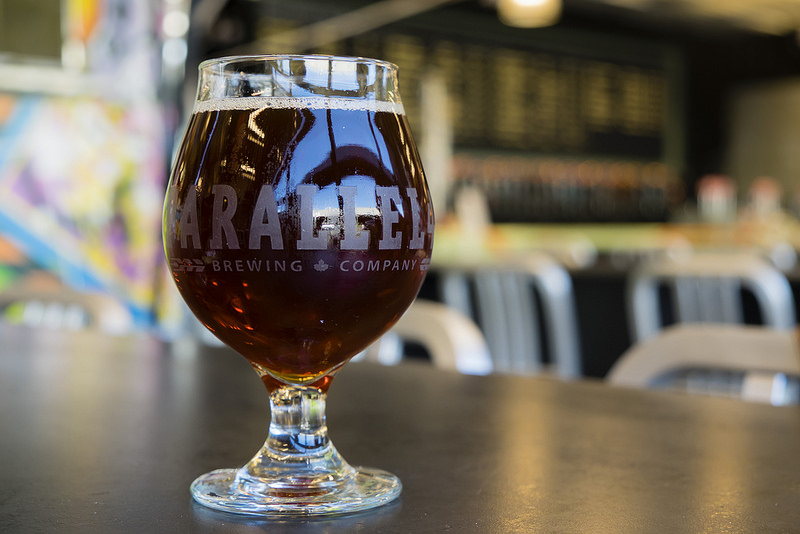 Dark Ginger Beer
The Daily Donut (shades of Jeopardy here), despite being a dessert-y item, was first out of the street kitchen. It was served with a mild glaze and topped with a citrusy foam and malt ball. This wasn't as sweet as a Cartems/Lucky's doughnut and some may be surprised by the breadiness of the dough. The foam was a creative touch and totally something you'd normally see on an oyster or fancy cocktail.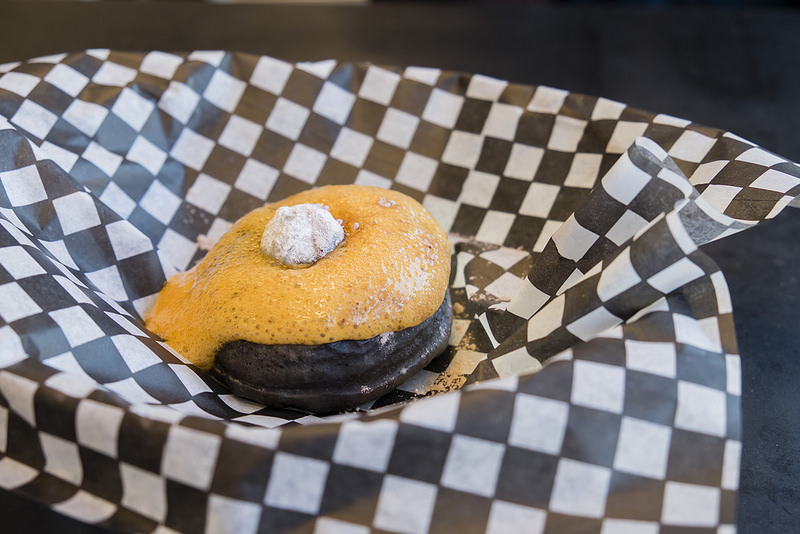 Daily Donut
The crispy cauliflower were tossed in a cider batter, szechuan glaze, lime powder, toasted coconut, and micro cilantro. The sauce reminded me of what you'd have on a chicken wing but fully cauliflowered. Despite the szechuan tag, this held virtually no spice – spice hunters be noted. Each bite was indeed crunchy though not as crisp as say, fried chicken.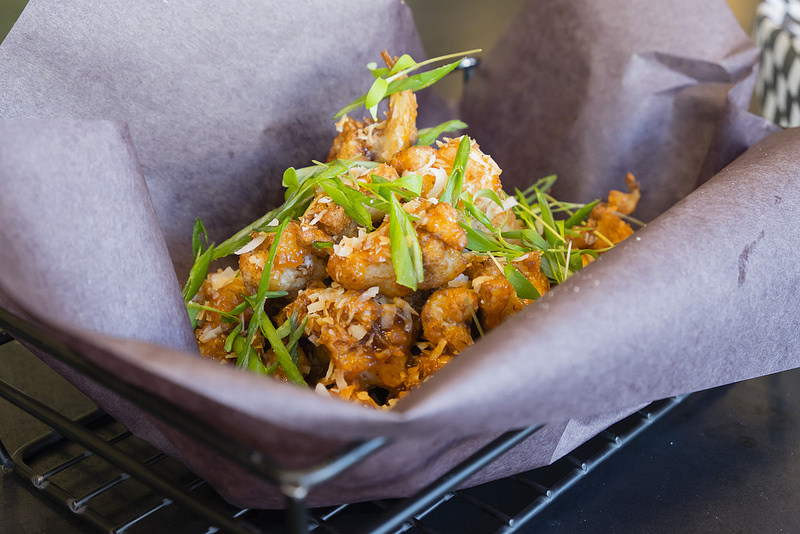 Crispy Cauliflower
Moving onto some savoury foods, the fish tacos were 3 flour tortillas housing grilled ling cod, cabbage, spicy aioli, pico, pickled radish, and micro cilantro. This was some fancy fish! Not as crazy high-end as sablefish but better than the cod you'd get from a Cactus Club Cafe fish taco. Each taco was fully decked out in dressings and packed lots of flavour.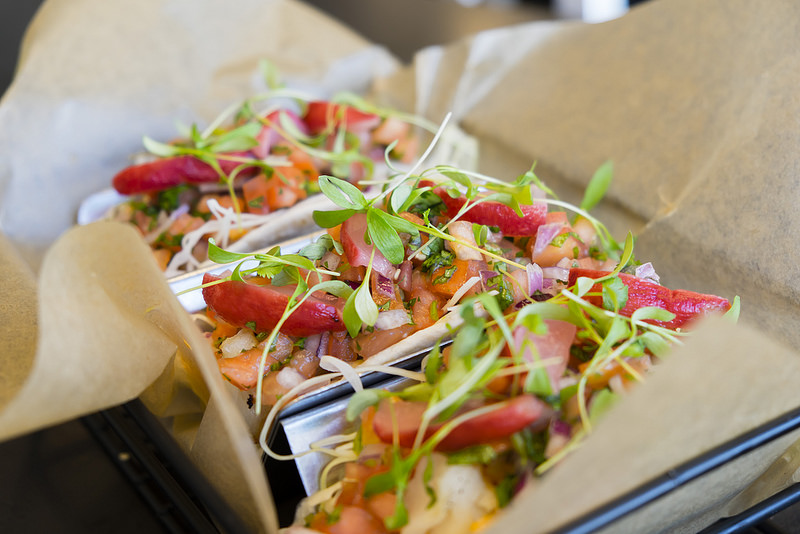 Fish Tacos
The Pork Belly Sandwich was my favourite item on the menu. Served in a steamed white bun, this was roasted pork belly with cabbage slaw, citrus peanuts, pickled lotus, hoisun, and served with lotus chips. Anyone who's been to Bao Down has an idea of what this tastes like, but the larger bun is much more substantial. The pork belly tore easily and the sweet sauces inside made this sandwich extra satisfying. Add in fried lotus chips for extra crunch? Count me in for another, please!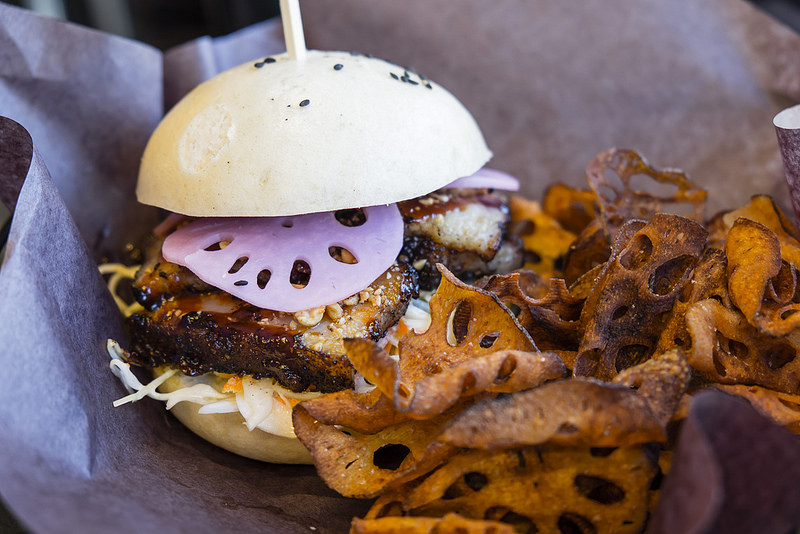 Pork Belly Sandwich
Features:
The street kitchen is the main draw at Parallel 49 Brewing. If you take a look below, it looks like an actual food truck, but I was informed it's hardwired into the building and is meant as a permanent fixture. I think this was a pretty creative move given the hip factor of Vancouver breweries and food trucks. The rest of the eatery features long tables with very light and sturdy chairs. If you've ever needed to rearrange chairs to suit your party, you can do so one-handedly here.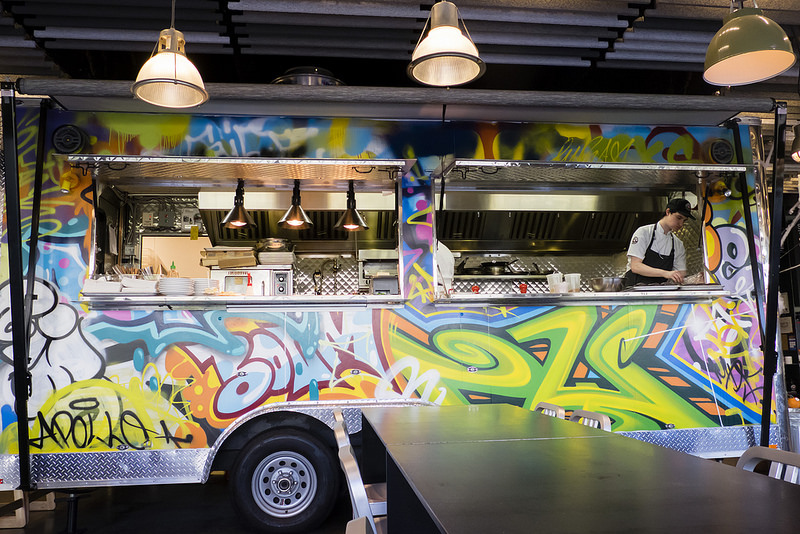 Parallel 49 Street Kitchen
Cauliflower seems to be a big thing on the menu as it's the only marquee ingredient that appears twice. Perhaps the current chef Aubrey Pingitore's brought some vegetarian classics from his time at Heirloom Restaurant.
Service:
Here you'll place and pay for your order prior to receiving it. You'll be given a number like the one below and a staff member will bring out your food. Drinks from the tap will be picked up from the counter adjacent to the cashier. It took about 5 minutes for our donut to arrive with the rest of our food coming about 10 minutes later which is pretty fast considering the complexity of ingredients going into everything. Diners should note you will need to pick up your own cutlery from the counter as well as your own napkins.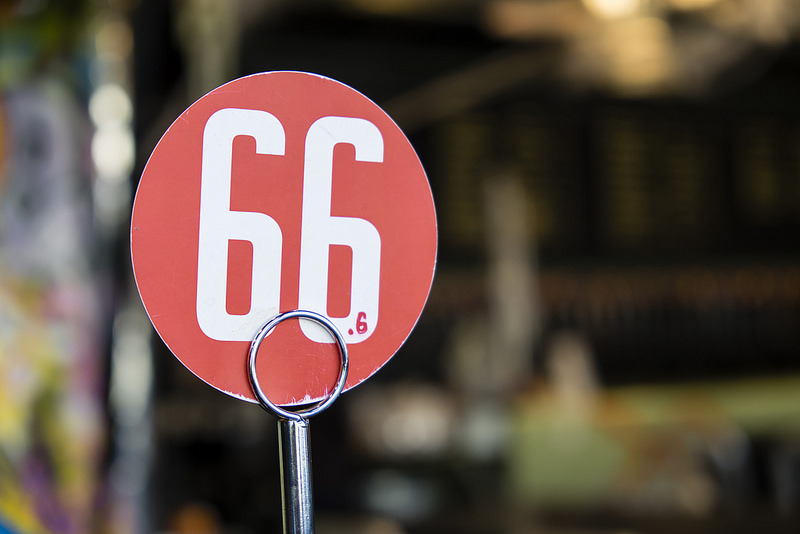 Order Number
It wasn't too busy on this Sunday afternoon in the autumn so I'd reckon you could come here with any size group before 6pm and get a spot.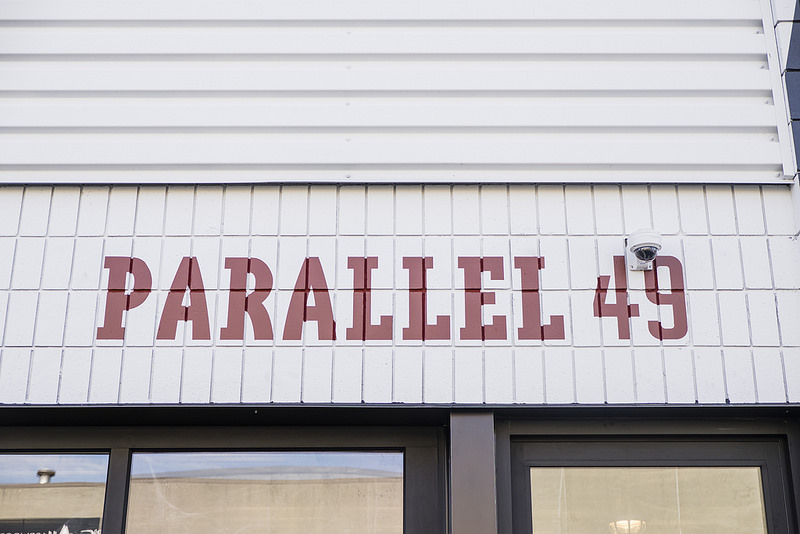 Outside Parallel 49 Brewing Company
Final Thoughts:
One-liner: A fun, new menu that keeps classic homey favourites and branches into experimental comfort items
Highlight: Pork Belly Sandwich
Price per person: $20-30
Would I go back? Yes.