Anyone who's a fan of gelato knows that Bella Gelateria closed down their Yaletown location in 2017. In the ashes has since risen Baggio Gelateria, a new Italian eatery. Operating with a similar interior and equipment, these folks are looking to up the seawall dining scene with their Italian menu focusing on pizza and gelato. Last week I was given a chance to taste through some menu items.
Disclosure: This was a complimentary meal provided in exchange for an honest overview and no monetary compensation.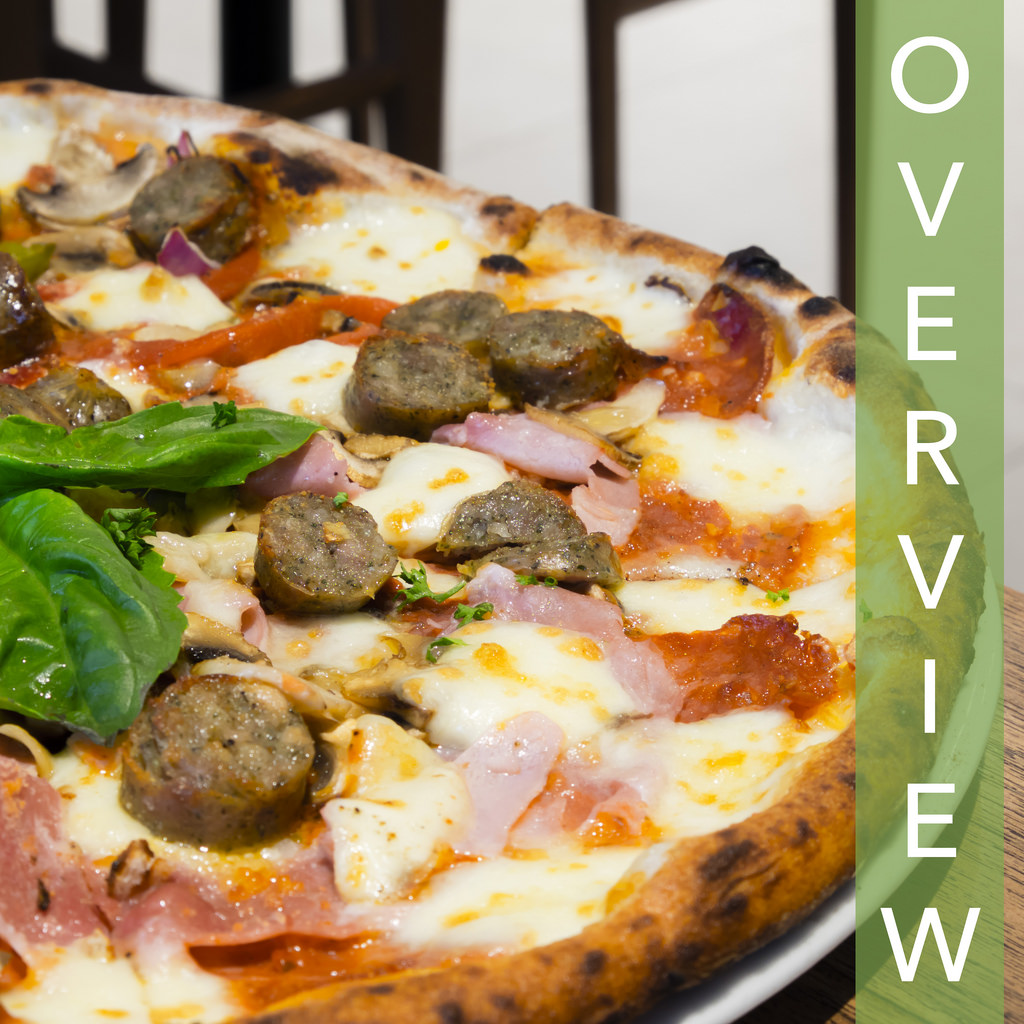 Food and Drink:
Team Tastic came here for a weekday dinner and I had a great taste of the following:
Bruschetta ($14)
Bruschetta Melanzana ($14)
Nonna's Meatballs ($5/meatball)
Mamma's Lasagna Tradizionale ($20)
Parma Pesto Pizza ($18)
Fiesta di Emilio Pizza ($19)
Siciliana Pizza ($16)
The bruschetta was one-half of our bruschetta plate, topped with fior di latte, tomatoes served on house focaccia, topped with arugula, balsamic glaze and Parmiggiano Regiano. The menu reads focaccia, but we're talking some of the fluffiest focaccia around. This had a satisfying chew (must be due to the nice oven they show off with an emblazoned "B" in the open kitchen).
The bruschetta melanzana was the other half of the plate and this was topped with fior di latte, roasted eggplant, mushrooms, peppers, and tomatoes, topped with balsamic glaze. This was the first of many appearances of eggplant on our dinner menu and I absolutely loved the implementation. The eggplant pieces were deskinned so it was all juicy meat on the bruschetta. I'd recommend the bruschetta melanzana over the regular bruschetta.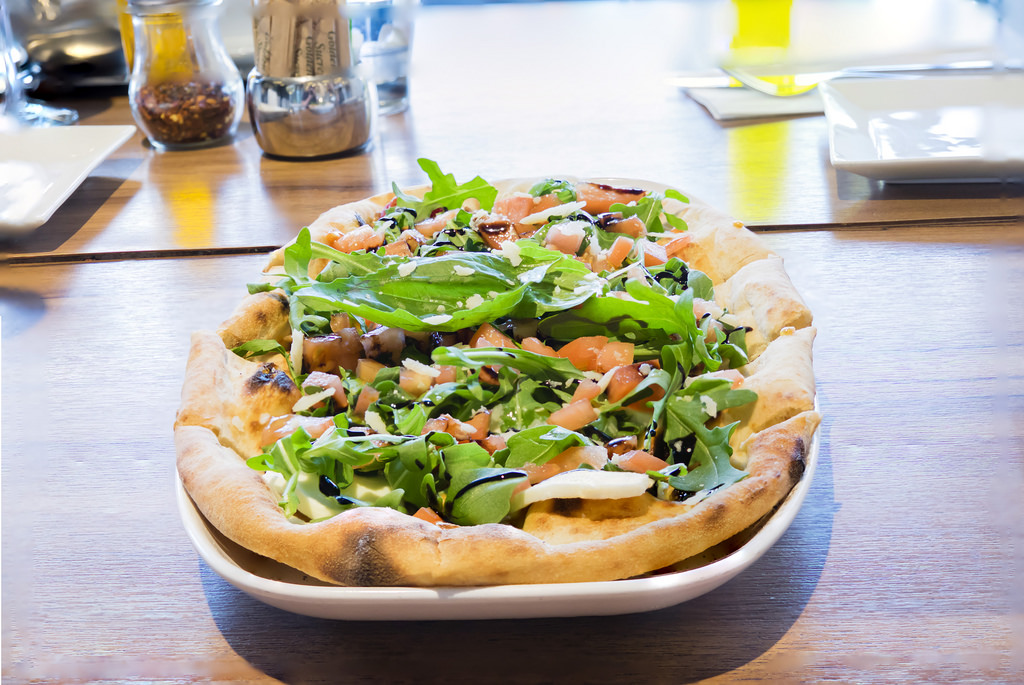 Bruschetta and Bruschetta Melanzana
Our other appetizer were nonna's meatballs. In Italian, "nonna" means grandmother, so this dish was a tribute to somebody's grandparent, likely Chef Vittorio. These particular meatballs were rolled with a mix of pork and beef (as opposed to all-beef which is what you normally see), giving the meatballs a wider flavour profile.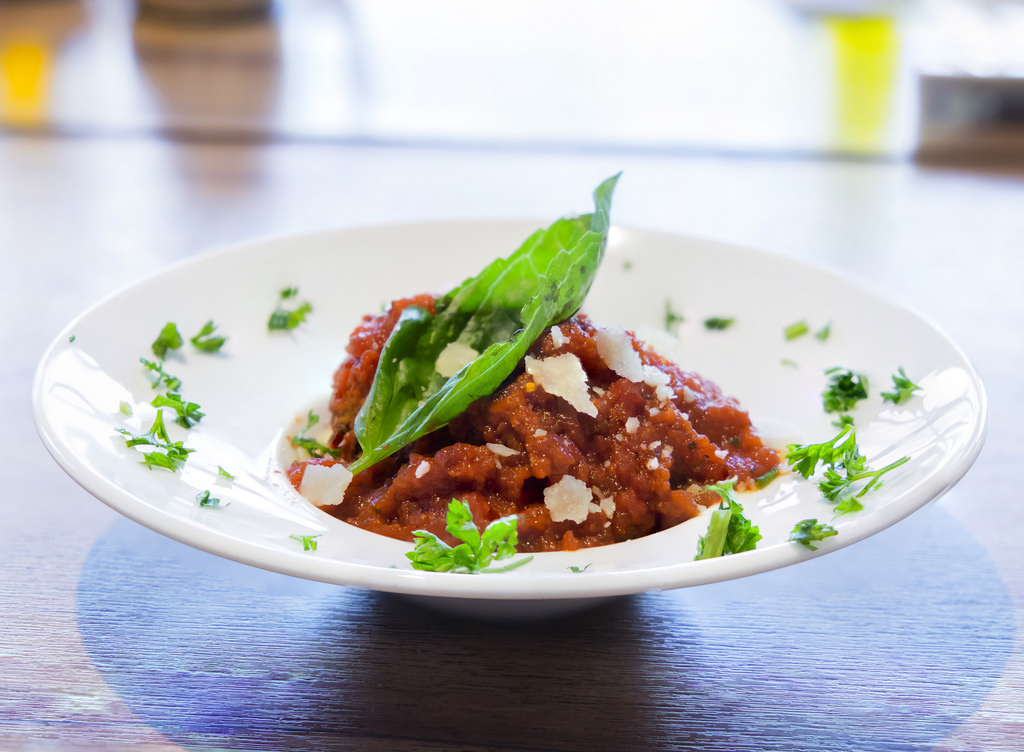 Nonna's Meatballs
Moving onto some pasta, family spoke again on the menu with mamma's lasagna tradizionale. All we get on the menu is "Baggio's authentic mamma's in-house recipe", but I'm here to tell you the secret. It's eggplant. Yes! Eggplant made its second appearance here and I need to preach how meaty eggplant tastes when paired with a thick lasagna cheese crust and house tomato sauce. This was a massive serving and is sure to fill up the average diner.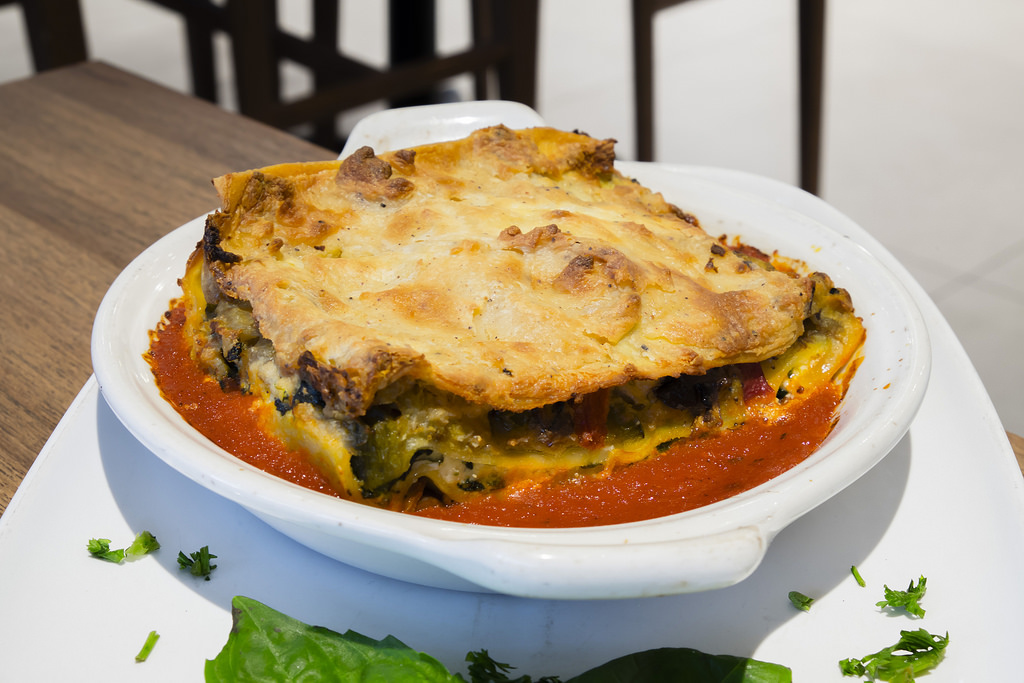 Mamma's Lasagna Tradizionale
Fun fact: on Baggio's online menu, they list desserts before the pizza. Now you know what the big finale really is.
Now for the pizzas, our first full pizza was the parma pesto. This was topped with San Daniele prosciutto, pesto, arugula, and Parmesan cheese. Gotta say, it's really the supreme dough that got me excited to write about this restaurant. As evidenced by the earlier bruschetta, the dough was chewy enough to make every bite a joy, but still fluffy enough to feel fresh in my mouth.
In any case, this pizza had a very hearty amount of prosciutto – so much that when I was pulling my slice out, I pulled out a ton of extra prosciutto as collateral. If you're sharing, you'll want to watch out for the prosciutto portioning.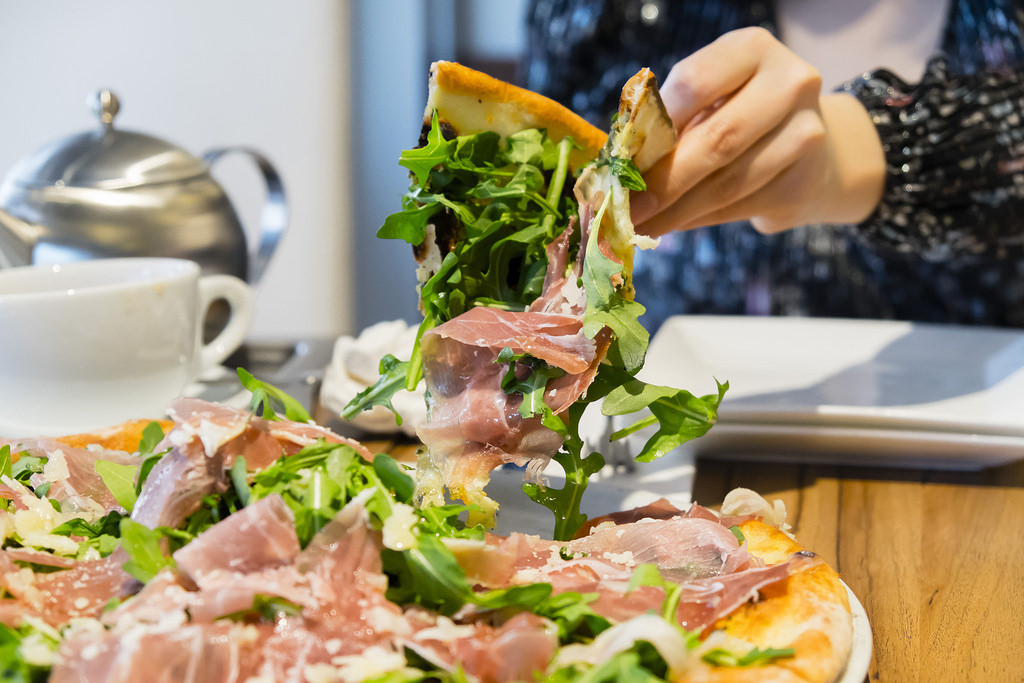 Parma Pesto Pizza
Our next pizza was a half-half selection, made specific for our visit. The two were the Fiesta di Emilio and Siciliana pizzas. Despite this, it looks like we were given some ham and basil to add some flair. The fiesta was a party on my palate with San Marzano D.O.P. tomato sauce, onions, roasted peppers, mushrooms, and spicy Italian sausage. The Siciliana came with San Marzano D.O.P. tomato sauce, roasted eggplant, and caramelized onions. This was the third appearance of eggplant tonight! I'm convinced the secret ingredient of Baggio is eggplant. It is a glorious ingredient that's meatier than people think, despite being a vegetable.
Again, the pizza dough was a-okay so it's really a matter of your taste preferences when it comes to the toppings. That being said, eggplant was a star ingredient of the entire dinner and the eggplant party kept going with the Siciliana.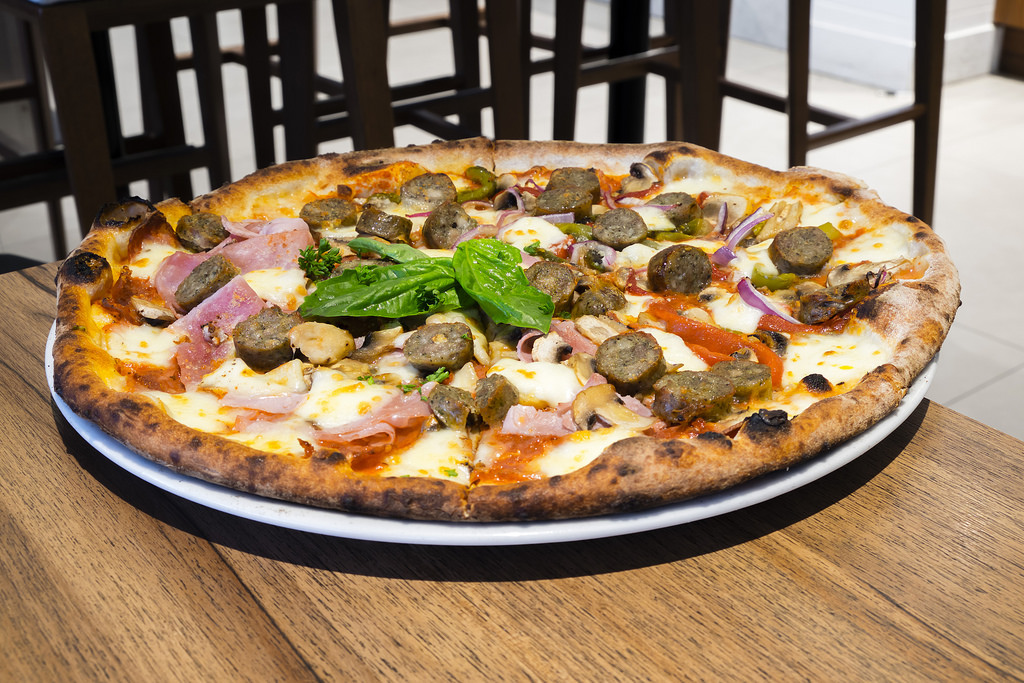 Fiesta di Emilio and Siciliana Pizzas
And for everyone wondering, yes, Baggio Gelateria offers high-class gelato as the former Bella Gelateria did. In fact, I was informed by the staff that traces of flavouring powders, syrups, and goat milk have been purged from the Baggio Gelateria ingredient list and that the gelato is now as Italian authentic as can be. This change in direction is likely due to the addition of Chef Vittorio who has experience with Gelateria De' Coltelli, a gelateria from Italian that emphasizes natural ingredients.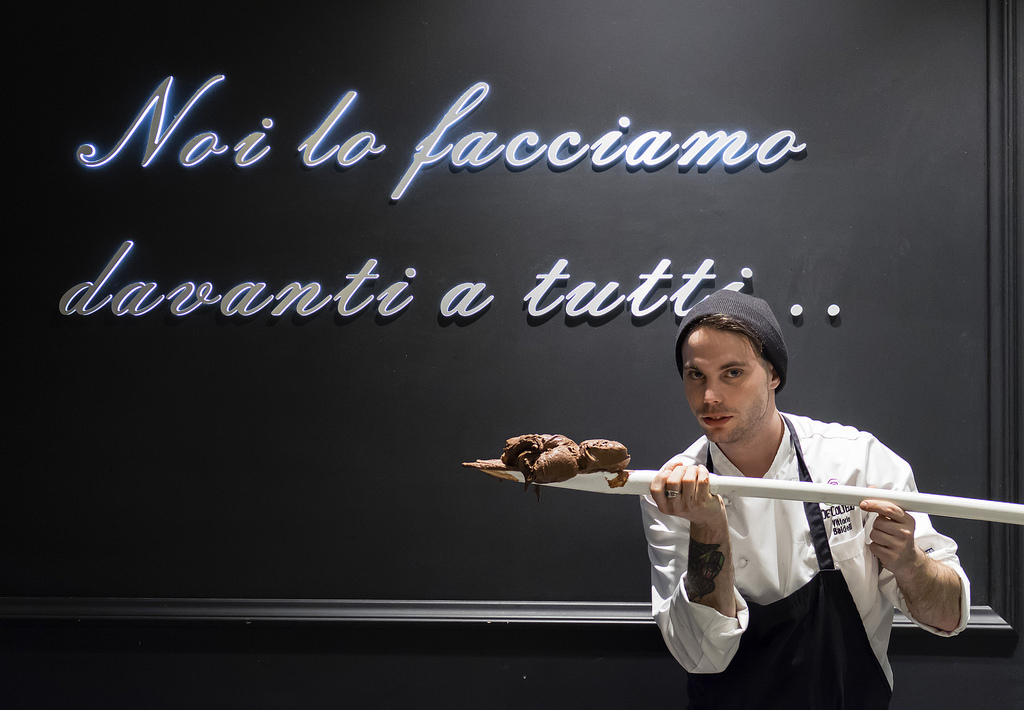 Chef Vittorio
Features:
Baggio Gelateria takes up residence in the old Bella Gelateria in Vancouver's Yaletown. Fans of the old interior will notice nearly everything looks the same – just with new management. The view of the seawall is still unbeatable and undoubtedly part of the price of dining here.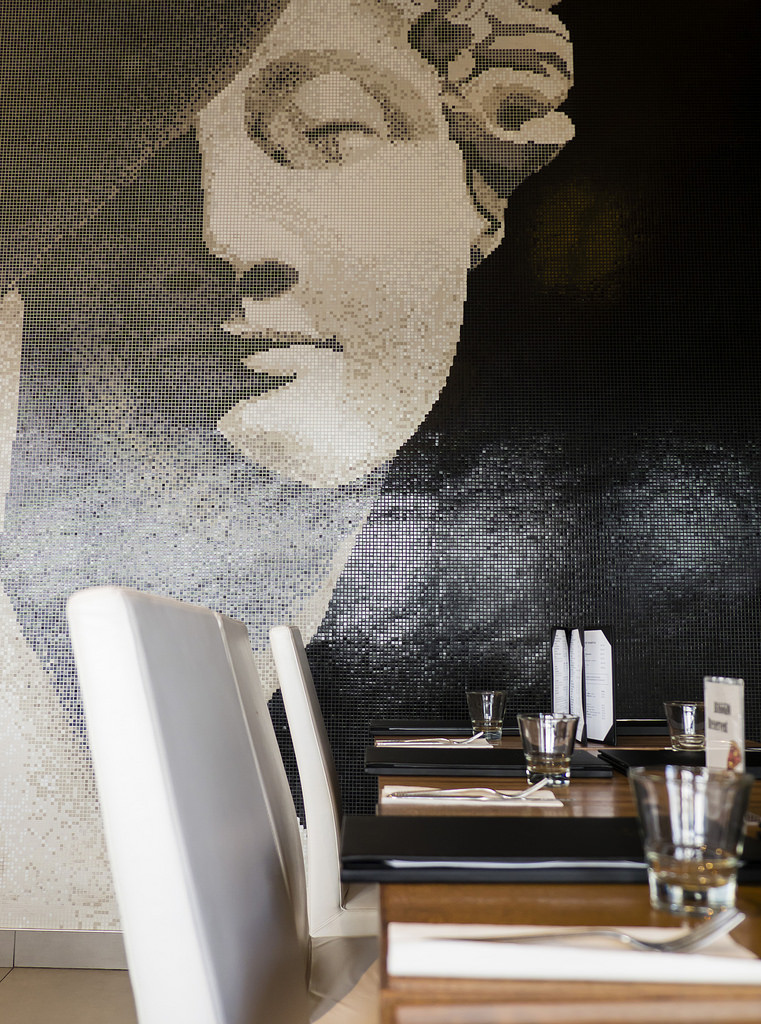 Inside Baggio Gelateria
The gelato and oven stations are still in place, but most importantly, the patio space is still open, so you know summer is going to be great at this seawall location. If you come during colder months, the patio is still covered and heated. There's seating for about 100 guests in a pretty sleek space. If you walk by at the right time, you'll see the gelato magic happening.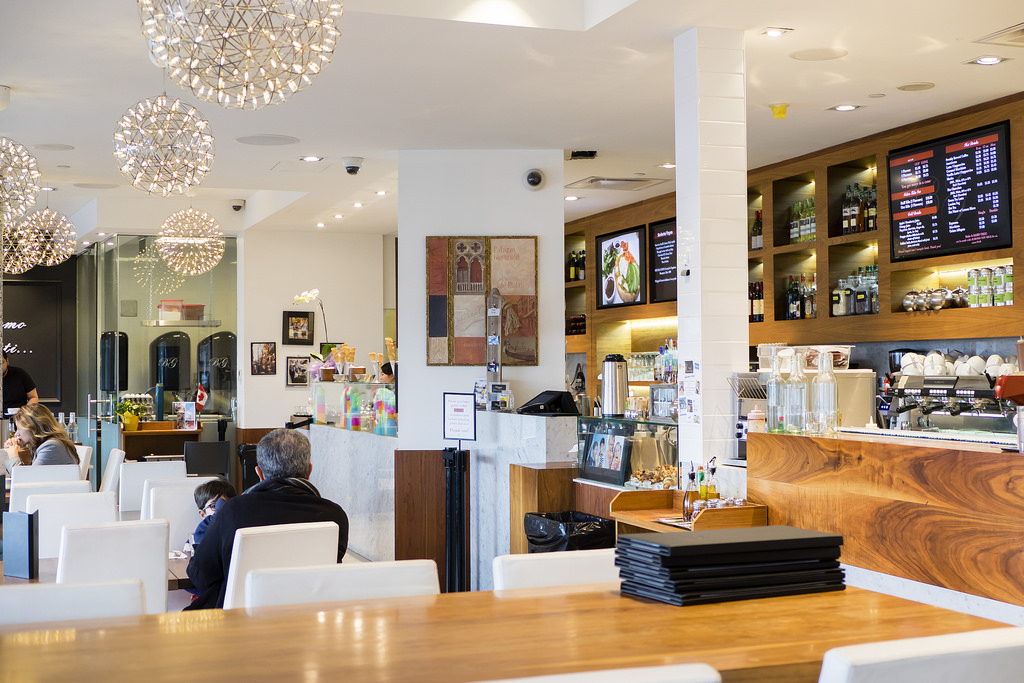 Inside Baggio Gelateria
If you're stopping by purely for gelato, you can make a purchase for a token at the main cashier and proceed to taste and choose your desired gelato.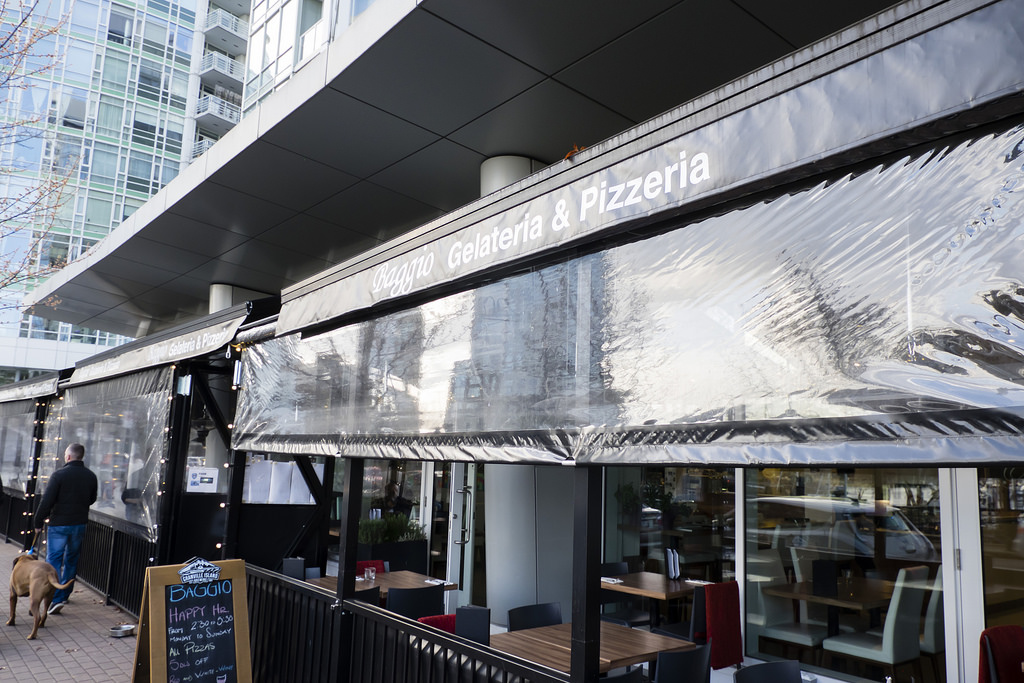 Outside Baggio Gelateria
Final Thoughts:
One-liner: Midrange pizza and high-class gelato with a seawall view that screams "Vancouver"
Highlight: Siciliana Pizza
Price per person: $15-$30
Would I go back? Yes.