Even though I'm not in college anymore, I appreciate a good study cafe especially if the music isn't too loud and the venue is accessible for my study group. Mr. Mustache appears to fit the bill, taking up residence in yesteryear's Cafe Joie. While the interior might be largely the same, the menu's been overhauled and desserts have been added to this new location (the Vancouver venue specializes in bubble tea). Last week I had a chance to experience the drinks and desserts of Mr. Mustache.
Disclosure: This was a complimentary tasting provided for an honest overview and no monetary compensation.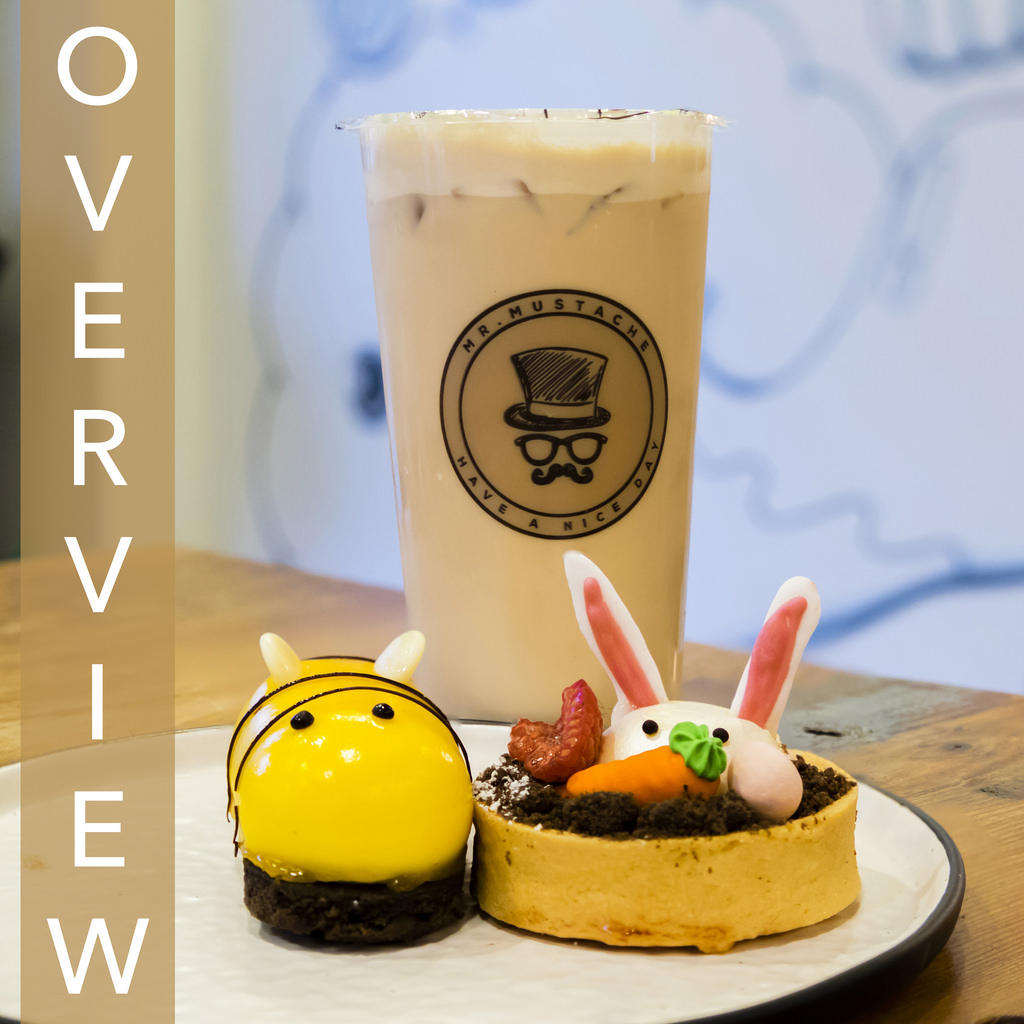 Desserts and Drinks:
Team Tastic came here on a Wednesday evening and I had a great taste of the following:
Easter Tart (Raspberry Rose) ($6.25)
Caramel Bear ($6.25)
Silky Jasmine Panna Cotta ($6.25)
Canelé ($6.25)
Matcha Macaron
Chocolate Espresso Cookie ($6.25)
Tiramisu ($6.25)
Earl Grey Mousse ($6.25)
Cheesecake ($6.25)
Hazelnut Milk Chocolate Mousse ($6.25)
Pu-erh Tea Macchiato ($5.50)
Original Milk Tea ($4.50)
Note: macarons are sold in packs and as part of a platter, so no individual pricing there. If you're interested in your own personal platter, you can pre-order with the cafe who leave it to the chef to come up with a design for you (omakase style).
I've got some tasting notes for most desserts (all made in-house) which all came on this massive board that made me feel extra special.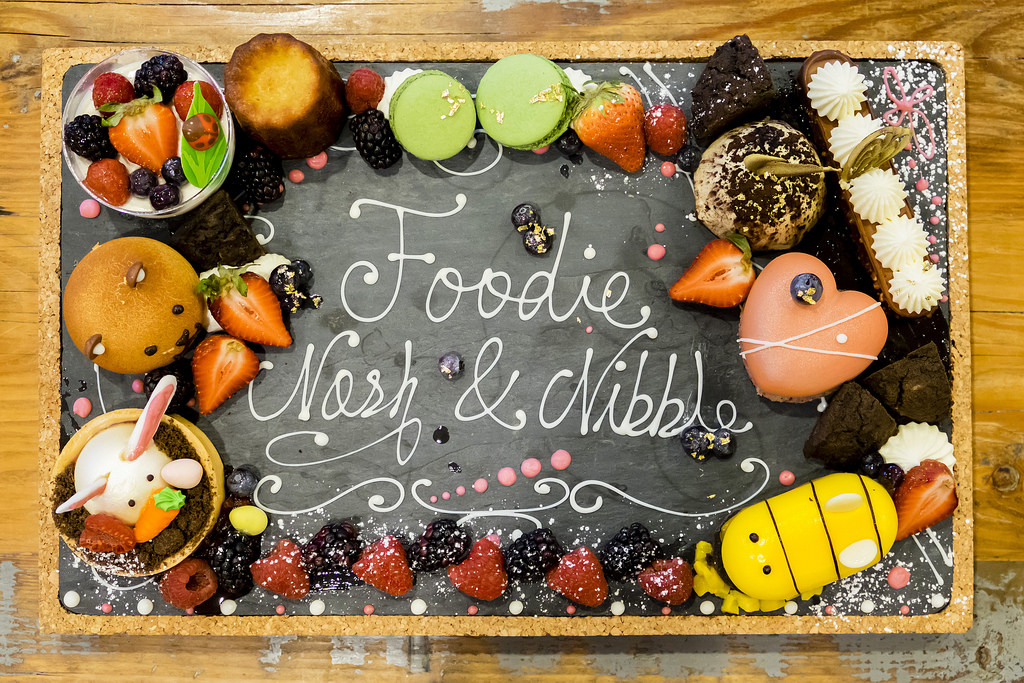 Dessert Board
The Easter Tart had gummy ears on a chocolate crumble tart adorned with an equally gummer rabbit head and carrot. The raspberry rose mousse beneath was particularly good on this tart with a smooth flavour profile.
The Silky Jasmine Panna Cotta was indeed quite silky. I was given a fork to eat it with but I'd recommend asking for a spoon. I like my panna cottas to have a little more gelatin but I suppose that's why Mr. Mustache's recipe calls for a cup instead of a plate for holding this panna cotta.
The Canelé provided a good break from all the mousses and puddings featured in nearly every dessert. This had a spongy texture with lots of vanilla flavour.

Left to right: Easter Tart, Caramel Bear, Panna Cotta, Canelé
Moving to the middle of the board, the matcha macarons had an average size (seriously, how small are the macarons at Bel Cafe?) but featured a good chewiness. Being decorated with gold added some nice pizazz even though they didn't contribute anything to the taste.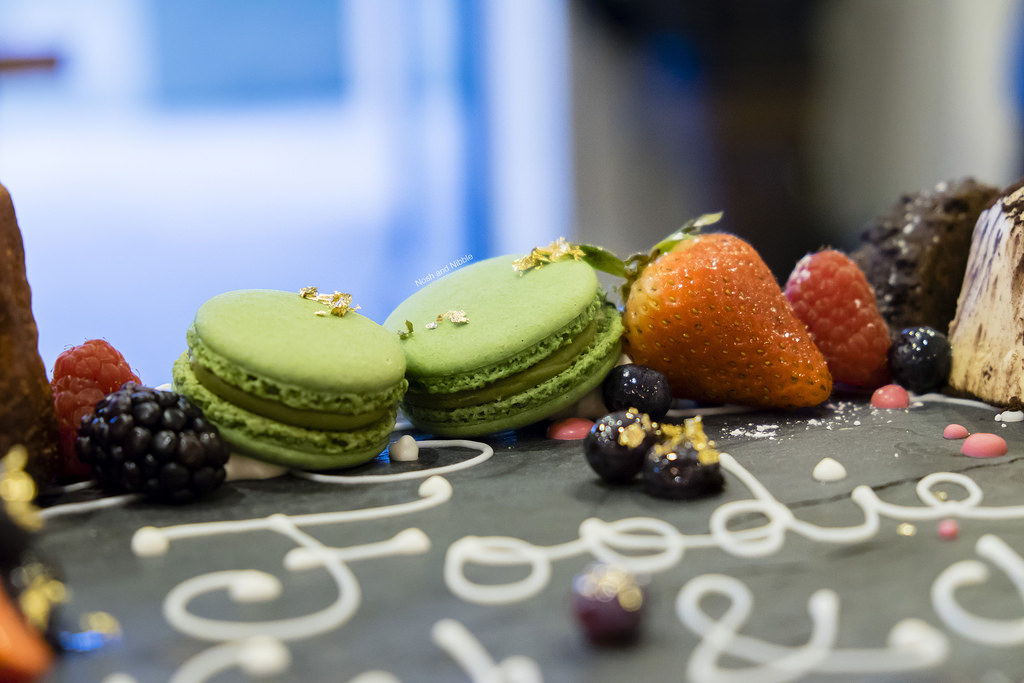 Matcha Macarons
Moving to the other side of the board, I enjoyed the chunks of chocolate espresso cookies. If you're a butter lover, you might find these cookies to be a little dry. If you're a low-butter-cookie kind of person, these cookies should be right up your alley.
The tiramisu was quite unique in shape. If you go to any Italian eatery or bakery, tiramisu is made in a sheet and sliced into squares. Mr. Mustache's tiramisu was a bonbon-shaped dome which featured a lot of espresso. I love me a strong dusting of caffeine so this was my favourite dessert out of the 10 on this board.
Moving down the line, the earl grey mousse was a cute heart shape. Despite being a very smooth mousse, the pastry chef behind its creation was thoughtful enough to put it on a platform. Such plating allows the mousse to be moved around for pictures and sharing. Thumbs up on design and execution.
The cutest dessert has to go to the cheesecake With a mango flavour and a bee shape, I'm sure this is going to make the waves on Instagram. In comparison to the other desserts, I'm more partial to the mousses and tarts but as my food blogging friend Maggie says, "Don't deny your cravings". Based on its appearance, I know this cheesecake has a big audience.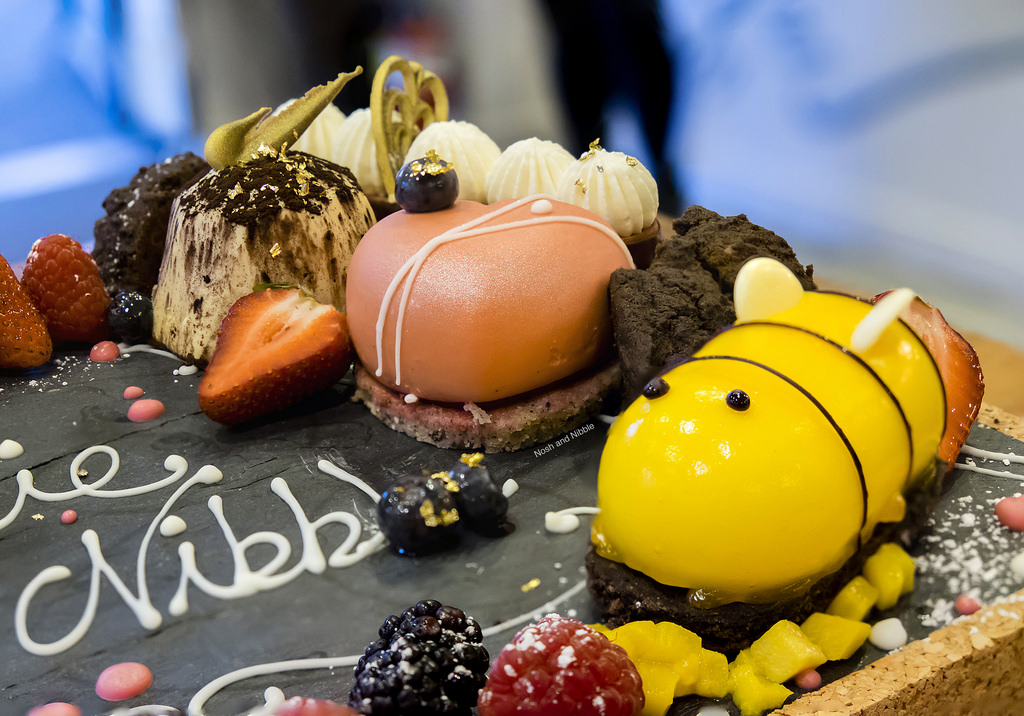 Chocolate Espresso Cookie, Tiramisu, Earl Grey Mousse, and Cheesecake
Last but not least, the hazelnut milk chocolate mousse gets my vote for richest dessert. Arranged with choux-like whipped cream dollops, one bite into the hazelnut milk chocolate shell revealed a chocolate mousse within. If you're in for a bold dessert, the hazelnut milk chocolate mousse has both the both and taste to fill your palate.

Hazelnut Milk Chocolate Mousse
Moving onto some drinks, I was drawn to the classic milk tea. A quick look at the menu indicated fresh milk is an option for the milk teas which is awesome. I personally don't really care about fresh milk vs. milk powder, but the option has been a trend at a few new places (e.g. 45 Degree Tea, Rad Tea House, T-Go Tea, just to name a few).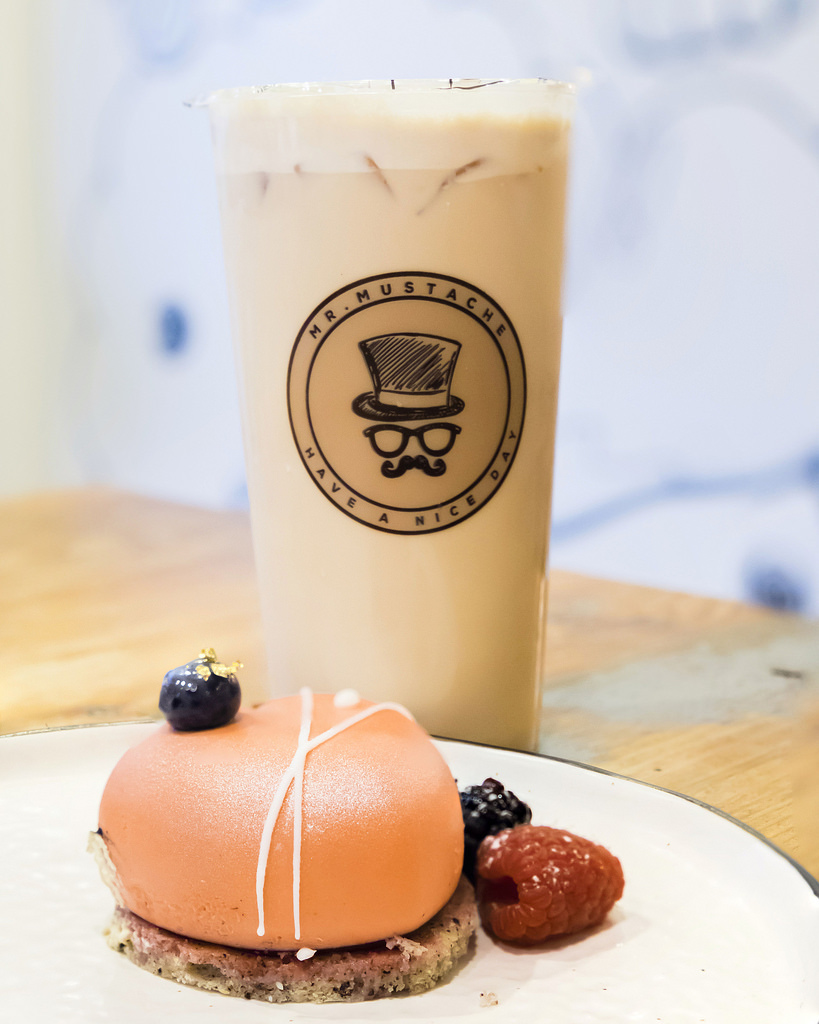 Milk Tea with Earl Grey Mousse
I was also informed that the macchiatos were a big seller at Mr. Mustache, so I also tried the pu-erh tea macchiato. This featured a cool salty and sweet foam cap that mixed with the real brewed tea (actual brewed tea in bubble tea is also a big thing these days).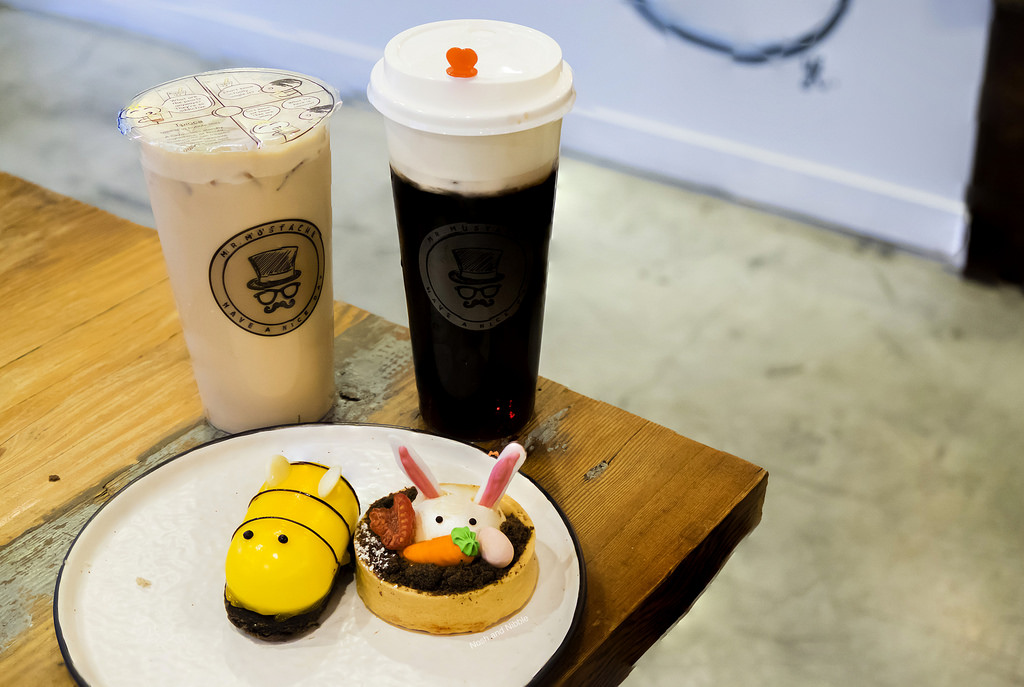 Pu-Erh Tea Macchiato, Milk Tea, with desserts
Features:
Mr. Mustache gets its name from the fact that if you drink their tea macchiatos without a lid, you're left with...you guessed it: a milky foam mustache on your upper lip. Give it a try but the foam is definitely thick enough to leave an impression.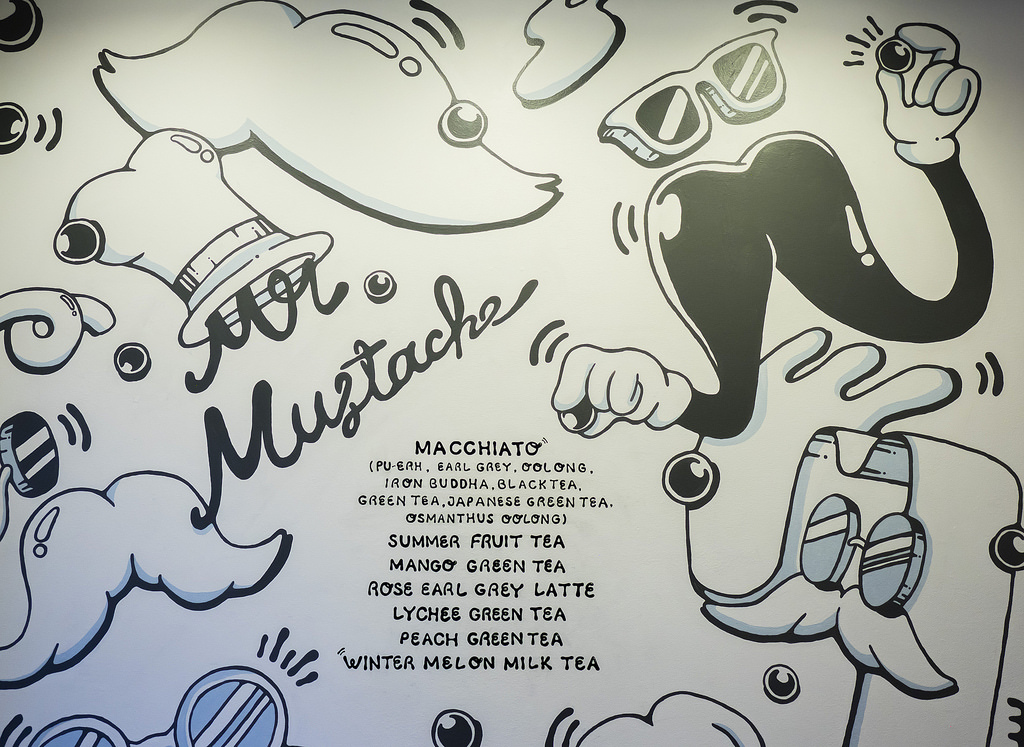 Inside Mr. Mustache
To the untrained eye, Mr. Mustache is a rebranded Cafe Joie. The new owners, however, have done a few improvements since taking over the business. Namely, there's a little more space with a few seats taken out (now seats about 30 guests), a new wall mural is on the wall, and the previous waffles and shaved ice machines have been replaced with a baking kitchen and a prepping area for bubble tea.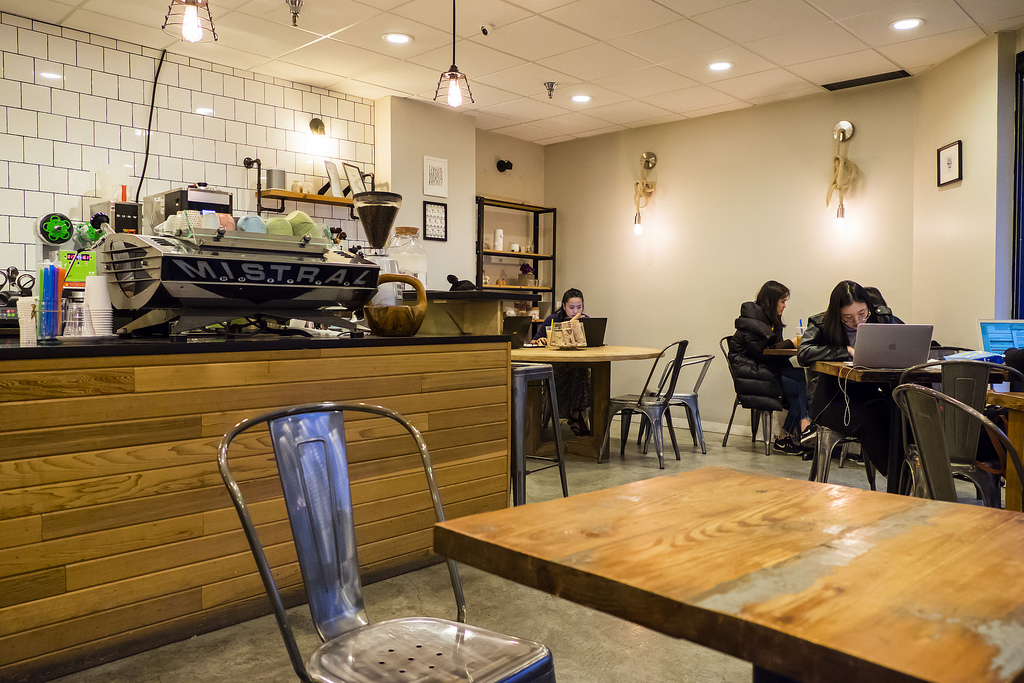 Inside Mr. Mustache
I think students will be glad to hear studying is still welcome at Mr. Mustache (can't say the same about Musette Caffe on weekends). Though as any regular patron, remember to make frequent purchases throughout your stay at the cafe (you are sucking up their power, utilities, and space, after all).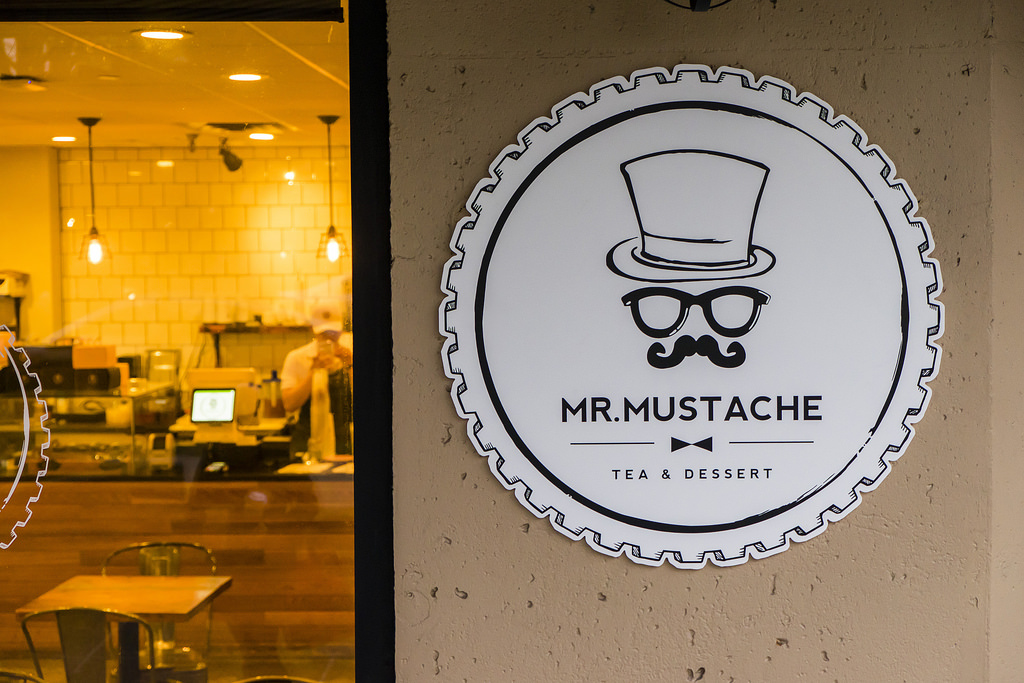 Outside Mr. Mustache
Final Thoughts:
One-liner: What started as a real tea bubble tea shop has expanded to a dessert cafe with a cute menu
Highlight: Tiramisu
Price per person: $6-$15
Would I go back? Yes.