Korean-style soft serve ice cream has, until recently, resided only in Vancouver's Gastown neighbourhood. Disregarding the expansion of Soft Peaks to Burnaby, Milkcow is the newest company to introduce its flavours to answer ice cream cravings. This Richmond location follows the existing Milkcow chain from South Korea and I was given a chance to taste through a few of their flavours last week.
Disclosure: This was a complimentary tasting provided in exchange for an honest overview and no monetary compensation.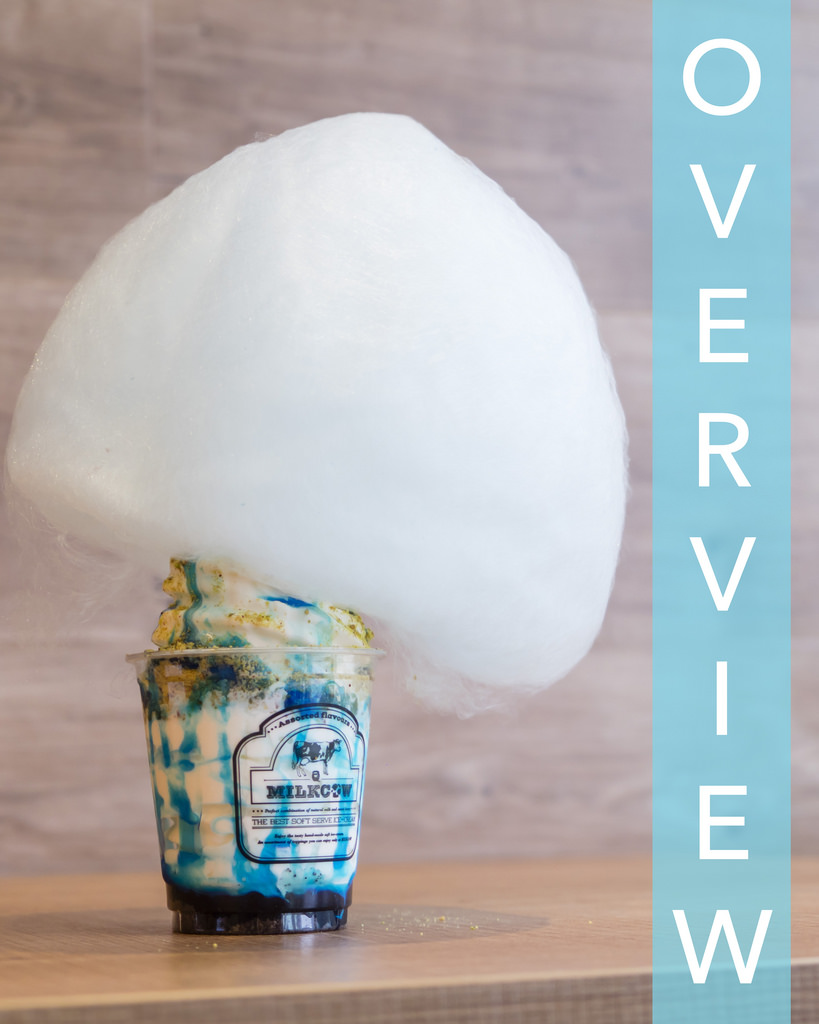 Soft Serve Ice Cream:
Team GlueCrew came here on a Tuesday evening and I had a great taste of the following:
M12 Santorini ($6.50)
M11 Mont Blanc ($6.50)
M5 Black Pearl ($6)
ME Milky Honey ($5.25)
The Santorini is likely the most photographed flavour with its tropical blue (pineapple?) syrup and topping of blue cotton candy. It comes with oreo crumbles on the bottle and pistachio crumble mixed throughout. I found this to be huge on presentation but wish it was easier to share. I ended up washing my hands first to divvy up the cotton candy and imagine this being extra difficult to eat if you're on the go and sharing.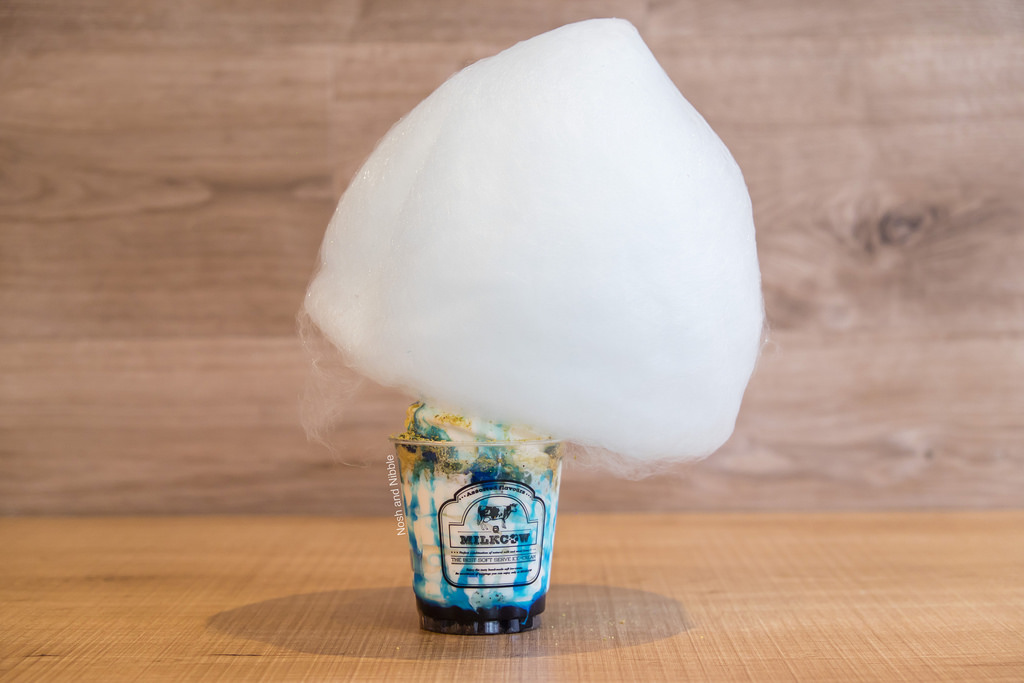 M12 Santorini
Another cotton candy-inspired option was the Mont Blanc. With chocolate rocks, apple syrup, oreo crumbles, and pink cotton candy, this was my preferred of the two cotton candy flavours. Again, sharing was a little difficult but I enjoyed the apple syrup much more than the blue tropical syrup of Santorini. The chocolate rocks on the bottom added some cool colour to give this a natural-looking appeal.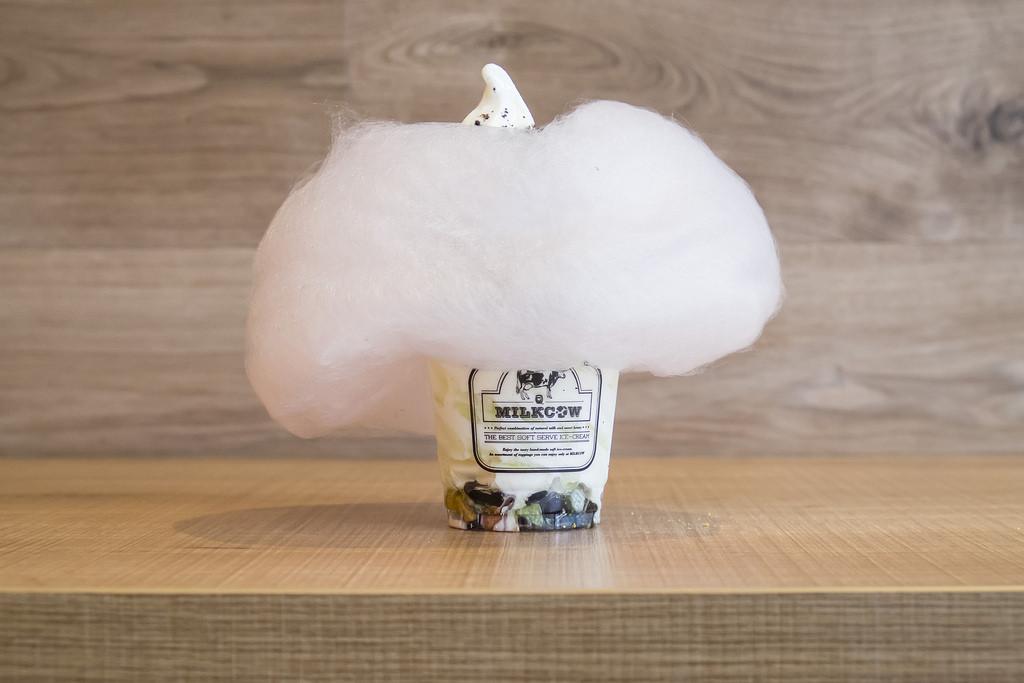 M11 Mont Blanc
Moving up my list of preference, Black Pearl was my second favourite. It's a chocolate lover's dream with hazelnut syrup, sea salt, and cocoballs (i.e. malteser-like balls) buried at the bottom of the cup. The cocoballs were a thoughtful addition and added a nice, crunchy texture once I got to the bottom.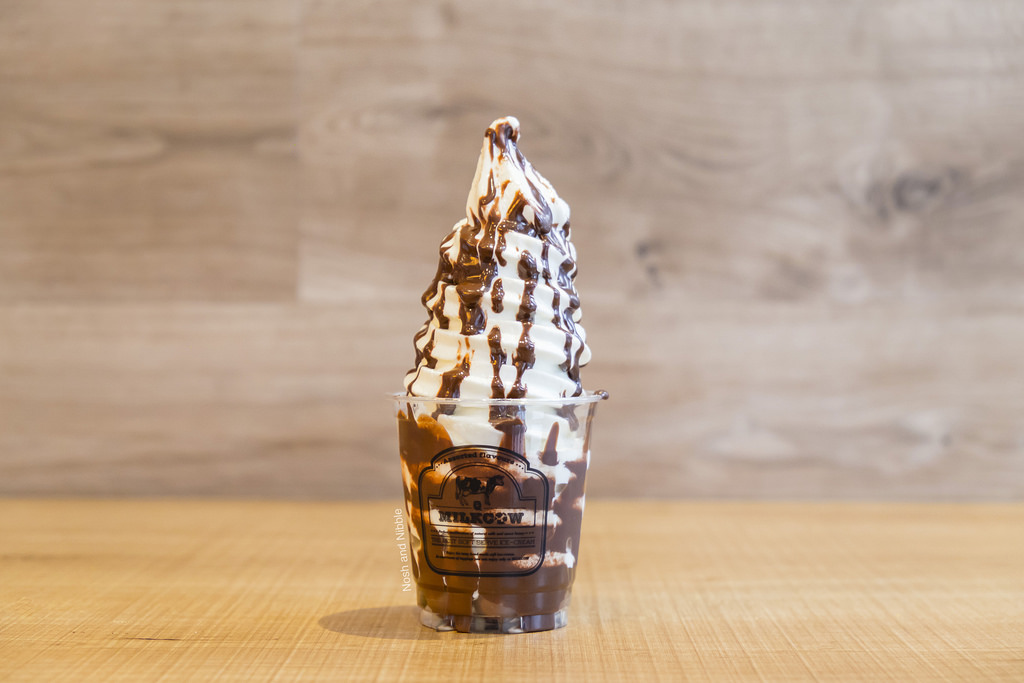 M5 Black Pearl
Surprisingly, the best flavour is also the simplest (and cheapest). That's the Milky Honey. Natural liquid honey is, in my opinion, the "original" Korean soft serve ice cream and it's wonderful how well viscous sweet honey goes with smooth liquidy soft serve. I think if it's your first visit to Milkcow, and your first experience with Korean soft serve, there's no better introduction than the Milky Honey.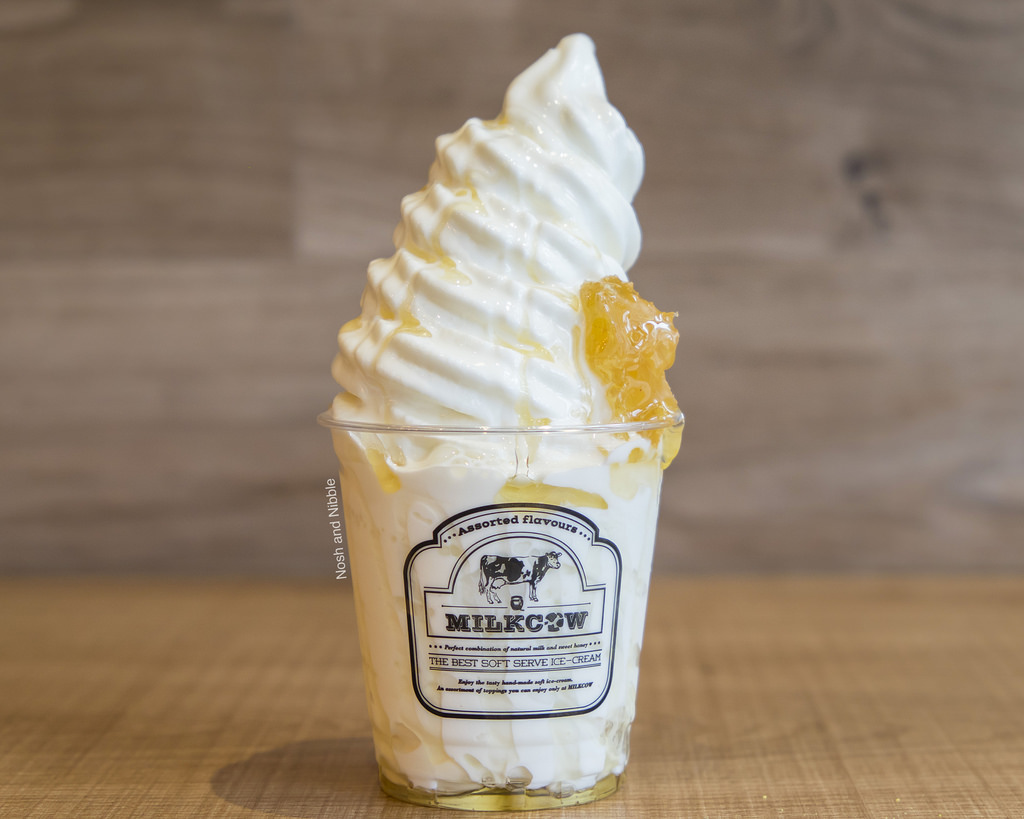 M2 Milky Honey
Differences From Soft Peaks:
I know everyone's wondering what the difference is between Soft Peaks and Milkcow, and I was fortunate enough to get an answer from the staff. Milkcow is built for people with serious sweet tooths. You'll never find things like cocoballs at Soft Peaks. I'd also argue presentation is more colourful at Milkcow if you're looking for something visually complex.
As far as the soft serve ice cream, turns out organic milk, whether it's branded Avalon or not, is exactly the same across brands because in Canada, milk production is in part, regulated by the Canadian government, and the folks at Milkcow assured me the organic milk they use is no different from the Avalon-branded organic milk used at Soft Peaks.
In the same vein as Soft Peaks, Milkcow also features the famous "hole" in the middle of their soft serve ice cream cups. Soft Peak's hole though might be larger.
If Milkcow and Soft Peaks were located right next to each other, I'd go to Milkcow for the Milky Honey and Soft Peaks if I wanted something like tiramisu flavour. For my visit, the one size Milky Honey at $5.25 was better value than Soft Peaks' ($6) equivalent given how much fuller the cups are at Milkcow.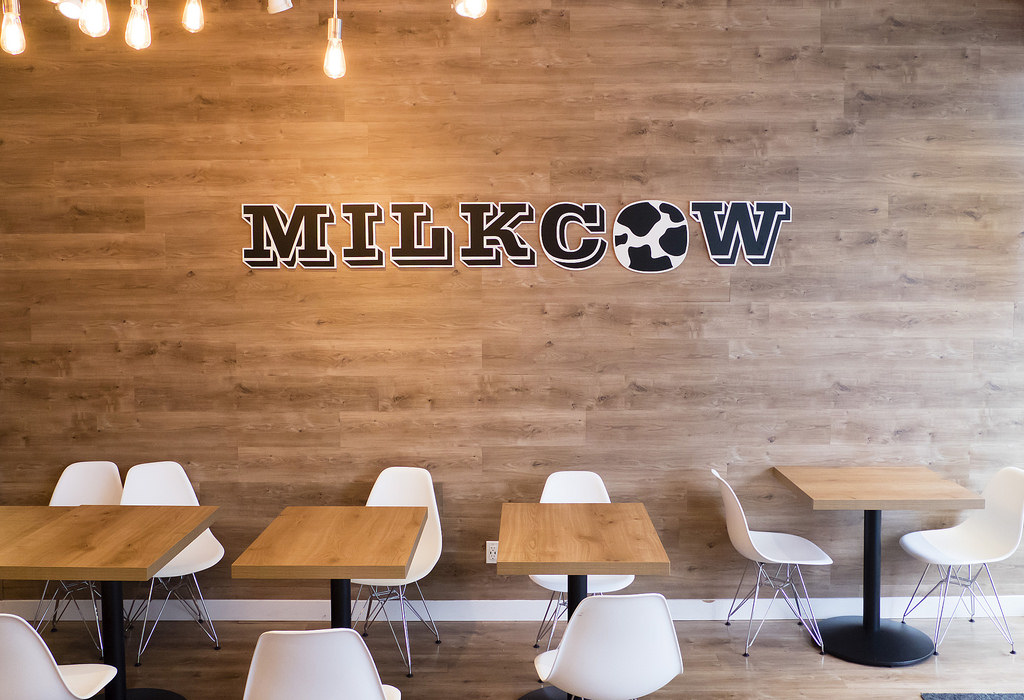 Milkcow Logo
Features:
Milkcow is located in Richmond close to the Oval. It takes up residence in a pretty new plaza and seems primed to be a dessert destination for local residents and athletes and amateurs training nearby. Inside there's seating for about 40 guests at standard looking tables. Those with a good eye will notice the chairs share similarities with the ones seen at The Blenheim Pub in Vancouver. There are a few outlets and free WiFi so this could be a good place to study and get some work done. It's a very clean space which combined with the soft woods makes for a comforting environment to relax in.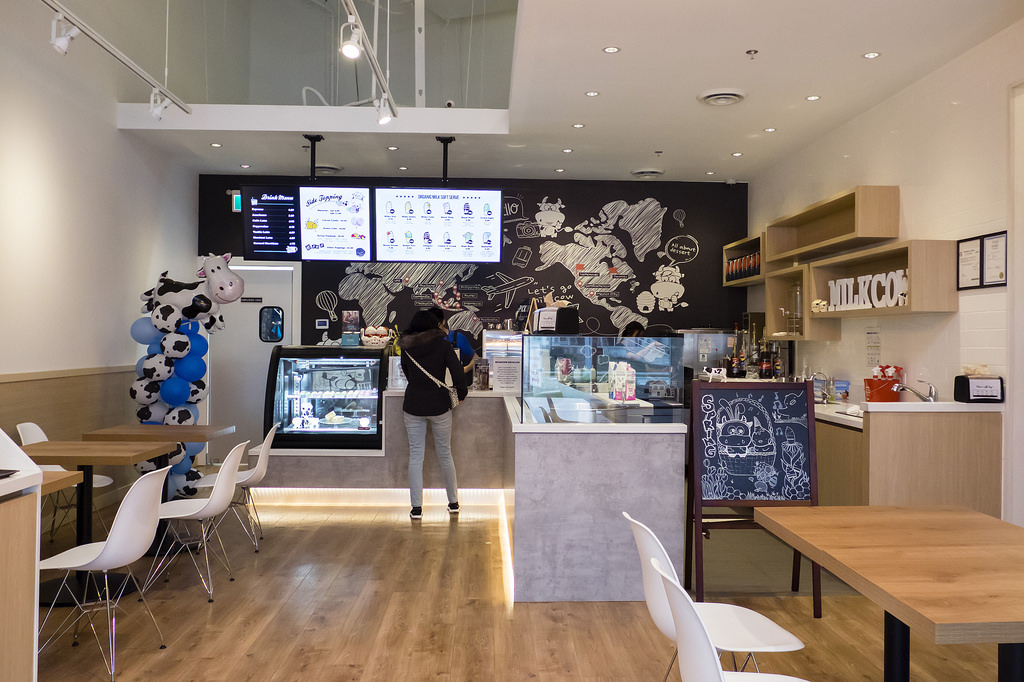 Inside Milkcow
Final Thoughts:
One-liner: Richmond finally has a Korean soft serve option with a good penchant for filling up the cups
Highlight: Milky Honey
Price per person: $6-$11
Would I go back? Yes.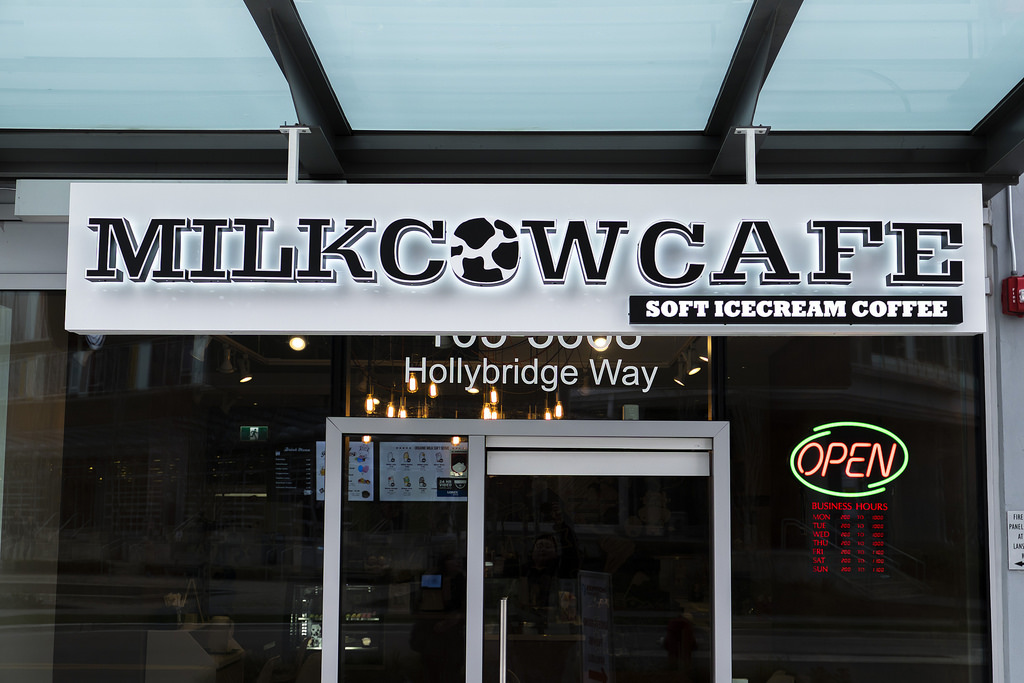 Outside Milkcow