A new restaurant in Vancouver's Yaletown is always an exciting topic for me because it's a neighbourhood that mixes industrial cityscape with modern restaurant design. Banter Room is one of the newest additions to the dining scene and aims to provide a comfortable space where drinks and conversation are the core experience. Does this new eatery provide enough for a bustling social atmosphere or do they need to work on the definition of banter?
Disclosure: This was a complimentary tasting provided in exchange for an honest review and no monetary compensation.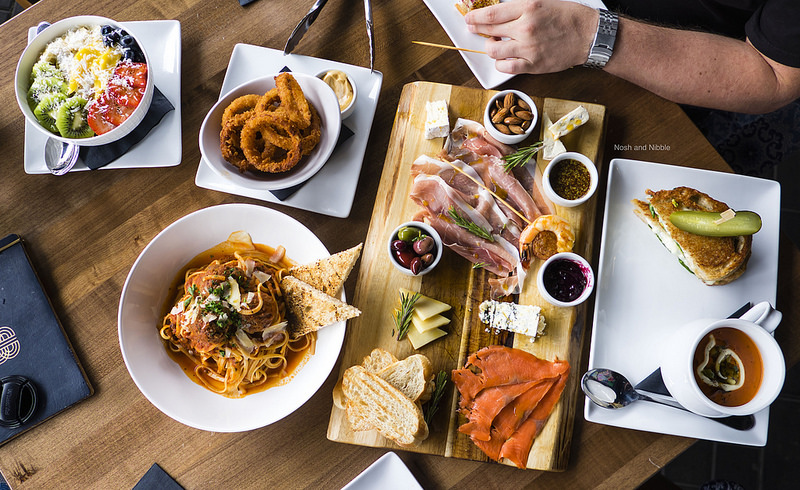 Banter Room Spread
Food and Drink:
Team GlueCrew came here for a Friday lunch and I had myself a great taste of the following:
Where Mojitos Go To Die ($14)
Deluxe Açaí Bowl ($15)
Spiced Onion Rings ($5)
Banter Platter ($34)
Green Goddess Grilled Cheese (with Tomato Soup) ($14 + $2)
Linguini & Meatballs ($14)
Mojitos are generally a minty cocktail, but the Where Mojitos Go To Die adds an additional flavour spin by using lavender syrup in their recipe. For me it was subtle change as the drink was still predominantly minty and refreshing. The main diversion is the use of Tanqueray gin instead of rum. which really amped up the floral nature of this cocktail.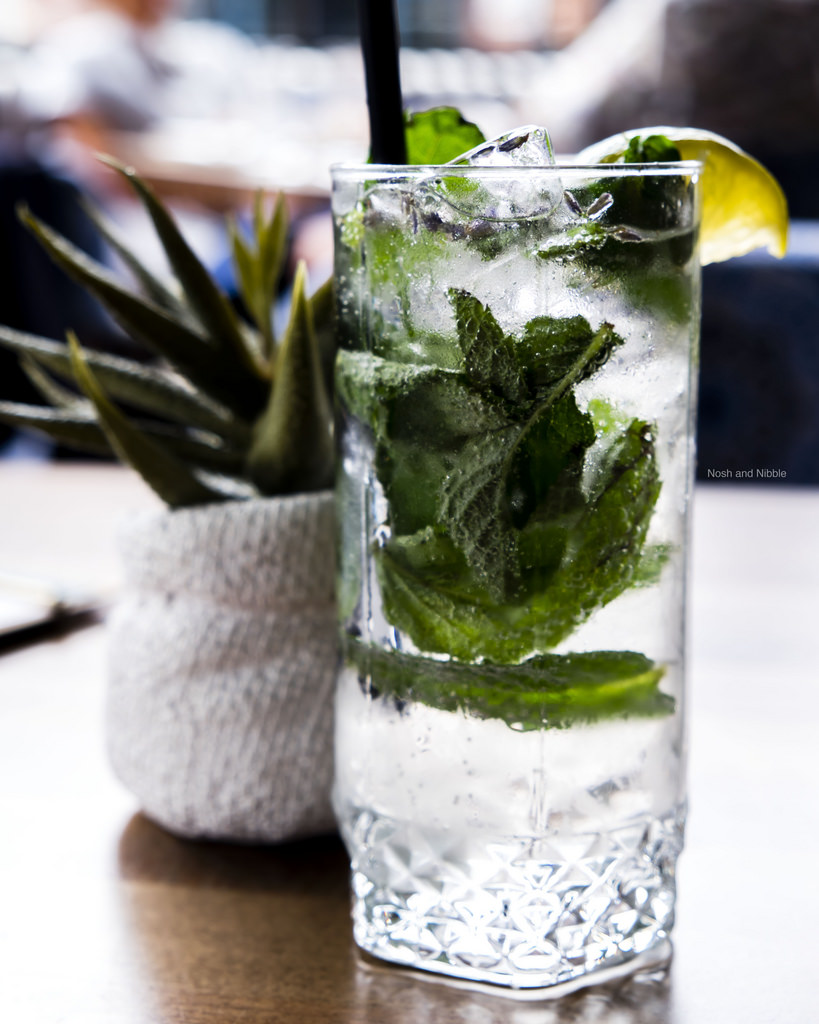 Where Mojitos Go To Die
Breakfast gets a small spot on the menu, presumably for being a hangover cure, and the deluxe açaí was a healthy beast consisting of açaí, blueberries, kiwi, banana, mango, strawberries, raw honey, coconut flakes, and granola. The presentation of this bowl was good enough to make actual healthy eateries jealous. The açaí concentration within was potent and I can confirm this innocent-looking bowl would be enough to fill up a person for breakfast. At $15 though, this might be a hard sell when savoury options like the pastas are cheaper. This is the first time I've seen such a healthy option on a menu that also features cocktails, so I'm excited to see if this breakfast menu will fly with the public.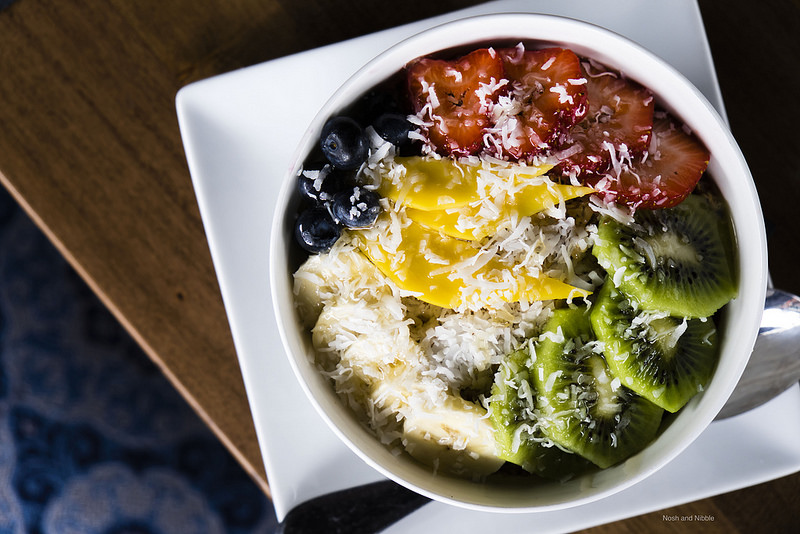 Deluxe Açaí Bowl
On the sides menu, the spiced onion rings caught my eye. These appeared extra crisp with zero oily residue collecting in their bowl. One bite confirmed their slight spiciness and I could stand to eat these sauce-less. Regardless, these came with a side aioli and I'm happy to report they were better than onion rings I've had at other restaurants (e.g. Milestones, White Spot, and competing chains).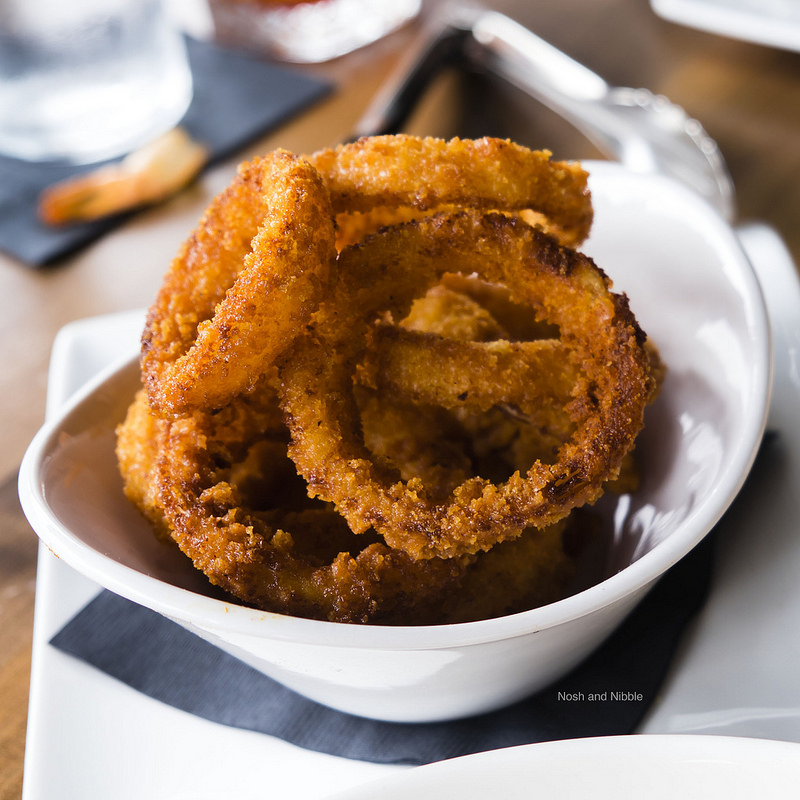 Spiced Onion Rings
Moving onto a share-purposed item, the banter platter bore the name of the restaurant so I knew we were having one. Coming with an arrangement of cured salmon, prosciutto, prawn & chorizo skewers, house-marinated mixed olives, cheeses, berry compote, grainy maple dijon, crostinis, and roasted almonds, this was essentially a deluxe charcuterie board. Things were laid out in an inviting manner and the prosciutto and salmon were very flavourful. The prawns could have stood to be cooked just a little less, but better safe than sorry.
I suggest sharing this in a group of 3 because there are 3 prawn & chorizo skewers. I think this board could be better if everything divided evenly because as it stands, someone's going to compromise on something on this board. I know not every group's going to be a stickler for portioning, but I know they're out there.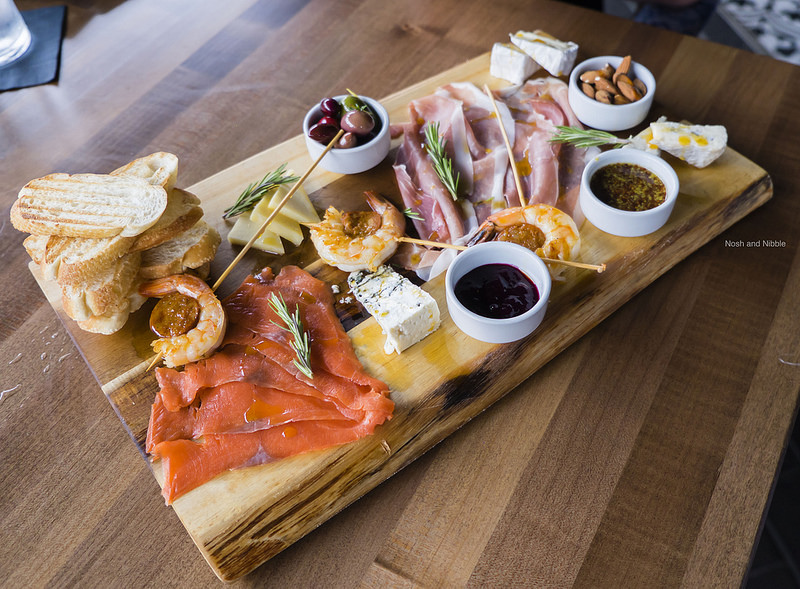 Banter Platter
As a comfort food item, I'm quite fond of grilled cheese, so I looked to the green goddess grilled cheese with a side tomato soup. The grilled cheese had avocado, spinach, mozzarella, goat cheese, pesto aioli, sourdough. The best parts of this grilled cheese were the avocado (I'm basic) and the buttery grilled sourdough (both sides!). The gooey cheese was very welcome, but I found the pesto aioli to be a little too bold. It might be because I paired with a tomato soup with cream, but the sandwich would have finished me off if I wasn't sharing half.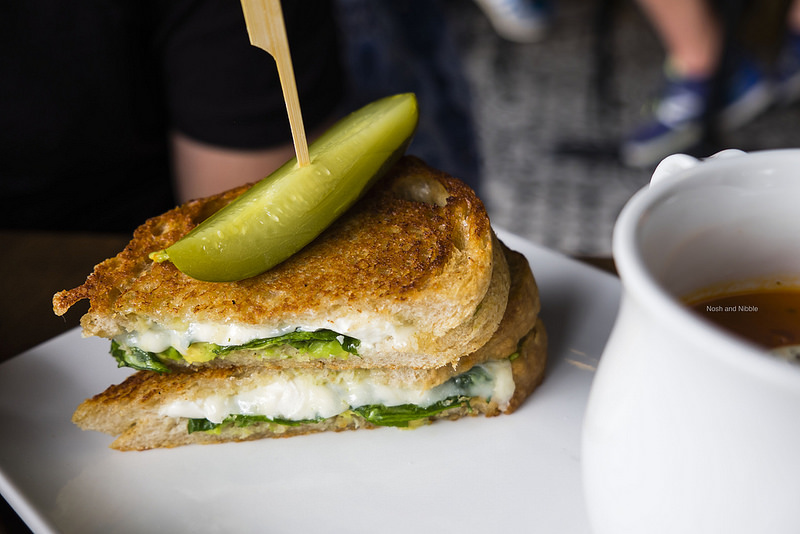 Green Goddess Grilled Cheese
The side tomato soup was hearty with a thick body and some veggies mixed in. If you don't opt for a $2 side, the grilled cheese comes with skinny fries.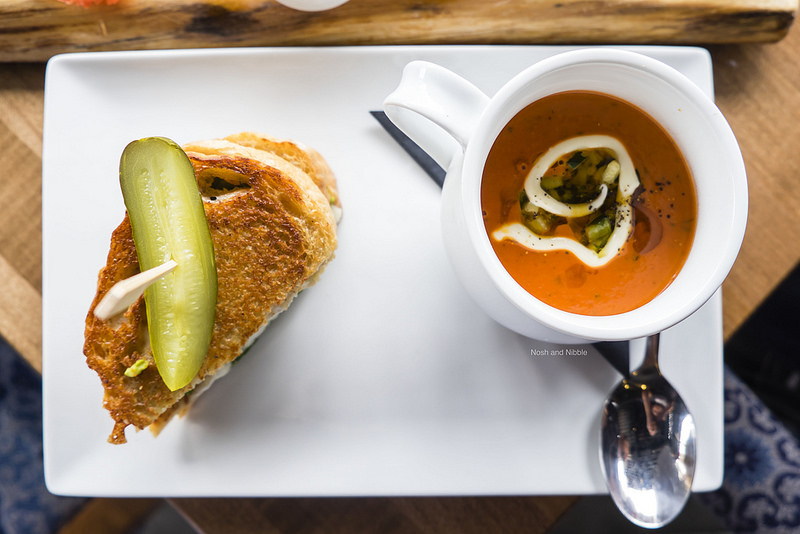 Green Goddess Grilled Cheese with Tomato Soup
Finally, we had the linguini & meatballs. I think for a standard Yaletown lunch, $14 is super reasonable and this item is actually $3 more expensive on the dinner menu! This came with kobe beef & spicy chorizo meatballs, roasted tomato sauce, basil, parmesan, sourdough crostini, and olive oil drizzle. The tomato sauce was very aromatic and the touch of shredded basil added a needed herbiness once mixed in with the linguini. The only thing that could have been better with this hearty plate would be a more al dente pasta but I'm in the fan club that's gonna cheer this triple meatball show to the finish line of best Yaletown dishes under $15.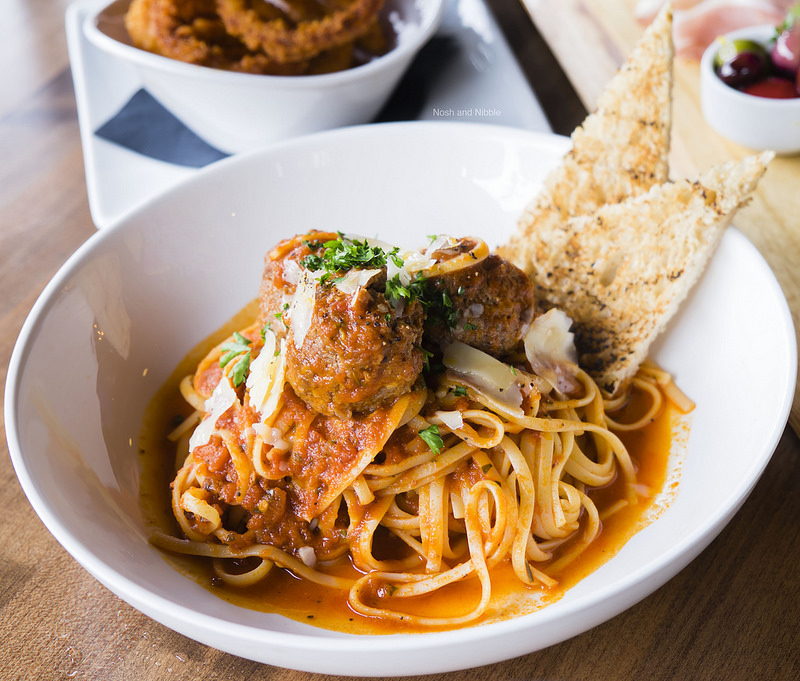 Linguini & Meatballs
Features:
For a restaurant named Banter Room, it is actually laid out in a way that promotes socializing. Inside the restaurant features a bar, lounge chairs, couches high chairs, and low tables. Outside is the patio with some stunning seats. **These had great lumbar support making it easy to sit back and straight. **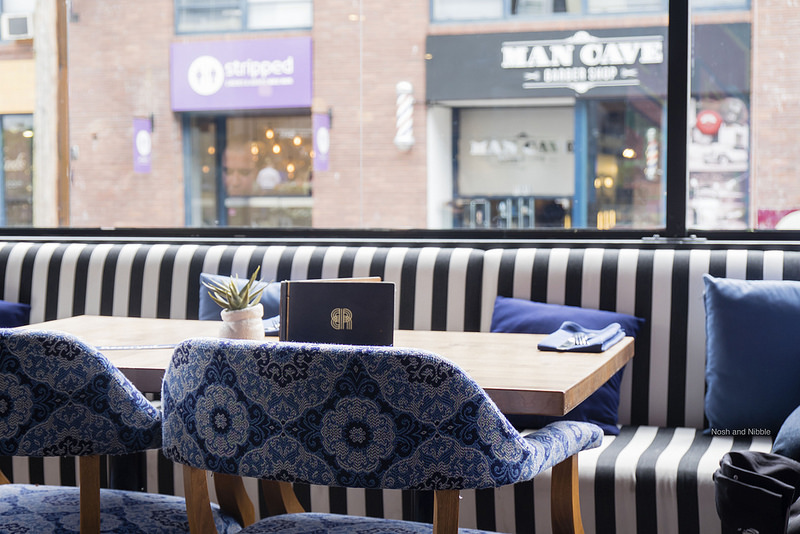 Banter Room Patio
The vibe is quite relaxed with lots of open air. This space previously belonged to Romers Burger Bar which had a darker interior so I'm all for the new design. There's seating for about 100 guests amongst all their seating options.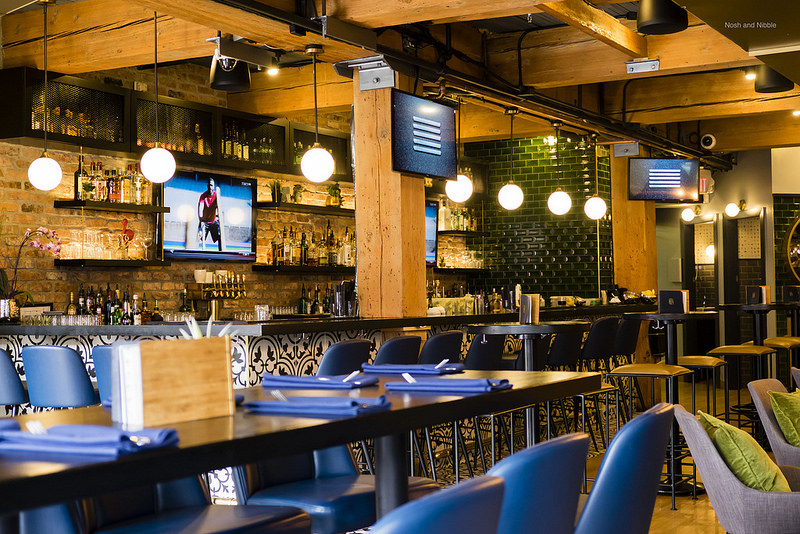 Inside Banter Room
Service:
Service at Banter Room was great during this visit. Our server introduced each dish as it arrived and all the food arrived in a 10-minute window after the first 15 minutes. This visit was on a Friday lunch hour and you can guess that being in Yaletown, patios are popular. The patio here filled up by the end of the hour and I predict it's one of the biggest draws of Banter Room. I'd recommend either coming for lunch or coming with a group no larger than 4 if you want a chance at a patio seat.
Final Thoughts:
One-liner: A beautiful patio with solid comfort foods and quite possibly the best lunch pasta deal on the block
Highlight: Linguini & Meatballs
Price per person: $17-$40
Would I go back? Yes.