Lots of restaurants host things like a Winemaker's Dinner or a Distiller's Dinner but these are often structured evenings where you're guided step-by-step through a flavour profile of the featured company and the whole event feels very branded. The Cascade Room though, eschews the usual symptoms of branded dinners and a couple of weeks ago, put on something hugely interactive and themed. That would be the Barbarian's Feast, back for its third year. I bought a ticket and headed in for my second go at stuffing down a 140lb pig.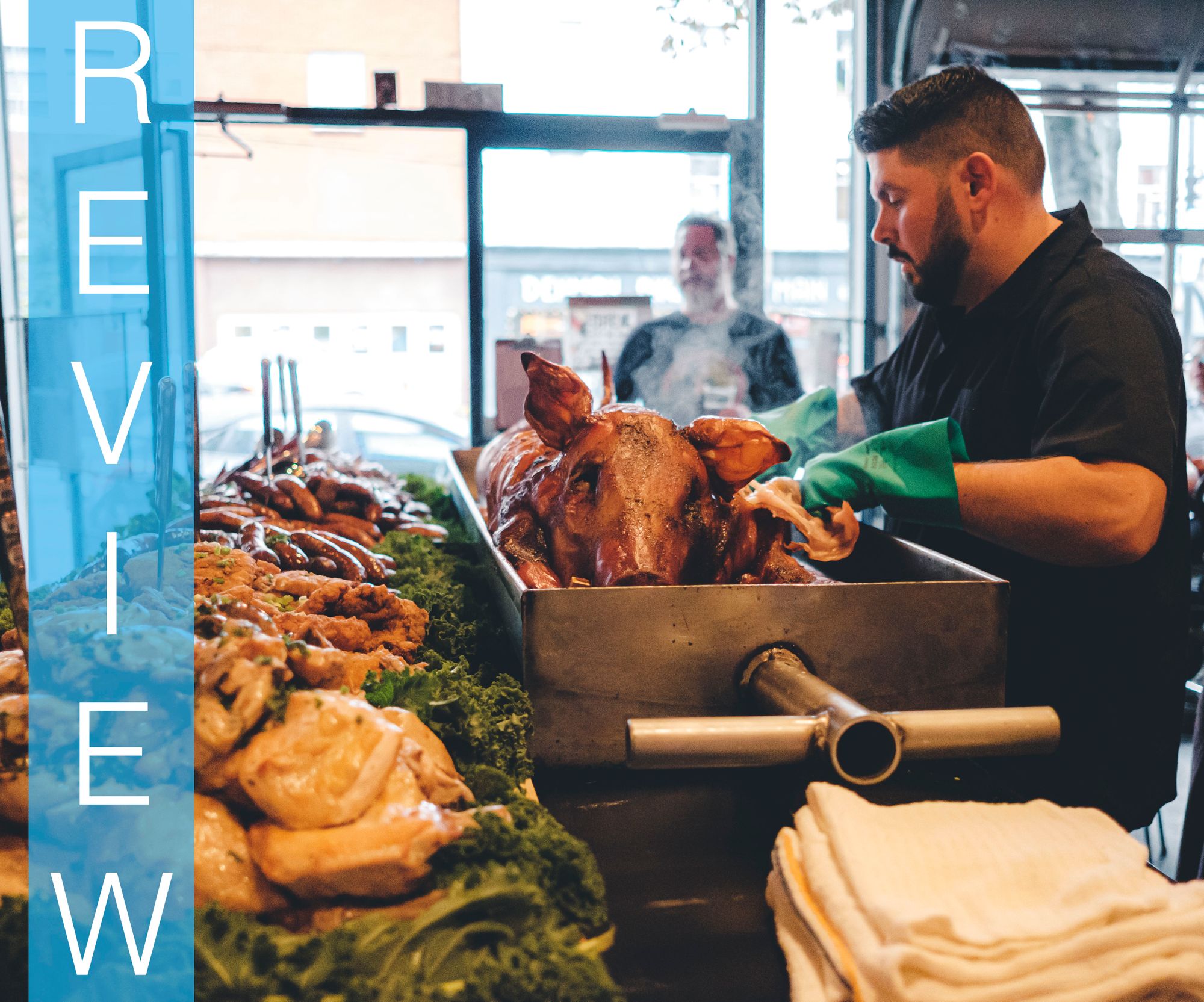 The Barbarian's Feast
Team GlueCrew came here for a viking's smörgåsbord of a meal and I had a great taste of the following ($100/person; unlimited quantities):
Jameson Conan Cocktail
Jameson Gengis Khan Cocktail
Jameson Tasting Flight
140lb Roasted Gelderman Farms Pig
Roasted Chicken
St. Louis Ribs
Chicken Fried Steak
Bratwurst
Blueberry Farmers' Sausage
Spicy Italian Sausage
Corn on the Cob
Coleslaw
Pickles
The night started with a welcome cocktail of a Conan cocktail (spiced apple cider), an homage to the classic barbarian. This featured Jameson Black Barrel, vanilla, ginger, rooibos, cinnamon, clove, and apple. Why a spiced apple cider gets to be named Conan beats me, but I'm guessing the heart of Conan centers around justice for the death of his parents, and the energy of justice is akin to an apple cider. In any case, this spiced apple cider had a lasting impression thanks to the clove and vanilla carrying the flavour long. The cinnamon and ginger kept energetic on each sip too. Overall it was a fun cocktail to kick off the evening.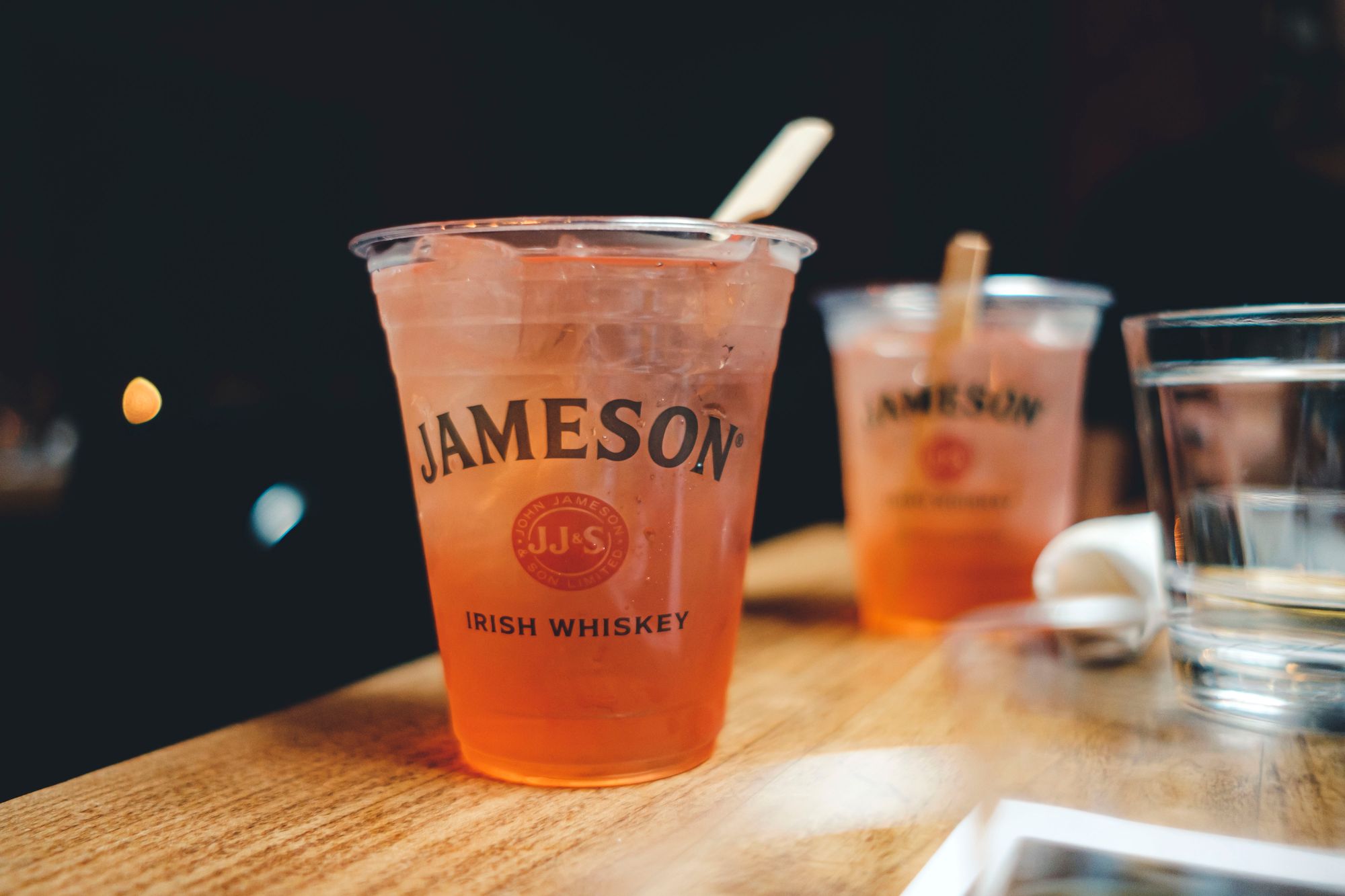 My second cocktail of the night was a Genghis Khan cocktail (grapefruit IPA raddler). Genghis Khan was a Mongol leader who really got around and in today's world, shared DNA with around 16 million descendants, according to the New York Times. Quite barbaric. This cocktail was a mixture of Jameson Caskmates IPA Edition, grapefruit, and Naked Fox IPA. With both an IPA-infused Jameson whiskey and Naked Fox IPA (from Main Street Brewing in Vancouver), this was essentially a double whammy of IPA, but Jameson being Jameson means that their "IPA" stands for "Irish Pale Ale" instead of the common term "Indian Pale Ale".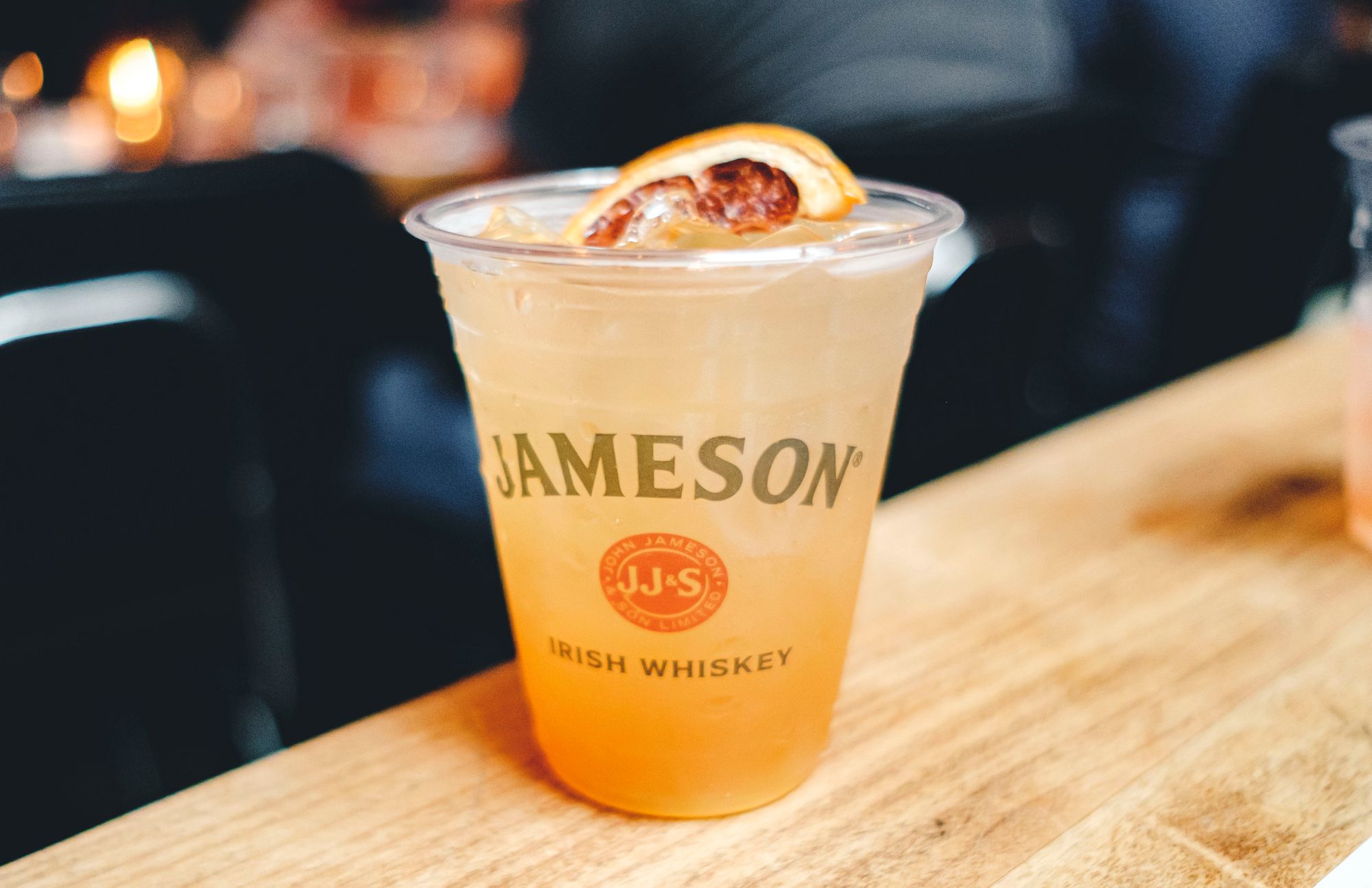 This was a pretty pointed cocktail with a lot of the hops commonly associated with IPAs. If you're into a sipping cocktail that will make your insides tingle with hoppiness, this would have been the cocktail for you. The grapefruit infusion was mild so as not to distract from the duelling IPAs within. It's a good thing this wasn't the welcome cocktail as I know hops aren't friendly enough for everyone.
My main complaint of last year's Barbarian's Feast was that subjecting guests like me to a whiskey tasting prior to dinner meant I was drunk before we got to eating. This year, every table was graced with two giant pretzel and mustard to put some sort of food into one's stomach before shooting shots of Jameson. These could have used a little more salt but there was certainly enough salt coming later in the meal.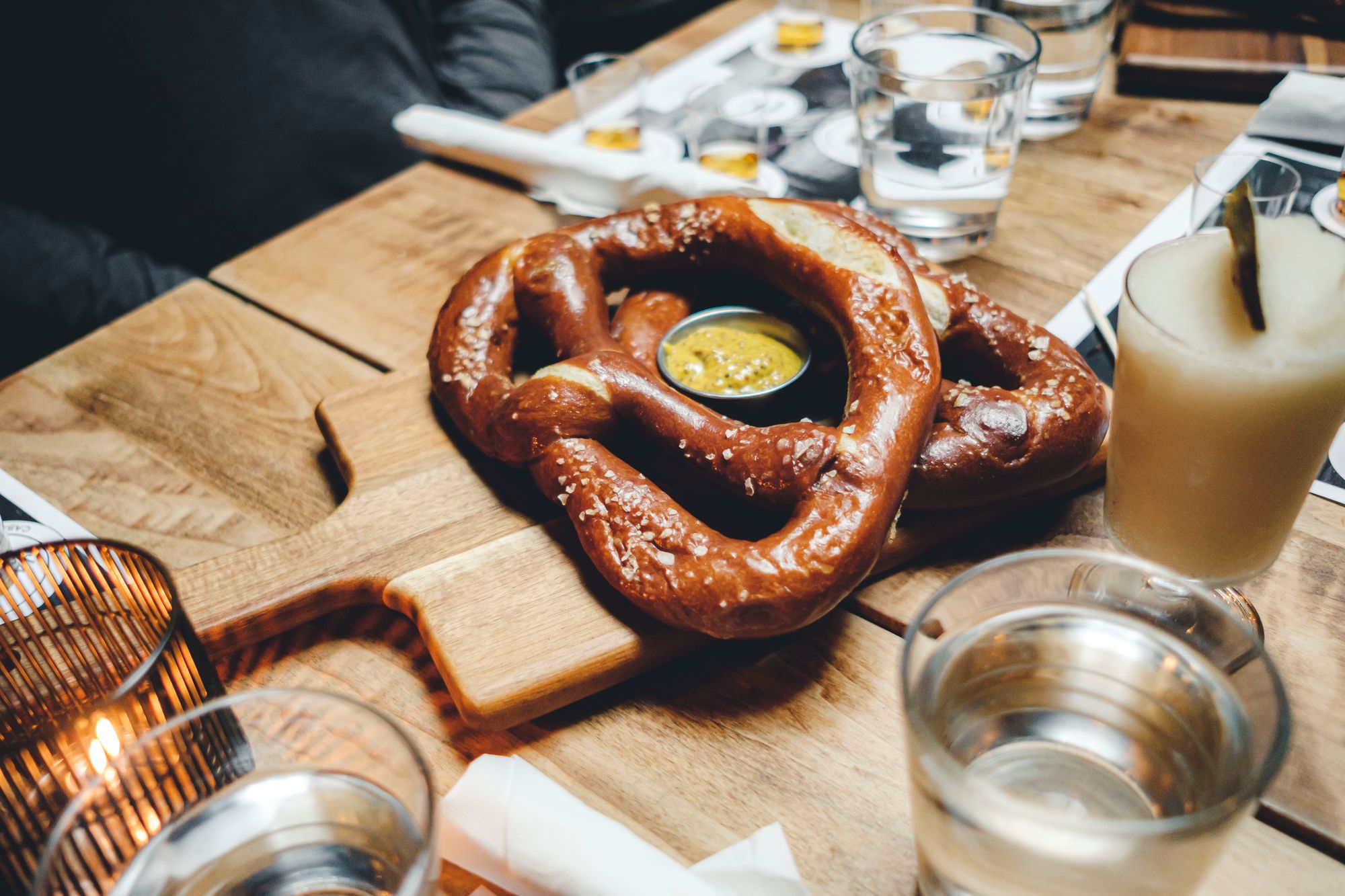 Next up was our Jameson tasting class. At each seat in the restaurant, 5 mini shots of Jameson were placed. We had a Jameson ambassador take us through each of the 5 shots, explaining the difference in distilling and origin of each Irish whiskey. I found my favourite Jameson to be the Jameson Caskmates Stout Edition. This whiskey had the boldest profile with the least amount of burn in my throat. Some thoughtful distiller took my favourite parts of stouts (e.g. Guinness) and aged them with Irish whiskey, producing what is now my favourite Jameson in Jameson Caskmates Stout Edition.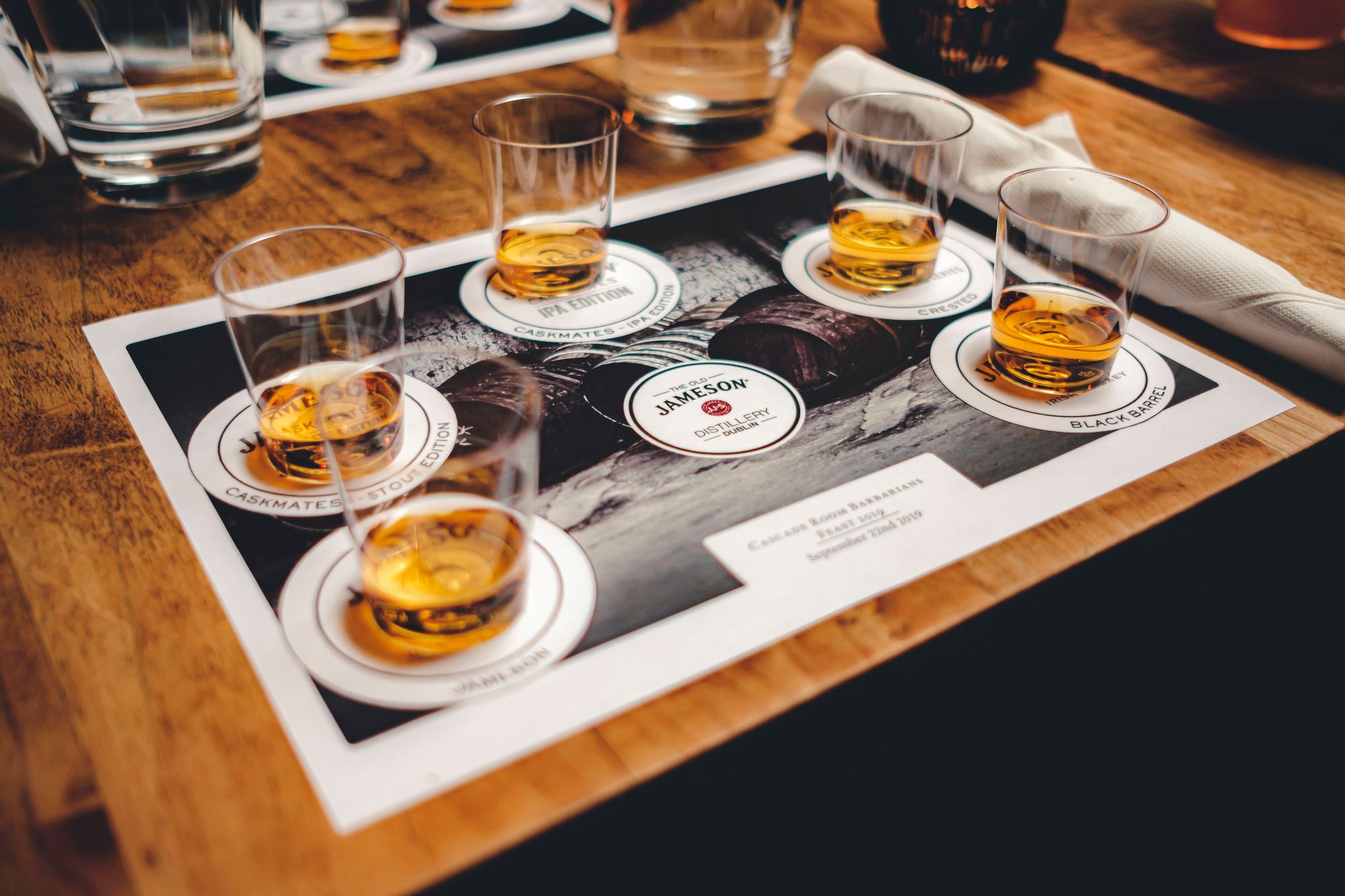 Then came the main attraction of the evening. By 6pm, guests were being funnelled to the main food station. Being the Barbarian's feast, this was literally a smörgåsbord with all the meats in neat little sections with the 140lb roast pig serving as the backdrop. I was seated at a table at the back of the restaurant so I was fortunate enough to be summoned up first to grab my food. I snapped a few quick photos before joining the line. I can attest the roast pig was real and the smell was amazing.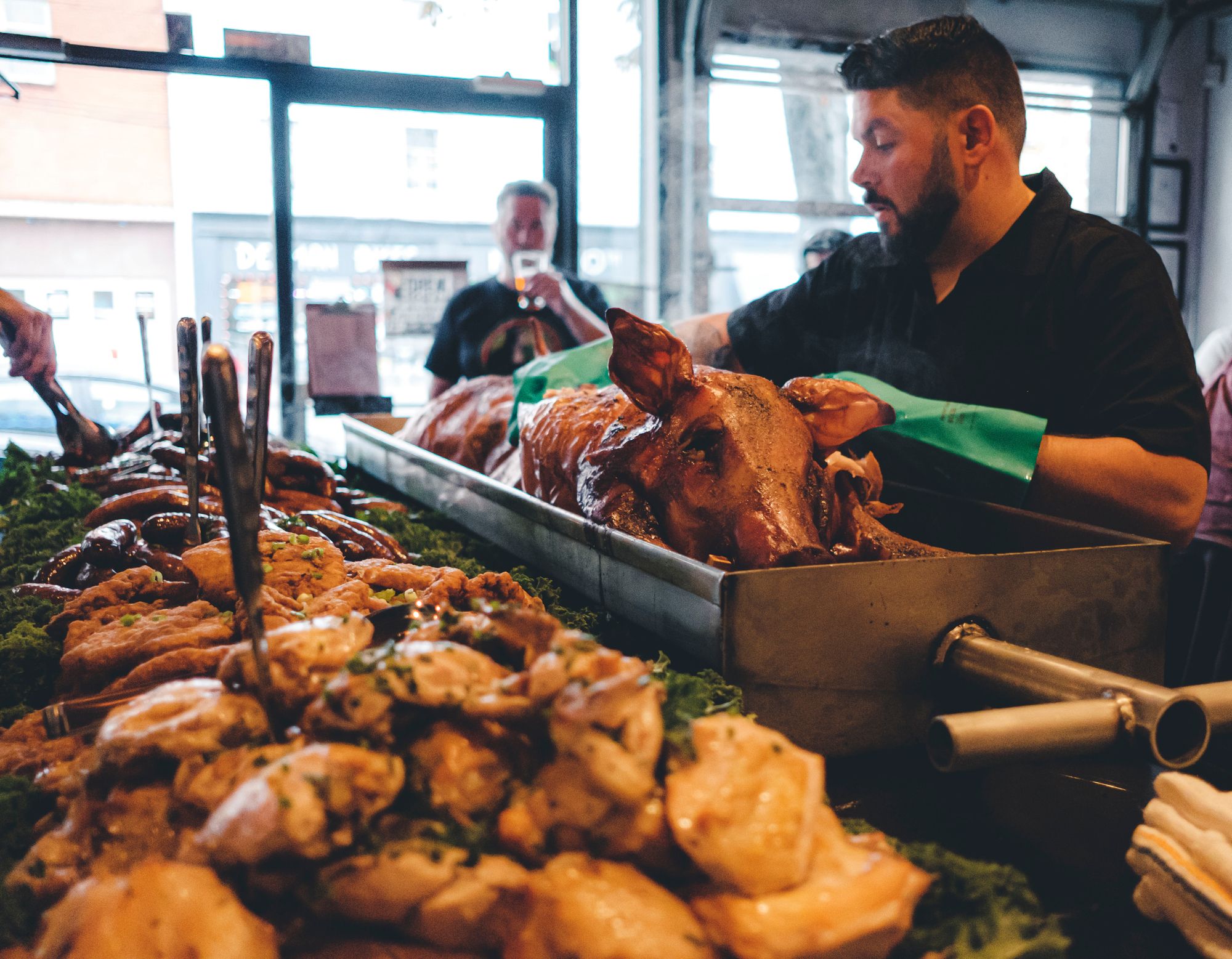 Taking a closer look at the rest of the buffet table, there were all kinds of sausage (the blueberry farmers' sausage was my favourite), some pork ribs, chicken fried stick, and roast chicken. Giant pickles, regular butter, country gravy, coleslaw, bread, corn, and herbed butter (yes, 2 kinds of butter) rounded out the selection of food, from which every person could take as much as they liked. The final stop at the food station was with the roastmaster gloving out globs of pulled pork and depositing onto one's plate.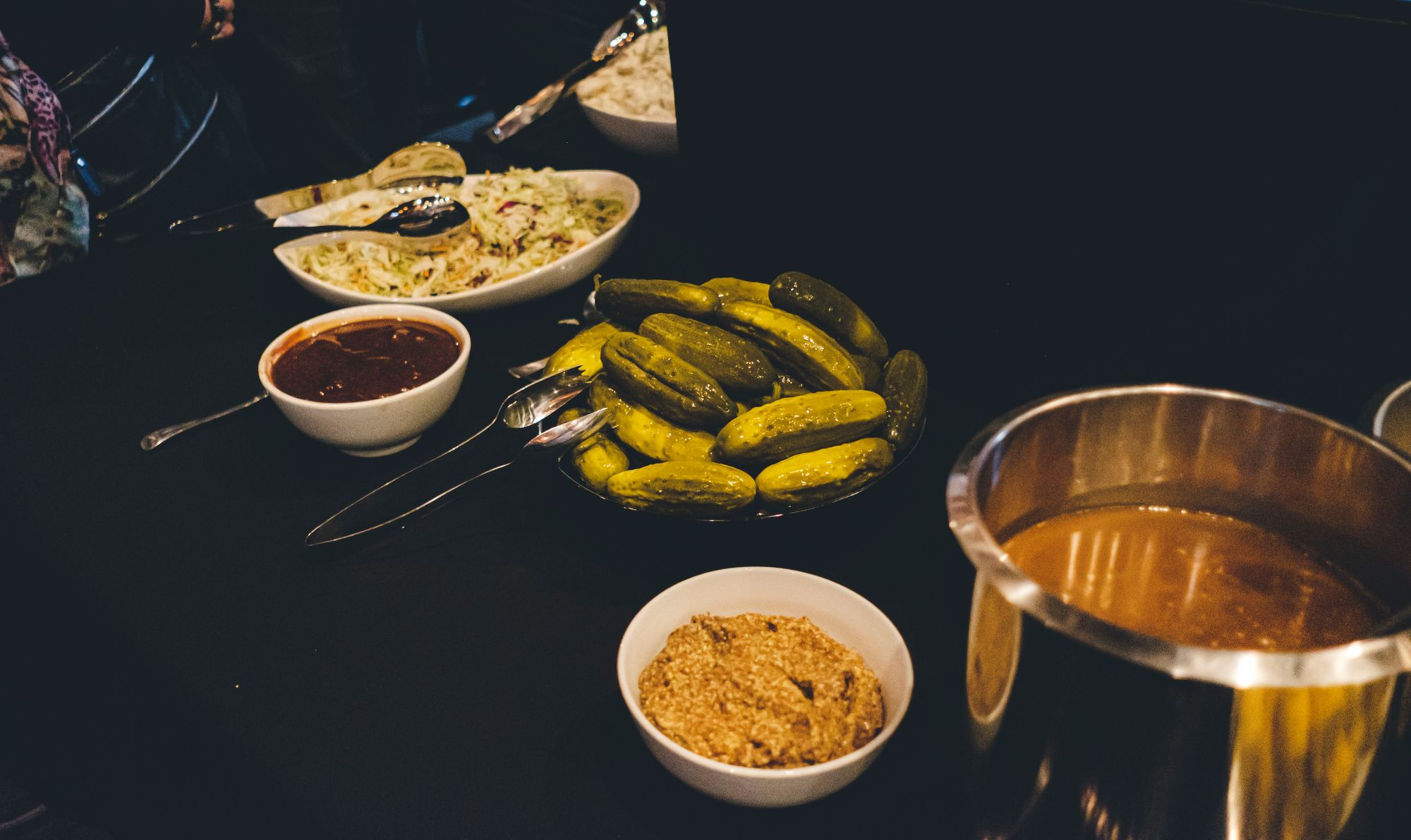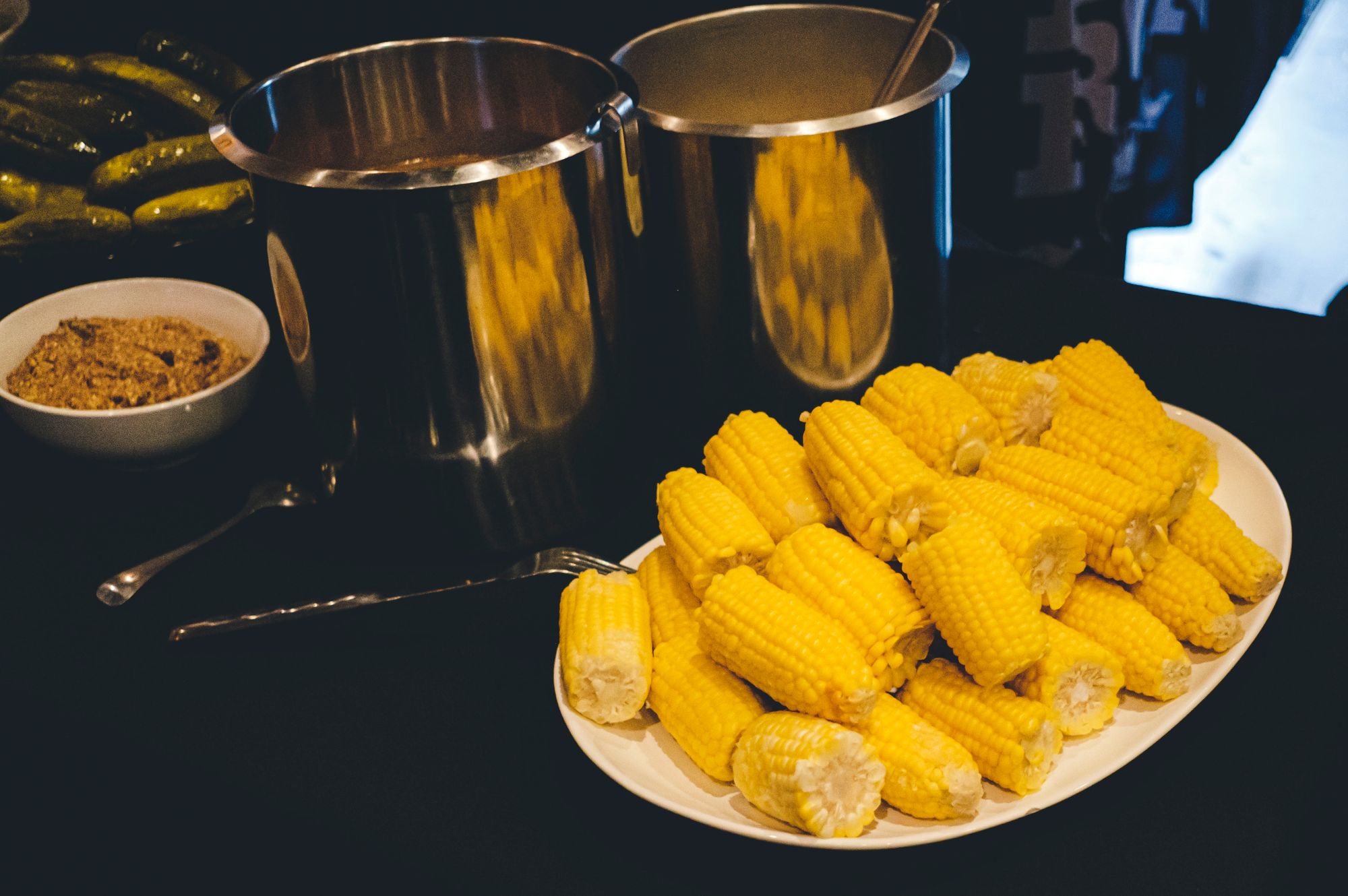 By the time I got back to my seat, I had the following platter of food (I skipped the bread):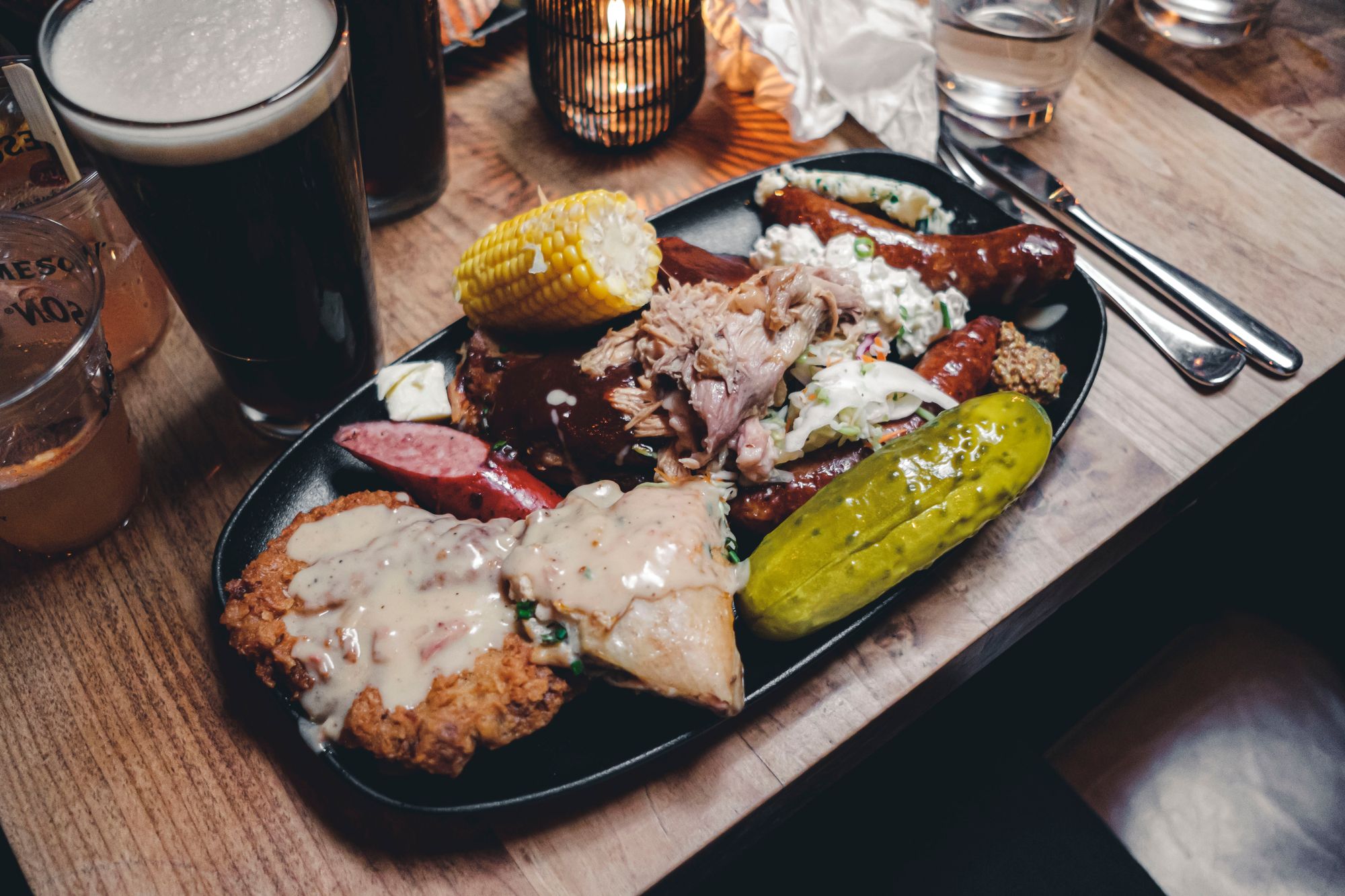 The first few bites of everything were bliss. Being the first section of the restaurant to get my food meant everything was still hot when I was sitting down in my chair. Finishing the above plate was another ordeal though. I didn't have much appetite for seconds because I was still working on the original platter. It took about 30 minutes for me to clear as much as I could off before the servers started coming around asking if I was done eating. Overall, the pulled pork, the roast chicken, and the blueberry farmers sausage were my favourite eats of the meal.
But we weren't done. The cocktails were endless and you could order as many as you wanted. I stopped at 2 cocktails but probably could have pushed it harder if I didn't sip all of the Jamesons during the tasting session.
Yet, we still weren't done. To finish off the evening, the kitchen came out offering chocolate chip cookies to everybody. These cookies weren't as large as last year's cookies but given how much food was in my stomach at this point, it wasn't a huge loss. As our table finished our last drinks, we began rolling ourselves out of The Cascade Room.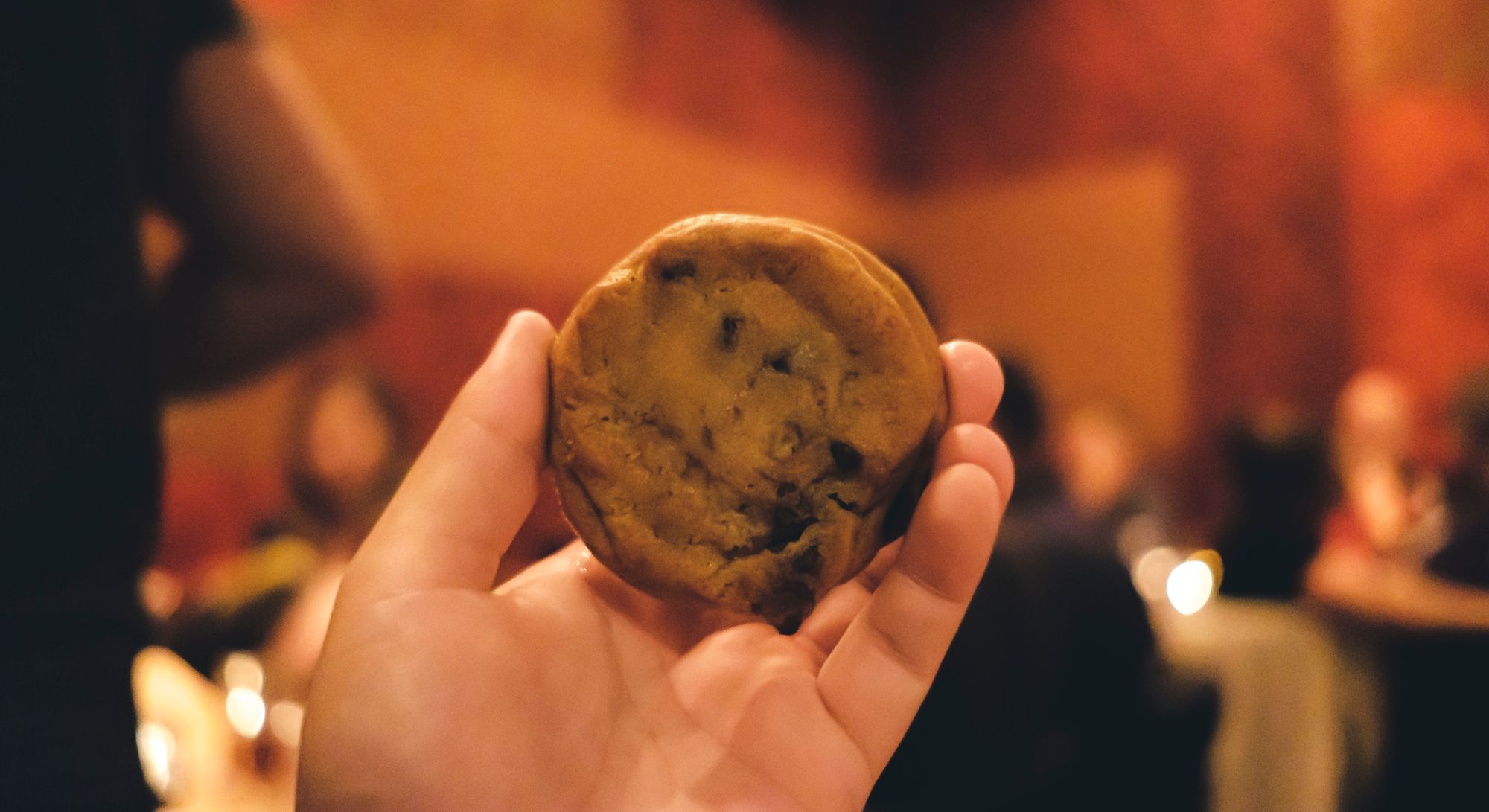 Features:
The Cascade Room is a bar in the heart of Mount Pleasant. Featuring an array of booths, high tables, and dining tables, this venue fits a lot of purposes. The back is neatly decorated with a projector so I'm guessing they do game nights here. There is seating for about 100 guests.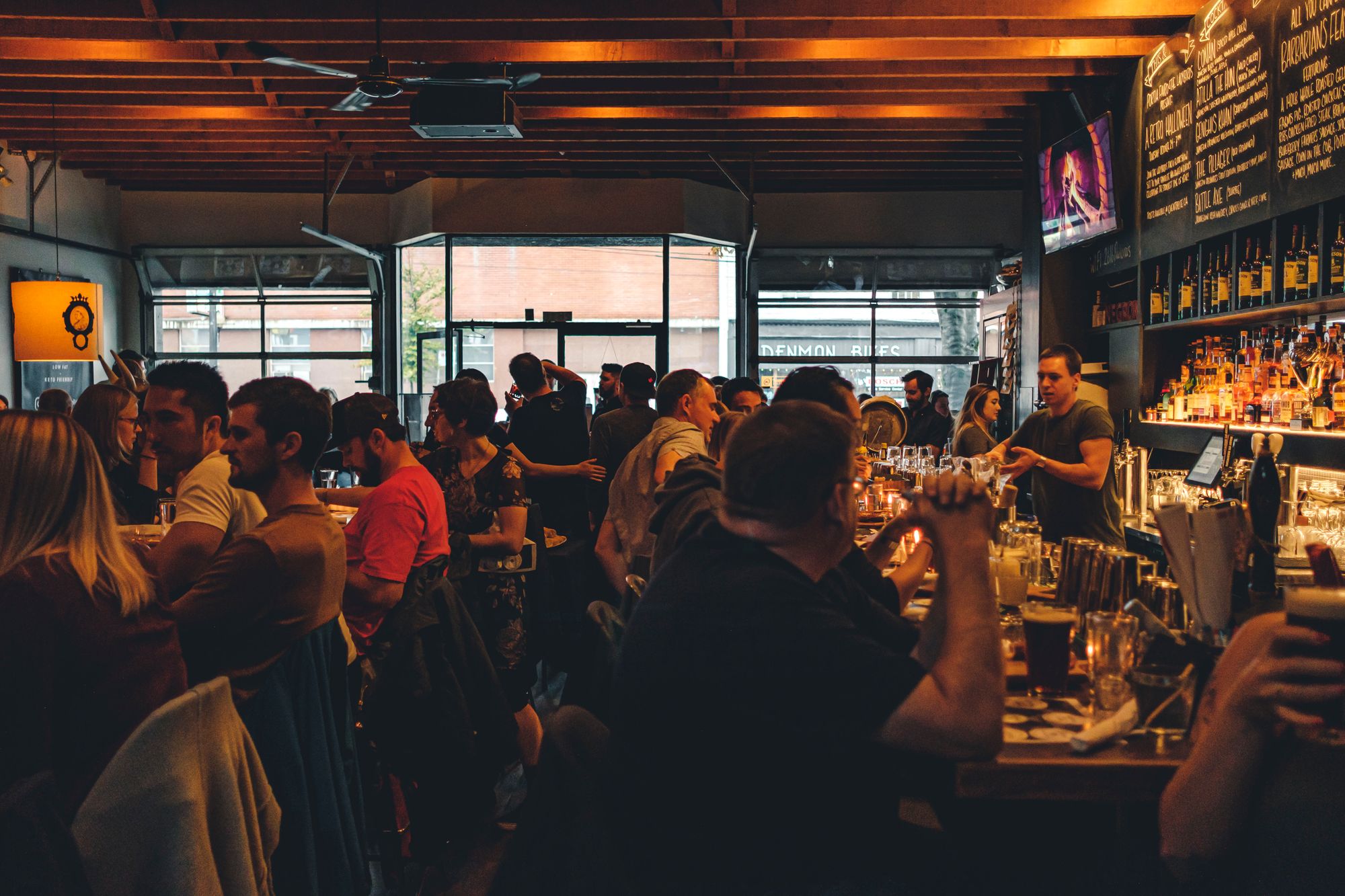 The organization of the event was very good. The doors opened right at 5pm and Justin Taylor, general manager of The Cascade Room, began welcoming in guests who had purchased tickets. A nice gesture to note here. Justin really did his homework in understanding the guest list as he knew which guests were repeat visitors to the Barbarian's Feast and gave these returnees (including myself) an extra warm welcome.
The guided whiskey tasting was set to start at 5:30pm but the bar was ready for cocktail orders to keep everyone abuzz. As soon as the Jameson and beer vendors finished their speeches, the pig was brought out and tables were summoned. The house was packed yet the servers were never too hard to find and ask for a drink. That's the kind of service I love at a no-limit type of event.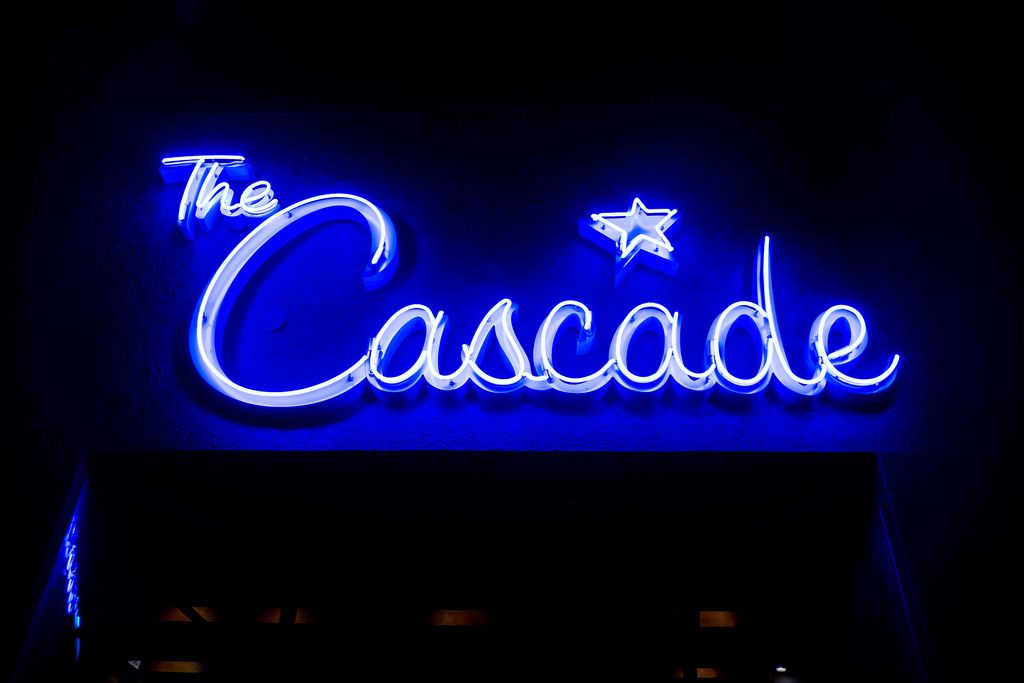 Final Thoughts:
This was my second go at The Barbarian's Feast so it's basically a tradition for me and my GlueCrew now. Can't wait for next year's tickets to be released!
One-liner: A huge pork-centric feast that caters to all carnivores and promises to leave no attendee with an unsatisfied stomach nor an empty glass for long
Highlight: Pig Roast
Price per person: $100
Would I go back? Yes.