Brunch in Vancouver is set to introduce a Spanish flavour as Bodega on Main has launched its new brunch menu. Featuring Spanish-inspired dishes (think paella) and classic dishes with a spin, this Main Street eatery is also introducing its new lineup of sauces. I had a taste of brunch and some sauces and am sharing all the goodies (and churros!) below.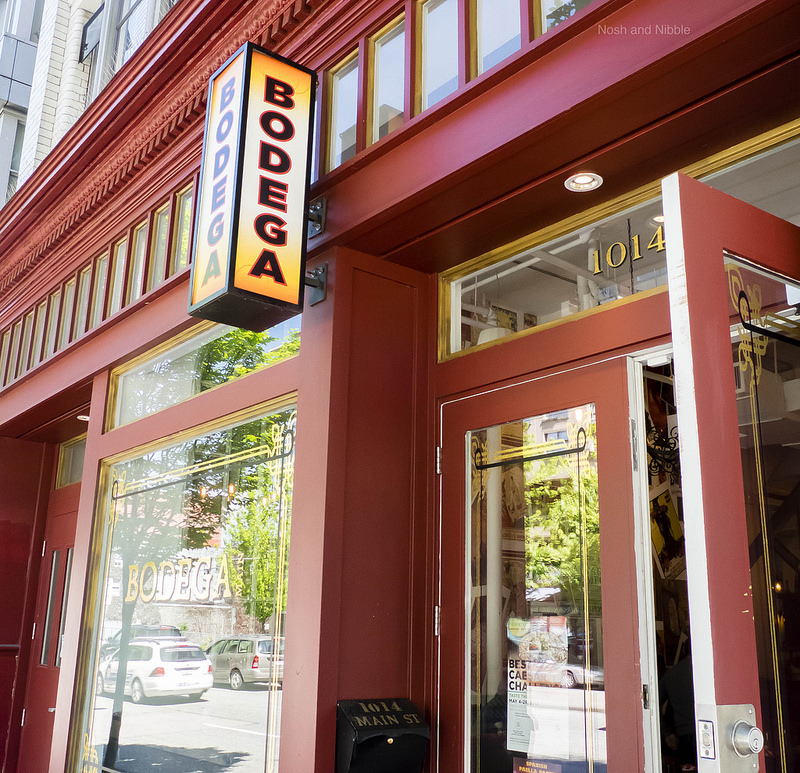 Disclosure: This is an overview stemming from two sittings: one a media invitation, and one a complimentary visit. All opinions are my own.
Drinks:
On my visits I had a great taste of the following:
Latte
Premium Double Caesar w/ SOV Chili Vodka ($12)
I see no better way to start a weekend brunch than with a latte. The latte here had a fluffy white foam on top but unfortunately had zero attempt at any art. It was also served extra hot so be careful when drinking. Tastewise, it got the job done with a pretty potent shot of espresso given the 8ish ounce glass.
Moving onto some alcohol the Premium Double Caesar was a pretty sight. A stick of juicy prosciutto, jalapeño, and shrimp sealed the deal as far as presentation, but the real kick came from Sons of Vancouver's Chili Vodka which made for an extra spicy experience in each sip. For those with an aversion to spice, you may opt for a different brunch cocktail, but those in the caesar world will find this to be an enjoyable adult beverage.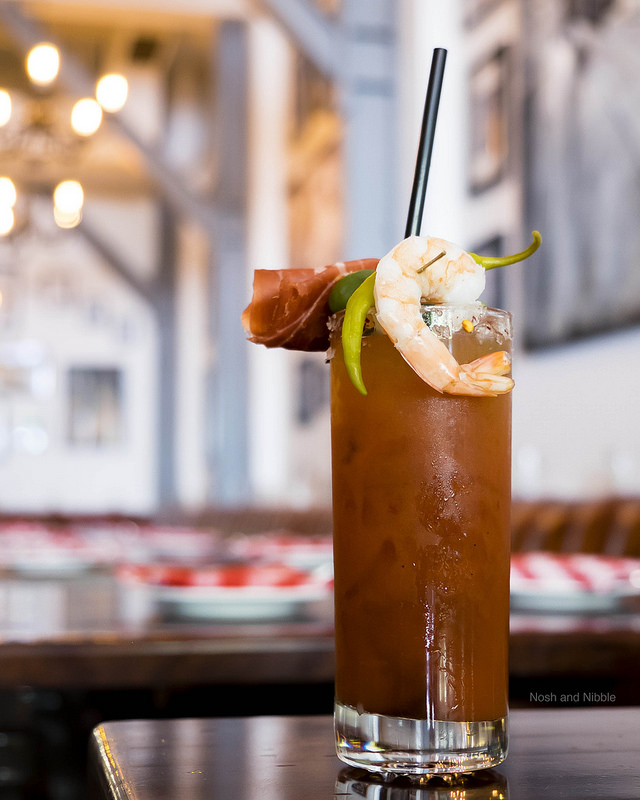 Food:
On the topic of food, I had the following:
Huevos Revueltos ($14)
Breakfast Paella ($18)
Pollo and Waffles ($14)
Cava Pancakes ($12)
Huevos Benedictinos ($12)
Tortilla ($10)
Morcilla ($12)
Churros ($8)
You'll notice most things are $14 or below, which is seriously cheap brunch! As with Bodega on Main's dinner service though, family-style is the name of the game and I'd recommend every dish (sans paella) to be paired with a side or some churros to ensure you leave feeling full.
The Huevos Revueltos was a plate of scrambled eggs, jamón ibérico, oyster mushrooms, roasted grape tomatoes, and aged manchego cheese. There's a hearty amount of scrambled eggs and I enjoyed the juicy oyster mushrooms which are exclusive to this plate.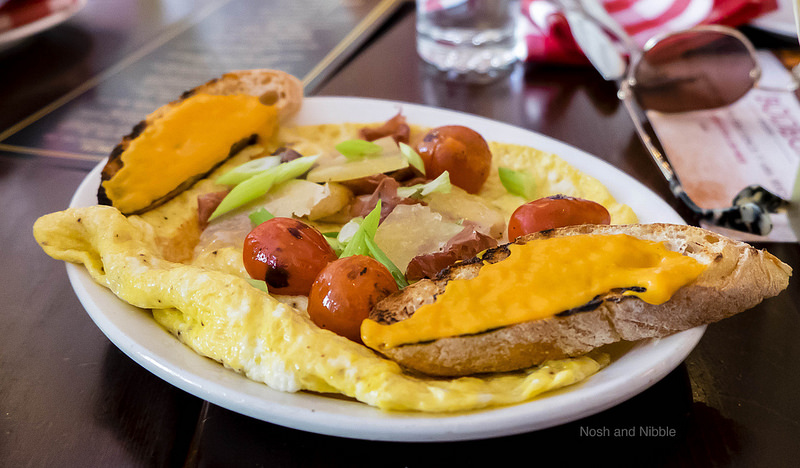 The Breakfast Paella had chorizo sausage, chicken, prawns, roasted grape tomatoes, piquillo peppers, and soft poached eggs. Don't be greedy like me and pop the yolk in your mouth. I think the trick is to pop the yolks in the pan and stir them into the rice, which otherwise doesn't have much flavour in it. The chorizo was juicy however, and the chicken was a whole wing and worth digging into.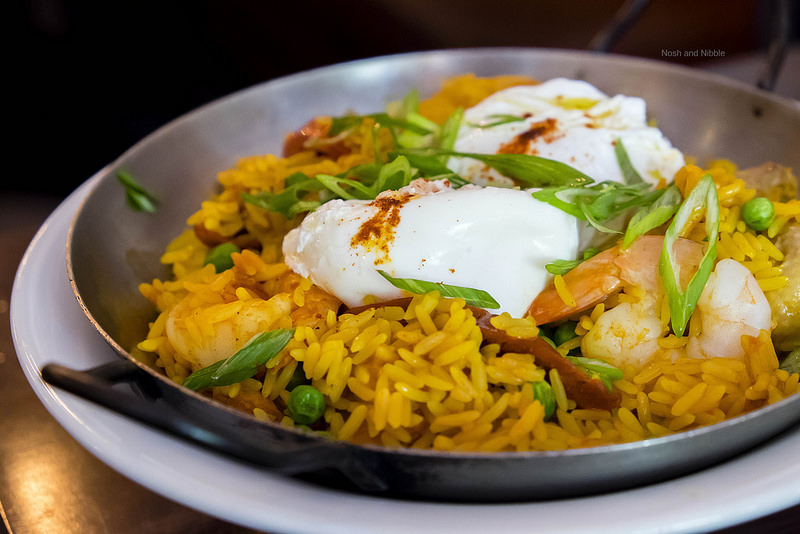 The Pollo and Waffles were fantastic. At $14, this is also a terrific price (think, The Gray Olive serves their Chicken and Waffles for $18!). I confidently recommend ordering this dish and awaiting the gratitude from your brunch crew.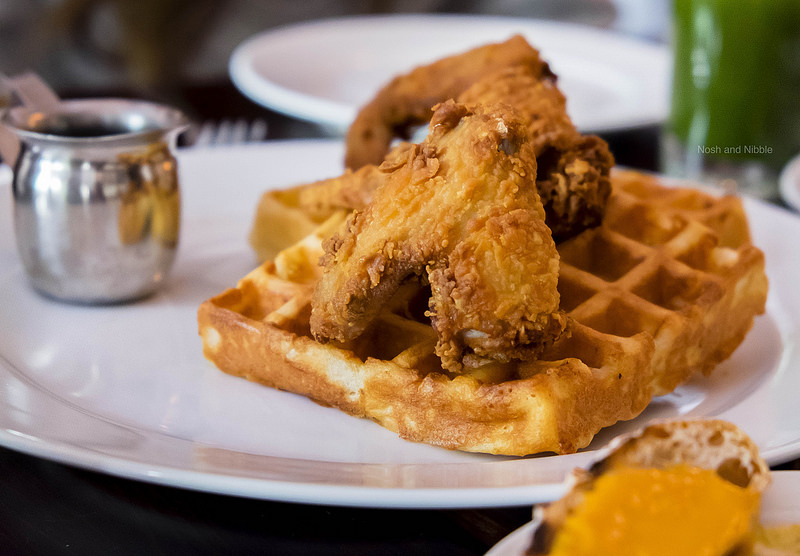 The Cava Pancakes were a Spanish specialty. Served with dulce de leche, salted marcona almonds, and fresh whipped cream, these were fluffy but still substantial. The dulce de leche and almonds made for a balanced combo that enhanced each bite of the pancakes. If you're looking for a side dish for your main brunch plate, I recommend the Cava Pancakes as they are very shareable.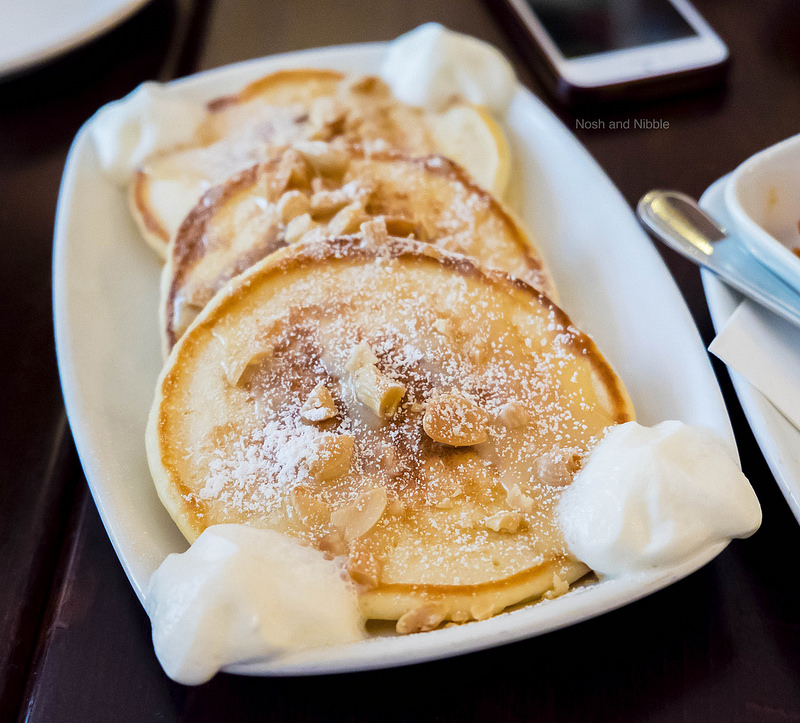 The Huevos Benedictinos was hands down my favourite brunch dish. I know I'm biased towards eggs benedict in general but these benedictinos took it to the next level with juice prawns, a small bet of mushrooms, piquillo relish (one of Bodega's purchasable sauces), and topped with what I consider the best part: saffron hollandaise. I don't know of any other brunch spots that sprinkle on saffron to their bennies, but it's a spice I didn't know I enjoyed for brunch until I tried Bodega on Main's benny.
On the piquillo relish, this was a sort of sweet onion sauce that was made terrific with the addition of saffron on the hollandaise.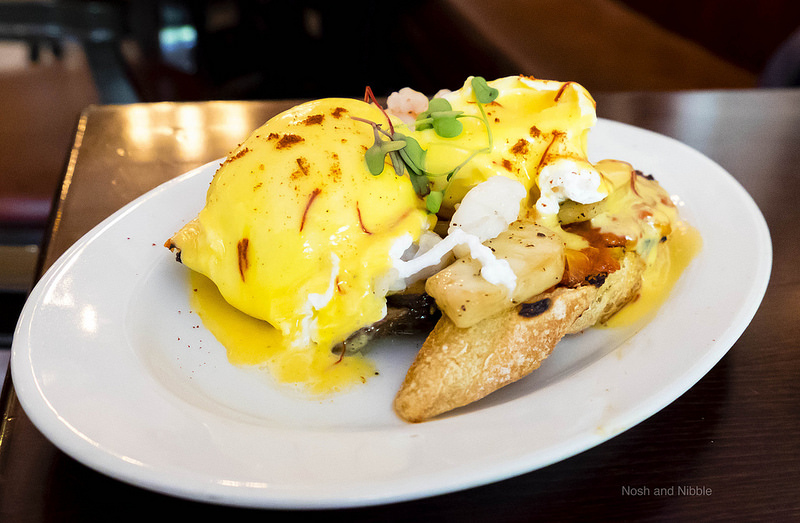 The Tortilla was a traditional potato omelette served with an arugula salad and grilled baguette with, in our case, romesco sauce. The tortilla was quiche-shaped, but all potato. I enjoyed the slight charring on the omelette and imagine this might be just filling enough for a vegetarian brunch, but you'd probably still want a small side to go with it.
On the romesco sauce, this was very spreadable and added a nutty chili taste.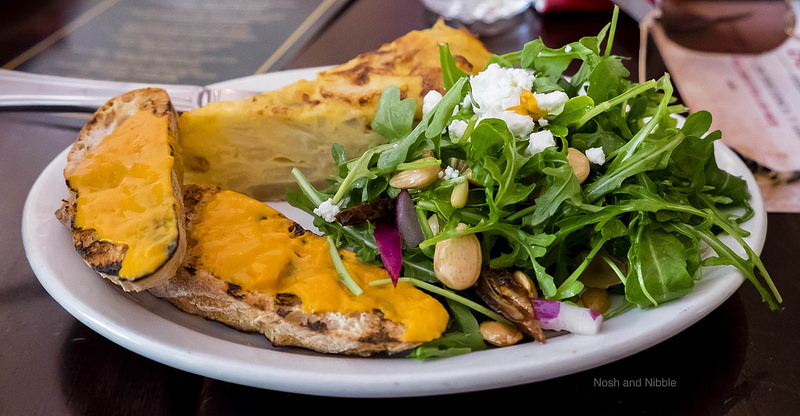 The Morcilla came with blood sausage, fried potatoes, with onions, poached eggs, and grated manchego cheese. Blood sausage is an acquired taste. All my British comrades love it, but most of my dining acquaintances aren't big fans of the salty blood taste in their mouths. I think the way to go would be to pop the yolks over the sausages and go to town, but I'm more of a non-blood sausage person.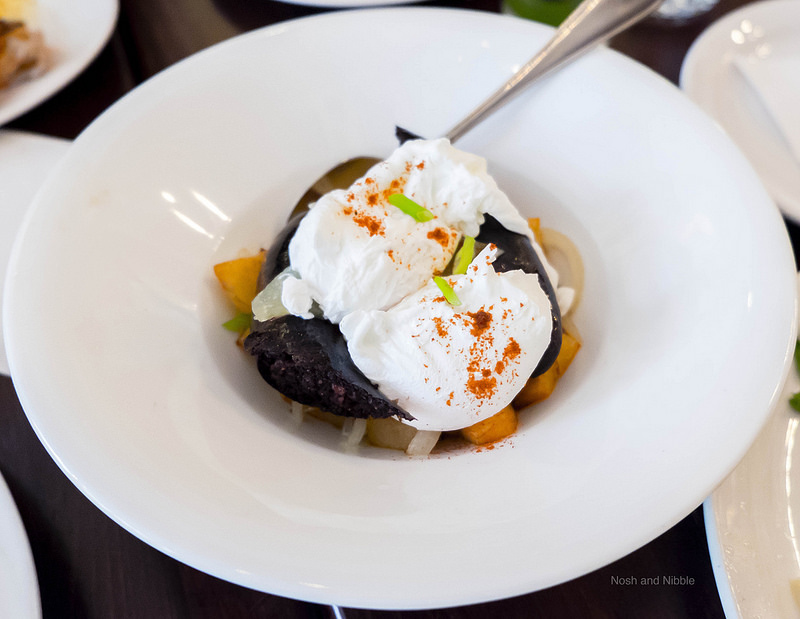 Finally, the Churros. Crispy on the outside and doughy on the inside is how I like it, and these churros delivered on both fronts. I didn't even need the dipping chocolate that came with it, but as a formality, the chocolate is there if you desire it.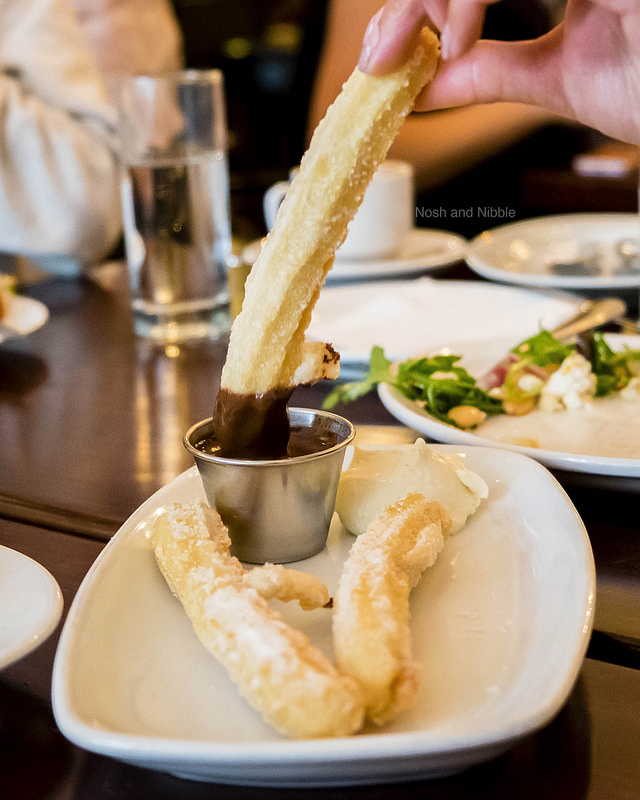 Features:
Bodega on Main is a beautiful restaurant inside and out. The 75 seat lounge and dining area is full of inviting painted art, photographs, and traditional Spanish poster art, all of which provide a welcoming atmosphere. The leather seating is quite comfy and the high ceilings make the restaurant feel especially spacious.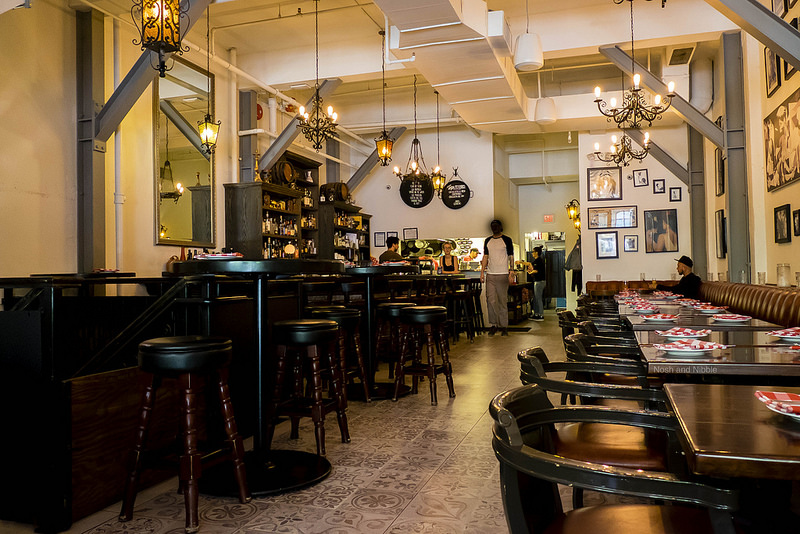 Bodega on Main also sells their sauces now! Bring home a little taste of Spain and try one of the piquillo relish, brave sauce, or romesco sauce. All can be found on Bodega Foods' website at http://www.bodegafoods.ca/.
Service:
For my non-media visit, the restaurant wasn't too busy at 11am on a Saturday; a person could easily walk in with their group without a reservation. For my media visit though, the restaurant was quite full with a large reservation plus our media table. Nonetheless, on both visits the staff were very courteous, came by to check on us, and topped up my water in good time.
I'd definitely recommend setting a reservation if you're visiting for dinner, but for now, it looks like you're in the clear for spontaneous brunch adventures at Bodega on Main.
Final Thoughts:
One-liner: Spanish-style brunch that adds a new flavour dimension to a busy mealtime in Vancouver
Highlight: Huevos Benedictinos
Price per person: $15-$25
Would I go back? Yes.