If you need a brunch buddy, hit me up. In other news, Rocky Mountain Flatbread Co. has just launched their Spring Brunch Menu. In addition to a 20% off discount offer, I've got a sampler preview of all their goodies (new and old) below. Should you absolutely take advantage of this discount? My feeling is yes and I'll highlight a few reasons why.
Disclosure: I was a media guest of this preview and all opinions are my own.
BONUS: Until June 17th, 2017, stop by for weekend brunch at the Kits or Main St location, mention "Nosh and Nibble" and the code "BRUNCH" and save 20% off your brunch meal. Thanks for reading!
Food:
On a bright Saturday morning, I had myself a taste of the following:
Smoked Salmon Benedict ($15.50)
Double Smoked Bacon Omelette ($14)
Market Breakfast Pizza ($16.50)
Bacon and Avocado Sandwich ($13.50)
The Eggs Benedict was two poached eggs served on house-made bread and accompanied by hollandaise and heirloom tomato salad. For my sampler, I had smoked salmon which is a classic flavour and partially health conscious given all the hollandaise. The hollandaise had a good butteriness but I wish there were a more generous serving of it since the house-made bread it was served on was quite thick. I would also ask for an extra runny yolk to get some extra jiggle. The heirloom tomatoes though were very juicy and I'd actively look for any brunch item with those tomatoes featured as a side.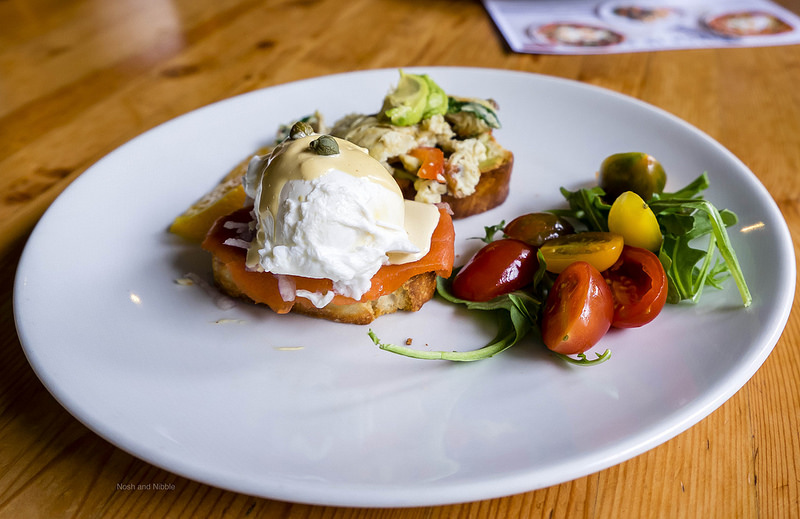 For something on the vegetarian side, the Scrambler offered toast with avocado, three scrambled eggs, crimini mushrooms, red peppers, and heirloom tomato salad. This again featured the tasty heirloom tomatoes but the scramble was full of flavour thanks to the juicy mushrooms and green onions.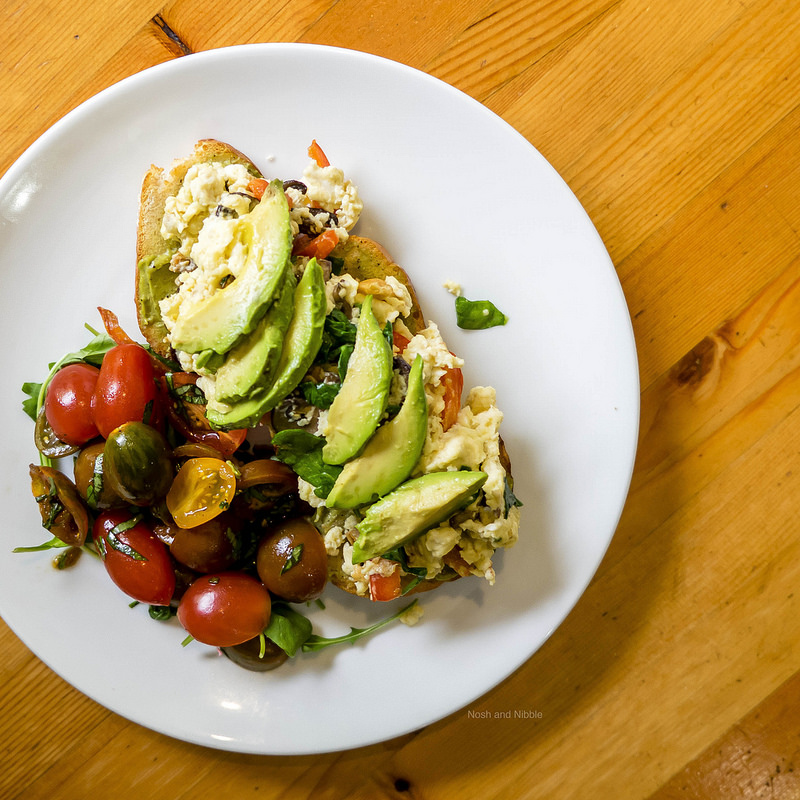 Moving onto some pizzas, the Market Breakfast Pizza was fantastic. This contained organic tomato sauce, mozzarella, two organic eggs, spinach, crimini mushrooms, red pepper, three herb pesto, and parmesan. The yolky eggs oozed playfully over the rich pesto and shaved chunks of parmesan making for a meatless meal that was still savoury and delicious. I suppose a person would be full from finishing this pizza on their own, but it'd be nice to share with others as the pizzas cut into 6 even slices.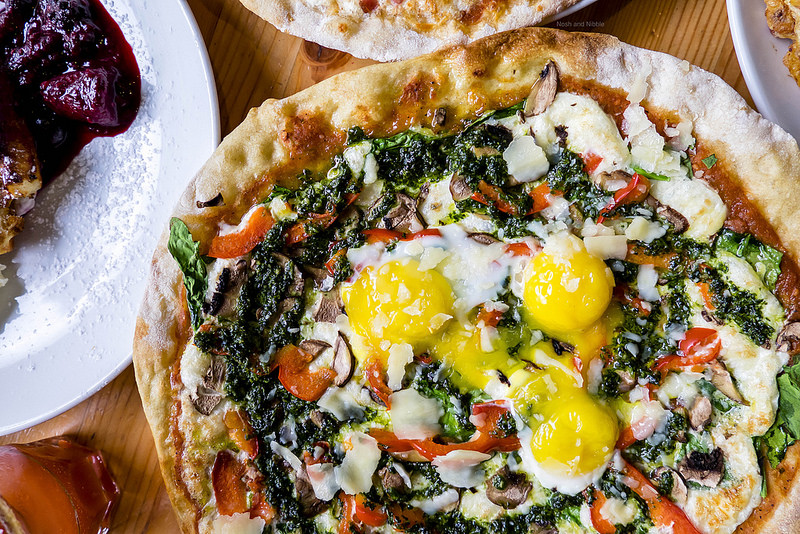 I also had a non-brunch item, but still available on the menu, in the form of a Bacon and Avocado Sandwich. This was heaped with avocado, cured tomato, roasted zucchini, bacon, and parmesan, again on the house-made bread. The generous flakes of parmesan punched the already bold flavour from the avocado and bacon through the roof. I think there are some people who wouldn't justify paying $13.50 for a sandwich, but the juicy bacon and zucchini here make a strong case to reconsider such bias.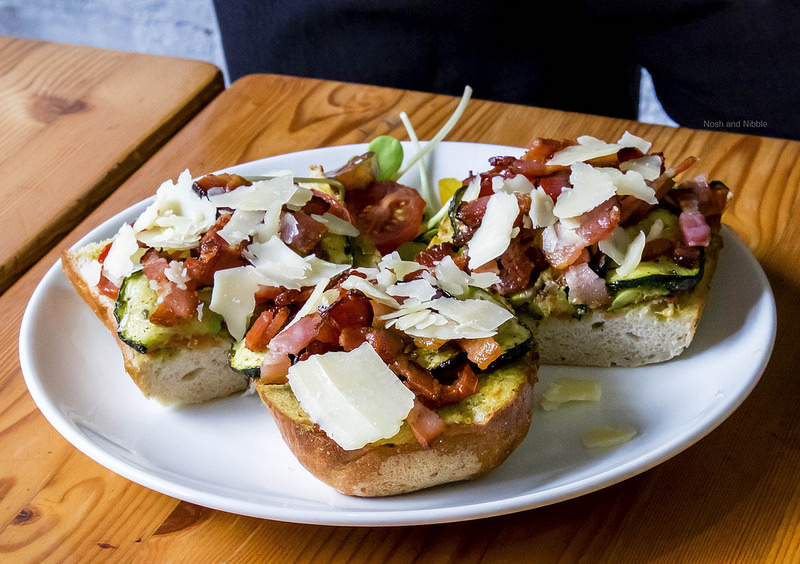 There was also a table full of food for photo-taking. Sadly I did not get to try every single item.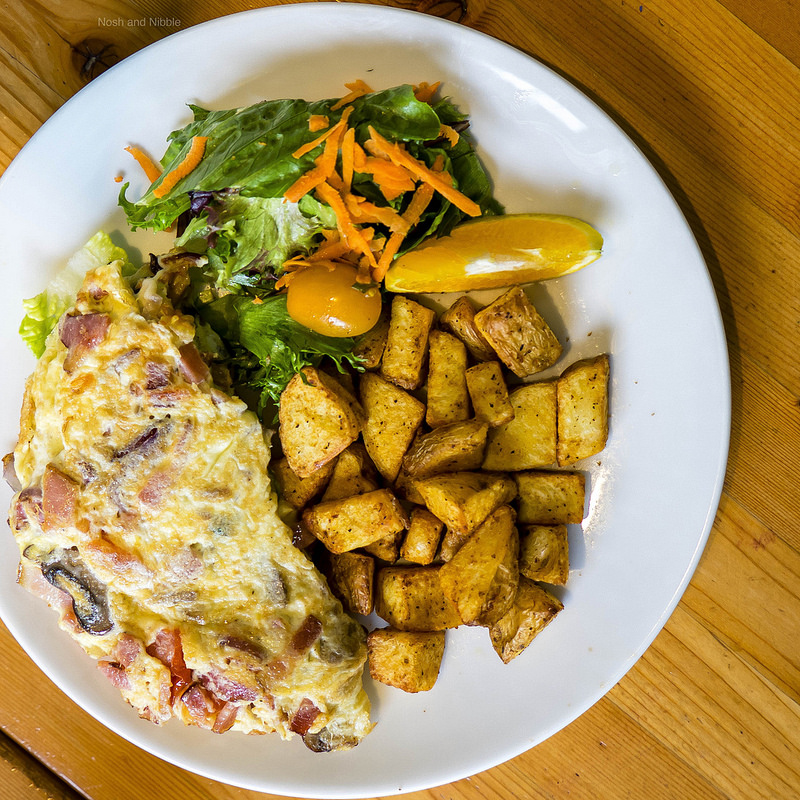 Double Smoked Bacon Omelette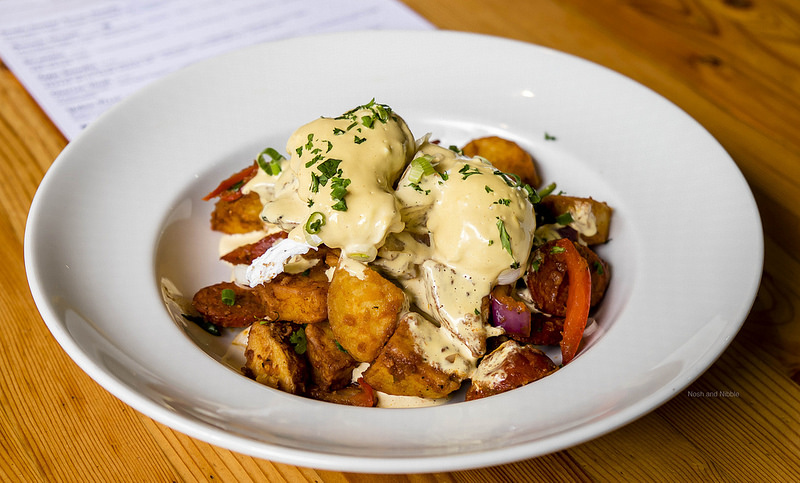 Chorizo Hash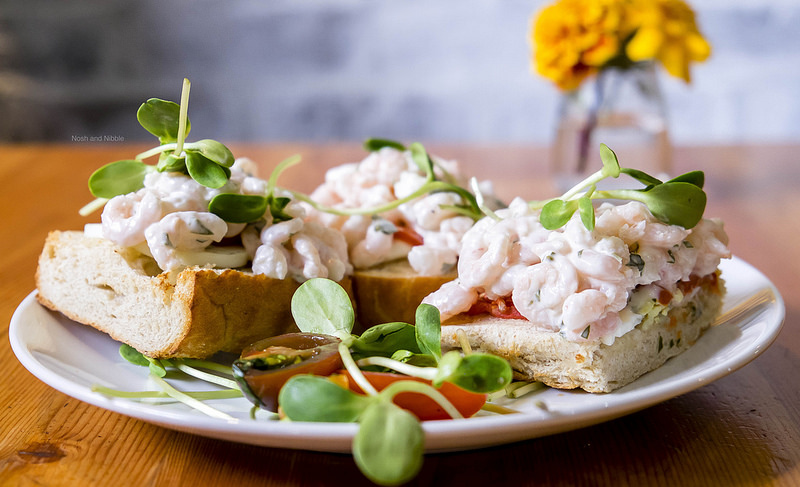 Ocean Wise Shrimp Sandwich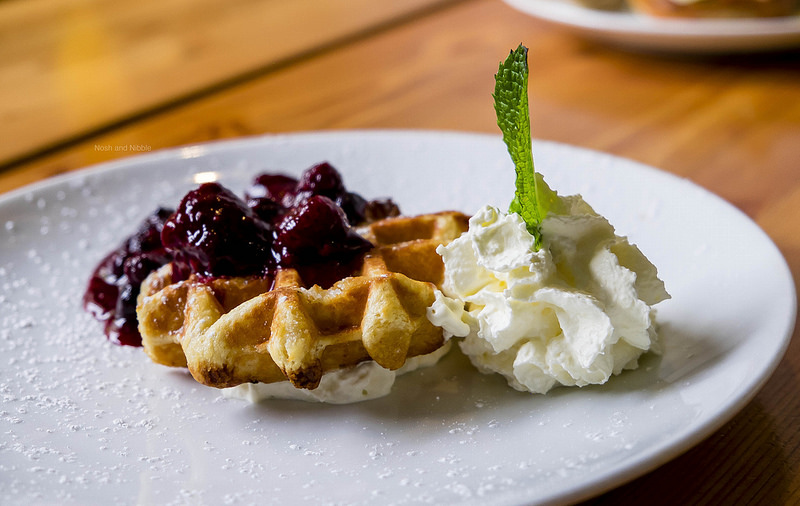 Le Beau Sweet Belgian Waffle
Features:
Rocky Mountain Flatbread Co. is a unique restaurant in Vancouver. Hailing from Alberta, they have now expanded to 3 locations in the Lower Mainland. Outside of regular restaurant duties, they also stock over 200 Western Canada grocery stores and provide their own education program for kids to learn about harvesting and preparing food as healthy snacks.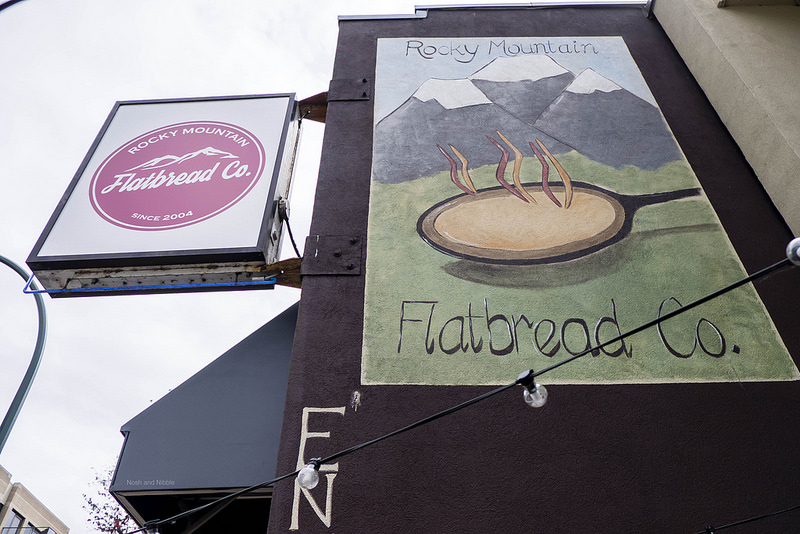 This wholesome dedication to wholesomeness shows up in the restaurant too. Within two main rooms, a bar, and a patio totalling about 60 seats, there's also a children's play area, making this a very family-friendly restaurant. For all the greenery lovers out there, there are real plants and living moss embedded into the walls.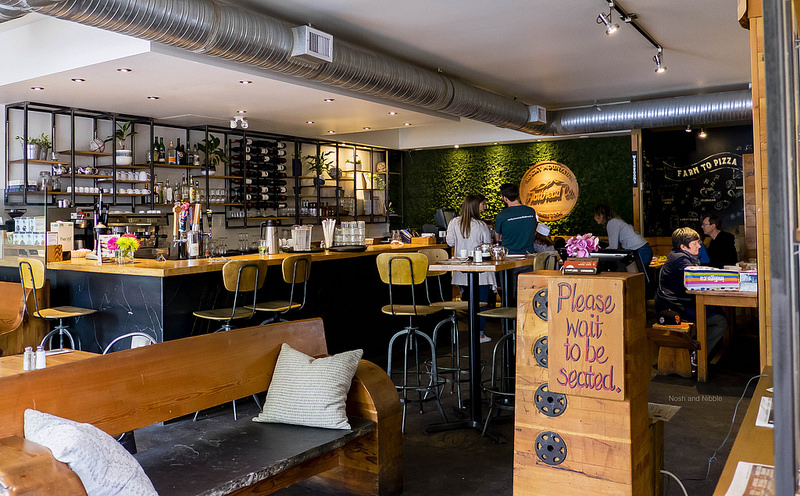 Out back Rocky Mountain Flatbread Co. also have a microfarm where they grow in-house vegetables used for their various salads and other vegetable needs. I had a taste of the Mustard Greens and can confirm they were very potent in flavour right off the stem!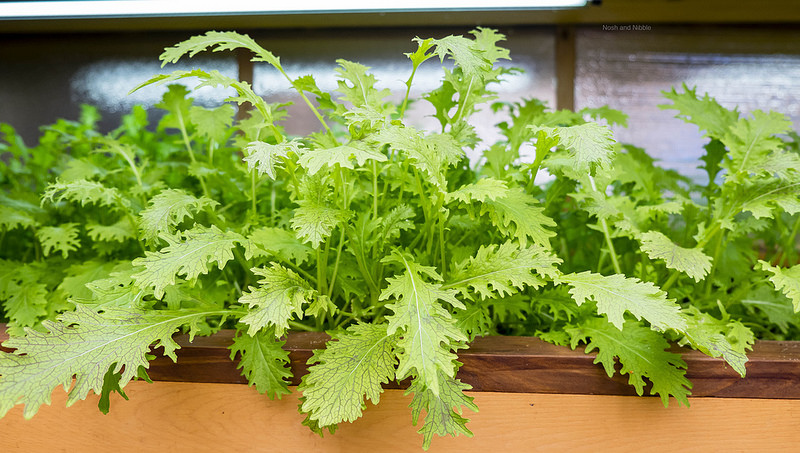 Service:
As this was a media tasting, the service was superb, but I'll have to save a future visit to really find out how often waters get topped up and how a walk-in customer gets treated. During this particular visit though, all staff waiting our tables were courteous and stopped by a couple times to ask how things were.
Final Thoughts:
One-liner: Wholesome farm-to-pizza restaurant with additional goals of boosting the local economy and educating the next generation
Highlight: Market Breakfast Pizza
Price per person: $16-$25
Would I go back? Yes, and I'd definitely use my discount offer above!