I'm pretty sure every food blogger of importance has visited and written a review of Kingyo. For one reason or another, I had to wait nearly 3 years into my food blogging career to visit one of Vancouver's most talked about Japanese izakayas. Do the enthusiastic staff and menu make for an eclectic dinner or is it all hype and a long lineup? Read on to find out.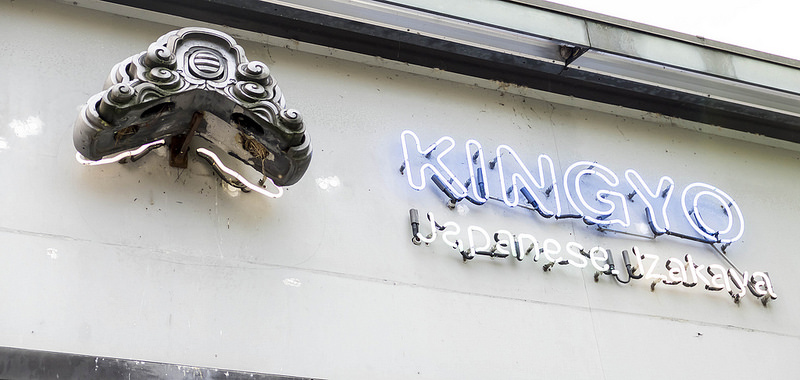 Food:
Team Tastic came here after a visit to Bowen Island and I had a great taste of the following:
Pressed Mackerel Sushi ($13.40)
Hell Chicken ($10.40)
Cauliflower Karaage ($8.80)
Beef Tongue ($9.80)
Frozen Matcha Brulee ($6.80)
The pressed mackerel sushi was a sight to behold. This was a hearty slice of mackerel, dressed in a special mustard mixed soy-based sauce and green onion ginger paste oil, and pressed onto a small block of rice.

Pressed Mackerel Sushi
Flavour was on point for this dish, but just look at how thick the slice of fish is on the rice! I've been to some restaurants where you get just a sliver of fish which throws the rice-fish proportions out of whack.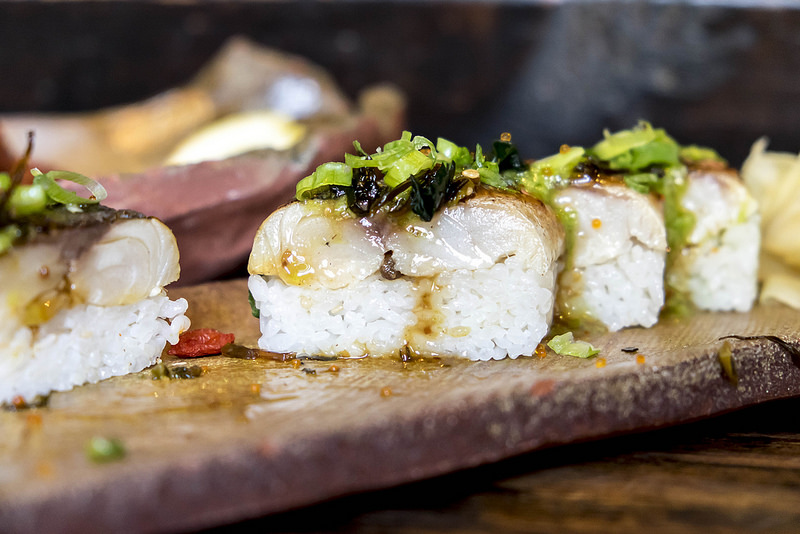 The hell chicken came from the daily fresh sheet. This was crispy deep-fried boneless chicken with homemade super hot sauce. The staff weren't kidding on the spice level of this chicken. This was hot! I normally love spicy foods, but this time I couldn't handle the heat and had to scrape off some of the sauce. The chicken was very juicy though which made for a satisfying meal worthy of heat hunters.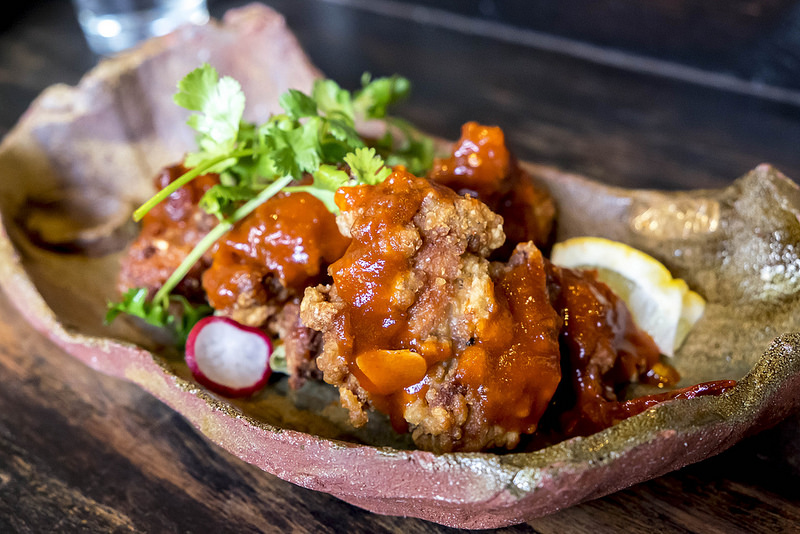 Hell Chicken
The cauliflower karaage was also from the daily fresh sheet and was a deep-fried soy based marinated cauloflower served with spicy yuzu kosho mixed cauliflower mousse. A mouthful for sure. For heat comparison, the spicy yuzu kosho was not as crazy spicy as the hell chicken. The karaage was very interesting with its slight batter but was otherwise quite flavourless within. As much as I enjoy cauliflower, a cauliflower mousse that tastes like cauliflower does not address my concern that cauliflower does not have a strong flavour.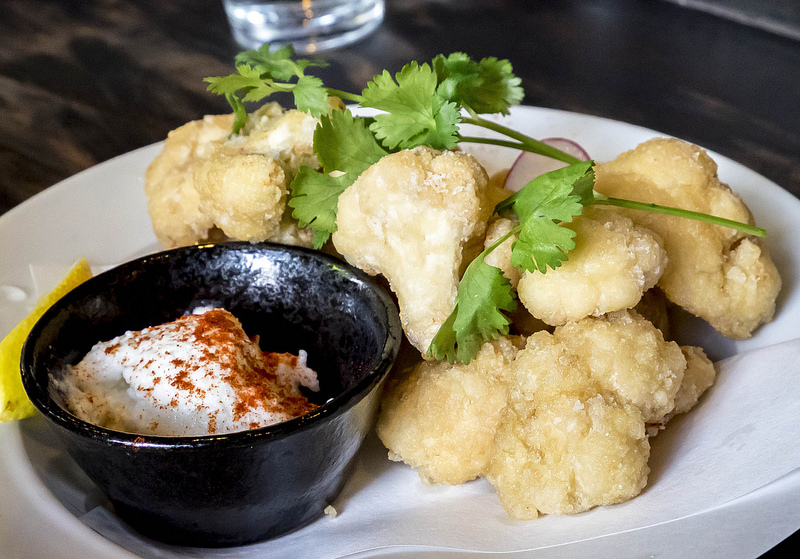 Cauliflower Karaage
I saw other tables ordering this strange rock served with raw beef, so we decided to try the beef tongue. These were slices of beef you would lay on a piping hot rock and pour marinade over. This was quite fun as beef cooks really fast and you can customize how chewy you like your beef. I reckon this loses its appeal after the first time though so regulars may want to try something different the second time around.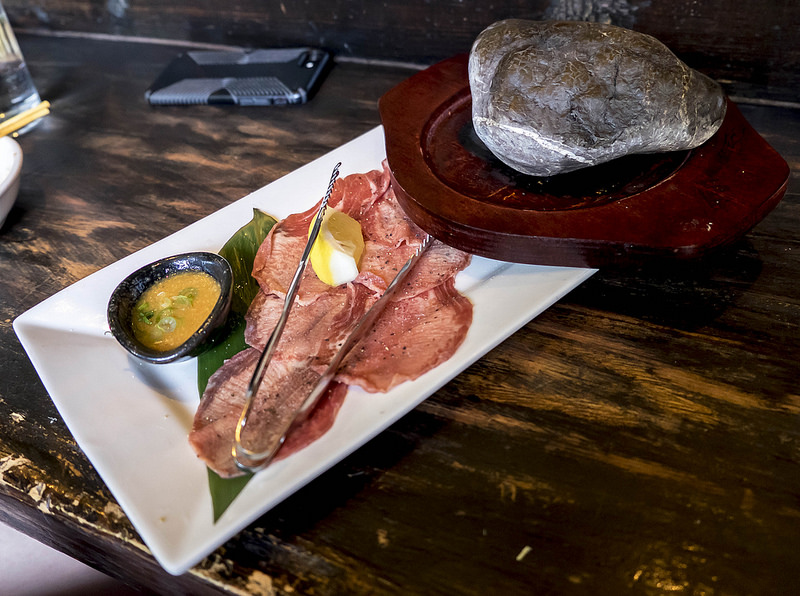 Beef Tongue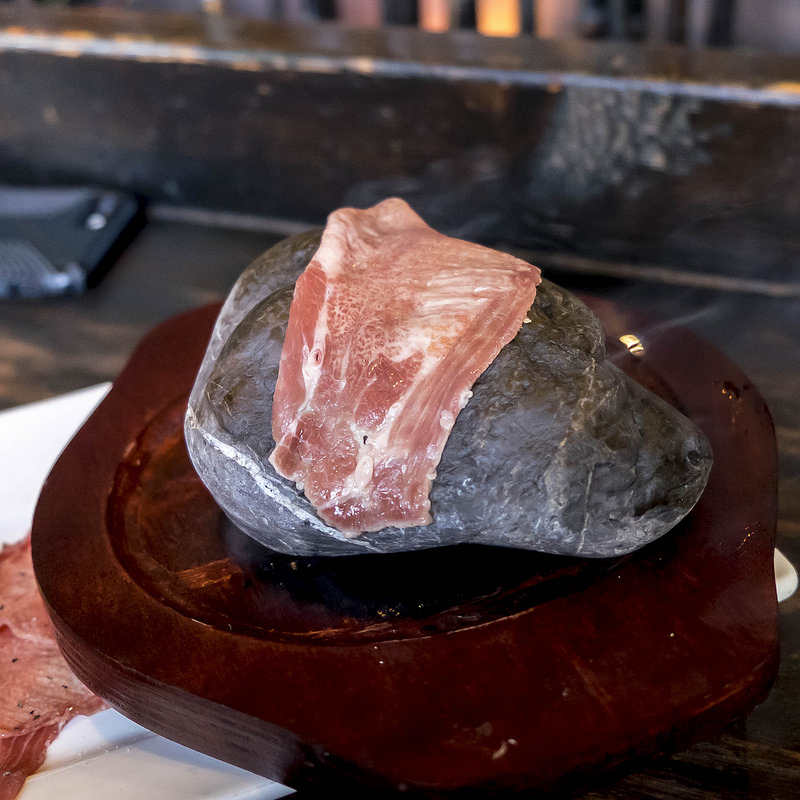 And finally, our dessert was the frozen matcha brulee. This was a photogenic dessert that had a tasty red bean sauce lathered over top. The frozen brulee had a texture reminiscent of ice cream and the charred top delivered the marquee taste of a creme brulee. I find there are very few reasons to share this value dessert at under $7, so make sure you get your own.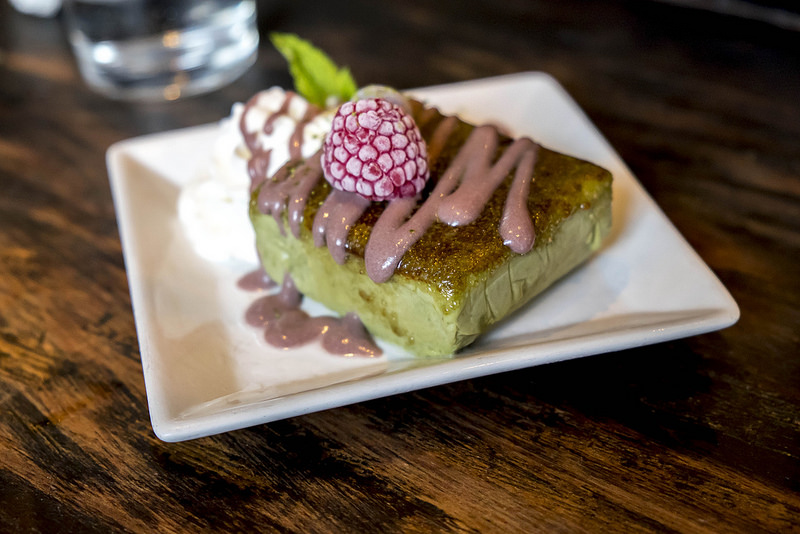 Frozen Matcha Brulee
Features:
Kingyo Izakaya is a premier destination in Vancouver's West End neighbourhood. Inside is a beautiful space with lots of stonework and aged wood amongst the tables, benches, and communal counter. I reckon this restaurant can hold about 60 guests, and would accommodate more if it had space because it's also quite cramped inside.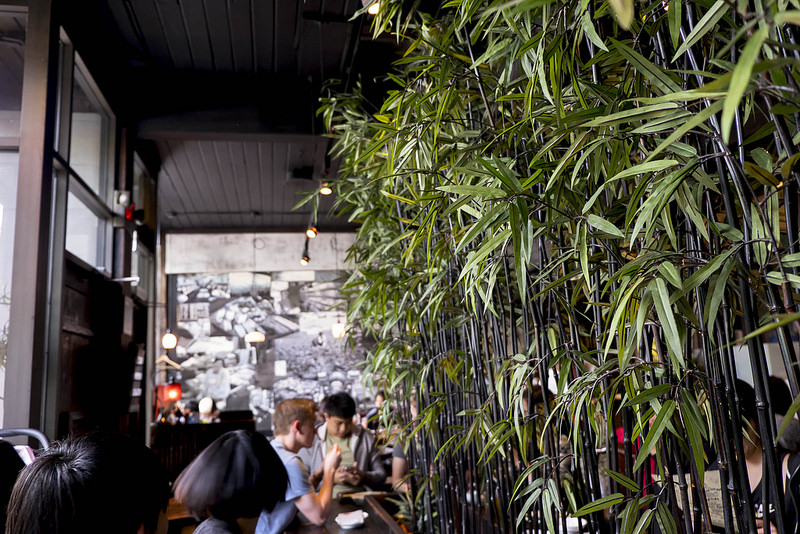 "Kingyo" means goldfish in English, so it's also pretty fitting to see a filtered goldfish bowl at the front of the restaurant with living goldfish inside!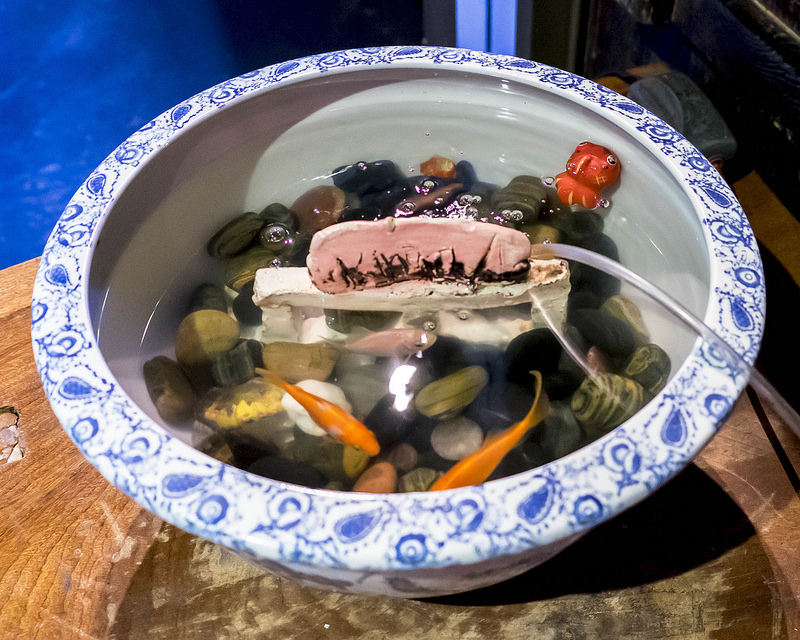 Service:
Service at Kingyo Izakaya was well-executed. Our server was always around our area and our waters were topped up twice. Flagging down our server to order the beef tongue and dessert was also surprisingly easy given how busy the restaurant was. It was packed by 6:15pm on a Saturday evening. I'd recommend coming early with a group of no more than 4. Any larger and you should make a reservation.
Once you finish eating the bill comes with these frozen grapes which is a neat touch by the restaurant.
Final Thoughts:
One-liner: No complaints whatsoever about this premier Japanese Izakaya experience if you avoid the cauliflower karaage
Highlight: Pressed Mackerel Sushi
Price per person: $20-30
Would I go back? Yes.