Olympic Village in Vancouver has no shortage of craft breweries to peruse. Brewery crawls have gone from one side of the neighbourhood to the other (and sometimes back, because Brassneck always has a line) which is terrific news for the industry. Enter a new competitor, Electric Bicycle Brewing Co., which takes the standard styles of "rustic" or "chic" and employs its own kitschy style which is totally different from the other watering holes in the hood. Last week, I had a chance to experience the brews for myself.
Disclosure: This was a complimentary tasting provided in exchange for an honest overview and no monetary compensation.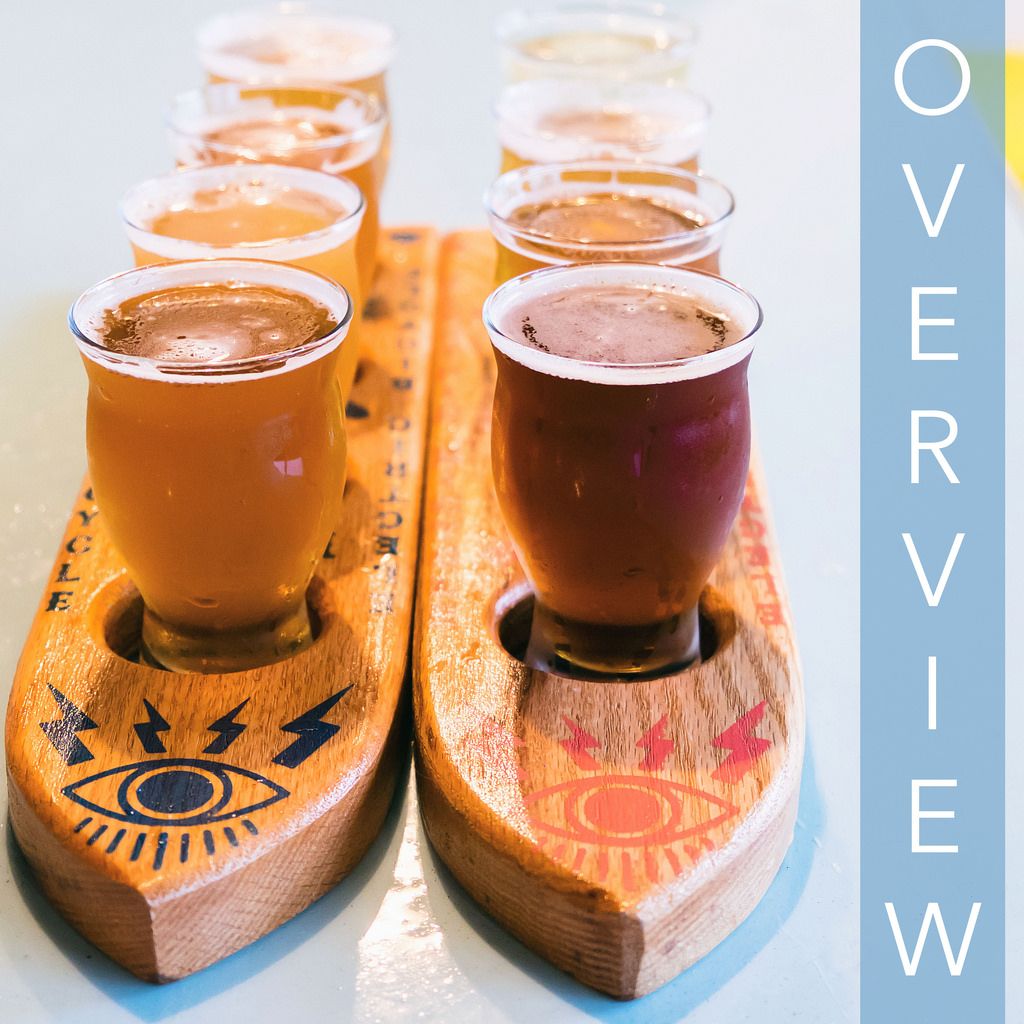 Food and Drink:
The Pool Team came here for an evening meal and I had a great taste of the following:
Beer Flight ($8) Kaedama, Dascocoloco, Spatialized, Windfall Cider
Classic Grilled Cheese ($7)
Bacon and Mushroom Grilled Cheese ($12)
The beer menu consists of 6 house brews and a guest tap, so a flight of 4 gets you a pretty impression of the craft brewery and your beers presented on a ouija-styled board.
Kaedama – Made with help from Chinatown's Ramen Butcher, this altbier was the beer version of a tonkotsu broth (no actual pork is used). It was pretty refreshing and finished real dry. Personally, I thought this simple flavour profile went great with the classic grilled cheese.
Dascocoloco – This imperial dry-hopped coconut wit had the biggest body out of my entire flight and had an overall tropical vibe with the taste of coconut.
Spatialized – Classic North West pale ale vibes here. It's got middle-of-the-road hoppiness and for me was one of those "we had to choose a filler for the flight" brews. If medium is your jam though, this is the king.
Windfall Cider – I've been searching for a replacement for Merridale Cider that would actually pair with food and Windfall Cider might be the one. It's not as sweet as Merridale Cider (in my opinion, best enjoyed on its own) so it can serve a more complementary role. I'm super biased for cider so I had no qualms using the carbonation here to pair with the gooey grilled cheese (more on that in a second).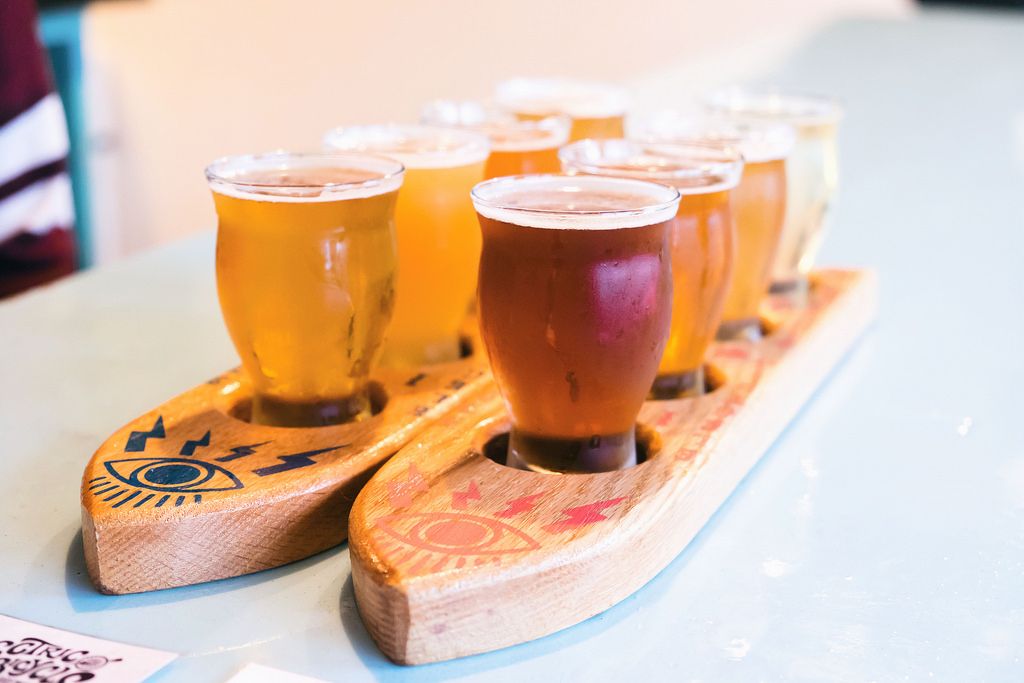 The classic grilled cheese was made with emmental and gruyere cheese on organic white bread and served with house ketchup. At $7, this was cheaper than a flight of beer and came perfectly panini-pressed. Each bite was extra gooey and nothing too bold.
The ketchup here was the bomb. It was more akin to tomato soup than Heinz-style ketchup so you could get some good coverage on the grilled cheese with it. I wish there was more of it because this ketchup was good enough to eat. I also wish there was a vegetarian option with some more pizazz to it. The caramelized onion in the bacon mushroom option comes to mind as a suggestion.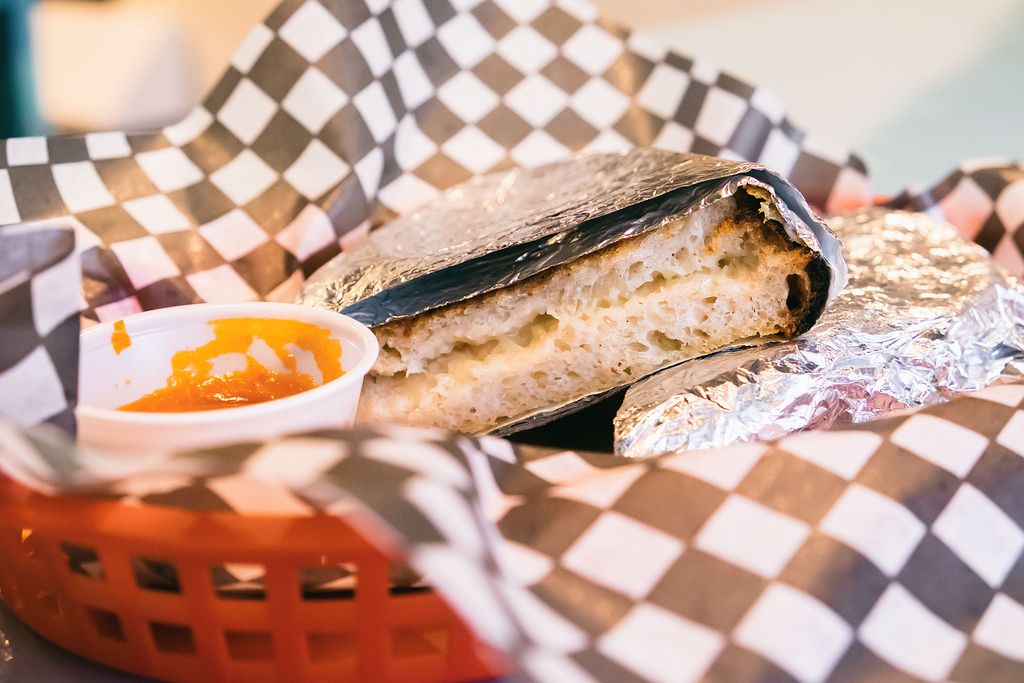 My grilled cheese of choice was the bacon and mushroom which featured roasted portabello mushroom, bacon, Canadian cheddar, and caramelized onions served on sourdough with a side of bacon and mushroom paté. Bold is the best way to describe this option. The bacon had some good chew to it and the mushrooms the juiciness you want in any meal. The bacon and mushroom paté was a cool addition though I didn't need all of it as the sandwich was already super savoury. If I go back I might try to snag the house ketchup instead as my sauce.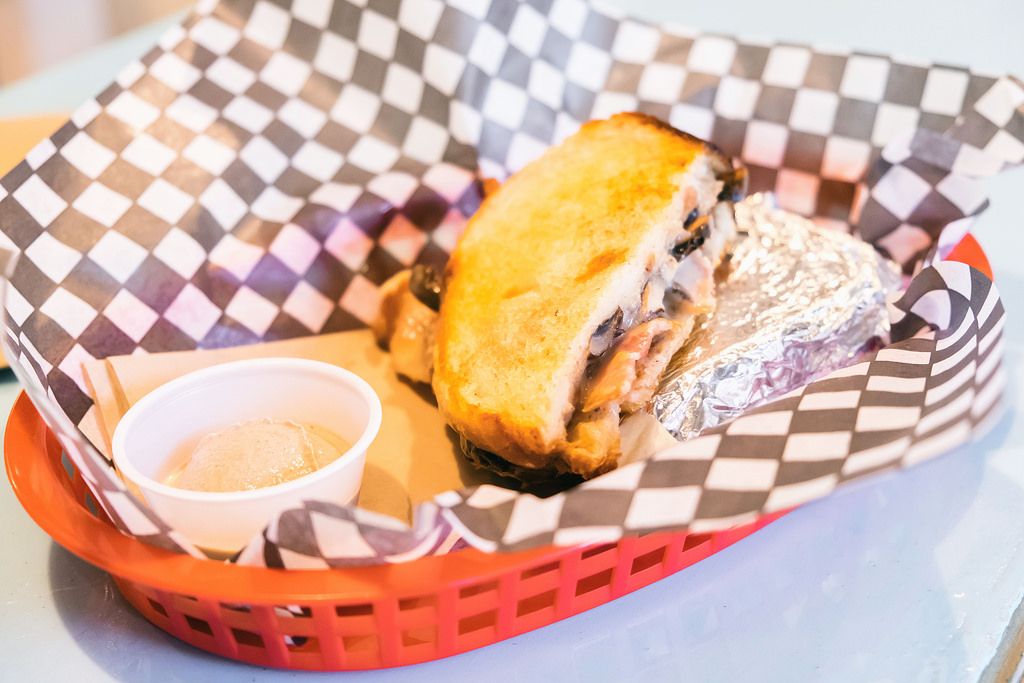 You might have your eyebrow raised at the tin foil wrapping of the sandwiches. I understood the method here was to melt the cheese as much as possible. When I fully unwrapped my grilled cheese the bacon instantly attempted to slide out of the gooey cheese. Having the tin foil allows for better logistics in enjoying these grilled cheeses.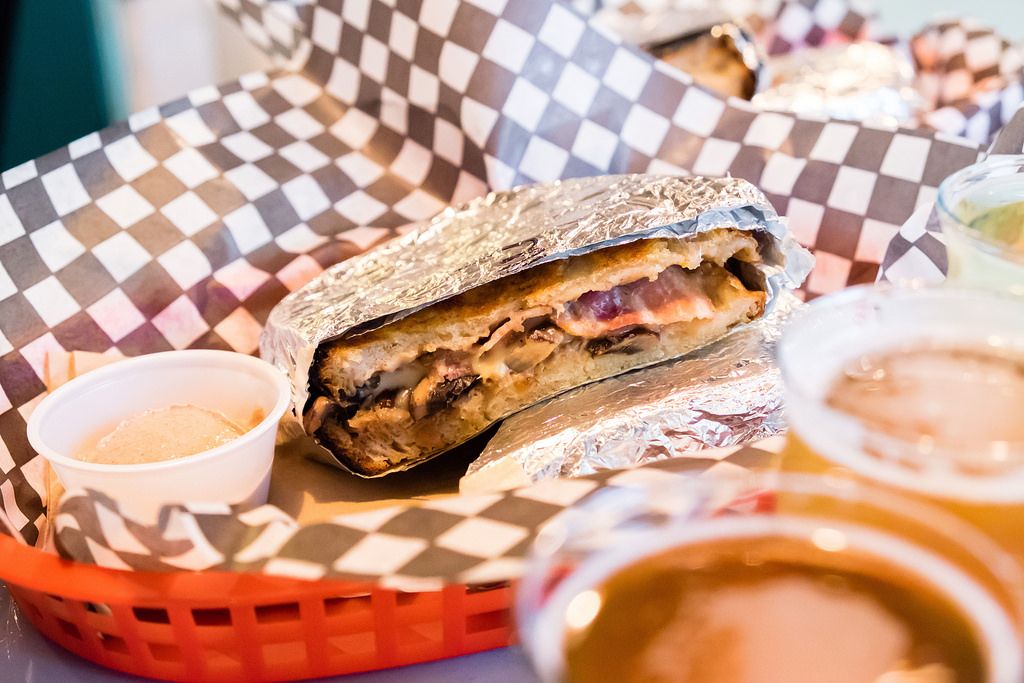 Features:
Electric Bicycle Brewing takes up residence in a former electric bicycle production facility which turned out to be the inspiration for the name. Concept-wise though, there's nothing like Electric Bicycle in the neighbourhood. Nobody else serves grilled cheese (which, by the way, are sourced from the reputable Belgard Kitchen in Vancouver's Railtown neighbourhood) and nobody has a décor like Electric Bicycle. Seating for about 20 guests is contained by an arrangement of flowers and wild colours. It kind of feels like a Mexican taco shop in here but with a specialty in beer and grilled cheese.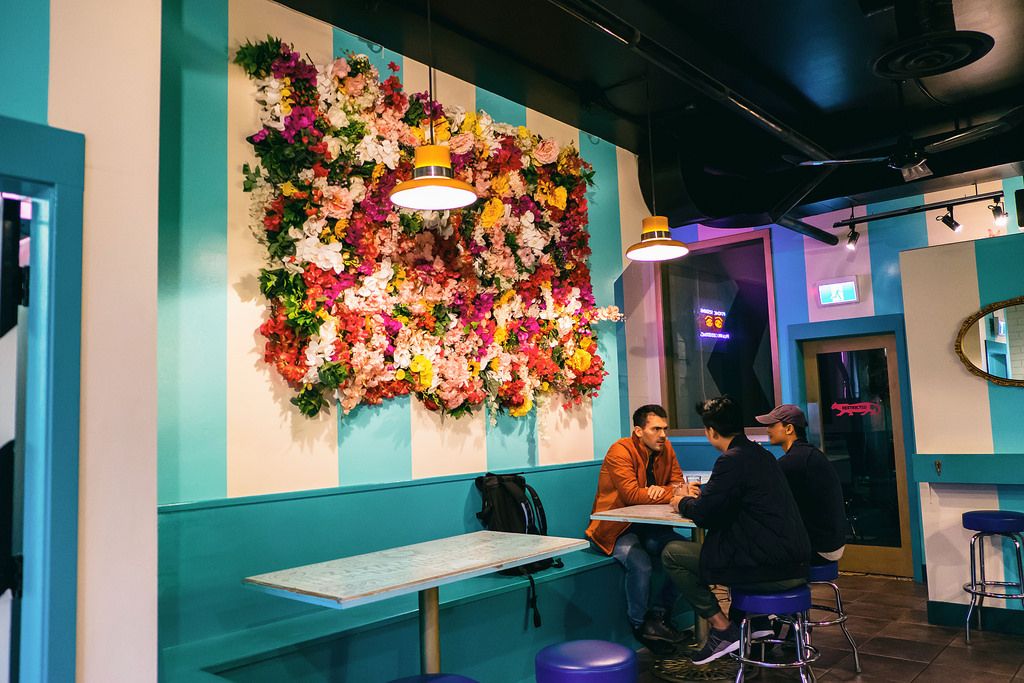 Brew-wise, IPA lovers will be well-serviced here as there are two IPAs on the menu.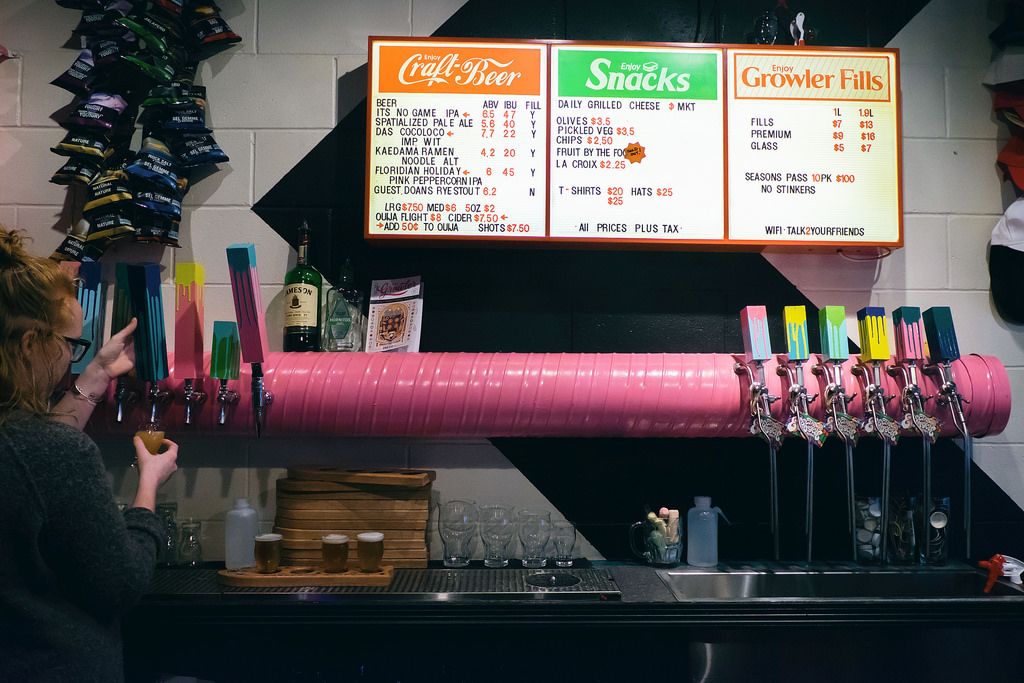 If you really want, you can also come to the bar here and order shots of Jameson.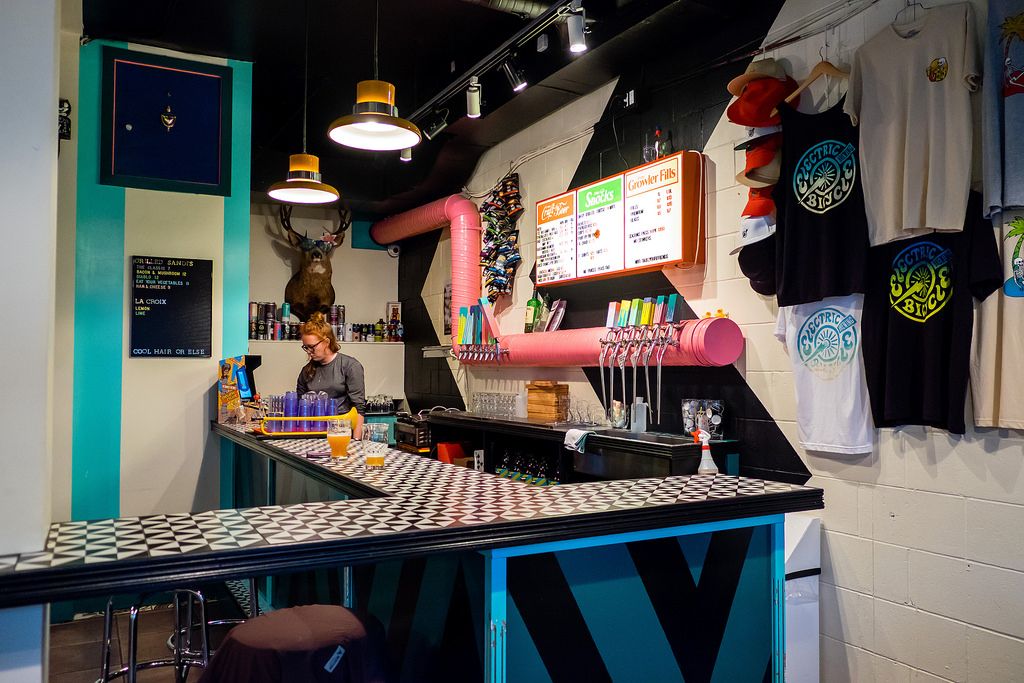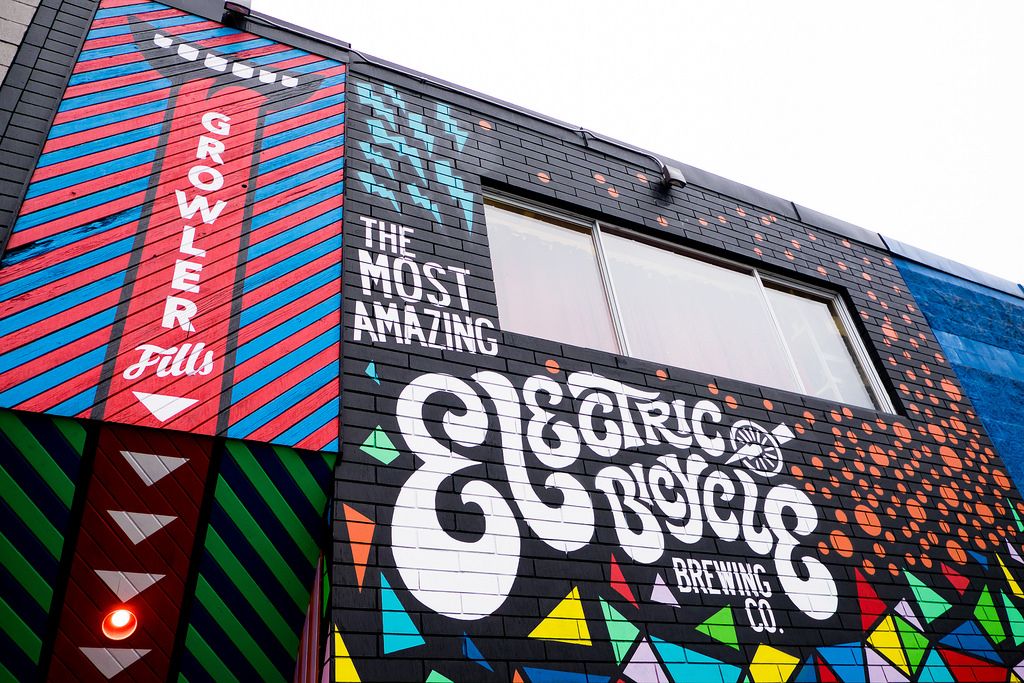 Final Thoughts:
One-liner: Kitschy, cool, and new concept brewery in Vancouver's favourite neighbourhood for beer
Highlight: Windfall Cider + Bacon & Mushroom Grilled Cheese
Price per person: $10-$25
Would I go back? Yes.