I've worked in Downtown Vancouver for the better part of the last 2 years, so I've had the pleasure of watching the newest expansion of Browns take place. From a new building being erected, to permits being signed, to staff being trained, to a grand opening, it's taken at least 2 years of me walking by this property to finally see the restaurant take shape. Browns Crafthouse follows a trend of Browns Socialhouse  expanding to address an already crowded dining scene: craft beer. With this in mind, I decided to see for myself how my palate fit in this vision of Browns.
---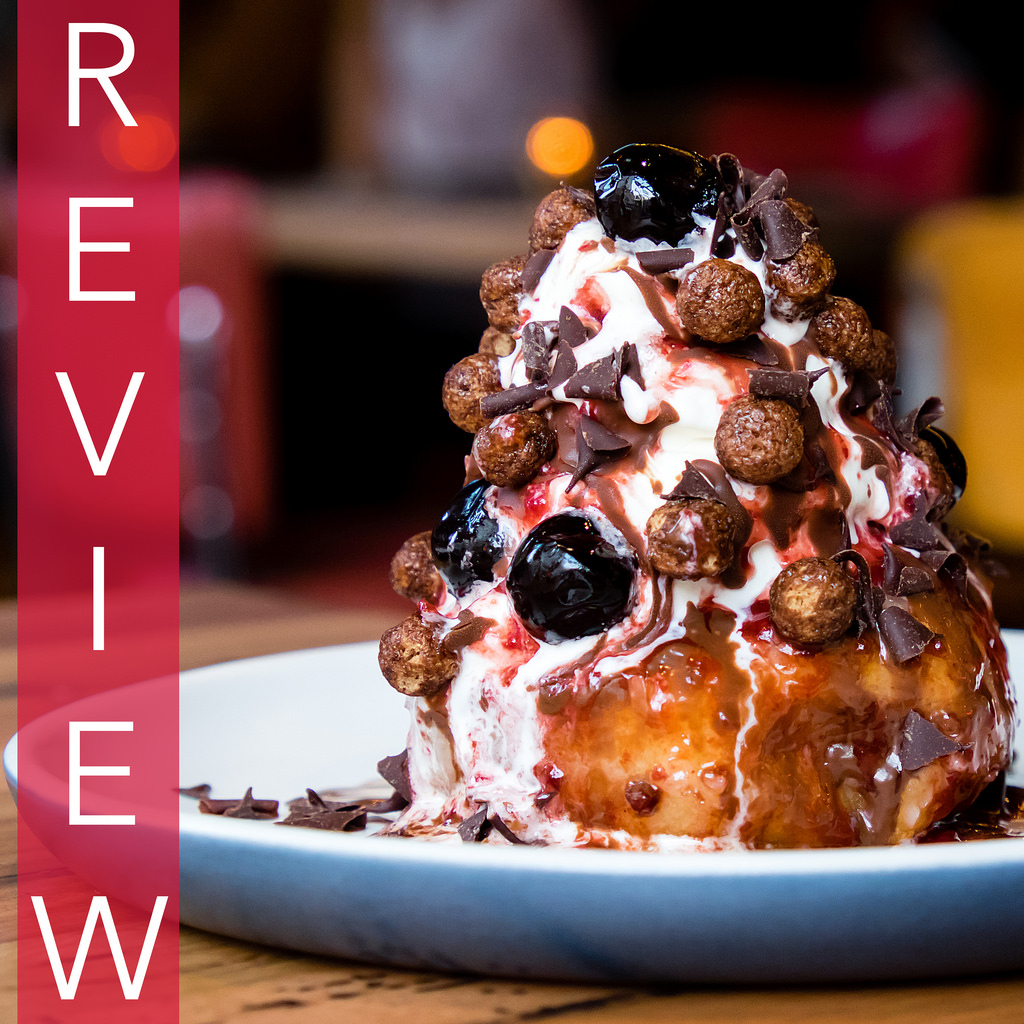 Food and Drink:
Team Survivor came here for a post-work dinner and I had a great taste of the following:
Merridale Cider ($6)
Nacho Quesadilla ($10)
California Burger ($18)
Cartems Sundae ($9)
Because we came on a Tuesday, all BC craft beer (in my case, cider) was a dollar off. My Merridale Cider was served as a very full glass so I took a sip prior to taking its photo. With a dry, crisp finish, this cider provided a refreshing finish to everything we were eating this night.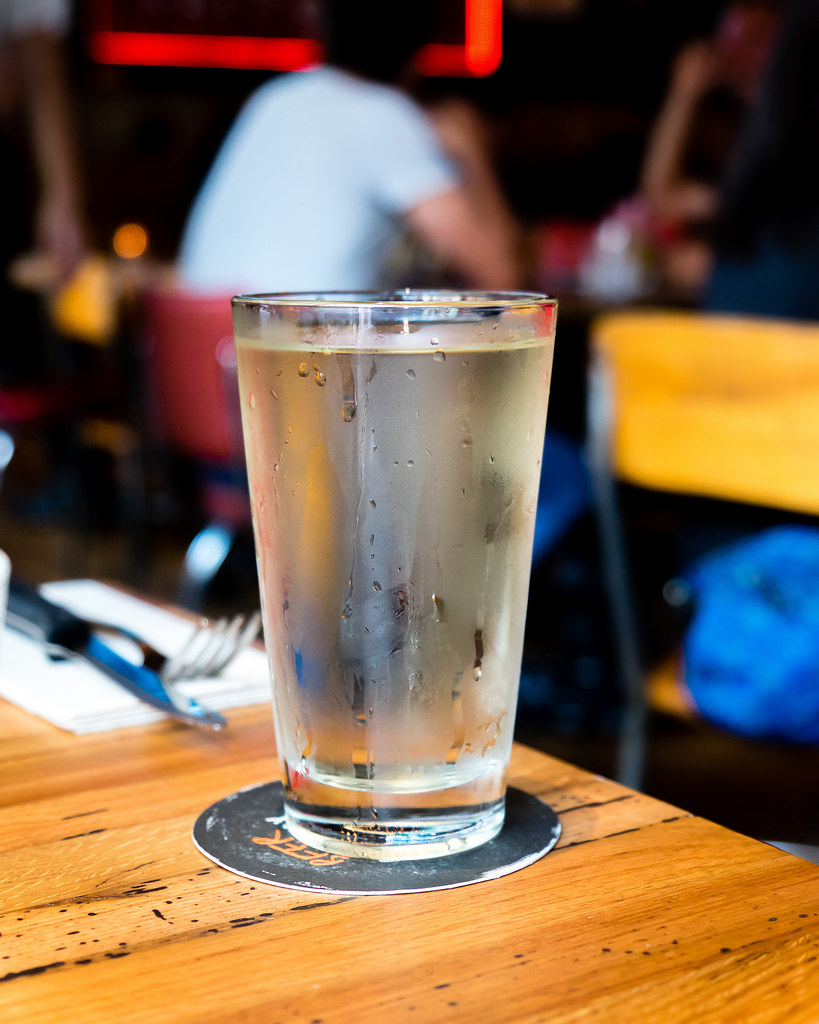 To start things off, we got ourselves a nacho quesadilla which was made of spiced beef, cheddar, lime crema, salsa roja amidst two grilled tortillas. I guess compared to the dictionary presentation of quesadilla, this nacho had a fun twist by drizzling the lime crema and salsa roja on top of the quesadilla. The beef wasn't too spicy, but there was nothing wrong with this appy. It got the job done for us.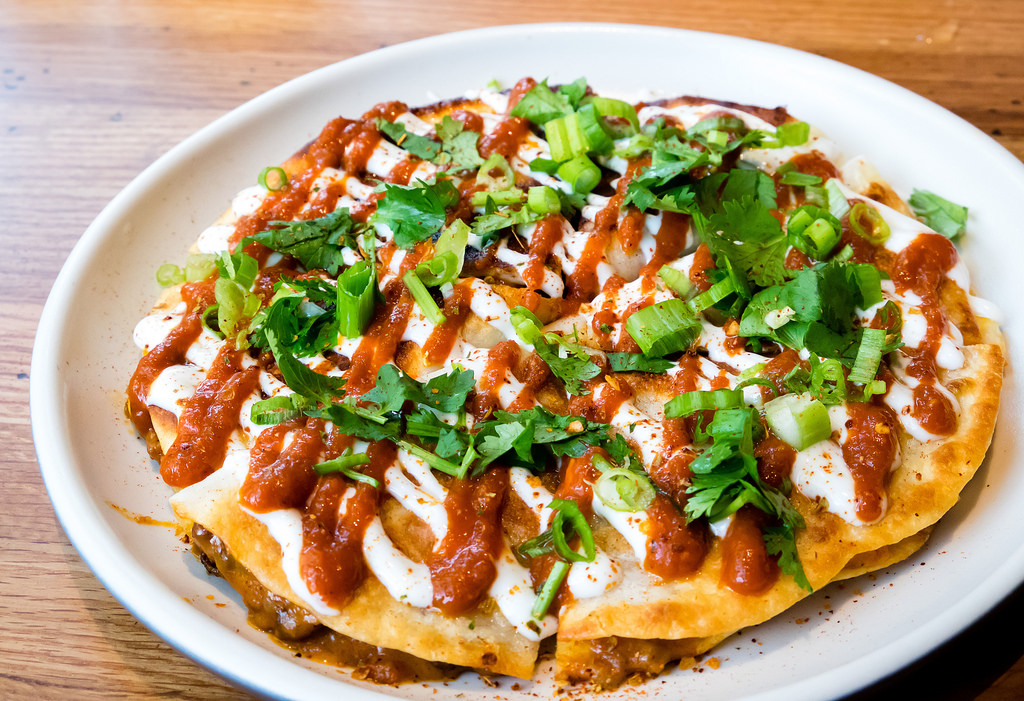 Moving onto my main, I was nervous about getting one of the menu's Asian street bowls, as I've been jaded by bad Asian food at Western places. One day, Hanson. One day.
I settled on my favourite bar food – burgers. In particular, the California Burger. This was the most loaded burger, both in price and in contents (jack cheese, smoked bacon, avocado, chipotle aioli, lettuce, and tomato). Presentation-wise, I was happy to see a generous spread of chipotle aioli but there was little to no avocado to be found (see photo below). It actually took me until today while I'm writing to realize my $18 burger investment was lacking any discernible avocado because the burger was honestly pretty good. I still feel like a doofus though and would recommend you double check your California burger for hidden avocado. Otherwise, chewy bacon, juicy patty, and a fluffy bun checked off the usual boxes for me, burger-wise.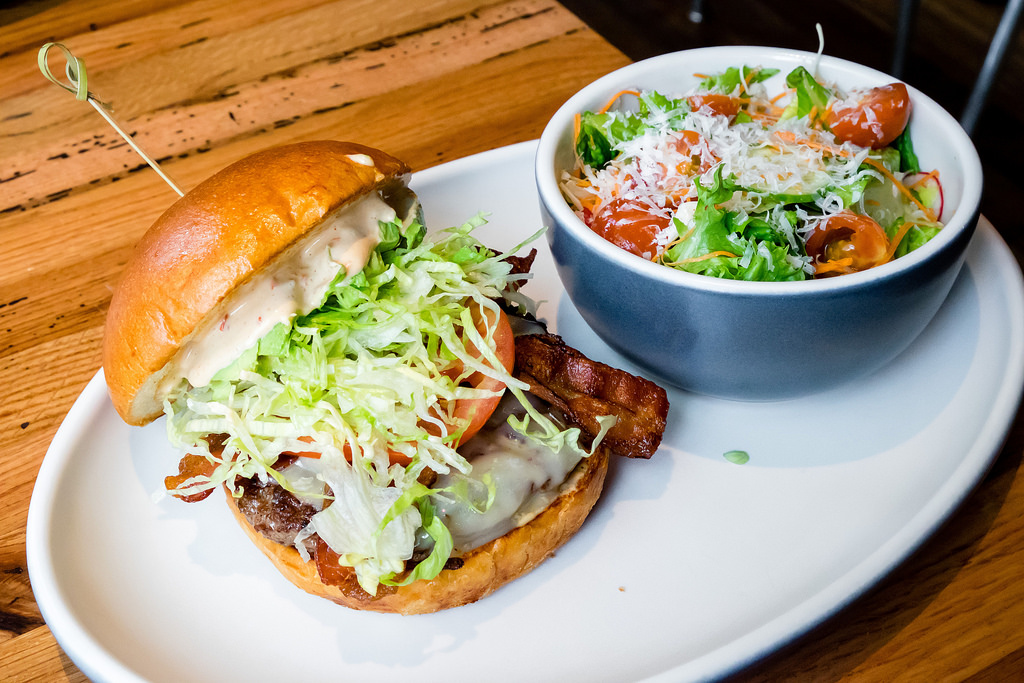 For dessert, I was recommended to try the Cartems Sundae. Sourcing a classic vanilla glazed donut from Cartems Donuterie down the street, this sundae featured chocolate sauce, cocoa crumble, and boozy cherries. It's not mentioned on the menu, but this sundae was made using soft serve ice cream (sourced from BC's Foothills Creamery Organic Ice Cream). It melted quite quickly so if you like to take photos of your food like me, try composing your photo faster so you can get to eating this plate of joy. Kudos to Browns for sourcing super local for this dessert. This was the best part of the meal for me.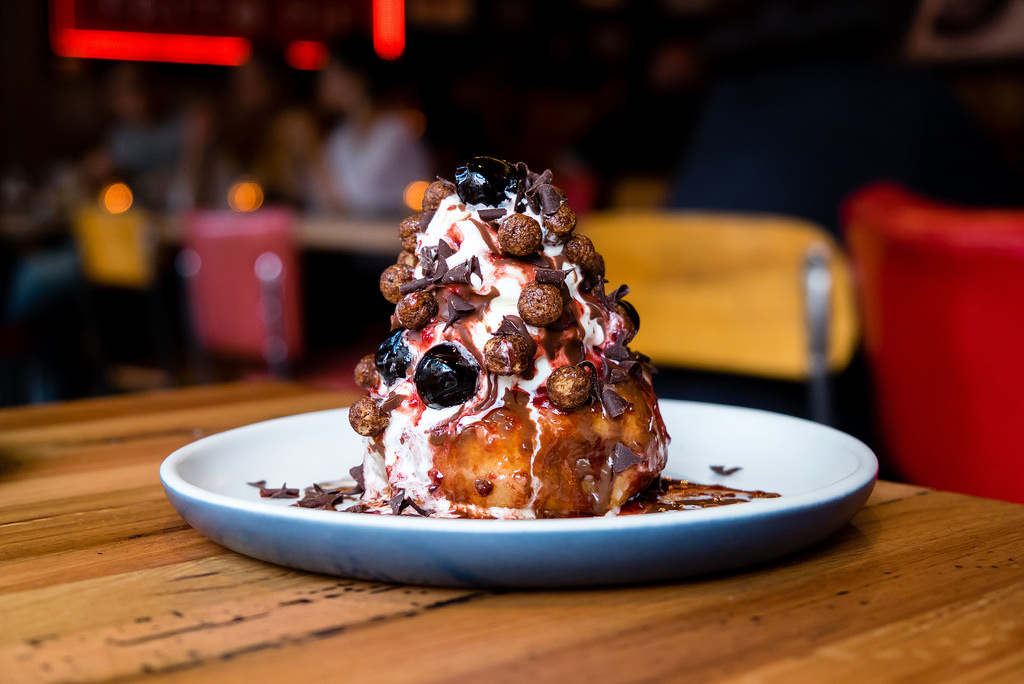 ---
Features:
Browns Crafthouse has the vibe of a contemporary bus/truck stop. There are hints of this middle-of-nowhere feeling with the Greyhound wall art and the backlit beer menu. For anyone who's been to a Browns Socialhouse, it's a much more casual vibe at Crafthouse. Not to mention the focus on BC craft beer.
I was quite happy to see the menu was totally different from the one at Browns, so you know this isn't some palette swap of an already successful restaurant chain. Again, slight regret that I didn't order something from the taco menu or the Asian menu, but I'll reserve judgement on that foray at a future date if I'm ever back.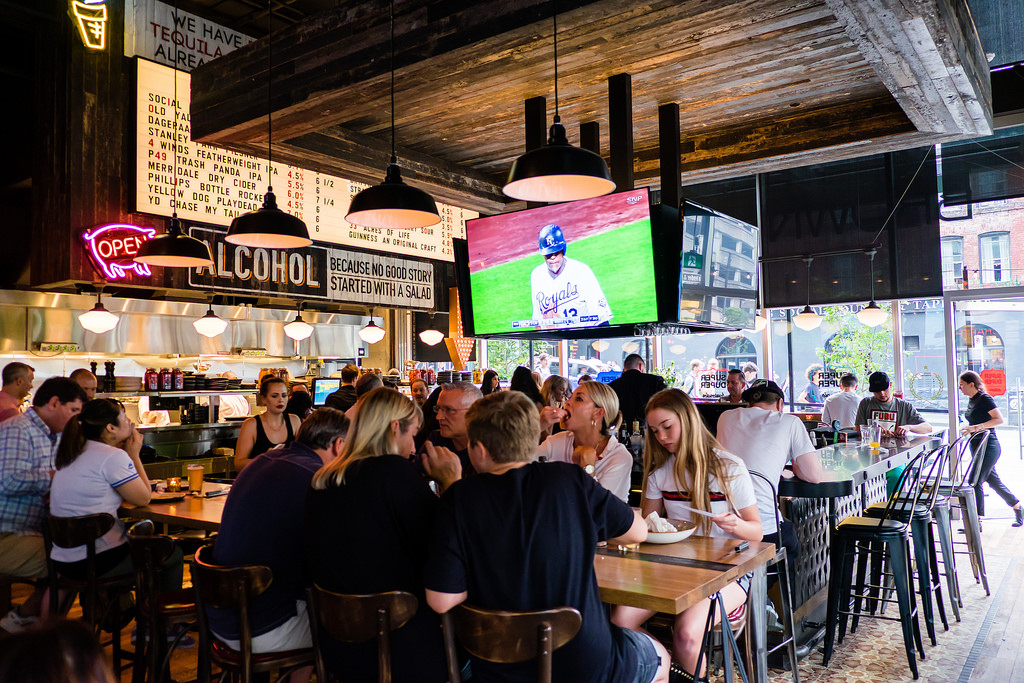 Not straying too far from the sports scene, Browns Crafthouse also features a big TV and marquee scoreboard. Nothing too overwhelming, but if you're really into sports, you'll probably appreciate the giant scoreboards found at Shark Club more.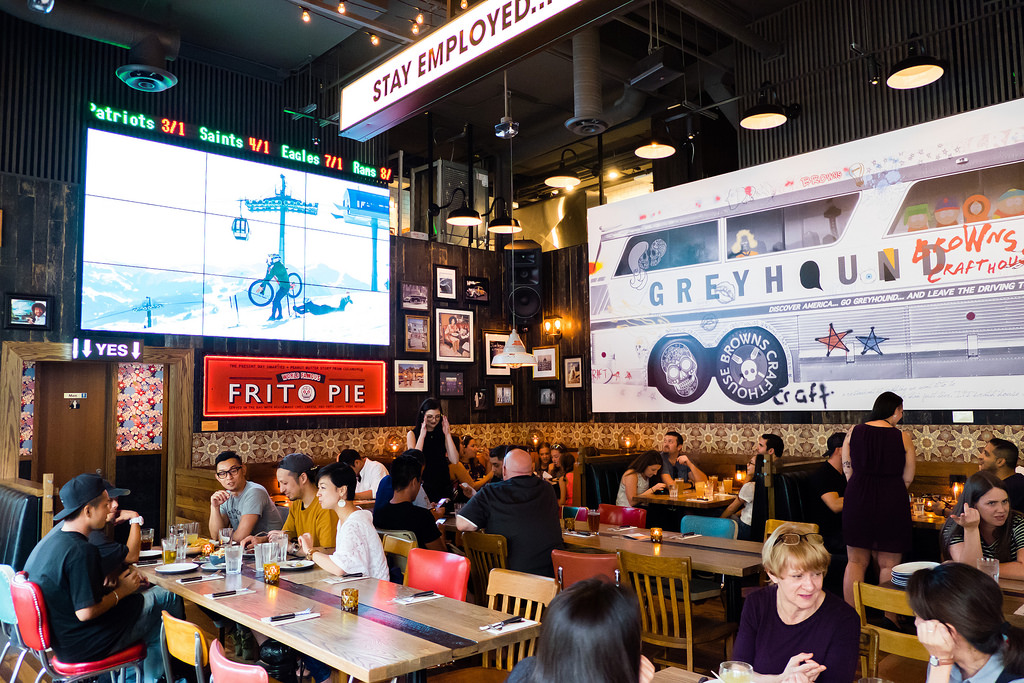 Bathroom tip: the bathrooms are single stall rooms. There's some cool art inside but claustrophobic diners are likely going to find the rooms uncomfortable.
---
Service:
Service during our visit was astoundingly better than average. Maybe it's because we went on opening night (August 14), but a ton of people asked us how our meal was going. Food took an average time to come out (~15 minutes for appies, followed shortly by mains, 10 minutes for dessert) so it was fantastic seeing an appropriate amount of staff being assigned to opening night. It was pretty packed on opening night but we'll see how the restaurant does. Crafthouse is situated across the street from Malone's which never fails to get a crowd on Fridays and most evenings.
Final Thoughts:
One-liner: Browns Crafthouse is a new menu, new concept, and new vibe from the casual fine dining you're used to at Browns Social House
Highlight: Cartems Sundae
Price per person: $20-$35
Would I go back? Yes.