When it comes to the West End, nearly every type of dining is accommodated in this bustling Vancouver neighbourhood. It's with a little surprise that I found out something new had crept in. Rad on Denman, a new concept by the same team of Rad Tea Room, has recently opened up and offers a homey individualized hot pot-focused menu. Last week, I had the opportunity to experience the menu.
Disclosure: This was a complimentary tasting provided in exchange for an honest overview and no monetary compensation.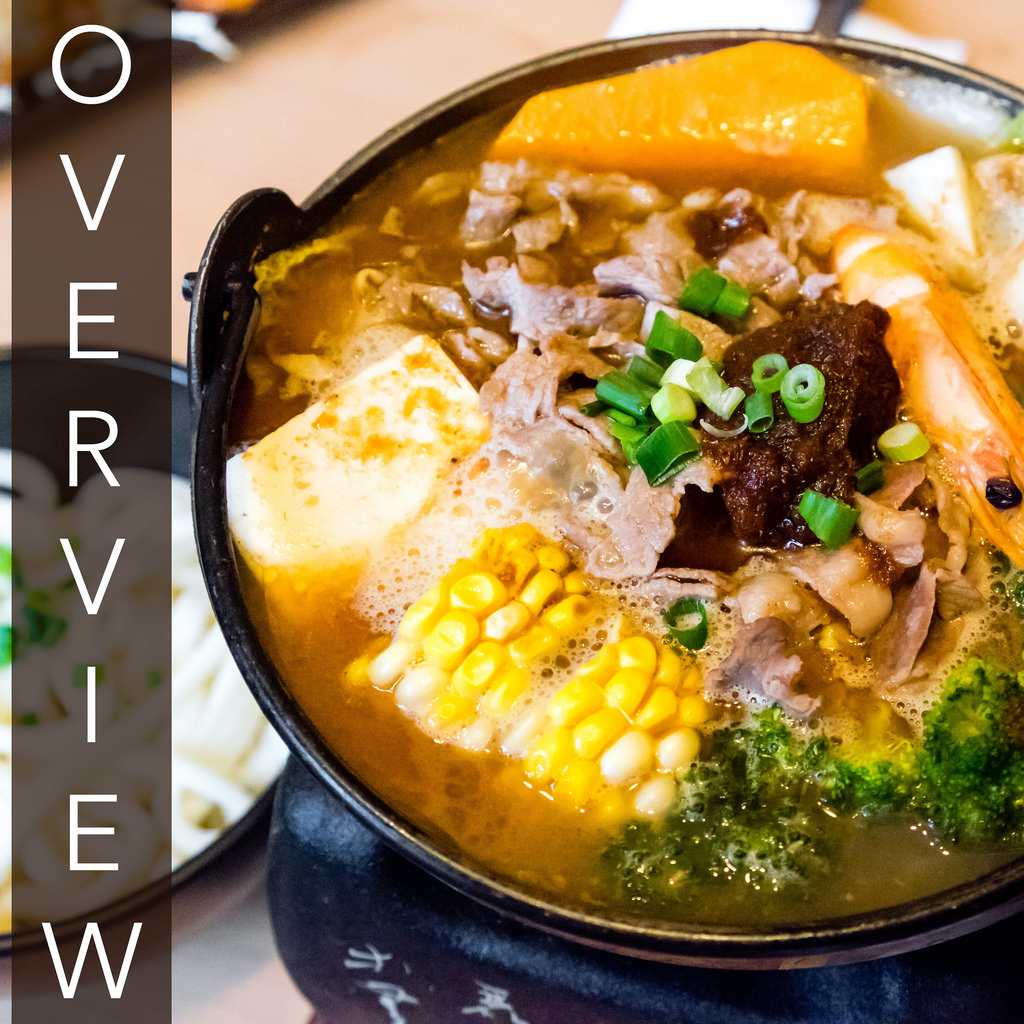 Food and Drink:
Team Tastic came here for a Wednesday dinner and I had a great taste of the following:
Satay Broth Hot Pot w/ Alberta Beef, Premium Lamb, Seasonal Greens, Udon, and Sesame Sauce ($14 + $4 + $2 + $2.50)
Matcha Cream Tea ($3 with order of a hot pot)
Taiwanese Popcorn Chicken ($7)
King Mushroom Tempura ($6.75)
Takoyaki ($6.75)
Tiramisu ($4)
We went pretty hard on customizing our hot pot. The standard $14 gets you your choice of broth, one meat, standard greens, rice, and your choice of sauce. This would be appropriate for a single diner but since we were sharing everything we thought we would get some extras tossed in.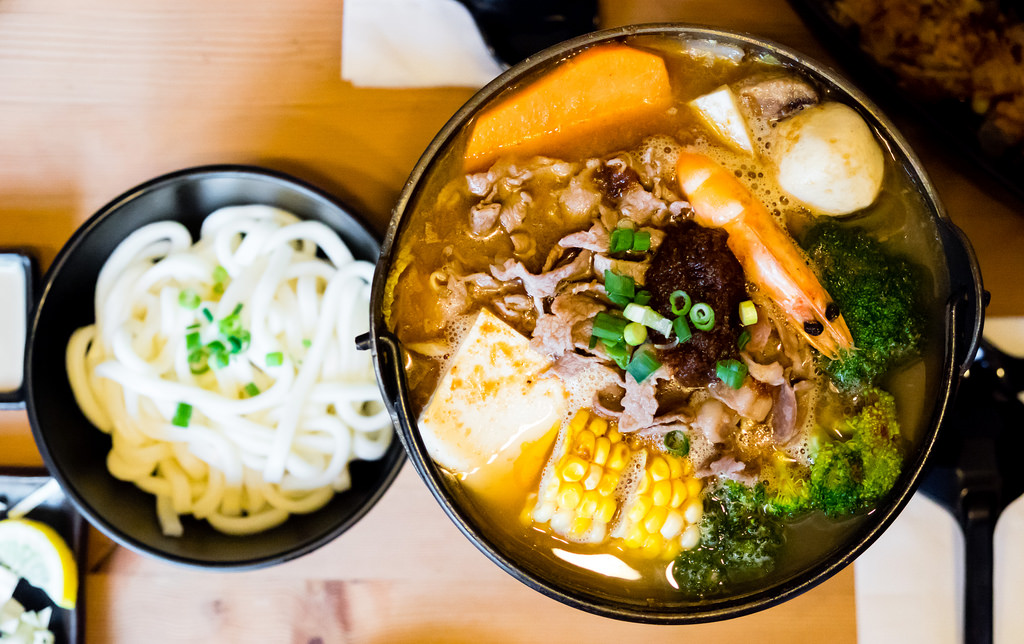 The meats were both very juicy, and are much left to preference for which one you should get. The distinction between these meats and the ones you get at all-you-can-eat hot pot would be a juicier flavour and less of a rubbery texture you might get.
The style of hot pot at Rad has the meats come pre-cooked in a steaming pot heated atop a stone basin. The temporary fire in the basin keeps the broth and its contents extremely hot. The vegetables as such (in our case, with seasonally added broccoli and carrot) were cooked all the way through and easy to chew.
The udon had a satisfying chew, a good look, and throwing it in with the hot pot broth was the best way to enjoy it.
One thing to note for the broth: if you choose the satay option, remember to stir the soup before drinking. Satay is a fine paste used to flavour soups so it tends to sink to the bottom if left undisturbed (similar to miso).
Drinking the broth warmed my soul and it was about on par with restaurants that serve individual hot pots.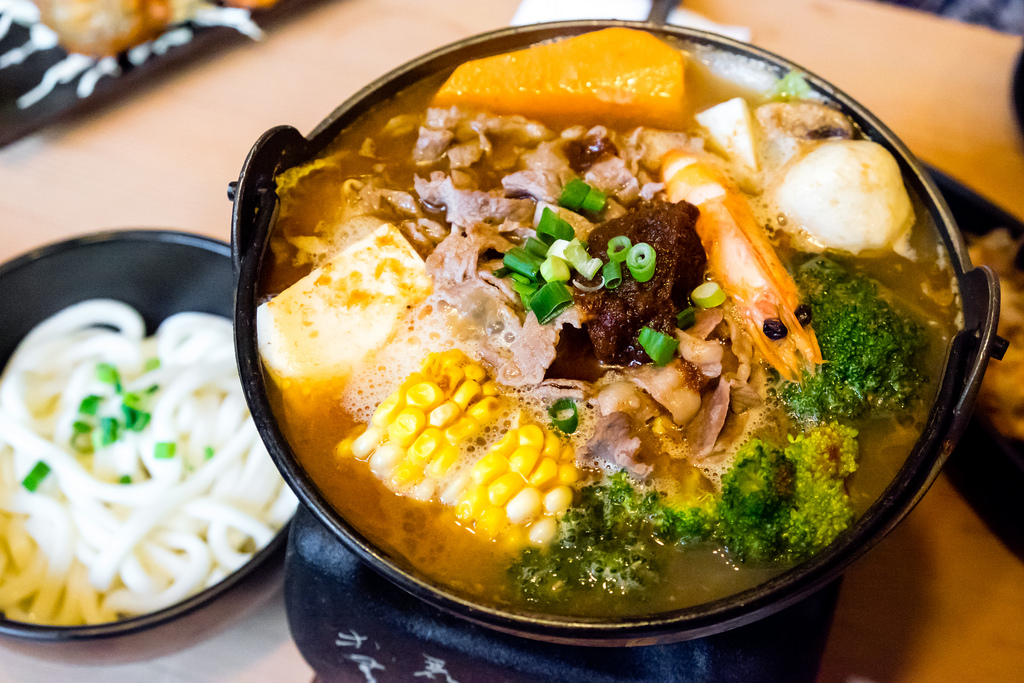 One benefit of ordering a hot pot is that you get a discount on a drink (if you want something other than water). In our case, the matcha cream tea was $1.50 off and if you're a fan of Rad Tea Room (huzzah, Rad on Denman's sister company), you'll be happy to hear Rad on Denman serves as a satellite location for the tea shop. The matcha powder at Rad is ceremonial-grade meaning it's greener than standard powders and has a stronger intensity. For this reason, I highly recommend grabbing a matcha drink to accompany your hot pot if you do visit.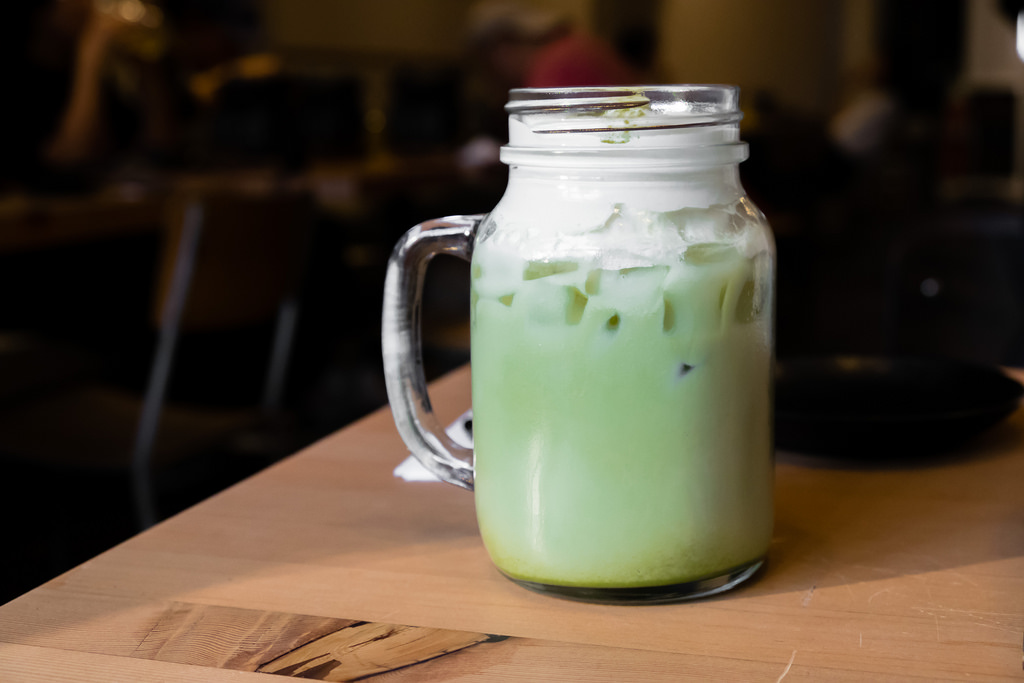 Aside from the main feature of hot pot, Rad on Denman had an appetizer and rice bowl menu which we decided to try out too. Amongst the Taiwanese popcorn chicken, king mushroom tempura, and takoyaki, I most enjoyed the takoyaki. The breading on the popcorn chicken and tempura lacked the panko-style breadiness I personally prefer. It's a subjective preference.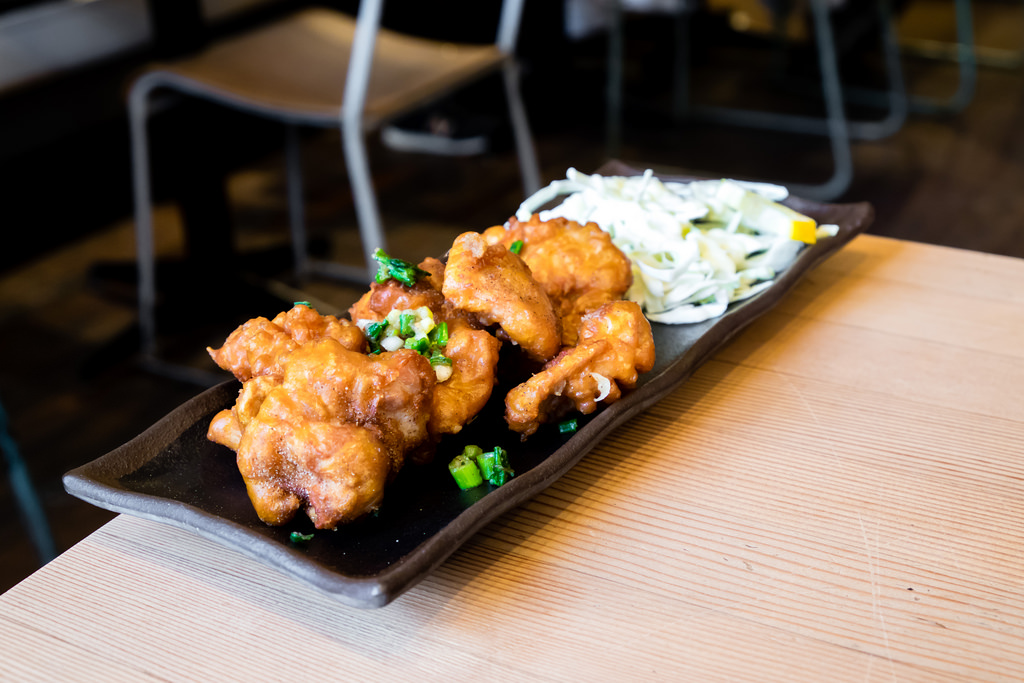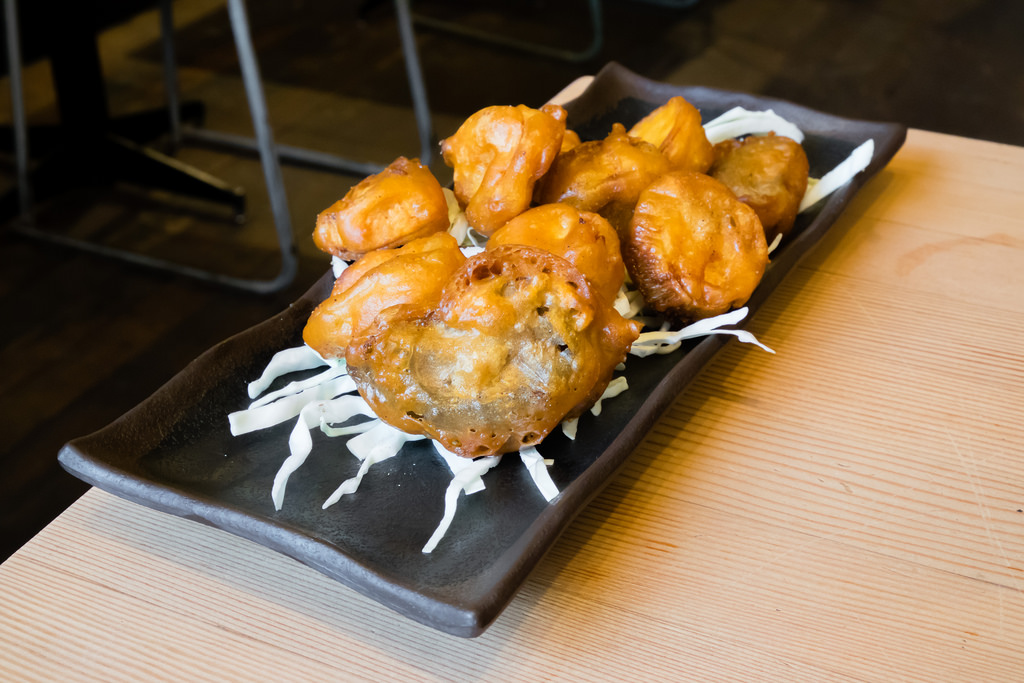 The takoyaki was a standard fare of juicy fried octopus balls with a gooey filling and chewy piece of octopus inside.
Moving onto dessert, we were informed the kitchen had run out of tang yuan (Bummer. You seldom see tang yuan on menus!) so we instead opted for the tiramisu. This had a cool spherical shape and a fluffy texture on the exterior. I wish the tiramisu had more time to thaw though as biting into the inner sections of the tiramisu revealed a crunchier texture. At $4, this is half as expensive as most restaurants that offer a tiramisu, but your mileage may vary in terms of how thawed it's served.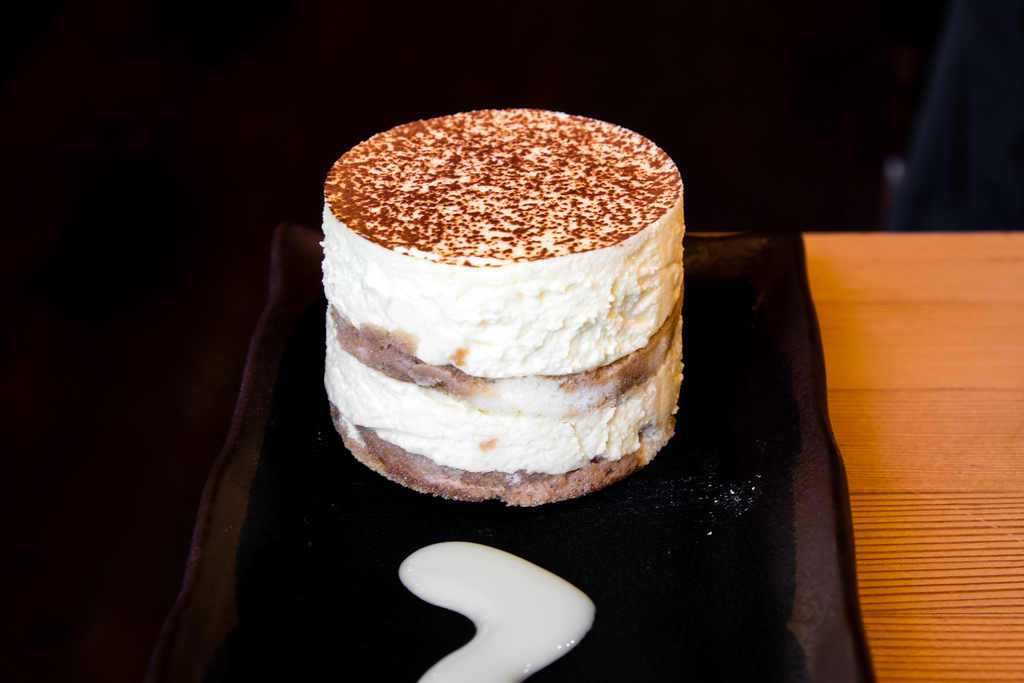 Features:
Rad on Denman takes over the spot of the short-lived Ritual Restaurant (Remember that no-tip restaurant? It didn't end well) and most of the interior has retained the same look. Inside, you'll find a combination of standard tables and chairs, counter seating, bar stools, and a takeout area for their tasty teas. There's seating for about 50 guests. The vibe inside is a little retro with schoolhouse-style chairs and a slight creak to the flooring. Fans of Rad Tea Room will recognize the brand's penchant for displaying its name on moss walls.
Note: While Liuyishou Hot Pot is a similar concept in that they offer hot pot, they are more of a group-focused vibe (i.e. order 1 or 2 broths, and everyone dumps in what they plan to eat). As far as individualized hot pot servings as a primary focus, I haven't yes found anything resembling Rad on Denman.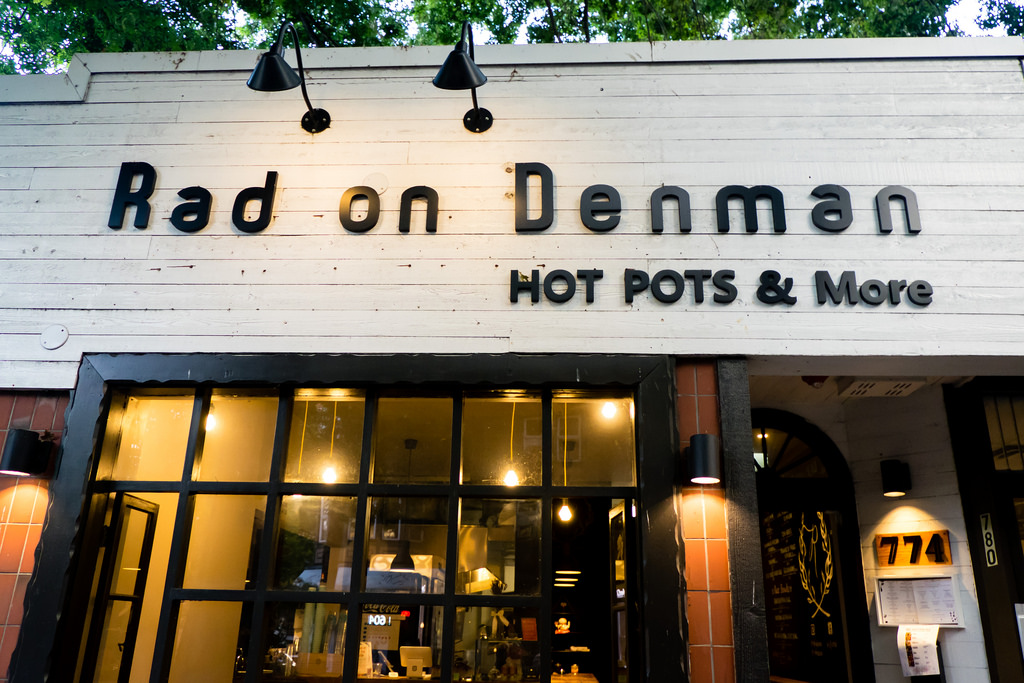 Final Thoughts:
One-liner: A hot pot-focused eatery that fills a missing niche in the West End in addition to providing a satellite location for the drinks that made a name for the original concept
Highlight: Individual hot pots
Price per person: $17-$25
Would I go back? Yes (namely for the hot pot and drinks).