You know a drink is serious when it gets trademarked, right? I kid you not, Cactus Club has one drink pegged with a trademark symbol on their Sunday Funday drink menu. Being a basic soul for rosé, I knew it was only a matter of time before I needed to try the Frosé™, so I found an opportunity when my mum wanted to go for dinner prior to a performance at Jack Poole Plaza in Vancouver. My experience will be from the Coal Harbour Cactus Club.
Food and Drink:
Since I'm not that trashy, I also had a real meal consisting of the following:
Frosé ($6)
Ceviche ($16.75)
Feenie Burger ($17.75)
Made with rosé, strawberries, elderflower, vodka and lemon, the Frosé really was the adult's slushy. For anyone tired of the same old mango bellini, the Frosé had a smooth mix of refreshing rosé and sweet strawberries. However, my elderflower leaf was the saddest looking leaf ever when compared to the Cactus Club website photo. I guess it was more for decoration.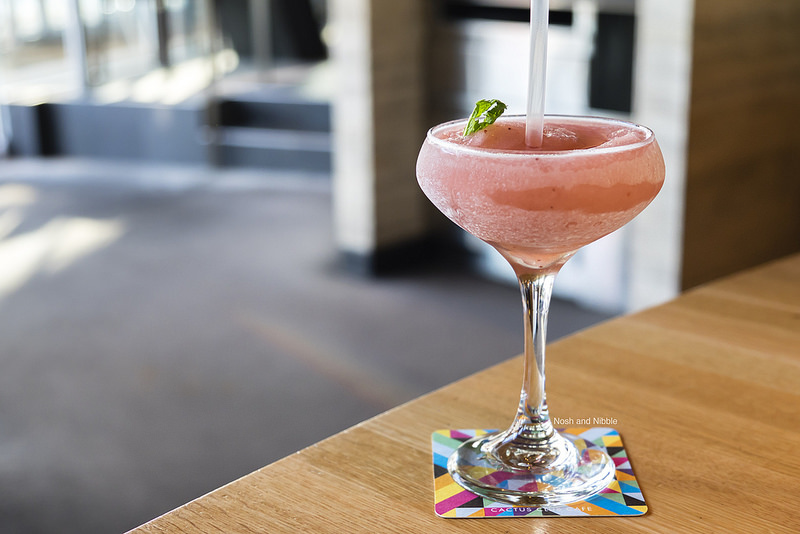 The ceviche had Ocean Wise™ Lois Lake steelhead, sustainably-harvested prawns, red onions, thai basil, mint, cilantro, and nuoc cham. Speaking of refreshing, the nuoc cham here was pleasantly citrusful and had tons of zing. This made eating the juicy prawns and trout a joy to eat. The added tortilla chips made this a fun experience to share.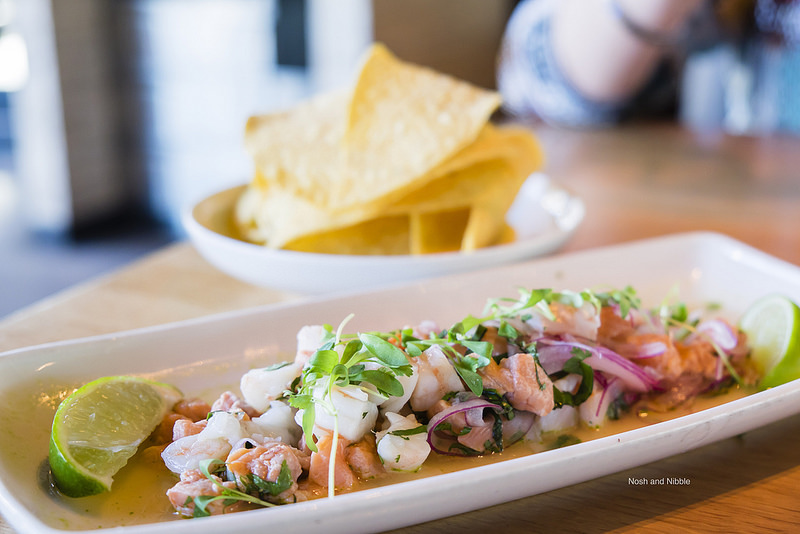 I love burgers, so I had the Feenie Burger as my main. This is essentially the cheddar bacon burger but with sautéed mushrooms added. It's not even a better value than just adding mushrooms to the cheddar bacon burger so having the Feenie name attached feels a bit of a letdown. In any case, the bottom bun got really soggy really fast. Soon, it just gave way to the rest of the burger and died, resulting in me needing my knife and fork. The beef patty was pretty juicy and the bacon perfectly cooked though, so some fronts were delivered. However, I feel this almost $18 burger combo underperformed.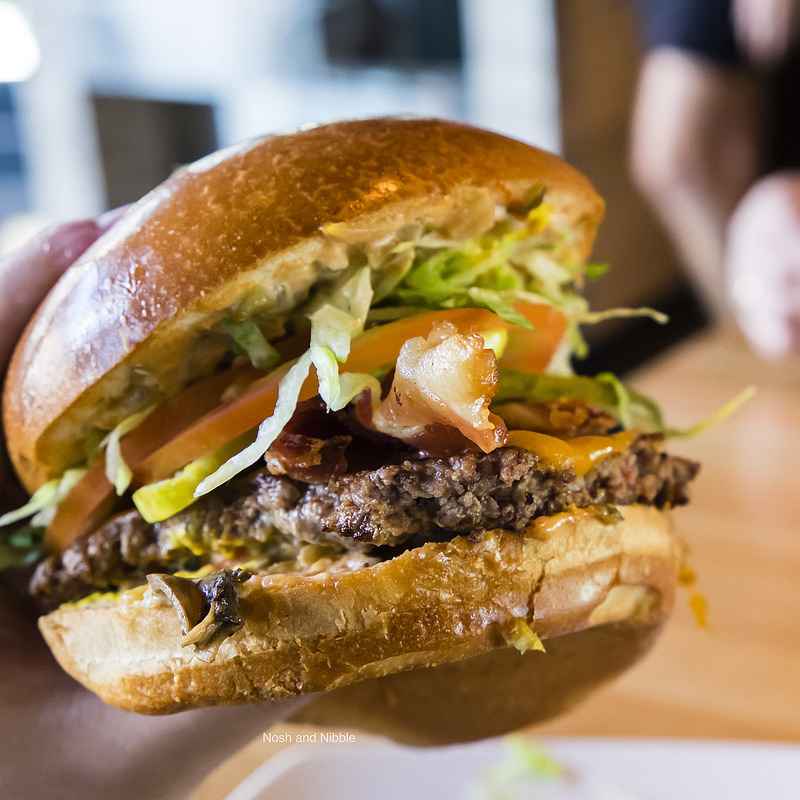 Features:
The Cactus Club in Coal Harbour is massive. Apart from the indoor booths, window seats, lounge, private rooms, and outdoor seats, there has to be at least 250 seats as this takes up a huge chunk of Jack Poole Plaza. Also, the washrooms are A+ amazing. You step on a button to flush a toilet, everything is automatic, and I'm told the girls' bathroom even has a couch (girls, please comment to validate this claim). I'm pretty sure the guys' side is smaller, and it only contains a single armchair, but when you're complaining about the furnishings of a bathroom, you know it must be pretty good.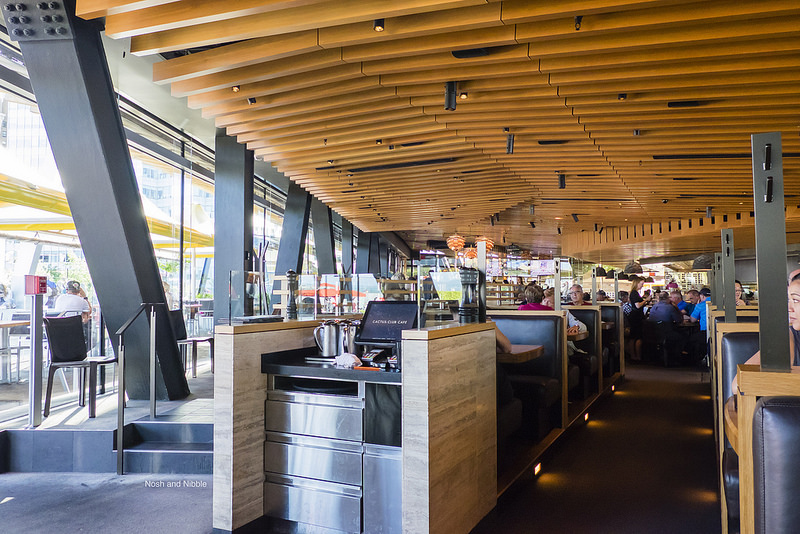 Service:
Service was a huge drag here. Between sitting down and being able to place a drink order was at least 20 minutes. In a larger table group I'd understand, but it was just the two of us. I didn't need long to know I wanted to order a Frosé.
Food took about 20 minutes to come which is just fine, but on the appetizer, the server did not bother telling us the ceviche was here; she just placed it on the table and walked away. When our main dishes came, the server mixed up our mains and served them to the wrong person.
Finding our server after our meal was also a pain as it looked like she was serving at least 20 tables amongst 2 rows of booths (it's a lot of walking). I think Cactus Club could do to add more staff since a lot of the servers are in heels so having faster servers is out of the question.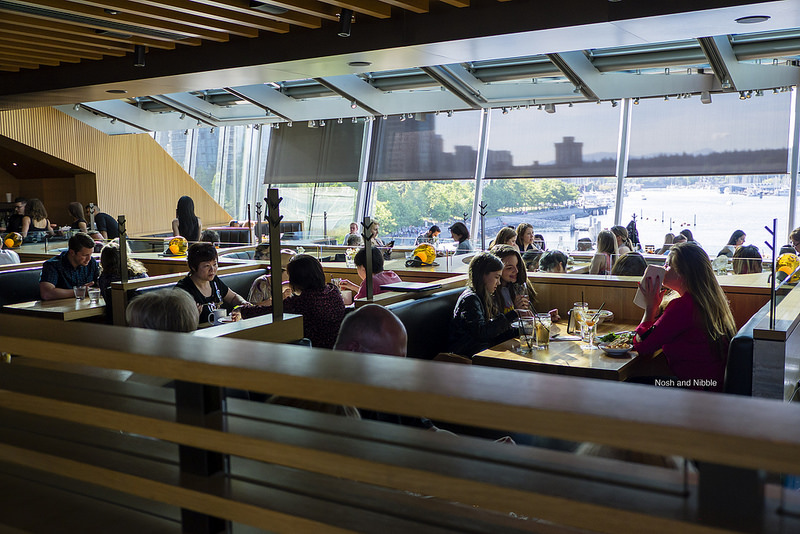 As such, water top-ups happened once, but they happened right when we found our server to ask her for the bill. But the lackluster service didn't end there. As I finished paying the bill, our server literally just said "Okay thanks, bye." and left our presence. Not cool.
It was mindnumbingly busy on a Thursday summer evening. They literally have 3 hosts in the front finding tables, a dedicated person to lead guests to their table, plus an usher organizing the outdoor line letting them in one-by-one. We had to wait 20 minutes for our table and this was after arriving at 5:45pm. Plan your evening accordingly but I'd recommend making a reso way in advance if you must dine here.
Final Thoughts:
One-liner: Very creative drink concept but very lackluster service
Highlight: Frosé
Price per person: $18-$40
Would I go back? No.