I'm not one to frequent a lot of Chinese restaurants but I savour every chance I get. I had the chance to dine at Chef's Choice on a fellow food blogger's recommendation and this experience was very tasty, priced well, and situated in a restaurant with great décor and service. So many boxes are checked off here and I'm ecstatic to share some good news on a dine out on my dime for once. Dinner at Chef's Choice is a solid destination in Vancouver if you're looking for something a little less grimy the typical Chinese seafood restaurant.
Food:
Team OG Bloggers  (Foodgressing, Foodology, Vie a Maggi, Picky Diner, Sherman's Food Adventures, Vanfoodies) came here for a weekday dinner and I had a great taste of the following:
Peking Duck Two Courses
Lobster with Yi Mein Noodles in Cream Sauce
Sweet and Sour Pork ($28.80)
Black Truffle Chicken
Pea Sprouts with Garlic ($28.80)
Braised Ling Cod Tail in Brown Sauce ($68.80)
Stir Fried Flat Rice Noodles with Beef ($23.88)
Marinated Chicken with Black Truffle Sauce
You can't talk about a good Chinese meal without ordered a peking duck dish which at Chef's Choice is a two-course ordeal. First up is a "tableside" cutting of the duck skin which you'll spoon onto a thin crepe and dole out some hoisin, onion, and cucumber before chomping down.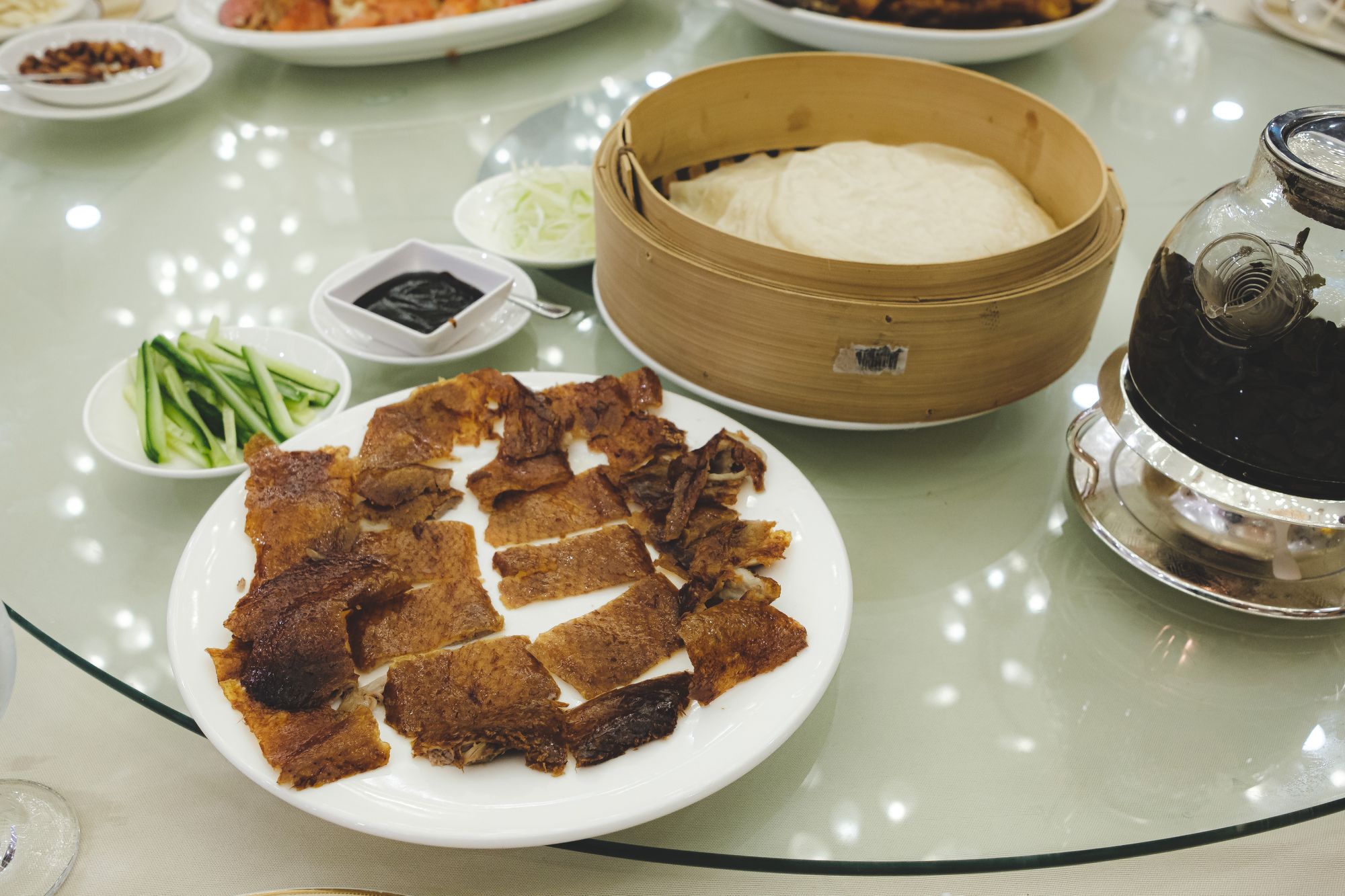 The crispy duck skin was great, however the presentation was questionable since the waiter insisted on doing it in his little corner cutting station. My take is this is the presentation you pay for and if it's not going to happen at the table it might as well happen in the kitchen to save the server some time.
The rest of the peking duck course comes in this ground duck dish mixed with bits of carrot, celery, turnip, and to our pleasant surprise, puffed rice! You'd take a spoonful of duck and lather it across a leaf of lettuce to chomp down on. Hoisin sauce is optional for this step but I think it completes the experience.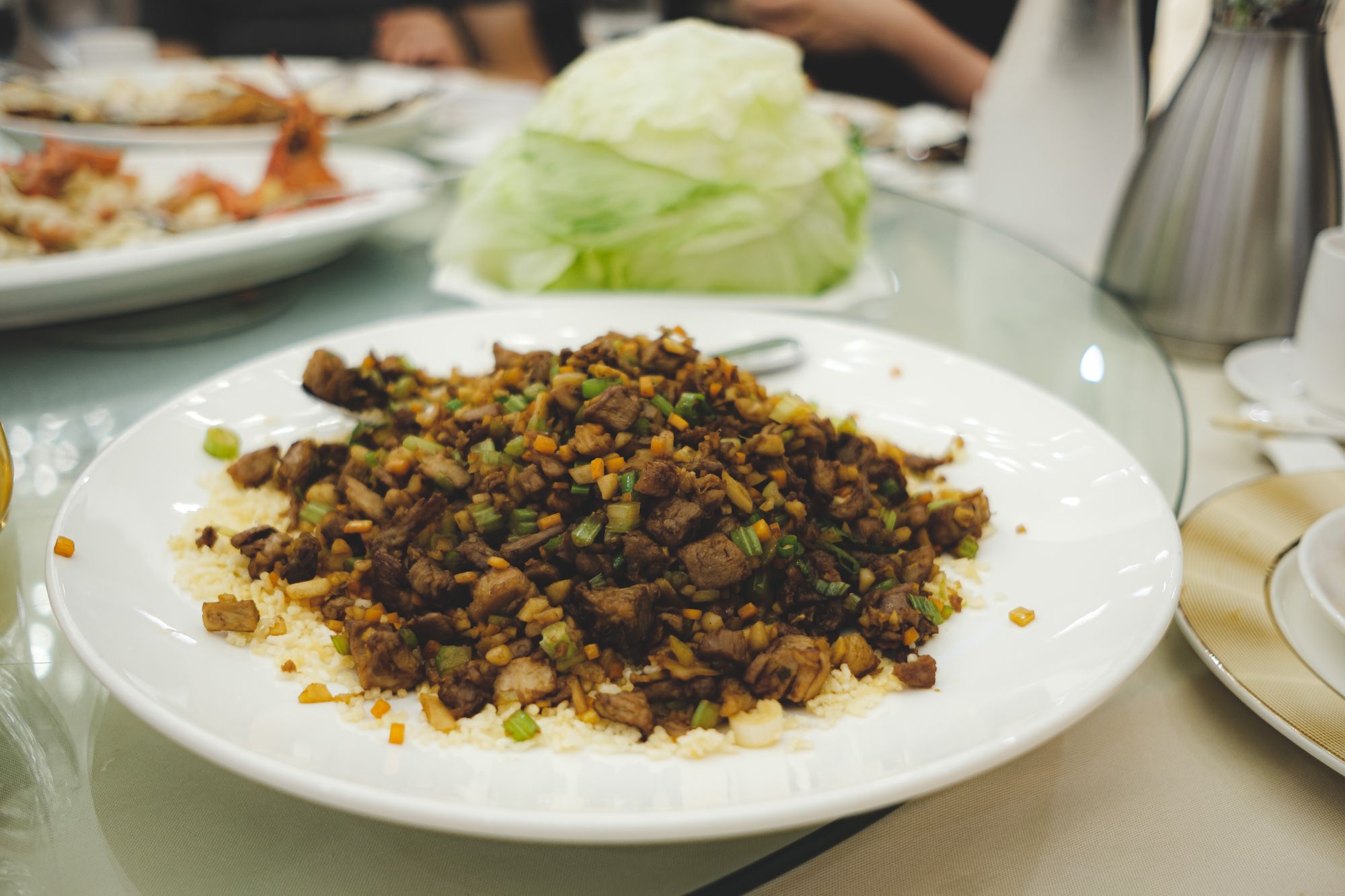 Moving on to some seafood, we opted for a lobster with yi mein noodles in cream sauce. This was a full power lobster stewed in a mess of flat egg noodles. I thought this lobster lacked much of any seasoning and the only saving grace was that the noodles had a distinct bounciness that made them fun to chomp down on.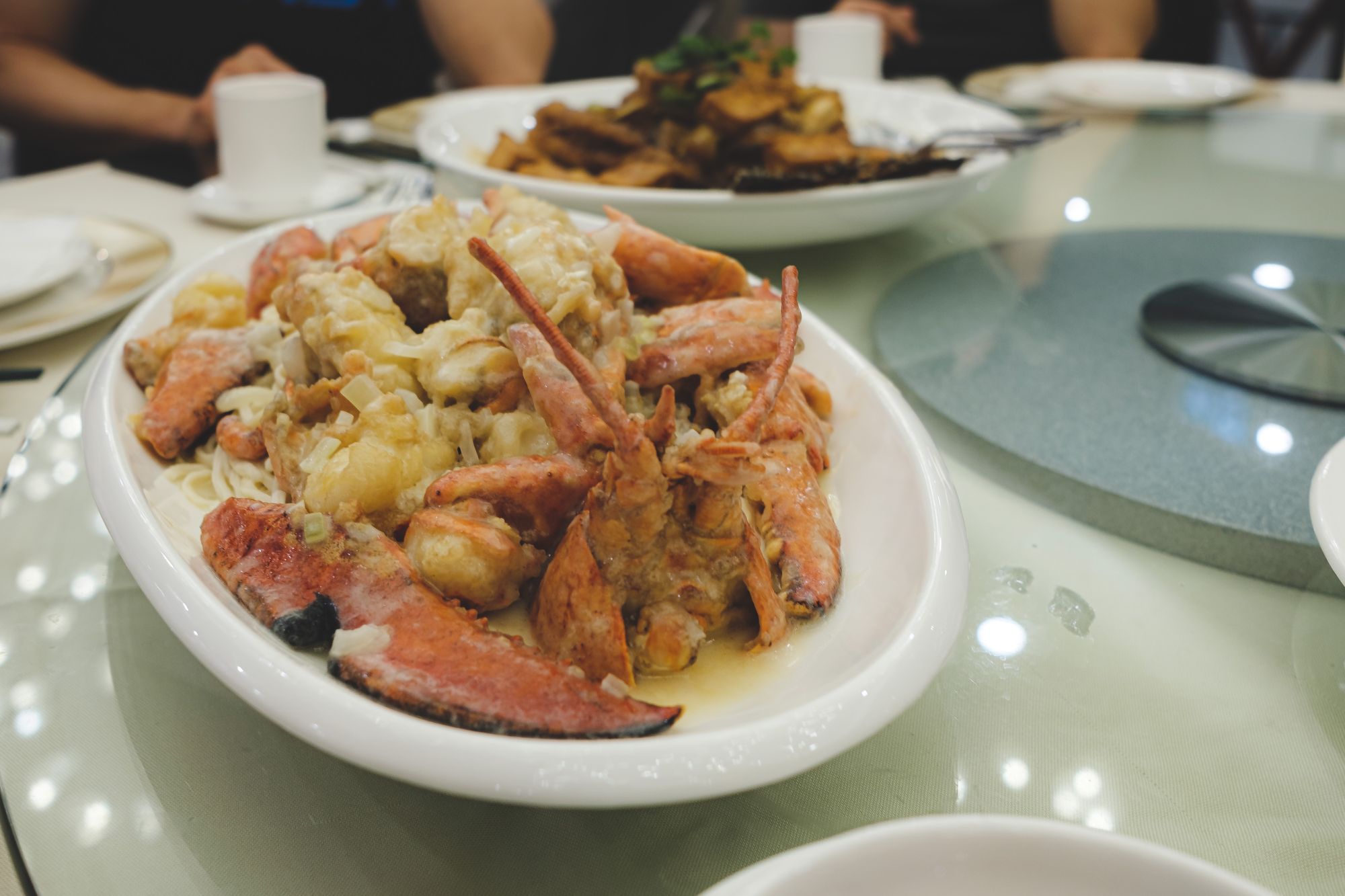 You'll laugh at us ordering a sweet and sour pork at a posher restaurant but we thought this would be a good benchmark. If it tasted on par with a Manchu Wok, we would just leave. Thankfully this was not the case and while this was more sweet than sour, the pork was also quite lean which made for a good balance of savoury and tang.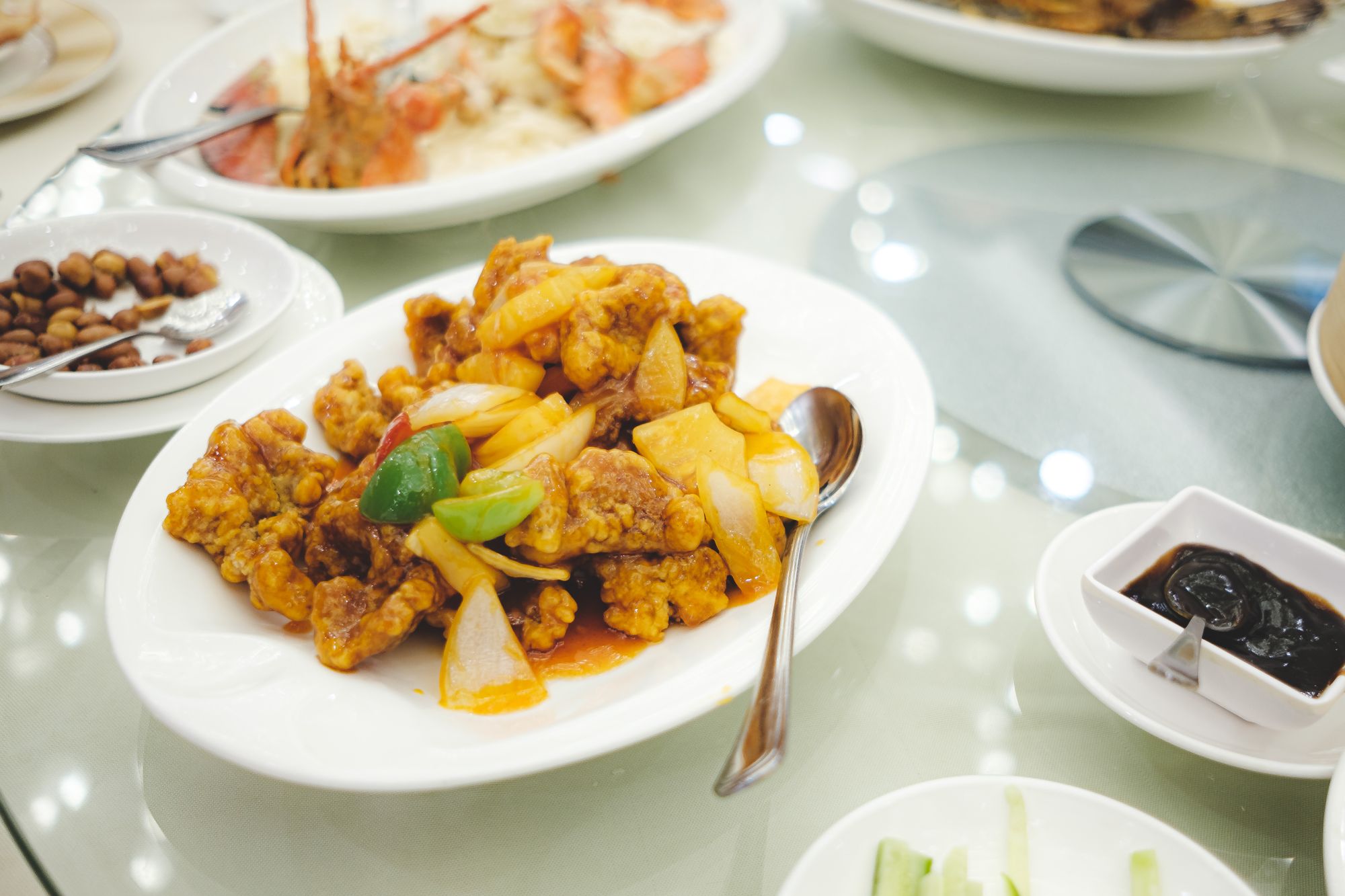 My favourite dish of the night was the black truffle chicken. This was an explosion of umami, no doubt fueled by the truffle oil dressing the meaty cuts of chicken. I couldn't help but feel a little fancy having truffle flavour in my Chinese dinner!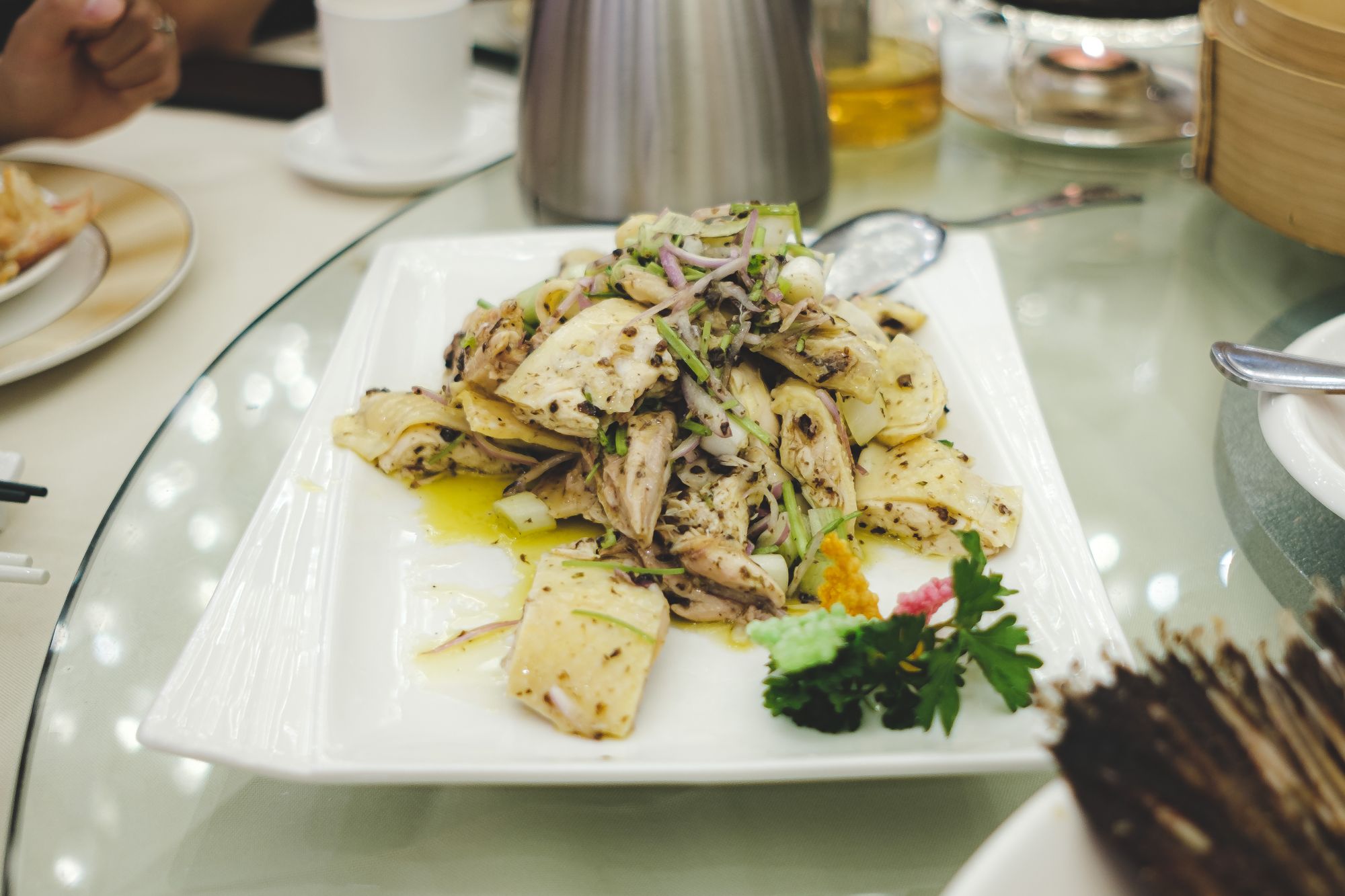 You can't have a Chinese dinner without some vegetables. The pea shoots were an arbitrary choice but the garlic sauce dressing them didn't leave any chalky feeling on my teeth which gives this a passing grade.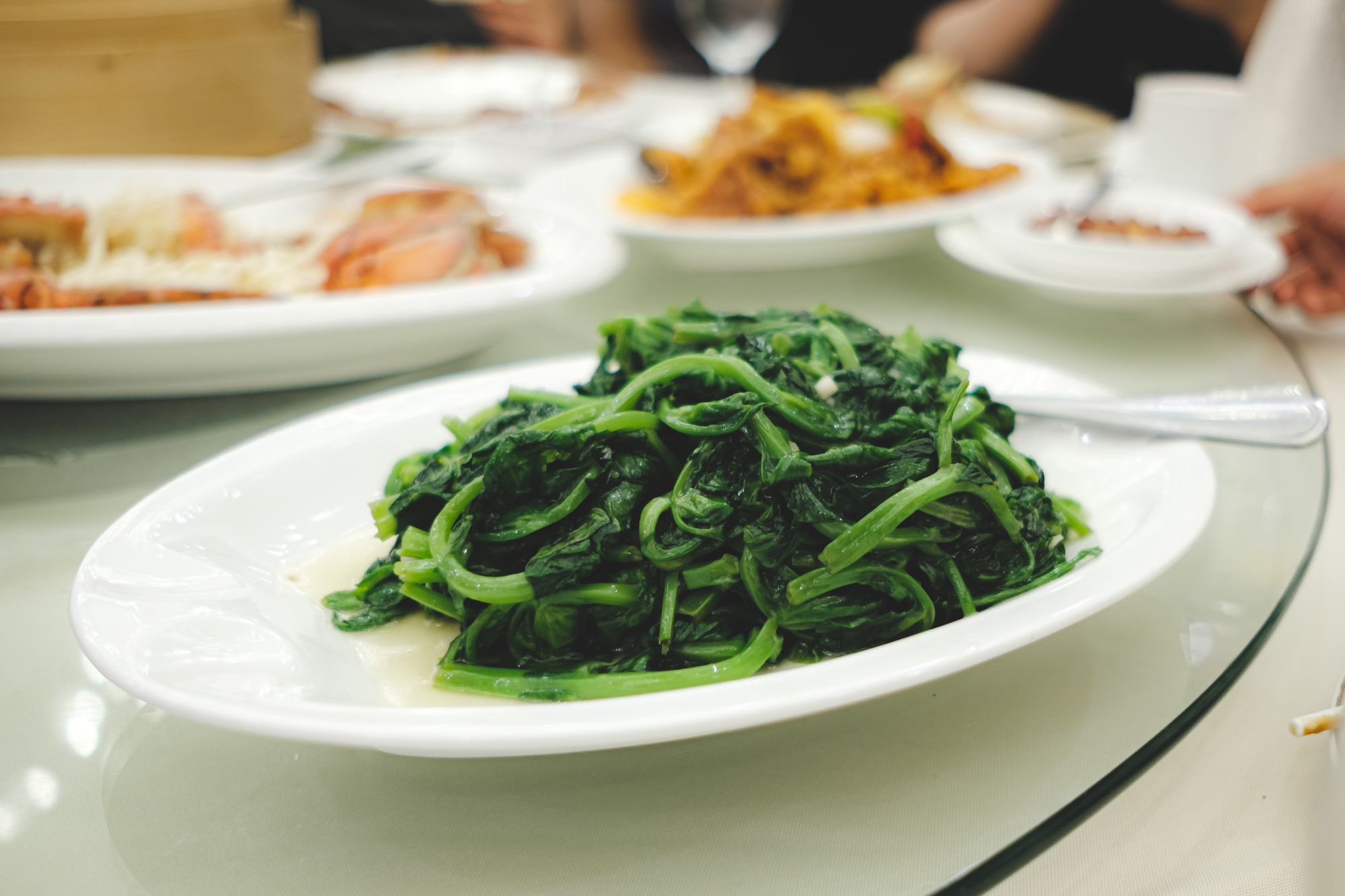 Ling cod tail is no joke – this fish is huge! There was a good meatiness to this tail and there was a generous amount of soy-based sauce to go with the tofu accompaniment.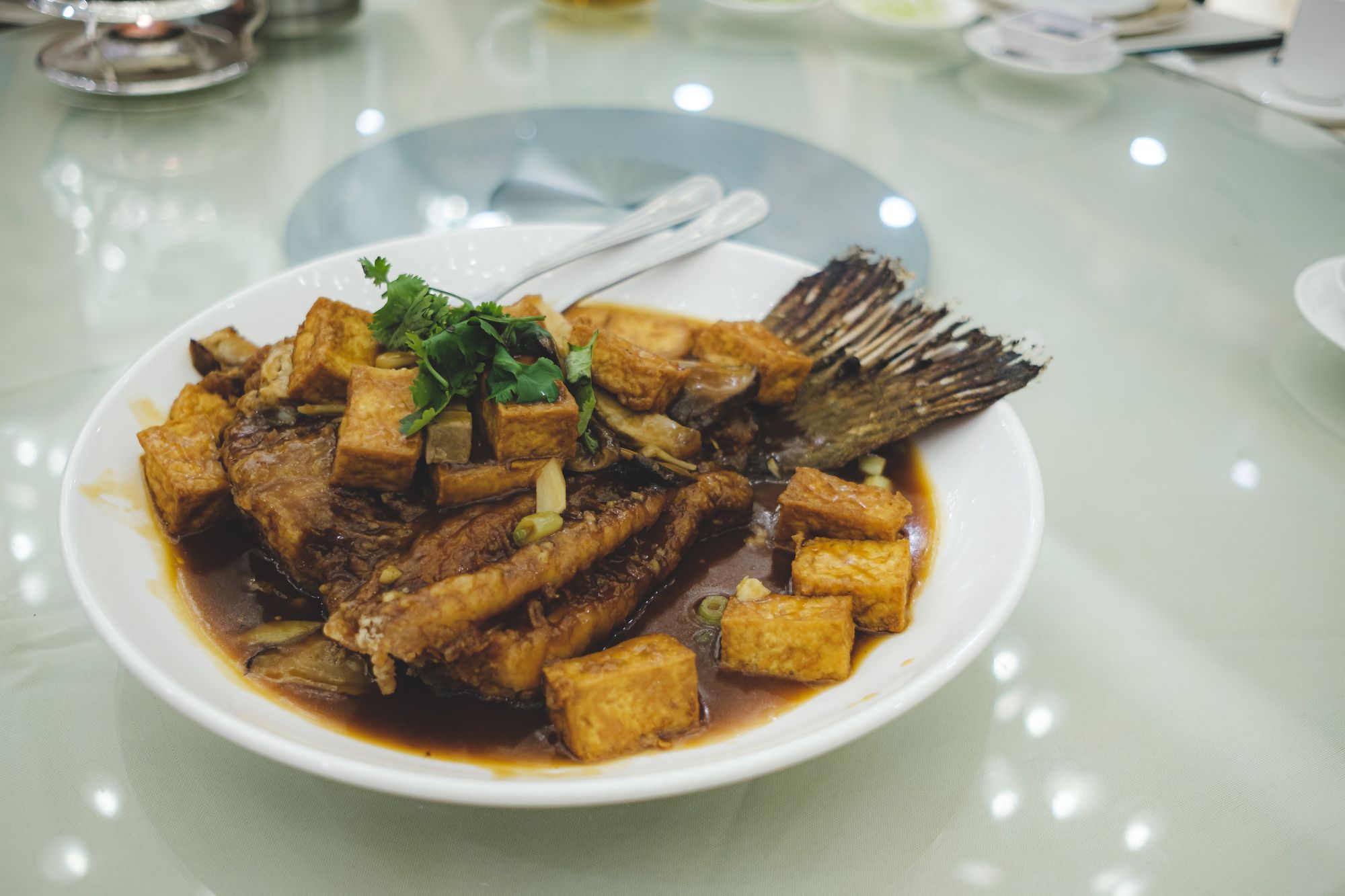 Another classic dish we ordered was the stir-fried flat rice noodles with beef. Again regarded as a benchmark dish, the "wok" fragrance present elevated the flavour of these rice noodles way above anything I'd find in a Chinese food court (even the one at Crystal Mall!). Highly recommend this dish if you're stuck on making a choice.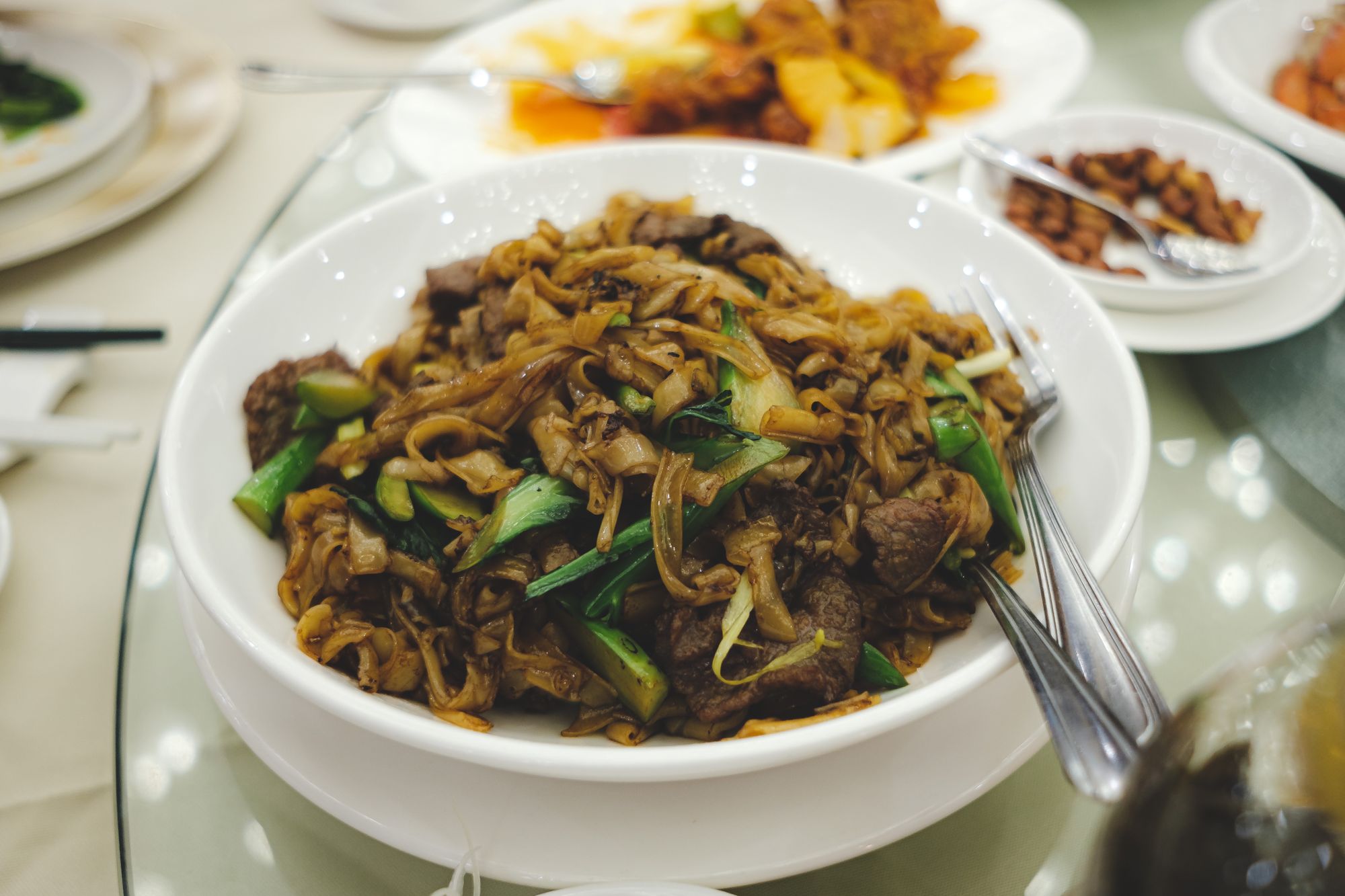 Features:
Chef's Choice is a beautiful restaurant in the Fairview neighbourhood of West Broadway. It looks like it was recently renovated and the result is a brightly lit interior with lots of new finishings in the space. Even the washrooms are updated with a very cool forward-slanted draining basin on the faucet. There appears to be seating for about 100 guests amongst interspersed tables separated by plastic shields.
Service:
Service at Chef's Choice was for the most part satisfactory. Apart from the peking duck strangely being cut in the dining room but not tableside, the servers were all friendly and accommodating for our group of 7. For their menu, they have an iPad available so you can peruse pictures of the food which is very helpful but the fresh sheet sadly isn't present on the iPad, so be wary.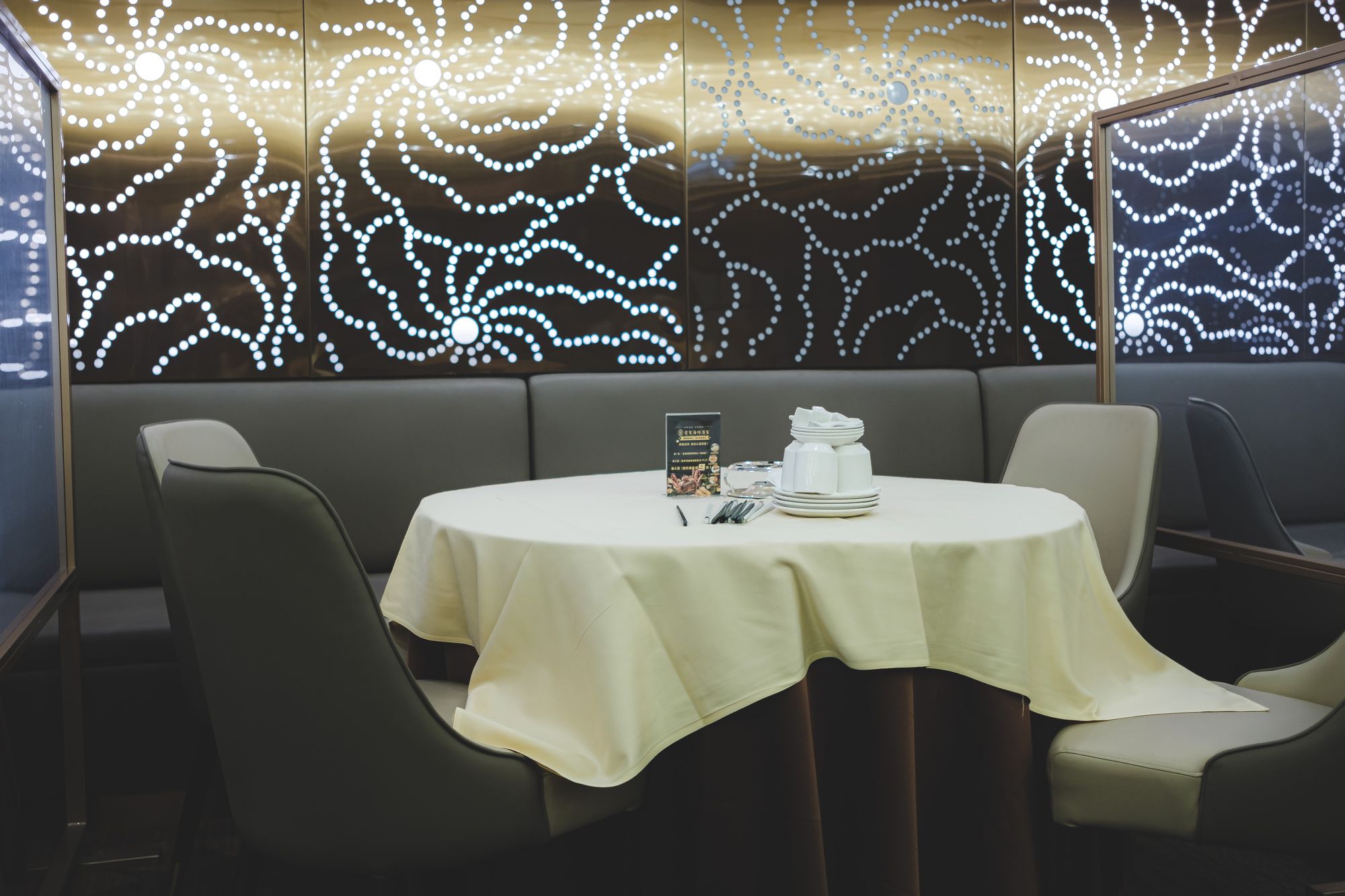 One nice thing the restaurant did for us was give us a serving of red bean buns to accompany the birthday cake we brought to the restaurant. There's this unwritten rule where if you order enough food the restaurant will bring over a dessert for you and Chef's Choice nailed the birthday cake dessert accompaniment here.
Final Thoughts:
One-liner: Tasty, elegant Chinese restaurant that serves Chinese creations that are a clear tier above what you'd normally associate for the quality in the more traditional dishes
Highlight: Black Truffle Chicken
Price per person: $40-$60
Would I go back? Yes.