It's not a dive bar in the sense of being a grimy drinking hole, but Pizza Coming Soon keeps a lot of the old bones of New Mitzie's Restaurant and re-colours it in a eclectic palette in both vibe and menu as a Japanese snack bar. Dim lighting, non-binary washrooms, and a menu that feels very drink-forward has me thinking this is the place to be for someone looking for an offbeat adventure that plays outside the typical boundaries of a Vancouver bar/restaurant. It's personally a one-time visit for me but I'm happy to report this is a niche restaurant that isn't your typical slice of a snack/tapas bar.
Food:
Team Tastic came here for a weekend dinner and I had myself a great taste of the following:
Happy Hour Menu
Pork Teriyaki Burger + Fries ($6+$3)
Katsu Sando ($12)
Chicken Wings with Yuzu Pepper Butter ($12)
Food Menu
Nasu Dengaku ($8)
Mushroom Tempura ($12)
Softshell Crab ($16)
Ton Toro (~$15)
Matcha Pannacotta with Strawberries ($6)
We came in the closing minutes of happy hour and ordered one of each of the foods. The pork teriyaki burger was an amusing start to dinner. Coming with a hand-ground grilled pork patty, teriyaki sauce, lemon mayo, and iceberg lettuce in a potato bun, the presentation and taste fell flat because this patty was charred beyond edibility. It's a bad look when you can taste the carbon in one's patty. I deliberated over sending it back but decided to try it out anyway. Bad decision. Check your patty because the staff missed checking ours.
Fries were alright here but nothing to write home about. If you enjoy McDonald's style fries you'll enjoy these. Mia Stainsby raved about the ramen seasoning on the fries in her review but this seasoning was way too faint in my experience.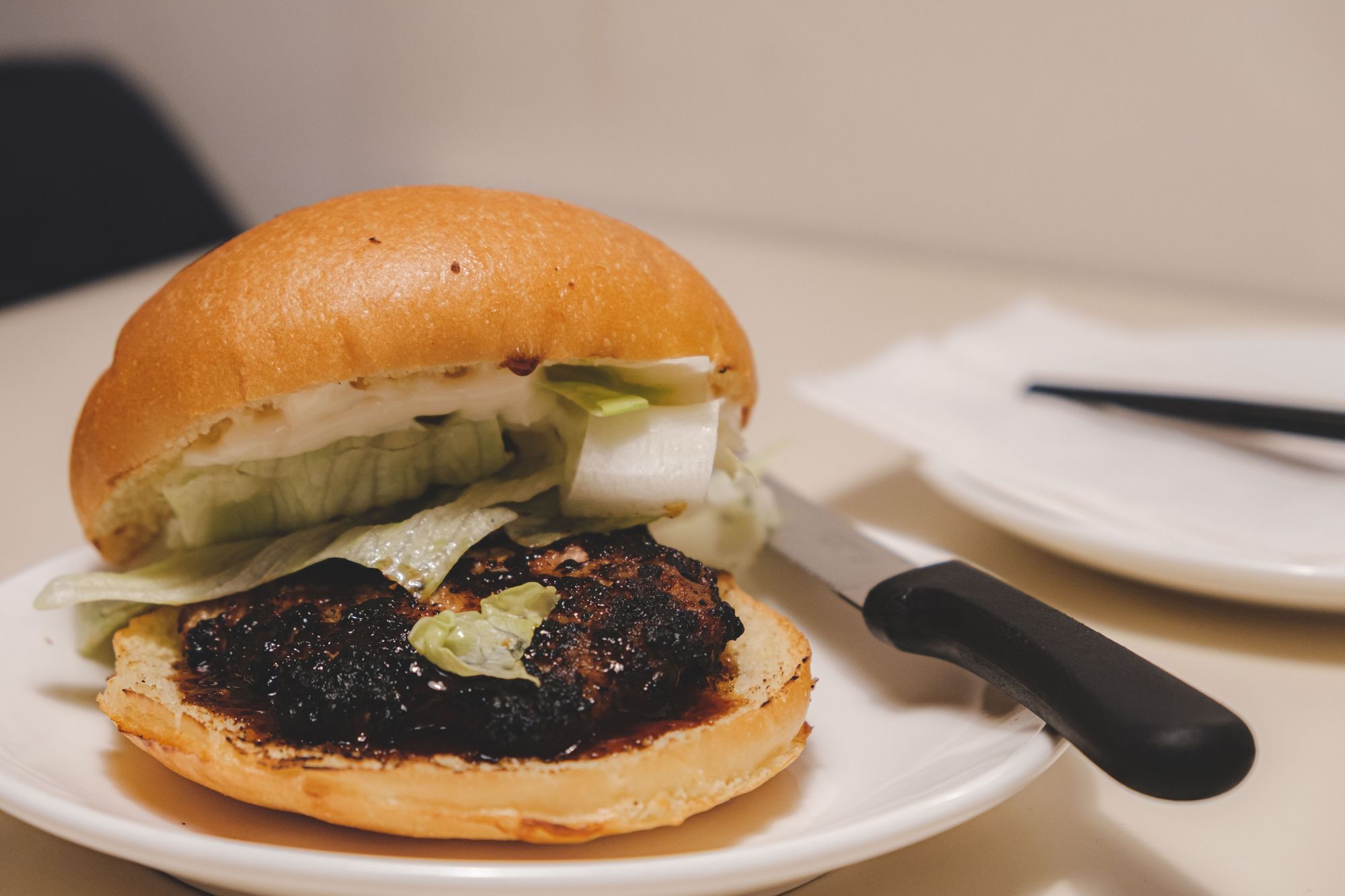 The katsu sando was a serving of fried pork cutlet, cabbage slaw, wasabi mayo, and tonkatsu sauce squished between "thicc milk bread". I didn't make this description up – this is a menu with culture.
The sando was my favourite food item of the night. I love to see a good breading-on-bread situation and the fried pork cutlet delivered on balancing lean and fatty bits when combined with the sauces. The sad thing about the katsu sando is that it's only available for happy hour (5-6pm) and late night (10pm-close). It doesn't seem to be available on the regular food menu.
Chicken wings are a happy hour favourite and these were no different. Our wings were juicy with a satisfying crispiness on the skin. The wasabi mayo had some good kick but if you're not into wild sauces there's always the good ol' salt and pepper if you want something traditional.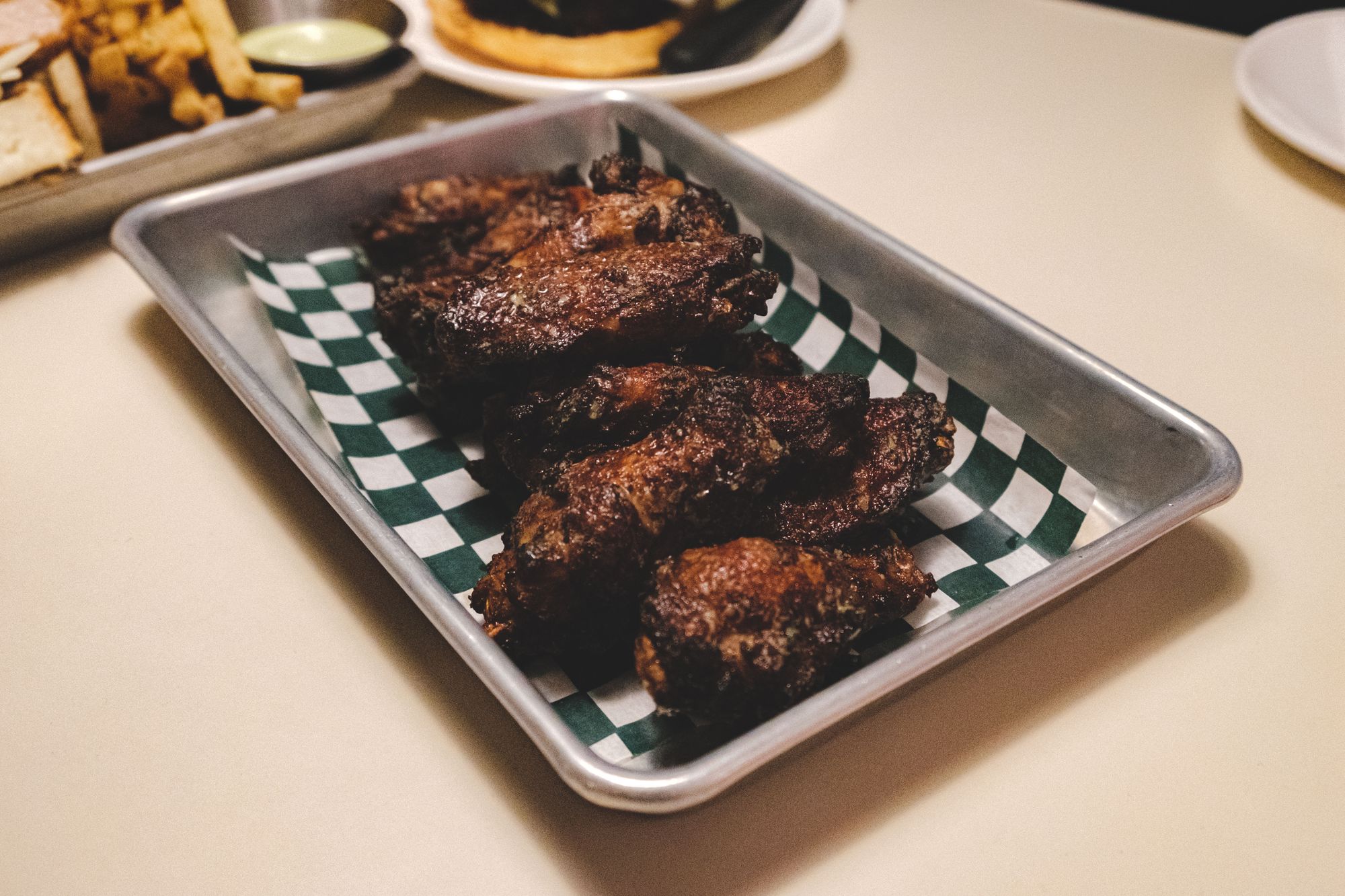 Moving onto the regular food menu, everything we ordered was meant to be shared and served as such. From the vegetable menu we had the nasu dengaku (half eggplant with a sweet and sour miso sauce) and the mushroom tempura (assorted mushrooms and ponzu mayo). The eggplant was a hearty flavour but could have used a little more sesame to balance out the intense sauce it was lathered in. The mushroom tempura however, was the bomb dot com with a light batter that was aching to be dipped into the creamy ponzu mayo. I'd opt for the mushroom tempura if you were torn between veggie choices.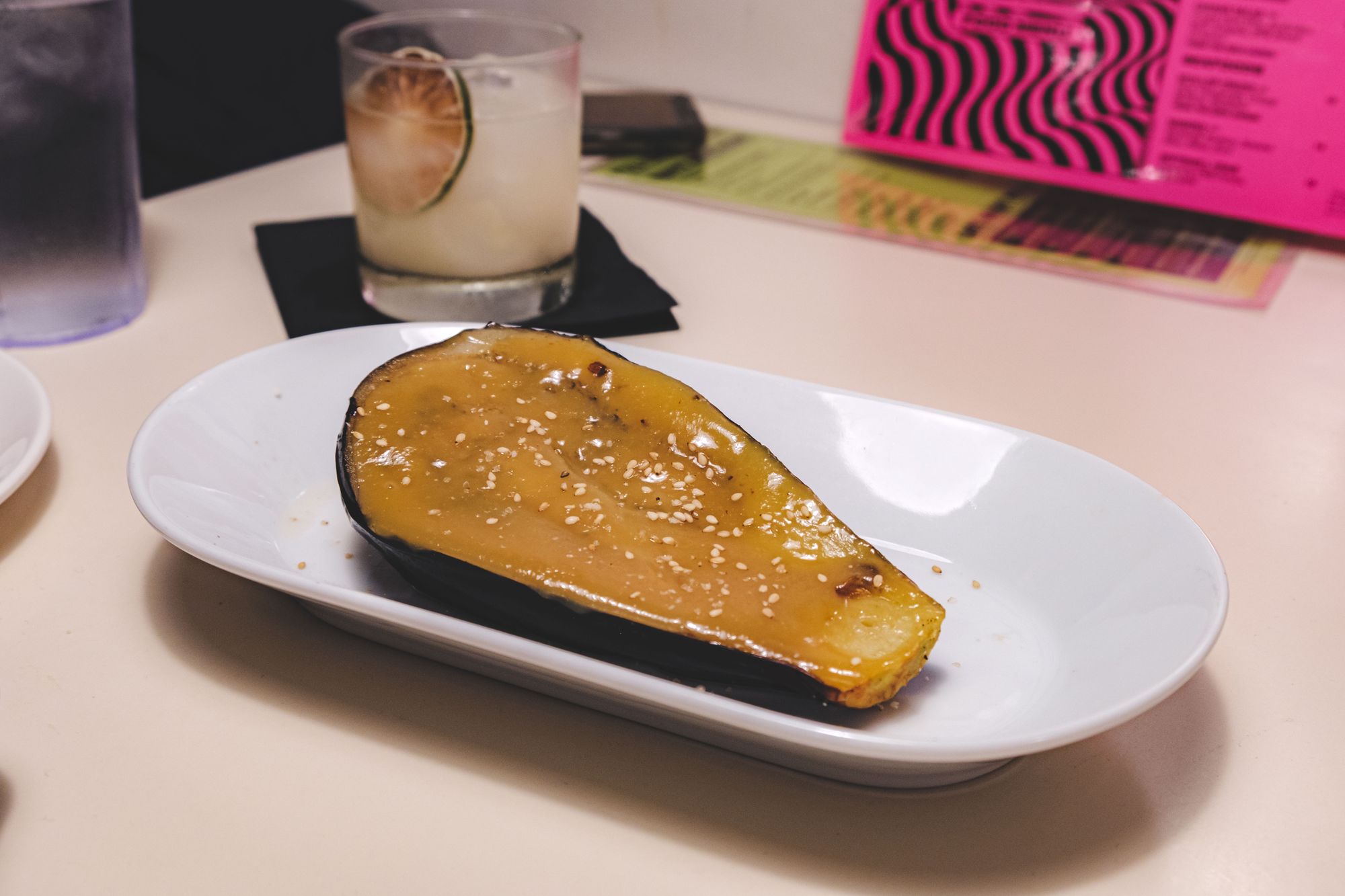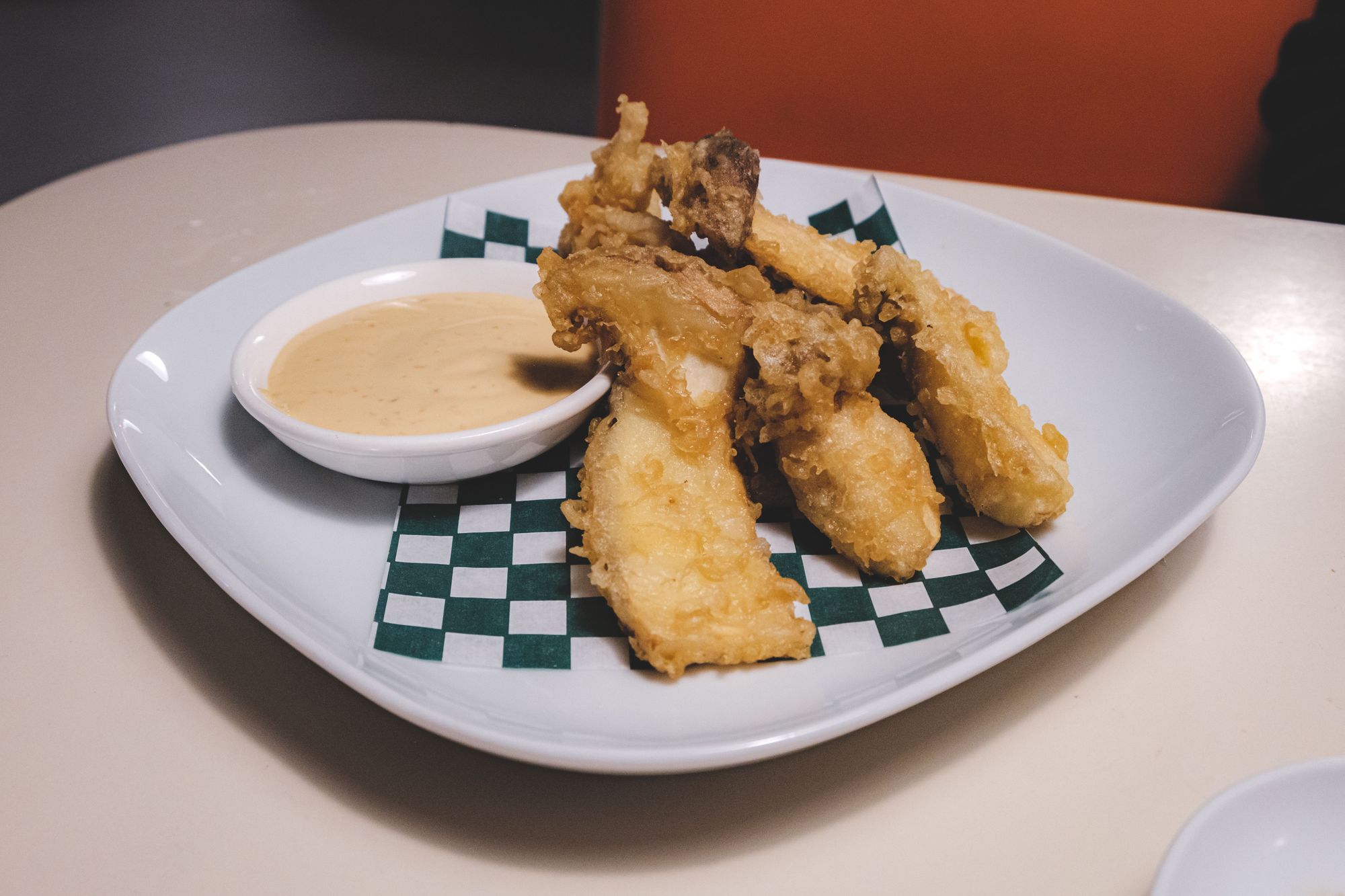 From the seafood menu we had the softshell crab which was served with a Japanese chili ponzu and togarashi (ramen-esque seasoning). The heat was real in this chili ponzu but worth it in order to complement the softshell crab which were very juicy with a tomato-y flavour. This softshell crab was the coolest item that we ordered.
From the meat menu we had the newly-added ton toro which was pork jowl served with a housemade yuzu pepper ponzu and yuzu kosho paste (citrus garlic-y sauce). These were delightfully chewy with a good blend of fattiness in each strip of jowl. Make sure you get some onion and pea shoot on your chopsticks to balance the meaty flavour out.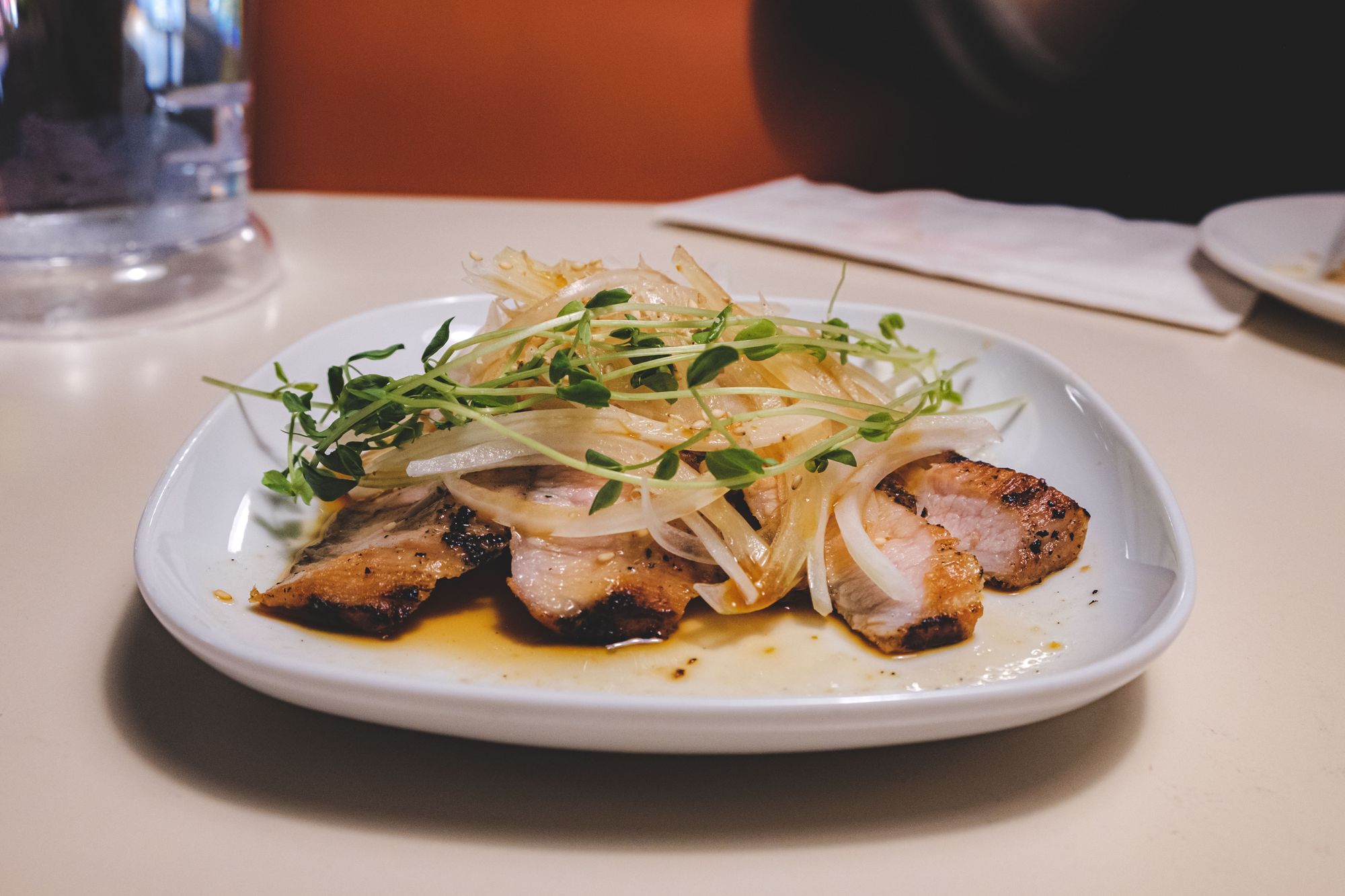 To finish, we shared a matcha panna cotta with strawberries. Man, this was good! I was pleasantly surprised by the mild sweetness in this thick and creamy dessert. The matcha tasted pretty low-grade and was more yellowy than green in colour but for a $6 dessert, I thought this was the right kind of complement for the rest of the menu. Don't sleep on this dessert.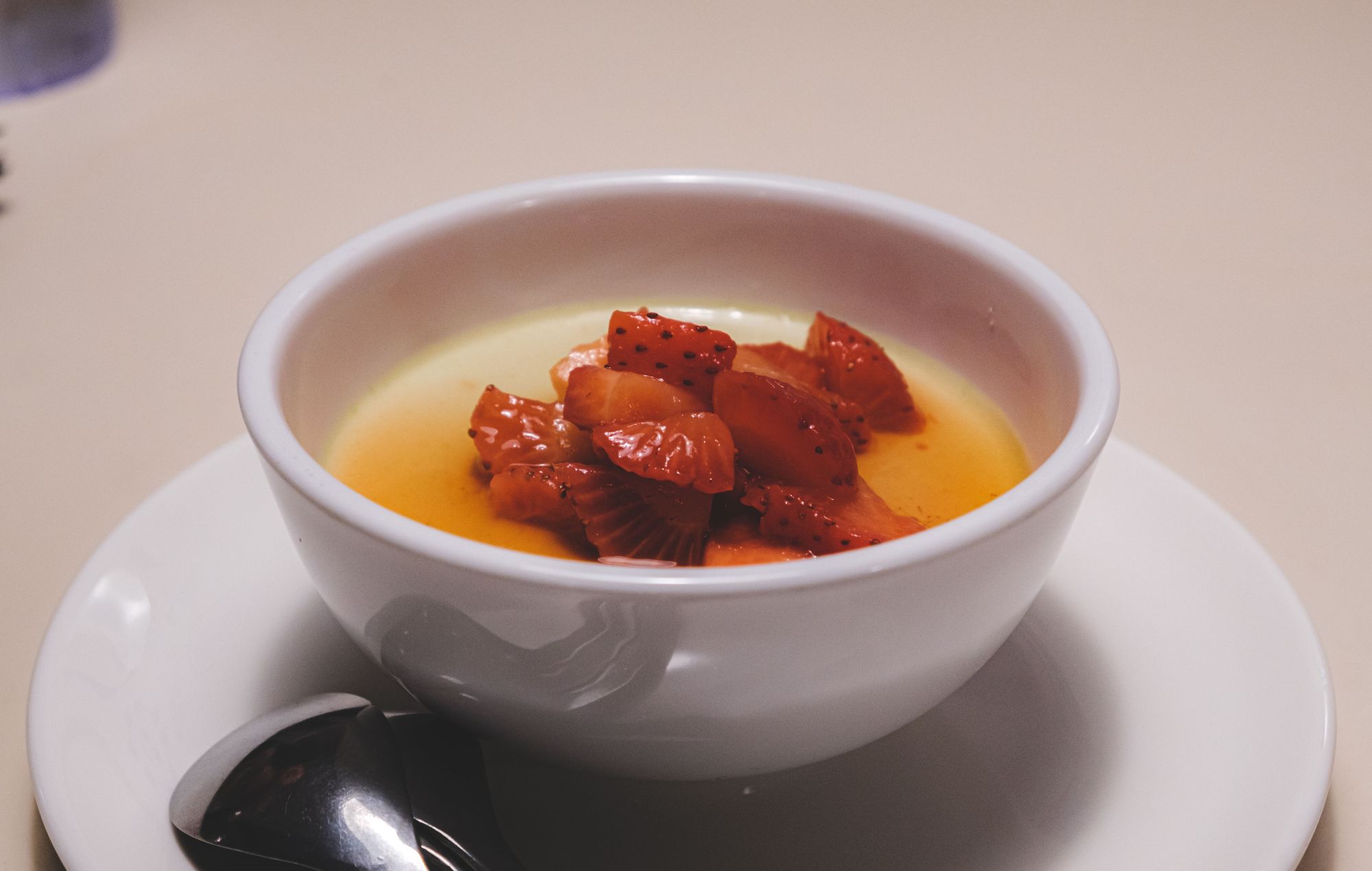 Overall, I thought the menu was creative but nothing hit me as something I felt I needed to come back for or that I regretted having to share. Kudos to Chef Keith Allison for creating a novel menu though!
Also keep in mind that there is no pizza on this menu and the alibi is that the non-existent pizza oven is coming into order "soon". Cheeky!
Features:
Pizza Coming Soon takes up residence in the iconic old "New Mitzies Restaurant" which was one of those iconic Chinatown restaurants you probably went to if you were a Vancouver kid in the 90s. The classic Hong Kong diner look has been revamped with a colourful palate that retains the diner seats and re-decorates the place with a lot of plants and cat clocks – I got some Studio Ghibli vibes taking in the interior. Currently there is seating for about 60 guests.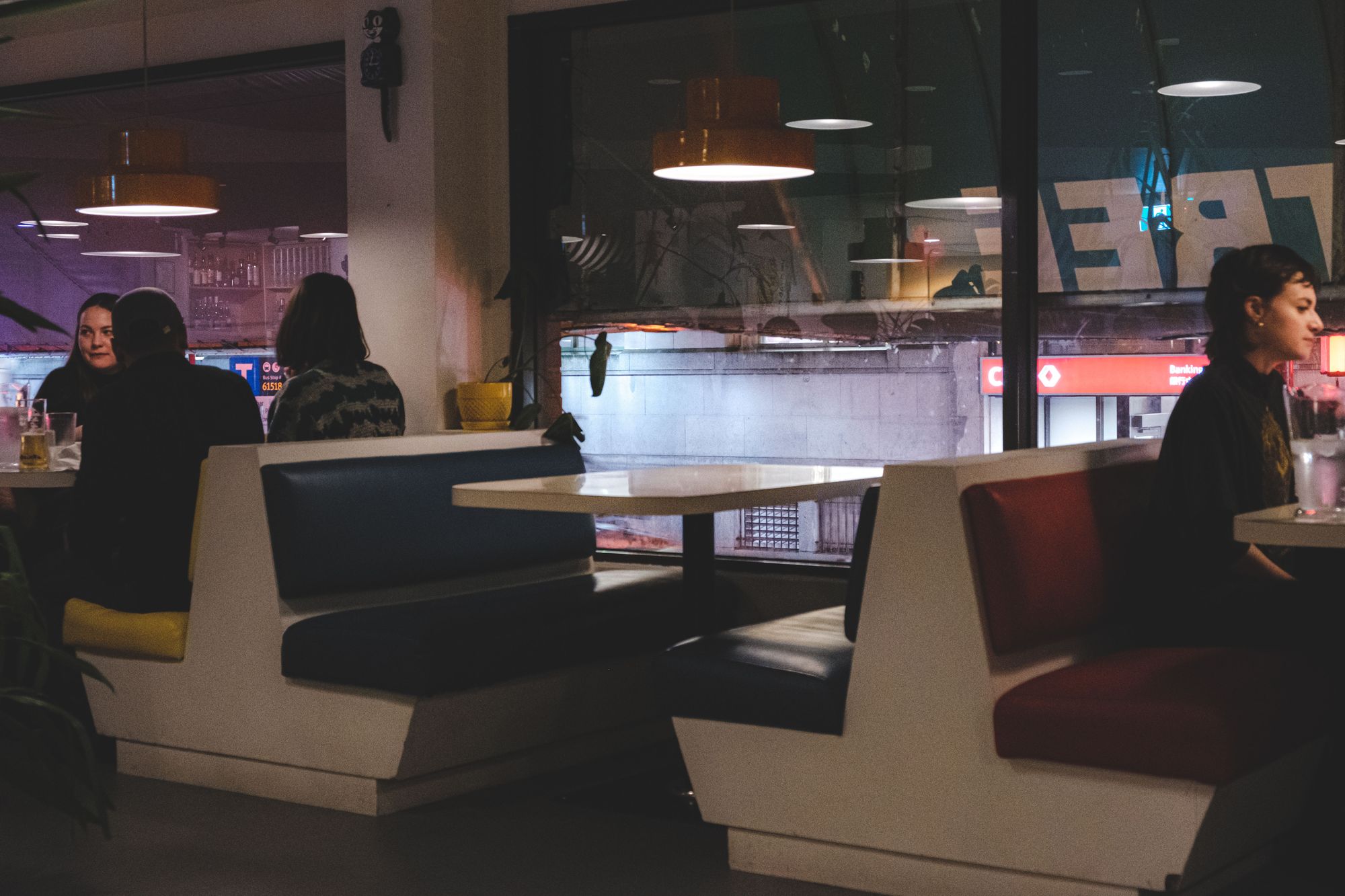 The washrooms are worth writing about. They don't specify as either "male" or "female" washrooms. Rather, the 2 doors are labelled with "X toilets and Y urinals" so you know what kind of fixtures you're getting into. Obviously this is a holdover from the old gender-specific washrooms but is a really cool way of making washrooms more accessible to non-binary diners.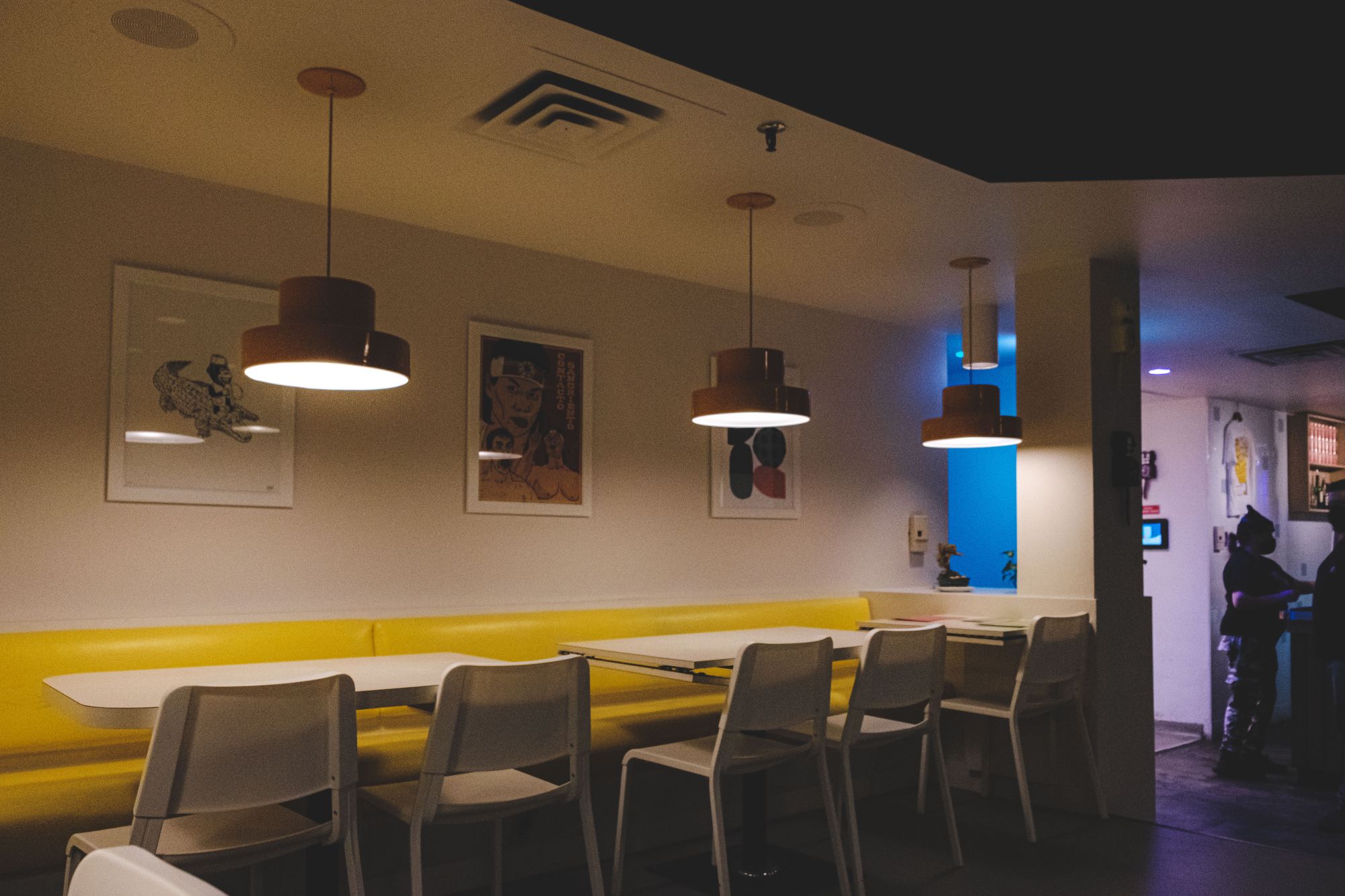 By the way, the Pizza Coming Soon website feels like it's straight out of the late 90s with marquee-style banners. My dream Neopets webpage may have looked similar.
Service:
The staff are hyper-aware of, I guess, how unfamiliar some of the sauces and ingredients might be for their target audience – 20-somethings. I'm used to a lot of flavours as a blogger but our server checked with us to ensure we were okay with a wasabi mayo on the katsu sando and advised that we could skip the skin on the eggplant (nasu dengaku). These "wild" ingredients weren't a problem for me but it's cool that the restaurant is consistently setting expectations with its diners. Our food started coming about 15 minutes after we ordered and arrived in a steady stream.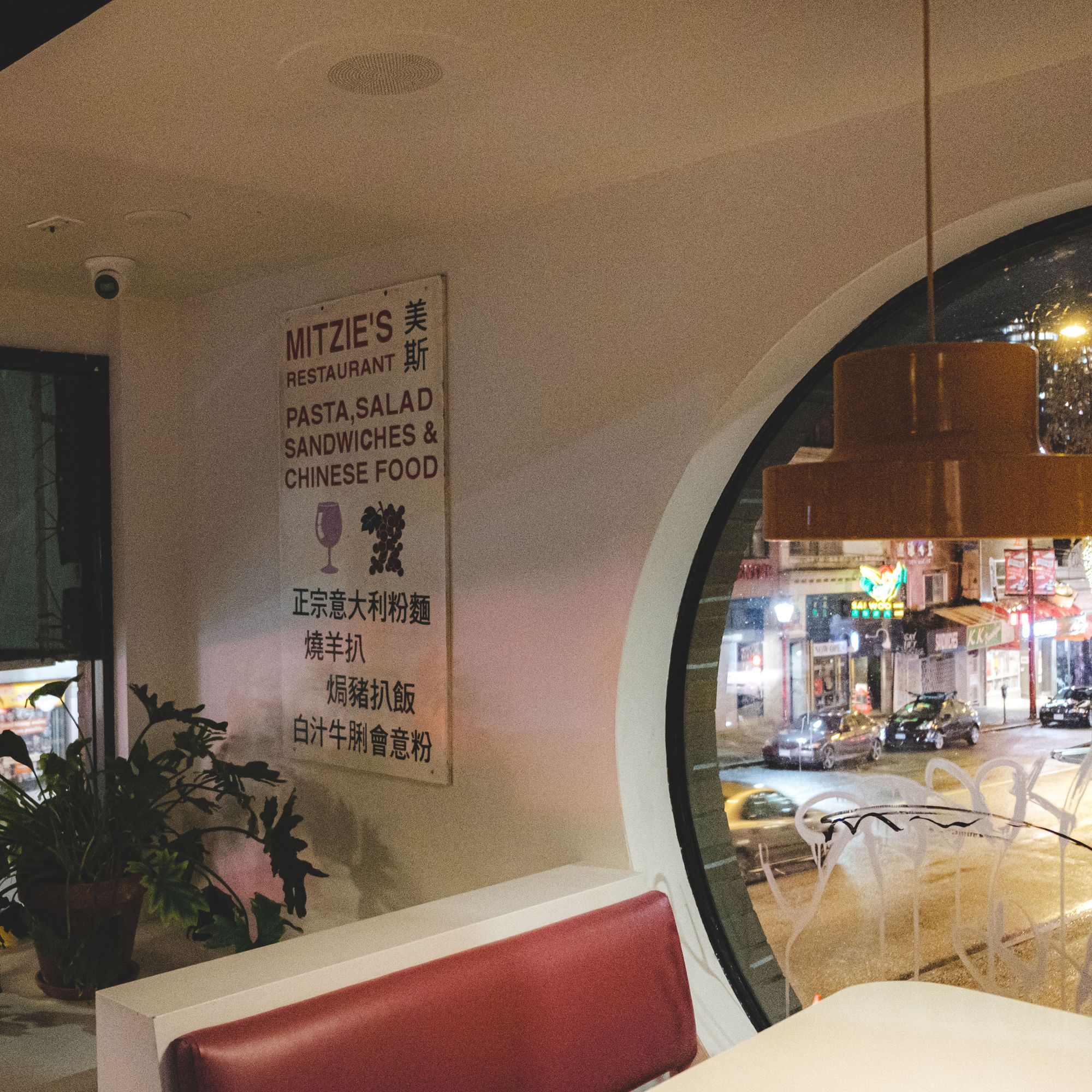 We made a reservation at 5:45pm but there was still walk-in space when we arrived. By the time we left at 7:30pm the restaurant was still only about 80% full so you might be able to just walk in at your fancy with a group of up to 4. I presume the type of people who frequent Fortune Sound Club can pre-game at Pizza Coming Soon.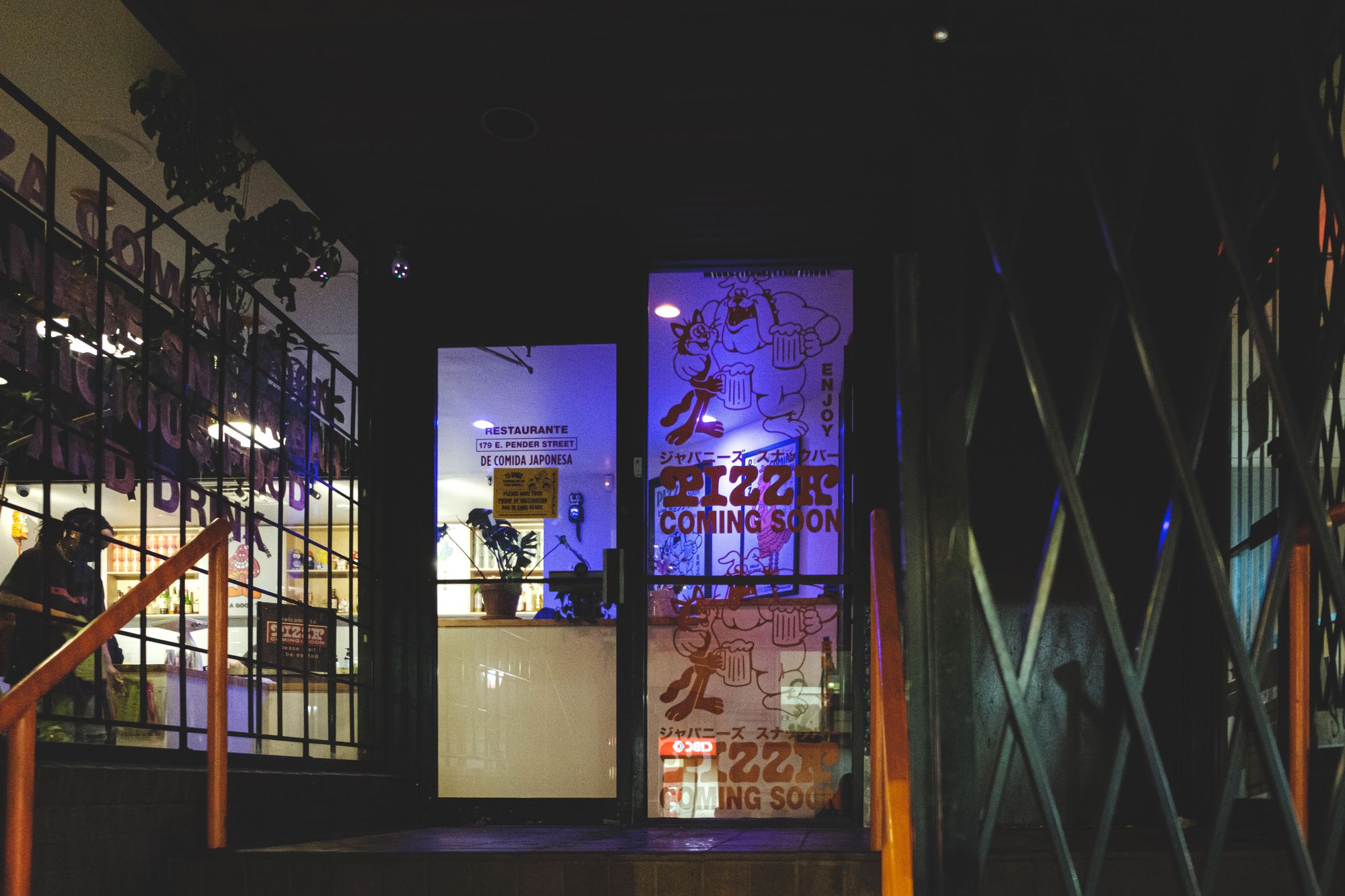 Final Thoughts:
One-liner: Eclectic, if inconsistent food offerings in a novel menu with a very modern take on washroom accessibility
Highlight: Katsu Sando
Price per person: $20-$40 (cheaper during happy hour)
Would I go back? No.