Vegan food isn't all just sliced vegetables and tofu. No, some perfectly tasty food just happens to be vegan and marketed to vegan diets. I'm not vegan, but I knew I was going to visit Chickpea, a new restaurant on Vancouver's Main Street. First starting as a food truck featuring Israeli dishes, does the expansion to a vegan restaurant warrant a visit or should you stick to the falafel in the frozen aisle at your grocer?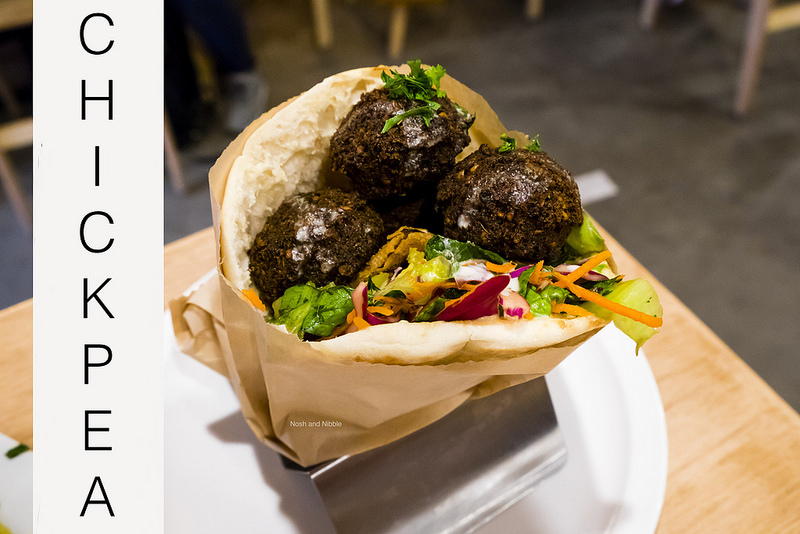 Food:
Team Tastic came here for a Saturday evening dinner and I had myself a great taste of the following:
Falafel Pita w/ Extra Crispy Eggplant ($10.50 + $2.50)
Hatzil Baladi Salad ($14)
Kasum Fries ($7/small)
The falafel pita was ordered to compare it to the food truck version. It's 50 cents more expensive but came on a proper serving plate. The vegetables in here were pickled and juicy but over time sogged up the bottom of my pita. I wish there had been some effort to keep the sogging down.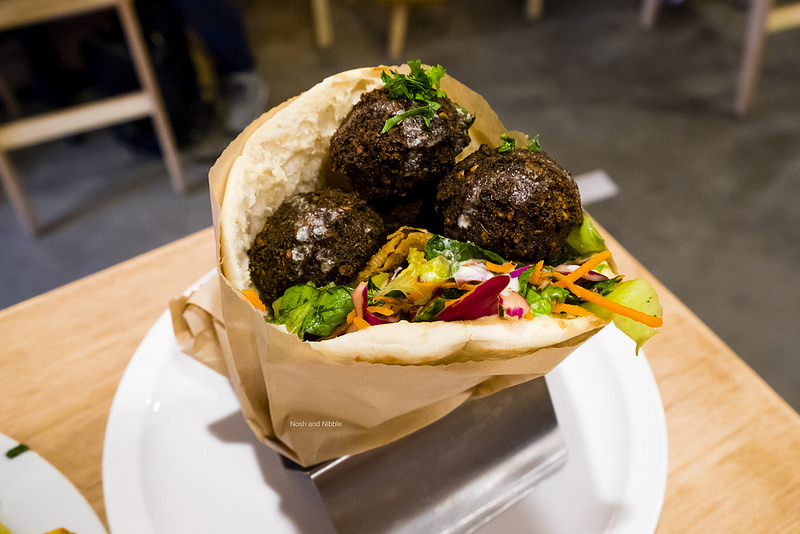 Falafel Pita
On a brighter note, the falafel on here were excellent – crisp and full of flavour on the inside. On a side note: downtown Nuba's falafels were much drier and flatter in comparison. The inside of Chickpea's falafel's contained parsley, onions, garlic, and elusive secret spices. This was a winner in my book and should be a contender whether you're dining at the restaurant or at the food truck.

Falafel Close-Up
The crispy eggplants were served in a cute bowl and were juicy on the inside. Vegan food might be animal-free, but it's not necessarily healthy, and that's what make this kind of comfort food great for me.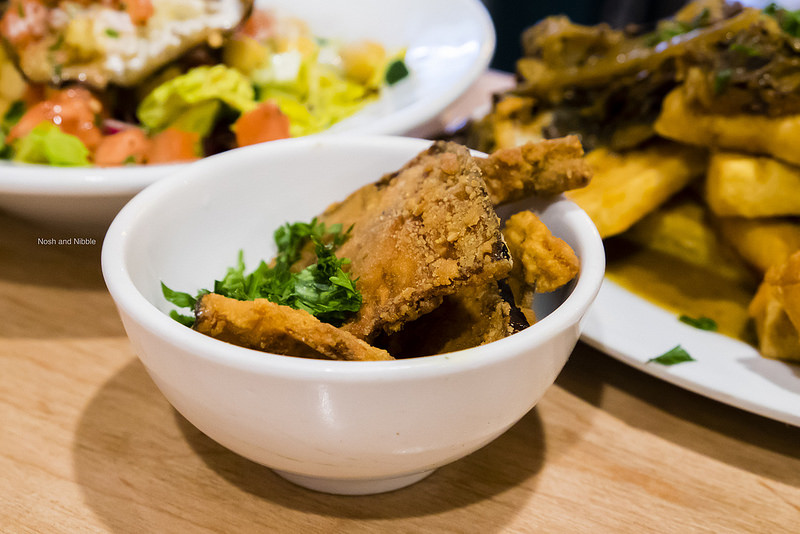 Crispy Eggplant
We also had the hatzil baladi salad which was eggplant sprinkled with olive oil then flame-charred until the insides were silky smooth with a smoky flavour. This eggplant certainly tasted mildly smoky but I wonder if getting the salad for an extra $2 is worth it since this already comes with a lot of vegetables on the plate. In any case, the salad options certainly are substantial, but might be a bit overkill for some diners.

Hatzil Baladi Salad
Finally, the kasum fries served as our finisher. Theses were chickpea fries topped with sautéed mushrooms, onions, tumeric, and crispy cauliflower bits. This dish started out terrific with a satisfying crunch on everything that mixed a ton of flavours. Unfortunately, sogginess, like in the falafel pita, was again an issue here. By the end of the plate, everything had sogged up and the fries were much less appetizing.
I think the sogginess could have been avoided if the toppings were offered as a side to lather onto individual fries. This solution would make the plate a lot less visually appealing, but it might be worth it if diners value crispy shells on their fries (I know I do).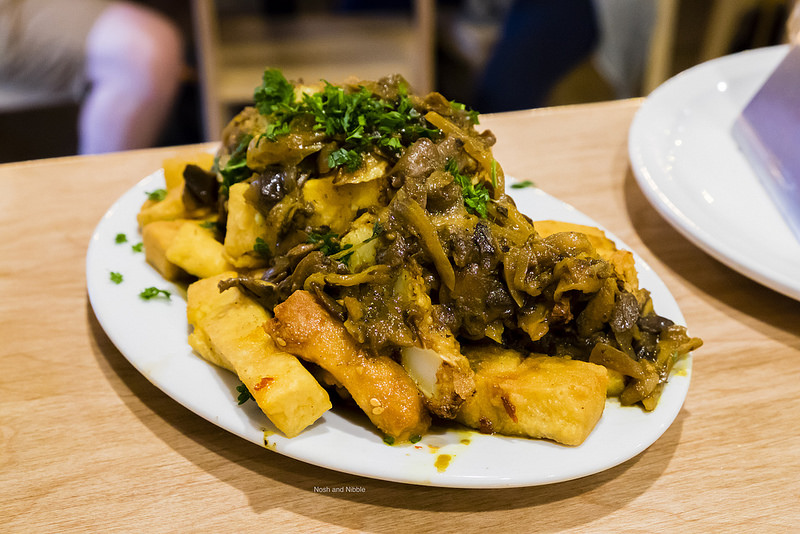 Kasum Fries
Side note: Sauces are self-serve here so you'll just need to find one of these bins to fill a provided sauce tin with.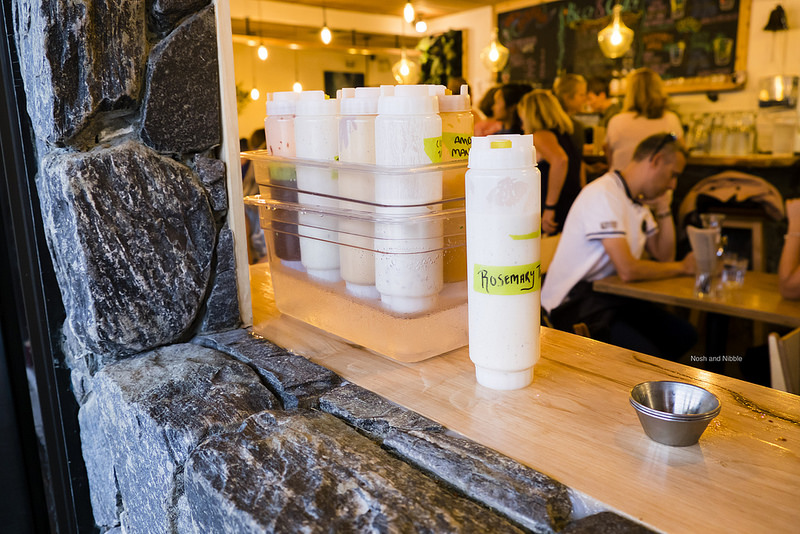 Sauce Station
Features:
Chickpea is a pretty energetic restaurant in Vancouver. Past the crowded entryway is a playful atmosphere that mixes early fables housing menus and tree décor I'd expect to find in a children's daycare or play place. In any case, seating is compact here so you'll likely rub shoulders with your neighbours.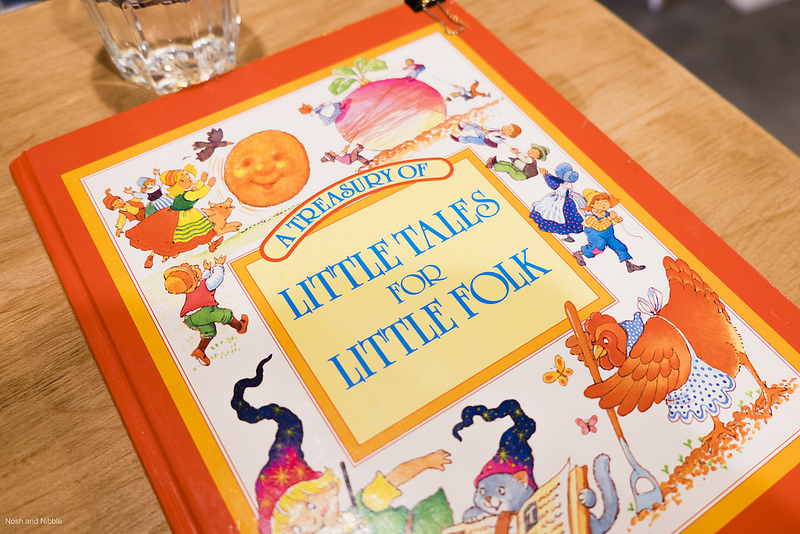 Menu Holder
There's seating for about 60 guests but it looks like it could be a lot denser as the restaurant is quite wide. Fun fact: the washrooms are gender-inclusive and all the signs ask is that you wash your hands – sound advice for any washroom goer!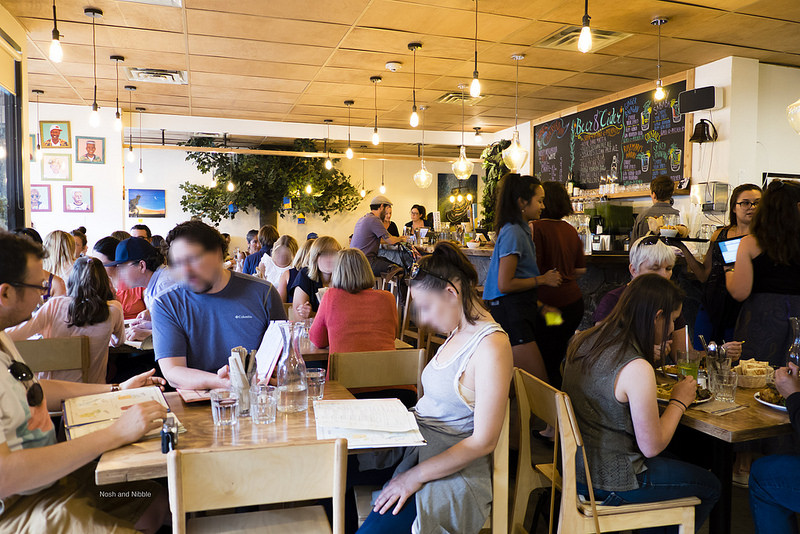 Inside Chickpea
Service:
Service was a bit of a mixed bag for my experience. After getting through the crowded doorway, being seated, and given menus, there was a very long delay before our server came over to take our order. Our server appeared to be at the end of her shift as midway through our meal we had a new server unannounced.
Water top-ups were also a little strange. Our waters were running low, so when a server came over with a pitcher over, I eagerly brought my glass to the edge of our table. Our server said something like, "Oh sorry, I'm just leaving this pitcher here." If a customer is misinformed about water practices, I think the right move here would have been to fill up a glass and let the customer know they're responsible for their own top-ups moving forward.
Communicating the presence of sauces was also complicated. We'd spotted a sauce bin but were unsure of the practice of grabbing it ourselves in case the restaurant wanted to control portioning. Eventually we found our server who invited us to serve ourselves but I feel this is information that should be passed onto the customer when food is served to the table.
Service was otherwise energetic and very welcoming aside from some head-scratching moments.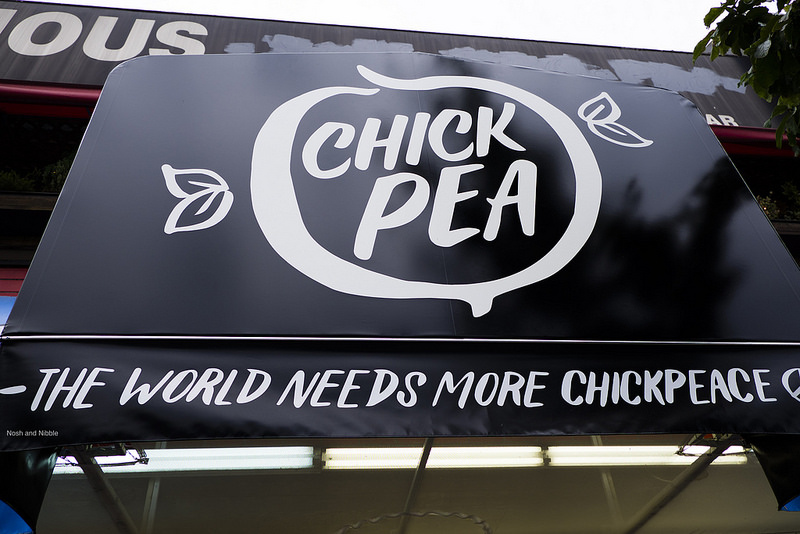 Outside Chickpea
Final Thoughts:
One-liner: Tasty comfort vegan menu but a couple of service hiccups here and there
Highlight: Falafel Pita
Price per person: $11-20
Would I go back? Yes.