Maybe you've been in this next situation. You love Chinese food but get a little nervous trying to order it because a) you're Chinese but don't speak Chinese well enough to order with confidence in Chinese, which is embarrassing, or b) you're not Chinese, but you feel like you stick out like a sore thumb in the "really" Chinese restaurants. Cold Tea then, can be the restaurant for you.
Built for people who love Chinese and Vietnamese food, but feel that the restaurants with native-speaking images are too hardcore, Cold Tea is meant to be a natural bridge that connects you to your traditional favourites without being intimidating (e.g. the feeling of opening a menu that happens to be totally in Chinese – it happens). Last week, I had a chance to check out this new opening that takes up residence in the ashes of Tsui Hang Village in downtown Vancouver.
Disclosure: This was a complimentary tasting provided in exchange for an honest overview and no monetary compensation.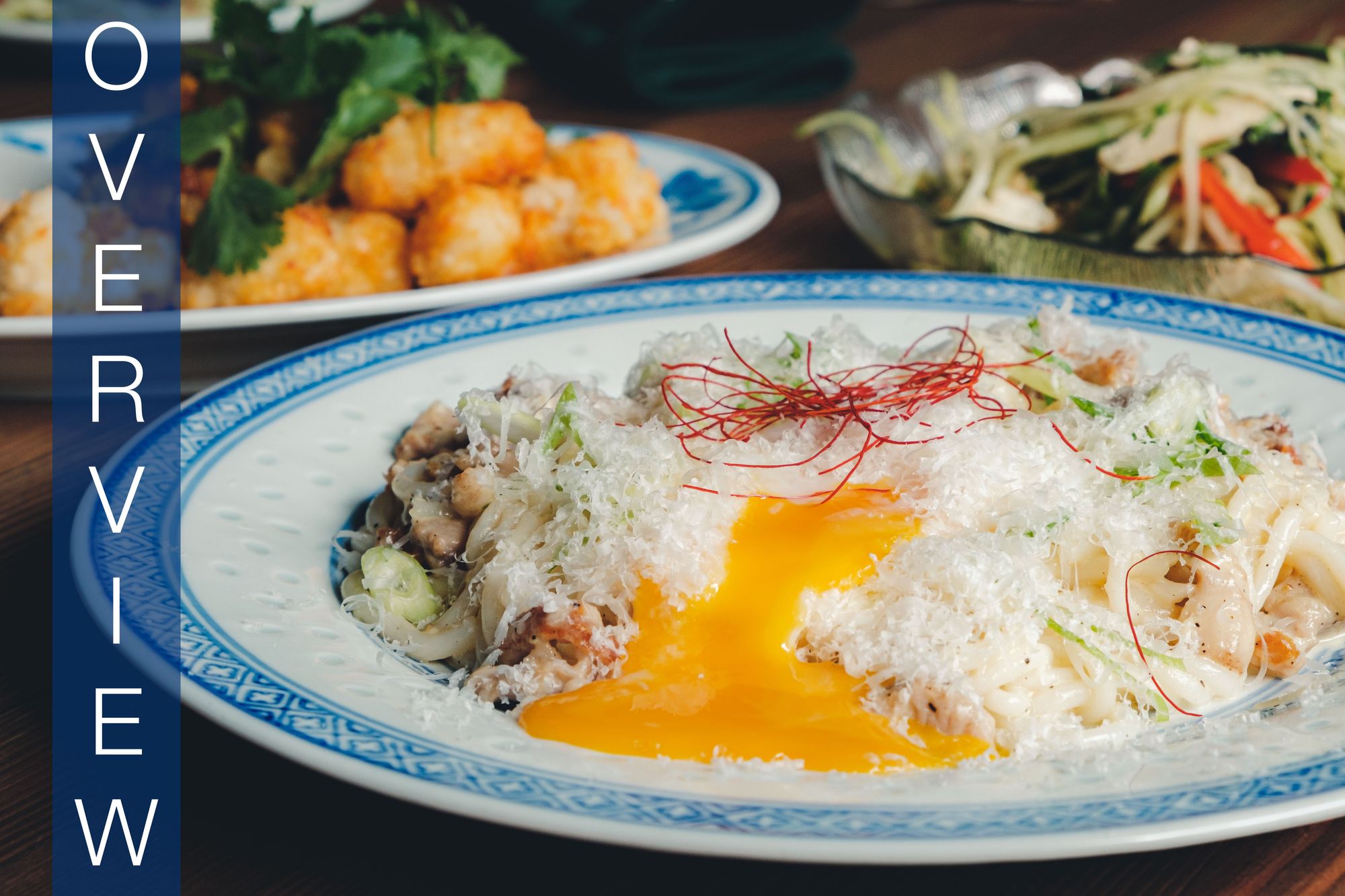 Food and Drink:
Team Tastic came here for a Tuesday evening dinner and I had a great taste of the following:
Spicy Asian Mocktail ($6)
Lai Fun Carbonara ($15)
Tofu Green Papaya Salad ($12)
Roast Pork Belly on Rice with Egg ($14 + $3)
Wok Squid ($14)
Brulee Cà Phê Sữa đá ($8)
Starting the meal off with some drinks, I was happy to see mocktails listed on the menu and not hidden behind a conversation with the bar. As someone who drives often in today's pandemic, public transit isn't a preferred option for me so I appreciate a selection of mocktails printed right onto a menu. The spicy Asian was mixed with Dickie's ginger beer, lime juice, mandarin-ginger-yuzu syrup, and bitters. The ginger beer gives the drink a carbonated flavour but I believe the magic is all in the syrup which blends together a tart and citrusy flavour into the drink.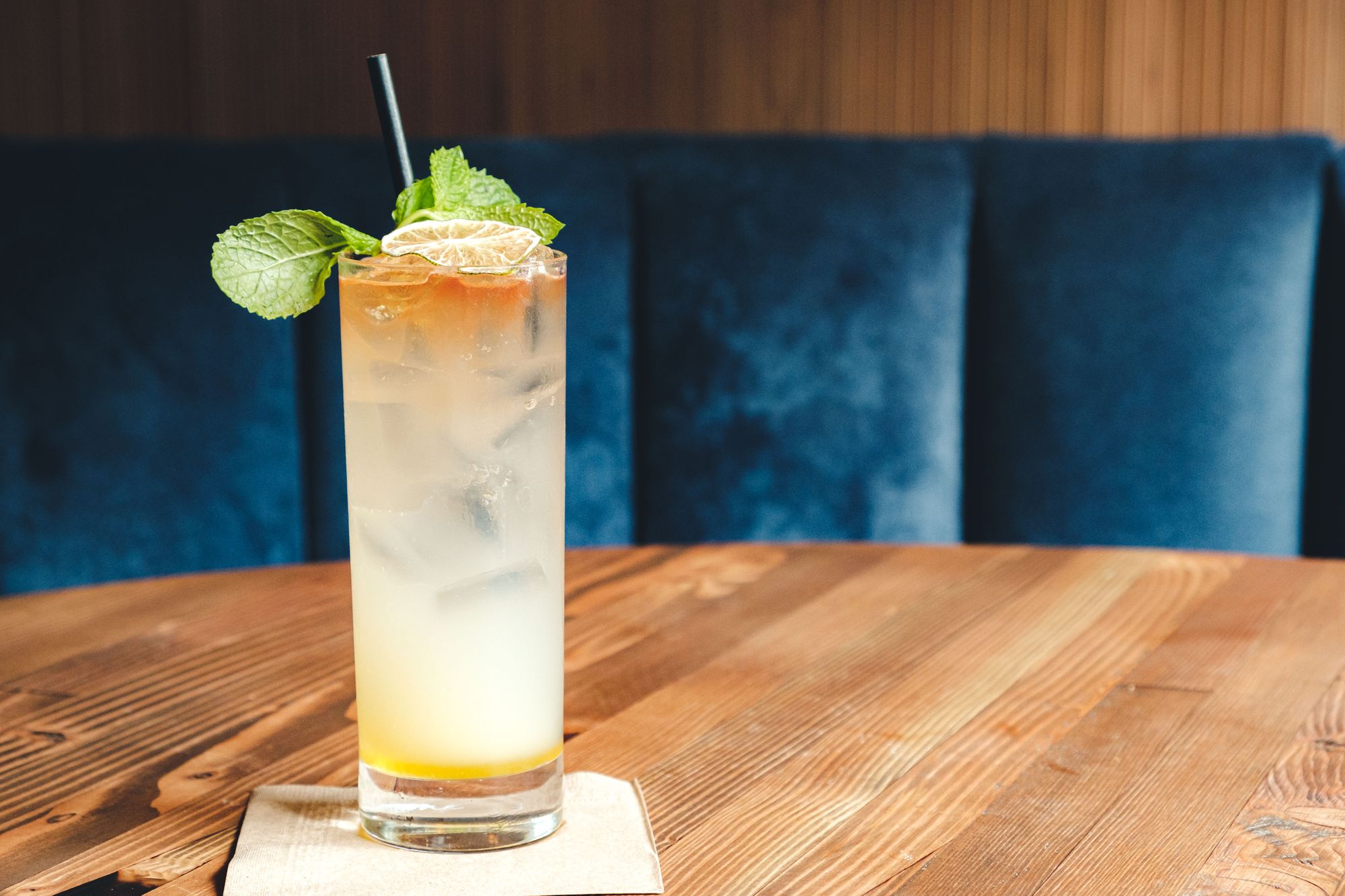 Moving on to the food, first up is the lai fun carbonara which was the most creative dish of the evening. Lai fun (濑粉) is most traditionally a thick rice flour noodle served in a soup broth but Cold Tea slaps the lai fun onto a plate of 5-spiced cured bacon, cream, sous vide egg, parmesan, green onion, and chili threads, and the flavour profile is top notch. The grated parmesan basically melted into the texture of the lai fun and the sous vide egg was large enough to pop yolk all over the dish. If you're looking for something on the wild side, the lai fun carbonara is one of those "best of both world" dishes.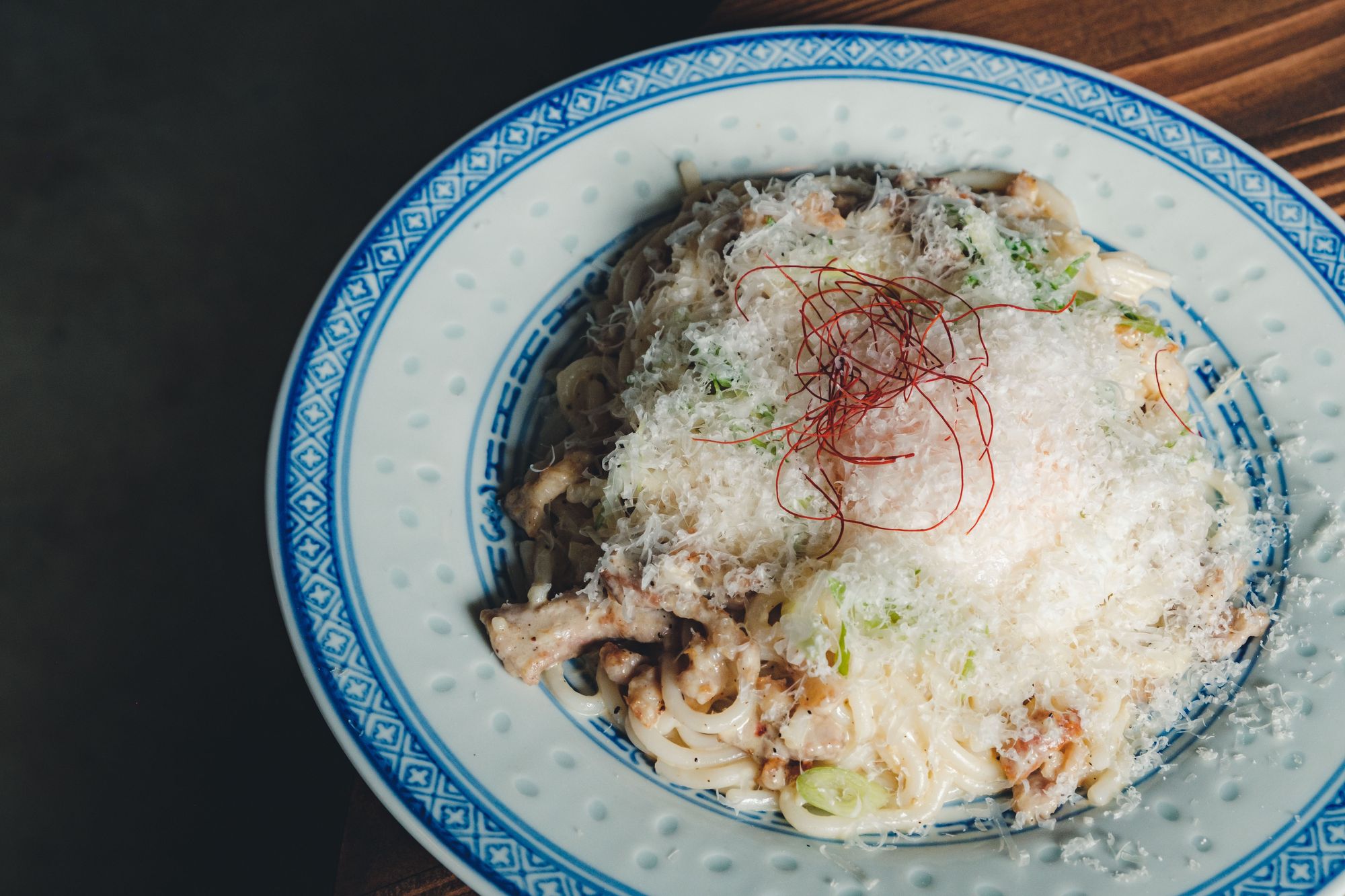 The tofu green papaya salad was a hearty salad served with cucumber, red peppers, cilantro, mint, Thai basil, and soy vinaigrette. The presentation was sharp with a small mountain of cucumber and papaya topped with red peppers flowing down like lava during a volcanic eruption. Digging in was even better. The mint and basil evoked a fresh feeling in every bite and I think this dish with green papaya as the star is something even my parents who are very traditional Chinese food lovers would like.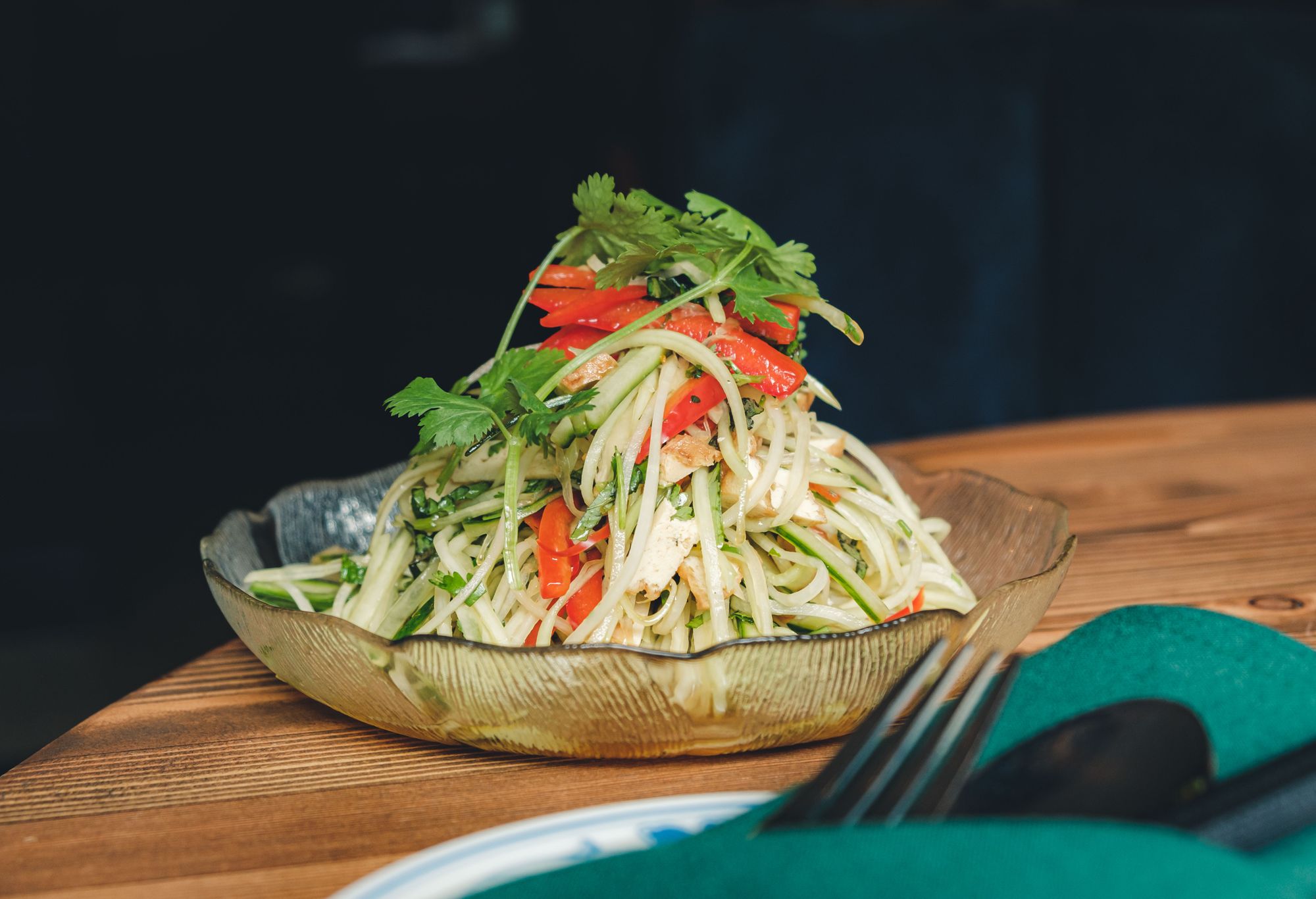 Now for something portioned to fill you up, the roast pork belly on rice is going to be up your alley. If white rice isn't your thing, you can sub in 3-grain rice for $3 more. This dish featured a hearty amount of roast pork belly, rice, and bok choy topped with a sunny side egg. The right way to consume this is to pop the egg yolk and mix it into the rice. Doing so mixes together the thick sauce and savoury bits of the egg into the rest of the bowl which made it extra hearty.
Now, the menu bills the pork belly as crispy, but since the whole bowl is doused in this thick soy-based sauce, the pork skin in my bowl was unfortunately on the soggy side. Nevertheless, there was still a lot of flavour to go around. If there was a way to keep the pork skin crispy, this menu item name would be a lot more accurate.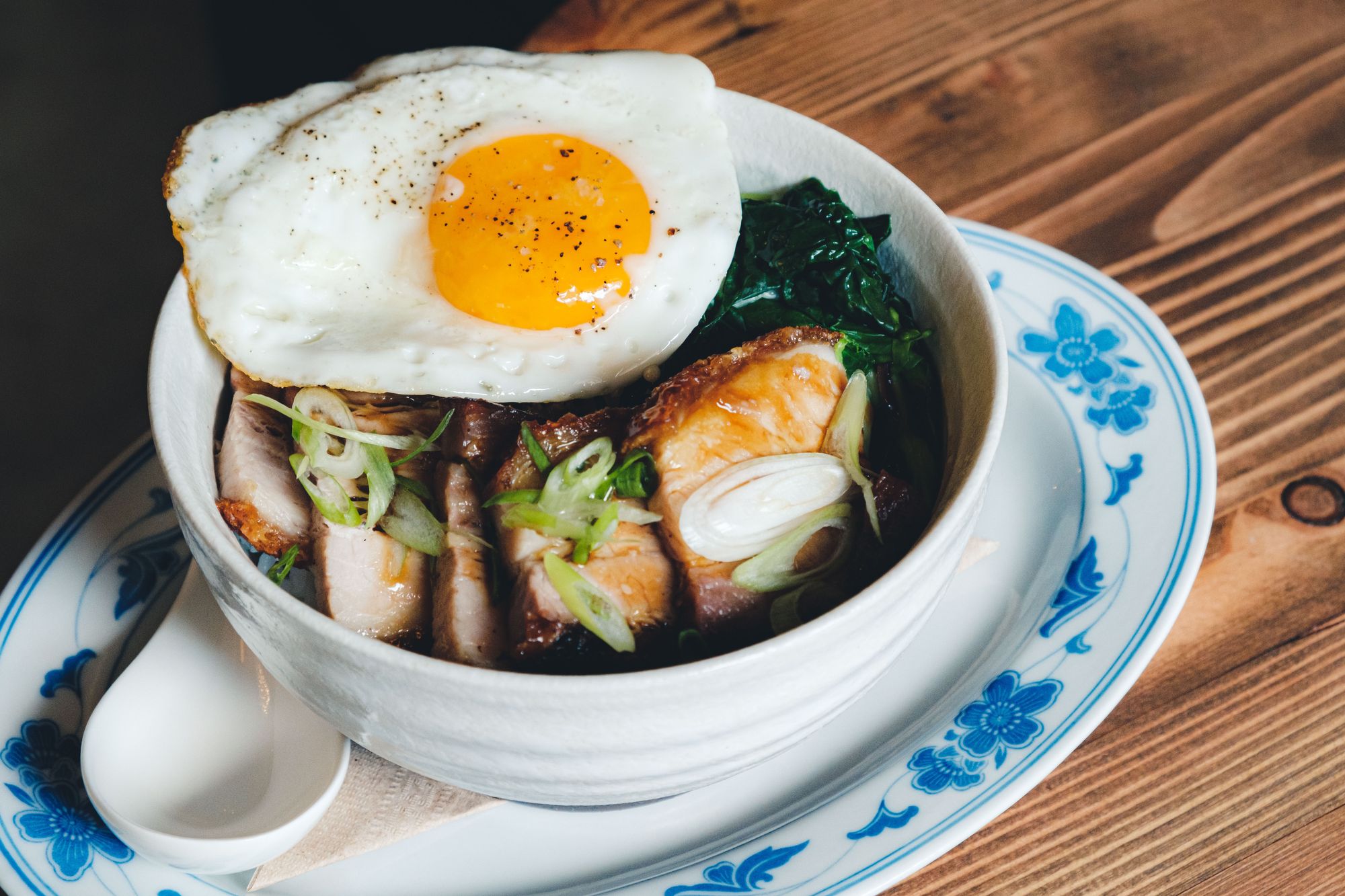 Another dish I really liked was the wok squid. If you've been to any of the Seqoia Company of Restaurants (e.g. Cardero's, Seasons in the Park), this is a familiar dish of battered and fried squid. Where Cold Tea puts a creative spin on it is on the sriracha mayo sauce which gives every bite a slight warmth. If you can handle a little heat, this is a terrific dish. Another detail to note is that the pieces of squid are battered into tater tot-sized pieces which makes them look extra cute and friendly for kids.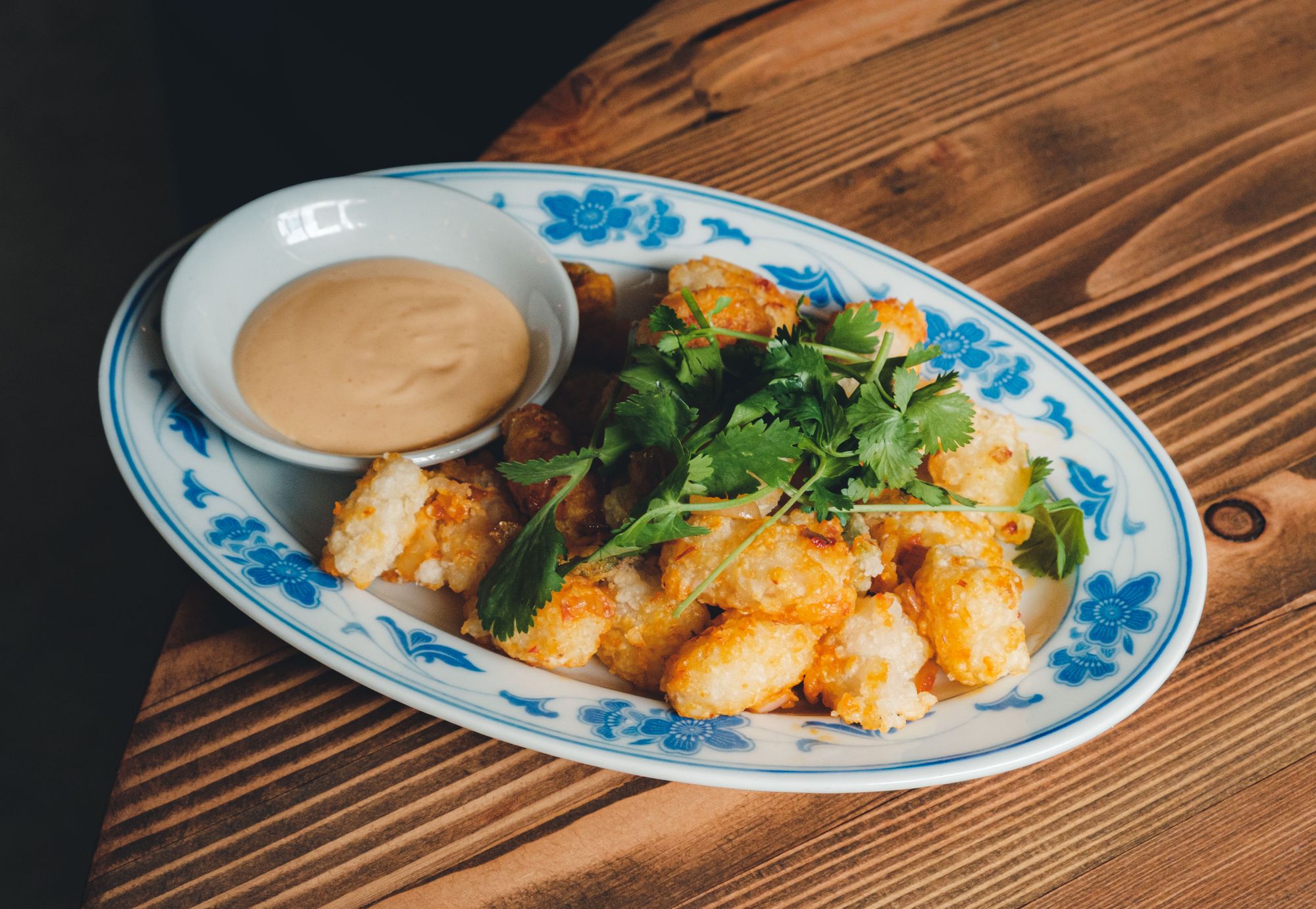 To finish our meal, we enjoyed a brulee cà phê sữa đá which was essentially a classic crème brûlée with an infusion of Vietnamese coffee and condensed milk. The Vietnamese coffee packed a punch of flavour. I think the inclusion of condensed milk turned the classic custard into a mousse-like texture with some air bubbles which had great flavour even if I was hoping for a smooth consistency. It's creative takes on classic dishes like this crème brûlée that get me excited about the food at Cold Tea.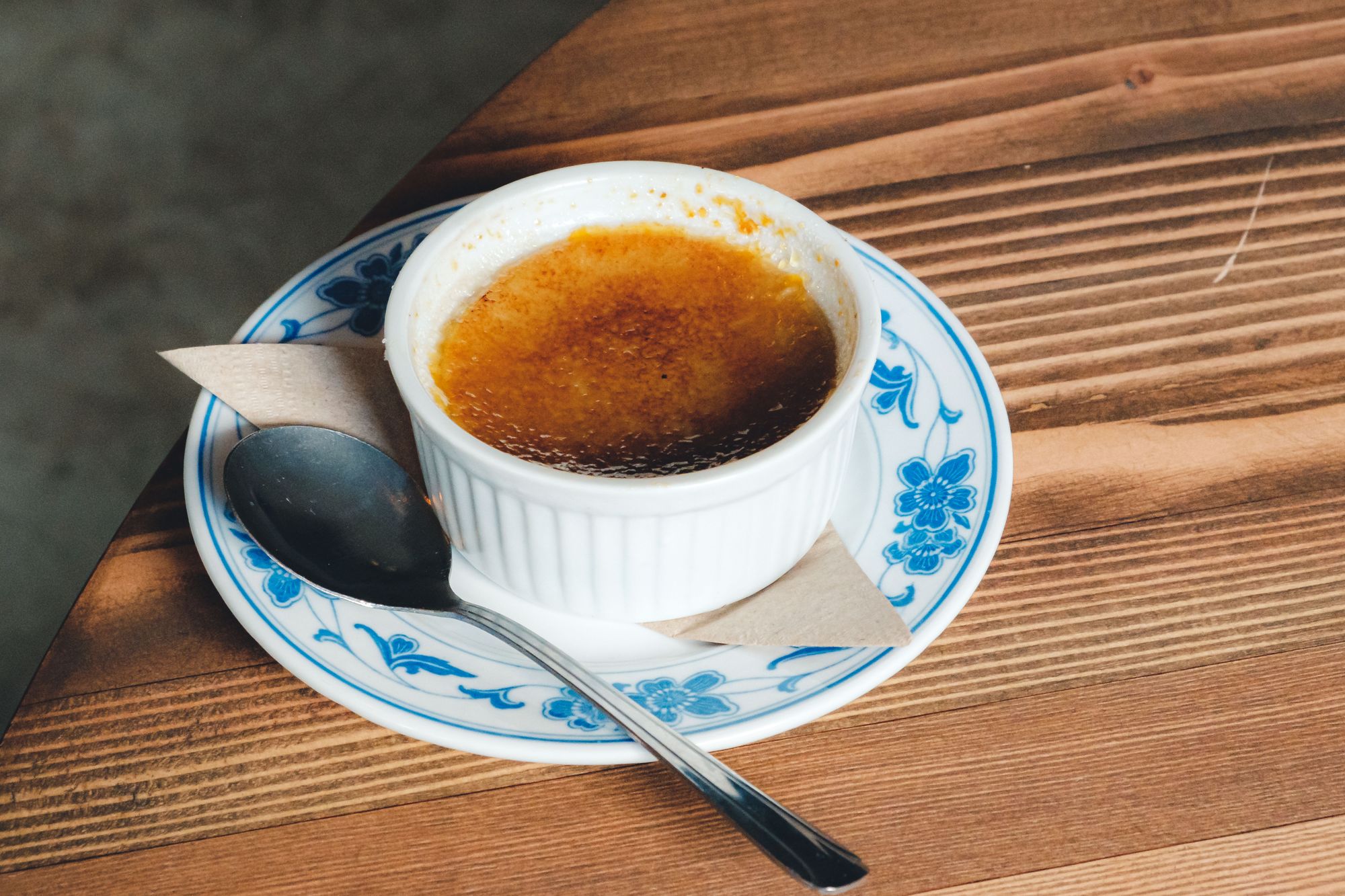 Features:
Cold Tea takes up residence in the ashes of the Tsui Hang Village restaurant and gives it a major facelift. While the chandelier is from the Tsui Hang days, lots of the interior was gutted to make way for a hipper environment featuring Asian-style pop art, a gigantic hand-painted mural, and in this pandemic, extra spacing between tables. The washroom is a little hard to get to as the 2 hallways leading out of the dining room are unmarked and one actually leads to the kitchen. Look for the corner exit in the back for the washroom. There is seating for about 50 guests presently at Cold Tea.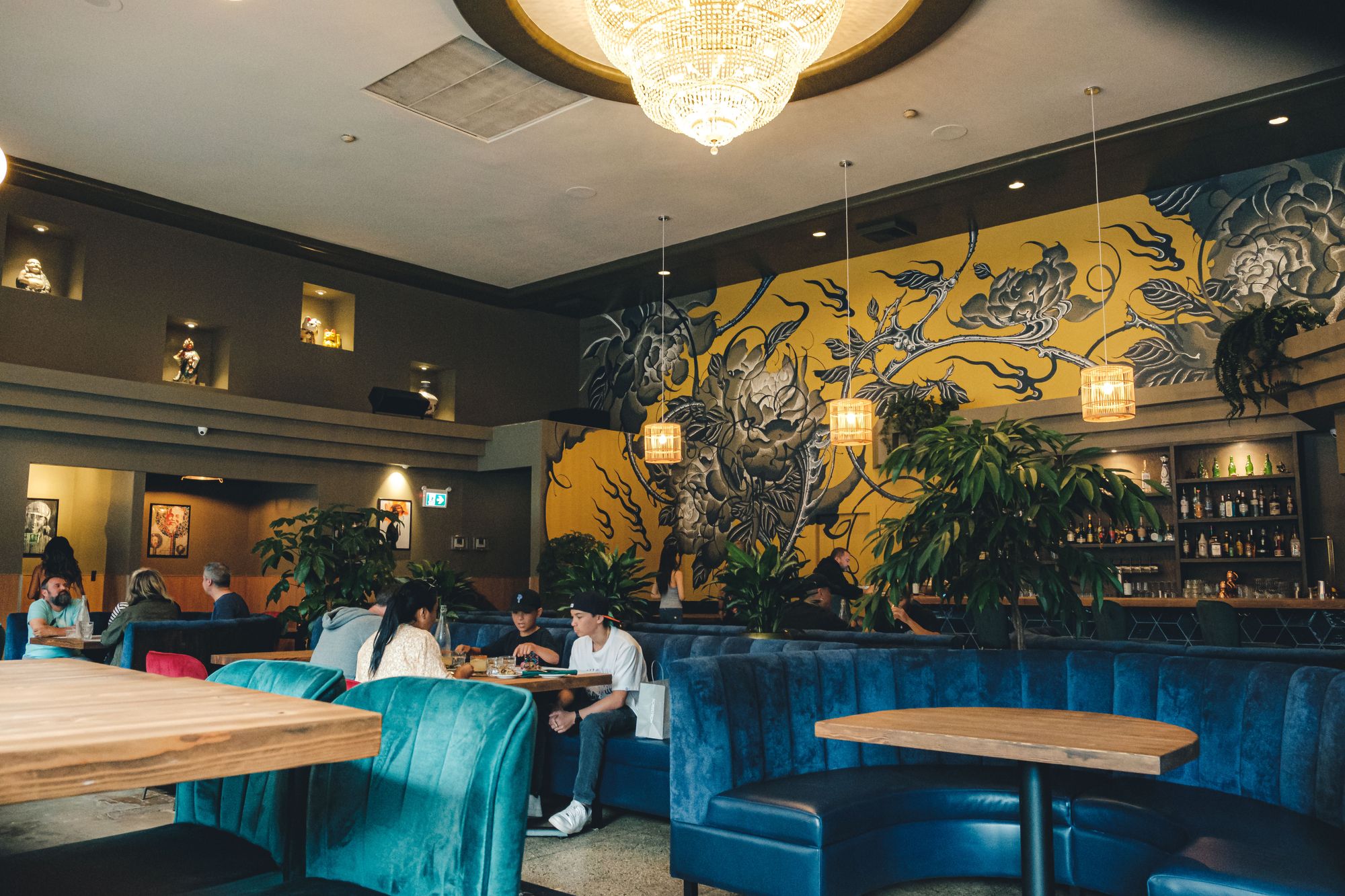 The name "cold tea" is a witty play on an old adage of ordering beer after legal alcohol serving hours at 24-hour restaurants. I wouldn't be able to confirm you can order "cold tea" at Cold Tea in the middle of the night, but if you do order a "cold tea", you'll be served a mystery house cocktail within a teapot. Classy!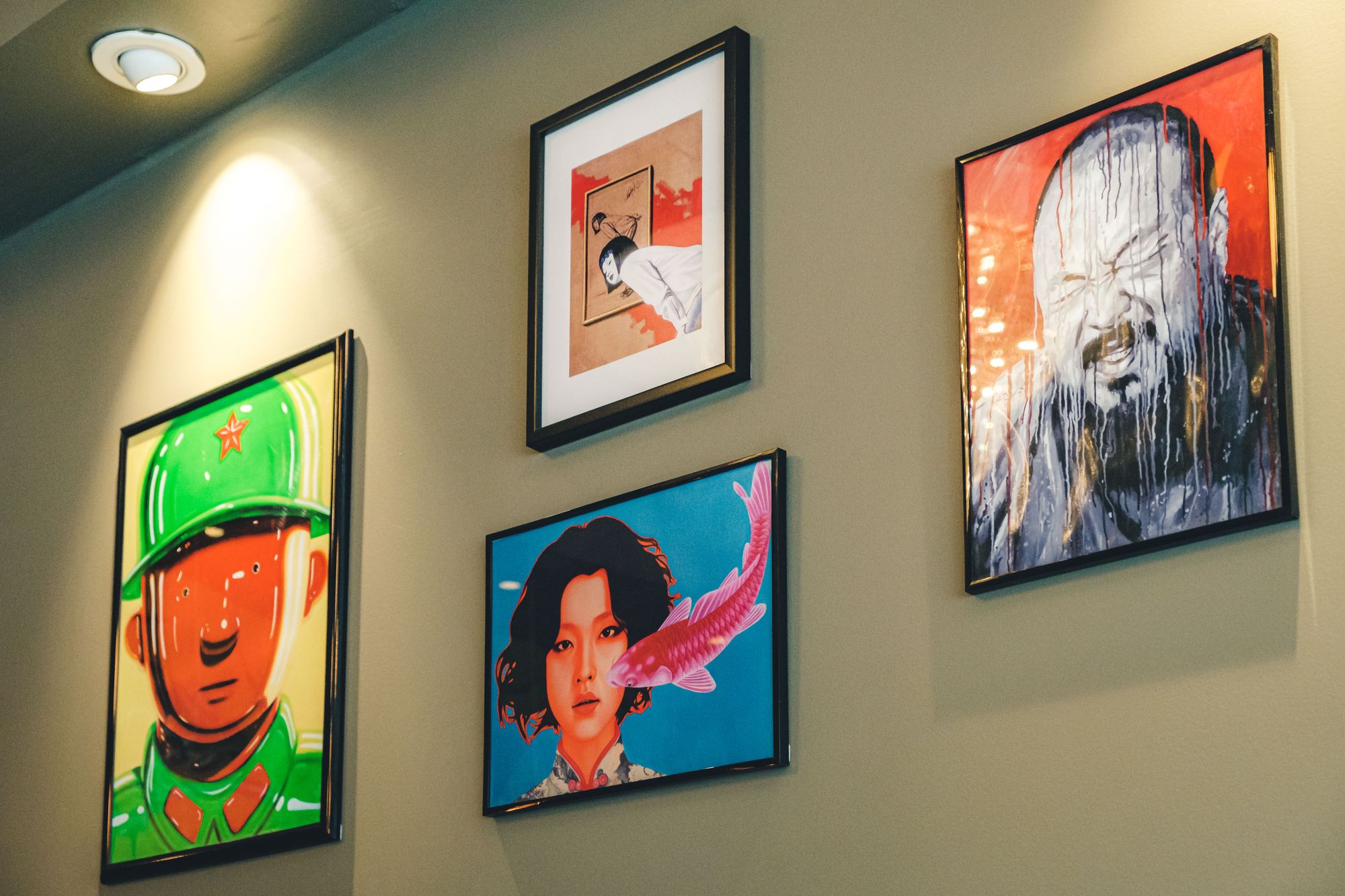 Cold Tea also offers all-day dim sum, though keep in mind it's just the traditional favourites of various dumplings. If you're looking for the more ethnic stuff like chicken feet (凤爪) or shrimp rice noodle rolls (虾肠), that is not on the Cold Tea menu.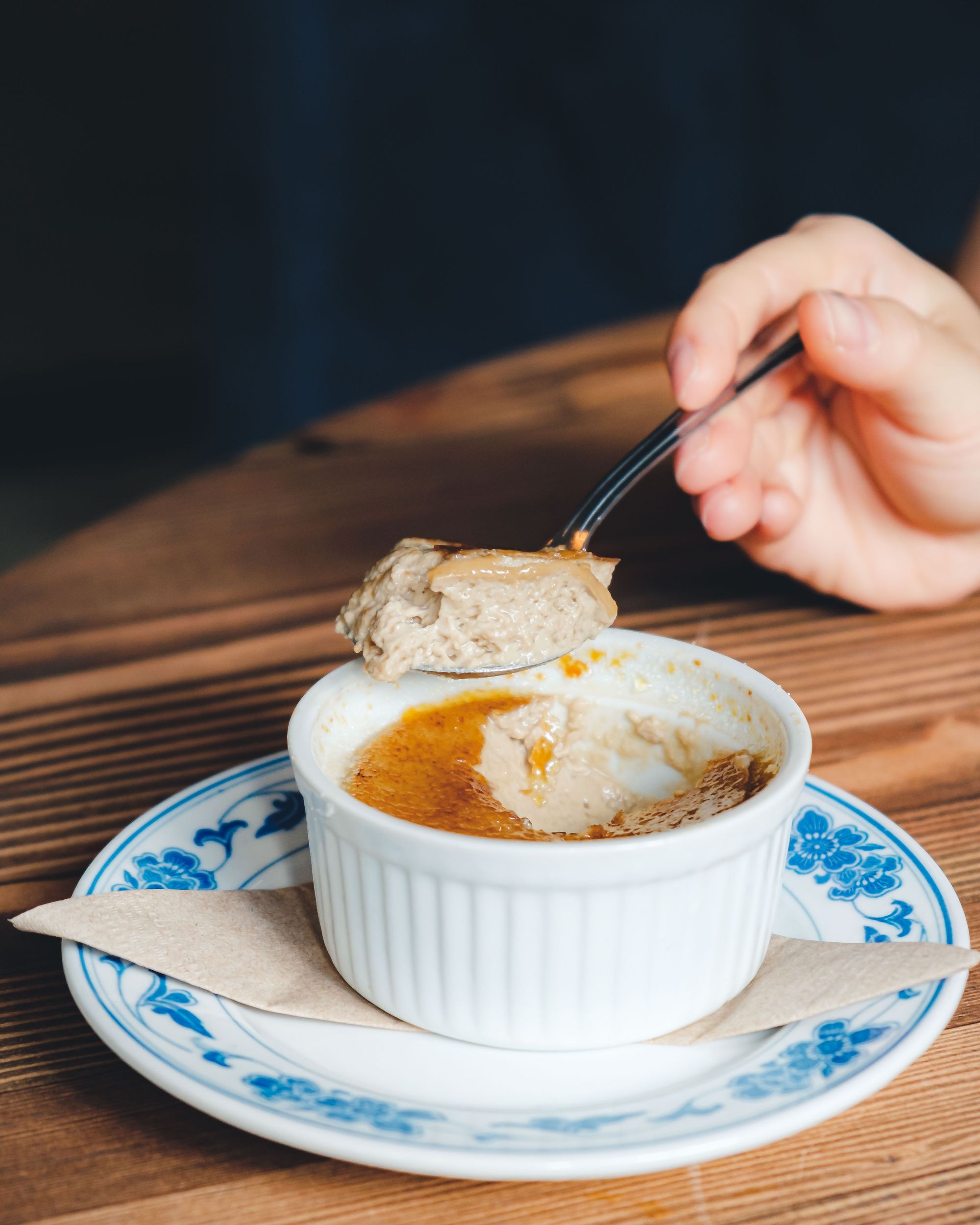 Final Thoughts:
One-liner: Classic and creative takes on traditional Chinese and Vietnamese fare that's perfect for people too intimidated to order at a native-speaking restaurant
Highlight: Lai fun carbonara
Price per person: $25-$35
Would I go back? Yes.